People Confess Which Sexual Misconceptions They Held For Way Too Long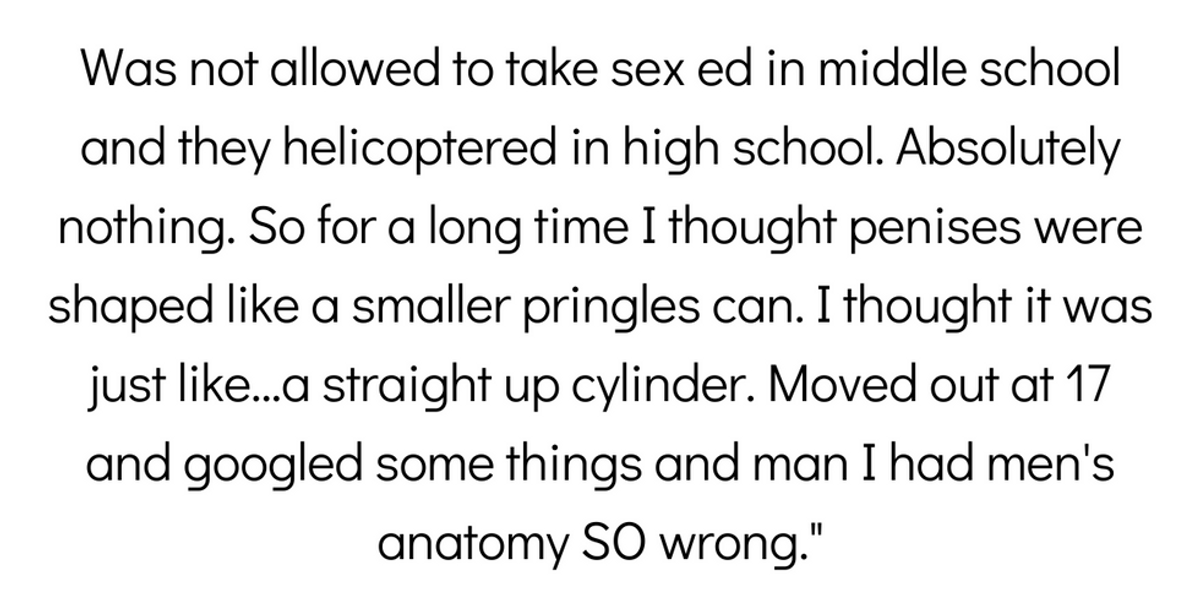 Sex talk is still considered a taboo subject in many households. And I don't mean going into detail about your bedroom conquests at the dinner table.

---
Overprotective parents tend to be evasive about discussing the birds and the bees with their kids because they feel it's not up to them to have that conversation.
Remember Carrie White's religious mom who refused to talk about intimacy with her 16-year-old?
We all know how that turned out in the classic Stephen King novel.
Anyway, parents turning down an opportunity to have the uncomfortable convo or having their kids miss out on sex education can lead a child to potentially develop damaging misunderstandings about their body and puberty.
The effects of which were explored when Redditor sparklingshanaya asked:

"What's a sexual misconception you had for way too long?"
It helps to have an earlier understanding about your body when you're younger.
Sex Education
"As a girl, I had no real idea of where/what the vagina was until I was like 11 or 12. My mom didn't give me a real sex talk, just a puberty/body book that said 'the vagina is between the woman's legs' and just had a full frontal diagram (legs closed) of a woman with an arrow pointing to her pelvic region. I also didn't know a period lasted longer than a day until I got mine at 14, and then wondered why it was still going on the next day."
"When my mom realized how abysmal my sex education was, her solution was to rent a video from the library about it and make me watch it on the big family TV in the living room at like 3pm. Granted— it was a very educational video but I won't ever forget one of the educators (a 50 year old woman) talking about how to give a satisfactory blow job."
– ash-on-fire

Hard Epiphany
"Ok so I grew up in a VERY conservative household. Was not allowed to take sex ed in middle school and they helicoptered in high school. Any internet access they had access to view so I never watched porn/looked at pics. Absolutely nothing. So for a long time I thought penises were shaped like a smaller pringles can. I thought it was just like...a straight up cylinder. Moved out at 17 and googled some things and man I had men's anatomy SO wrong."
– WholeLottaIntrovert
Wrong End Of The Stick
"Friend of mine has a similar background and I just about lost my mind when she said the balls are the END of the penis. Like she had seen those doodles and had it upside down so they just dangle off the end of the shaft lmaooo."
– xchakrumx
Let's get verbal about getting oral.
Satisfy A Woman
"Learn to go down on a woman, like become a master at it. Do this."
– ecallawsamoht

Excuse For Supper
"I second this. Been married for 20 years and it's something I'm happy to do."
"Get involved, people."
"Edit: thanks for the medals and upvotes, people! Be assured that I'll be celebrating tonight."
– AhabVanCleef
Semantics
"Friend of a friend thought it meant kissing. And they were like 19. So glad they found out through a conversation and not through a dude asking for it, or her talking about it. That would've been extremely confusing for everyone."
– SilverWaters793

Pucker Up
"My friend back in middle school thought a blowjob meant to literally blow on it. I still tease her about it to this day."
– Ashurii_desu

Failed Expectations
"Man, I thought I was gonna get so many blow jobs. That's just not true."
– Studying_Politics

As young adolescents, these Redditors got these terminologies mixed up.
Dirty Talk
"When I was around middle school age I thought that oral sex meant talking dirty :')"
– strawbrykat

"I used to sext with my girlfriend in high school. When we broke up, she just went crazy and told everyone in our grade that I was great at 'oral sex' (she meant sexting💀) School hasn't been the same since then."
– Particular-Ad4356
Learning By Example
"I was kind of sheltered growing up, and like most sheltered kids, I learned a lot about sex through porn. I kept seeing 'blowjob' videos, and (i had no idea what a blowjob) assumed it was some kind of sex blooper. Like, something got messed up and the director said 'Oh darn, you blew it! Let's take it from the top.'"
– Danny_my_boy

Pucker Up
"That a blow job is like blowing up a balloon."
– LizzieJeanPeters

A Redditor recalled how one child was majorly misled thanks to religion.
Immaculate Conception
"A kid (very devout Muslim) in sex ed was being taught how sex works. He boldly stood up and claimed the teacher may be right about non Muslim babies, but Muslim babies are not made via sex, god delivers them in a white robe to parents who are married and good Muslim."
"It's been almost 14 years and I still laugh about that."
"Edit: just in case this is interpreted wrong, I myself am from a Muslim background and this is not about Islam or religion, just a 13 year old who was still fairly innocent."
– Kip_zonder_kop

Eye-Opener
"Muslim here. When I was 10, my Christian friend said something about sex (can't remember what) when I said 'I wouldn't know, I'll never have sex' and that's when he told me even Muslims have sex. 10 year old me googled some interesting things that night."
– MyMissingNugget

Nuts Into Holes
"I knew a very devout Muslim too, once asked him how sex worked (just out of curiosity for his answer) and he paused for a moment before saying 'You put the nuts in her hole.' He was 16 at the time. I tried to explain how it actually worked but they guy would not have it."
– tommypseudo

I had sex education in sixth grade after my parents gave the school permission for me to attend the special assembly centering on the topic.
But I remember how vague the instructor was. By the time I eventually had my first nocturnal emission, I remember being terrified, yet simultaneously elated. It was very confusing, and I didn't know what happened.
I remember reflecting back to sixth grade and thinking the school must've skipped that part in sex ed.

More often than not, when men try to do something "sexy" in an effort to impress a woman, it tends to backfire on them.
Perhaps it is the visible amount of effort behind what they're doing or the fact that they don't do it as well as the movie star they took inspiration from.
Either way, despite their best efforts, women tend to find this sort of behavior anything but sexy.
In fact, more often than not, men have a way of turning people on without them even realizing it.
As it's often the little things that can make someone blush, anything from opening a door or slicing into a ripe tomato.
Redditor finnjakefionnacake was eager to hear all the sexy things men do without their even realizing it, leading them to ask:

"What things do men do that are sexy that they don't realize are sexy?"
When They Don't Even Know Their Own Strength

"Was getting busy with a girl one time and her head was too close to the headboard, trying to save her a potential concussion, I moved backwards and grabbed her under her hips and pulled / lifted her about two feet down the bed towards me."
"The sound she made and the look she gave me is still in my head lol."
"Afterwards she brought it up and said it was incredibly sexy how I could just handle and move her around so easily with so little effort."- Mage2177

So, So, Hot...
"I once changed a radiator in my house and that, without doubt, got me more attention and flattery from the women in my life than anything else I've ever done."- Jasper-Packlemerton
It's The NOT Knowing...

"It's a trap fellas, just live in ignorant bliss."
"Once you realize something is sexy, you will become a self-conscious dork about it and it will no longer be sexy."- PMMeUrHopesNDreams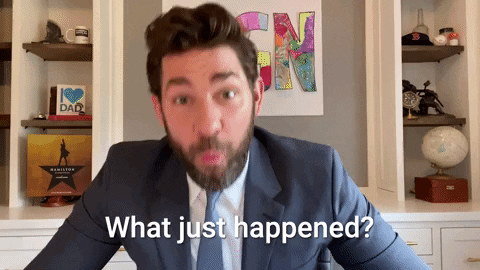 What Just Happened Wtf GIF by SomeGoodNews
Giphy
Magic Fingers

"My bf and I went to eat at this restaurant before we knew we had feelings for each other."
"While I would talk he would either laugh or smile and once while doing so he circled the rim of his glass with his finger."
"I later found out that he did it unconditionally but I short-circuited while he did it."- AsasLowkey
To Each Their Own...
"An ex of mine once got turned on when I told her I put a hand on the wall when I pee."
"I'm not sure I fully understand that one."- PaleAleDale
One Hand, One Heart...
"My wife has told me taking my shirt off with one hand is a thing."
"That kind of blew my mind."- trugrav
"One- handed steering wheel grip, reverse parking with their arm resting behind the passenger seat."- getupandstudy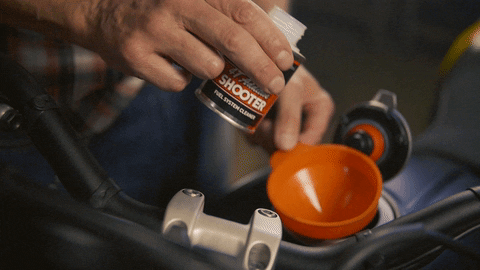 motor oil shot GIF
Giphy
Doing It For The Thrills... And Then Some...
"My girlfriend was locked out of her apartment and I picked her lock."
"I picked the hell out of that lock."- paulo39Atati
Hits The Spot...
"My heart does a little flip each time my significant other, ever so slightly puts his hand on my back when we're walking (to guide me), or if he's trying to squeeze by behind me."
" I don't know why that gets me fired up lol."- princess19977
Knowledge Is Power!
"Being booksmart."
"If I ask my boyfriend a history question and he randomly knows the answer to it or if I ask about a math problem and watching him figure it out is the hottest thing, like yea you divide those numbers baby."- maneaterlex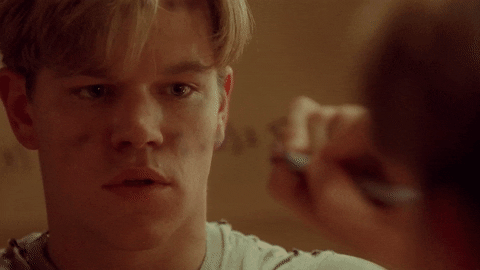 Matt Damon Math GIF by MIRAMAX
Giphy
Nice And Oily...

"An ex said it was hot watching me change her car's oil."- SafeAndSane04
Compassion Is Always The Answer
"Caring for helpless things."- Maleficent_Scale_296
Speed Can Be A Turn On...
"There was a study done in Japan to see what school-aged ladies saw as attractive in their male counterparts and 'running fast' was like number one or two for elementary and middle schoolers."- Embershot89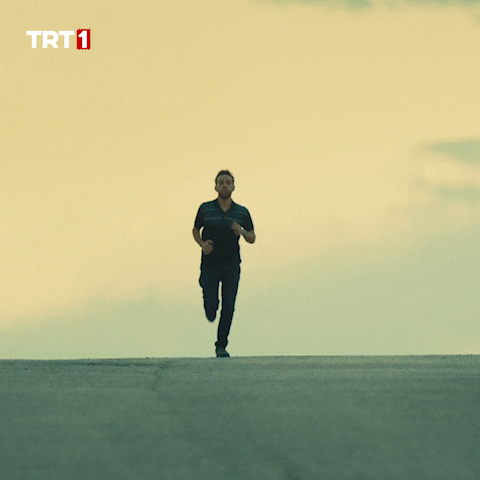 Run Fast Running Man GIF by TRT
Giphy
There's Someone Out There For Everyone
"I heard one million power in 'Rise of Kingdoms' gets you any girl you want."- Key_Vermicelli_3138
Strong And Efficient...
"Carrying as many folding chairs as you can at once."- KbossDPT2019
Most of the time, the sexiest things are also the most unexpected.
That being said, any good boyfriend knows that a wet t-shirt now and then can't hurt...
Imagine starting a new job and learning that the uniform was chaps and a thong, or that the company had just fired most of the staff and you were hired to do the work of three people. These Redditors shared their horror stories of the moment they decided to walk off the job. What would it take for you to do the same?
Most people think that by the time they're in their 30s, they'll have their life together.
It's only when they get to that point that they realize that's not totally true.
Maybe those in their 30s have a job, are in a serious relationship, and have a home. Perhaps they're married or have kids.
However, that doesn't mean they don't make mistakes.
According to Reddit, people in their 30s make all kinds of mistakes, and Redditors are ready to share what those mistakes are.
It all started when Redditor cthulhu34 asked:
"What's a common mistake people make in their 30s?"
Toxicity
"Stay in unhealthy toxic relationships."
– Lavenderplatte
"Alternatively, leaving healthy relationships because you're bored and want to have fun."
– numenik
Too Scary
"Romanticizing your 20s and fearing your 40s. (live where you are)."
– theresites
"This is so good. So easy to romanticize the past and fear the future. Life is organic and so are we. We will keep changing and often times in a good way (stronger, wiser, more confident etc.). I'm so happy to be who I am at 37."
– iamnottheuser
Compare and Contrast
"Comparing their lifestyle to other 30-somethings."
– Affectionate_Item_51
"This is a good one. Your peer's success can seem perfect from afar and make you feel inadequate."
"But if you sit down and talk with them you will learn all sorts of shortcomings and difficulties in their life that will make you appreciate something about yourself and your situation."
"In other words we all just out here tryna function."
– ThunderBobMajerle
It's Never Too Late
"Thinking they are too old. Never too late to switch career paths or look for a new relationship or start taking care of your health."
– Mans_Got_Cheaks
"Almost 40, just started my MBA. Never too old!"
– AbsoluteCP
"It's absolutely never too late. I'm 42 and honestly feel like everything is getting better, ESPECIALLY dating and relationships in general. It's a relief to finally know myself and what I want."
"Also, I'm returning to study next year and looking forward to a career change. Having a beginner's mindset, always curious and learning. My dad is an inspiration, her had a stroke in his 60's and changed his life. After he recovered, he got a divorce, moved countries and decided to study medicine. He's now in his 70's living this dream and working as a doctor. It's never too late!"
"I feel and look younger than when I was 30! I know many people well into their 60's and 80's with this growth mindset and I'm determined to be like that until I die."
– Tank_Grill
Healthy Living
"Not exercising enough and eating a crappy diet. You can't get away with those things anymore like you did in your 20's."
– DeathSpiral321
"My doc told me at the end of last year that I'm not 16 anymore and now is the time in my life where I get to decide whether I want to see my daughters grow up or whether I wanna die of a heart attack in my 50s. Sh*t cut deep but I got the message lol."
"Dropped 40 pounds since January and might be in the best shape of my life tbh."
– Misdirected_Colors
Friends Forever
"Your 30s is when you are really in the thick of "adulting". It's easy to loose focus on what is really important to you among all the demands and responsibilities."
"Not Fostering Friendships: As you enter your 30s, maintaining and nurturing friendships becomes more challenging. It's a time when connections can fade, and forming new ones becomes harder. It's very important to invest effort in the friendships you currently have. Edit: A few people have commented about what to do when people don't reciprocate? My advise - keep trying! Everyone is under water in their 30's, they likely won't be able to make every attempt at outreach you make. But over time as things become less hectic they will remember you kept trying (without guilt) and will appreciate it and come back to you. But toxic people, yeah cut those out!"
– hyperside89
Romance
"Not Nurturing Your Romantic Relationship: Responsibilities increase in your 30s like careers, parenthood, and caregiving for aging parents. It's common for the most crucial relationship – your romantic partnership – to be inadvertently neglected. Avoid taking your partner for granted, assuming they'll always be around, or treating them as an outlet for your worst moments."
– hyperside89
Be Who You Are
"Not Preserving Your Identity: Similar to the previous points, your 30s come with a whirlwind of conflicting priorities that can lead you to lose touch with your identity. It's easy to forget what truly brings you joy and satisfaction. Maintain a hobby that gives your life purpose and regularly reflect on whether your job still fulfills your needs in terms of purpose, financial stability, and overall satisfaction."
– hyperside89
"I'm 33 and in the process of rediscovering who I am, what I like doing beyond just 'filling in time' and how I like to present myself. It's scary to be caught off guard by the realisation that you don't know you and just as scary trying to start down a path to change that."
"I'm happy with my job and my role as a mother. But as an individual... I just feel like a crusty 90's kid, wearing 00's fashion and focusing on everyone else's needs because it's hard to find a direction for me that will 'spark joy'. I want my wonder and whimsy back!"
– Makasaurus
Change Always Happens
"Thinking you're a finished product, not likely to change all that much."
– kat_Folland
"Have you tried not moving in the ocean? It's damn impossible. You can't be stagnant in the turmoil of this world."
– quanoey
NOT Forever Young
"Biggest mistake I made in my 30's was not enjoying them more."
"Young enough to party, still play some sports, and perfectly in place in any bar. You have energy, you have a circle of friends (that will get smaller, trust me)."
"Try to carpe a diem every once in a while, the decade passes VERY quickly."
– hockeynoticehockey
"Do whatever you can while you are young. 30s is a peak time. I'm 64 now, forced into early retirement, and I can't do half the things I "thought" I would be able to do in "retirement". Can't bend to do gardening, can't climb the ladder to get into the pool, can't handle a walk for more than a few minutes due to arthritis and more. I'm mentally "still young" but my body is telling me otherwise."
– saywhat1206
Life Is Tough
"Got laid off at 32? Just said F it, got 2 degrees in different fields (37 now). But I kept expenses really low and saved/invested a lot of money when I did work. I went from medical research, to analytics, to education, to computer science now."
"30's...uhhh not starting investing by 35, because that's the last stop on the compounding train."
"Also, I see people get wrecked by bad marriages/relationships. That's probably one of the biggest wealth and happiness destroyers I've seen."
"Also, waiting over the fertility window. People tried to have kids later on and it looks like an absolutely expensive brutal experience with the OBGYN visits and the $15k USD IVF rounds (multiples). Then dating over your thirties seems like a hopeless market from what I can see. I never really tried so I dunno (data analyst in me looked over the stats as a 5'7 East Asian male in North America, I'm out!)..."

"Oh yeah!!! Health! Working out is crucial. After 40 it gets super tough to achieve any exceptional fitness goals. That's the best case scenario. Some people come down with nasty metabolic diseases like diabetes, and the CVDs - hypertension, cholesterol, and heart disease - these are very difficult to reverse and they kind of stick to you with more aggressively the longer they persist."
"Also, daily brushing/flossing, apparently dentists are expensive in older age. Brushing avoids cavities, flossing avoids gum disease and cavities."

"Also, not constantly learning about economics and economic/social/technological/political trends, because the pace of technology will wipe out people's economic opportunities faster than their head can spin. I see a lot of people get broad sided by economic malaise because they didn't get their financial house in order before a crisis hit. Life can be rough!"
– Deleted User
I'm not 30 yet, but I sure will learn from these stories!