We all have different tastes when it comes to eating.

The same could be said for food preparation.
If someone likes bolognese pasta, for instance, their preference in how to cook the dish can be vastly different from others, and there shouldn't be a wrong or right method to arrive at a tasty result.
But just because an amateur chef likes things done a certain way in the kitchen, it doesn't have to be controversial.

"What is your most controversial cooking opinion?"
These are their beliefs, and they're sticking to it.
What's In The Pot
"Croc pot liners feel like you're just asking for cancer."
– Sleeves_are_4_bitchz
"Crock pots don't even take long to clean and that's generally the only thing other than plates/utensils that'll need to be cleaned after you eat. You're only saving yourself a couple of minutes."
"My best friend has disposable everything and it f'king drives me bonkers."
– Alexstarfire
Anytime Cuisine
"There's no such thing as 'breakfast food.' You can eat a steak in the morning and fry an egg for dinner if you want, it's just food."
– alphareich
Preserving Flavor
"Burnt garlic is far too common. Some people (I'm hesitant to say most) toss garlic straight into a hot pan and then continue to cook onions, peppers, etc. Garlic needs less time than most other things and should be put in later so it doesn't burn."
– jjrandy

Here's A Retro Comparison
"The cream cheese based crock pot dinners are the modern equivalent of Jell-O based dinners from the 50s."
– MadameBurner

A Colorful Debate
"Red onions should be called purple onions."
– Antisocial-Lightbulb

The following Redditors explained their specific likes and dislikes about commonly enjoyed foods.
In The Pasta
"I'd argue that my controversial opinion is only controversial in Italy where I come from... I like making chicken with pasta. I make it into a sauce similar to Bolognese but I'll put small chicken bits instead of the mince."
"My family call me a savage for eating such things together, but my boyfriend suggested me as an idea and it's now a dish I enjoy!"
– SweetJazz25
Conflicted
"You can dislike a food simply for its texture, nothing to do with its taste. I don't mind the taste of baked beans but I hate how slimy they are and don't even get me started on when they're cold."
– eggsh**ter
All The Fixins
"Mile high burgers and hot dogs with so many toppings you can no longer taste the meat are awful, and a pain in the @ss to eat."
"I generally eat burgers and hot dogs because I like the flavor of the meat (I realize meat is a questionable term when it comes to hot dogs), and would like to actually taste them."
– irish2685

A Healthier Alternative
"Plain yogurt instead of sour cream on tacos. First time I had it I thought it would be gross, I could barely tell the difference and it's much healthier."
– peperonipyza

Annoying Task
"If the dish does not otherwise require the use of hands, there should not be trails on your shrimp. I don't want to be fishing around in my damn pasta because you couldn't be bothered to remove the tails first."
– bkrimzen

Too Savory
"Most people/companies do not know how to do salted caramel. every salted caramel product I've had homemade or otherwise has been like mouth puckeringly salty."
"The point is to lightly salt it to bring out the more subtle flavours, not literally make salty caramel."
– RandomGuy5937
Who was the best cook in the family? Certainly not who you'd think, according to these Redditors.
A Stereotype
"Not all moms or grandmas are amazing cooks. Yes my mom has some good dishes she makes but nuking brussel sprouts in the microwave with orange marmalade is not one of them."
– 12inch_Juicy_Burrito

Still Grateful
"My mom is an okay cook. Did we eat a lot of hamburger helper? Yes. Did she make the same 7 meals in rotation? Yes. Canned veggies and mashed potatoes only? Yes."
"But she put food on the table and I can't say she has ever made anything inedible."
– ElectricalRub9401

Plan B
"My mother in law is a lovely woman. Terrible cook. I'm glad she's in Manhattan because it's a good excuse to go out / order in when we visit. 😬"
– Stellaaaaa

A Harsh Reality
"I cook better than my wife."
"Trust me, it's very controversial."
– JemLover

When I eat tacos, I make a huge mess on the table.
It just takes the first bite for me to destroy the taco shell, leaving the shredded cheese and lettuce to land anywhere not on my plate.
To avoid this, I smash the tacos in a bowl with a fork, and–voila–I've got myself an instant burrito bowl.
Call me crazy, but that's how I enjoy eating my tacos. This is the same reason why I opt for ice cream in a cup instead of a cone.
There have been too many casualties of ice cream scoops hitting the floor after my first bite into many waffle cones.
Want to "know" more?
Sign up for the Knowable newsletter here.

Never miss another big, odd, funny or heartbreaking moment again.
Keep reading...
Show less
We can't explain many people's actions, especially if they are peculiar.
But as long as whatever activity they're engaged in isn't hurting anybody, as well as themselves, who are we to judge?
Ah, but plenty of us will silently be judgy.
Some of the activities unfolding before us can be outright bonkers, and we just have to wonder what makes them do the things they do.

Curious to hear about how others might be perceived in public for doing certain activities, Redditor LordP*yF*ker asked:

"What's legal but if you do it you still look like a psychopath?"
Why anyone would do the following is anybody's guess, but at least the question was answered.
They've Gotta Latte Nerve
"Going to Starbucks and ordering a milk with ice."
– tsuave

Going Nowhere Fast
"walking backwards in public."
– CloudMojos
"So I saw this couple walking backwards down the middle of my street and thought 'huh weird.'"
"Looked out the window 1 minute later and there they were again walking backwards in the same spot."
"Went to the kitchen window and again walking backwards, but I had never seen them walk forwards to get back to that position."
"At this point I think I'm stuck in a time loop. I show my roommate to prove I'm not crazy and this time we see them walk forwards back to the top of the street. So we watch them for several cycles just walking forwards, then backwards, up and down the street, just holding casual conversation."
"Figure it must be a workout routine or something but wtf..."
– BearsWithGuns
What's Up, Doc?
​"Paint yourself orange, dye your hair green, stand in a hole and pretend your a carrot."
– _Raspootin_

Reach For The Sky
"Flying a kite at night."
Business Cardio
"Working out in a suit."
– Poob3
"I had a classmate who did phys ed (also) in a suit. He only had suits, about 20 times the very same outfit, including shoes and ties."
– DarwinWillSolveIt

Could something more sinister be at work here?
Not possible.
After all, these activities are NOT illegal, right?
Midnight In The Garden Of Evil
"Digging holes in your backyard at night."
"Just doing some night digging."
– Hydris

Poultry Facial
"Wearing the skin of a roast chicken like a mask."
– penny_lab
Here's A Treat
"Offering candies to kids with a van with homemade logos."
– khanabyss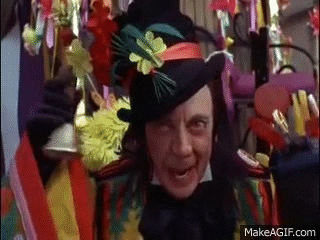 Giphy
Double Brides
"Wearing a wedding gown to someone else's wedding."
– Adventurous_Menu_683
"In pakistani culture its perfectly normal to wear your own wedding gown to someone elses wedding. The gowns are very color full and heavily embroidered."
– IFKhan

Just because it's a preference doesn't mean you won't get an awkward reaction.
Drop Trou
"Pulling your pants/underwear all the way down to pee at a men's urinal."
– Sultan_of_Swing92
"I knew a kid in elementary school who did this. Normally he would use the stalls but one time he did it at the urinal and yelled 'oops I'm not in the stall' then turned and made and held eye contact when I looked cause he yelled."
– OutlandishnessNo3979
Look Ma, No Hands
"Eating in public without using your hands at all."
– DeathSpiral321
"Like... just face first?"
– clumsyumbrella
"Nah, feet."
– pyphais

For Texture
"Eating a banana with the skin on."
– Nipples_of_Destiny
As a subway commuter in Gotham City, I've seen my fair share of crazy on the train.
From unprovoked altercations, to riders taking up precious sitting real estate by spreading their legs wide open, there are many offenses committed by strap-hangers all the time.
My biggest complaint is a common one and it happens as I try to exit the train and my path is blocked by commuters standing on the platform who are simultaneously rushing to get in.
It happened very recently where a guy was standing directly in front of me, and he refused to step out of the way.
I asked him, "so are you just going to stand there?" His choice to stand on solid ground gave me my answer and I aggressively nudged him out of the way with my shoulder.
I didn't have patience for it, because like many of us stepping out of the train, we had places to go.
That being said, I don't highly recommend what I did. As I said earlier, I've seen my fair share of crazy on the train and you never know who you're going to piss off.
I can't wait to be a car-owner again someday.

Want to "know" more?
Sign up for the Knowable newsletter here.

Never miss another big, odd, funny or heartbreaking moment again.
Keep reading...
Show less
Irrespective of men's sexual identity or preference, there are men who hate sports, and there are men who love musical theater. Do participating in either activity make men straight or gay?

Unfortunately, we live in a society where a good majority of people like to put labels on others who are defined by their propensities that either make them more or less, masculine.

Curious to explore perceptions challenging heteronormative behavior in men, Redditor Biscuitgod1 asked:
"Straight men of Reddit, what is the strangest thing you have been told not to do because 'that's gay?'"
The following behavior just screams, "gay," fellas. Watch out.

Song Choice
"Sing a Lily Allen song during karaoke."
– KentuckyFriedEel

School Protocol
​"Advice I received in high school from other students:"​
"Don't cross your legs with one knee over the other. Put one ankle over the other knee."
"When carrying books, palm them and carry them at your side. Don't rest one edge of the books near your waist."
"Never button the top button of your shirt."
– Gorf_the_Magnificent

Look, But Don't Look
"This one time, at summer camp, this guy who'd just been swimming in the lake told me you could tell how cold the water was by how hard his nipples were. 'But don't stare too long,' he said, 'because that's gay.'"
"You were the one who told me to look in the first place!"
– SonOfTheShire
Sandwich For Sissies
"When I was a kid, my dad called me a sissy because I cut a sandwich diagonally."
– captainmagictrousers

Getting Woodwind
"I played the clarinet. I got called Faginet a lot."
– Virtual_Caramell

"But that's one women do," one might argue.
Daddy Duty
"Changing my daughter's diaper. Mentioned it in the office one day. Called gay."
– Bullydaddy
A Lighter Shade
"Buying a white IPhone."
– Freshrendar
"Added my husband (then boyfriend) to my phone plan. Went to the store on my own to upgrade both our phones. We both just wanted the next gen Samsung. It was only available in purplish-pink in store."
"I shrugged and said it didn't matter, he's putting a case on it anyways. Guys working at the store kept trying to talk me out of it, actively pushing me to go to another store, making them lose commission, just so my partner wouldn't have a feminine phone. He used his pink phone for 3 years."
– Caity26

Life Skills
"I've been criticized for knowing how to sew and cook. Those are essential life skills!"
– placeholderNull
"My father was a Marine drill instructor in the 50's. Guess who did all the sewing in my house growing up?"
"Yeah, no one dared to call him gay for it."
– desrever1138
Here are examples of guidelines for being a manly man, according to manly men.

Manly Appetite
"Not a straight man but... back in my bartending days I asked a man if he wanted to see a dessert menu. He said 'if I wanted dessert I'd order wings like a real man.'"
"Weird flex but okay."
– BigJiggies

When I'm In The Mood, I Masticate
"When I'm feeling extra manly, I just take a bite out of a cow and then chew on some raw wheat."
"Like a man."
– AmigoDelDiabla

No Appointments Necessary For Straight Men
"I left a pick-up basketball game because I had an appointment to get a haircut. Evidently, the only straight way to get a haircut is as a walk in."
– patricksaurus

Abiding By The Law Is So Gay

"Using turn signals. And not as some sort of euphemism, but literally using them while driving to turn or change lanes."
– Sargatanus

In grade school, some fellow classmates asked me to check for gum on my shoe because they saw me step in some.
When I lifted my leg to take a gander, the boys were howling hysterically as if my actions confirmed something.
Well, it sure did. Apparently, if I l looked at the bottom of my shoe from in front of me, I was "normal," but since I bent my leg back and looked at the bottom of my shoe from behind, that made me "so gay."
Although, I didn't come out 'til years later, maybe those goons were onto something. Thanks for the heads up, guys.
Want to "know" more?
Sign up for the Knowable newsletter here.

Never miss another big, odd, funny or heartbreaking moment again.
Keep reading...
Show less
Ever feel like no matter how hard you try, you don't quite measure up to your own expectation, even if you've had successes in life?
You're not alone, and that notion of feeling like a failure is referred to as Imposter Syndrome.
People wanting to avoid being associated with Imposter Syndrome, or "perceived fraudulence," try even harder to succeed but never achieve their impossibly unattainable benchmarks in life.

Seeking advice from strangers online, Redditor FossaRed asked those who might be familiar with the phenomenon the following question:

"'Impostor syndrome' is persistent feeling that causes someone to constantly doubt themselves and their abilities, despite evidence, and fear that they may be exposed as a fraud. Reddit, do you feel this way about work or school? How do you overcome it, if at all?"
Although everyone has different strategies, there were good points made that could apply to one's specific mental hurdles.

Helpful Tip
"One of the best advice I have received about imposter syndrome is that it all comes from comparing yourself to others. Don't compare your blooper reel to someone else's highlight reel."
– kitskill

Powering Through It
"Haha, f'kin daily, my dude."
"I don't know if I really overcome it. I power through it and ignore it, but that self-doubt is always there. Any misstep reinforces it."
– Keksis_theBetrayed

Accentuating The Positive
"Jesus, that's my entire day in a nutshell."
"One thing about imposter syndrome for me is that I end up working twice as hard as anyone else. The sense of not feeling like I deserve this just pushes me to work harder and submit higher quality work when compared to my peers. So I suppose there's an upside to it , since I never take what I have for granted, I never slack off and submit bad work."
– jhwyung

Jumping to conclusions when being called by a boss for a meeting was common among these Redditors.
Prepared For Termination
"I had to tell my boss to text me that I wasn't in for discipline when he sent those messages. I always think I'm gonna get fired when I'm called there. Never happens. Haven't had a discipline meeting in 10 years."
– pnwinec

The Surprise Twist
"I got a call telling me that I needed to come down to headquarters two hours away to have a talk. What was the soonest I could come?"
"I made time to go down that week. Stressed. Mentally preparing for the worst."
"They wanted to thank me for all of the great work I had done and wanted me to become an owner along with the two of them."
– Lifesagame81

Confusing Review
"Whenever I have a review or some such at work (yearly, quarterly, whatever) I think 'this is the day they drop the axe' but they always tell me I'm doing good and to keep it up."
"Like, really, you're sure this is my review? Do you know who I am? So they give me another client and a raise. I don't get it; of all the f'ked-up things management does, this is the most inexplicable."
– TheBelhade

These Redditors recalled thinking they had no business being in an enviable position.
Shaking Hands With A Legend
"Without going into details, I found myself at a small private event shaking hands with Paul McCartney being thanked for the work I did getting the event off the ground, so to speak."
"I'm standing in the room with the fruits of my labours (objectively I know I did a good job looking back on it) and all I can think is sir I am a poor dude in an ill fitting suit, what business do I have shaking your hand."
– ayoungtommyleejones

Meeting A Prime Minister
"I also experienced this impostor syndrome a few times before. Once, I met the Prime Minister of Peru, some cabinet ministers, senators and high ranking Generals."
"The whole time I kept thinking: what the f'k am I doing here? i post memes in Reddit."
– NuevoPeru

A Leading Expert
"I'm the same."
"Professionals in my field contact me regularly to ask me questions. Each time I think 'This time, someone is going to figure out that I have no idea what I am talking about.'"

"It turns out that in my field I am one of the leading practitioners, but half the time I am wandering around in dazed bewilderment wondering how the bloody hell I got here."
-- UncleHeavy
Altering perspectives seemed to be an advantageous tactic.
It's Not Real
"I took the horseshoe approach: I realized everything is fake. It came back around to normalcy."
– DrinksPondScum

Minimizing A Stigma
"I think people have a really negative perception of 'fake it till you make it' as some how being disingenuous or deceitful. But as you point out realizing everyone else is faking it while you are faking does help the world to feel normal."
"It does begin to become terrifying when you realize that like everyone is faking it to a degree, but it is a comforting terror."
– Nrussg
According To One With A PhD
"Worked with a PhD holder a few years ago that once said, 'when you get your Bachelor's Degree, you think you know everything. When you get your Master's, you discover that you don't know anything. When you go for your Doctorate, you realize nobody else does, either.'"
"I try to keep that perspective."
– just_some_a--hole

I haven't personally experienced Imposter Syndrome but I understand how perfectionists are especially hard on themselves when they think they haven't reached a benchmark in their lives that should be much higher, according to them.
I would offer that they should take a moment and look back and realize how far they've come to get to where they are now.
Not everyone's accomplishments are the same, which is why I believe comparing yourself to others on social media is a dangerous trap.
Focusing on the accomplishments thus far might be the best motivator without exerting too much pressure on yourself.

Want to "know" more?
Sign up for the Knowable newsletter here.

Never miss another big, odd, funny or heartbreaking moment again.
Keep reading...
Show less
Security guards and first responders keep watch over people or property.
Sometimes their shifts begin when the most workers head home for the night.
Working alone in dead silence and in dark places or responding to emergencies can play mind tricks, but these professionals are trained to remain focused.
What they aren't trained for is how to respond to strange phenomena that can only be described as a paranormal disturbance.
Curious to hear from people who work in protective professions, Redditor L3n777 asked:

"Police, security guards, paramedics etc - Have you ever been called out only to realise it was a seemingly paranormal incident? What happened?"
Something spectral or something from another galaxy?
You decide.

The Darting Light
"Marine stationed in Japan back in 2010-12."
"I was military police. One night around 2-3 am we hear over the radio 'uhhhh. Any units seeing the light over the water south?' It was a marine air station based on the southern tip of Japan. We had no flights coming in or going out that night. Everyone knew there shouldn't be a light flying over the waters."
"So about 3 patrol cars met up at the air field where there was a way better view. Sure as sh*t there's a light sitting out over the water blinking slowly off and on. Some guys tried to say it was a star, so we had traffic control cameras from dispatch zoom in on it."
"Turns out it was slowly moving out of the cameras. So while by ehe we couldn't tell it was moving, the cameras picked it up. We sat there kind of amazed for an hour before it went away."
"As we were getting back into the squad car I took a last look at the night sky and saw a small light dart behind some clouds in a movement that didn't make sense. I didn't tel the other guys, just thought there's no way they would believe me."
"Months later I was running on the sea wall and stopped to lay down and catch my breath. Again saw a light, watched it drive into some clouds and then disappear. That was around the time of the tsunami and Fukushima. Super weird."
– Majestic-Science-220

Extra-terror-estrial
"Not a responder, but lived next door to one who is very famous in our hometown for his alien abduction, but there are other stories, too. This all went down in the 80s, rural England, and my memory of the exact details are fuzzy (been a while since anyone has bothered discussing it, small hometown and everyone knows and is over it)."
"The alien abduction story is that he was on the way back from a call out, saw some odd lights on the road ahead and had to stop, a one track road. He went to investigate the lights as any good police officer does, and next thing he knows it's a half hour later and he's back in his car seat, car facing the other way, some odd substance on him, no lights to be seen."
"The police dispatch also confirm that his radio frequency just disappeared for that half hour. The substance was tested and didn't match any known profile (I really have no idea what that really means or what tests were)."
"At around the same time, this officer and some others were called out by a farmer whose cows had disappeared. Yes, very stereotypical cows in a tractor beam story. But the farmer reported them missing, multiple police show up, gate is locked and no cows."
"They all decide to drive around looking for the cows. The paranormal magnet officer reports that thing where you keep trying to drive somewhere but always end up back where you were when it shouldn't be possible on his route, but they all convene back at the field at the end of shift."
"The cows are back, though none of the officers found them and nobody called in to find them. And remember, paranormal officer has seemingly been driving past the field on a loop all night. The farmer was also unaware when they called to ask him. Totally sounds like the farmer pulled a prank, except it was raining that night and there was loads of wet mud building at the edge of the field where the gate is, and not footprints or hoof prints, and the cows were dry, too."
"The last story I have the vaguest recollection of, I think it happened some years earlier and the paranormal officer was called to the discovery site. It is mostly about a different guy, a farmhand who was an immigrant who disappeared without a trace and then appeared several days later and miles away, dead, with burns and another unidentifiable substance all over his body, dumped at the top of a pile of coal."
"Again, no sign of anyone climbing up the very precarious pile of coal. And no sightings of this farmhand getting from the farm to a different town - one road, and he didn't seem to be on it at any point. He was in the same clothes but appeared to have undressed then been redressed by someone else."
"Autopsy couldn't find a cause of death, it wasn't the burns, and he was like, barely dead (no rigor mortis) when discovered. Edit: Should probably add that the official answer to the farmhand death was spontaneous ball lightning, itself a weird theory, and it doesn't explain most of the situation."
"I am not saying aliens but everyone at home is mildly convinced of the aliens."
– bingley777

It all starts with a sound.
After Hours Visitor
"Universal Orlando has a ride that you can hear a little girl laughing and someone running up and down the corridors after the ride closes."
"I've had doors that only lock with a key somehow lock when no one was around. The mechanics only work with ALL the lights on and music blasting."
– Revolutionary-Yak-47

Undetected Visitor
"Unarmed security for a residential building here, this is extremely tame compared to some of the other stories here but this is a pretty salient subject (and I have evidence)."
"My site has a rooftop pool and it's really one of the only major things the management gets anal about when it's supposed to be closed. On a chilly night not too long ago I was posted up in the rooftop stairwell staying warm when I hear a crescendo-ing fit of laughter that goes to the point where the laugher is gasping and choking."
"Kind of weird, but not a big deal considering that people throw parties and whatnot all the time and I could tell it wasn't close enough to be someone horsing around in the pool. Then I just start hearing a bunch of shrieking, and the source of the noise is moving around."
"At this point I step out, and I realize it's coming from the rooftop itself (locked up and only accessible by non-security by scaling a concrete wall). The noise stops and I try to start zeroing from where exactly on this dark, slippery, cold-ass roof the noises were coming from."
"Then I see some footprints on the roof that were not there before. Barefoot prints with no heel print (tiptoeing). Footprints that are dirtier than the surface of the roof itself. Noped my way right back inside because it was an hour before clock-out"
"I'd much rather have something paranormal than a methhead on the roof running around with no shoes."
– Insominus

These Redditors had no clue who or what was moving things around.
Ghost Driver
"Yyyooooooo lol you might not believe me but at universal studios Hollywood the lower lot we use golf carts or Ford explorers to patrol. There is a golf cart that drives it self at night."
"We have the number of the cart on camara and I sh*t you not it's been 'no operational' for over 6 years. (Some one wrecked it on lot) thing drives around jaw lake and residential area at night. Scary sh*t is I patrol up there alot for my swing shift never seen it but camaras catch it zooming past use when we are driving lol"
– Fearsnodeath

Maybe The Building's Old
"I know the feeling, especially with the doors. the building I work in has these sliding doors. The outer doors locks at 8pm but the inner doors stay unlocked. Sometimes around 1 am or 2 am the inner door will open like someone just walked past it... Once the locked outer door slid open like someone walked up to it... "
"That night I cut power to the doors for the rest of the shift. Same with the phone, except we can see who is calling in, whether it is an outside line or if it is coming from in the building. At least once a week there will be a call from one of the offices in the middle of the night, the first night it happened I assumed it was housekeeping, next morning I spoke to head of housekeeping and was told all housekeeping leaves at 8pm, same with kitchen staff, and maintenance."
"Management is out the door by 5pm, only staff in the building after 8pm is myself and a handful of nurses, and it can't be any of them as they are on another floor, I have the only key to the offices the call comes from, and I would see if anyone entered or exited the offices. Same with the alarms, had the fire alarm go off last week and it prompted all the fire doors to close, as soon as those doors closed it stopped."
"I checked, nothing in the building to trigger it, opened the fire doors back up, sat down at the desk, 5 minutes later alarm is shutting the doors again for no reason."
"So only thing I can figure at this point is this building I work in is an old building and it probably has some bad wiring somewhere that keeps setting things off."
– CylonsInAPolicebox

I always imagine security guards wander dark corridors at night illuminated only by their flashlights to investigate strange sounds.
If that is a reality, to them I tip my hat.
Because regardless of earning a decent wage, I would never want to subject myself to witnessing horror movie tropes like fresh footprints when no one else is in the building, or a strange point of light darting around that is not traced back to my flashlight, or slamming doors not due to mechanical failure.
To all responders in the field, thank you for your service.

Want to "know" more?
Sign up for the Knowable newsletter here.

Never miss another big, odd, funny or heartbreaking moment again.
Keep reading...
Show less