As much as there is an allure of living in small towns, there seems to be just as much mystery.

People living in low-populated areas seem to know each other and what their neighbors are up to.
There is a sense of security in knowing that someone has your back.
But on the same token, as is typically depicted in movies, small towns have their fair share of nefarious activity that those in the know are sweeping under the rug to maintain their town's good name.
Curious to hear about bizarre cases that don't always make mainstream news headlines, Redditor descended_from_apes asked:

"Small Town Redditors, what's the weirdest unsolved crime in your town, old or new?"
Not all mysteries involve unsolved murders but are just as baffling

A Crime In The Turd-Degree
"Nowhere near the scale of disappearing children or Nazi collaborators, but my hometown's biggest mystery is who keeps sh**ting in the holes at the golf course."
"Person has been doing it for more than 20 years. Every 2-3 months, there's a hole that's been pooped in."
Outstanding Debts
"I found out my grandma played cards with the mob in a liquor store basement. I was reading a news article on a cold case from the former owner disappearing for an English assignment and my grandma kinda just frowned, told me she used to play cards with him and never payed his debts."
Unsolved missing persons cases like the ones mentioned below can be agonizing for family members.
Death Chair
"Happened this year."
"A man rented a room at a guest house. When he left the host went to go clean/ prepare the room for the next occupant."
"The room was covered in blood. In the shower there was a chair with a pool of blood-it is assumed the person died in the chair."
"So the baffling part is that there is a camera trained in the room's door. The man entered and left alone without a speck of blood on him."
"The authorities assumed the blood belonged to a woman whose chopped-up body was found in a nearby damm. Blood tests came back and it doesn't."
Missing Classmate
"1973: My 4th grade buddy, Guy Heckle, disappeared during a boy scout camping trip. They found his coat, that was all. Not another clue after all these years."
The Bar Patron
"Man got kicked out of a bar 3 years ago this December and went missing. Nobody has come forward with tips at all. He went missing from a fairly busy part of town too."
And sometimes, when the bodies turn up, their identities can remain forever a mystery.

In Deep Trouble
"Where I grew up they found a dude who was buried under the cement in a building, no history or information about him. It's clear that he got into some deep trouble with someone."
– KGhaleon

Remains In A Lake
"About 15 years ago. A town near where I grew up drained a man made lake that was used for recreational swimming. This particular year they decided to drain the whole thing to do a clean up. They discovered an intact skeleton that had been sitting at the bottom of the lake for something like 50 years based on the class ring that was still on the skeleton. From my understanding this person had never been reported missing or anything."
Some of the saddest cases involve the death of a newborn with no known causes.
The Infant
"About 30yrs ago a refuse worker found the badly burned body of an 18 month old boy amongst the bags and recycling. Forensics deduced that due to the condition of his liver he'd died less than a week before his body was found."
"Hospital and medical records were used to establish that nobody in the county was missing a child."
"He doesn't have a name on his gravestone."
"Edit: it was in Cumbria, England."
"The police likely didn't retain a DNA sample, or we might have heard something about familial DNA by now.The local police aren't very good - look up the case of Poppi Worthington as an example."
"Most local people assume he died of SIDS, then his parents panicked and tried to conceal his body. Whoever did it must have had an element of local knowledge in order to know where to put the corpse."
​A Proper Burial
"There is a street in my city called Park Ave. It's a very small city, mostly blue collar."
"In 2005, a newborn baby boy was found dead near a factory on Park Ave. Doctors could tell he was born alive and likely lived for a few hours before he died. I don't know if he was abandoned (left to die) or killed in some way; that info was never released. Police made a statement saying please come forward, we want to help you bury this child properly."
"The mother sent an anonymous letter to the police station two weeks later, and said she would come to the station soon. The letter didn't explain the circumstances, but it did say she was afraid."
"She never came forward. The baby was named 'Baby Parker' and money was raised to give him a proper burial. People still leave gifts at his grave."
Thanks to horror movies, small towns get a bad rep.
Under the veneer of warm hospitality and kindness lies an unsettling sense of discomfort.
Are the denizens covering up a murder committed by one of their own? Or was there a grifter who dumped a body in their unassuming town and fled the scene?
In the game of life, no one gets out alive. But hopefully, your life's journey won't end in a small town.

Keep reading...
Show less
When you go on a job interview, the last thing you probably never think about is asking a question.
Unless the interviewer provides an opportunity for you to make an inquiry about the company, many of us prepare for job interviews ready to answer their questions.
So we prepare accordingly by doing our research to impress the representative about our knowledge of the company to which we are applying.
But we should also be prepared and ready to ask the right questions to have a leg up on the competition.
Seeking examples of these from strangers online, Redditor fmgame asked:
"What is THE best question to ask on a job interview?"
A company's history or information about a past employee were suggested subjects appropriate for questioning.
Prior Knowledge
"When you were interviewing here, what would you have liked to know before you joined?"
"This worked for me. I asked my interviewer a question about how she had personally dealt with a company policy she had just explained. She bragged about her stellar adherence to the policy. I nodded my approval. I got the job."
A Previous Employee
"One that has always gone over well for me:"
"What were some qualities that the previous employee in this role brought to the job that you would like to see carried forward?"
"Another good thing to do is research the company you are interviewing with and you can ask things about what they may be involved in or you could drop that while reading about the company, you wondered this."
Hypothetical questions were suggested as helpful examples of inquiry.
Indicators Of How Companies Treat Employees
"A question that landed me a job once was: 'If I asked your direct reports about your management style, what do you think they'd tell me?' Stumped a hiring manager and he emailed me personally to tell me about it, no one ever asked him that question but got the job.
"In my current interviews I'm asking 'what did your company do for its employees during [the virus] to improve their day to day, work life balance, etc.' and I ask 'Is there anything your company adopted during [the virus] that they plan to keep post [the virus]?"
"These questions give a lot of insight into whether a company treated their employees well."
Past Performance & Adjustments
"If we were currently sitting in my 1 year review, what would I have done in this year for you to say I excelled in my role?"
"If I could snap my finger right now and change anything about your job or the company, what would it be and why?"
The following questions about a prospective company may not be answered from initial digging on their website.
Measure Of Success & Career Trajectories
"How is success measured in this role?"
"What are some possible career trajectories within the company that could stem from this position?"
Being A Solution
"Ask them what is the biggest problem you can solve for them in your first six months with the company. Similar to 'don't think of a purple hippo,' this forces them to imagine you succeeding in the position."
Greatest Hits
"What do you like best about working here?"
– SJExit4
Simply The Best
"Who is your best employee and why is he/she the best?"
"You will then face 2 situations mostly:"
"panicking CEO who can't answer you 'Bob who works 17 hours a day for a slice of bread' so the fear in their faces must be a big nono for you"
"entusiast CEO who actually follow their business and can tell you who is an added value for the company and why."
– ThePiz91

My experiences with job interviews are different than others seeking work in office environments.
Having had a years-long career as a dancer, my "interview" was the dance audition, where hopefuls dance in small groups of people at a time after learning a routine and then awaiting their fate after the panel evaluates their performances.
The question I may or may not have asked in such a scenario earlier in my career was: "Did I make the cut?"
I did not make the cut. And I learned never to ask that again.

Keep reading...
Show less
You know there are some randy people in our midst when they see a banana and get aroused when thinking about its phallic shape.
But you know what? Sometimes, a banana is just a banana.
Libidinous individuals have a tendency to sexualize the things around us that have nothing to do with what happens in the bedroom.

Curious to hear from strangers on the internet, Redditor tmime1 asked:

"What is one thing that is so sexualized in society but has nothing to do with sex?"
Many thought these were inappropriate scenarios.
Father Figure
"The word daddy"
"I don't even understand how it got to this point. Calling someone 'father' in bed is the creepiest thing ever, so how did 'daddy' get a pass?"
Common Porn Theme
"Step siblings."
"More broadly, people just like to fantasize about things they shouldn't do. Lots of men and women have an undeniable (and literal) lust for the taboo. Actual incest is still too much for most people, but most people still think that banging a step-relative is creepy enough to feel like it shouldn't get done -- and therein lies the attraction, I think, for people who are into it."
Competing For Looks
"Pageants for preteen girls."
These are related to things you put in your mouth, but for actual consumption.
Oh Lolly Lolly
"I ate a lollipop at Disneyland once as an adult, bc my dad used to buy me them as a kid, and it was nostalgic. Two different crazy older ladies stopped me to tell me I was disgusting. I offered to buy them lollipops. They declined. I don't get it man. It's candy."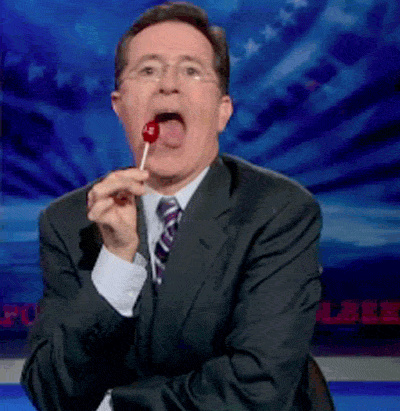 Stephen Colbert GIF
Giphy
Sexual A-Peel
"Eating a banana in public makes me uncomfortable for this reason."
X-Rated Veggie
"Same. I also used to hate scanning cucumbers when I worked at a checkout as a teen."
– Woshambo
The frequent depiction of sexual teens in TV shows and movies were mentioned.
Teen Drama
"Teens in young adult media. There doesn't always have to be a romance subplot/sex scene."
– ohmygay-
The Actors Portraying Teens
"Doesn't help that teens are usually played by actors in their twenties or even their thirties."
"Just write college aged or young adult characters if that's what you want to tell stories about."
– ohmygay-

Authenticity Is Overrated
"The teen characters in these shows always have very adult resources, conversations, opportunities, drama, and perspectives ...clearly, nobody wants to watch shows about actual teenagers. Imagine watching 30 min of someone eating Takis, scrolling their phones, failing statistics again, and having infrequent and sh**ty sex."
False Narratives
"Seriously! I hate every movie and show that involves young adults and the trope that teens just do 'drugs, sex and parties' all the time! This isn't true and is so overdone. Let it die."
"Teens can be immature, can have sex and do drugs and that happens irl. But they're real people with real agency too. Some of them mature up fast because being in sh**ty families makes them realize they have to raise THEMSELVES because their a**hole parents won't. Some of them are more intelligent than adults give them credit for. I hate that movies and media underplays that. It really gives a false narrative for young and old people alike."
Food is evidently a very common sexualized thing in society.
The manner in which one licks a lollipop or Popsicle can be very arousing because of what the act simulates.
But It wasn't until I saw Call Me By Your Name that I realized the full potential of a peach.
Let's just say Call Me By Your Name was to a peach what American Pie was to the eponymous dessert.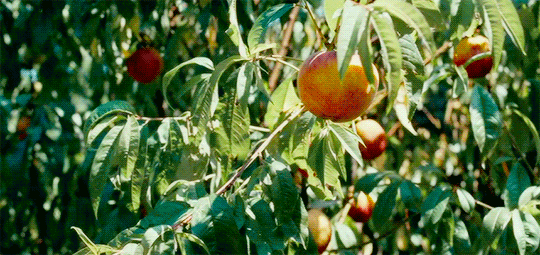 peach lucaguadagnino GIF by TIFF
Giphy
Keep reading...
Show less
Humans have a tendency of going along with a trending moment, and the person, moment, or thing that is being glorified gets overhyped.

But if one ever takes a step back from all the hype and really examines what is actually being revered, they may discover it was not anything worthy of praise, to begin with.

This shows that many people are easily influenced and go with the crowd without analyzation.

Curious to explore this phenomenon, Redditor A_Bit_Drunk asked strangers on the internet:

"What needs to stop being put on a 'pedestal?'"
The people we look up to shouldn't really think they are above everyone else.
An Act Of Cruelty
"I realized one of the most unkind things I can do to someone is to put them on a pedestal because, inevitably, they're going to do something that's going to knock them off it. Then I am going to have a trouble with it because I needed them to be something else and that's inhumane."
– tool2281

High-Profile Individuals
"Politicians."
"They're selected for a job, and a lot of them do it poorly, but are still treated like celebrities."
"Also celebrities shouldn't be put on a pedestal either."
– Shy_Poke

Influencers
"There are tens of thousands of people that are social media famous that I have no idea who they are and am very happy about it."
Back To When
"In a way it's a return to old times, but in a very different way."
"Modern celebrities required (relatively) modern media for mass distribution to achieve their wide reach. TV and radio turned "the best singer in the village" into 'an international phenomenon.'"
"Now with internet media, we still have the same wide international reach, but because everyone has theoretically equal access to that broad reach, we are back in small communities. But instead of it being the local celebrity of your town, it's the minor celebrity of your tiny-yet-global niche interest."
– maneo
The following people believe we should work to live rather than live for work.
Dedication To A Job
"Giving all and everything to a job. The reality is very few places truly care about employees. Your job is a transactional relationship. You owe them nothing except the hours you work and the jobs you must accomplish during that time. Don't give up your sick days, work for free, or feel you 'owe' them."
- selantra

Raising The Bar
"Giving your all to a job sound like a good way to work yourself to death, if you are aways giving 100% every single day that creates expectations, so chances are, when you inevitably get tired and start to fall back, people will get disappointed."
Working To The Limit
"Working to the point of burn out."
"Unfortunately my husband is like this. He's too much of a perfectionist and picks up other people's slack and shortstaffing. It's compounded by the fact that he works with animals, so he's more likely to work himself to death than let anything happen to them."
"Except for maybe Terry the tarantula, according to my husband he's a bit of an a**hole."
The Sacrifices Made
"Sacrificing physical and mental health, leisure, and interpersonal relationships for the sake of work."
Certain behaviors and attitudes were deemed worthy of knocking off a pedestal.

Excessive Drinking
"Getting drunk. Binge Drinking."
"The more you drink, the tougher you are. Taking shots just to prove to others how much you can handle. All to wake up with a nasty hangover the next day."
– LOA4SC

Covering Up Rudeness
"Masking rudeness as 'honesty', and when they say something that hurts someone they are 'just calling a spade a spade'."
Viewing The Disabled
"People treating disabled people like human beings with unique personalities, interests, and aspirations."
"Newsflash! That should be the standard!"
I have to agree with many on the thread who said working too hard was something that shouldn't be on a pedestal.
Sure, work integrity and dedication can get you a promotion or a raise, but in my humble opinion, I believe using all of your extra time and vitality towards impressing the bosses can be detrimental to one's mental well-being.
I have friends in real estate who are very driven. With each closing on a deal, the immediate high only makes them want to push harder for more successful deals.
They would forgo vacations in favor of having more sales under their belt rather than getting stamps on a passport.
At the end of the day, my hard-working friends may be financially well off, but I often wonder what life experiences they would have to show for all the time spent on the field.
But who am I, really, to have such a concern about people's work ethic?
If my friends can say they are "happy" with their life as it is – not having seen the world (outside the pandemic, of course), or spending more time with clients without occasional quality time with family and friends – then we just have different interpretations of whatever happiness means.
And I hope my sentiment didn't come off as someone who is above it all.
Keep reading...
Show less
When we think of a bad@ss, several candidates come to mind.

"Who would you consider as the most badd@ss person in history?"
Keep reading...
Show less