As adults, whenever you see teenagers being boisterous or rough-housing others, we tend to roll our eyes and move, chalking it up to youth.
I don't know about you, but when I was younger, in high school, I felt invincible and acted accordingly with my classmates without a care in the world.
But there is such a thing as going too far, and even teens who know better, generally know when they've overstepped a boundary.
Curious to hear of those instances, Redditor Silent-Zebra asked strangers online to reflect back on their youth.
They asked:

"What's something that a friend/classmate did in high school that was seen as funny at the time, but you now realise was actually not ok?"
The cruelty of these students showed no bounds.
Why An Elevator Was Installed
"Had a kid in my year who'd had a surgery that left a nerve bundle in his neck exposed. If pressed it would paralyse him. From memory it was for spina bifida and for some ungodly reason he told everyone."
"Certain boys took great pleasure in going down stairs behind him and pressing it which completely paralysed him for a few seconds and he'd fall like a brick. Usually onto whoever was in front of him."
"So dangerous. There were a fair few teeth knocked out because of this, his and other people's."
"It happened so much that in his 3rd year the school installed an elevator and you had to have a special key to use it. He got the only permanent issue key at that time."
"Kids are a**holes."
– notalotasleep

Teachers Are People Too
"In the 6th grade, I had a friend who was a troublemaker and a class-clown. I've always hated going to my math class because my teacher was a cranky old lady who'd yell at you for the smallest things. Me being an 11-year old, I actually had the worst anxiety just knowing I could be the next person yelled at in front of the class. The one thing that helped get through the year was that friend cause I knew he'd always make jokes and have me almost in tears cause they were that funny."
"One day, when my teacher walked out to use the bathroom, that friend went over to her desk, picked up the mug she was drinking out of, and spat out the biggest loogie into it. We all saw it and just waited for her to come back. 10 mins later, as she was just normally teaching, she picks up her mug and chugs it down. Everybody just starts laughing and giggling, including me, but nobody said anything when she questioned it. It was horrible but I wasn't about to be the kid who snitched."
"Later on during the school year, I guess we had a day where it didn't start at the normal 7:30am but instead 10:30am, but I didn't know so I showed up really early. A bunch of kids didn't get the memo so we were all just placed in the cafeteria until school actually started. Around 9ish, my math teacher noticed I was sitting out in the cold and invited me to her class where it was warm. When I got there, she let me work on my missed homework and even let me eat breakfast in her class. She asked me about home life, school life, if I had any friends, etc. she made me feel welcome. She then told me about her life, about her only son, about her husband who passed away from cancer 20 years back. She was very sweet."
"This was like back in 2008, and I think she was like 70 years old. I don't even know if she's still alive after all these years. But I wish I could go back and stop my 'friend' from doing what he did. :("
– byJSN
Imprisoning The Teacher
"Our religion teacher went into the cupboard for supplies, she was quite strict and not liked but now I'm an adult I realise it doesn't excuse what happened next. The class clown snuck up and locked her in the cupboard. We all thought it was hilarious at the time and we all left the class. She was in there for the rest of the class until another teacher found her in there crying an hour later. She took 2 weeks off after that"
– usernamegenerator98

Adults later realized the severity of some bad behavior back in the day.
Revenge
"Few messed up kids in my primary school lit a teachers car on fire, just because she gave one of them failing grade on midterm. It wasn't one of the mean teachers, she was mostly nice to students. Cops got involved but don't think they got punished accordingly, i know one of them was in and out of juvie already, and were all around 13- 14yr old, one was even in nazi sh*t. I know later on those kids got all tangled in dealing and robberies, probably all went to jail at some point."
– spooch001

Changing Nickname
"In our school there was a teacher who had a mole, so of course the kids decided her nickname would now be 'mole.' She must have felt really hurt, as she eventually had the mole removed, leaving a little dent where it used to be. Did everyone then stop calling her names? Nope. They started calling her 'hole' instead."
– bemmu
Free Bike
"this was in elementary: my dad bought a brand new bike for me and i rode it to the park and these older kids came up to me and asked if one of them could take it for a test drive. i said ok and about 10 seconds in, i see the guy riding my bike being pushed off and my bike being stolen right in front of me. the older kids 'helped' me look for my stolen bike but growing up I realized that they plotted this whole thing and yeah i basically gave my brand new bike away."
– SingaporeanSlaw
Nobody got hurt, but it doesn't mean certain actions don't sting.
Future Indication Of Trouble
"Living in the Netherlands. Classmate was showing on his phone a whole online shop he claimed to have with all kinds of drugs and weapons. We thought it was funny because we didn't take it too serious. He dropped out of school early and turned out to be a big drug dealer. Well we could have known I guess."
– Environmental-Cold24

The Drama Department Wasn't Involved
"A kid faked her own kidnapping. It was all fun and games until the police started chasing her 'kidnappers' van."
– AvocaDotty

Old Hijiniks
"Pantsing somebody in front of everybody. Is that even allowed anymore? That was soooo commonplace as a kid.- Wearing a mirror on your shoes to look up skirts. Even teachers thought it was funny that students occasionally did that."
– Negafox
It's all fun and games until someone gets hurt.
But by the time the pain has been inflicted, it's too late as some emotional scars can take years to heal.
As someone who has been both a bully as well as a victim, I can tell you, I still live with regret and trauma from past actions in grade school.
Just gonna leave this here: Monitor your kids, folks.
Keep reading...
Show less
Contrary to popular belief, one of the top difficulties for parents and teachers alike is to not laugh at inappropriate moments.
Sometimes kids say things in hilariously wrong or sassy ways, and it can be so hard to not burst out laughing.
But when they say or do something that's also inappropriate, it's important to teach them the lesson now and have a laugh later.
Looking for a good laugh, Redditor Grouchy_Factor asked:
"Teachers of Reddit: What was an inappropriate comment or behavior you had to discipline a student for, yet you secretly thought was hilarious?"
Young Sailors
"I teach kindergarten. One of my sweetest little girls, coming inside from recess, smiled and said, 'Man, it's f**king cold outside!'"
"I asked her to repeat herself, and sure enough, I heard her correctly. It was hard not to laugh!"
- Square-Set7031
Breaking the Fourth Wall
"A friend of my parents was acting in a University play as Poseidon, who was evil and had various dastardly monologues throughout detailing his nefarious mind."
"Anyway, a group of school kids sat in the front row in the audience, all about nine years old."
"In the middle of a particularly intense and malicious speech, one of them stood up and shouted, 'F**k off, Poseidon, you're a w*nker!'"
- Spiritual_Review_754
Road Rage
"My daughter, the cutest little blonde-haired thing, around three years old at that stage, was in her car seat behind me en route to the crèche when someone cut me off."
"I didn't shout but I just leaned on the horn for what seemed like forever."
"When I finally let off the horn and sat back in my seat, this concerned little voice from behind me asked, 'Daddy, is that guy a [c-word]?'"
- icallshenannigans
Inappropriate Presentation
"9th-grade student did a report on Whaling. The rubric required images on every slide and, to get their points, students needed to explain their images. Thinking that I wouldn't notice, he decided to use images of Sperm Whale penises. A new photo on every slide of large pink whale penises breaching the ocean waves from all angles."
"I asked him to explain his images. He said, 'Well, that's where you get the sperm.' With a very straight face, I asked him to come in at lunch. With grave seriousness, I explained that, now that he had exposed 30+ kids to whale penises, we would need to let his parents know."
"So, he called his mom and, voice cracking he said, 'Mom… I put a whale penis on my slides,' and started to cry. His mom talked to him about making good choices and how this might affect how others perceive him."
"But, later, when his mom chaperoned a field trip, we laughed and laughed. She made him tell his dad later that night and once they were alone, his parents laughed until they cried. I shared the presentation with my boss, and we thought it was so funny."
"How brave!! How stupid!! This is the most famous story in my group of friends, and I love getting to tell it at gatherings."
- esowmmm
Hating Vegetables
"A kindergartener shoved her hand into the spinach at the salad line in lunch, held it up, and shouted, 'Leafs is for sheep!' before throwing it in the ground in disgust."
"I had to walk away while another teacher scolded her for wasting food because I couldn't keep a straight face."
- sonomamayana
The Butt of the Joke
"Elementary PE class was getting lined up to leave the gym. The biggest kid in my class bent over and of course, had half of his butt crack pop up the back of his pants."
"The smallest kid in class with his high-pitched voice proceeded to yell, 'Release the Kraken!'"
" I was getting ready to get on him when the big kid started to lose his mind laughing. Once he started, the rest of the class and myself started. The big kid was an awesome young man and said he thought it was hilarious."
- manofsteele3297
R-E-S-P-E-C-T
"After telling a kid he needed to buckle down and get work done, he point-blank told me that if I just sit there on my a** all day, he can sit on his a** and not do work too."
"Ballsy move, kid. It didn't pay off as I sent him downstairs, but I still chuckle about it."
- Deezypeezy
Big Negotiator
"I handed a detention slip to one of my ninth-grade students, and he tried begging his way out of it. He eventually said, 'Who do I have to kill or sleep with to get out of this?'"
"He was not aware that the administrator in charge of discipline had quietly entered the room immediately prior to this. (This was the hilarious part.)"
"I later related this event to the middle school football coach, without naming the student. He replied, 'That sounds like something [actual name of student] would do.'"
- EvilSnack
Main Character Energy
"I once had a kid with ADHD, regularly late, really late."
"One time he turned up and I said, 'John, you're late again. It's nearly 11 o'clock.'"
"He replied, 'What's the problem, you're open all day!?'"
- R0gu3tr4d3r
Danny DeVito
"Kid printed 1000 copies of Danny Devito photoshopped into a chip and labeled 'Danny Dorito' and taped copies of it everywhere."
- Riot55
Inappropriately Funny
"I teach seven- and eight-year-olds at the minute. At lunchtime I overheard Child A say to Child B that they can't eat something because they have a nut allergy."
"Then Child C came in with the comment, 'But are you allergic to THESE NUTS?' as he cupped his pants."
"I had to call him out, of course, but I was laughing on the inside! As the child was in tears for getting in trouble."
- NostalgicDreaming
'Your Mom' Jokester
"I was teaching a Southern Indian immigrant kid with a strong accent. Kids were riffing 'yo momma' jokes about him."
"The kid got everyone's attention and then dropped, 'I, too, would make fun of your mother, excepting that cows are sacred in my culture.'"
- thereprbate
Funny Because It's True
"My wife is a teacher and had to tell off a group of her kids for consistently calling another kid Karen (not her name)."
"Problem is, the kid in question is definitely a Karen and my wife secretly thinks it's hilarious."
- toomunchkin
Literally
"My wife, a middle school teacher, once told a kid to walk over and flip off the light switch so the class could see the overhead projector easier."

"So... he walked over and gave the switch the bird."
- Tactically_Fat
For the Love of Science
"We were doing some very basic fermentation experiments in high school, the one where you add in different amounts of yeast, warm water, and sugar in flasks and you place a balloon over the top to see which one expands the most (aka produces the most carbon dioxide)."
"Anyways, one of the groups overdid it and their balloon exploded sending a gooey yeast mess all over the four group members."
"One of the kids stands up, removes his goggles, and shouts, 'I f**king love science!' at the top of his lungs."
"This happened to be during an observation. The admin was also trying to suppress her laughter."
- chaparrita_brava
Though there were teachable moments sprinkled throughout these stories, it's more heartening to imagine these teachers having something to laugh about at the end of their long work days.
Keep reading...
Show less
Adults are meant to be the wise ones.
Adults lead children and show compassion and grace.
Well that is the plan.
So it's always disappointing when many adults show cheap, rude behavior towards the young that Billy Porter would read for trash.
I guess it shows just how flawed we all are and how many of us stay.
The sad thing is that showing that kind of behavior to a child only prolongs the cycle.
You're the adult... act like it.
Redditor x3Nekox3 was hoping some people would share some tales about the times elders have shown less than perfect behavior. So they asked everyone:
"What was the most petty thing an adult did to you, when you were younger?"
Rules. Adults holding onto rules that make no sense, just because.
So petty.
Unreadable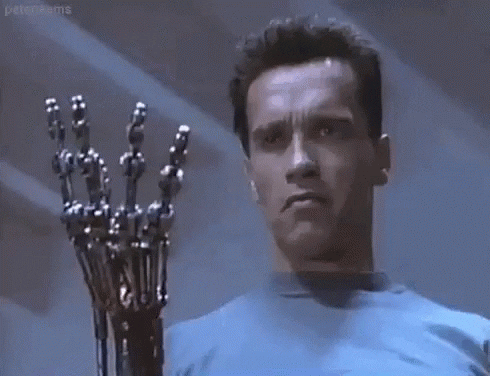 hands swerk GIF
Giphy
"I broke two fingers on my dominant hand in 9th grade and had a splint on them so I couldn't write. I had a test at school and the teacher made me write with my left hand then marked my answers wrong because she couldn't read them."
j0hnniefist
Penmanship
"I have horrible handwriting. I have forever, no amount of intervention or practice has helped. When I was in 5th grade, my Social Studies teacher seemed to take a lot of pleasure in constantly reminding me of how awful my hand writing was. We used to have to bring out notebooks up for her to check our homework."
"I dreaded this so damn much. She would hold up my notebook so the whole class could laugh at my handwriting. I'm grown now, that was a long time ago, but I still hate to have hand write anything that other people will see."
KringlebertFistybuns
Thinking Back
"In grade four, a teacher gave us a few questions before lunch break and expected us to answer each of them correctly right after the break was over. A classmate couldn't get a few answers correct so the teacher made him walk to each bench and get a slap from each student present in the class. Thinking about the incident now, I feel like going back in time and beat the sh*t of that horrible teacher."
Geniar_med
Grunt Work
"At 16 years old, I had a job at a gas station after school. Did all the grunt work (sweeping cigarettes in the parking lot, emptying trash bins, etc.)."
"I'm taking the trash out one day and a grown a** man in his 40s comes up to me and says something along the lines of 'I make more money in a week than you do in a whole year' and all I could think at the time was 'Well yeah, I sure hope you do I'm in high school.'"
"Such a petty thing to say to a kid just trying to make a little bit of money after school."
therealjoshua
Hey Bunny
"I was at an Easter Egg hunt when I was around 6. It was in a big park area with lots of rocks. I saw a little chocolate egg foil glisten and ran over to pick it up. As I reached my hand out to pick it up a man trod on my hand to stop me getting it, then he called his kid over to 'find' it."
HedgeHoggington
Why is Easter always such an issue? Hunt responsibly...
Traitor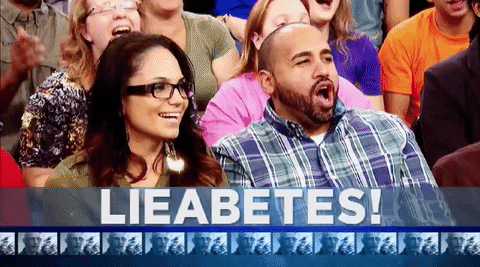 lies liar GIF by The Maury Show
Giphy
"I did a chore that my father had asked me to do. My mom got home and commented on how nicely the chore was done. My father took credit for it in front of me - so I fired back saying that I was the one who had done it... he then yelled at me and called me a traitor."
MadeItForTheArt
Still Salty
"I got in trouble in 6th grade for reading during home room. Home room was like a random 30 min period to work on homework but I always did my homework the night before so I would just quietly read. For some reason my home room teacher hated it."
"One day she just yelled at me for always reading in her class and told me to do my homework. I told her all of my homework was done. She told me to prove it so I showed her all of my completed homework. Then she confiscated my book and sent me to the principal's office for being disrespectful. I'm still salty about it."
omglookawhale
Still Shocked
"A math teacher handed back our tests in class. They were graded and marked and all that. She was going over some of the questions that most people got wrong (myself included), so I was writing down some notes on my test so I could reference it later and remind myself why I got things wrong and what I was supposed to do."
"She ripped my test away from me and started screaming at me that cheating is absolutely not allowed and that I should be ashamed of myself. Confused and in shock, I started choking up and tried to explain that I was just trying to take notes. One of the most humiliating times of my childhood (around 13 years old), and I still don't understand why it happened."
Soulfighter56
You too?
"One of my uncles was in a years-long fight with my mom. To stir trouble, any time he greeted my sister and I, he would tell my sister how beautiful and wonderful she is and to me just say 'Oh, you're here too' and then promptly ignore me the rest of the night."
"I used to adore him up to that point so this ended up in me being extremely hurt and crying to my mom for hours about how I'm ugly and not special."
"He got his petty vengeance on my mother and crushed my self-esteem. Till today I don't forgive him for it."
super-ro
Just Ill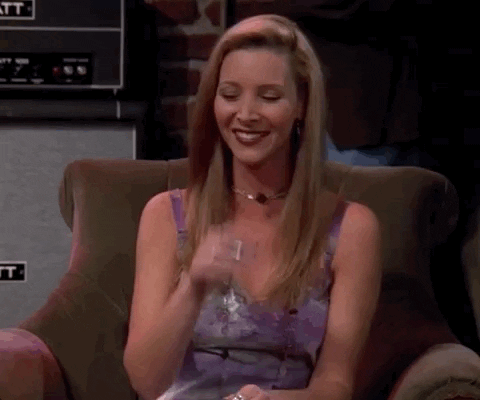 Sick Season 4 GIF by Friends
Giphy
"I was feeling sick one day in grade 3 or 4 and the substitute teacher wouldn't let me go to the nurse's office because 'I didn't look sick enough.' I had strep throat."
buzzybee2
Some adults really are a mess.
Do you have any experiences to share? Let us know in the comments below.
Keep reading...
Show less
There's little that frustrates teachers more than when their students are caught cheating on their work.
Most of the time, the frustration stems from the fact that these students were obviously peering over at the student next to them or handed in a paper that was completely plagiarized.
Leaving the teachers baffled at the idea that these same students thought they could get away with it.
Some students, however, go to somewhat greater lengths to ensure they aren't caught and come up with more original ways to cheat on their assignments.
Leaving their teachers no less frustrated, but perhaps impressing them with their efforts and ingenuity.
Redditor german900 was curious to hear the most original and clever ways students were caught cheating, leading them to ask:
"Teachers of reddit, what is the smartest/most creative way of cheating that you've seen?"
Keep The Package, Change The Contents
"In a lot of my college courses I wasn't allowed to use anything higher than a TI84."
"So I took the guts of my TI89 and swapped it into my TI84."
"Never got caught."- NakedEngineer
Lost In Translation
"Not sure if this would work anymore, but if I had a paper to write on a book I didn't read I would find a well written paper online."
"Then translate the entire thing from English to German, German to French, French to Spanish, then Spanish back to English."
"Pull the original paper and the new one up side by side and clean up the grammar on the new paper and you've got the same concept, but written just different enough to not be plagiarism."
"Worked like a charm."- Throwmylifeaway000
Sneaky, But Not Sneaky Enough
"I remember a story from my O-chem professor."
"This student all semester who wasn't showing up to class kept getting his score improved significantly after re-grades."
"They got their tests back, had a day to review them, and were allowed to re-submit for a regrade."
"They knew he was cheating because of the unlikelihood of the grading mistakes on multiple exams but the TAs who graded it couldn't confidently say it wasn't their handwriting."
"Ultimately it was an office worker for the department who figured it out near the end of the semester, his staples were angled different than the exams handed out that were mass stapled."
"He was recreating the test, printing it, re-answering it, and then grading it in the same pen as the TAs and had done a good job copying the writing style."- 11JulioJones11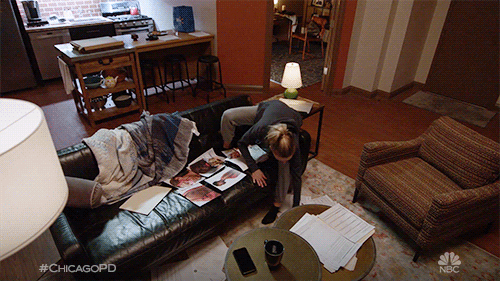 Homework GIF by One Chicago
Giphy
Color Coded
"My teacher shared with us a story about how since she allowed eating during her tests, one person pulled out a giant bag of M&Ms and ate a specific color corresponding to A/B/C/D."
"It was a two student duo and they only got caught when another student ratted them out."- babydragon0
Keeping Up Appearances
"Not the student but the teacher."
"So, the teacher, let's call him Mr. A, had a reputation for being a phenomenal teacher who had every student engaged/invested in his class, no matter how mundane the subject."
"Any time he asked a question, every student's hand would shoot in the air with them shouting things like 'call on me!' or 'I know the answer!'
"Simply, Mr. A developed a reputation in the district as one of its best teachers."
"Fast forward a couple years and I'm grabbing coffee with Mr. A and I ask him 'what's your trick? How did you get every student bought in?'"
"His response, 'well, I told the kids every time we had a visitor in class, I need you all to raise your hand like I was giving away free candy'."
"BUT if you don't know the answer raise your left hand."
"If you do know it, raise your right hand, so I know who to call on and we all look good."
"Worked like a charm'."- JuiceCastillo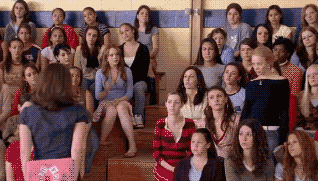 imagine one direction GIF
Giphy
You Never Know Who Speaks The Language
"I was supervising a final chemistry exam along with another coworker."
"Not 15 minutes in, a hand slams down on a desk and I turn around expecting the worst, only to see my coworker angrily shouting at a pair of really frightened 10th graders whose desk he smashed."
"Amidst the shouting I caught the words, 'Morse code'."
"The guy proceeded to take them to the office."
"I called a hallway supervisor to take over and ran after the group."
"Apparently, the kids were silently tapping the answers amongst themselves in Morse code."
"Not even with their fingernails, just their fingertips."
"I never heard a thing, my coworker happened to catch 'B' in Morse code or something."
"I honestly thought he finally went crazy solely because of his appearance, picture Robin Williams in Jumanji going WHAT YEAR IS IT."
"I'm 100% sure that if this coworker weren't in the room, they'd have gotten away with it for sure."- itellteacherstories
Does This Even Count As Cheating?
"In elementary/middle school we had to write a paragraph each week featuring all the vocabulary words included in that unit."
"One clever kid wrote something along these lines:"
"'One day [kid's name] had to write a paragraph for English class'."
"'He sat down, picked up a pen and used these words in it: proceeds to list out all the words'."
"The teacher only let it go once because she never saw that happen until then."- lukeydukey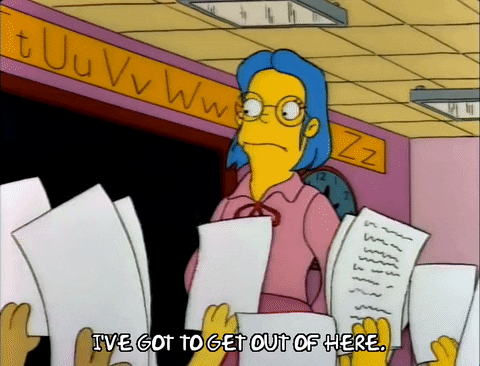 Season 3 Running GIF by The Simpsons
Giphy
Time Was Not On His Side...
"One of my old teachers told us a story about a student who had rigged up a tiny scroll of paper in a wristwatch with notes written on it."
"He turned the scroll by winding the watch."
"He ended up getting caught because he was winding his watch so damn much during the exam, but the teacher loved the creativity."- vancouver-duder
Computer Loophole
"In high school I was in a computer based learning program and our science tests were taken digitally. However, they used a program where once you entered the test your entire screen was locked into the test and the only way to exit it was to click the finish button on the test or turn off your computer which effectively did the same thing. Another feature of the program was that once you were in the test, anything you had in your clipboard (copied text) was not able to be pasted into the answer sections on the test to prevent the only other way to cheat. However, after creating my own classroom at home , making fake tests and playing with the program to figure out a way to cheat I realized that it would allow you to copy things from inside the test and paste them elsewhere in this test. The developers of the program also did not take into account the sign in screen where you have to find the test and enter it."
"Long story short, I could copy my entire page of notes I had taken on the test material, paste it into the section where I would enter my login information. Then recopy it, enter the test and paste it again in one of the answer sections, using it to answer every question and then deleting it before clicking 'finish'."
owenthevirgin
Pixel Play
"My exams that used a graphic calculator (TI-84) required us to show the examiners a "proof of reset" screen before the papers started so instead of actually studying for my papers, I painstakingly redrew the "proof of reset" screen pixel by pixel in the TI-84s pixel art program and stored all my notes in it."
Staroze
Eraser Head
"Not a teacher but I used to use one of those rectangular erasers because the pencils the teacher gave us were cheap and the erasers only smudged the marks. The eraser came in a cardboard sleeve and I ripped it open and would write test answers on it then erase it after exams for reuse."
Knickers_in_a_twist
Tattoos
"College physics, girl with a really intricate tattoo on her leg wrote formulas in between the tattoo lines. Even looking closely you couldn't tell unless you knew what you were looking for. You could tell it was test day because she wore shorts."
ScarthMoonblane
"My bio department examines any visible tattoos before lab exams. Thought that was a little over the top, but I guess there's a reason for it."
velmah
SNAP-ple
"High school kids recreated a Snapple label where the nutrition panel on the back had all the answers, formulas, etc. only got caught because I'd never seen the flavor before and wanted to see how much sugar was in it."
alave
Tripped Up
"I can name the worst, and I've definitely shared it before, but it wasn't my student, it was a friend's."
"She'd downloaded a worksheet for the kids to do while she was in a meeting of some sort. Kids found the worksheet's answer sheet online and proceeded to copy the answers. Last answer said "student responses will vary." And that's what one kid wrote as his answer."
"Other times you'll see one kid misspells something or gets an answer wrong, and everyone who copied from him has the same error."
Jubjub0527
"This happened to our entire group of chem students last year. Everyone in the classes were cheating on the homework, because the answers were always online. In the second semester, someone made the mistake of writing answers may vary, and the teacher finally realized we were all cheating."
VersatilityRL
Good Theory
"If the original poster of this question is a student crowd sourcing cheating strategies, then this is one of the most creative ways of cheating that's I've seen."
fab000
One can't help but admire the effort and creativity these cheaters put in to cheat on their assignments.
However, one can't help but ALSO wonder if they might have saved themselves a whole lot of trouble simply by studying.
Something they might want to consider before their next assignment...
Keep reading...
Show less
School can be a hotbed of craziness.
We all of course assume students will cause drama, but what about the adults?
It's all a powderkeg of scandalous possibility.
Olivia Pope herself couldn't spin some of the stories that come out of high school.
And a lot of towns are rocked by school scandals.
Redditor Lost-Warning-2588 wanted to hear about everyone's craziest school stories.
So they asked:
"What's the worst scandal to happen at your school?"
My school was pretty tame. At least in the public news.
I have no idea what was behind closed doors.
Throwdown...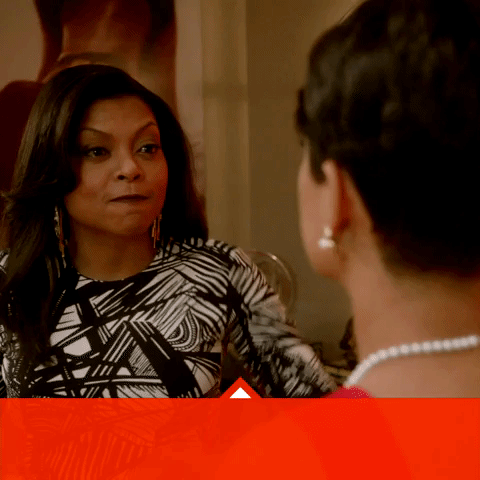 Slap Empire GIF by FOX Nederland & België
Giphy
"Girl A decided to fight girl B in class. Girl A ripped girl B's real hair out, broke her nose, and crippled her. Girl B was sent to the emergency room. Girl A was suspended for 2 weeks. They were both in 7th grade."
Apollo_xo3
After Graduation
"The math teacher left his wife of 18 years for one of the graduating seniors."
blunt_dissect
"Had a history teacher do the same thing. Left his wife for a student he had in freshman and sophomore year and they married the year after she graduated."
2faKilledmymain
"Happened with an English teacher in my school. He didn't leave school until a couple years after she graduated, but he left his wife and kids for her, and she dropped out of an Ivy League school for him."
ianisms10
Prevention
"One year in exams days they were trying to add a new method to prevent cheating where a man from the administration comes to every class before every exam and collects students phones while sticking a sticker with a number on each phone and giving the same sticker to the student."
"So he can get his phone after school without anyone taking someone else's phone that looks alike or something. This was working at first and a bit 'preventing cheating' until one day some guy sneaked into our high school and came as the man who collects the phones while he wasn't, he stole the whole high school phones and went. lol."
REDDIT
Crazy
"A student that was in the grade above me (I was a senior, he had graduated) killed his girlfriend and buried her by the train tracks right behind the school. Yeah it was crazy. He seemed like a cool guy I guess, I'd run into him at a few parties and had a couple classes with him. The girl went to school in a neighboring town so I didn't know her."
macadamianacademy
Hold Me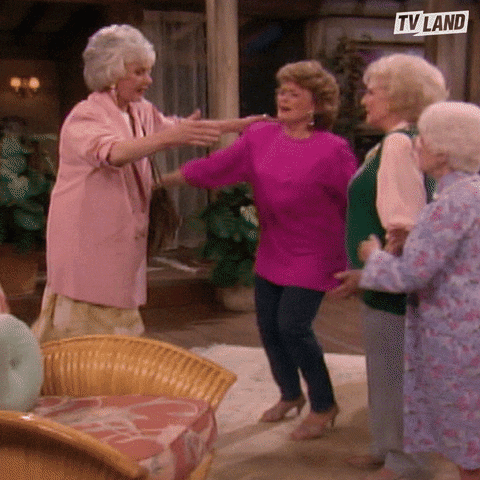 Best Friends Love GIF by TV Land
Giphy
"My middle school banned hugging and hand holding during course changes because it blocked the hall. In protest all the Eighth Graders stood up and hugged each other during their lunch period. A bunch of students got detention. Made the cover of the Charlotte Observer."
bcarol99
Hugs make the world better. Hug it out.
Good Lord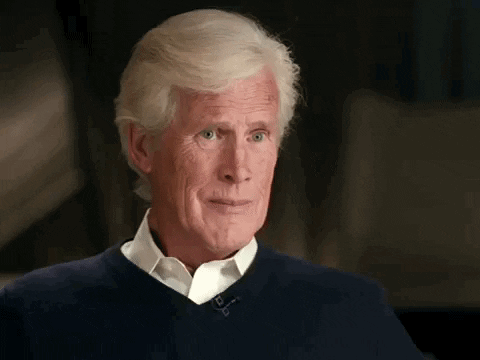 Keith Morrison Wow GIF by Dateline NBC
Giphy
"The caretaker killed two local girls and hid them in the school, he tried using the clay kiln to burn them. He later dumped them a few miles away."
jofive
The Super
"We had a computer teacher/football assistant coach who was just blasted all day, had so many DUIs he had to get rides to work, but was the cousin of the Superintendent so he kept his job. Let's just say that when he crashed a student's car in the parking lot because he convinced them to let him borrow it that that was the beginning of the end of it."
"It was a small town. The scandal is that the Super tried to cover it up by trying to convince the kid to take the heat for it. To no one's surprise, the kid was not convinced. They let him stay on as Super for another two years."
TheMCM80
Crazy, man...
"A kid in my senior year short story class (who sat directly behind me) was charged with the stabbing, beheading and burning of one of his friends/drug dealer."
"I remember the day like it was yesterday, sitting in my short story class when my teacher came in, in tears because she just heard the news."
"Students didn't find out about it until later. I actually have a friend who testified in his trial because he purchased the murdering materials at the hardware store she worked at."
"Crazy, man."
Supersmaaashley
Targets
"One weekend a couple of kids from the hockey team had a sleep over."
"One of the older boys from high school targeted them. He tied them up, slit their throats and set the house on fire."
"One of the boys survived and is an incredible person. He's the chief of a fire department and has done motivational speaking."
"The murderer is now out on full parole."
Ed_Dantes35
BOOM!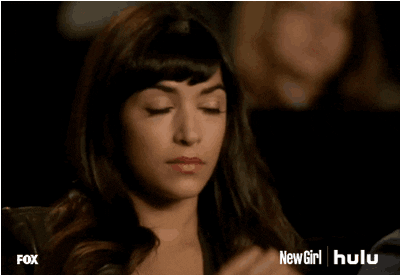 New Girl Facepalm GIF by HULU
Giphy
"Kid made a chlorine bomb and threw it in the trash can at lunch. Lockdown, bomb squad, every single kid and faculty member out on the field in 95° weather for 2+ hours until parents could show up to pick up their kids."
Specifilly
Socks
"Kid in my class sent an email to the White House, threatening to kill Socks, the Clinton's cat. Secret Service showed up a few days later after they tracked down the computer."
Goombaw·
Swim Class
​"First week of high school. PE class, the first section was swim. wasn't my class, but the class after. This kid was playing a game with his friends in the water—who could hold their breath the longest. He was going up for air and hit head on the pointy part of the gutter, and never made it to the surface. Friends didn't notice, teacher didn't notice. Eventually, football players coming back to the locker rooms noticed. He ended up dying. Teacher was fired although I wouldn't fully blame him as he was attending and teaching kids who didn't know how to swim or weren't strong swimmers. One adult for over 60 kids?? That's the school's fault."
millennial_dad
Pardon Our French (Teacher)
"History teacher disappeared in the night with the French teacher's wife."
-0---------------0
Oral Tradition
"My high school Guidance counselor screwed a science teacher's wife and everyone knew about it. They got a divorce. Both teachers still work at the same school to this day, and students will never ever let it go. The story has been handed down from year to year."
tiyeyo
Kids are crazy. I'm glad I chose to only have pets.
Keep reading...
Show less