Typically, I would write an intro about my own experiences with the weird kids at school, but I WAS the weird kid in school. Not in a bad way, more like a "I had a John Waters phase" when I was 16 and everyone knew it. So like, cool-weird. At least I hope so.
Schools aren't always so lucky to have the cool kinds of weird kids though. The spectrum of weird extends even further than that, and can sometimes end up very disasterous.
U/Imaginary_East5786 asked: What was the weirdest thing the weird kid did at school?

​Let's start with the grossest of the gross. Because why not.
Was it worth it?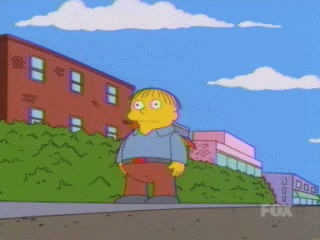 peeing ralph wiggum GIF
Giphy
He heard that you'd automatically get suspended if you peed your pants at school. He wanted to find out if it was true, peed his pants, got suspended.
> Observation: 'I've heard that by peeing your pants you will be suspended'
> Hypothesis: If I pee my pants I will be suspended
> Experiment: I peed my pants and I got suspended
> Conclusion: If I pee my pants I get suspended
Uhhh what was the intention here?
He got mad that he didn't understand how to play a game at lunchtime so he started hitting and punching the nearest person to him, who happened to be me. When I shoved him away and asked him what the hell was he doing, he whipped his unit.out, charged at me and when I shoved him away from me again he started crying and ran away with his member still sticking out.
​Next ones up are the lowkey (or even highkey) disturbing stories. These weird kids can get a little scary.
Boom theret.
At my middle school, someone decided to get a little attention with a good old fashioned bomb threat. Except they thought that a bomb threat meant literally writing "bomb threat" somewhere. Worse yet, they misspelled the f*ck out of it, and wrote "boom theret."
So we had to go on a brief, very awkward lockdown while the police checked the perimeter for booms.
I hope there was no overlap in the columns.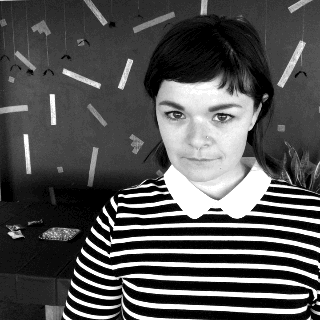 Serial Killer Halloween GIF by GIPHY CAM
Giphy
She wrote a list of all the girls and boys she wanted to kiss and murder and then casually passed it out on the playground.
2 separate lists or just the 1?
Same list 2 columns lol.
Holy crap.
Had the weird kid in high school ask the teacher to use the bathroom. She said no and this dude legit stabbed his hand with a pencil. Went all the way through then asked if he could now...sh*t was wild.
This was Pearl High School in Mississippi. This was the school Luke Woodham shot and killed his girlfriend and her friend at the school. This kid stabbed himself with the pencil about 2 months after that happened. This was late 1997.
​Most of the time, however, the weird kids are pretty d*mn funny.
Ok, but this takes a lot of skill.
Had a kid nicknamed "cheeseburger" in the grade ahead of me in high school. He got his nickname because when it was time for his class to go to lunch, he snuck into the roof and crawled his way into the cafeteria, dropped down and proceeded to steal all the cheeseburger put out for lunch. Unfortunately they caught him in the act and sent him to the principal's office.
A year later he was caught stealing a teacher's computer, and in the process of being arrested he bit the officers hand, getting him sent to juvi never to be heard of again.
Every school had the cat girl.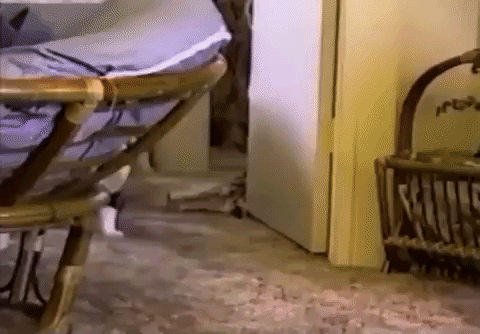 cat dragging GIF
Giphy
The weird kid at my highschool tied a string around his pencil case and pulled out around the halls pretending it was a dog. He still lives in my hometown. I think unemployed.
Oh also weird girl in middle school acted like a cat. She would meow and hiss at people, lick the water fountain and rub her body on the teacher's legs. In 8th grade. I have no idea where she ended up.
Mood.
Weird kid in elementary was a self proclaimed alien. Once, while waiting for the bus, she told me "On my planet we eat people like you" and proceeded to bite me. We later became friends in high school and she used to give me massages during lunch break in the quad. Just realized now she was likely tenderizing me.
I was exactly this kind of weird.
He didn't say much, but if asked, he would go to the front of the class and perform Tip-Toe Through the Tulips with all of the emotion and volume of Tiny Tim, holding nothing back.
The last I heard, he became an energy trader, made a ton of money and married well.
I can definitely relate to that last one. In middle school, my English teacher would let me go to the front of the class and perform monologues or songs from Broadway musicals. Weird, but that's what happens when schools cut funding for the arts and the theatre kids have no outlet.
As long as you're not hurting anyone, I say let your freak flag fly, man
It's extremely difficult to parse through the chatter that leaves the lips of status-hungry teenagers, swirls around a high school cafeteria, and winds its way through endless hallways.
As a high school student, you probably remember hearing all kinds of things. Some of the tidbits were so fascinating and juicy, you hoped they were true. But alas, you doubted it.
The claim just seemed too far-fetched, too similar to the movies, too impossible for one person to have the audacity to complete whatever the mentioned taboo act was.
And yet, sometimes the rumors were true. Time wears on, developments occur, and what was once a far-out claim at the lunch table becomes a mortifying truth that rocks the community at large.
Some Redditors took a moment to share their favorite rumors-come-true.
tall_hopelessromantic asked, "What popular rumour in your school turned out to be true?"
With this as inspiration, perhaps it's a good time to follow up on some of those high school rumors you always wrote off as the insane conjurings of your fellow 16-year-old peers.
Want to "know" more? Never miss another big, odd, funny, or heartbreaking moment again. Sign up for the Knowable newsletter here.
Keep reading...
Show less
In the end teachers are just like parents... there is always a favorite. The truth stings but the truth is real. Some kids (humans) are just easier than others, or some are smarter, ad infinitum. I have a ton of friends, great friends, best friends.... and I love everyone but there is a hierarchy. it's just always best to learn how to not show it or not be so blatant.
Redditor
u/stock_rocket_value
wanted to hear from educators about which students left the best impressions by asking...
Teachers of reddit, What generation did you like teaching most? (80s, 90s, 00s) Why?
Keep reading...
Show less
When I was moving on from middle school to high school my parents had me tested for the "gifted" program. By some miracle I passed and was accepted. And then I turned it down. Everyone was irritated. "This will pave the way for any college you want! You'll learn so much!" this path will set you up for life!" Every adult tried valiantly to sell me this merchandise, but in my gut I just wasn't buying it. So I "settled" a level below, merely advanced classes. And upon reflection... it was the best choice I ever made.
Redditor
u/dauntlessdaisy
was wondering how far some in life got by asking...
For those of you who were considered "gifted" in school, what are you doing with your life now?
Want to "know" more? Never miss another big, odd, funny, or heartbreaking moment again. Sign up for the Knowable newsletter here.
Keep reading...
Show less
I realize that school safety has been severely compromised. It's in a dire situation, which is why it's been under intense scrutiny over the past decade, and of course, it should be. When I was a student, my safety was one of my greatest priorities but, some implemented rules under the guise of "safety" were and are... just plain ludicrous. Like who thinks up some of these ideas?
Redditor
u/Animeking1108
wanted to discuss how the education system has ideas that sometimes are just more a pain in the butt than a daily enhancement...
What was the dumbest rule your school enforced?
Rules, rules, rules. Life is already full of rules, especially for the youth. Rules at school, rules at home. It's all inescapable. And nowadays parents love to get in on complaining about school rules too, not just just the students. See, sometimes the rules prove to be a hindrance to the entire family. Then things start to get real... real quick.
Don't Peek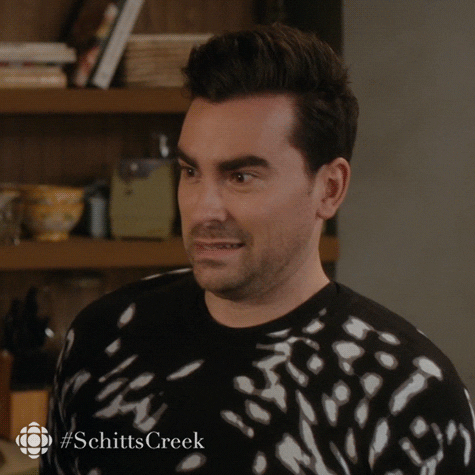 schitts creek wtf GIF by CBC
Giphy
Took all the doors off the men's room bathroom stalls because of vandalism for 2 months.
Scanned
School added thumb print scanners at gates of school which counted as registration - needless to say I would just walk to school scan my thumb and walk back home with them none the wiser. Was a great few months until they noticed.
Age of Empires...
Conservative Christian College. A group of us played Age of Empires one weekend. They didn't like it and called a meeting. Everyone involved got misdemeanors on their records. There was nothing in the handbook about it being against the rules. The only person that didn't get any punishment was the son of the president even though he was just as involved as the rest of us.
"Genius"
In my freshman year of high school we had a terrible vandalism problem, the bathrooms would be broken in various ways almost constantly. In a stroke of pure genius, the staff decided that any bathroom that was vandalized would be closed for the week on first offense, the quarter for second, and permanently on the third offense.
They took back the rule after closing every bathroom on day one.
Was quite interesting explaining the write up on my record when I transferred. "You got a misdemeanor for what?!"
Edit: they made it a rule after the fact and did this several other times with things such as nail polish or radio control helicopters.
Is this Footloose?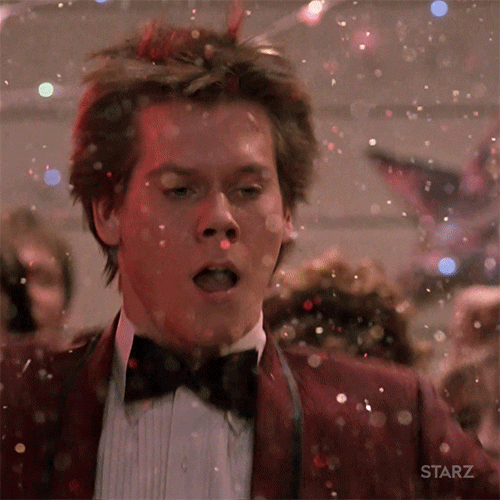 kevin bacon dancing GIF by STARZ
Giphy
Prom was a mandatory lockdown for the night in order to avoid students going to parties after prom.
Prom was held at various house parties across town instead.
That is a lot of over reach. You can't control where kids will go, and what they will do once they've left the building. You should dance everywhere for prom. I get some of these situations, vandals are a problem but when does a solution go from solution, to impeding on privacy and freedom? I'm glad I'm graduated. Keep reading, you will be too.
HOLDEN FOREVER!!!
My high school mascot was Daniel Boone holding a musket. A kid wore a Guns 'n Roses shirt to school and was told he had to change shirts because of the pistols on the shirt. He pointed out the hypocrisy of the school mascot and they changed EVERYTHING. The mascot was switched to holding a flag pole instead.
Every instance of the mascot was changed from the multiple signs outside and around the school to the giant picture in the middle of our basketball stadium. Holden, you're a freaking legend for this.
No Dots
You couldn't wear ANY kind of head items that were "gang colours" (red or blue) - this No included hair bands, scrunchies, beads in your hair, ribbons - ANYTHING. I got in trouble for wearing a blue hair band with white polka dots.
Clothes Check
We had to wear belts. Someone snitched that people weren't wearing belts under their sweaters, and they actually checked and a bunch of people got detentions. Stupid.
We had belt raids at my school where the dean would burst into classes, completely interrupting any education, to check that everyone was wearing a belt.
Chase the Flat
We weren't allowed to play tag football at lunch, only frisbee. When I asked the principal what the difference was, he responded with a sarcastic tone, "A football is round and a frisbee is a flat disk."
He left the school later that year, went to another school, and a few years later was brought up on charges for failing to report the abuse of a student by a teacher.
Poke-Thief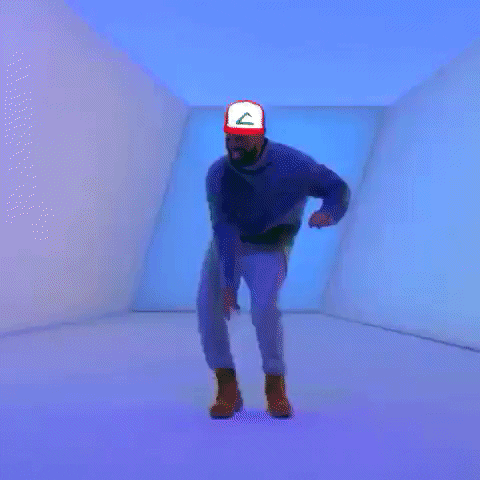 hotline bling pokemon GIF
Giphy
Pokemon cards got banned in middle school because someone stole the vice principal's kid's cards. Yep.
In the Face...
If you were involved in a fight, you got suspended. While it sounds reasonable, context didn't matter.
I got suspended once not for throwing a single punch, kick, whatever. I got suspended because someone knocked the books out of my hand and when I reached down to grab them they punched me in the face.
I got suspended for walking down the hallway and unprovoked getting punched in the face.
Forget Brandon Valley Middle School.
Rules are essential, I totally get it. But maybe it's time to come to the table and invite more voices to sit in when the ideas are being crafted. Education is, and should be, a collaborative effort.
Want to "know" more? Never miss another big, odd, funny, or heartbreaking moment again. Sign up for the Knowable newsletter here.
Keep reading...
Show less