A man shared a video of a baby being fitted for his first hearing aid and being able to hear his parents' voices for the first time.
Because of the baby's sweet reaction, the baby's first adventure with hearing sounds to go viral for the second time since 2014.
In the original video, we first see the hands of an audiologist, fitting the seven-week-old baby, named Lochlan, with a hearing aid. The baby cries at first, which audiologist deems as normal, since wearing the device can be uncomfortable and takes some getting used to.
But almost immediately, as a result of hearing the audiologist explaining this, and hearing his parents' reactions to the hearing aid, Lochlan visibly pauses and processes the new stimuli.
Then, somewhat hesitantly at first, the baby smiles, probably realizing this is what his parents sound like.
You can watch the video here:
This little boy got his first hearing device. His smile says it all. 🙏🏻 This is the Twitter content I'm here for... https://t.co/3DMRsQ3ljt

— Buitengebieden (@Buitengebieden)1582181816.0
The video is an extremely sweet moment of a baby's totally wholesome reaction to what surely felt to him like a whole new world.

And the internet clearly was not upset to see this sweet content reemerge.
@buitengebieden_ I'm not crying, I just have something in my eye 😭 https://t.co/CFhbrBSBEf

— Grizzly's Lab (@Grizzly's Lab)1582182807.0
@RexChapman This is moment man... https://t.co/t9QuEn01w1

— Dread XCII (@Dread XCII)1582217173.0
@RexChapman SPECTACULAR!!!!! Tears of joy welling up in my eyes!!!!!! 🤗🤗🤗🤗💯💯💯💖💕💖💕💖

— Gangsta Granny 🌊 (@Gangsta Granny 🌊)1582216815.0
@RexChapman @thenehaabalodhi Wow , this is really cool. His faces were precious. He went from being angry that some… https://t.co/7is7Z5kTia

— Conspiracy Analyst (@Conspiracy Analyst)1582221476.0
@RexChapman https://t.co/4WP8DqLuCh

— CA Rider 🌊 (@CA Rider 🌊)1582219004.0
But February 20 was not the first time we were able to see this special moment, as it actually premiered back in 2014. While the video from this year has nearly 8,000 retweets, it had over 26,000 retweets back in 2014.

When it went viral that year, shortly after the baby had actually been fitted with his hearing aid, BBC News and other media streams contacted his parents for comment.
You can watch the BBC News coverage here:
It's a heartwarming video to watch, as these parents have clearly found comfort in being able to provide a special tool for their child. They acknowledged the possibility of using sign language with their child but clearly preferred the use of hearing aids.

Lochlan was previously diagnosed with a severe hearing impairment in both ears, which not only meant he would not be able to perceive sound, but he was also extremely unlikely to be able to develop his speaking skills without some form of intervention.
Lochlan's parents, Michelle and Toby, shared their feelings surrounding that first moment of witnessing their son hearing sound with BBC News.
Michelle said:
"We were completely overwhelmed and so emotional when the hearing aids were turned on. We were crying from happiness. Our baby not only smiled for the first time but more importantly, he heard, and his whole world just opened up."
Toby added:
"His future changed. Being able to hear, the opportunities in life now have grown a lot more. We chose to go the hearing way. There's other parents who choose more sign language, but we thought Lochlan would have better opportunity in life to be in the hearing world."
Though some may disagree with Michelle and Toby's assessment of being successful or not via hearing aids or sign language, surely everyone can agree that Lochlan's reaction in the video is adorable.
Keep reading...
Show less
Having a new baby brings all kinds of joy to a family.
But when the baby is born early, it can be hard to keep that joy bright and alive in the midst of frustration and worry for the baby's well-being.
So when a special moment of connection happens in the NICU, it's important to savor it.
For David Caldwell and Renata Freydin, who are engaged, they're currently in the waiting game of taking their three-week-old son, Zayne, home after he was born ten weeks ahead of schedule.
One night when the couple returned home from visiting Zayne in the NICU, Caldwell began digging through old photo albums in search of photos of him in the hospital at the time of his birth. He wanted to compare and see how striking their resemblance was.
Caldwell had also been a preemie baby. Even more interestingly, Caldwell had also been cared for in the same NICU, in the same hospital where Zayne was staying, at The Children's Hospital at St. Peter's University Hospital.
While looking through the photos, however, the couple soon came across a familiar face.
Caldwell had a photo of the primary NICU nurse who had taken care of him during his stay, holding him in a cuddly embrace and smiling into the camera. He recalled that his mother had been so happy with Caldwell's care, she had made sure to get a picture of his primary nurse.
Freydin was insistent that the nurse in the picture was the same nurse she had been meeting at the NICU, and the same nurse who was now offering primary care to their son, Zayne.
Caldwell didn't believe Freydin at first and couldn't imagine the world being that small.
But when they appeared at the NICU to visit their son, with the photo in hand, several nurses were quickly able to confirm the nurse in the picture was the very same nurse who had remained on staff for the past 30 years, Lissa McGowan.
You can see more coverage of the story from ABC News here:
When McGowan returned to work several days later, Caldwell and Freydin were quick to meet with her and show her the picture of her and Caldwell together from three decades before.

McGowan and the couple were so excited, they were quick to recreate the original photo with photos including Zayne and an all-grown-up Caldwell.
Freydin shared these on Facebook, where the post quickly went viral, with more than 4,000 comments and 27,000 shares.
Many celebrated how beautiful they thought the connection was between the father and son's birth stories.

Renata Freydin / Facebook

Renata Freydin / Facebook

Renata Freydin / Facebook

Renata Freydin / Facebook

Renata Freydin / Facebook

Renata Freydin / Facebook

Renata Freydin / Facebook
Freydin confided discovering the connection between her healthy husband's birth and her son gave her confidence and reassured her everything would be okay.

Freydin wrote:
"The past 2 weeks have been filled with worries and uncertainty but we can breathe easy knowing my lil nuggets nurse is the same one that helped the man I love when he was in the same situation."
The couple has since shared, as well, that Zayne is doing well, measuring at over four pounds at the age of three-weeks-old, putting him well on the path to recovery and life-long health.
Keep reading...
Show less
The Oscars were full of fun surprises this year, but surely among the favorites was the South Korean film, Parasite, winning Best Picture.
Add to this the child star's adorable reaction to the film winning, and it's sweet moment that's sure to be mentioned at future Oscars to come.
Ten-year-old Jung Hyeon-jun was the lead child start in the tragicomedy film, Parasite, that took South Korean cinema by storm earlier this year before taking American cinema by enthusiastic surprise.
Hyeon-jun made his debut on South Korean television programs such as "You Are Too Much," "Vagabond," and "Through the Waves." Parasite was his first casting in a feature film, and he's coming into success quickly because of it.
The film went on to be nominated at the Oscars for six different categories, and it managed to win four of them. The two favorite wins appeared to be Bong Joon Ho's win for Best Director, and of course the film making it to Best Picture.
Hyeon-jun unfortunately was too young to attend the Oscars in-person, but he was able to watch the ceremony on his television at home, where AP Entertainment appeared to film his reaction to the win that was coming.
When Parasite was announced as the winner for Best Picture, Hyeon-jun had the sweetest, most enthusiastic reaction from his couch. He was sitting at full attention, waiting to hear the news, and then like the ten-year-old he is, he collapsed into giggles, did a quick happy dance, and quickly collapsed back on the couch in pure joy.
You can watch his reaction here:
PARASITE PARTY: 10-year-old #Parasite #기생충 star Jung Hyeon-jun might have been too young to go to the #Oscars – but… https://t.co/o4knlBHnSD

— AP Entertainment (@AP Entertainment)1582056660.0
Hyeon-jun said of the win:

"I thought it would be awesome to get it, and we actually won the award!"
He also shared his dreams for future stardom and how they already seem to be coming true:
"I am wondering if I am in heaven. I think I was born to receive an Oscar."
Fans were taken by Hyeon-jun's adorable reaction to his film's win and took a moment to celebrate the raw jubilation kids are the best at showing.
@APEntertainment @h_nevels he's so cute!!

— Victoria Perry (@Victoria Perry)1582199633.0
@victoria_perry1 @APEntertainment Sooo cute! And quite the artist 😆

— Hannah Reisher (@Hannah Reisher)1582210409.0
@APEntertainment Perfect !!!!

— Lee Hirsch (@Lee Hirsch)1582141023.0
Parasite winning Best Picture is a major development for the Oscars, and certainly sets expectations high for future award seasons.

We'll be curious to see which movie wins next year, and even more curious to see if Hyeon-jun is involved in any of the big winners next year.

Keep reading...
Show less
Teaching requires a very special type of person, typically someone who can not only handle a rough day and demanding schedule, but also someone who has a sense of humor.
For this third-grade teacher, being able to see the humor in the moment was exactly what she needed.
Third-grade teacher, Shannon Maxey, greatly enjoys a good cup of coffee. So much so, she keeps her own Keurig and coffee supplies in her classroom, including vanilla almond flavoring syrup.
But only when one of her third-graders asked her what could have been a very embarrassing question did she realize her students actually thought she was adding liquor to her coffee, instead of flavoring syrup.
Maxey's student told her she needed to ask her something in private, so she knew something was up.
Once alone, her student asked her:
"Why do you keep liquor by your coffee?"
Maxey had to laugh when she heard this, and quickly explained what was actually inside the bottle.
She later reflected on the moment, stating:
"I drink coffee every single morning when my kids come in... In hindsight, every time I would go in for a second cup (which wasn't every day), the kids would say, 'Dang Mrs. Maxey, you're having MORE coffee?!'"
She found the moment to be so hilarious, she had to share it with her Facebook friends, including an image of her coffee station setup in her classroom.
The post quickly gained attention, with more than 5,000 comments and over 27,000 shares, mostly from fellow teachers and amused parents.

Shannon Leigh Maxey / Facebook

Shannon Leigh Maxey / Facebook

Shannon Leigh Maxey / Facebook

Shannon Leigh Maxey / Facebook

Shannon Leigh Maxey / Facebook
This is definitely one of those situations where a teacher would need to find the humor in what could have been a really horrible misunderstanding.

But as Maxey pointed out, it's wonderful to see she was able to create an environment in her classroom where her students could be comfortable asking questions like what's going on with her coffee.
In this case, everyone managed to have a good laugh, and Maxey certainly came out the other side with one of those teaching stories that will always make her, and others, smile.
Keep reading...
Show less
Demi Garza-Pena and her son, two-year-old Oliver Garza-Pena, thought they were on a typical shopping trip at Target.
But when they passed through the boys' clothing section and saw a special ad, designed specifically for children like Oliver, they knew it was a special kind of day.
Garza-Pena was passing through the boys' clothing when she realized Oliver had stopped behind her to look at something.
She turned around and saw him looking up at an advertisement of another little boy, not much older than him, also using a wheelchair. Oliver looked utterly awestruck and would not break his gaze from the advertisement.
Garza-Pena took a moment to take a picture while Oliver was still looking up at the advertisement. The moment was not staged or practiced; it was a natural and beautiful reaction to the power equal representation can have.
Garza-Pena reflected:
"I could see the look on his face, he knew that boy was like him."
After they had returned home, Garza-Pena shared the photograph, along with a special thank-you note to Target, to the Facebook page she runs for her son, called "Ollie's World."
The post quickly gained traction, many in love with Oliver's genuine expression, and others reacting to Garza-Pena's resounding hashtag choice, "Representation Matters."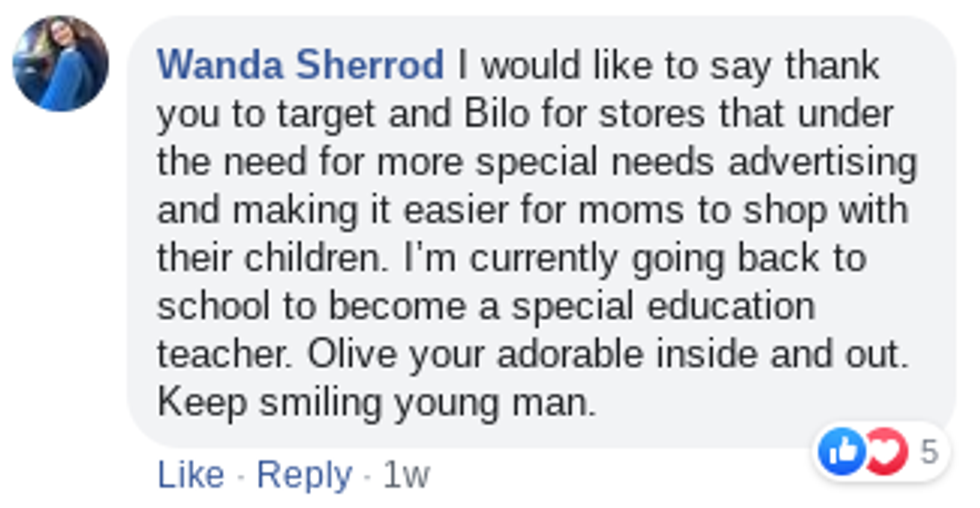 Ollie's World / Facebook

Ollie's World / Facebook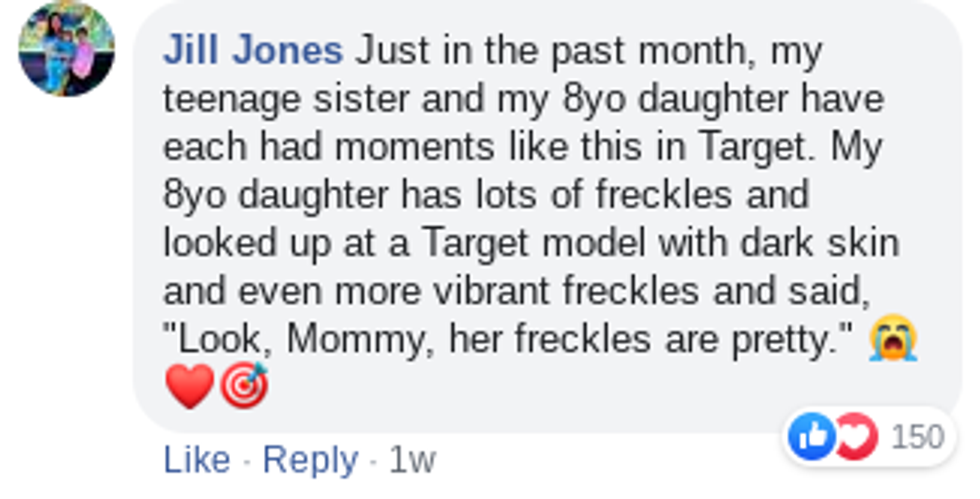 Ollie's World / Facebook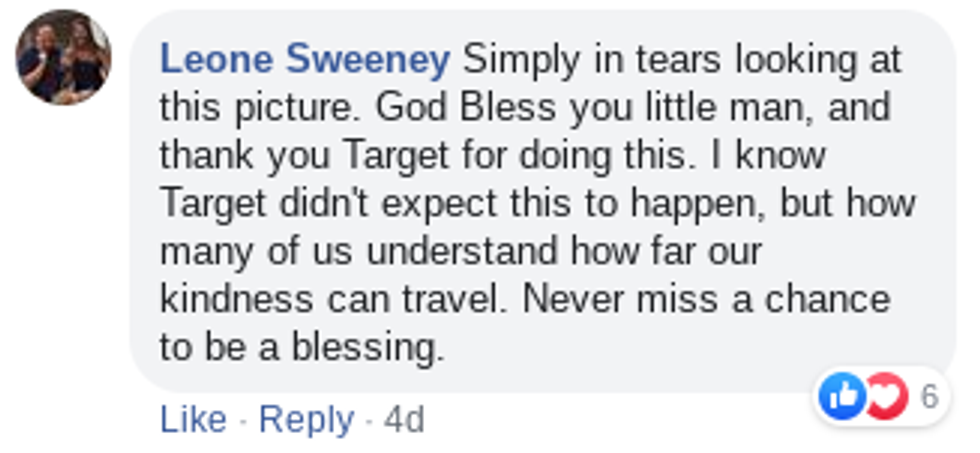 Ollie's World / Facebook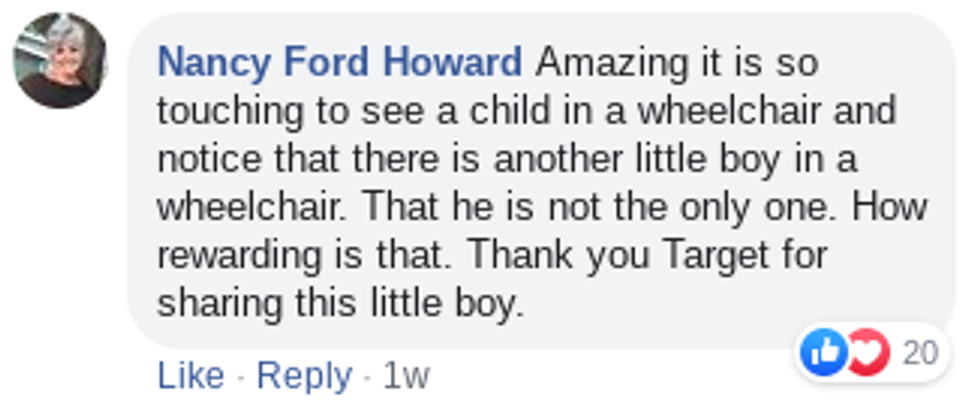 Ollie's World / Facebook
The post was shared so far and wide, it actually reached the mother of the boy in the Target advertisement, Ashley Robinson. Her son in the ad is ten-year-old Colton Robinson in Massachusetts.

Ollie's World / Facebook
Robinson shared her reaction to seeing Oliver's photo for the first time:

"I was overcome by emotion and started crying. The expression on Oliver's face looking up to Colton was extremely touching."
The two moms have since connected on social media and have stayed in touch. Though their sons have different disabilities, Oliver with Caudal Regression Syndrome and Colton with Spina Bifida, the women have discovered their days look very similar, and they share many of the same challenges.
Both women agree equal representation needs to continue to be pursued across media advertisements, and that this moment between Oliver and Colton is the perfect example as to why.
Garza-Pena said:
"We want companies to jump on board for more inclusive advertising. These photos need to be everywhere all the time. People with disabilities need more representation in the community."
Robinson agreed, citing Oliver's reaction:
"Children of all abilities and sizes need to be represented. I mean, who doesn't want to look at an ad and see someone that you have something in common with? It's important for everyone to feel included. It's just a beautiful thing."
Though we're a long way away from seeing equal representation everywhere, in all media forms, it's important to see moments in the media like Colton's.
And perhaps it's even more important to see, for children like Oliver, how Colton's inclusion is really making a difference.
Keep reading...
Show less