We all love to play armchair therapist. We all believe we have the answers. But we could do more harm than good.
So many of us have the best of intentions but we must begin to understand time and place and delivery.
Some people are in darker places and platitudes aren't the miracle cure some people think they are.
Redditor Kvetanista wanted to talk about when to speak or be silent, so they asked:
"What's the worst thing you can say to a depressed person?"
I hate... "just smile."
As if I don't know how to control the muscles in my face to make it all ok.
If that helped I'd have wrinkle lines decades before I should.
I DON'T!!
Snap!
"Stop being lazy. Snap out of it." ~ Recent_Employment_28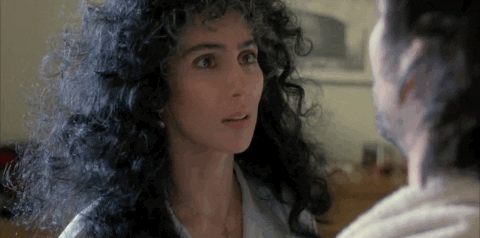 Giphy
Nothing
"But you've got nothing to be depressed about." ~ RandomRamblings99
"It's like this with anxiety too. 'You have nothing to be anxious about.' Yeah, well that sure ain't stopping it from happening." ~ RobToastie
"Oh man I heard that a lot growing up, still gives me shivers. I caught myself saying it to my son one day and vowed to never say it again. My kids get to feel their feelings." ~ WolfPackMedic
Why?
"I heard this and all it did was made me hate myself more. 'Why can't you be like everyone else? Why can't you be happy considering all you have going for yourself? What is your problem?' is what i would think."
"It did teach me I can't unburden myself to anyone stupid enough to stand in front of me for five minutes though. Now I ask people 'Are you sure you really want to know how I'm feeling? If they say no I understand because most people are just being polite.'" ~ fazlez1
Top 2
"'Get over it' and 'It's all in your head' are my top two."' ~ Hollywood899
"Yeah right, even with trying to get the right chemicals through meds I still ain't right. Like my anxiety is too bad to take ADHD meds and my body also literally doesn't metabolize most anti depressants properly, so the amount I can even try is limited." ~ arcaneunicorn
Worse
"Saying 'Someone has it worse' completely ignores the pain the depressed person is suffering through." ~ Alluxing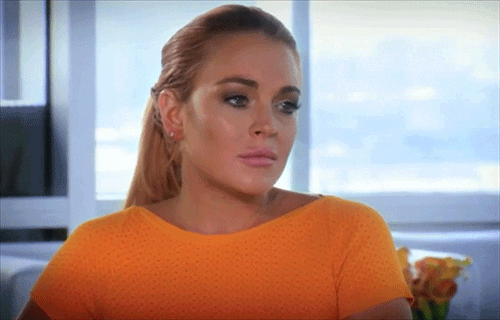 Giphy
What are the origins of this mess?
Like in what century did any of this work?
Celebrate
"For me it's 'Enjoy those years! They are the best part of your life'." ~ Kvetanista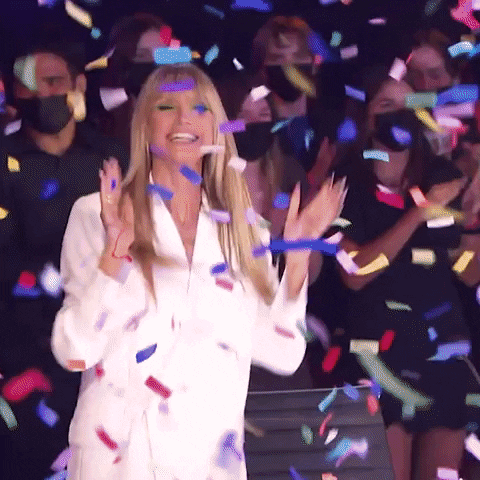 Giphy
Bless You
"I also enjoy 'if you went back to church your depression would go away.'" ~ dixiequick
"I was going to church at the time I finally decided to open up and was told I'm in sin."
"I already felt like when i was born God said 'oops' and now I have this to deal with? Despite all I've gone though and felt I have no problem with God, the problem I have is with is people who exercise Church 101. There's no anger anymore as that's one of their imperfections. They have theirs and I have mine." ~ fazlez1
My Head
"My dad says this to me. 'Depression isn't real, it's all in your head.' He's half right though, it is all in your head. I've always assured myself 'maybe they'll believe me when they find me hanging from a ceiling fan.'" ~ TTungsteNN
"Heard that many times, including from my parents until I was diagnosed with bipolar disorder. My father was diagnosed bipolar about 10 years before me. WTF?" ~ FriendRaven1
99 Problems
"Stop complaining, some people have real problems." ~ soupisatitagain
"My ex used to say that to me all the time. Like even if I wasn't complaining about something and just mentioning something that happened on my day. Really he just didn't care to listen."
"Also the problem with saying that is you close the door for open communication. That's how people end up bottling things inside. And for teachers or parents, it's a missed opportunity to educate a young person to overcome an obstacle and grow, so that they will eventually 'stop complaining.'" ~ chocotacogato
Better?
"I personally hate 'it gets better,' it does get better but I hate when people say that to me when I'm in a major depressive episode. Idk why, it just upsets me even more." ~ lonelylemons42069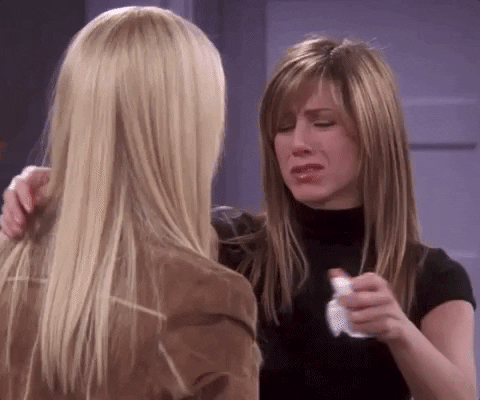 Giphy
Just do the best you can.
Life is hard.
That's all I've got.
And it's better than what we've heard.
Want to "know" more?
Sign up for the Knowable newsletter here.
Never miss another big, odd, funny or heartbreaking moment again.

Keep reading...
Show less
Why do all of our best ideas happen when under the influence? Or is that a thought we just believe to be true?
I will say some of my best ideas spring forth with a nip of Grey Goose, but all the ideas at the bottom of the bottle never seem to pan out.
I can't be alone here.
I know that there has to be people who acted upon ideas born when smoking the Mary J. (do the kids say that anymore?) that when put into action thought... "Well that was a mistake."
Or are we tapping into the brilliant and it just needs a little nurturing? So many thoughts. Let's discuss... sober.
Redditor sfish27 wanted to hear about all the best thoughts people had, but maybe while not on the best of terms mentally, they asked:
"Have you ever written down a 'genius idea' while drunk/tired/otherwise confused, then gone back to it later to find it was complete nonsense? What was your genius idea?"
I swear I have had the best workout ideas after margaritas.
But after I sober up I realize... one really shouldn't hang from a ceiling fan for ab support.
Carbs
"They should make a 'low carb' pasta salad, that just has vegetables in it. I looked at it later and realized that's just a salad." ~ crap_whats_not_taken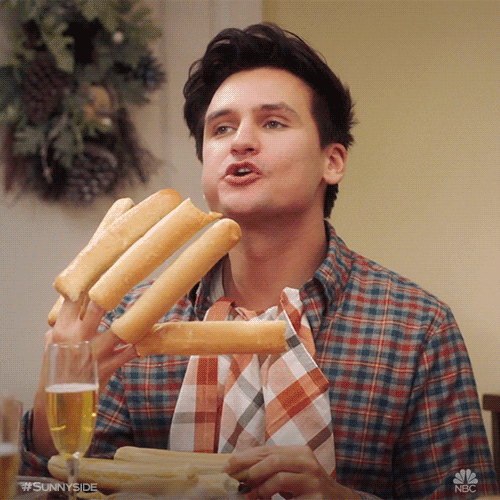 Giphy
Shovel It
"I used to think that I would get these amazing ideas before I would fall asleep and then I forget them in the morning. So I started keeping a journal next to my bed to write down these ideas. The only one I ever wrote down was 'pogo stick with a shovelhead on the end."' ~ High_Stream
Pizza
"I once woke up in the middle of the night with an idea that I desperately needed to jot down. Managed to key it into my phone before dozing off again. Went to check it the next morning to find a note that simply read 'Better a pizza cake than none.'" ~ Itrade
Cereal
"I was drunk and went to eat a bowl of cereal. Then started thinking about how great it would be if we invented deeper bowls with a handle, to make eating stuff while drunk and sitting on the couch easier. Got so excited about my idea and was genuinely baffled how nobody had seemingly thought of this genius idea before. Woke up the next morning and realized I had, in fact, invented the mug." ~ _MaddAddam
Hot Air
"I wanted to make my own hot air balloon by inflating an air mattress with helium. Didn't have a helium tank though." ~ KapitanKraken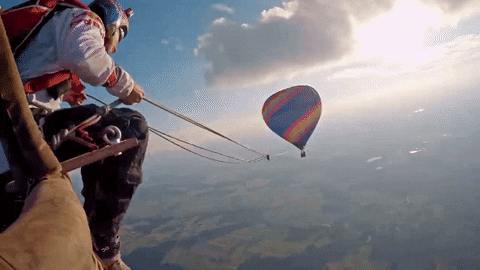 Giphy
Hot air balloons are dangerous in general.
You'd have to be high just to try.
That is a death defying experience.
Yoda
"One time I had the idea to write something down when I was almost blacked out to see what it was in the morning and it turned out I wrote, 'Yoda is the best time traveler.'" ~ ytubejammer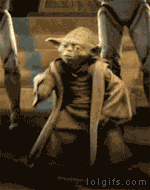 Giphy
(???)
"I once dreamed that I was in a song contest and came up with a rap song with the chorus... 'White boy, black boy, gay boy, gameboy,' and when I woke up I thought it was the most wholesome thing ever. Black people, white people and even gay people can come together and be friends if they just put their differences aside and play Gameboy together. (???) To be fair, I was a kid. but still. I remember being excited about it FOR DAYS." ~ TurnstileT
"Wrote"
"I wrote a best selling novel in my sleep. 'Wrote' some ideas down on a pad next to the bed. Woke up excited about it and then realized I never clicked the pen to expose the tip. No book this year." ~ Harvard-23
"Bruh, you gotta rub the paper with the side of a pencil and expose the indentations. You were leaving yourself a coded message!" ~ pterrorgrine
My Blades
"I wanted to start a business that would increase efficiency of ceiling fans. I would travel to people's homes and sharpen their ceiling fan blades until they were razor sharp. The decreased resistance would make the blades faster and use less energy. Since literally no one has ever sharpened their ceiling fan blades, everyone was a potential customer." ~ chowderpouch
Sober...
"I wrote down some jokes that were funny and thought I should do stand-up. they were so funny that I couldn't stop laughing. Sober, they weren't even jokes. just some thoughts written down that made little to no sense." ~ BirdGuy64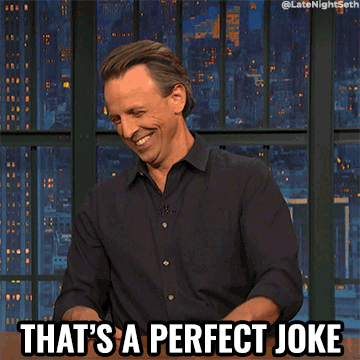 Giphy
What have we learned?
Just enjoy the high.
Don't overthink.
And also... you never know, it might work.
Want to "know" more?
Sign up for the Knowable newsletter here.

Never miss another big, odd, funny or heartbreaking moment again.
Keep reading...
Show less
You can deduce plenty about people just from the things they have in their home.
Not that I rummage through people's homes... much. But there are certain items that are present or missing that let you know there may be trouble in some areas of a person's life.
For instance... all writers have pens. It's a thing. And a computer. And they have books, because they read and research.
If they're missing more than one of these items, it's a poser.
Redditor Tarrabyte__ wanted to send up the red flags we should be on the lookout for when rummaging in kitchens. There are just somethings only a bad cook would have.
"What food in someone's cabinet screams, 'I'm bad at cooking?'"
There are basics to every field and desire.
You have to have the basics or not have what doesn't belong.
Poisons
"I've seen someone store their bleach, dish soap, and bath soap right beside the potatoes." ~ jcn143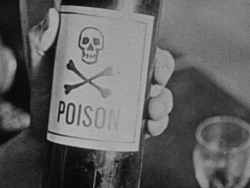 Giphy
Dr. NOOOO
"My mom has had a can of Dr.Pepper flavored beans in the cabinet for about 6 months so I'd have to go with that." ~ mini-maggit
"I bought those once more as a novelty. They weren't good. It's like the sauce is supposed to be made with Dr Pepper. But they just tasted bad. So be glad she left them in the cabinet and didn't serve them to you." ~ Acrobatic_Succotash
"You might be surprised how many BBQ recipes call for some kind of dark soda in the sauce/marinade. Dr Pepper, Cola, Root beer; I've seen everything from beans to pulled pork call for one of those." SocratesBalls
"oh it's still good"
"My parents have spices in the cabinet from before they were married. They just celebrated their 50th wedding anniversary last week. It's a known fact amongst my kids, you don't eat anything in grandmas house without checking an expiration date."
"We've also started a new game of trying to find the oldest expiration date we can. The refrigerator has stuff from the year I graduated high school in 1999. Ice cream toppings and things like that. The response from my mom and dad is always 'oh it's still good.'" ~ oaksso7880
Bad Flavors
"To balance out the 'lack of seasonings.' Only massive amounts of garlic and onion powder. I met someone who insists you'd be a fool to not pack every recipe with these, to the point where everything has this weird, overpowering fake taste." ~ Doobledorf
"They're easy to lean on because they smell good as is. It takes a little experience and experimentation to learn how to unlock the other flavors through combinations and actually cooking the herbs. Like I could just huff a bag of onion powder all day that stuff is amazing!" ~ Abrahamlinkenssphere
Get Wood
"A glass cutting board. only people who have no clue what they're doing in the kitchen would use one." ~ kittenswithtattoos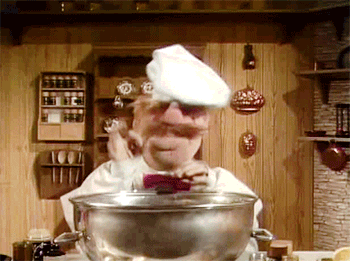 Giphy
Storage is key.
You don't store chemicals with food.
Choose to live.
What's Missing?
"I think it's more about what's not there. If you don't own a cutting board, you probably can't cook. I'm surprised at how snobby some of these comments are. I'm a great cook, but eat instant/shortcut convenience foods all the time. My time and energy are finite resources, sometimes those convenience items are a lifesaver!" ~ strikingsapphire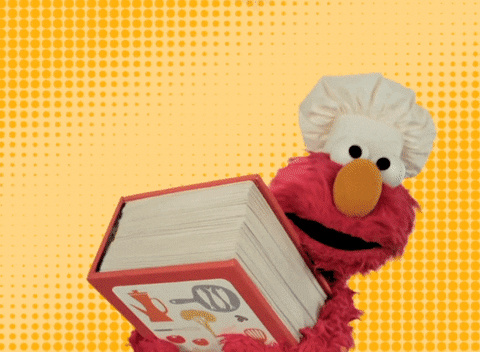 Giphy
Cut it Up
"The lack of a larger, sharp, knife. If all you have are paring knives, I will assume you don't cook much." ~ Bananaman612
"Whatever size they are, if all your knives are dull, you either don't cook much or have some kind of weird fetish for frustrating yourself. Lots of people can't afford fancy knives, but most can afford a sharpener and a few seconds every now and then to give them a quick run through." ~ Fortherealtalk
What's Lacking
"It's more the lack of salt in the cabinet. My family doesn't believe in seasoning food and they don't think it is possible to overcook something. I have heard my mom complain about how pepper is too spicy. They're like the stereotype of white people." ~ Either_Road_5538
"Sounds like my friend when we were growing up his mom cooked chicken by boiling it and don't season it at all. Dude way blown away when I cooked him and myself chicken with a homemade pan sauce one time, that's when he told me about his childhood of bland boiled chicken." ~ subaru_natsuki337
Reasons for Seasons
"I see a lot of people here ragging on instant food but damn I work full time. Sometimes I make Butter Chicken from scratch and other times I make hamburger helper for dinner. I consider myself a good cook but I'm also a person who gets tired. Just because you have lazy meals ready to go does not make you a bad cook." ~ TheCylonsAreHere
History
"None. Check their DoorDash history." ~ Lucky-Refrigerator-4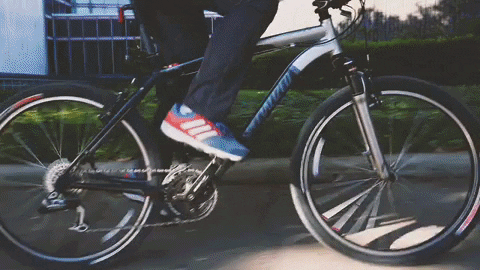 Giphy
I think I may be a bad cook.
That's ok, I have DoorDash.
And I'm temperamental with spices so take that as you will.
Want to "know" more?
Sign up for the Knowable newsletter here.

Never miss another big, odd, funny or heartbreaking moment again.
Keep reading...
Show less
Conversation can be one life's scariest actions. Whoever said it was an art form was 100% correct.
Words are beautiful and language is the bedrock of our lives but boy of boy can it create some problems.
One wrong word, or false noun and it can send a conversation reeling.
Having hard chats throughout life though are just part of the deal of living.
It can be especially difficult in relationships with opposite sex. Women are better at communication, that's just fact.
Men have a more arduous time broaching touchy subjects. Some touchier than others.
Case in point...
Redditor aeronacht wanted all of the gents out there to fess about the times they have to make, what could be uncomfortable, chit chat with the ladies, they asked:
"Men of Reddit, what's the most difficult thing to explain to women?"
I've never had much trouble talking to women. Well, except for the one time I had to come out to my girlfriend and explain me and her friend, you know what, never mind. Let's hear from you.
Don't Look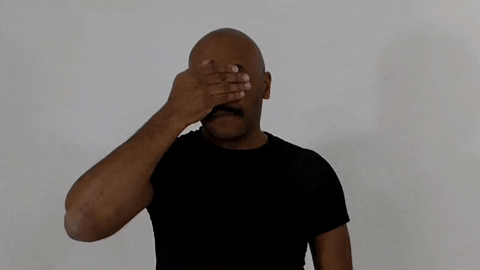 Peek A Boo Reaction GIF by Robert E Blackmon
Giphy
"Idk if it's the most difficult, but it sure did take awhile to explain to my ex that we (guys) don't look at each other's penis in the urinals." ~ itsOski13
Be Nice
"In a moment of anger, I'm smart enough to understand that 'shooting off at the mouth and saying something I don't really mean' is FAR worse than 'saying nothing, realizing 'it's not the end of the world,' and excusing myself to recollect my thoughts.' Just because I walked away from a conversation that was quickly going the wrong way doesn't mean I'm metaphorically walking away from the other person or the relationship. I occasionally just need a couple minutes/hours." ~ CornerPubRon
Just Move
"Sometimes we are too shy to make the first move or take it further because we don't know if you're ok with that." ~ ungabungamans
"My female friends had a hard time understanding why I was single. I told them I was tired of chasing people, saying cute stuff, etc. I want them to do the same for me, I also want to feel special and worthy."
"They told me that it's the guy's obligation to go after the girl and that they wouldn't make the first move. Had a whole argument with them that they should also try to make the first move or give friendly compliments to their guy friends. We also get tired of being friendly lol." ~ ImportantGreen
Nada
"That I'm happy just hanging out doing nothing." ~ Aggravating_Bat1786
"I feel this. even my (male) friends don't get this sometimes. I genuinely just really like doing nothing, guys. doesn't mean I don't want to hang out- you're more than welcome to come by- but I'm busy doing nothing right now." ~ jereflea1024
Hold Me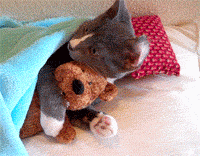 Teddy Bear Cat GIF
Giphy
"Why I want cuddles everyday." ~ Nightfury0818
"And to be the little spoon. Even if I'm a giant and you'd be my backpack/jetpack, sometimes it's really nice to be the little spoon." ~ subscribe_for_facts
No one should have to explain cuddling. Just be grateful you have someone to cuddle with. For free.
It just happens!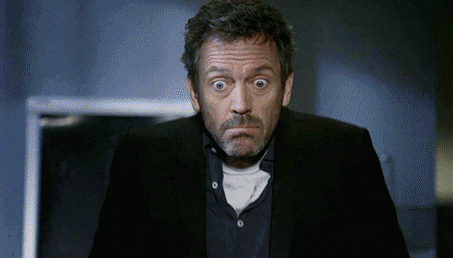 Who Knows Idk GIF
Giphy
"I can't control if I get erect or not. If I can't get hard then being angry with me is not suddenly going to make things better." ~ Hiredgun77
Don't you want me?
"I don't always want to be the one that initiates sex. It makes me feel like a creep." ~ leemurray98
"I've told this to my girlfriend several times, because it's a pretty big problem for me as well. She tells me sex doesn't just cross her mind randomly if I don't initiate. I remember her initiating 3 or 4 times in the 7 years we've been together. I still feel like a freaking creep every time I start. And when she doesn't reject me, it feels like she's doing me a favor. Very healthy, I know." ~ nudi85
Just before the wedding...
"My misses met my oldest friend at a wedding early last year. Haven't seen him since, or for about ten years before, despite living about three miles away from each other. Just before the wedding, she asked me how come we never met up, I said 'he's alive, isn't he?' Couple of days later at the actual wedding, she asked him the same things, and he also said 'he's alive, isn't he?' She never understood that. Never managed to explain that to her." ~ Fhjull-Forked-Tongue
Contact Sports
"That many men only have meaningful physical contact with their SO. Single men often exist in touch isolation. For a variety of reasons and social pressures many men experience a lack of physical contact. Most men I know won't even feel comfortable hugging their best friend. For a long time the only physical contact I had with other people was either sexual or a part of a competitive sport."
"Getting closer to my middle age I've learned to hug my friends and have platonic physical contact. It's really helped my mental health. I used to feel alone all the time even when I was with friends. Hug your male friends and help them normalize platonic physical affection." ~ zzSc0tchzz
Mirror, Mirror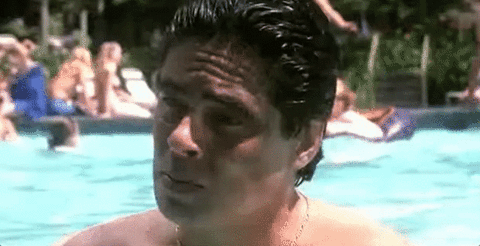 Benicio Del Toro Man GIF
Giphy
"We can feel unattractive too. Just because I don't want to sleep with you, doesn't mean I don't love you or find you attractive."
"Just like you, guys can feel insecure about our bodies and not feel confidence, and having you question if it's because we don't love you anymore makes it feel like we can't be honest about those types of things." ~ FFSock
Ok gents, time to buck up and share some feelings. You're not alone in your worry. But you can handle it. I have faith in.
Want to "know" more?
Sign up for the Knowable newsletter here.

Never miss another big, odd, funny or heartbreaking moment again.
Keep reading...
Show less
Trying to make a love or lust connection isn't always an easy trick when you're face to face these days. Maybe that's why the online or app connections have exploded.
At least then when you crash and burn in your attempts there are no witnesses, just a screen. So your shame is hidden.
You always want to be suave and sexy in that first impression. You only get one introduction and chance so you want to make it count.
You want your words to be funny, charming, brilliant and hot. That is a whole lot to cover in one pick-up line. Can it be done?
Well, we're about to find out...
Redditor PMme_bobs wanted to hear some of the best ways people tried to make a connection, they asked:
"What's your best worst pickup line that would never get you laid but is hilarious?"
I always just said... "Hey you. Wanna do it?" It worked... a lot. I don't like to waste time. I get paid to be funny, so when it's free I cut to the chase.
***THE FOLLOWING IS A LITTLE SCANDALOUS!***
Low Interest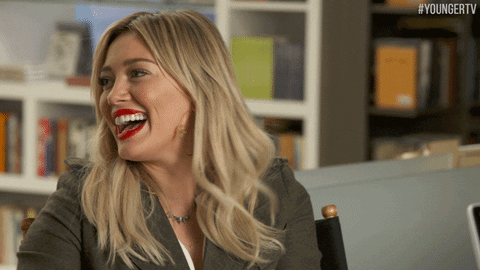 Hilary Duff Lol GIF by YoungerTV
Giphy
"Are you a 0% APR car loan? Because you seem to have no interest and I don't understand how." ~ Ok_Coconut_1773
F5
"'Are you sitting on the F5 key cause that butt is refreshing.' I used it once and it caused a lot of confusion until I explained it and then he laughed a lot." ~ I-like-bagels15
"You just stole that from that Side-men tinder pick up lines video." ~ Witrom
"I've never seen that video actually lol. I googled "pick up lines" when I was 14 and that was the one that stuck. But I'm sure others have used it." ~ I-like-bagels15
Organs
"You remind me of my appendix. You give me this weird feeling inside and I want to take you out." ~ kingJoffi
"I had a woman I matched on tinder use the appendix line on me. I followed up with 'I'm pretty sure I am your appendix, I don't want to do anything useful, then burst inside you.'" ~ midget_rancher79
Hands Off
"Hey gorgeous, wanna go antiquing? Cause I've got some junk that hasn't been touched in years." ~ LexSenthur
"I want to point out the cleverness of this comment and the post in general - probably won't help you if you're single, but if you're married it might make your wife laugh enough to get you sex" ~ TheTinRam
US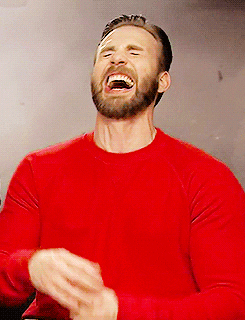 Captain America Lol GIF by mtv
Giphy
"I put the 'STD' in "stud" and now all I need is 'U.'" ~ ntruncata
Ok, that last one shouldn't be funny. But it really is. I snorted a bit. The others aren't bad either.
Ideal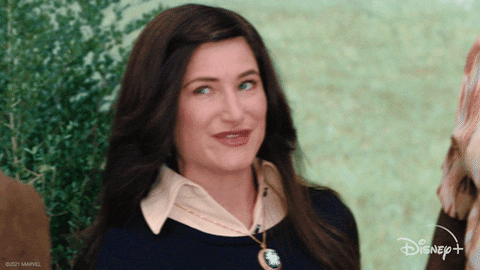 Marvel Studios Reaction GIF by Disney+
Giphy
"My ideal body weight is yours on mine." ~ starsinmysoup
You get an "A"
"Are you my homework? Cause I'm not doing you but I definitely should be." ~ LKAM22
"Related, I always liked to ask a dude if he'd help me with a math problem. If he says yes, I follow up with 'If a train leaves Portland going south at 80 mph & another leaves San Francisco going north at 90 mph, how long will it be before you take me to bed with you?' Usually gets a laugh." ~ OpossumJesusHasRisen
Bear Talk
"Back in the day I gave a buddy a pick up line to use. 'How much does a polar bear weigh?' He said it to a girl nearby and she's like 'Idk like 800 lbs?' And he responded, 'yeah that's what I was thinking, around 1,000 lbs…' and proceeded to chat her up! smh." ~ AskmeaboutUpDoc
Lip Action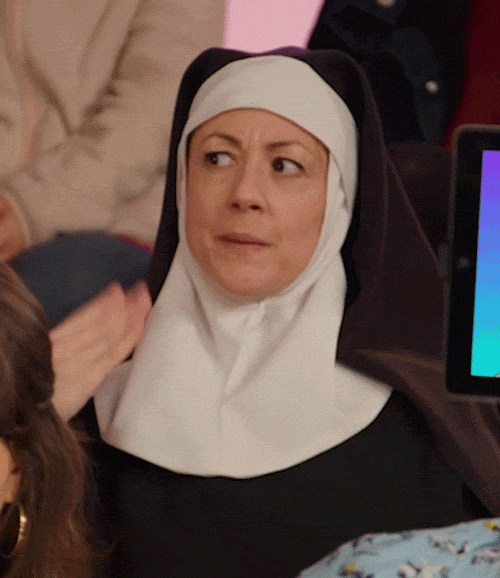 So Excited Reaction GIF by Originals
Giphy
"'You have great hair can I touch it,' then touch her moustache.' ~ Unusual_Researcher_7
Y'all are scandalous and I'm living for it. I may try some of these.
Want to "know" more?
Sign up for the Knowable newsletter here.
Never miss another big, odd, funny or heartbreaking moment again.

Keep reading...
Show less