Like male birds with vibrant feathers and complicated mating ritual dances, straight men will go to absurd lengths to win the attention of women.
Go to any bar or club. Scan the room and undoubtedly come across bicep-clenching shirt sleeves and loud male voices screaming into the ear of a less-than-enthusiastic listener on the dance floor.
That's not to say there are plenty of wonderful traits that draw women to men. There's a reason marriage and procreation continues.
But for all those success stories, there are so many instances that involve a man trying to win the heart of a woman using means that are antithetical to what she actually values.
Redditor Londoner421 asked:
"Women, what's the least attractive quality in a man that they usually think is attractive?"
Many women responded by describing the men who apparently feel the need to convince others that they're worthy of attention.
But nobody likes a sales pitch.
Call Now!
"Treating dates like an informercial for themselves." -- zazzlekdazzle
" 'But wait, there's more! Have sex with me within the next 90 minutes and you'll get not one, not two, but THREE extra orgasms! Be the envy of all of your friends with this limited one-time-only offer!' " -- nubsauce87
Wall Flower Opposite
"Over-confidence or the need to show off" -- Glasswall1
"*Famous last words: 'Hey guys! Look what I can do!!'*👍" -- AndringRasew
"TLDR: insecurity" -- lipcrnb
Nobody Cares, Dude
"Bragging about having money" -- lockdownhype
"My love will take you around the world, but my bank account won't get us past the airport." -- InternetKidsAreMean
"Nice. I'm broke af" -- RogueDeku
A Fine Line
" 'Knowing' everything. Sure, intelligence is nice, but it's fu**ing transparent when you start bullshitting just so you don't have to admit there's something you don't know. Especially if I do know it."
-- vikraej
Other women talked about the more toxic elements of masculinity.
Nope.
"Being overly aggressive with other people. Like, you are out at a club with him and he is ready to pick fights with anyone who (he thinks) looks at him or me wrong."
"I think it makes them feel macho but it's a huge turn off for me. It's happened a few times, and the last time I just turned around and took a car home."
Pure Rage
"Expressing the need to be violent without any real cause or hint that they enjoy being violent. It just outright frightens me being anywhere need people that do that."
We Are Not Apes
" 'Alpha male' 🙄" -- justputonsomemusic
"An unstable, early iteration of male. Needs further development and testing before public release." -- DoomCircus
And other women lamented all the men that seem to think attraction is a zero-sum game. These guys apparently felt that the only way to look good is to push a possible "threat" away.
Just Be Nice
"Putting other people down, to make themselves look better."
"No, you are not making yourself look better. You're being a di**."
-- maszah
Again, Nobody Cares.
"The one up man. Almost always dominates the conversation and one ups everyone else's experiences and replies. Shows me you're immature and can't hold a conversation without the focus being on you."
Just Sloppy
"Guys and/or girls who pride themselves on being able to out drink or outsmoke everyone until they're a blubbering mess. Or doing a bunch of drugs."
"They think they're so epic but it's honestly embarrassing when it's a constant and people have to babysit you during a get together."
Hopefully, at least a few men will come across this list and check themselves the next time they feel a fight or a boast welling up.
Want to "know" more? Never miss another big, odd, funny, or heartbreaking moment again. Sign up for the Knowable newsletter here.
Keep reading...
Show less
Have you ever heard something go "bump" in the night unexpectedly? How did you react? Did you say something about it?
How about something that was amazing but completely unexplainable? Many people experience moments like this. And they are endlessly fascinating to hear about.
We, as humans, are always looking for something greater than ourselves.
So when Redditor Teapunk00 asked:
"What's the creepiest, most unexplainable thing that happened to you?"

Here were the answers.
Australian Sidepiece
"I was 12~ and had just gotten my first mobile phone. One weekend, I get a call from an older sounding man with an Australian accent (not that weird, I live in Australia, but kinda relevant)."
"He asks 'Is this [my first and last name]?' I go 'Yes...?' He takes a deep breath, sounds really emotional and says 'I'm your grandpa.'"
"All I could say was 'No you're not?' Both my grandfathers had been dead for years by that point. Plus, they were both European, I'm first generation Australian."
"There's no way that even if one of my grandmas had been getting side action that this guy was my grandpa. He sounded disappointed and hung up. Haunts me to this day."-Living_Employee_7735
Nine Lives
"Our family cat passed away when I was 14 and it really sucked, he was a great cat."
"Fast forward to 16 years old and I'm sitting by my mom on the couch and she's showing me something on Facebook on her IPad when I swear I saw a cat out of the corner of my eye so I look up.
"It's our old cat walking into the kitchen rubbing his tail against the wall as he made the corner as he always did, my mom also looked up just after me and stared and looked back at me and I was like 'Did you just see our old cat?'"
"She replied 'yeah he just went around the corner there.' I got up and went and looked in the kitchen and he's nowhere to be found. 10 years later my mom and I still talk about how creepy that was that we both saw it."-Coach_Flaps
O Brother, Where Art Thou?
"My brother passed away in 2008. Fast forward to 2016. I was asleep and I had a dream about him as I often did since he passed away. This dream was different. It was like he was talking directly to me, looking straight in my eyes."
"In the dream I asked him: 'Is it really you?' He said: 'yes.' I said, 'Prove it.' He then reached out and touched me on the arm, and when he did I jolted up in bed wide awake covered in sweat."
"I thought all this was really strange and I went to the bathroom to put some water on my face. As I was looking in the mirror, I saw that there was a backwards 'R' written on my arm in pen exactly where he touched me in the dream."
"The letter 'R' was the first letter of his name. There were no pens in my bedroom, and I have never sleepwalked before. You can call me crazy, or lying or whatever, but that was the single most unexplainable thing that has ever happened to me."-Sardonnicus
These are the things that can really keep us up at night.
Sexy Sx
"Once when I was 8 or 9 me and my cousins went down to play on this gated community I lived."
"We were on the inside of this fence when this taxi driver pulled up, asked if we wanted to go to the magic Kingdom or something cheesy like that, pulled a saxophone from his trunk and started playing while inviting us inside his car."
"I still remember my mom's face when I told her later that day."-matalleone
Tectonic Dessert
"Every time my mother cooks a specific dessert, an earthquake happens in Chile, that only happened twice between 2015 and 2016, strangely the two earthquakes had almost the same magnitude."-AbelrgAb25
Dreams Of Lost Loved Ones
"I had a dream a few weeks ago. Bad times in my life, right on the cusp of things getting much better (they are now) and I was sleeping badly and just not mentally well."
"My favorite uncle, closest thing I had to a dad growing up (actual dad was not good at dadding), died suddenly of a heart attack a few years ago."
"It was abrupt and shocked everyone. I was across the country and distraught by the news. He was by far the closest of any of my family members."
"I was dreaming about something irrelevant to him or anything, and suddenly I turned around and there he was, just standing there holding his arms out and grinning like, 'heeeey!!'"
"I just lost sense of the dream immediately, I was so thrilled to see him. Like the dream was a work assignment and he was just showing up to break the monotony."
"I jumped into his arms and hugged him and kept telling him how happy I was to see him. The rest of that dream, he just hung out with me. I was just so happy."
"I've never had an experience like that because honestly I've always been the aloof black sheep of my family and I never imagined anyone would care to visit me after they died of all people, if such a thing is possible."
"But there he was, and it will stick with me always that maybe he just came to say what's up and give me a little slap on the shoulder and make sure I kept on trucking because better stuff was coming. I miss him."-OctopusPudding
Deja Vu
"I often have meaningless dreams about certain situations which I tend to forget about quite quickly."
"But fast forward a few weeks in real life, I'll be in that same situation, will repeat the same dialogue(s), will be wearing the same clothes, will be talking to the same people and I'll only realize the deja-vu until after the moment has passed."
"It happens so often, I've come to expect it now."-slightlyboredforever
People experience the unexplained all the time, but how it impacts them is the more important part of the story.
Haha...I'm Not Stalking You...
"After moving to LA, I ran into my ex-girlfriend 5 times over the course of two months."
"For context, I had moved from South Orange County to LA for a nice office job. My ex-girlfriend had moved to San Diego after the breakup, then moved to LA after breaking up with her last boyfriend."
"I would have chalked it up to random chance that we now lived a few miles from one another, except when we first noticed one another, she immediately said, 'I'm not stalking you.'"
"(Suspicion Intensifying)"
"Thankfully, after a fifth time we 'ran into each other' I didn't see her again for almost five years when I was getting ready to move back to Hawaii."
"I had the foresight to lie about which island I was moving to, just in case she decided to follow me at some point."-WatchingInSilence
Pay Attention To Your Friend's Feelings
"Friend of mine was in a hot tub with me. We were having fun and nothing was out of the ordinary."
"She looks at a plane in the sky and her whole demeanor changed before she said, 'Something bad is going to happen. No like serious. Something awful, I don't know.'"
"She isn't a person to do this. Seriously, she had never said anything like that before. Turns out, that night, a guy at our school and his whole family got in a terrible plane accident that killed his mother, brother, and sister."
"He survived but was in a coma for weeks. Have no clue how she knew but I always listen to her when she says something is off…"-Whywhywhywhy69
The Void Stares Back
"I was on a walk through my (safe) neighborhood when I went past this house where these notably odd people live. I moved to the other side of the road as I was coming around a curve."
"All of a sudden this older guy started following me. I didn't think much of it as a lot of people were out that evening. A few blocks later he caught up to me, and started walking next to me."
"I walked a bit faster, hoping with the age of this guy, he would slow down a bit. I eventually lost him, and I disappeared behind a tree."
"He was there, as if he knew where I was going to go. He started reaching out for my shorts, but I ran as fast as I could. Luckily, I made it to my house and locked all the doors."
"A few days later, I went on a walk, and I didn't see him again. Nor did I see him ever again. The look in his eyes, it was just...dead. It was like two black holes were staring back at me. I will never be able to forget him, just for that."-Kneeling_Fish
Did any of these stories scare you? Do you have any scary stories to share?
Life has so many dimensions, that the scary is inevitable. Keep your caution about yourself at all times.
Keep reading...
Show less
There are three different types of comas we can have. One is called toxic-metabolic encephalopathy, which is caused by illness or infection across the body. There's the medically induced coma which is caused by medical professionals to temporary cause a deep state of unconsciousness. Then there's the persistent vegetative state where the patient is the unaware of their surroundings and unable to movement.
However, after u/Pilot_Mosley asked Reddit, we're not so sure that every coma patient is completely unaware of their surroundings. Many people reported hearing their family or the nurses talking to them. Some said the had vivid dreams, only to learn those events actually happened.
Redditor Pilot_Mosley wanted to know what actually is going on in the unconscious mind and how it changed them after:
"Patients who woke up from a long coma, what's your story? How different were things?"
Read on to find out how the coma effected these people, whether it was a day or years.
Nightmare.
"I had a friend who was put into a medically induced coma after a bad accident that lasted months. When she woke up, she recalled being able to remember hearing everything since the moment she entered the hospital. She even remembered things her mom had said to her while she was being transferred from one hospital to another."
"She said things looked different than the way she had pictured it in her head, but she was conscious and heard everything, she just couldn't move, speak or do anything really."
"Nightmare."
"I had the same experience. I was out for 12 days. I could hear and remember every conversation. My mom, and family was crying and hugging my body, holding my hand, I felt it all. I wasn't able to respond though."
- automind
"So was it awful or did your brain make it comfortable for you?"
"It was on off, almost like a dream. I could hear and feel everything (seeing blurry images) and suddenly it was just nothing/black. I thought it was just a very intense dreams because I am one of those people who could remember their dreams vividly. When I was awake from the coma and started to feel better, I shared with mom that I had a dream of day 1, I remember scissors when they cut my hair and someone stitched my head, I could feel the whole process but I wasn't in pain. the 2nd day it was my grandma crying and she hugs me, and I can see her wearing a specific shirt, and so on until the 12 days. I was surprised when my mom told me those weren't dreams. All of those really happened when I was unconscious."
"I was 16 when that happened, now 14 years later I can still feel and remember the way my mom and grandma hugged me and squeezed my hand. Hearing their cry and calling my name in prayers."
"It's ironic that now both are passed away and this are the memory of them that keep repeating in my brain."
- automind​
A year long coma.
"Back in high school a girl I knew who was younger than me was in a car accident. She was in a coma for around a year, maybe a little less. When she came out of it, she remembered snippets of conversations around her while she was "out" and even seeing a few people. The only thing was, she said everything she saw was red-tinged; so she'd see her mom at her bedside but it'd look like a red filter had been put over her vision."
"She was annoyed at how many times people told her it was all right to go on, that her mom could be free if she did. She identified a few voices she knew for sure and told her mom, who had a lot fewer friends afterward. She was 14 when the wreck happened and never made it back to school, getting her GED at 19. She still has mobility issues 30+ years later but she's doing pretty well now considering everything."
"I never thought about how I would feel knowing people would want my loved ones to move on. I mean I think I would want them to move on too. but I would also be aware of all it by the sounds of it. That sucks."
"I had a good friend die after 6 months in a coma. It's a extremely hard decision on whether or not to want them to pass on or hope for the better. At a certain point where there isn't much to do about it anymore. They don't seem to be getting better but you don't want to lose hope either. It feels like hell when that point comes."
At the start of the pandemic.
"I was out for seven weeks."
"I woke up to a pandemic and no one allowed in. Thank God for Skype."
"You lived the beginning of 28 Days Later."
"The Walking dead plot almost achieved."
Still 17 at heart.
"So, my husband was in a coma for about a month when he was 17. His was due to a frontal brain injury. Arrested development is usually seen psychologically, not necessarily physically. Like, their body will go thru puberty, but their brain development does not equal that. My husband is not still '17,' but there are times where I can see the delayed development when it comes to decision making, emotional responses. Physically, nothing stopped. But it effects a LOT. At least a brain injury does. Even when it comes to sexual drive. Sometimes it's like they never got out of that 17 year old boy phase."
Accidental overdose coma.
"Well it first started off as a dislocated shoulder and after they put it back in place they just kept giving me Dilaudid and at first it was like every hour then they switched it to every 30 minutes then they switched it every 15 minutes and I just got so sleepy they moved me up into a room last I remembered from the ER and then my friend kept saying my name but I couldn't move I couldn't open my eyes but I could still hear her. Then I heard one of the nurses come in and she couldn't get me to wake up so then the head nurse came in and she claimed that I was faking it but no matter what she did she just said I wouldn't wake up."
"So it was at this point they said that the nurse who was in charge of my painkillers put me into an accidental overdose coma. And even still in a coma they kept giving me painkillers for a while like probably one or two days before the head nurse actually noticed. I mean it wasn't a long coma but I still felt like I wanted to share my experience."
"How and why did they keep increasing the amount? Did you ever get an answer?"
"Yeah I tried to sue them but they said that I signed some papers which I don't remember signing about how they couldn't be held liable or something. And the nurse who is in charge of giving me medication told the head nurse, 'She kept saying she was in pain so I kept giving her more medication,' and the head nurse said, 'That's ridiculous she can't even move let alone talk right now. How in the f*ck do you think she even can tell you she's in pain?' And it went quiet for a while and then the head nurse said that she's in charge of me for the rest of my remainder in the hospital which was about a week because they wanted to monitor me for after that happened and I had to have several tests to make sure it didn't f*ck up my brain."
Weird dreams.
"My dad was in an induced coma for a bit over a month years ago had to undergo a very difficult surgery and he had multiple complications afterwards so that's why it took them so long to wake him up."
"Not a very long coma, but he couldn't wrap his head around how we went from freezing temperatures to nice spring sunny days."
"Maybe off topic but I have to tell this one, he had some very weird dreams during the coma. He told us one time, he dreamt about being at his own funeral... and I'm not kidding, the walls of the hall were covered in PESTO LASAGNA. Ok, it's a bit less weird maybe since we're Italian, but I still laugh thinking about it."
- cey97
"Omg the dreams. I still remember them 10 years after. I was in a medically induced coma for months and all I remember is the relentless racing from dream to dream but recognizing something was wrong. Maybe due to having sleep paralysis I can sometimes wake myself up but it was not possible in a coma and it was horrible."
Surgery complications.
"I was in a "run of the mill" surgery. Everything was fine until they removed the instruments. Someone had forgotten to sheath the scalpel after they inserted into my thigh on route to my heart. When they removed the instruments my arteries were cut open from my thigh into my heart. I lost all but one liter of blood and was put on life support after extensive attempts to control my bleeding and 12 blood transfusions."
"When I came out of the coma 3 months after the surgery they removed five tubes that had replaced my normal bodily functions, at that time I could only breath deeply enough to saturate my blood to the 70% level (mid to high 90s is considered a normal range). I had to learn how to breath, something that is normally an automatic function from birth onward. It took 1 month to learn how to breath without using an oxygen machine and an additional 3 years to be able to stop using the machine."
"Prior to the surgery I had 3% body fat and was leg pressing 1100 pounds on a 5 day a week schedule. When I had a ' new to me' doctor come to ask if he could examine me I agreed but asked why he wanted to do that. He said he had previously examined about 20 patients who had similar mistakes made to them but that I was the only one he had ever seen other than in the morgue and wanted to understand why I was alive."
Though some of these stories are heartbreaking, they all have lived to tell us the tale today.
Remember, if a loved one is ever in a coma, and you decided to visit them, be careful what you say because they may remember it when they wake up.
Keep reading...
Show less
It isn't all about physical beauty folks. As much emphasis is put on mainstream beauty standards, what matters the most is what is on the inside. In this case, the cliche is true.
You could have model good looks, the best home and cars money has to offer but if you treat people horribly and have no regard for others you will be the ugliest person in a room every single time. Oh, the other side someone could not be "conventionally attractive" but be the belle of the ball if they have an honest and caring heart.
Redditor PARADISE wanted to know what traits it takes for someone to go from hot to not in an instant for everyone else.
They asked:
"What is one trait that could turns someone from a 10 to a 5?"
These are certainly giant turn-offs and red flags. Best to move right along if you encounter someone with any of these toxic traits.
Want to "know" more? Never miss another big, odd, funny, or heartbreaking moment again. Sign up for the Knowable newsletter here.
Keep reading...
Show less
You know there are some randy people in our midst when they see a banana and get aroused when thinking about its phallic shape.
But you know what? Sometimes, a banana is just a banana.
Libidinous individuals have a tendency to sexualize the things around us that have nothing to do with what happens in the bedroom.

Curious to hear from strangers on the internet, Redditor tmime1 asked:

"What is one thing that is so sexualized in society but has nothing to do with sex?"
Many thought these were inappropriate scenarios.
Father Figure
"The word daddy"
"I don't even understand how it got to this point. Calling someone 'father' in bed is the creepiest thing ever, so how did 'daddy' get a pass?"
Common Porn Theme
"Step siblings."
"More broadly, people just like to fantasize about things they shouldn't do. Lots of men and women have an undeniable (and literal) lust for the taboo. Actual incest is still too much for most people, but most people still think that banging a step-relative is creepy enough to feel like it shouldn't get done -- and therein lies the attraction, I think, for people who are into it."
Competing For Looks
"Pageants for preteen girls."
These are related to things you put in your mouth, but for actual consumption.
Oh Lolly Lolly
"I ate a lollipop at Disneyland once as an adult, bc my dad used to buy me them as a kid, and it was nostalgic. Two different crazy older ladies stopped me to tell me I was disgusting. I offered to buy them lollipops. They declined. I don't get it man. It's candy."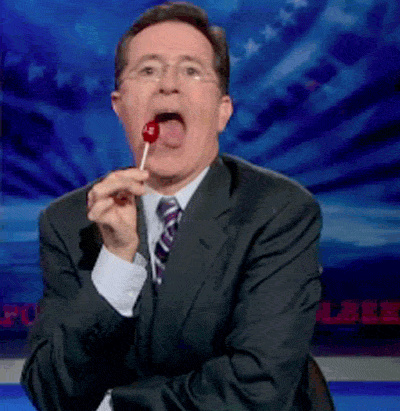 Stephen Colbert GIF
Giphy
Sexual A-Peel
"Eating a banana in public makes me uncomfortable for this reason."
X-Rated Veggie
"Same. I also used to hate scanning cucumbers when I worked at a checkout as a teen."
– Woshambo
The frequent depiction of sexual teens in TV shows and movies were mentioned.
Teen Drama
"Teens in young adult media. There doesn't always have to be a romance subplot/sex scene."
– ohmygay-
The Actors Portraying Teens
"Doesn't help that teens are usually played by actors in their twenties or even their thirties."
"Just write college aged or young adult characters if that's what you want to tell stories about."
– ohmygay-

Authenticity Is Overrated
"The teen characters in these shows always have very adult resources, conversations, opportunities, drama, and perspectives ...clearly, nobody wants to watch shows about actual teenagers. Imagine watching 30 min of someone eating Takis, scrolling their phones, failing statistics again, and having infrequent and sh**ty sex."
False Narratives
"Seriously! I hate every movie and show that involves young adults and the trope that teens just do 'drugs, sex and parties' all the time! This isn't true and is so overdone. Let it die."
"Teens can be immature, can have sex and do drugs and that happens irl. But they're real people with real agency too. Some of them mature up fast because being in sh**ty families makes them realize they have to raise THEMSELVES because their a**hole parents won't. Some of them are more intelligent than adults give them credit for. I hate that movies and media underplays that. It really gives a false narrative for young and old people alike."
Food is evidently a very common sexualized thing in society.
The manner in which one licks a lollipop or Popsicle can be very arousing because of what the act simulates.
But It wasn't until I saw Call Me By Your Name that I realized the full potential of a peach.
Let's just say Call Me By Your Name was to a peach what American Pie was to the eponymous dessert.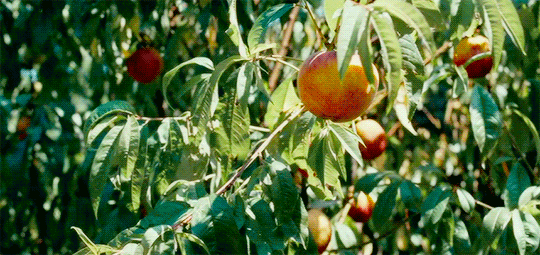 peach lucaguadagnino GIF by TIFF
Giphy
Keep reading...
Show less