If you live on this earth and you're fortunate enough to form long-lasting relationships with different people, chances are you'll know the pain of heartbreak. It's an unavoidable fact of life.
We are not guaranteed to stay with one person forever, as we were reminded once Redditor disturbance of mirrors asked the online community,
"People whose long-term relationship faded, what was the final straw that made you realize it was time to call it a day?"
"The last time..."
"When she 'broke up' with me for the 12th time.
We had a long-distance relationship and whenever we had an issue or a disagreement, instead of engaging in a conversation with me about it, she would say we were done and shut me out for two or three days before coming back and manipulating me into groveling for her forgiveness. The last time, I just said no to going back and stuck to it. She freaked out and tried to drive 6 hours to my place at 2:00 a.m... I got a call from her mom saying she had left in the middle of the night as a head's up and, upon finally getting ahold of her when she was just a couple of hours away, I was able to convince her to turn back.
That relationship f***** me up for a while but, once I began dating my now fiancee, it was unbelievable to me how wonderful a real, loving relationship with healthy communication can be."
"Her brother was living with us..."
"Mine was not a slow burn like most seem to be, but a very definitive moment.
Her brother was living with us and this was right when WiFi was becoming available to the general public. We couldn't afford it cuz we were broke kids, so her brother would take my GF's MacBook (it was a gift) and sit on a nearby bus bench and leech off someone's unsecured WiFi.
Well, one day we get a call from her sister and she says we need to get home immediately. Turns out some guys came up and asked him for change for a $20 and when he told them he didn't have it they tried to snatch the Mac and jump in their car.

He knew it wasn't his so he held onto it and tried to get it back but they were too much. He had gotten dragged by the car, kicked in the head, and then had his leg run over. He was in pretty bad shape.
As we turn the corner (didn't know what had happened yet) GF sees cop cars and an ambulance and says "This better not have anything to do with my Mac. We walk in and he's visibly in bad shape and she is just immediately "Did you lose my Mac?" I'll never forget his face. He was so ashamed and felt terrible and just started crying. She however started screaming my computer! My computer! And hitting him. To the point where the cops considered arresting her. It was an instant eye-opener."
"I'd sit in my car..."
"I'd sit in my car after work playing on my phone for like an hour because I just needed a break before going inside and dealing with him."
"I would find any excuse..."
"I would find any excuse to work late or sometimes go sit at a bar by myself just to avoid the misery at home. We divorced."
"He was a workaholic..."
"He was a workaholic to the point that I saw him about 6 days per month."
"Somewhere between..."
"Somewhere between giving up on small talk and not looking forward to the weekends anymore."
"It really forced us..."
"Honestly it was the pandemic. It really forced us to actually spend time together and I realized we kind of just didn't do much together at all. I had spent years thinking it was cool that we kept our own friends and space but once those distractions were taken away it was just really clear to me that we were more roommates than a couple."
"When I realized..."
"When I realized I was needed and not wanted. Constantly trying to make someone happy who didn't want to be happy."
This one hurts. I've been there myself. (And I have also been that person––I thankfully got help.)
"We lived together..."
"We lived together but lived completely separate lives. Basically a housemate I shared a bed with. Happened twice to me so far."
"I would have moved mountains for him..."
"I knew it was over when I cared more about his wellbeing than he cared about his own wellbeing. I would have moved mountains for him if it made his life easier and he just continuously put himself in shi!ty situations. I eventually just gave up. I can't be with someone who doesn't care about themselves. Thank God that's over."
If you think you might be stuck in a pointless or unhealthy relationship, it's worth evaluating your options. And it's never worth sticking around and risking your emotional and mental health.
Have some stories of your own? Feel free to tell us about them in the comments below.
Want to "know" more? Never miss another big, odd, funny, or heartbreaking moment again. Sign up for the Knowable newsletter here.

Keep reading...
Show less
There is always that "one." There is always going to be that person.
That person who you will always remember. And when they are the one who you regret losing most... they are the ghost that will haunt you forever.
I have a few escapees. I'll never know how it would've turned out. But that is part of why I'm haunted. I need to discuss....
Redditor u/AssistantNo1733 wanted to discuss all the times we've lost in love by asking:
Who's the one who got away?
Do we even have a clue that they're the "one" that got away? How long until it sinks in? And how do we not know there isn't another "one" coming behind them? I have no answers. Just asking...
The Draft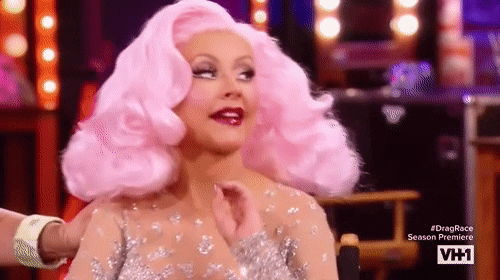 Episode 1 Omg GIF by RuPaul's Drag Race
Giphy
"The girl who summoned up the nerve to ask me out towards the beginning of high school. I was so humiliated by the life my family was living that I stalled until she gave up."
"Betsy, if by some stroke of dumb luck you're reading this... I'm so sorry. It was 25-27 years ago, but I still hate myself for that. You were beautiful, intelligent, a good person, and if I had anything resembling a stable, presentable home I would've said yes in a heartbeat... I had a crush on you since 7th-grade 'intro to drafting.'
I Love Her
"Weird, I was just confiding in my mom about this last night. I'm late but for catharsis's sake I'm going to post. My first girlfriend is a classic case of you don't know what you have until it's gone. She's the complete package. Beautiful, intelligent, compassionate, and so kind. We started dating when I was 17 and broke up when I was 21."
"For reference I'm 30 now. I was an idiot. I wanted to play the field. I wanted to party and hook up with college girls. It was fun at first but after a while I felt this gnawing hole in my heart. The feeling of doubt crept up slowly and still, a decade later my chest feels tight thinking about it."
"I didn't realize until my later serious relationships that getting along with your SO's family is so important. Her mom and step dad genuinely treated me like a part of their family. It's not a stretch to say I literally grew up with these people. I spent some of my most formative years with them. Birthdays, Thanksgivings, Christmases, you name it. They celebrated me and my accomplishments. They genuinely cared about me. Just amazing, salt of the earth, lovely people."
"Her birthday was in March and I sent her a text and we ended up talking for a bit. She's happily married and stable with a daughter and a second on the way. I'm genuinely so happy for her. She deserves happiness. I just wish I was a part of that. Sitting at work 10 years later I'm tearing up. I numbed myself out to it for years, it's so strange to me that I've been so stuck on her lately. Is this normal?"
- direct07
15 Years Later
"My very first real love. I was a teenager and I didn't really know how to be comfortable in myself or with myself. I played silly teen girl games and lost him even as a friend. Now 15 years later I still think about R from time to time. I genuinely hope he's happy in his life."
"Edit: Wow this blew up while I was sleeping. Thanks for all the sweet words and to everyone with their "one" congratulations! I suppose I hadn't looked him up on social media because I'm scared, scared he won't respond, scared he will respond, scared he'll think I'm a stalker. I'm in a happy relationship now, but what if... Etc etc etc. But I'll give it a Google."
Missed You Much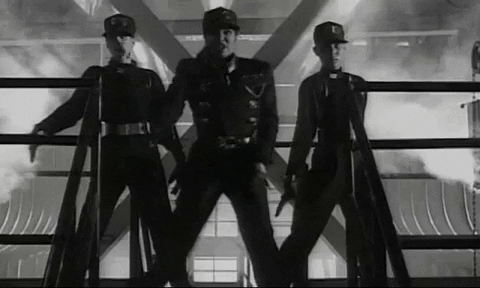 rhythm nation dance GIF by Janet Jackson
Giphy
A girl I dated in high school. Went on a date one time she took me out parking and I was too stupid to realize it.
"She always talked about moving away as soon as she got finished with high school. I always thought I would stay in a little town the rest of my life. Turns out I was the one who left and move to another state. Later I heard that she had told someone that I knew that she thought that we would be married at some point. Missed it by that much."
Ok... I've been a bit blind to the light. People can be cruel, but also highly creative. Why not just lead with the truth? It'll always hurt more after lies.
Chuck E.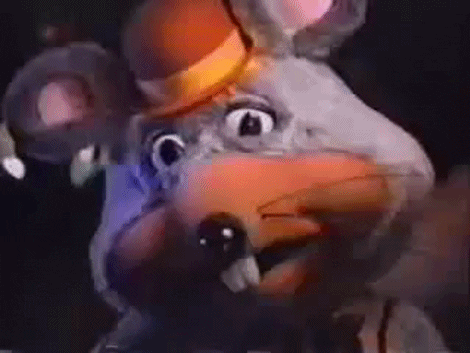 Chuck E Cheese Wink GIF
Giphy
"Ah the rare AskReddit question I can answer."
"I met a wonderful woman circa 2013-2015. We worked at what I can best describe as an upscaled Chuck E Cheese. Or ghetto Six Flags. Your choice."
"We hit it off instantly, though at the time I was rather romantically inept. Eventually, she says she's leaving to join the Air Force. I tell her I'll miss her, and wished her well. The thought of asking for her number so we could stay in contact didn't even cross my mind."
"Cue the next day, I stop for lunch on my way to work, and as I'm walking to my car I hear my name being called. I turn around, and it's her, running toward me. Universe giving me a second chance, right? Wrong. My dumb butt still didn't ask for her number. She looked a little upset, and I still think about her often. Desiree, I hope you're doing well."
The Getaway...
"He was my first and last love. I was 16 and he was 18 when we met. We bounced around like idiots, on again off again, finally got together mid 20s. We both fell into bad habits - drugs and alcohol, more booze for me, more drugs for him. We had some bad things happen that were pretty detrimental to staying sober. We would split, reconcile, get sober, fall off the wagon, split, etc... repeat as necessary. We realized we were very bad for each other unless we could BOTH just get sober for ourselves, and split."
"Ten years later, I was sober for 7 years (still am, going on 18 years end of this month, actually! Woo, go me!) and he was beginning to come back, sober about a year. He contacted me, we met, talked about trying again. He said that once he had been totally clean for a year, we'd do it. That whole "Don't make any changes for a year" thing. I would visit him, tho, things were good."
"He woke up one morning feeling bad, thought he had the flu. (This was pre-now) I stayed around because he was sick, but neither of us thought he was drastically bad, just the flu, right? He got worse and worse, finally we called an ambulance because he got up from a nap and couldn't breathe. He died in the ambulance on the way to the hospital. Aortic dissection."
"He got away, but someday I'll see him again. I never stopped loving him, and him me. We just weren't good for each other."
Ce la vie...
"My most serious Ex."
"Don't think I truly understood love until I met her. Loved her more than I ever thought I could love anything. It eventually ended when she told me that, through no fault of my own, she had fallen out of love with me. That was 2 years ago, still hurts to think/talk about."
"Ce la vie..."
The Avoid...
"I'm in the middle of trying to avoid that right now actually."
"It's not worth the heartache trust me. I fought to stay in a relationship for an entire year. If I would've just let her go the first time she wanted there would've been a lot less pain. We would've left on good terms. I would've lost a lot less sleep. Rip the band-aid off because once the band-aid starts peeling it's inevitable it'll fall off with time."
Sweet...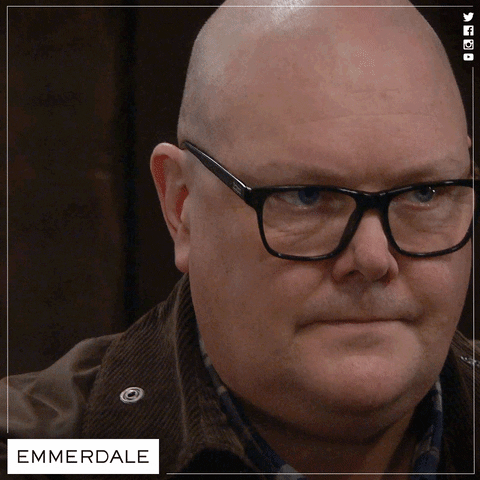 Kim Tate Eye Roll GIF by Emmerdale
Giphy
Damn man why bring this up.
"My ex and I broke up over 3 years ago. Mutual breakup through a lack of communication on both ends I feel."
"Thought I was over that hill until this week she messaged just to say hey and ask an innocent question. We text for the best part of the day and it's brought up a lot of old feeling. Feeling pretty bitter sweet right now."
Love is a mess. Why even bother trying if you can't be true? It's not hard to just spell out the situation. And if you're the one needing to put together the words... look closer. The dialogue shouldn't be difficult.
Want to "know" more? Never miss another big, odd, funny, or heartbreaking moment again. Sign up for the Knowable newsletter here.

Keep reading...
Show less
What are the odds you'd click on this link today?

We're not going to spend the entire time talking about math and the statistical anomalies of how things occur, like how the chances of choosing the same grocery pick-up time as your neighbor might not be as strange as you think. If you both work similar hours and have children, then going in the evening might be the only available time afforded to you both. However, there is a bit of a serendipitous rush you feel when something so perfect lines up, creating a moment that seems to break reality.

Reddit user, u/Fardgabor, wanted to know how the stars aligned in the craziest way when they asked:
What was the biggest coincidence that made you question the fabric of reality?
There's small coincidences, occurrences so minute that you wouldn't even notice them if you weren't paying attention. However, once someone makes a big deal out of them then there's no other choice but to acknowledge that what just happened was spectacular.
Each Having A Buddy Coming To Town
"My friend and I were on a road trip a few years ago and needed a place to stay. We both told each other we had a friend in the city we were going through, so we figured we'd be able to crash with one of them. Turns out our two friends were roommates and had both been telling each other that they had a friend coming to town soon."
What's That Got To Be? A 1 in 1000 Chance?
"Several years ago I was at a coffee shop with some friends and one of them had an ipad, another friend went to unlock it and asked him what his 4 digit unlock code was, so I just blurted out 4 random digits pretending like I knew it, and it actually worked. I had never unlocked it before or knew of the same numbers being used for anything else, or his phone number, etc."
Both Probably Assumed What The Best Time Was
"I passed out after receiving a flu shot when I was 28. The nurse who helped me up kept asking if I wanted my mom. It seemed like a really weird thing to offer an adult woman - the option to have her mother phoned and brought in - so I was really confused and getting progressively more annoyed at her repeatedly asking...
...until my mom walked up to me. She had the appointment after mine to get vaccinated. The nurses assumed we had come together, but neither of us knew about the other's appointment, and we lived an hour away from each other in different cities."
Living in such a big world can lead you to the conclusion that math is silly and odds are never in your favor. With over seven billion people roaming around, chances of meeting someone of significance?
Less than you think.

A Simultaneous Love Of Traveling

"This guy I went to grade school and high school with, an acquaintance at best. I've seen him in 5 different locations in different countries throughout the last 15 years.
Disney World when I was a kid.
Some beach bar in Thailand.
The Bean in Chicago.
A pub in Budapest.
A library in San Jose, Costa Rica.
We've become friends due our love of traveling, but neither of us post on social media and neither of us communicated with each other our plans to travel. We never talked outside of the random meetings. Now if I see him, its like the world wants us to have a beer together. haha"
"I Mean, The Crash, Yeah, But How Have You Been?"
"My dad lives in a national park here in Australia. It's farmland that's grandfathered in. It's the remnants of a volcano that blew itself up very violently, so it's very hilly terrain.
One day we were sitting out on the deck, when we see a hang-glider come down halfway down the valley, and it didn't look like a nice landing. "Sh-t, we better see if he's alright, they don't land anywhere near here"
So we get in the car, drive for about 10 minutes to reach the spot. We head over to the guy who is standing by a very damaged glider. The pilot is staring at us incredulously, he stammers "F-ck, Jack, is that you?".
My dad, who hasn't seen his childhood friend for 35 years shouts "F-ck, Tim, is that you?".
They both grew up in Greymouth, NZ. Found each other randomly after a glider crash in NSW, Australia."
Takes A Wedding To Bring People Together
"My wife and I were looking to hire a caterer for our wedding and when we met, my wife and her started talking about their lives a bit.
Turns out they had both literally grown up on the same street, in a city of 10 million people, on the other side of the world. Both had left the city around a decade before immigrating to our current country.
They knew the same people, had hung out at the same coffee place, attended the same church. They even used to grab mangoes off the same large tree that hung over the wall of one of the large houses in the neighbourhood.
But they had never met one another until meeting on almost the exact opposite side of the planet, in a small town of about 50,000 people."
kor_hookmaster
What we can gain from these experiences is a coincidence will occur more than you think, you just have to have the eyes sharp enough to spot them.
But how would you explain these?

Position Is Key
"I dialed my mum on my mobile when I was on public transport and accidentally swapped two numbers around.
The person I called was on the same carriage."
"Go on, tell us what happened then!"
"So I was listening to my phone and at the exact moment it started the ringing sound I heard a phone start ringing and I thought it was a coincidence but then the phone answered and it wasn't mum.
All I said was "Oh, are you on the Upfield train?" and they said "Yes, who's this?" but I got shy and I hung up.
Poor guy must have been so confused."
Universal Echoes Bringing You Closer Together
"One time, me and my dad were discussing his friend while out driving at night without many other cars on the road. As we were talking, we pulled up to a red light, and the car waiting in front was my dad's friend. He didn't even live close to there."
Extremely Unlucky Odds. Go Buy A Lottery Ticket.

"A couple of years ago I was visiting my hometown and decided to sit on a bench at my favorite park. As I was sitting, I felt something land on my head. Bird poop. After heading home and washing my hair, I went back into town. While I walked around, I watched as a guy got hit with a drop of sky sh-t. As I was laughing about the apparent irritable bowel syndrome of the birds in my town, a bird flying right over me drops a fat sh-t on my head."
There's no magic at play. All of these happenstances can be explained away with simple math and rudimentary probability.
Still, it's fun to live when you're in the moment.

Want to "know" more? Never miss another big, odd, funny, or heartbreaking moment again. Sign up for the Knowable newsletter here.
Keep reading...
Show less
Flying can be enjoyable as you watch the world below shrink as you ascend above the clouds. It can also be difficult and a fair test of one's patience. If this writer has any flight advice it would be one—even though it looks appetizing don't eat the airport sushi during a layover.
Two—please keep your shoes on—the rest of us, including the attendants, can indeed feel our noses burning. They have to deal with enough during the flights, let's not add olfactory assault to the list. But seriously... leave the sushi alone, grab a nice-made pretzel instead.
Redditor theburiedsalmon asked:
"Flight Attendants and/or Pilots of Reddit, what are some things passengers do that get on your nerves?
Flight attendants jumped on this question ready to dish on their biggest pet peeves and worst experiences.

Gross...
"Leaving a ridiculous amount of garbage behind. Last week I had a grown a** couple spit huge globs of gum onto the floor and then step on it to try to rub it in. Like seriously? Why? And getting up to use the bathroom when we're already descending."
Keep it in your pants ya'll...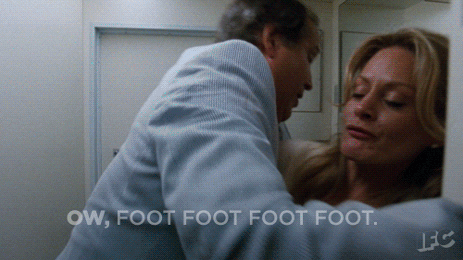 Flying Las Vegas GIF by IFC
Giphy
"As a former FA—Don't try to join the mile high club. Just, stop."
"Don't have sex in the bathrooms y'all. No, you aren't being very quiet and yes we will know and depending on the airline policy we'll also have to politely ask you to knock it off and keep it in your pants."
"Not to mention the obvious - airplane lavs are ridiculously tiny, to the point where once on one long haul we had to make an emergency landing because a large couple couldn't get out of the lav they had shoved themselves into once they were done."
"I'll add that this is THE grossest place to possibly want to do the deed, as lavs NEVER GET DEEP-CLEANED, EVER (between same-day legs)"
"I know what your hand motions mean and I will have to come over and shut it down, especially because in most cases there are families with kids sitting behind or near you."
15 years in...
"Former flight attendant here... 15 years I've seen it all! (and sorry for the formatting, on mobile)
Walking throughout the aircraft barefoot. Especially into the toilets... Those floors are not as clean as you think they are!
People who talk to us and treat us like scum. And yes, we'll provide better service to the ones who are nice or think of them first when a whole row is free and they need to lie down and sleep during an 11hr flight.
Parents that don't watch their kids during the flight. The aircraft isn't childproof and there's a surprising amount of things they can injure themselves on.
Passengers who do aircraft yoga during the service. By all means, if lights are off and it's quiet go ahead, but if there's a buzz of activity near the galley then maybe wait a while.
Speaking of which, assuming the galley is free for all. Sometimes we don't get provided crew food for work and bring our own. If we're busy attending to a call bell and can't finish out snack or whatever... It's not for you to just grab and eat... At least ask first!
Complaining about how rough the flight was. I've had some cuss out the flight deck about their abilities because the aircraft hit wake turbulence... If you can magically see wake turbulence on a tiny monitor and think you can do a better job then join a flight academy, pay several thousand dollars for the training and certification and do it yourself..."
"I left Aviation in August (because of you-know-what) but that's just what I can recall from the top of my head..."
"If you'd love to really show appreciation for your flight crew, particularly when many are so close to redundancy, a complement really makes a difference. A 15 min email to the Service Delivery department of the airline you flew with praising the crew who went above or beyond on your flight can do wonders for their career progression. I do it for service staff all the time at restaurants and the hotels we stayed at, and having them remember you after months or years due to your comments is simply priceless."
*screams in sarcasm*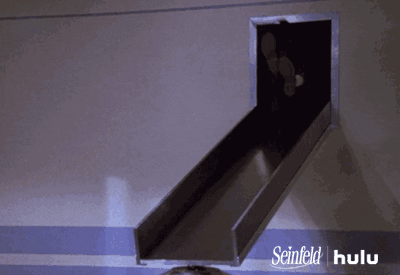 baggage claim kramer GIF by HULU
Giphy
"Did you know that the closer you stand to the baggage claim carousel, the faster your bag arrives? It's science. Look it up.
Warp speed for the ones that let their kids on the carousel!"
​You're going to want a buffer.
​"If you are booking a connecting flight and the connection times are 30min or 2 hours. Pick the 2 hour connection. I can't stand passengers who get all upset when they miss their connecting flight because they booked themselves a 30min connection."
"Your stressful travel day will be a little less stressful knowing you have a buffer. If you happen to land on time or even early, sit down at a restaurant, go for a walk, people watch, find your next flight's gate and watch a movie there, etc."
​Repeat after me: Keep your hands to yourself!
"Poking or grabbing at me to get my attention!! And it's usually on my @ss as it's eye level with most people haha. But for real DON'T poke people! Especially if I am speaking to another passenger."
"I can see you waving at me I'm not going to interrupt my assisting someone else because you want me to take your trash, just give me a second and I'll come to you next. I promise can hear you if you say 'excuse me!' Or 'Miss!' Or even wave a little in my direction. There's just no need to touch people or grab at them."
"Once I was so irritated at someone's incessant poking, I turned, looked them in the eye and poke poke poked them right back and said, 'what do you need.'"
"Slip me a twenty instead..."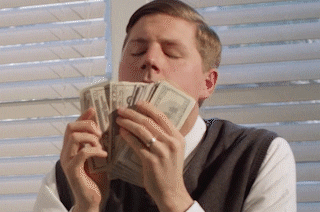 Turn Up Money GIF by Joel Byars
Giphy
"Stop expecting free alcohol because you handed me a three dollar bag of candy you bought in the airport. I'm a grown *ss man. You didn't make my day by giving me a Hershey's kiss. Slip me a twenty instead. I'll give you an open bar the rest of the flight."
"If you are nice I am happy to walk the extra mile for you."
​"Gosh where to start. I'd say one of the most irritating and annoying thing is when people ignore or fight our instructions concerning safety regulations. I do not enjoy telling you that you can't have your bag in an exit row, that you need to put your important laptop away for takeoff and landing and that you should stay seated when the seatbelt sign is on. And no it is not negotiable. No reason to get insulting or treat us like sh*t."
"Drunken behaviour. When you start getting aggressive for not getting anymore booze, we know it's the right call. It is neither fun for us or the people sitting in your vicinity. From harassment, cussing, aggressive behavior, throwing up, or loud terrible singing/howling on a long-haul night flight. Same for medications taken with alcohol."

"If you are nice I am happy to walk the extra mile for you. Having a free seat next to you, a drink I don't have in my cart atm, extra snacks, etc. But being an @ss for things I can't change won't help anyone. Yes, I do see you are flying with an infant and I would love to give you a whole seat row but the flight is fully booked."
"You have a certain allergy and can't eat any of the foods offered and have not ordered a special meal before flight? We have only the foods onboard which were loaded and I can't create or order any mid-flight."
"The bar carts are heavy and the airplane has basically always an incline angle. Please move out of the way and go use the restroom before we are blocking your way."
"Feet in the isles during night flights. The cabin lights are dimmed and i do understand your need for stretching your legs but it is a trip hazard for us. There have been colleagues which broke bones for tripping over feet and legs in the dark."
The list doesn't end there...
"Parents which let their kids do whatever they want. I almost had to cancel a takeoff once because a toddler was crawling in the isle just because mom said he won't sit still shortly before takeoff. Disregarding that on takeoff roll he could have gotten severely injured."
"And please bring everything you need for your kids. Diapers, food, milk. We have some items to help you out when you run out but not to supply everything for infants for the entire flight. And tray tables and seats are not changing tables. Gross. Please use the ones in the restrooms."
"And yes i cringe seeing ppl run around barefoot especially near/in restrooms. I sometimes can't understand what happened in there but its gross. And well I bet in almost every aircraft are restrooms where someone couldn't make it to it in time and vomitted right in front of it."

"You are a guest on board. A very valued guest. But please behave as such. You have passenger bins and your seat area. Don't open other cabinets or lockers. Don't help yourself to anything which isn't obviously on display for you. And if in doubt ask first."
"We had passengers eating the homemade lunch of a colleague in Tupperware. Someone took a bite from a piece of cheese which my colleague already had a bite from and placed it back, etc
"All that said I have had as well super amazing passengers. A lot of laughs, people who forgave me for drenching them with sprite or redwine, offering help to me in certain situations, etc."
"Flying since 2012"
"I am not your grandchild, I am your captain."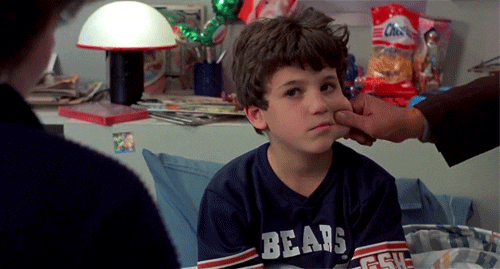 the princess bride cheek pinch GIF
Giphy
"After a flight I usually stand by the flight deck and say good bye to the passengers as they exit. I get a lot of people that ask how old I am. That doesn't really bother me (I'll probably be sad when it stops), but please don't touch me as you are saying it. Seriously, strangers trying to pinch cheeks and pat my head. Lady, I'm not your grandchild, I'm your captain."
General advice? Listen to and be respectful to your flight attendants...and seriously stay out of the bathroom unless you need it—don't be the couple that needs to be peeled out of the loo.
Want to "know" more? Never miss another big, odd, funny, or heartbreaking moment again. Sign up for the Knowable newsletter here.
Keep reading...
Show less
Celebrities hold a special place in our hearts. We see them on screen, we read their books, we listen to their music and podcasts, and we hold them in a high regard.
Our societies celebrates celebrities, as the name suggests, so as we see our hero's lives come to an end, it can feel like a huge loss.
Reddit user aliensockmonkey asked:
Which celebrity's death actually made you cry?
In this thread of emotional comments, people shared their fondness and influence of those no longer with us and celebrated the lives they lead.
This article does contain mentions of suicide and death.
Those who showed us to love science.
"Grant Imahara from Mythbusters and Gran Thompson, they made me get into science."
"I'm not going to go digging for it but I remember I didn't cry at his death, I cried over a tweet from Kari Byron that she posted not an hour later I believe. It wasn't long or thoughtful or beautifully written; it was something like "I was just talking to you this morning" with a picture of him and that was it. It felt like she was broken inside."
"One of the rare individuals out there to have both a keen intellect, a practical engineering and scientific curiosity AND the onscreen presence and charisma to bring knowledge to the masses."
"There were so many years in him to teach. Truly a tragedy."
A wonderful actor and person.
"Alan Rickman. That was just such an unexpected one, & I genuinely cried when I read it. He was such an amazing actor & human, it's still sad he's gone."
- poohfan
"Same. Such a phenomenal actor and a great guy. He kept his cancer diagnosis private so it was such a shock to all of his fans that he was even sick. I'm still trying to figure out how to make Siri sound like him."
It didn't matter what film, so many of us loved Alan Rickman.
"Same. I remember standing in my bedroom, scrolling on my phone and when I saw the news it felt like the wind completely went out of my sails. I sat on the edge of my bed and cried a bit. It feels a little silly to be sad about the loss of someone you've never met but I loved him in Harry Potter, Love Actually, and Dogma. And even though I hated the Hitchhiker's Guide adaptation that he was in, I loved him as Marvin."
A man with great spirit and love for wildlife.
"Steve Irwin. That man was so passionate about wild life and it's good to see his wife and in these past few years his children keeping up the fight."
"I've been thinking about this one a lot since Bindi had her little girl. Steve would have been the most amazing granddad.
I remember Terri talking about how Steve would get up early with the kids, and she'd wake up to the sounds of laughter coming from the living room every morning that he wasn't carting them around the zoo. I could imagine Bindi waking up to Steve just hanging in her house, doting on the grandkids, teaching them everything he knew. That family is missing a lot for having lost him."
The game show host that so many loved.
"Alex Trebek. My immigrant family used to watch Wheel of Fortune and Jeopardy religiously. He was always on TV when I was alive.
And hearing how he died really broke me. Just on his back porch swing with his wife as he went. It made me really think that one day, it will be your last day. And what you wear that day, everything you do, what coffee or breakfast you had or whatever, is going to be your last, and that's it. And just the way he went out was so beautiful."
The commenter later went on to edit his thoughts to say this:
"I want to clarify. I come from a family of immigrants who worked hard their entire lives and continue to, and they worked very hard to learn English. And game shows is what they would watch to help them learn. So these shows remind me of being with my family too."
Two people who shared their art and joy with us and left too soon.
"Robin Williams and Chester Bennington. Linkin Park got me through the darkest parts of my life and kept me alive. Chester's death rocked me, and so did knowing i would never get to see them live. I saw the tribute concert they did for him. I remember vividly during Numb I think, they called out to the audience "I want you guys to sing so loud Chester can hear you!" And I broke down."
"I could hear the audience start sobbing. Every lyric hit me before his death, and hearing Leave Out All the Rest or Numb makes me realize he was telling us his story the whole time."
"Robin was just a pure soul who made me and millions of others laugh, all while hiding such pain and an illness he couldn't control. Its a bit like how we say in Narcotics Anonymous, what happens when the person who kept you from relapsing relapses? It was such a cold and empty world after they left us, and I never even met them in person."

A mother and daughter that we lost so close to one another.
"Carrie Fisher and her mother Debbie Reynolds when they died within a few days of each other."
"I wasn't sure how close. Debbie told her son she wanted to be with Carrie and died hours later. Mother and daughter were very close. It must have been really hard on Carrie's daughter, Billie. She was very close to both of them."
"In her book she's very forthcoming about how she literally stayed alive for Billie. As much as she struggled with mental illness and addiction, her daughter was always her biggest priority, and she wanted to be healthy for her."
A chef that touched kitchens everywhere.
"Anthony Bourdain"
"I'm a chef and his impact on pretty much everyone in my industry is immeasurable. Kitchen Confidential is easily the most impactful book for most all of us. The most amazing way of translating and speaking about food/chef culture. His shows had an amazing way of highlighting other cultures and the way food brings people together no matter where you are from and showing that alot of our differences are purely cosmetic."
"That day was easily the quietest day I've ever spent in a professional kitchen in my life, everyone was just silent and upset."
- Napo2212
"Anthony Bourdain's death inspired me to go back to therapy. It hit me so hard because I loved his food travel shows."
"I loved how he had such a genuine love of food. High class food, low class food, spicy food, sweet food, whatever it was, if it was good food, he liked it."
- Ryan0413
This comment allowed a space for many to open up about their own feelings, so the original commenter added this:
"Thanks to everyone who shared their feelings about him. It's crazy to me to see how much influence he had in so many people's lives of all walks of life, even if they aren't a part of the culinary industry. It's a credit to who he was as a person."
"For alot of the comments here, I just want to say really quickly. If your suffering from depression or having suicidal thoughts, please, please, please, talk to someone. Friends, family, therapist, phones lines, anyone, everyone. You matter, no matter what you may think, and you matter to others around you. Please open up and talk to people."
- Napo2212
An actor that brought us so many laughs brought many tears when they heard the news
"Gene Wilder. I remember exactly where I was when I heard the news; I was sitting down in a sandwich shop and it was broadcast on the store radio. I heard it but it didn't really register at first, but as soon as I got home it hit me and I had to lie down and cry for a few minutes."
"According to his family while taking his last breath he was listening to Over the Rainbow. Such a poetic way to depart, I don't know how to describe it. May he rest in peace."
- GSavvage
A man who defined our childhoods.
"Jim Henson for sure, maybe not a traditional celebrity, but the Muppets, Fraggle Rock...man, I'm still sad thinking about his death."
- gavreaux
"I was 14 when he died, lifelong muppets fan. My dad was reading the paper (the paper! How quaint) and told me Jim Henson died. I immediately said "no he didn't" my dad again confirmed that he died and I remember yelling "No! He didn't!" Then I sat down and cried. First time I ever cried over a celebrity death. Jim Henson defined my childhood and I still mourn his passing."
Though there are so many more we could name, these few were influential to so many people during their short times here. Whether we were influenced by their work, defined our childhoods, or helped us fall in love with their passion for life, their lives will hold a special place in our hearts.
If you or someone you know is struggling, you can contact the National Suicide Prevention Lifeline at 1-800-273-TALK (8255).
To find help outside the United States, the International Association for Suicide Prevention has resources available at https://www.iasp.info/resources/Crisis_Centres/
Keep reading...
Show less