There's a show on Hulu called A Teacher that made me think about the repercussions of a teacher having an illicit affair with a seventeen-year-old student.
While the controversial topic is justifiably subject to condemnation, the show delicately depicted each characters' emotional turmoil and their families in the aftermath.
While many in these types of forbidden relationships don't end well, Redditor Sadebiru was curious to hear from those familiar with the situation and asked:

"[Serious] Redditors who slept with their teachers, what was the fallout after it happened?"
Consequences
These Redditors faced immediate disciplinary consequences for their involvement in their respective intimacies, but one suffered emotional trauma for years.
The Trauma Of Being Used
"My English teacher used me as a sperm donor. She slept with me until she got pregnant and then stopped. She didn't even bother to switch schools so I wouldn't know. This was about 50 years ago and it still crosses my mind and bothers me. So the fallout on my side was being mentally messed up for about 4 years and not being able to have a normal sexual relationship for a long time."
– readit2U

Predatory Soccer Coach
"I had a very inappropriate relationship with the assistant soccer coach. His contract was not renewed the next year and I was the subject of gossip, obviously, and labeled the school sl*t by my classmates. It was a very small private school so there was literally no way to keep anything secret. It was only later on I realized he'd taken advantage of me and was, obviously, a sicko who knew I'd fall for the flattery of an older guy the rest of the girls on the team thought was cute."
Sleeping With The P.E. Teacher
"My cousin Adrian slept with the physical education teacher. It was in the mid 1980s, and it right near the end of the school year. She was immediately transferred and he lost his school reference and was suspended for the remainder of the year, which was like four weeks from memory."
"he was no angel. He was an absolute player and he said he has no ill feelings about the whole thing at all. It didn't affect his schooling any further after that and he said he absolutely seduced her, it wasn't the other way around."
Left "Morally Conflicted" About Taking Action
"It was horrible. I was groomed by my English teacher. He said all the right things and I thought I was emotionally mature enough to handle it. I was not."
"I realized when I was 19 how messed up it was and very quietly told the bishop and the Victims of Sexual Misconduct Councilor (catholic school). My worst fear was that it was going to be a big public scandal and I didn't want my family's name dragged through the mud. So he permanently lost his teaching license."
"He is now dating a woman and I want to reach out to her so bad to her to ask if she knows, but at the same time I want that chapter of my life to end. I'm very morally conflicted."
– DeezMags

No Fallout
Instead of suffering a fallout per se, the following Redditors reflected fondly back on their romantic affairs.
Consenting Adults
"Nothing since I was 6 years out of high school by that point."
"We became friends a couple years after I graduated, eventually I told her I had something of a crush on her, she thought it was cute and flattering and sat on it for a while. One day she invites me out and we meet up, have a good time, we leave. Later that night she texts me when I'm work says she's got feelings too and wants to pursue it."
"We go on a couple more dates, see a movie (The Watch for those wondering), make out in her car afterwards like a couple horny teenagers. We do the deed that night, good times."
"Anyway, the age gap was something she couldn't get over, I was 25 and she was 48, different places in our lives with different goals. We still chat though."
The Chinese Teacher
"She was my Chinese teacher at a Confucius Institute, and is almost 10 years older than me, but I always had a minor crush on her."
"When her contract was about to expire and had to leave my country, we went out to dinner. She was leaving for one last trip before returning to China, so this would be the last time I would see her. I decided to take a shot and told her about my crush. We slept together that night."
"There wasn't really a fallout. We are still in contact, but don't really talk about that night."
Good Memory
The following academic flings were either highly erotic or wound up being blissful.
"Too Riskey To Continue"
"A few people found out and gave me sh*t about it, but really not a big deal for me personally. It was obviously more difficult for her. Rumours got back to other teachers who were not cool with it and she had some awkward conversations to navigate with the headteacher. She admitted we saw each other outside of school but denied anything sexual, which they did not seem to believe. She was told never to be alone with me and had restrictions placed on her ability to act as a chaperone on school trips etc."

"It didn't last as it was obvious it was too risky to continue but there was no bad feeling between us."
The French Teacher
"I slept with my French teacher about 5 years after leaving school, she was just as as I'd always imagined."
"Afternoon Office Nookie"
"It was in college, we slept together before we knew I was in her class. It was one of those lecture only classes with like 200 students in it so it wasn't a big deal."
"No fallout beyond some late afternoon office nookie now and then."
"She would text me pictures of what she was wearing under her outfit that day. I miss being young."
"The Best Thing That Ever Happened"

"I started dating the grad student that was teaching one of my undergrad classes, although because I took time off before going to uni and he started early I was actually older than him."
"The uni had rules against the sort of thing, of course. We weren't found out until the spring quarter, at which time we were told to cease and desist, but by the time this happened we were engaged."
"The administration were happy for us (and we were all friends there, the department was like one big family), so instead they told us that for the rest of the year my exams and juries would have to be handled by another professor and that our class sessions would be recorded to be sure there was no funny business or nepotism."
"20 years on, we're still married - it was the best thing that ever happened to either of us!"
In rare cases, some students have glorified their dalliances with teachers and bragged about their conquests among their peers.
Some – as those participating in this thread – expressed the absence of fallout or lack of emotional trauma.

But let's make one thing clear: a teacher having sexual relations with a minor student is considered illegal by the law and court opinion in most states, and children under the age of 18 cannot give consent to sexual conduct.
An improper relationship with a student can lead to a criminal conviction and imprisonment.

Keep reading...
Show less
We're all well aware of the weird, horrible, predatory things men do when attracted to women. But what about when women are the culprits?
Though it seems that, statistically, men are problematic at a WAY higher rate than women, there are certainly times where the person bringing the creepy vibes is, indeed, the woman.
Some men of Reddit gathered to share the most bizarre and uncomfortable things a woman has ever said.
AidenTheGamer14 asked, "Men of Reddit, what is the creepiest thing a girl has ever said or done to you?"
For some, it was the stalkers.
The cryptic behavior and frightening detective work of ex-lovers can be unparalleled.
Some Light Sleuthing
"Found out my address from the phone book, this was the 90s, sat outside my house for multiple nights, all night just watching my house, I live in the middle of the woods miles outside of town."
"We only had one date and agreed to leave it at that. I found out sometime later what she had been doing."
-- crooky50-dc
Plot Twist
"Girl I was dating asked if I had changed the locks since breaking up with my ex months prior. I'm like 'No, but she wasn't a crazy person so I never worried about it.' She says if I don't change the locks she ain't comfortable sleeping over, so I change the locks."
"This ex sends me an angry text the next day 'So you changed your locks huh? Real nice a**hole.' So she had been coming over this whole time and doing who knows what."
-- Joey42601
She Stopped at Nothing
"She kept writing me letters at every address I lived at during that five-year period. If she didn't have the address she'd send them care of my parents. The most memorable is the one where she told me she was married and 'he's a great guy but he's not you.' "
"Once not long after I'd moved to a new address I came home and found a box of cookies she'd FedExed to me. Eventually I moved to a new state. I knew from her return addresses that she lived and worked there, and was worried we'd run into each other but realized that was pretty unlikely."
"Then after less than a year, she found me through a blog I was keeping and left a message on my voicemail demanding we meet. I posted a message to her on my blog telling her to stop harrassing me or I'd call the police (up to that point I'd been ignoring her, hoping she'd take the hint). That night she called, I repeated my threat to bring the authorities in, and I haven't heard from her since."
-- JedLeland
Others dealt with the creepiness on the internet. With so many avenues of communication all around us, uncomfortable comments can come from all directions.
Phony Warnings
"Someone I considered a friend started to grow feelings for me, but when she found out I had a girlfriend and I didn't feel the same for her she found out who my girlfriend was somehow. She then DM'd her and tried to tell her that I was cheating on her with her."
"Luckily I was with her when she got that DM so I could explain the situation and then we blocked her. Next day she DM'd her again from an alt account."
Worst Kind of Pen Pal
"I started a new job, and I shared a small office with a woman my age (and a couple other people). She was kinda cute but also weird and super naïve (she grew up in a very rural area). She'd flirt with me a lot, but I wasn't interested."
"So she started sending me emails."
"They were super long, detailing her whole day. And she sent them to me every day. I never responded. Then one day she sent me this long email confessing her love. I replied with the (very obvious) reasons why it wouldn't work and asked her to stop sending me emails every day. She didn't."
"They kept coming. This went on for months. I asked her in person and online to stop, but I still got these email memoirs every day. Eventually I had another female office mate who was her friend have a talk with her. Finally the emails stopped."
-- RPShep
That's A Lot of Passwords
"I've had a girl create about 50 different Snapchat, Facebook, and Instagram accounts all to try to get me to friend her. I've never met this woman in person and yet every few weeks I'll get a handful of friend requests from her"
-- keldog361
Terminal Catfish
"Met this girl online and talked to her a bit. I did started to like her."
"Later found out that the pic she showed me of herself was actually a pic of her friend who had passed away due to cancer."
-- Immortal1h1
Poor Host
In my early 20's I was at a party and the hosting woman full-on tried to reach down my pants to grab my business."
"Strange, yes, what made it creepy is that we were right in front of her mother, who was cheering her on."
-- BauranGaruda
Breaking Out the Scroll
"After 6 months from our breakup, my ex called me because she wanted to see me. It seemed strange to me but I accepted. When we met she was friendly and all..."
"Then at a certain point she pulls a sheet in which there was written a list of all men she fu**ed after our relationship and she read it all to me, with accurate description of every sexual intercourse. Well it was an awkward moment."
-- Omoi_
Getaway Vehicle
"I was going to head home after a night out and a I was getting into my taxi a girl jumped in after me. I asked what they were doing and she said 'I'm coming home with you.' "
"Nope. Taxi driver helped me and she got out the car eventually when I shot down her advances."
-- Stuf404
Again, it's important to read this thread and remember that this is a bias sample, solely focused on the incidents where a woman did act creepy.
But, yes, it happens out there.
Want to "know" more? Never miss another big, odd, funny, or heartbreaking moment again. Sign up for the Knowable newsletter here.
Keep reading...
Show less
Sex, and intimacy... its a weird dance isn't it? You can be fires blazing and then suddenly... eww, gross, get away from the next. It only takes one wrong move to cause a foul. Now sex is fun that is for sure. But every now and again trying something new can be dangerous.
Redditor
u/Rocker9835
wanted to hear about the times when in the midst of some sweet sweet loving you knew... yeah
"I should go!".
..
Have you ever practically walked out mid sex? What happened?
Want to "know" more? Never miss another big, odd, funny, or heartbreaking moment again. Sign up for the Knowable newsletter here.

Keep reading...
Show less
Let's talk about sex baby, let's talk about you and me and... everybody you can possibly think of. Why are we so timid do discuss this issue? It's really an American issue. The Europeans seem fine to openly share naughty details and run around naked in front of one another. But in America the topic is still taboo. That's why so many artists push so many boundaries with the topic, to spark discussion. And it's imperative that the discussion be fact-based. Too many schools are handing out information to students that will only cause more problems later. Abstinence is not the only answer and quite frankly, is unlikely. Time to spill facts.
Redditor u/bongzmcdongz was hoping we could all rationally discuss the actualities of the birds and bees by asking... People who had "Abstinence Only" sex education, what was the most outrageous or untrue thing you were told?
***The following material is sensitive but imperative. Those under 17 should have a parental chat!***
Want to "know" more? Never miss another big, odd, funny, or heartbreaking moment again. Sign up for the Knowable newsletter here.

Ok, admit it. Who amongst us hasn't had a few too many during a night out? Then, the morning after said night out... found ourselves in an "uncomfortable" position because of the company we open our lids to. Just like when you gotta go... you gotta go; so everyone once in awhile, when it's time to sleep, it's time to sleep. I have fallen off in the strangest places and woken amongst strangers in sexual and non-sexual ways. It's a miracle I'm alive. But when I'm tired, I'm out.
Redditor
u/zyht56
was dying to hear about the times we've woken up to find a surprise lying beside with us by asking...
People that have woken up in bed with a stranger, what's your story?
"I should've thanked Paul Bunyon" 
One of my most vivid wake up memories was after a long day of work, the gym, auditions and then an impromptu night out with friends. I left the bar at 330 am in Midtown Manhattan and got on the "A" train to Inwood (the top of the island). From what I remember I must've dozed off right after the train passed Central Park and went rolling into Harlem. When next I awoke the train was stationery at 207th street. As I was rising from my slumber I noticed I wasn't as uncomfortable as I had been in the past, when falling asleep on those hard plastic train seats.
When I finally opened my eyes, I was nestled with care on a strapping (and also intoxicated) gentlemen who could've been the Brawny guy. (Plaid, flannel shirt and all) I looked around, just us. I quietly untangled myself from him like a hidden lover running before the wife comes home. I stood, checked for all my belongings and left. I told the conductor to wake him and then headed home. I should've thanked Paul Bunyon. He was sweet... alas.
Lost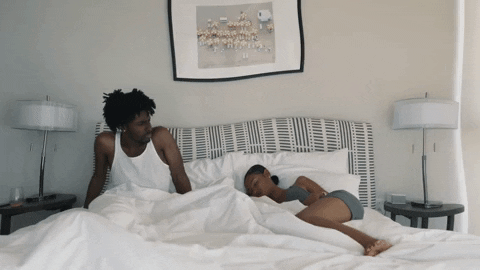 Music Video Atm Miami Nights GIF by atm
Giphy
I know a guy who went home with a stranger. Went pee in the middle of the night naked. Went back to bed. Woke up to screaming. He had gone back to the wrong room and was naked in her mother's bed.
It's Me
Not exactly the answer to the question, but my dad told me something scary after his stroke. Because he couldn't feel one side of his body, he would sometimes wake up in the middle of the night and think a stranger had broken in and was laying next to him. He would have to calm down and remember that he'd had a major stroke and didn't immediately realize that the person he thought was laying next to him was he himself.
Years Later
Was in college, went out too hard on a Thursday night because I had no class the next day. Woke up in my own room to a girl standing there getting dressed. I was dumbfounded, she super casually put on her jacket, said "I have to get to class" and left before I could even get a word out.
I NEVER saw her again. Tried to ask friends who I came home with, everyone said I just disappeared. Her face is burned into my mind and now, 5 years later, I have no clue what happened or who I spent the night with.
No Good Deed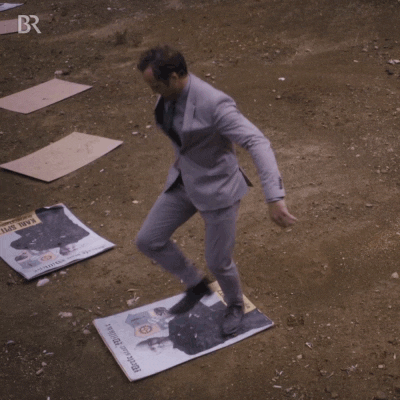 Jump Stepping GIF by Bayerischer Rundfunk
Giphy
Got really drunk at a dorm party. Ended up carrying a passed out girl up to her room (3 flights of stairs, elevator was out). Plunked her in her bed, took her shoes off. Then passed out on her floor.
She woke me up by stepping on me and yelling at me. I was too hung over to argue and just left.
Love you Bro
One time at my cousin's house party I was absolutely out of social energy and went to a room to go to sleep and I woke up in the middle of the night with two of the most jacked dudes I've ever seen curled up together next to me and a unit of a bulldog sleeping in between me and the dudes.
One of the guys saw me wake up and he asked if it was cool to sleep there and I said that I didn't mind but he should let me have some of the blanket because it was freaking freezing. He said "no problem bro" and then tucked me in like some mother hen and then said "goodnight bro". Crap was the most strange/wholesome thing I've ever experienced.
"Careful"
See when a comfy bed is calling all you can do is fall prey to its clutches. Now we really need to be a bit more discerning about who is that bed with us. It's only the safe and ethical thing to do. And if we are the one's concerned about who a stranger is remember... 911!! For example...
Would you like fries with that?
Not woke up with one but came home from primary school around 11 years of age. To find a complete stranger in my bed. Being completely naive thinking he was a family friend. I made us both sandwiches to give to him, I returned to my room to find him gone. I now look back at this with complete horror. My family finds it amusing that it took me years to tell my family about it.
Kudos to Dad
Probably not what you imagined.
As a kid, I would sleep walk at night. In the morning, I would have no recollection of what happened.
I spent the night at a friends house when I was about 10, and the family had a fire going in the fireplace in their living room. My friend's mom decided to sleep on the couch to make sure the fire went out, and the dad went to sleep in the parents bedroom. Due to the door to their bedroom always being closed, I had never been inside...
...which was very, very disorienting the next morning when I awoke in said bedroom, as the dad was just waking up and getting out of his bed. He had assumed during the night I was his son, and didn't question anything when i slipped into bed with him.
Kudos to Dad for not making it anymore awkward than it already was.
And that's the story of how I awoke next to my friend's dad.
Mommy High
When I had my son, I couldn't sleep. I told my doctor I hadn't slept a full night in 13 months. Most nights I was getting only an hour or two and I couldn't sleep during the day. I'd try to nap, but I'd just stare at the ceiling.
My doctor prescribed me Ambien.
The first night I took it and went to bed. Sometime during the night, my husband brought the baby into our bed.
I woke up to find a baby covered in rainbows and tiny little gnomes.
Me: "Honey! Honey, wake up. There's a baby in our bed."
Husband: "I know. You're going to wake him up."
Me: "Do his parents know he's here?"
Husband: "His dad does. Go to sleep."
Be Safe
Was a female in my mid 20's and fell asleep in a 60+ man's hotel bed after a night of drinking in restaurant across from said hotel. What could have been a recipe for disaster turned into him saying 'if I ever had a daughter I hope she'd be just like you. I called ya a cab and here's your wallet. Be safe now.'
In the chair...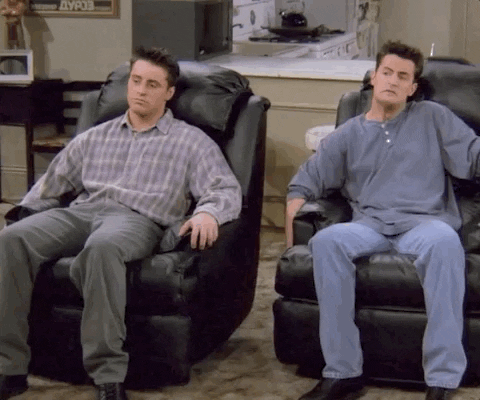 Season 2 Relax GIF by Friends
Giphy
Away at college. Went to a bar, met a girl.
I woke up the next morning in an on campus apartment sharing a recliner with said girl.
Neither of us lived on campus or knew who lived in the apartment we ended up at.
"Checklist"
Well at least we've all been there, or a large enough amount of us as to not feel foolish. Things to remember...
1- Get a name...
2- Get details of when, where and how...
3- KNOW WHERE ALL THE EXITS ARE!!!
Want to "know" more? Never miss another big, odd, funny, or heartbreaking moment again. Sign up for the Knowable newsletter here.
Keep reading...
Show less