When we're little, we're inclined to believe things that seem ridiculous when we get older. Most of us believed in Santa Claus and the Tooth Fairy at some point. Many of us believed unicorns existed, or that there were monsters hiding under our beds.
When we were 10, my best friend and I convinced our younger brother that we were spies that went to a special spy school in the middle of the night to train. When I was 12, I managed to convince my soccer camp rival that I was pregnant with a carrot. I'm still not sure how that worked!
The point is, when we're children, we tend to believe a lot of silly, or even stupid things. However, some of us carry some of those stupid beliefs into adulthood.
Reddit users shared some of the stupidest things that they or someone they know still believe thanks to Redditor OnionChan_.
He asked:
"What are the stupidest things that some people believe?"
Live Dangerously Or Not At All
"Had a former co-worker who believed it was safer to cross in the middle of oncoming traffic than at a stop light because they were forced to see you that way. We'd be walking and she'd just cross, horns blaring and swerving around her while we waited for the light to change."
"She also believed our manager was on her side though, and she was the lowest paid in the group - even below the minimum the school allowed. It was amazing she was still alive."
– VictoryaChase
Those Cows Are Talented
"Probably late to the party but I thought that cows rolled up those hay bales until I was like 16."
– Whakefieldd
"As someone who spent the last three days throwing hay bales, I wish cows contributed."
– The_Brain_Fuc*ler
It's Like Rain On Your Wedding Day
"Up until 6th grade I thought ironic meant something was made entirely out of iron. I was only corrected on my misunderstanding when my teacher asked me to explain my logic after I commented on how the hole puncher was the only ironic object in the room. I still remember the look of bewilderment on her face as I said it lol."
– NorthEasternDunes
And Also, It's Made Of Cheese
"I knew a woman who believed that there are high-end resorts on the moon that rich people are vacationing at. She was shocked and confused when I told her that I didn't also believe this."
– grannybubbles
Where Do Babies Come From?
"When I was little, I thought children came from your kidneys."
– Myst3rySteve
"You're kidding me."
– HertogJanVanBrabant
Someone Needs To Look At A Map
"Heard some guy say "Florida doesn't exist, the government made it up". He wasn't joking"
– BigBounceZac
"That's nonsense. Wyoming is the only fictional state."
– themattboard
"Technically the government made up every single state. Like how every word is made up."
– HyperSpaceSurfer
One Of The Biggest Conspiracy Theories
"Flat earth"
– New-Highway868
"if the earth was flat, cats would have knocked everything off the edge by now."
– stormquiver
"I just want to know what is the purpose of the conspiracy? Like if the earth really was flat what would be the purpose of hiding that?"
– afellowchucker
Nothing To Do But Laugh
"We use only 33% of a traffic light. Imagine how fast traffic would flow if we used 100% instead!"
– dracosdracos
"I got into this argument with someone once. I ended it with "Let me remove 90% of your brain and let's see how well you function.""
– Stoomba
Milk Is Milk Is Milk
"I saw a video of a vegan, drinking strawberry milk the nesquick brand. They said "it's vegan because it's strawberry milk. Not like cow milk. You know what I mean?" I get how they can have misunderstood due to almond milk, soy milk etc. but still, I found it very stupid and I feel like it's very common knowledge that it's strawberry flavored, like chocolate milk."
– _Plutooo_
"Really difficult to milk all those tiny little nipples on the outside of the strawberries. Takes a lot of work"
– Jothomp79
Double, Double Toil and Trouble
"That crystals have magical powers"
– Outlier25
That made me laugh out loud, and not because of its ridiculousness. I admit, for a long time, I believed that too!
Keep reading...
Show less
Everything is expensive! This has always been true. There are ways to save a little money here and there, however.
You can buy things only if they are on sale. You can clip coupons or try and find certain items at different stores for less.
Another thing you can do to save money is to buy things second hand. Certain items, such as outerwear, home decor, exercise equipment, toys, books, and games among others can be purchased after being lightly used by others.
However, there are some items you should NEVER purchase secondhand, and Reddit is here to help us discover what those items are.
To get us started, Redditor ReverseFlash_94 asked:
"What should you never buy second hand?"
Ew.
"Anything that most likely to have human fluids on it. Such as sweat. 2nd headsets and earphones.. you might see earwax in them. It's gross."
– Fiesteh
Not Very Protective
"Well, if you actually want a serious answer, I'd say protective equipment, such as motorcycle helmets. You never know what stress they've already been through and your safety is worth proper new equipment."
– anonymousmetoo
"This is a good answer. Most helmets are really only rated for one serious impact and then they're "dead" and won't properly protect from a second serious impact. Any kind of harness is also a gamble because nylon straps really only have a shelf life of 5 years before they start losing strength."
– Devinitelyy
What Ever Happened to Hygiene?
"I saw a used toothbrush at a garage sale once that looked like it had been used for a year at the very least. I still wonder to this day who would buy that."
– Transparent-Paint
"Underwear, I don't care if the tag is on or not I cannot get underwear second hand it's the same for lingerie. Bras are a hard pass too. They may be clean but just nope nope. If you want cheap undies go buy fruit of the loom at Walmart"
– AngelNHorns
"Definitely not mattress/box springs. Even if they look new. The chance there is a bedbug hibernating in there somewhere is NOT worth it."
– Head_Razzmatazz7174
Medical Equipment...Sort Of
"Colostomy bags"
– ButtholeQuiver
"That would be a sh*tty situation"
– PBandGym
"Catheters"
– SantaDog81
"I want to say no one has probably never done that but you know.. humans exist so."
– ReverseFlash_94
"CPAP machine"
"Retainer"
– Setthegodofchaos
Protect Your Kids
"Car seats"
– michjames1926
"Child shoes. Second hand shoes really can do serious harm to a child's feet."
– Business-Raise2683
"Anything Safety Related, Children come to mind."
– zombietampons
Typically Don't Think About This
"To go against the grain here; used electronics, especially televisions, desktop computers, and laptops. Want bed bugs? Buy used electronics."
– hockey_stick
Already Broken
"Any outdoor power equipment such as: weed eaters, chainsaws, leaf blowers, etc."
"They most likely already have an issue you don't know about and pinpointing that exact issue is a pain in the rear. Plus you have to spend time fixing it."
– NewYearSameM3
"Power Equipment like Circular saws, jigsaws, drills, hammer-drills, sanders, grinders, routers etc.."
"Never buy any second hand power equipment because you will never know when they will break down any minute and you have to buy parts to replace the old parts which is waste of money."
– Goatmanthealien
Very, Very True
"Experience."
"That should always come first hand."
– Pistachiwoes
"But where can I buy experience in the first place?"
– unimaginablywise
Even As A Joke, This Is Gross
"Most original comment here: condoms"
– johnmojr2005
"Can't have to many second hand condoms."
– ReverseFlash_94
How Do You Even GET These Second Hand?
"Coffins. You'll get stiffed on the deal every time."

– lilsparky82
"A used coffin is the last thing I need."
– Azuras_Star8
"Well- how would you even find a used coffin would you like dig it up out of the graveyard. Or was somebody just sleeping in it no but they weren't dead they were just using it as a God damn bed."
– 1shines4u
Okay, so some of these are not serious considerations. However, there is some good advice here.
Saving money is important, but don't risk your health or safety just to get a good deal.
Keep reading...
Show less
History is ofte thought of a team sport. In school, we study history so that we don't repeat it.
In society, research and breakthroughs made by a certain team will help unlock answers for the next group of people.
However, there are some historical inventions, advancements, or even failures that come down to the actions and decisions of just one person. These historical figures are still talked about today.
Curious to learn more, Redditor MisterDecember asked:
"What decision by a single person had the biggest impact on human history?"
Words On A Page
"My man, Johannes Gutenberg. This was also my answer as he ushered in the modern period of human history. His work developed the Renaissance, Reformation, Age of Enlightenment, and Scientific Revolution (as well as laying the material basis for the modern knowledge-based economy and the spread of learning to the masses)."
"He also never profitted from his invention and died in poverty."
– unclejarjarbinks
"GUTENBERG, DARN TOOTENBERG. Pretty cool dude. More people need to know his story. They even made a musical!"
– RonnieRegan10
Medical Marvels
"Jonas Salk who invented the vaccine for polio refused to commercialize the patent for it. Decades later it is estimated that the vaccine had cured millions and he forfeited billions in potential income."
– Status_Ad8334
"Frederick Banting, the discoverer of insulin did the same."
– EverydayEverynight01
"Alexander Fleming was a sloppy medical researcher in the 1920s who returned from a 2 week vacation to find he had left out one of his culture plates and it had grown over with mold."
"Most lab technicians would never have allowed this to happen in the first place. If it did happen, they would have immediately scrapped the mess and thought nothing else of it. Fleming decided to take a close look out of curiosity ... and discovered that this mold made destroying bacteria its business. And business was good."
"He had discovered penicillin. And birthed essentially the entire field of successful, safe antibiotics, revolutionizing medicine the world over practically overnight."
– redkat85
Poor Military Decisions
"The decision of John F Kennedy to ignore the unanimous recommendation of his military advisors to launch air strikes on Cuba in October, 1962. Close second, the decision of Nikita Kruschev to offer a deal to Kennedy as a way out of the Cuban Missile Crisis."
"The biggest event of of the 20th century (and arguably ever) was the one that didn't happen: global thermonuclear war."
– CSWorldChamp
The Dangers of Lead
"Thomas Midgley Jr. He put lead in gasoline which led to a measurable decrease in IQ and a probable increase in crime rate."
– Hungry_Treacle3376
"This guy KNEW about the dangers of lead and still used it. Lead-based items were already known to be toxic at this time, but despite that, he had said at a public health conference he said, "we do not feel justified in giving up what has come to the industry like a gift from heaven on the possibility that a hazard may be involved in it", which is absolutely evil."
– Njumkiyy
Filling The Need For Food
"Norman Ernest Borlaug: an American agronomist, who improved wheat production, called the Green Revolution. He probably saved more than a billion lives, who otherwise would have died from food shortage."
– jta54
A Religious Decision
"Henry the 8th creating the church of England just so he could get a divorce"
– currypoo
Nikola Tesla. Enough Said.
"Without a doubt it's the one and only:"
"--== Nikola Tesla ==--"
"He invented:"
AC Power
Induction Motor
Radio Remote Control
Tesla Coil
Bladeless Turbine
Steam-powered oscillating generator
The Magnifying Transmitter
Radio Transmissions
Whilst he didn't invent neon and fluro lights, he invented the first Neon Light Sign
"His invention of AC power has literally changed the world. This is utterly the biggest impact on humanity, ever."
– JJisTheDarkOne
Another Reason Water Is So Important
"Thomas Newcomen, who needed to find a way to get water out of his tin mine. Invented a steam-powered pump in the early 18th century, and viola, ushered in the Industrial Revolution. Which by the way is still continuing. It is just in its latest computer phase."
– lacks_imagination
Birth Of The USA
"So there is this thing called butterfly effect. The older someone is, the bigger impacts they have had. Therefore my answer is the first homo sapien that qualifies making a simple decision of who to mate with."
– Vigorous_Piston
"One more. Henry VIII created the Church of England in order to divorce his wife and marry Anne Boleyn. This union resulted in Elizabeth I who sent Walter Raleigh to claim land in the new world. Boom………USA."
– Myfourcats1
Possibly The Best Invention Yet
"Recent, but the invention of the internet."
– PermabannedX4
"Yeah the digital revolution had been pretty mad. So much of the world immediately at out fingertips now. So much knowledge, so much art, so much beauty and science with SO much potential."
"So naturally I use all that power to scroll reddit and sh*tpost all day."
– Revolutionary_Elk420
That's definitely the best one! It just goes to show, one person can make a difference.
Whether that difference is good or bad is another story!
Keep reading...
Show less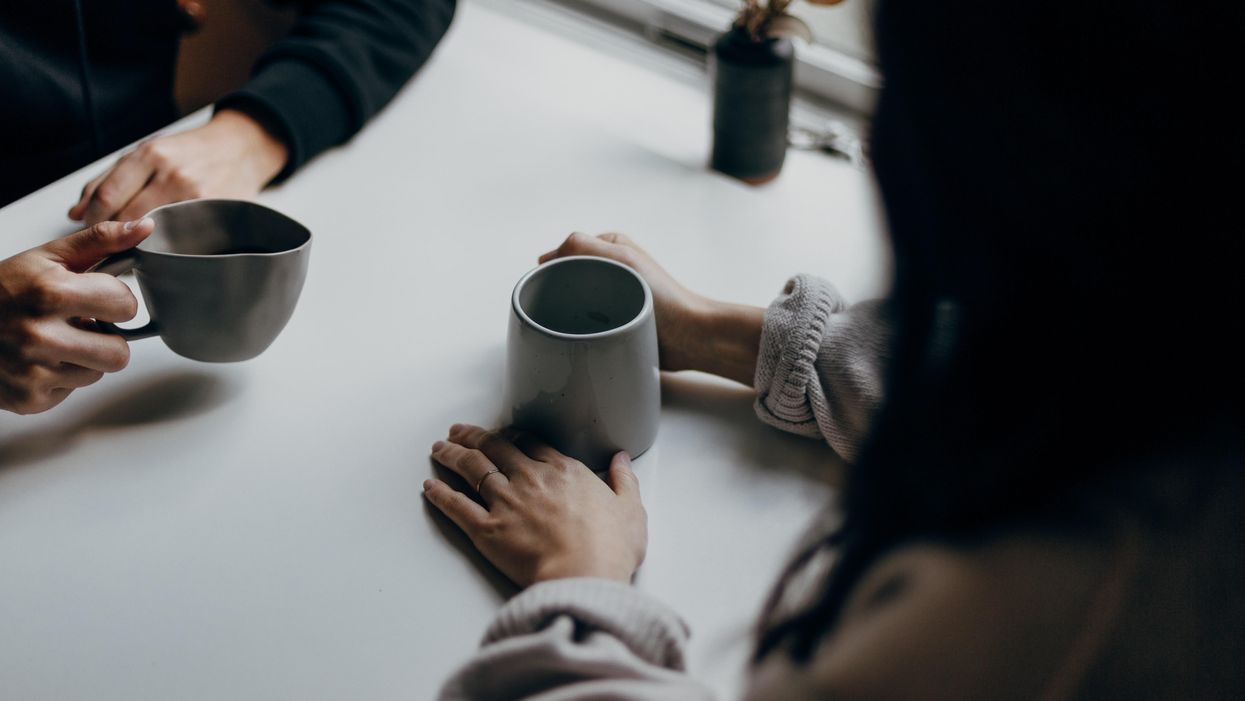 Have you ever been caught in a conversation you didn't want to be in? Or start talking to someone only to realize you want to stop? Perhaps you were talking to a friend when the conversation took a turn for the uncomfortable.
Whatever the case, we've all been in those situations where we want the conversation to stop, but don't want to be rude.
When I was in third grade, I asked if I voted on American Idol that week. I said yes, since everyone seemed to, but of course I didn't know what American Idol was. Being pop culture challenged, I thought it was a ship. Needless to say everyone was confused when I was asked who I voted for and I replied, "What do you mean? I voted for American Idol!"
It didn't take me long to realize something was amiss, and I probably would've very rudely excused myself from the conversation (fueled by my embarrassment) if my teacher hadn't called us to attention at that very moment.
Luckily, the people of Reddit were willing to share their methods to politely end a conversation when Redditor Spritti33 asked:
"How does someone politely end a conversation with a person who won't stop talking?"
Extricate Yourself Immediately
"When they draw a breath, politely say:"
""On that note, I must be on my way.""
Then, simply leave."
– Back2Bach
Couldn't Get Him To Shut Up
"Yea I worked with a dude who needed to talk. I just talked to him to be polite and not awkward. And I remember him saying "at least you're not one of those people who are silent all day". In my head I'm like, "FUCK, I wish I could be silent all day but now that you said that it would be even more awkward."
"At some point, I just mentally said f**k it and started giving him one-word replies. I think he got the hint because he started talking to me less. Eventually, he quit after a couple of months so it's all good!"
"But some people just need to talk for whatever reason. I need my freaking silence."
– BlackSecurity
Put It In Writing
"I once worked with a man that managed to say nothing, despite talking nonstop. He would explain an issue to me over the span of 5 min. I would say "OK, so the issue you're having is x?" and he would say "No" then launch into a 5 min monologue about something completely different. One time, after half an hour talking with him I still had no idea what the problem was, so I said "put all the issues in an email so I can put it in the queue" and just left. Never got a coherent email either but at least a rambling incoherent email is easier to walk away from and less time-consuming."
– TechnologyFetish
Put Them (Back) To Work
"If you're in an office building with someone (or any location the person you're talking to has a desk), one trick you can try is walking them back to their desk, say something like "well, I'll let you get back to it!", then turn around and leave."
– RegulusMagnus
Taking Care Of Each Other
"My workplace has someone like this and it's pretty much become a part of our culture to monitor who is trapped talking to her, for how long they've been stuck, and to rescue them after an appropriate amount of time has passed. She doesn't get it, and probably never will."
– Lady_DreadStar
Talk To The Door
"My husband worked with a woman who would not stop talking. Just wouldn't. So you'd gather your stuff, while she monologued. You'd say goodbye to everyone else, while she monologued. You'd walk to the door as she followed you and shut the door in her face while she monologued. You could hear her still talking to you behind the closed door while you walked away."
– BoozeIsTherapyRight
Take Your Turn
"I learned a trick. Most excessive talkers hate listening. So I simply participate and tell my own stories. After one or two stories they are usually ready to leave themselves to seek their next victim."
– RireBaton
Create A Deadline
"My entire dad's side of the family are the type that never stop talking."
"The key to getting a word in is to just respond to whatever you wanted to add to even if they are still talking. It might feel rude but most people who are like that were raised in environments where that's the norm or in the case of people with disorders like ADHD and Autism, they most likely know they have the tendency and will roll with it."
"Best way I've found to get end a conversation with ramblers is to set a deadline as early as possible in the conversation (ex: I have to leave at 6pm to get to ______ on time). If you do this you can do the "I'm sorry I really have to go" and immediately leave without offending them because you've already set the expectation that you would be leaving at a certain time."
– aflyingcowpie
Music
"This is why I hate taking Lyft/Uber alone, I seem to always get the folks who just want to talk the entire time. My boyfriend tells me to just not engage but when you're in a car with someone it's kinda hard not to. The ONE time I just wore headphones the whole time, the driver at the end said "maybe you'll actually talk next time""
– sm0gs
"Headphones..."
– bob_marley98
No Need To Feel Bad
"People who are like this expect folks to just walk away from them while they are talking because that's the only way the conversation ends. It's not rude to them, it's normal. So, it's entirely okay to say, "all right this has been great, see you later," and then just walk away smiling."
– paulpowell9
Sometimes it's hard to get out of a conversation you never wanted to be in, and sometimes it's equally as hard to keep your temper in check.
However, if you remember some of these tips and tricks, you may be able to successfully get yourself out of an unpleasant or unceremoniously long conversation in the future!
Keep reading...
Show less
Death is a certainty in life, but what happens after death may be one of those mysteries we never solve. I've always believed that when we're dead, we're dead. However, there are plenty of other theories.
Is there an afterlife? Do we face a supernatural judge who decides whether we go to heaven or hell? Do we get reincarnated as soon as we die? Or is death truly final?
These questions prompted Redditor Maleficent_Team430 to ask:
"What do you think happens to you after you die?"
Like Surgery
"I imagine its like when you fall asleep unexpectedly or go under for a surgery and you wake up out of a haze, minus the waking up part."
– Snoo-43285
"I had surgery last year and, before I went under, the anaesthetist said "Enjoy the nothingness". And that was it. No light, no colours, no sound, just complete darkness until I woke up with a breathing tube getting pulled out my throat. I imagine that's what death will be like. And I'm OK with that."
– Amity75
Time To Sell
"My family sells all my stuff way under value."
– knockfart
"I f*cking hope that if i die my wife doesnt sell my Legos at the price i told her i bought them"
– Fairbyyy
"My wife sells my record collection for way less then what it's worth"
– Chips_Gravy29
The World Keeps Turning
"I am no different than people who die today, the sun shall rise again and word will keep on rolling tomorrow just fine without me."
– GaunterPatrick
"Well in a few billions years the sun shall not rise again. But we will be pretty much dead by then — I hope so."
– flucxapacitor
Eden...Sort Of
"It was always that everything goes black and you just don't exist anymore. My SO believes that you die and you get to live in your own little paradise and I've always loved the idea of that. I just wish I could believe it. It's also been super sweet to hear from him that I'm gonna be in his little paradise."
– Asmo_fu2
"I've posted this before but the idea of my own little paradise disturbs and terrifies me. Because my little paradise wouldn't be the same as other people's. If I say desire to meet my parents again after I die, the age I'd want them to be is likely different to the age they'd want to be in their paradise. Which means none of our paradises can overlap, and the idea of heaven is really just a simulation in which you are horribly alone."
– trthaw2
The Next Universe
"You just transfer to the next universe where you didn't die."
– murphycharlie
"This is what I think about all the time. I always wonder if I have died in a previous universe and just transferred over to the one in which I am still living, but all my family in the previous one think I'm dead."
– Deadlift420
"I like this theory"
– QuickAdministration0
Nothingness
"You return to that state of non-existence before you were conceived."
– Back2Bach
"It's like falling asleep and not waking up. I find that comforting. The final I don't give a f*ck."
– nawmynameisclarence
"Probably nothing, I think it's probably like when we're asleep and not dreaming. I was fine before I was born, I'll be fine again"
– nicosmom25
We Will Live Again
"I hope something like reincarnation but it's probably just nothing. Like we just end and we're not aware that it's nothing but it is."
– les_bean_13
"Careful what you wish for. Everyone thinks they'll end up as something cool like a lion but nobody thinks about how insects and bacteria make up some of the largest populations of life on earth. Maybe you'll be gut bacteria for some rat. Or a slug that a kid wants to pour salt on."
– TheyreEatingHer
Whatever You Believe In
"I wish people would go to wherever they wanted to, like - whatever their religion teaches, they'll go there. And if their non-religious, then they can choose whatever they want to a believe in. I don't know what'll happen to me but I hope to see my friends again"
– TVFREngine64_2020
"I think the same personally. I hope to to still be with my wife either way."
– TheMetalMisfit
"Honestly this being the case would make up for all the unfairness in life."
– Chromattix
"This is my dream as well. I hope so. I want longer with my friends than I'll get."
– Ginngerly
I Know What Happens
"19 years in the business tells me you either go in the ground, in a crematory, a mausoleum, or you're never found again."
– andS0NS
"Have you considered trying a different business model?"
– MrWeirdoFace
We'll Know Eventually
"What's the rush? We'll find out soon enough"
– LSD_for_Everyone
We may never truly know what happens to us when we die, but maybe it's better that way! I'd rather not think about it, especially if I'm right!
Keep reading...
Show less