All of us have fears which some might call irrational.
Up to and including ghosts, witches, monsters.
But more often than not, reality can be far scarier than the supernatural.
And there are very few people indeed who don't have a memory of a moment when they were truly and genuinely scared.
And not by an otherworldly encounter, but by things that could quite literally happen to anyone.
Redditor GodhimselfUwU was curious to hear the scariest experiences people have lived through, leading them to ask:
"What's the scariest non-supernatural thing that ever happened to you?"
Intruder
"I was 14, alone at my grandmas house around midnight."
"She was across the street at the bar she owned."
"I was playing games on her computer, about 15 feet from one of the windows facing the backyard."
"All of a sudden the glass from that window shatters, and I ran to one of the bedrooms."
"I can hear my name being called."
"Eventually I see my grandma's ex-boyfriend enter the living room where the computer is."
"He keeps saying my name."
"I'm scared sh*tless, but I walk out and confront him."
"He says my grandma stole his ID and that's what he came for, as he's taking money from my grandmas purse."
"He looks f*cked up on something."
"I forget how he leaves but when he does I call the bar and people come over looking for him."
"They didn't find him."
"About a year later he did it again, and I was once again alone there."
"Except this time instead of breaking a window he decides to try to kick the side door in."
"I'm just there chilling when out of nowhere I hear the loudest bangs coming from the side of the house and I instantly knew what was happening."
"I immediately called the bar and they sent a bunch of people over before he could make it in."
"He apparently tried to jump from one of her sheds into the alley next to her house and broke his leg."
"He went to prison."- nfreshn
They're coming right for us!
"Two bison charging right toward me down a narrow wooded path in Yellowstone when I was 12."- pcc2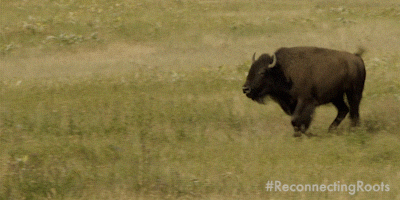 Open Range Running GIF by Reconnecting Roots
Giphy
Uncomfortable in new surroundings.

"My sister has mental health issues."
"We were in a foreign country, driving across mountains on a one lane dirt road with no guardrails."
"She had a complete mental breakdown and threatened many times to drive off the edge."
"To this day, my mom swears my sister wouldn't have done it."
"All I say is, 'you weren't in the car'."
"'You have no idea'."- BlorengeJulius
Lost in the woods.
"Getting lost on 350 acres of woods in southeast Georgia."
"Was found about 6 hours later."
The dog found me hours before the people did.- No_Regrats_42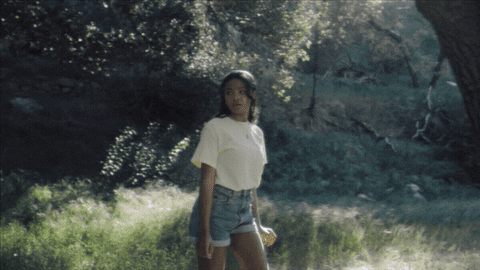 Scared Woods GIF by Brat TV
Giphy
A near death experience.
"Was working as a linemen tasked to replace a 16m wooden power pole which requires climbing up to untie the lines from the isolators."
"I checked if the pole had any rot beforehand, climbed up, untied the lines, climbed down, as I was packing my tools up , the pole fell from its own."- LimaRadek
He wasn't who he claimed to be.
"A man claiming to be a meter reader was in our yard and tried the back door AFTER trying the front."
"It was unlocked because there was a field behind us and our gate had a lock, that he somehow got by."
"The meter reader man was nearly eaten by our Great Dane who was dumb and peaceful, except for when she laid eyes on him."
"Our other dog also wanted to kill him and he was up on our trampoline begging us to call the dogs off, which we, my then 11 year old sister and I, refused to do and went to get our dad, who worked from home."
"The guy escaped while we got our dad and my dad let the police know what happened."
"The real meter reader man came the next week."- Applesintheorchard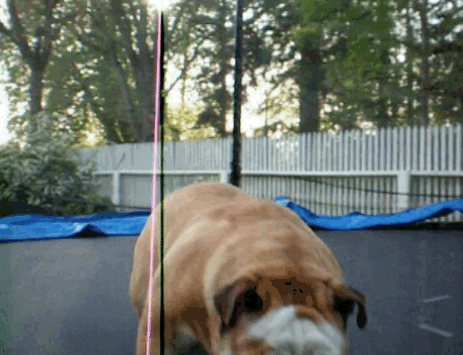 Dog Bouncing GIF by AFV Pets
Giphy
Had no idea what they were witnessing.
"I guess watching a loved one have a seizure when I didn't understand what it was."
"Legit thought I witnessed a death."
"Scary stuff."- Peppapigisgodly
Always look both ways.
"I got hit by a car while in a crosswalk a few months back."
"Had a split second where I saw him coming and realized what was about to happen."
"I thought I was going to die."- jolalolalulu
Big Sister to the Rescue.
"Saved my sisters life."
"We were boating and my parents just kinda assumed we'd be ok with them only out a couple hundred feet."
"I was about 17 and she was about 7."
"I'm laying there chilling and see her slip and fall into the water and just straight up sink."
"Ran over, dove in and pulled her to shore."
"She spit up a bunch of water and was fine but that experience rocked me to my core."
"Not a super crazy story but almost seeing a sibling die has always stuck with me."
"I've broken almost every bone in my body, I died one time and was in a coma for a little bit but for some reason this one stuck with me."- Present-Trip5231
Often, an experience that left us scared does make for a good story down the line.
Though whether it was a good enough story to make having gone through the experience worth it, is debatable.
Want to "know" more?
Sign up for the Knowable newsletter here.
Never miss another big, odd, funny, or heartbreaking moment again.
Keep reading...
Show less
Having to work for a living is hard work.
Some jobs come with difficulty and two extra sides of stress.
So the last thing people need is unwarranted hate.
I'm so glad I work from home. Writing alone.

I have issues with me, but that I can deal with.
I do hate internet issues.
But that is warranted.
Redditor PM_ME_URFOOD wanted to talk about the jobs where a ridiculous amount of vitriol is all part of a days work. They asked:
"What profession gets an unjustified amount of hate?"
Waiting tables was always the bane of my existence. Customers are rude. Staff is rude. It never ends.
Filthy Hours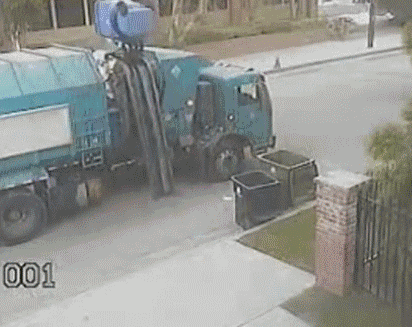 Fail Just For Laughs GIF
Giphy
"Trash men. They're looked down on as dirty and uneducated, but they do a hard job that is absolutely critical to our public health."
kirkl3s
You're Out!
"Youth sports officials. I umpire baseball as a hobby and the way parents act is deplorable."
kennsing75
"The parents on the other hand deserve loads of hate sometimes. I was a coach for soccer and volleyball while I was in the Air Force. You would have loved to be a sports official for our leagues at our base. If a parent got sh**ty they are immediately ejected, no questions, and reported to whoever is their higher authority. It almost never happened."
DaniTheLovebug
Behind the Counter
"Any customer (client/patient) facing job. They get the abuse that stems from managements decisions, mistakes and incompetence."
HighlyOffensive10
"I did customer service for automotive companies at a call center for years. People get so unhinged, between dealerships, management, people calling into the wrong department, angry customers who were itching for a fight over a rental car. The job paid for five free therapy sessions a year, but honestly, it would take every ounce of restraint not to break some days."
"You aren't allowed to defend yourself or hang up, you can't transfer them to supervisors for a call, you technically work for a third party company that exists to keep the customer from ever actually speaking to the corporation. It was the worst job I've ever had, and that's coming from someone who used to work at a seafood processing plant."
Bromelia_and_Bismuth
I'm Hungry
"Food service. The workers have to eat too, you know."
stinky_cheese33
"Working fast food sucked. Not because the job was hard. But because people were *icks. For like, no reason. Working in an actual kitchen also sucked. Not because the work was hard, but because you never did it quick enough and your boss was a *ick for like no reason. But at least you didn't deal with customers."
thedankbank1021
Too much stress...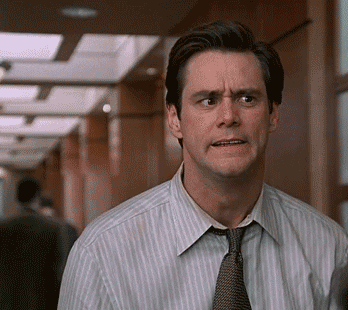 Jim Carrey Omg GIF
Giphy
"Defense attorneys. People hate them because they defend violent criminals. However, as one lawyer put it, their job is not just to defend these people; their job is also to make sure that the cops did their job correctly."
TomoyoHoshijiro
I've always wondered about defense attorneys. How do they reconcile their morals?
They're Smart Too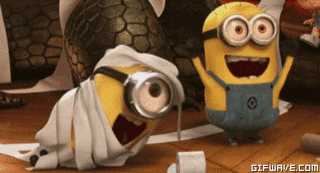 will birth control GIF
Giphy
"I live in Germany and currently in my (hopefully) last semester of university to become a pharmacist (4 years of university, one practical year and three exams of state required). A lot of people here think pharmacists are only cashiers and don't know we get a scientific education. And God help me if I question a doctor's decision."
this_is_lune
Hard Hours
"I usually just lurk as a guest, but I made a Reddit account just for this. Cooks for public schools. They are constantly overworked, underpaid, and disrespected. Most schools have only a few ovens and microwaves, so school chefs have to either jam unsafe amounts of frozen food into ovens and microwaves, which is a giant fire hazard, or work non-stop from early morning."
Clingitty
Green Thumbed
"Plant breeders and plant geneticists. Imagine you're a plant nerd and you spend your life studying genetics so you can figure out how to improve food crops. Like, to make them yield more, taste better, be healthier, survive drought, etc. But on the internet, you're apparently trying to poison the world and control the food supply."
kjhvm
Heartless
"Veterinarians. My doctors CONSTANTLY get yelled at or called heartless when, for instance, we refer them to a hospital more suited to care for the animal than us. Like bro we didn't just tell you know we are giving you options and trying to ensure you seek the proper care. Don't call me a heartless b**tard for that crap."
Zfullz
No Fun Involved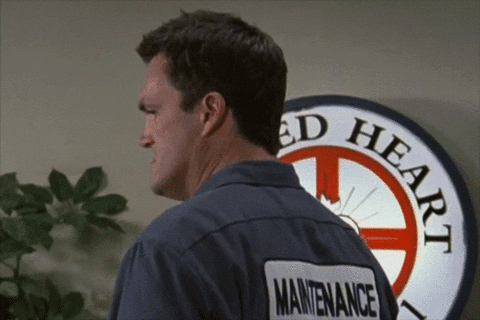 Angry Neil Flynn GIF
Giphy
"Janitors. Trash-related work. Sewage workers. Plumbing."'
SubiWhale
I feel for everyone in these jobs. They deserve better.
Want to "know" more?
Sign up for the Knowable newsletter here.
Never miss another big, odd, funny or heartbreaking moment again.
Keep reading...
Show less
Short of having a shopping addiction, no one actually likes spending money on stuff.
Why would you ever willingly give it away? It's your money!
Which might be why it feels so bad when you have to spend money of something that should be free from the beginning. People/ corporations are going to chase that cheddar, though, so there's little you can do besides complain, which frankly might be the best thing the internet is for.
Reddit user, woodside37, wanted to know what we should never have to pay for again when they asked:
"What should be free?"
Let's get these out of the way first...No, let's get this first one out of the way first.
Hidden fees are the worst.

Hidden. F***ing. Fees.
"Transaction/processing fees when you order a digital product online. Such as a concert ticket, where you pay 6 euro extra while you pay online, and have to print the ticket yourself."
rickmitchel
"Or processing fees to pay bills that you need. Duke energy charges a $7 processing fee for you to pay your energy bill. Like wtf."
CrispyCrunchyPoptart
Pay To Pee
"Public bathrooms! The amount of human piles of poop around because the homeless have no where to relieve themselves!"
AuntyMarcy
"Live in a very tourist-y part of the U.K., all public toilets charge and most cafes/pubs/libraries won't let people use their toilets. As someone who lives here year round it's really frustrating and doesn't seem to make sense."
JonesNewport83
Want A Better Society? Educate Them.
"College. Or at the very least, college APPLICATIONS. If you're gonna require it for most careers, atleast make it accessible for people. And I just think it's stupid that people have to pay to get rejected."
callmeventibcimavent
"Oh god I hate that so much. Same with applying to apartments it's such a waste of money if you don't get approved. It racks up quickly too."
Kydra96
It does feel grimy when "official documentation" that is "mandatory" has to be bought and paid for not by the people requiring it, but by the people needing it.
Forcing Us To Pay For Something We're Forced To Have
"ID cards issued by the government. Especially since you need them for almost every aspect of daily living."
waqasnaseem07
"I. Exist."
"Birth certificates"
alexchico3
"I'm not the biggest fan of free stuf but having to pay for a piece of paper that says "I exist" is ridiculous."
Spaghetti-Evan1991
It'll never not feel bad having to pay for something we expect to be free, but it feels ten times worse when it's something you need to get by in life. As in, need to live.
Let's All Agree To Take Care Of Each Other
"All base needs up to a level. I mean stuff we need to survive, eg. power, water,... and things we are required to use to be relevant in daily life internet,..."
"Seeing how now power companies are fuel companies are having THE biggest profit in years while more and more families are pushed into bigger and bigger deths just to get by."
"Same goes for internet tbh, poor kids are just not getting by in school becasue they lack the basic stuff every other kid has to get further in life. I am not saying they need the fastest possible internet with unlimited dl, but give them so they can work for school so the vicious cycle can be broken."
Amelsander
We Need It More Than Anyone
"All mental health services. If you don't have benefits or a VERY good paying job, they are unaffordable for how often most people really need them. At $120-160/ session even once a week is not affordable for most people these days"
pennylayne77
A Fine Line Between Need And Want
"Water"
selfishnerd77
"Drinking water, sure. But water is an expendable resource and it should honestly be more restricted when we think about cases like people watering their lawns."
I_Am_Become_Dream
Paying To Live
"Insulin. People are dying because of greedy pharmaceutical companies."
Astronimus123
"But We're 'Pro-Life'" - Jerks
"Birth control of all kinds."
"For anyone who b*tches about spending taxpayer money, I'd ask whether it costs more to provide condoms or to house prisoners."
AlexReynard
"Giving birth (In the us)"
z0k0n
"As a female US citizen the more I learn about the whole giving birth sh*t the less I want kids. My friend just had a baby, there were some complications. She is now paying off a 14k hospital bill! The lowest I have hears is 8k. 8k just to have a f-cking kid! For a country that is gung-ho about forcing women to have kids they have missed the mark completely."
Main-Yogurtcloset-82
Everyone is looking for their payout, and unfortunately sometimes we're the ones who have to give it to them, whether it makes sense or not.
Want to "know" more?
Sign up for the Knowable newsletter here.
Never miss another big, odd, funny, or heartbreaking moment again.
Keep reading...
Show less
There are humane ways to tell someone to go home after a... liaison.
How can one be so rude after being so intimate?
I'm not saying you have to snuggle and profess love, but damn, a quick... "thanks, I hope life is kind to you" goes a long way.
Redditor sumyungdood wanted to hear the tea about the times they had to tell a lover to take a hike. They asked:
"What is the worst way someones asked you to leave after sex?"
Tell me your worst. Mine our stories where I had find my clothes in the dark and sneak out naked.
Don't ask...
A Late Run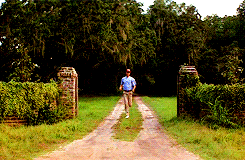 Tom Hanks Running GIF
Giphy
"Asked if he could drive my car to the gas station to buy cigarettes and when he came back he told me he left my keys in the car and it was running."
TopOcelot13
Beefed
"An old friend invited me over for her famous beef stew. I got there, we fool around, had sex, then right after she handed me a tupperware of the stew and said 'you got sex and stew, now please leave.' Still not sure if that's the worst way I was kicked out or the best."
TheRockMan31
"Most of the people here didn't get stew. You did okay!"
livesarah
'is it that obvious'
"Went home with a girl from the bar. After we had sex, she said something like 'soooo... think you can get an Uber now? If not, I GUESS you can sleep on the couch for a few hours.' Here I was, sitting on some random girl's couch trying to find an Uber at 4 AM. Mercifully I did find one and when the guy picked me up he said 'so, your hookup kick you out?' I said 'is it that obvious' and he replied 'you weren't the first one I drove back to their car tonight and you probably won't be the last.'"
apocalypticradish
Yummy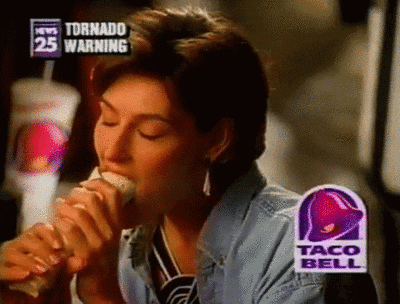 Hungry Taco Bell GIF
Giphy
"Go grab some Taco Bell. You can eat it on your way home. Honestly it was better than the sex. And I don't even like Taco Bell that much."
Nobody_Wins_13
I hate Taco Bell. And since reading this... I hate people.
Mrs. Robinson?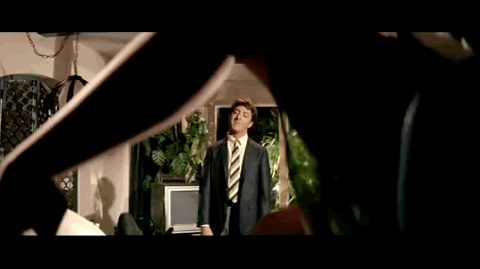 Seduce Dustin Hoffman GIF by Top 100 Movie Quotes of All Time
Giphy
"She lit a cigarette, then looked at me for like 20 seconds, and said 'Well, bye.' I just got dressed and left. Never saw her again."
Rhalellan
And you are?
"While dozing off, he gently tapped my shoulder, and said: 'Maribel, you can't stay here.'"
"My name is not Maribel."
tikkichik21
"See this is what happens when you don't let people talk about Bruno."

Brendanlendan
Go
"He got off me and started looking at pictures of other women on Instagram, and commenting on how much more attractive they were than me and told me 'oh yeah you can go now.' We were best friends for like two years up until that moment."
Caramel_Cappucino
"I'm open minded but this is exactly why I often don't trust male friendships. You could even be a lesbian and one moment of vulnerability they may take advantage of that. I know it's unrelated but your experience made me upset and I'm sorry you had to go through that."
L8NiGHTFLiGHT
second time...
"He rolled over, grabbed his phone, and without even looking at me said 'find your clothes, you know where the door is' and just laid there on his phone ignoring me while I gathered my clothes and left. He tried texting me a few days later because he was drunk and horny so I told him 'you know where your hand is' and blocked him."
olivinemultichrome
Gross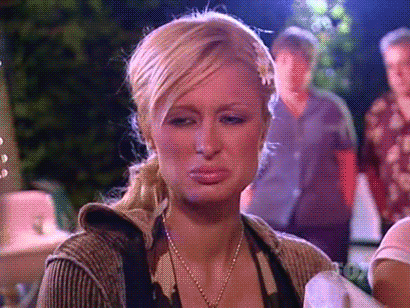 Paris Hilton Reaction GIF
Giphy
"We were good friends for a few years before hooking up after a night of drinking."
"Halfway through sex he told me he can't actually do this because he wanted to get back with his ex and can't mess it up because she's the hottest girl he'll ever be with. He lived in the middle of nowhere and I couldn't leave until the morning so he made me sleep on the couch."
barontayto
Wow. Some people are truly disgusting. How do you treat other humans this way?
Want to "know" more?
Sign up for the Knowable newsletter here.
Never miss another big, odd, funny or heartbreaking moment again.
Keep reading...
Show less
Most couples are inseparable and enjoy doing everything together, thanks in part to shared mutual interests.

But on occasion, some people in relationships go off in pursuit of one-sided pleasures in secret for various reasons.
These can range from going out to a vegan restaurant when the other person is a carnivore to seeing a Netflix show that is too violent for a squeamish significant other.
Because not every significant other may not share the same passion, Redditors TheTinRam asked:

"What's a guilty pleasure you hide from your significant other?"
These Redditors needed some "me time."
Dad Time
"Everytime I go on a late night grocery run (once or twice a month) because I work nights, and my wife forgot to grab whatever, I add a $0.70 Mexican soda to the cart. It is just for me. It is something my dad used to get me on especially long days when I was a kid 'helping' him on jobsites. It is my tiny reminder of him."
– thecountnotthesaint

Story For No One
"I write stories for years now, some of the times she thinks I'm working on the computer but I'm actually writing a story. There is nothing to hide but I just keep it to myself, none of my family members know I write stories. Till today I have written 56 stories (most of them are short)."
– SuvenPan

In The Wee Small Hours Of The Morning
"Staying up late for peace and quiet."
– Blue_OG_46

Chatting For One
"I talk to myself all the time, I was actually wondering last night if it was a really weird thing to do lol"
– hottytoddy_sko

Naked And Sacred
"I will cruise the house butt naked and just do whatever the hell I want. About once a month. I won't be able to this summer because the kids will be back in school, but come August, I'll be naked and free again!"
– batchofbetterbutter

Some people need to get out of the house.
Self Therapy
"Sometimes I take the long way home and talk to myself in the car about my 'problems' - like Self Therapy. I put one earbud in so ppl think I could be on the phone."
"I get quite animated. It helps to get a stressful day out of my system before I get home and switch gears."
– Humble-Plankton2217

Solo Slice
"My husband has gluten sensitivity. If he eats regular pizza, his stomach hurts for a couple of days after."
"Well, I don't, so sometimes I say I'm going for a run, and I do run.... to the pizza store, eat a slice, and run back."
– sohumsahm

Catching Up With The Boys
"Covid has messed it up for a bit now. But every 3 or so months the boys and I all get up like we are going to work at our respective jobs but instead all call in sick and meet for breakfast, then go back to our one buddies place for the day to hangout. Around 4 or 5 one by one we all head home for our normal arrival time."
"It's literally the only way for us all to get together reliably. Most of us have known each other for the better part of 30 years now, going way back to junior kindergarten for some."
"Twice I have let her know my plan for the day and twice I have gotten phone calls to come home early for what ever not some emergency. So now we do it secretly."
– foh242

Some of the things people do behind their SO's backs is for endearing reasons.
Smooch Ploy
"I don't know if this is a guilty pleasure necessarily but I pretend to be asleep when he comes home from work because he always kisses me on the forehead."
– str8outofabook

Catching Zzzs
"I love when she snores."
"She complains (only lightly) about my snoring all the time, and I always feel awful that I make it tricky for her to get a good night's sleep. When she's snoring, I know she's actually going to rest well, and it makes me happy."
– ricdesi
Scent Of A Man
"Smelling his clothes. Not creepily, like his boxers. But when he lets me borrow a shirt or a sweater I'll put it on and just revel in the smell of him on his clothes. If I recall correctly, it definitely wasn't like this when we first started dating. It's been over two years now and I only remember doing this around the 7 month mark. He smells really, really good."
– he-whoeatsbugs

The Forever Admirer
"I have a whole album of 'unflattering' pictures of her. Not really something I hide, but they make me happy. She's so silly yet so beautiful."
– Dewahll

They say that a couple that plays together, stays together.
That's all well and good. However, a significant other having some alone time should never be stigmatized.
My husband and I usually watch every TV show together, but I watch Netflix's Ozark by myself because I enjoy intense dramas, immensely.
It's not a secret. And he's glad I watch the shows that I want to watch on my own time–just like I encourage him to watch all those UFO documentaries that he's obsessed with, by himself.
No really, watch them without me.

Want to "know" more?
Sign up for the Knowable newsletter here.

Never miss another big, odd, funny or heartbreaking moment again.
Keep reading...
Show less