Getting asked out often comes as a surprise, but it can be even more surprising if the one asking isn't someone you would expect.
Straight guys usually don't expect dating offers from gay or bi guys, so they can often be caught off guard when asked on a date. How they handle this surprise varies wildly between individuals, though.
Keep reading...
Show less
Since we grow up in a world where it is assumed that we will be straight, we don't receive a lot of education on the LGBTQ+ community. Most places receive zero education, as decades of homophobia and gay erasure rear their ugly heads even in modern society.
So curiosity from straight people is natural. It's welcome. It only helps break down the walls between our communities.
Keep reading...
Show less
A transgender man from Australia shared a huge catharsis with the internet following his top surgery.
Sol (@capritran) shared a video of himself immediately post-surgery when he saw his chest for the first time.
"Been waiting for this for a long time?" asks the nurse, as sol gets visibly emotional about the completion of his top surgery.
"I'd like to share my very personal chest reveal moment with the world, to hopefully show that despite the endless negative experiences we trans people have, we also get to experience some of the best feelings in the world. use this video to manifest your own future if you need to."
The biggest thing people took away from this video?
The trans struggle for gender confirmation and the emotions surrounding it are real.
Despite the fact that transphobia around the world has skyrocketed, plenty of folks were very supportive.
The HRC reports that violence against trans people is going strong this year, with a death already reported in 2020, and 26 deaths due to transphobic violence in 2019.
While the numbers sound small, with the tiny size of the openly transgender community, the percentage of deaths makes trans people one of the groups most targeted for murder.
Let's hope the 2020s are the years of the trans community quickly becoming more accepted.
Keep reading...
Show less
A transgender shopper has been sent a personal letter of apology from British retailer Marks & Spencer after staff refused to let them try on clothes in the menswear changing rooms.
Myla Corvidae, 30, was born female and now identifies as transgender non-binary using they/them pronouns.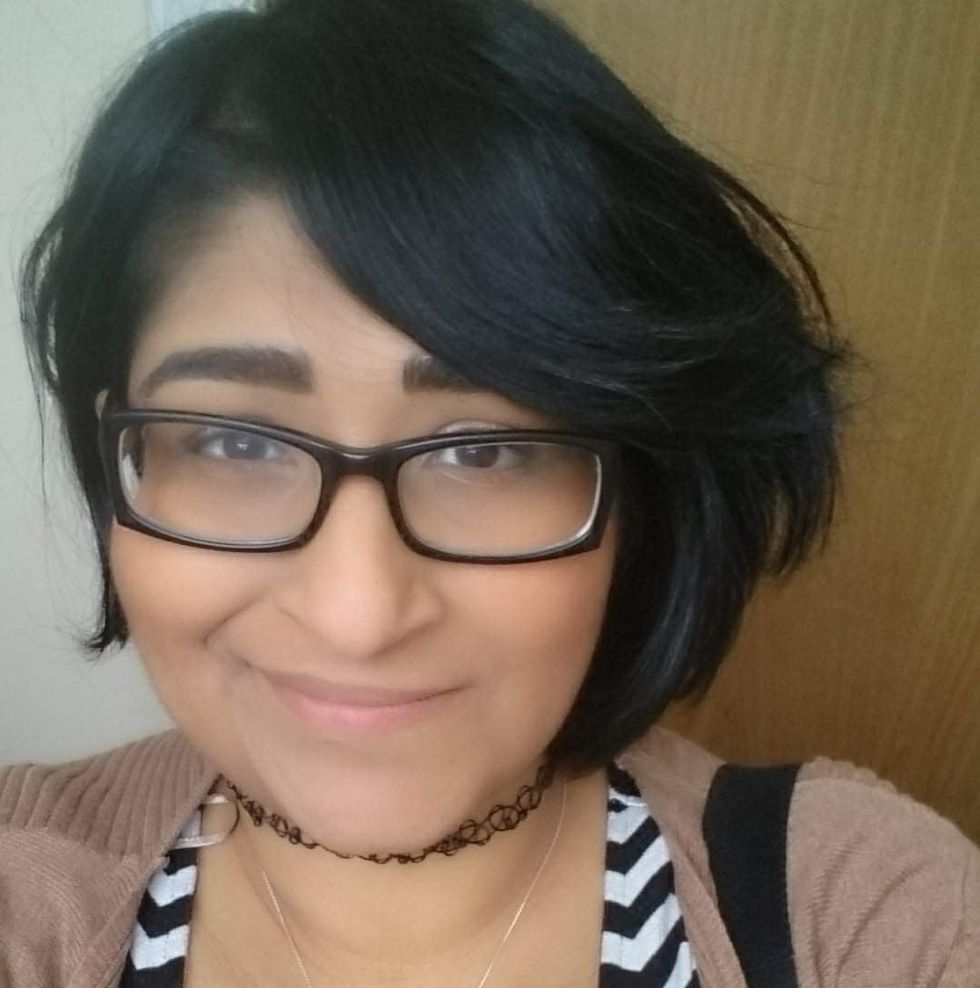 Myla Corvidae /SWNS.COM
They had picked up a few items of clothing from the menswear section of M&S in Aberdeen, Scotland, and wanted to try them on in the store.

But a member of staff told them they could not try the clothes on in the changing rooms by the menswear section.
Myla says they were told the facilities were "only for men" during the incident on December 31, 2019.
A spokesman for M&S admitted "a mistake was made" and the store has apologized - including a personal letter from the manager.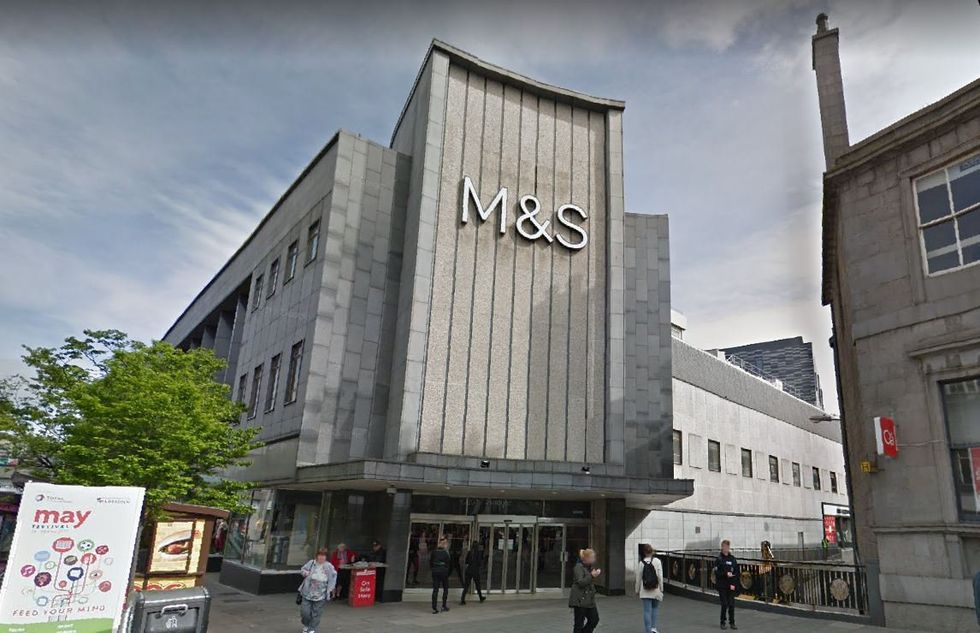 Google
Myla, of Aberdeen, said:

"I'd picked up some shirts and jumpers from the menswear section and went into the changing rooms nearby. There was no attendant so I just went on in."
"I left the changing room to grab a bigger size in one of the jumpers and a female attendant approached me on the shop floor."
"She told me I couldn't use the changing rooms there as they were 'only for men' and said that I had to use the changing rooms downstairs which are for women."
"I was utterly shocked and the only thing I could think of to say was 'I'm not female' to which she looked me up and down, apologized and walked off."
"I felt sick, like I was being accused of some kind of crime just for trying on clothes. Afterwards, I went home and cried - I have never been accosted like that in a store before."
"I had to go back in and speak to someone in store because no one took it seriously the first time and I started crying even trying to talk about it again with them."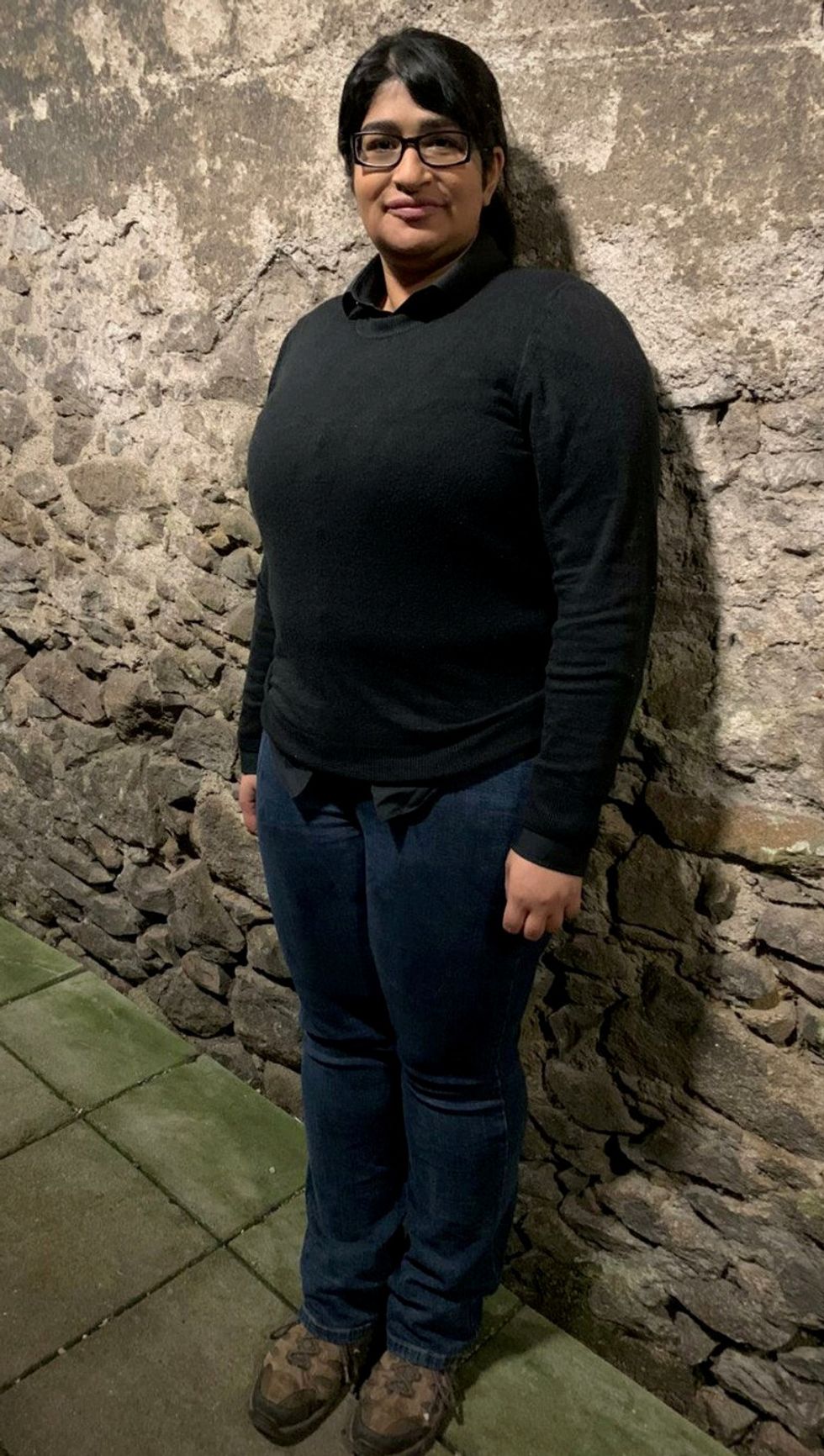 Myla Corvidae /SWNS.COM
Myla had been shopping in the Aberdeen City Center branch of Marks & Spencer regularly for the past five years before this happened.

Following the incident, Myla has complained to Marks & Spencer who have formally apologized to them both in person and via letter.
Despite the apology from the company, Myla feels unable to return to the shop due to the distress caused on that day.
Myla said:
"I don't think the apology was enough to be honest, it shouldn't have ever happened to start with and I have lost confidence in Marks & Spencer as a company for standing up for trans folk like myself."
"I still feel scared to shop at Marks & Spencer in case it happens again elsewhere or if I have to deal with that same person again."
"The fact that I saw a female using the space at the same time in full view of the attendant when I left the changing rooms just made it so much more of a personal attack."
"I honestly don't think I would go back there, I don't want to have to experience something like that again or see that staff member again."
"I am still very much upset by what happened and if I were to go back I wouldn't go on my own and I would not be shopping for clothes there again."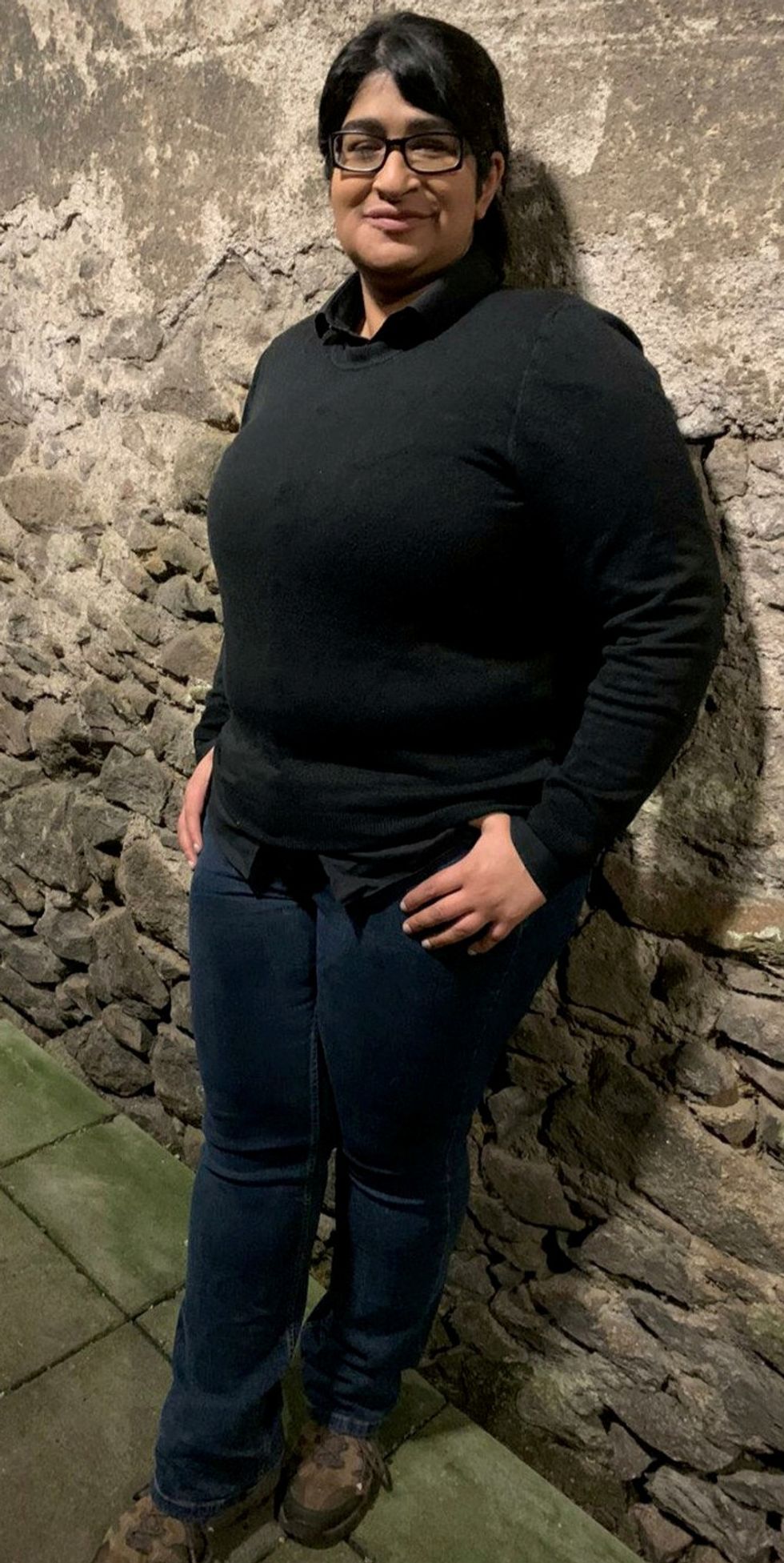 Myla Corvidae /SWNS.COM
An M&S spokesperson said:

"With our fitting rooms we only offer individual lockable cubicles and this is to ensure every customer feels comfortable and has the privacy they need."
"The fitting rooms are located within our womenswear and menswear departments and therefore are mainly used by customers of that gender. However, as an inclusive retailer and in line with most other retailers, we allow customers the choice of fitting room in respect of how they identify themselves."
"Clearly on this occasion a mistake was made, we have apologized to our customer for this incident, additionally our store manager wrote a personal apology assuring the customer they have spoken to the team."
Keep reading...
Show less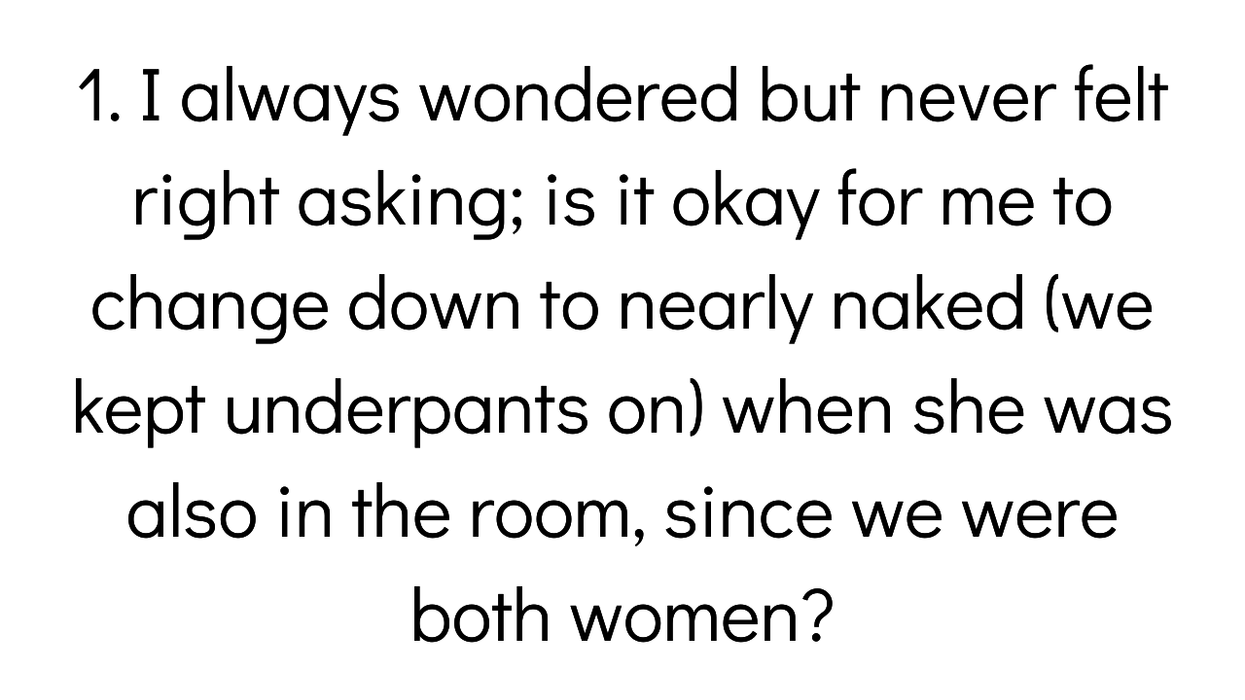 Being someone who is in the LGBTQIA+ community, I always really appreciate open conversation with people outside the community. There's no shame in asking questions--it's best to foster the conversation rather than make assumptions. But straight people will always have questions. Here are some of them.
u/VictorAnichebend asked: [Serious] Straight people of Reddit, what questions do you have for LGBT people you'd be too embarrassed to ask in person?
Keep reading...
Show less