People Describe Their Absolute Favorite Thing Their Significant Other Does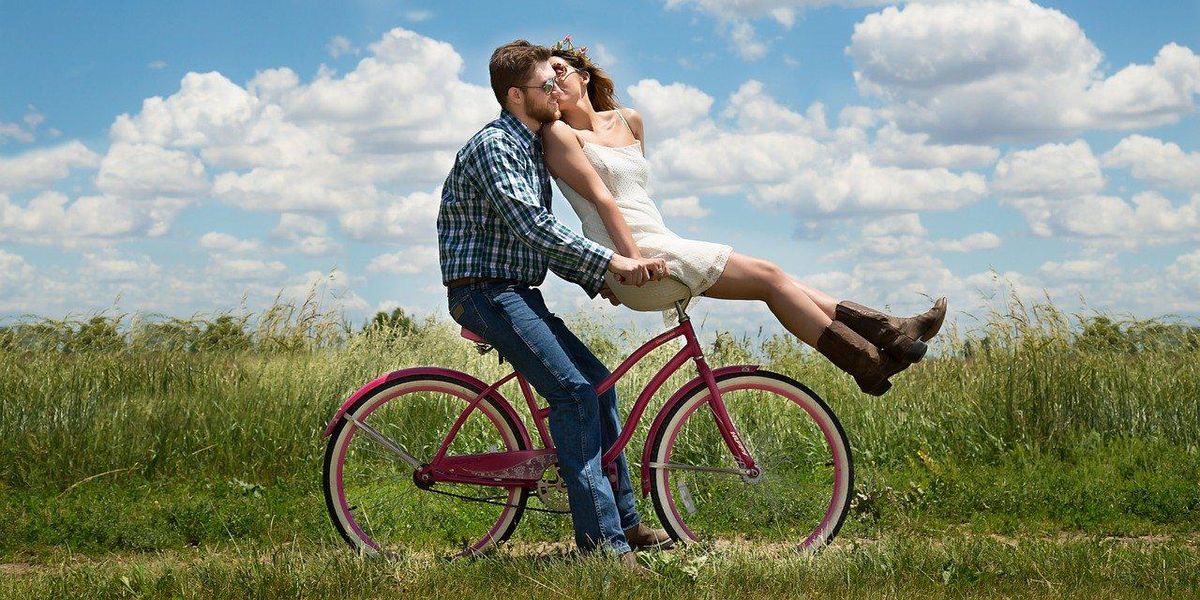 Image by Karen Warfel from Pixabay
Finally finding the love of your life to settle down with after experiencing one disappointing date after another is pure bliss.
But it's what comes after the initial attraction that makes your soulmate one to stick around for.
---
To demonstrate this, Redditor Danielly13 asked strangers on the internet:

"What's your favorite thing your SO does?"
Understanding
"She is very understanding. I never feel dumb saying something to her."
– dodger28
"Damn wish my relationship with bf were like that."
– SleeplessNight21

Brain Like A Sponge
"He's just genuinely an optimistic person and it makes me feel better. He always finds the upside to something and focuses on the good and it's really refreshing - even if I'm being a negative nancy about everything."
"In addition his brain is like a dang sponge. He's so good at obtaining information and everyday I feel like he's telling me something new that he's been learning about, it's pretty cool."
– milkenema420

Peace Offering
"If we have an argument and are both huffing, she will secretly order us our favourite take away meal and leave it in the kitchen. I can't resist opening it and then she will come into me and say 'oh?' And we will both just start laughing and say sorry."
– luckycharms_889
"My Happiness"
"Always asks me if I'm ok or what's wrong when I'm quiet. I'm in my head a lot so it really helps to keep me grounded. She's my happiness."
– allthingsbangboomzip

Cute Voice Memos
"He can never remember the lyrics to any songs. That doesn't stop him from singing along at the top of his voice. We're long distance at the moment and he sends me voice memos of him singing along to songs he knows I like, always with the absolutely wrong lyrics. He's adorable."
– AHedgehogNamedSeb

Respect
"She'll turn off her phone and give me her undivided attention."
– kukukele

Dance Connection
"My SO is a bit of a music nerd, so when he discovers a new album he puts it on speaker."
"The thing is, he often gets so lost in the moment that he starts dramatically mouthing the words and dances along to the tunes. Soon enough he drags me into his little eccentric dance."
"Are we good at dancing? Hell no, but he's f'ken feelin' it and in those moments the strongest emotions I feel are happiness and gratefulness for his existence."
– I_must_not_buuut

What Mutual Passion Does
"Gets super excited about things he is interested in, but even more excited when they are things I am also interested in because it's something we can share."
– mkm577

"I can attest that when my girlfriend is interested in stuff I'm interested in it makes me really happy."
– MET90LX

People Explain Which Conspiracy Theories They Believe Are 100% True | George Takei's Oh Myyy
It's often the bizarre, almost trivial conspiracy theories that take root in people's minds and a Reddit thread dedicated to plumbing the depths of these bel...
Those Three Words
"He randomly says 'I love you'. Like we will just be sitting on the couch watching the news, and he'll say it. I know he means it then. It makes me tingle inside, even after 6 years."
– Denverleah74
"Mine does this too. We'll be doing something completely random and he'll just look at me and say I love you baby. Gives me the warm fuzzy feeling inside."
– anonymous2278

Human Pillow
"loves to fall asleep on me anywhere especially on vechicles."
– PaintComprehensive36

Comforting Sounds
"The sound of her voice when she's yawning or laughing makes me feel calm and relaxed like no other thing can do. She is the medicine to anything that puts me in s bad mood."
– Iskelmaikel
Random Gesture
"He buys me flowers. For no reason other than he loves me. It's random too most of the time but he always buys flowers for my birthday. I am beyond lucky to have such an amazing husband."
– coffeeandjesus1986

Observing The Joys
"I love watching him watch the things he loves. The way he lights up and laughs is indescribable."
"I also really love when he randomly touches me. Sometime he'll lean over and pat my head, or gently tug my hair, or bop whatever body part is closest with the remote, and I absolutely love it. And I especially love that he does it often and entirely unprompted."
– SmileIntelligent3940

Natural Problem Solver
"Her ability to just figure any situation out. Doesn't matter if it's finding new health care, dealing with the bank, fixing something at the house while I'm gone, or pretty much just finding a solution to any problem. She's a natural problem solver and the peace of mind that brings me as a partner is amazing."
"Edit: Appreciate all the concern about not letting your partner do all of the 'problem solving' by themselves (that is great advice). Thankfully in my situation we are pretty equally competent and so when we can do it together, we crush it. But when we need to divide and conquer, I know damn well she's gonna handle her business no problem (and I will handle mine). This is especially apparent to me as my ex was essentially useless and if I didn't do something, it didn't get done."
– _Takub_

A Plush Accommodation
"Puts up with me."
"Sometimes, in the middle of the night I'll roll over, and she'll roll over too so she can pat my butt."
– Guvnuh_T_Boggs

Infectious Laughter
"His childish charm. He's this 6 foot something bearded man but he will give me the sweetest smile, and hold me with so much care, and caress my hair, sing the most upbeat songs to me, and giggle with me when something is hilarious."
– [deleted]
Kindness Matters
"He is so kind and generous to everyone!"
"Especially homeless people. Not only he likes to give them money and food, but he always talks to them so he can understand their needs and provide the best donations."
"For example, he often gives rides to the store to this girl so she can buy food, he gives blankets every winter to this guy who is not homeless, but lives in a very poor condition. He also, sometimes, donates them his time and spend hours just talking and listening a lot."
"He is genuinely the most kind person I know and it inspires me so much!"
– suicidalsociety

Comfort
"He holds my hand and gently squeezes it in a rhythmic kinda way when we're in crowded spaces so I don't get overwhelmed and shut down."
– digerydonnut

Patience
"Explains every little detail of something to me with unlimited patience and in so much depth. Like, he's a musician and he'll tell me about something he's learning to play and take all the time to explain the technical aspects to me, even though he has to start from scratch because I know nothing about it."
"We have a lot of problems that we may not be able to work through, but I could spend the rest of my life listening to him talk about things he enjoys or knows a lot about and never get bored of it."
– molotov_cockteaze

Whether your significant other performs grand gestures—or even subtle ones—to remind you they're grateful for you, is always appreciated.
But it's the quirky idiosyncrasies that will always prove you've found your person.
Want to "know" more?
Sign up for the Knowable newsletter here.
Never miss another big, odd, funny or heartbreaking moment again.
Medicine is a difficult profession. Thanks to the wonder that is human nature, healthcare workers are subjected to incredible Darwin-award-winning scenarios daily, so it's no wonder that many of them feel the need to go home and scream into their pillows at night. From self-inflicted injuries to dangerous prescription misuses, these Redditors revealed the most facepalm-worthy patients they've ever encountered.
But be warned: They'll all leave you wondering how we've survived this long as a species.
In almost every interaction with a Karen, there will come a point where she (or he) will ask to speak to the manager. They seem to think that if they over others and just act a fool, they can get what they want—but the following managers REFUSED to let these Karens get away with their inconsiderate antics.
In the United States, it's no secret that sex education for minors is inconsistent at best.
But some people learned very unexpected stories about how babies were made, and those stories had a way of making a lasting impression.
Curious about other's stories, Redditor ILoveYourCat asked:
"How did you think babies were made when you were little?"
One Time's the Charm
​"I knew babies came from sex as a fairly young child. My parents never sugar-coated that. But for some reason, as a kid, I thought you only had to have sex once to have multiple pregnancies. I seriously didn't fix that misunderstanding until early middle school."
- Crazey1988
"At some point, when I finally accepted that you had to have sex to have a baby, I thought the only time people have sex was to make a baby, and it only took one time to get the job done."
"Then when I figured out teenagers were having sex, I thought you had to be married and have sex to make a baby, but then when my unmarried cousin got pregnant, I was just confused."
"But I was sure my parents only had sex four times, and then when my mom got pregnant with number five, I thought, 'Wow, they did it again.'"
- Raw_Combination_438
Stealing Storks
"A stork delivered them, of course. What the f**k, lol (laughing out loud)."
- Dells51
"Storks... I thought people trained them to steal babies from a factory and you would leave special treats on your doorstep as payment and encouragement for the stork to steal one for you."
"I was scared to death of birds for the longest time and would have a tantrum at the zoo when I saw a flamingo."
- No_Finish_3144
Young Conspiracy Theorist
"The government. I used to think that we lived in a totalitarian society and that the government was in complete control of everything."
- bebotak**t
"I thought the President sent people their babies when asked by mail."
- GustavoAlex7789
Scheduled Baby Delivery
"The women in my family explained to me at the age of six that a doctor calls you sometime after reaching adulthood at the age of 18 to schedule a baby delivery date."
"The husband either pays to schedule the appointment or the government does after verifying that you have been married and financially stable for quite some time."
- Lokikat00
Marital Kissing
"When two people kissed."
- Short-Reality7353
"I thought the same thing, but I understood that when my mom gave me a kiss, there was no risk. Being someone raised in a very Christian background, I assumed that when you got married, God made kissing a reproductive act."
"Since I made this assumption, I remember questioning why teenage pregnancy could possibly be an issue."
- meuserj
The Ultimate Christmas Gift
​"I thought Santa was bringing them."
- NorskoTheScorpion
"He was. I mean, Christmas comes but once a year..."
- Nouveauuuu
"I MAY NEVER ENJOY CHRISTMAS AGAIN."
- NorskoTheScorpion
A New Meaning to 'Forest Friends'
"When I used to ask my dad where I came from, he'd say he found me under a rock in the forest. Of course, I would go look for babies under rocks, too, but all I ever saw was dirt and those rolly-polly pill bug thingies."
"It was so gross thinking babies were just found THERE that I was actually relieved to find out how they were actually made!"
- melodie-artist
Pregnant By Proximity
"I thought women got pregnant by just being around a man, and I was always confused about what would happen if a woman still lived with her parents or dad after she's an adult."
- ILoveYourCat
Coming of Age Story
"I thought it was a 'just happens once you reach a certain age' sorta thing. As a woman, I was terrified because pregnancy sounds like the most awful thing, lol (laughing out loud)."
"(I know the end result is worth it but even as a 31-year-old, I'm like, nope.)"
- BansheeShriek
Sounds Plant-Based
"I thought they grew like a seed inside the mother's belly."
- maclaglen
"Technically, that's true."
- ManagementFresh4960
"Watermelon seeds."
- bravovice
"Well, not like that."
- ManagementFresh4960
The Power of Marriage
"My mum told me you couldn't have a baby if you weren't married. Note that she said 'couldn't', not 'shouldn't'."
"When my unmarried cousin was sleeping a lot my mum told my aunt 'she's having a baby'. I thought 'she can't be having a baby, she isn't married.'"
"A couple of weeks later she had an engagement party, quickly followed by a registry office wedding. She had a baby a few months later."
- MolassesInevitable53
Baby Trees
"I thought they grew on trees. True story."
- 8inchsalvatorre
"Baby trees, lol (laughing out loud)."
- ILoveYourCat
"I was surprised when I learned how it really happened, lol. I was like, 'You mean there are no trees?' And Mom just shook her head."
- 8inchsalvatorre
They Were Just There
"I don't recall a time where I gave the matter any thought without knowing the reality of it."
"Like, literally, until the day I was first introduced to the concept of birth, I don't think I cared where babies came from."
- N_Who
"Right, the little guys just EXISTED."
- Mizar97
Educated Is Best
"I asked my mom and she told me the truth."
"Educate your kids, folks. They can handle it."
- Bite_Me_23
Spontaneous Babies
"I didn't... They just showed up, honestly."
- badguywindow
"That's what I thought. I was terrified as a little kid that I'd wind up being a teenage mother because I thought it just happened spontaneously."
- dinosore
"Exactly what I thought would happen. Like one day you were just, boom, six months pregnant."
- badguywindow
While these responses might be funny, it's an important reminder of an area in the educational system that's often lacking.
But in the meantime, while the system's curriculum is getting sorted out, at least we can take comfort in the fact that we weren't alone in believing these tall tales.
What is it that makes people confess their deepest, darkest sins to millions of strangers on Reddit? While we may not know the answer, we do know that the following confessions run the gamut from funny to salacious to nasty nightmare fuel. In fact, you might want an Ouija board to send some of these skeletons back to the closets from whence they came.