In a recent tweet which has now, thankfully, been deleted, podcast host @MissBriaJanay suggested a variety of "natural birth control options" women could use if they didn't have access to standard contraceptives.
---
There was only one problem: none of her suggestions were effective and some were even poisonous.
Although, if you fatally poison yourself you aren't likely to get pregnant so that's effective.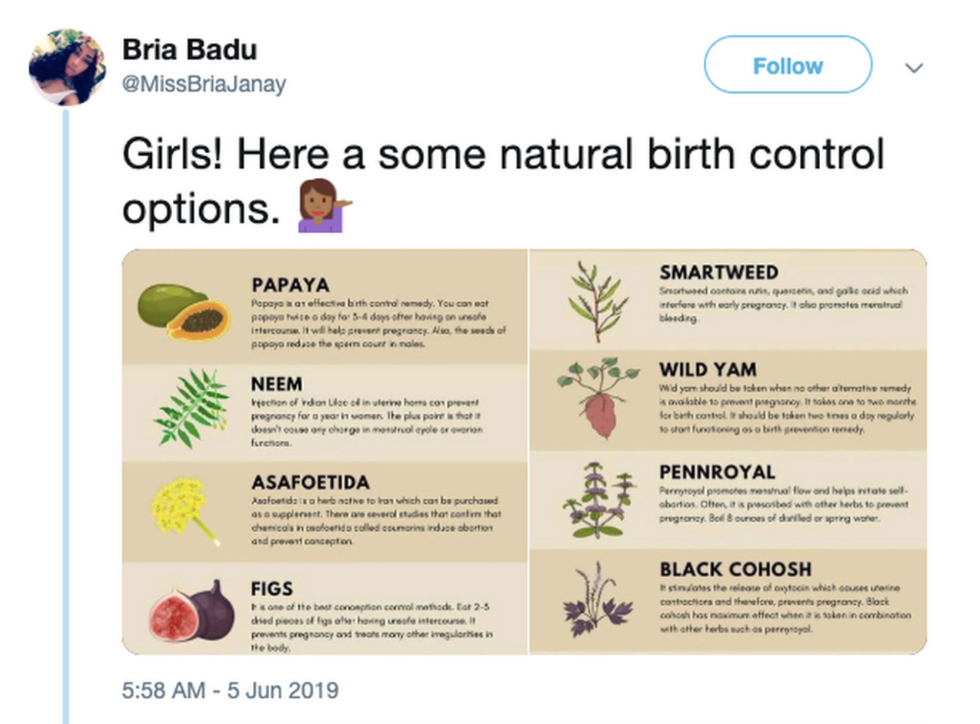 @MissBriaJanay/Twitter
Twitter was quick to send up the warnings: DO NOT TRY ANY OF THESE BIRTH CONTROL METHODS!
These contraceptives are great for people who LOVE kids.
Many people also wisely pointed out that pennroyal will literally kill you if you ingest it.
Condoms are by far the better option!
Sometimes herbal remedies can be very useful.
This is not one of those times.
Before long, the tweet was removed, likely due to the dangerous nature of advice.
Safe, medically tested contraceptives should be readily available to all who need them.
Of course, if you'd like to roll the dice, there are other "natural" birth control methods that might work...
Good luck out there, everyone!
And remember...do NOT eat poisonous pennroyal to stop yourself from getting pregnant.
For medically sound birth control alternatives, the critically acclaimed book Taking Charge of Your Fertility, 20th Anniversary Edition: The Definitive Guide to Natural Birth Control, Pregnancy Achievement, and Reproductive Health is available here.