Ok, so I may be good at some things (namely reciting Toni Collette's monologue from Hereditary at any chance I get), but one thing I'm definitely terrible at is sleeping. Not only do I have trouble falling asleep, causing me to not sleep until 4am, but I also have hypersomnia. So when I am asleep, I'm deceased for ten hours. It sucks.
So today I'm delving into the jungle that is Reddit to learn all about how to sleep better. Come along for the ride, it'll be eye-opening (or closing, if you wanna be literal). U/monkeyswingin asked:
People who fall asleep within few minutes, how do you it?
Alright y'all, buckle up--it's time for a NSFW post. Kinda. But like, it's a useful NSFW post, so that means we won't get censored, right? Right?!
Some of the best advice can also be the weirdest, grossest, or most awkward advice to give. But trust me, being gross can pay off sometimes. U/ImposterIsRed asked:
What's a tip that's NSFW but can save your life?
Let's start more lowkey, because if you want the best advice, you'll have to buy us dinner first.
Practice makes perfect.
"If someone is trying to smother you with a pillow, stay very calm. Don't fight it, and turn your head to the left or right. Most smothering deaths are due to the panic rather than an actual loss of air."
"You know, ever since I was a kid I'd practice this very thing. I always knew in the back of my mind that if just have to pretend to struggle for a bit and then pretend to pass out/die and wait for them to take the pillow off. Just lay there, hold my breath and pretend to be dead. Then, when the coast is clear-ish, make my sloppy grand escape."
Anything to not die, I GUESS.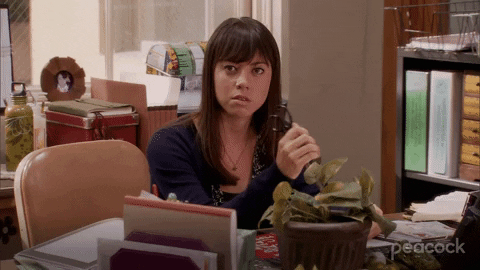 Angry Aubrey Plaza GIF by Parks and Recreation
Giphy
"If you get stabbed with, or impaled on, something sharp and the item stays in you, don't try and remove the item - no matter how instinctively appealing it might be to try and remove it.
The item remaining inside you will increase your chances of reducing blood loss, not developing shock, and staying alive."
​Don't even f*ck on 'em.
"If you go to any hotel, no matter how clean the floor and bedding might be. DO NOT SIT NAKED ON THOSE CHAIRS IN THE CORNER OR AT THE DESK. DON'T EVEN HAVE SEX ON THEM ON EM.
THEY'RE THE DIRTIEST PART OF THE ROOM.
Hard to clean a chair than a floor and bedding."
Balls are funny.
"You better believe it's preferable for a doctor to laugh at the lump on your balls that is nothing instead of getting testicular cancer."
"I built up the courage to get that weird sensation down there checked. The doctor was unavailable, so his replacement comes in and its a guy I went to High School with LMAO. Talk about awkward, but he was very professional and the thing turned out to be a minor infection. So yeah guys, if I could do it then you can too."
Alright, you asked for it, and we're delivering. Here are some useful tips for all things steamy.​
By steamy, I meant extremely useful.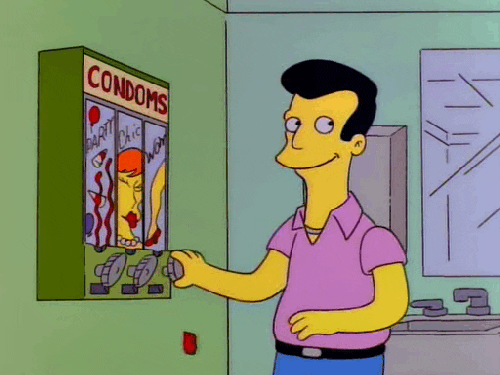 happy the simpsons GIF
Giphy
"Condoms can hold up to 3 liters of water if necessary."
"How much water can they hold if it's not necessary?"
Stay safe.
"If your partner ask for no condom, assume all their previous encounters has been without protection. STD are no joke. Also, if something looks or smells weird, go away."
"A partner that insists you don't need a condom is a very good reason to use a condom."
Well. Sorry if that wasn't the steamy content you were looking for. But hey, now you'll be safer in bed. Now let's get weirder.
Please don't do this, omg.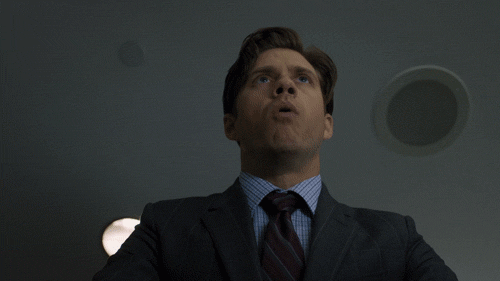 Sick Vomit GIF by CBS
Giphy
"Flared bases, people. Flared bases.
My mother is a nurse and once had to look after a guy whose "friends" stuck a toy where the sun don't shine on his stag do as a "prank". It proceeded bounce around his insides, causing a ruptured bowel as well as a number of other problems. A ruptured bowel can kill you. This guy was lucky.
While his situation was particularly extreme and illustrated the need to choose your friends carefully, this can happen to anyone who is using the wrong toy or the right toy incorrectly.
Hell, this doesn't even have to just refer to sex and/or sex toys. Always be safe and use the right tool for the particular job."
Huh. Good to know.
"If you are ever the victim of a Chlorine Gas attack...
Pee into a towel or handkerchief or something that will retain the urine and use it to cover your mouth, nose and eyes while you search for an exit.
The urea in the urine will neutralize the chlorine gas, rendering it inert, giving you time to save your own life."
Alright, that's it for some NSFW advice! And if you came here for actual NSFW content….what's wrong with you?
Moral of these stories: never underestimate the power of your own pee. It's amazing what urine can do.
Being a part of a wedding is high stakes, for better or worse. And the more complex it is, the more likely things will go wrong. Trust me--that's why I pretty much eloped. Crazy sh*t can go down when it comes to peoples' big day.
"But how bad can they be?" The answer to that is pretty freakin' horrific. Topdogkingchamp asked:
What's the worst thing you've witnessed at a wedding ?
Have you ever worked one of those jobs that just paid you to kinda sit there? If you have, you know the joy that comes with watching the entirety of Breaking Bad at the office while waiting for the phone to ring. It's pretty lit.
Wanna know where to apply? Check out the inside scoop from these Redditors. Rabahi asked:
What's a low effort job with a surprisingly high salary?
Ever wanna get paid large hourly wages to sit in a room and do nothing? Keep scrolling.
$35 an hour?!
"I once took a job as tape operator for a production company who was making a docu series.
I got paid $35 an hour to sit in a room overnight for 4 months with boxes of tapes, mark in/out points, and transfer digital copies to server.
It's still the easiest job I've ever had."
Best job in the world.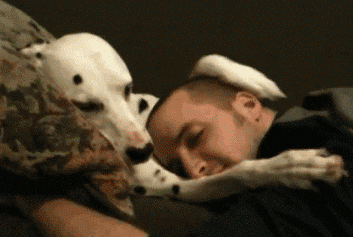 Dog Snuggling GIF
Giphy
"I once had a job at a dog kennel and my job was to sleep In a bedroom with a dog or two, provided a comfy bed & netflix/wifi. I was getting paid $30/hr to basically cuddle with dogs."
"Why would one leave this job, for any reason?"
Uhhhh this is my dream job.
"In college I had to catalogue and convert old radio shows. I was literally paid to listen to old comedy shows. The actual 'work' was loading the reels and pressing a button.
Neat side effect is Looney Toons cartoons make more sense, I am getting more of the jokes, turns out they were just meme fests for their time.
I am most likely the only person under about 60 who has heard the entire run of "Fibber Mcgee and Molly'."
A great job that warrants a great pun.
"I worked as a massage "model" at a massage school. My job was to lay there and be massaged for a few hours while the students did their lessons or took their exams. It was £30 an hour which isn't loads, but better than the £10 an hour office job I had before."
"Yeah, but sometimes that's the kind of job that can just rub you the wrong way."
​Other types of low-effort jobs just come with the fact that everyone at the workplaces knows their sh*t.
​Being efficient has many perks.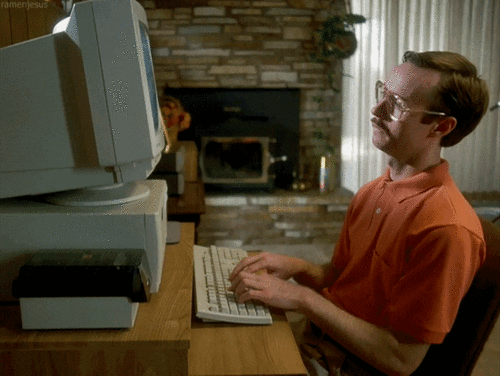 Hacking Work From Home GIF
Giphy
"I do admin work for the Government. My pay is 55K. At best I get 5 emails a day with about 2 that actually concern me. No B.S; my phone has rang about 20 times since June 1st. On a super busy day I have about 45 mins worth of work to do."
"No one wants to work in my position because they think it's extremely difficult. I spent maybe an hour today actually working.
I am super efficient so something that might take someone else 15 minutes takes me less than 5. I've also proven myself to be reliable so I don't have to justify my time with anyone like some people I work with. It's nice!"
The Best 'Actually, You're Speaking To The Boss' Experience | George Takei's Oh Myyy
Best part about having great coworkers.
"I.T. Manager at a university. The techs know their jobs, their users, and manage their own schedules and workloads among themselves. Managers basically just have to rubber-stamp timecards, confirm parts orders, and make sure the techs don't all take vacations at the same time."
"I think this is true with a lot of managers. If you hire good people, you don't have to do a whole lot. My Manager doesn't. We have a self-managing team for the most part. and our workload is medium-heavy, and we try to do as much proactive stuff, so we're not bothered on the weekend."
​$120,000 to knit all day? Sounds fun.
"I have some relatives that work for the (US) Federal Government that often talk about jobs where they work in areas like Accounting and Project Management that make over $100,000 and might on a busy day have as much as two hours of actual work.
My Aunt was talking about this one older women near retirement that made over $120,000 a year and her only job was running some transactions every morning, which usually took no more than 20 minutes, then she would spend the rest of the day knitting at her desk."
​Low-effort jobs are the best jobs. Getting paid six figures to just chill? Sign me up.
That neighborino has a good gig.
homer simpson skiing GIF
Giphy
"My next door neighbour works in a power station. His job is to sit in front of a monitor and make sure everything is working well. If something goes wrong, he calls the appropriate work station and they fix the problem. Because an alarm sounds if something is out of sync (which rarely happens) he is able to play games or read a book 99% of the time. He is on $150 per hour to basically play games and chill at work."
"Are you Ned Flanders?"
Valid question.
"As a closed captioner broadcaster for the News, I work from home. I set my own hours and earn anything from $50 to $70 per hour, depending on the assignment. It takes a lot of money to get started, but the payoff is well worth it."
"Do you ever worry that auto-generated captions will take your job?
They're starting to get pretty good at it."
A legend.
"Vanna White's job on Wheel of Fortune. She gets paid $4 million a year walking back and forth in 20 feet."
"Hey she used to have to physically turn the tiles over… she paid her dues."
Not every job is as good as Vanna White's, but sometimes you can really get lucky with the jobs you land.
Now where do I apply?
We've all heard of toxic masculinity. You know, that thing where men don't want to do anything remotely feminine, like wear pink, or wash their a**holes in the shower because they think it's "gay"? Yeah, that thing. It sucks, but sometimes it's important to remember that people of all genders can be toxic AF too.
Let's talk about toxic femininity, shall we? VysX_ asked:
There's toxic masculinity but what are examples of toxic femininity?
For some reason, toxic femininity gets really, REALLY prevalent when ​they become moms. It's weird and kinda creepy, if you ask me.
Why does Little League bring out the worst in people?
"Mothers who treat other people like crap and then justify it by saying they're a mama bear."
"A few years ago my son's team was playing a little league game against another team. We had a very good team that year and the other team was really struggling. Despite this, it was a close game going into the 5th (i.e. next-to-last) inning.
Well, we're batting and the wheels finally come off for the opposition. A kid on our team gets a simple hit to the outfield and the other team proceeds to go full tee-ball and throw it all over creation. What should have been a single turns into a 3-run HR.
As the batter crosses home plate, fans are going nuts, players are going nuts, everyone is going nuts, and the star player on the losing team just melts down. He picks up the ball and throws it as hard as he can right at our dug out. There's a safety fence of course, so no one gets hurt, but it was still very much an "Oh, snap" moment for everyone.
​At this point, the ump turns to the losing coach and says, "Coach, you need to get a hold of your player." That's it. That's all he said. He didn't say anything to the player; he didn't kick him out of the game; he just gave the coach a direct warning.
Next thing I hear is "DONT YOU TALK TO MY BABY THAT WAY" as the dug-out mom comes firing out of the other dug-out, heading straight for the ump. Fortunately for everyone, the head coach comes out of nowhere to intercept her. He proceeds to restrain her and walk her (and the player) away. The whole game stops for ~5 minutes while those three basically have a group hug in the middle of the infield.
Fortunately, that was the end of the drama. I still give major props to that other coach for somehow diffusing that situation without getting the police involved. But I will never understand what was going through that lady's mind."
We can all do "womaning" differently.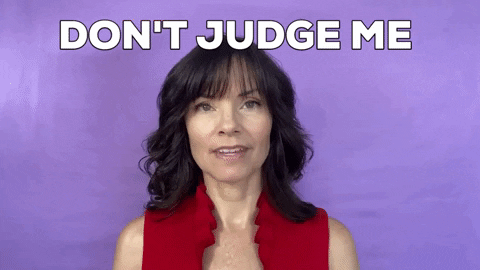 Wendy Conrad GIF by Your Happy Workplace
Giphy
"To me it would mean women who bag on other women for womaning differently than they do.
This becomes really toxic after childbirth. Some women will feel nothing about letting you know how you are parenting wrong by using this product or letting you child do this particular thing.
Women who are able to stay at home will be made to feel guilty for not helping to provide; and women who work are made to feel guilty for abandoning their child.
I wish women were more understanding about dealing with differences and letting things slide a bit more. You should never feel higher after putting someone else down.
That being said, I don't know how we did it, but I found the world's greatest group of moms when my son was a year and a half old. We came from all walks of life and supported the ever-loving hell out of each other. This was in Phoenix late 90's and we were completely tight until I moved away when my son was 5. I miss all of em."
They should know better than to tear down other women.
"It's very common for mothers or female relatives to be some of the first ones to comment on a woman's weight, appearance, or personal style/fashion choices, as well as reinforcing a sense of self-hatred (i.e. "I look so fat in this outfit, and you look so ugly in that color"), all while tearing other women down ("I can't believe she's wearing that, doesn't she know how she looks??").
When you have that reinforcement that it's normal to say things like that, because if your mom does it then it's okay to do it too, then you just treat it as normal. And because it's so common, you find other women to do it with and it just becomes a cycle. If you try to break it, then you're labeled as sensitive, a bore, and "Oh my god we're just having fun, chill out, it's not that serious."
I still remember the first time I called my mom on talking sh*t about a woman wearing something she didn't like, and she got so f*cking mad at me."
Let's dive into the tearing down other women thing some more. We as a society need a wake-up call.​
It's like high school all over again.​
"Some women are so judgemental about other women, particularly when it comes to looks or fashion.
Also the women who seem to enjoy forming cliques and cutting out anyone they deem to be an outsider.
Worked with an office full of them once. It really sucked!"
"When I first got out of grad school, my first (and as it turns out, only) teaching job was long-term substituting for a friend while she went on maternity leave. The kids/classroom were mine for the first half of the school year, but we coordinated so that things would be pretty smooth transitioning back to my friend teaching at the end of her leave.
My friend was part of a two-teacher team who ran the 8th grade Student Council. I told the other teacher that I would be happy to help her with the club in my friend's absence, but she insisted she didn't need my help. She then proceeded to 100% ignore me and treat me as if I was invisible during all future interactions. 8th-grade team meetings, if I said even a single word, she shot me side eye, even though what I had said was not at all related to her; just a kind of "you're not a real teacher, how dare you speak?" vibe she was giving off.
My last day, my friend came in after school to put her classroom stuff up as I took my own down. The other teacher and two other women (the PE coach who I'd never talked to and another teacher, I don't remember) came in to help her, but none of the three of them offered to help me take any of my own things down or pack any of it up. They also said things like, "Is this yours or hers?" to my friend, even though I was standing right f*cking there. They also gushed about how excited they were that she was back; again, right in front of me.
After I was finally done putting away all my things--again, by myself--I just left without a word. I texted my friend about it later, and she apologized for her other friends' behavior but just excused it as, "Yeah, they're definitely the 'Mean Girls' types".
I was just floored. These were TEACHERS. You know, the people who are supposed to teach children NOT to bully other people? And I had never been anything but nice to everyone I met during my time there, but they didn't care. I wasn't part of their group, so I wasn't worth their time.
It became one of a laundry list of reasons I decided I didn't actually want to be a teacher for a living, after all.
tl;dr - personally experienced cliquey adult women in the education field, of all places. It sucked."
The Best 'Actually, You're Speaking To The Boss' Experience | George Takei's Oh Myyy
How possessive.
"My ex-husband and I separated when our child was 2. Went to a birthday party for daughter's friend and was having a casual conversation with one of the husbands. The group of women stood in a corner staring at me, and the wife came up and grabbed him by the arm and started doing that strange possessive peacock dance.
What were we talking about? Real estate prices."
"No joke, I had a professor I was close with because we were both single moms and she gave me the advice to wear a wedding band even without a man and that the other moms would chill out a bit. It worked and my daughter started getting more opportunities for playdates. It's really demoralizing."
I think we all need to learn how to be more forgiving.
Toxic office culture is the literal worst.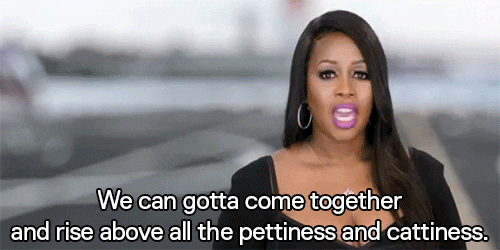 come together love and hip hop GIF by VH1
Giphy
"The sheer terrifying glee they have at tearing down someone who's made a mistake or is somehow lacking in their eyes. I worked at a doctor's office with a fifty person staff, forty five of which were women. Like they were so fake and catty and just outright hateful to each other. It was a toxic office culture."
"Did they also have a compulsive, competitive need to please the male figures in the department? I go weekly to a fairly small medical department where the head doctor is male and the majority of nurses and admin are female. They treat him like an absolute God and defer to him with everything. He's a huge d*ck and of course, has a big ego by now."
This girl isn't just toxic--she's a monster.
"A girl in the grade below me (I'm a senior in high school at this point) passed away unexpectedly due to sepsis. Our whole city was in shock as the girl was in the school just days before her passing.
I remember I met up with my gf at the time and she asked, "Why do so many people care about her dying? It's not like she was pretty anyways."
This was the type of girl that says, "What??!! I am SOOO nice."
Safe to say, the lord blessed me with a brain and I GTFO of that relationship.
To this day, she is still in contact with me & recently she complained that guys use her & she can't figure out why nobody will be with her.
Well, honey, I don't think it takes a rocket scientist to figure that one out.
Edit: Some of you have said that I should tell her and I did. Apparently, she would "literally never say that about her" and also apparently "I know nothing about her." (My ex. Dated for 4 years. Know nothing)"
This is how eating disorders start.
"Probably the culture around eating.
When I was 17-18, a few friends kept saying how much more attractive I'd be if I lost weight, how that's why most guys weren't into me, how I'd regret not being skinny in college, etc. My BMI was slightly under 25, so I wasn't overweight, but I was close to it, especially compared to them.
So I basically became anorexic from 18-20 just because the feedback was like a high. I recovered, but not enough to make my mom and others happy, even though my BMI was 22-23. This continued for years between friends and family, and it was exhausting cycling between being too skinny or not average enough.
That's really the only strong example I can think of. No matter the trendy body shape, the criticism from others will always continue. I've only had one guy ever comment on my weight compared to the many, many women, even strangers."
​As a woman myself, I've encountered plenty of toxic femininity in my life. It's almost as terrible as the objectifying sh*t I hear men saying about women all the time. We have to be rid of cattiness and tearing other women down.
Remember what we actually need to be working against. So much sexism exists in the world, and we have to stick together.