President Trump, who's been on a spree of pardons and brash acts after being acquitted by the Republican-controlled Senate, recently described himself as the "chief law enforcement officer of the country" while defending rumors he plans to pardon confidant Roger Stone.
Actor Mark Hamill, who frequently criticizes the President online, poked fun at Trump's unstable, borderline authoritarian behavior, by asking him for an even bigger pardon.
The Star Wars Holiday Special, produced quickly on the coattails of the first film's success, is famously bad and features some of the worst acting of the entire Star Wars saga.
Sadly, most people agreed the special was a crime, though not one worthy of a pardon.
Of course, if Roger Stone, who was recently sentenced to 40 months in prison after Trump asked the Department of Justice to go easy on his old friend, deserves special treatment, perhaps the special does as well!
Perhaps the special would have a better chance of getting pardoned if it donated a bunch of money to the Trump campaign—a common theme that connects each of Trump's recent acts of clemency.
Unfortunately for Hamill, many people online felt that even the President didn't have the power to let that special off the hook.
There were a few who tried to stand up for the cult-classic...
...but not many.
Perhaps the true answer is actually to produce a sequel?
President Trump, if you actually believe in democracy, pardon this holiday special!
Keep reading...
Show less
On the popular subreddit "Am I The A**hole?" Reddit users congregate to see whether their strange behavior is justified morally.
One of this past week's most viral posts was from a user named aWorkProblem0, who explained why she's been dressing "frumpier" at work.
Her post was titled "AITA for following the company's dress code to the letter but looking "ugly" and frumpy on purpose because I'm sick of sexist sh*t?"
"I'm a 23 year old woman at a company with a pretty... Old timey culture. Even though it's a programming job, where we are not customer facing, we have a "business casual" dress code. It's also got a really fucking sexist culture, I've lost patience with off color jokes and a lotttt of comments on my looks."

"I started out trying to dress nice, fitted tailored slacks, fashionable blouses, hair done, nice low heels or flats. I was always modest."
"And I got sooo sick of people saying sh*t about my body, my a**, even just the "you look reaaally nice today" that guys would never say to each other."
"So I started naturally tending towards my frumpier things."
"And when I went shopping I tended towards looser fitting stuff. Slacks with wide square legs that were loose in the butt and would hide my butt and legs. Several sizes above my usual size. Long cardigans that were big and warm but not fitted. Frumpy-ass loafers. I also cut off most of my hair and got some big tortose shell glasses that I've been wearing rather than contacts."
"I'm following the dress code very literally, slacks, cardigans, loafers are all allowed. But yeah all of them together make me look like a very frumpy elderly librarian (no offense to librarians, y'all are awesome!)"
"I basically stopped getting positive comments on my looks. Now it's not like some magic silver bullet, theres still more than enough BS, Enough that I'm quietly starting to job search."
"But my company is having a couple top executives come to the office for a week and my boss told me in a meeting to please 'dress professionally' during the visit"
"I asked him what he meant by that, was there something unprofessional about my day to day outfits?"
"He stumbled over his words for a bit then went 'Fit is a part of clothes looking professional, your items are fine but don't seem... Carefully selected for your size.'"
"I said that I was more comfortable in clothes of my current fit because I was sick and tired of comments on my body."
"He asked if there had been any new comments (I always told him about stuff in the past) and I said that there was nothing egrigious. He said that he or other managers had had a talk about each of those, and he hopes that would be enough to prevent future issues."
"I was thinking, if it's not those six, it'll be someone else, then someone else, then someone else. It's a culture problem, not a personal problem. But I didn't say that, I didn't want to push stuff too far."
"So I said I would select my clothes more carefully for the coming week."
"Now, that week is coming and I was thinking I would wear the same black slacks as always and pick one of my nicest sweaters and one of my nicest cardigans. But honestly I do not think that will solve the issue of fit that the talk was about to start with."
"AITA / WIBTA to keep following the dress code to the letter but look frumpy on purpose?"
lilmissaggie suggested the original poster get out of there.
"NTA but sounds like maybe time to find a new job at a place without a toxic work culture. They will limit your progression for not playing the game and not being 'professional'"
BFoert agreed.
"OP didn't say she was picking oversized clothes, but looser fitting clothes. Wide legged pants and flowy/drapey cardigans in her appropriate size are a style choice. OP states these items are in line with the dress code, which leads me to believe there isn't specific language about tailoring or fit in the dress code."
"I also work for a company with an outdated and fairly sexist dress code where they go so far as to state that 'underwear must be in good taste,' so I understand that frustration."
"If OP is following the dress code and her clothes are her appropriate size regardless of stylized fit, her manager overstepped. Which sounds like a common occurrence and the bigger issue of culture leading to the new job search."
scarletnightingale has been in a similar situation before.
"Honestly, I've been there (still there actually), I'm also looking for new work. It was the same thing. I dressed like a normal person, I got harassed, the company told me to not dress that way, I started dressing frumpy in clothes that were too big but in dress code, then they complained. Sometimes you feel like you can't win, it is an awful feeling and completely lonely since no matter what you do, somehow you are wrong."
toralights thinks OP should go for broke.
"NTA. This is the time to be petty. Find an outfit that is professional but ugly as h*ll, like a dull ugly brown boxy work outfit and just keep following the rules."
justhewayouare knows women have to learn early about sexist nonsense.
"Whats worse is that she likely knows how to dress like this because women start facing this even in Jr High. The dress code is always more strict for women than for men and in many instances highly unbalanced. The only difference is when you're a teenage girl authority figures tell you, 'By dressing this way you're preventing the boys around you from learning and are a distraction,' and then you grow up and your boss tells you this shit. It never ends."
chocopinkie brought out the sad truth: there is no "right" way to dress when the culture is toxic.
"hey i faced the same situation. but i was freshly graduated back then and was just confused. everything i wore was wrong. business blazer was wrong, long sleeve dress shirt was wrong, and eventually one dress my director commented was 'nice'.
after working for some time i realise that dress was NOTHING professional. it was too short, just slightly covering my ass, sheer at the shoulder region, and a skater dress basically. what they wanted wasn't professional. they wanted sexy. i was super creeped out."
Laure2018 suggested OP take things to the next level if necessary.
"If that ever happens again and I mean ever use the term sexual harassment. We use the example in our New Employee Orientation that saying Hey, you look nice today vs. heeeyyy. You look niiice today can be the difference between a compliment and sexual harassment (we also say it's better not to comment on appearance but rather work performance if you want to give a compliment). If you use the term sexual harassment it lets your boss know you know what is going on and that you aren't going to put up with it. Companies would rather not deal with sexual harassment suits. And most states protect against retaliation. I'm sorry you are going through this!"
Keep reading...
Show less
On Friday, February 14, Supreme Court Justice Ruth Bader Ginsburg visited the Library of Congress to present the inaugural Ruth Bader Ginsburg Woman of Leadership Award.
Though the award went to Agnes Gund, a philanthropist in Washington D.C., RBG herself also earned some well-deserved praise.
The Notorious RBG rocked a pair of sparkly heels that got a nod for her fashion savvy from Martha Stewart!
Stewart was photographed standing behind the diminutive SCOTUS Justice...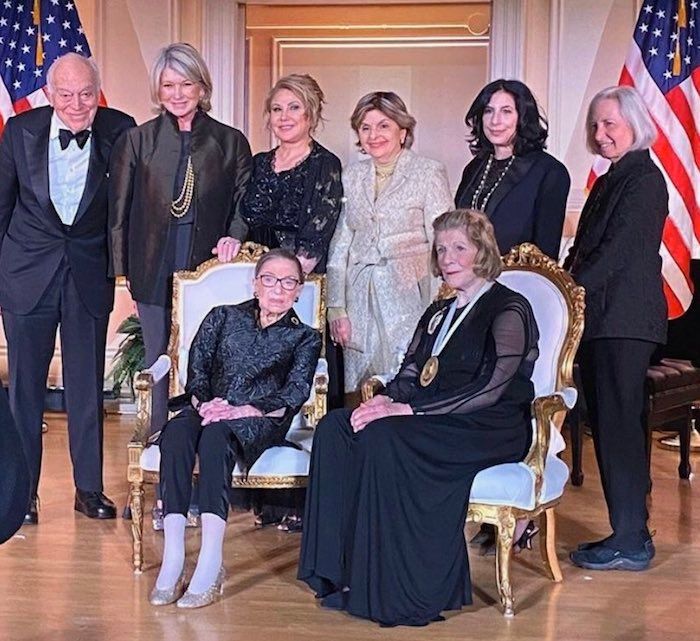 @KateBennett_DC/Twitter
...and had a close up view of the shoes.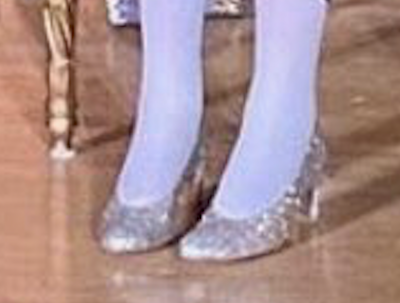 @KateBennett_DC/Twitter
Images of RBG's sparkly shoes quickly went viral on Twitter, where people couldn't get enough of the judge's flashy style.

Yes. All the yes. https://t.co/Etk646om0D

— Kate Bennett (@Kate Bennett)1581950771.0
They reminded many of Dorothy's magical slippers from The Wizard of Oz.
RBG needs to click her glittery heels together three times and take us all back home. https://t.co/9rV9uFQi7t

— Mike Sington (@Mike Sington)1581982941.0
Justice RBG rocking some amazing sparkling shoes. Click those heels three times! https://t.co/LOK1qHNdMN

— Pam Vaught (@Pam Vaught)1581996420.0
RBG's white socks + sparkly heels combo deserves a write up in @ManRepeller https://t.co/drjDIR0nTD

— rach against the machine (@rach against the machine)1582122621.0
RBG wears what she wants, whenever she wants.
@MikeSington She's adorable

— valentina (@valentina)1581986814.0
It's #WCW and our crush today is Justice Ruth Bader Ginsburg and the silver sparkly heels she wore to the Woman of… https://t.co/HJpR9qnkB7

— We've Got Issues, Girl (@We've Got Issues, Girl)1582126760.0
@MikeSington lovin' RBG!

— Jacqueline (@Jacqueline)1581990076.0
If only we could all channel some of Ruth Bader Ginsburg's unstoppable energy.
RBG wearing sparkle heels is my kind of energy https://t.co/ognN5y7qfW

— Carrie A. Mitchell (@Carrie A. Mitchell)1582124651.0
@KateBennett_DC Stay safe, stay cool, stay long, Justice Ginsberg.

— eastoftheborder (@eastoftheborder)1581957204.0
Is it common for a Supreme Court Justice to have an online fan club?
@KateBennett_DC Just when I think I can't possibly love her more.

— Ella S. (@Ella S.)1582045550.0
@RBG...u go girl, rocking those sparkly heels...👍🤩😘 https://t.co/qIdT6geNPh

— An Win (@An Win)1582083533.0
RBG has always been a force for equality, and that doesn't show any sign of stopping.
Love, love, love her. A woman's, woman. She doesn't just talk doing the right thing for women, she DOES IT! Plus he… https://t.co/plSEYISYeK

— Joanna Bunten (@Joanna Bunten)1582079506.0
#RBG absolutely needs to be an Honorary Muse!!! @KreweOfMuses #MusesParade #ThoseShoes #Heels #Glitter… https://t.co/0emIdskM6i

— ... (@...)1582047811.0
Keep up that undeniable style, RBG. We love you!
The book Notorious RBG: The Life and Times of Ruth Bader Ginsburg is available here. The book is also available in a young readers edition, available here.
Keep reading...
Show less
Talk show host Wendy Williams is being accused of a wide range of intolerant behaviors after a rant on her show in which she told gay men to "stop wearing our skirts and our heels."
Williams was talking about the holiday "Galentine's Day," created by the TV show Parks & Recreation, which celebrates female friendships the day before Valentine's Day.
When she saw men clapping along with the women after a joke, she commented:
"If you're a man and you're clapping, you're not even a part of this. I don't care if you're gay. You don't get a [menstrual period] every 28 days. You can do a lot that we do, but I get offended by the idea that we go through something you will never go through."
Williams then went on to say to gay men:
"Stop wearing our skirts and our heels. Girls, what do we have for ourselves? You'll never be the woman that we are, no matter how gay!"
. @WendyWilliams to LGBT community. "I get offended at the idea that we go through something you will NEVER go thro… https://t.co/lgBnEfyu60

— Ent. Discussion (@Ent. Discussion)1581620106.0
Internet users everywhere denounced Williams's comments as homophobic and transphobic.
Oh, Wendy. Your homophobia is showing: Wendy Williams to Gay Men: 'Stop Wearing Our Skirts and Our Heels' https://t.co/qFVwhUsrtv

— Jeffrey Luscombe (@Jeffrey Luscombe)1581626159.0
@WendyWilliams i love you, i really do but if you're telling us to stop wearing "y'all skirts and heels", then give… https://t.co/RZe9Szi6JH

— Bruce williams 🤴🏽 (@Bruce williams 🤴🏽)1581637109.0
.@WendyWilliams, some friendly reminders: 1. Many cis women would be offended by having their womanhood reduced to… https://t.co/yuGEDTaFv1

— Charlotte Clymer 🏳️‍🌈 (@Charlotte Clymer 🏳️‍🌈)1581633607.0
Wendy Williams seems to have some trouble avoiding controversy.
Earlier this year, she had to issue an apology after making fun of a scar on Joaquin Phoenix's lip.
In 2018, she said she was "sick" of the #MeToo movement.
Y'all remember when Wendy Williams got coin to do that awful Drag Race commentary during the commercial breaks? 😅 N… https://t.co/bT8xQMQDQ7

— Kelly Mantle (@Kelly Mantle)1581636903.0
Gays obsessed with @WendyWilliams is on our team: SHE. IS. NOT. Drop her. She's toxic. https://t.co/iX7hS6gmfX

— Boy Culture Blog (@Boy Culture Blog)1581624196.0
Many pointed out notable LGBTQ celebrities who wear high heels and skirts.
Black gheys: Billy Porter look a mess at the Oscars in those heels and skirt. *Wendy Williams says she's tired of… https://t.co/lRaREnTXNc

— Carlos (@Carlos)1581637921.0
#WendyWilliams @WendyWilliams life long watcher but no more! You are a transphobic / homophobic woman who doesn't g… https://t.co/sNavVdme8Q

— Paul Schmidt (@Paul Schmidt)1581637933.0
Transphobia is no laughing matter.

@jessnatale/Twitter
Before long, Williams had issued an apology to her fans.

RT @pinknews: Wendy Williams makes tearful apology after saying gay men shouldn't wear skirts and heels… https://t.co/rl4EzYJO7Q

— ๒ รคץร Ŧยςк Շгย๓ק (@๒ รคץร Ŧยςк Շгย๓ק)1581700172.0
But for many, the damage had been done.
Did wendy williams just say to gay men not to wear our skirts and heels?? I cannot stand this woman. 😒 https://t.co/MDU8xTidmT

— NeeNee (@NeeNee)1581699802.0
I'm a woman and I dont want to be the kind of woman she is. Women don't own the right to solely wear skirts and hee… https://t.co/rJM0dqO3I6

— Maggie Rogers (@Maggie Rogers)1581699025.0
Wendy Williams will have to be more careful in the future—there's a fine but important line between speaking frankly about gender and being ignorant and intolerant.
Keep reading...
Show less
The internet is in love with Paul Rudd.
That fact is beyond dispute.
He can do no wrong ever since coming on the scene in 1995's Clueless.
So when footage emerged of the now 50 year-old Ant-Man actor drunk and swaying to the music at a club, people couldn't help but express their admiration.
It seems Rudd has been partying ever since his beloved Chiefs won the Super Bowl.
No one parties like Paul Rudd.
Some were worried about Paul, their one and only.
But most Twitter users just loved Rudd for his little dance.
More and more clips emerged as Rudd's night went on.
Many wished they were there, partying hard with the Rudd man.
Paul Rudd is demonstrating all of our future goals.
Keep partying hard, Paul.
Keep reading...
Show less