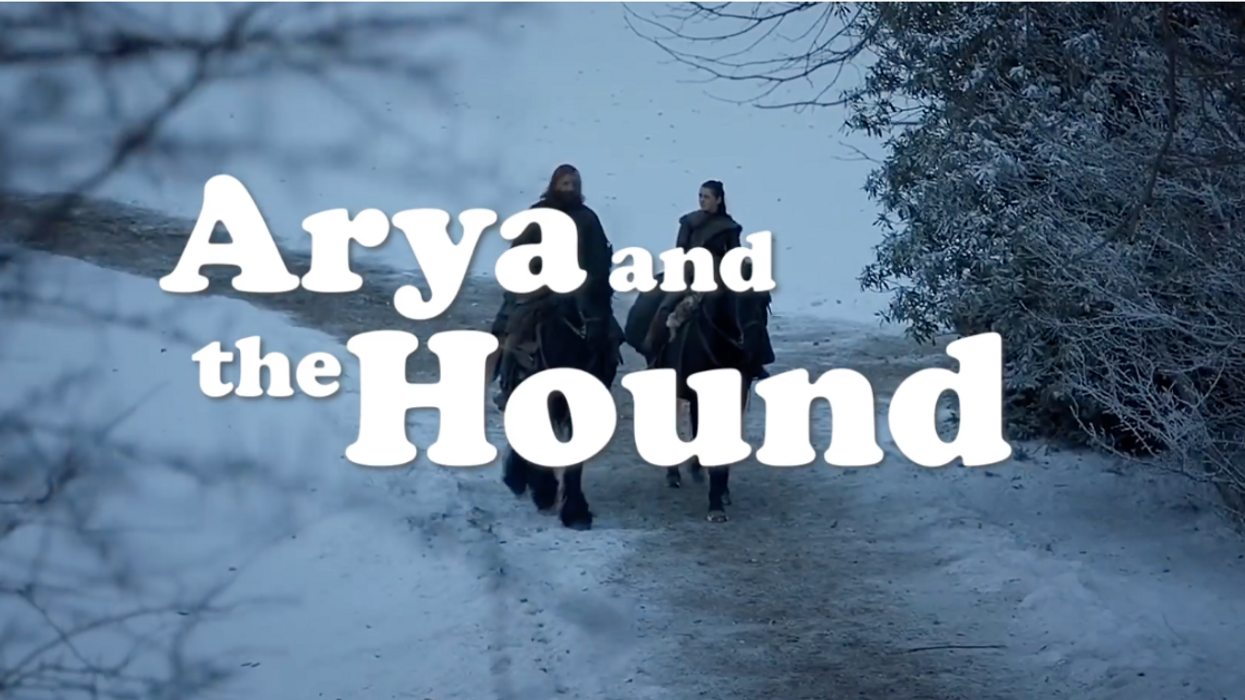 If you're trying to avoid SPOILERS for the eighth and final season of HBO's Game of Thrones, then we advise you to hit your browser's "back" ASAP.

---
In "The Last of the Starks," the most recent episode of the hit series, Arya Stark and Sandor "The Hound" Clegane began their journey down the Kingsroad.

Their destination?
King's Landing, where The Hound is likely to take on his zombified brother and Arya just might attempt to take down Cersei Lannister. Whether they'll survive is anyone's guess.
But seeing these two embark on another journey hearkens back to earlier seasons, when they traveled together and killed people together... you know, how friends do.
It's the buddy comedy we need!
Thanks to a new fan trailer from Lance Krall, we have an idea how a show like Arya and The Hound would look. Set to the tune of Jim Croce's "I Got A Name," the trailer shows Arya's charming evolution from the moment The Hound teaches Arya how to kill someone to the moment she kills someone herself.
Awww!
You can watch the trailer for Arya and The Hound below.

It's not like there isn't a market for this sort of thing...
So spin off series about the adventures of Arya and the hound? #GoT #GameOfThrones https://t.co/ao9ANskzYd

— Chelsea Skinner (@Chelsea Skinner) 1557111551.0
"Arya and the Hound" sounds like the name of a badass buddy-cop show set in the Game of Thrones universe. Hey HBO,… https://t.co/ouKkk0Gunx

— Tzvi M (@Tzvi M) 1557111076.0
Eh, I just want a Game Of Thrones spinoff where the Hound and Arya solve crimes together and kill people.

— Esoteric Jeff (@Esoteric Jeff) 1557109370.0
...and Game of Thrones fans are eating up this trailer already.

Facebook

Facebook

Facebook

Facebook

Facebook
Something tells us these two would fit just fine in other film universes, swords, armor and all. Doesn't it look like they're on their way to take down The Hateful Eight?
Quentin Tarantino, eat your heart out.