A truly stressful job can destroy your self-esteem and confidence. It's been said that people don't necessarily leave jobs, they leave management.
Indeed, bad management can leave you feeling unmoored and unsupported.
There has been a wider conversation about hostile work environments over the last couple of years now that the COVID-19 pandemic has afforded many people the opportunity to switch careers and/or call it quits with their awful jobs.
No job is worth your mental and physical health.
People shared their stories with us after Redditor yourmaeve asked the online community,
"Redditors who changed careers from a high paying but stressful job to a lower paying but low stress job, was it worth it, why or why not?"
"My wife and I sold the house..."
"I didn't make the switch until I was 50. Something about turning 50 sparked a change in me. I previously had high blood pressure issues and I was having stress related fights with the people I love. I started to hate myself. Something had to change."
"My wife and I sold the house in the city and moved up to the high country. I took a low-paying job with a small startup company. I wanted to make a difference (and not just make an income)."
"EVERYTHING about my life got better almost instantly. Do I miss the money? Sometimes, but not often actually. The quality of life is way more important for us. We often comment/joke about how we still feel like were on a vacation."
PitBullFan
Congrats on the change! It sounds like you guys are much happier and healthier to boot.
"The check is smaller..."
"Yep. The check is smaller, but comparable to what I would have lost in a divorce in a couple years."
"About a 45% pay cut, but my "real" labor hours dropped from like 65 and permanent on-call status to about 35 hrs or so and after 4pm, I CANNOT BE CONTACTED... worth it. I'm genuinely happier, healthier, and family life is now GREAT instead of slowly decaying."
Greed-oh
Congratulations on saving your marriage and family.
"I left after 30 years..."
"Had an IT job. On call 24x7x365 - never knew what situation would come up. Phone would ring and it would make my blood pressure rise. I left after 30 years as they made me part owner, but God that was stressful."
bulletmissile
Glad you got out! 30 years is a hell of a long time.
"Although what's interesting..."
"100%. Although what's interesting is once I didn't hate my job I did a much better job advancing and now I make about what I did back then."
[deleted]
It makes sense though that you would naturally just do a better job if you aren't hating your life.
"I'd rather be broke..."
"Yes. I'd rather be broke than suicidal."
NeverPostAnything69
Amen to that. Glad you're still here with us.
"It has come with some sacrifices..."
"Yes. It has come with some sacrifices, like I can't do the lavish vacations or buy the super fancy cars that all my neighbors do/have, but I also get to be at home every night and weekend. I learned through a stretch of rapid ascent up the corporate ladder that I don't care about that kind of ambition and got super burned out. I'm finally healing."
deepbluesteve
Healing is necessary. It's great that you've found what's important to you.
"Money is temporary..."
"Most definitely it was. Money is temporary but the peace of mind and much better family life are everything to me."
lizzpop2003
Peace of mind? A better family life? It sounds like you won the lottery. Well done!
"I used to rake in paychecks..."
"Yes. Yes. Yes."
"I took a 25% base pay-cut 4 years ago to escape a terrible situation at a terrible company. My new job was salaried, no overtime pay but also no real expectation of overtime. No regrets."
"I used to rake in paychecks that started with a $5xxx, net, with overtime but the negative effects on my health made it pointless. If you're working crazy overtime for too long, you're going to wind up in the hospital, especially if it's a high-stress job in a hostile work environment."
"I gave up the overtime, the title, and the base pay for a far better job elsewhere. To be honest, I haven't really even noticed a difference financially since I have far fewer medical expenses nowadays."
sump_ersen
You have your health! That's huge. Kudos for escaping such a toxic work environment.
"I didn't really change companies..."
"I didn't really change companies but I had my middle management position eliminated (60+ hour weeks, stress) but was assigned to another position with about a $20k decrease. But it was 35 hour weeks, low stress, less meetings and when the day was over I was done: no after hour calls, no late nights."
"It was awesome and I ended up being glad I didn't leave for another company and another management position. I have since moved on but i wouldn't go back to a stress filled life."
[deleted]
That's great you were able to stay in the same company but find something right for you. I feel like a lot of people have to completely change their field to something different in order to find what works for them.
"Have since moved up..."
"I used to be a healthcare administrator for private practices. High stress, but pretty good pay. Got into IT at the very bottom. Low stress, low pay."
"Have since moved up and my pay has returned to previous levels. Some stressful days, however my worst day now is like an average day in my previous job. Most days are just fine and the good days are very good."
"I'm not high profile anymore and I don't have to wear a tie anymore. It has been worth the pain of losing 70% of my salary for several years. I sleep better and don't dread going to work everyday."
lordrel
Sleeping better is the goal! Well done.
No job is worth sacrificing your health. Remember that the next time you feel like you're going to lose it and your management team isn't being supportive. You absolutely deserve better.
Have some stories of your own? Tell us more in the comments below!
If you or someone you know is struggling, you can contact the National Suicide Prevention Lifeline at 1-800-273-TALK (8255).
To find help outside the United States, the International Association for Suicide Prevention has resources available at https://www.iasp.info/resources/Crisis_Centres/
Your home should be sanctuary, which is to say that we hope that nothing bad ever happens once we move in. Unfortunately, life doesn't always work out that way, and sometimes things happen that unnerve the hell out of us.
Is there anything more creepy than being alone at home... only to get the feeling that you're not alone at all? What if you were being watched?! It's the stuff of nightmares, isn't it? And I haven't even touched on the possibility of paranormal activity yet...
People shared their stories with us after Redditor Savings_Actuator asked the online community,
"What is the creepiest thing you've ever experienced in your home?"
"At that point..."
"An intense thunder-and-lightning storm developed. During a loud clap of thunder and brilliant lightning flash (it illuminated the entire 2-story house), I heard a spooky sound simultaneous with the thunder."
"Seems that one of the chains that holds the heavy weights on the "grandfather" clock in the foyer broke, allowing the weight to whack the dong and bang the pendulum as it crashed into the bottom of the clock case."
"At that point, I was convinced that something evil was lurking in the house. So, I stayed in my room - cowering with the door locked - until my parents finally returned home."
Back2Bach
"Whack the dong" adds some much needed humor to this story.
"One time..."
"One time I was in my room trying to go to sleep when my closed laptop randomly blasted screams of what sounded like a woman in pain. I still have NO IDEA how that happened, but it scared the sh*t out of me."
caitycha
Nooope.
Move. Your house is haunted.
"I was at home alone..."
"I was at home alone with my dogs and one of them wouldn't stop barking. She had a shrill piercing bark. Suddenly a man's voice yells 'SHUT UP.' I was on the phone with my mom at the time and she asked 'who's there with you?' I said no one I don't know what that was."
"She told me to gtfo immediately. I didn't, I figure the only person who died while living in the house was my grandpa and I can't blame his ghost. That dog was being super annoying."
jellyshoomarm
Truly an experience a person would never forget.
"When I was about 10..."
"When I was about 10 I was lying in my bed when a pair of hands came up from behind my headboard and started choking me. I remember trying to move or scream but I was completely paralyzed and silent. Then all of a sudden I 'woke up' but I was sitting bolt upright in my bed. Had no idea what sleep paralysis was at the time so it's safe to say it scared the absolute sh*t out of me!"
W33DG0D42069

The brain can play tricks on us, that's for sure!
"I was at my mother's house..."
"I was at my mother's house and the doorbell rang. A young kid (around 8 years old) was at the door. I was opening the door and my brother was behind me being curious who it was, the kid froze up like he wasn't expecting me and my brother there and there were two men (in their mid to late 20s) hiding on each side of the door."
"They booked it immediately after we opened the door. Luckily my brother and I were there to open the door instead of my mom. I figured they wanted to rob her. I moved back in after that."
Lmah2x
Yikes. I almost don't want to know where this was. I'll steer clear.
"My husband..."
"My husband is a sleepwalker/talker and he has a recurring dream that there is a portal to another dimension in the corner of our bedroom. He will wake me up saying "look it's right there!" all the while being asleep. While I believe 100% there is no portal it's still creepy."
Tuesdayallweek
Plot twist: There is a portal and you're in for a treat come your next anniversary.
"My brother and I were home from school..."

"My brother and I were home from school because we were sick. We had a craftroom in the mostly unfinished basement and we were down there playing with miniatures. Around noon we heard, VERY CLEARLY, the front door unlock, open, close, and someone walk in shoes across the foyer tile to the kitchen and turn on the sink."
"They then turned off the sink and went up the stairs to the second floor. I figured it was my step dad and called my mum to let her know he came home for lunch."
"She had just got off the phone with my step dad and he was in his office at work. She called him back and he came ripping home while we hid in the basement. Although we never heard the person come back down the stairs we didn't find anyone in the house."
JamesonZane
It definitely wasn't your stepfather, sorry to disappoint you, kiddo.
"Someone started..."
"Someone started trying to force the door of my small garage apartment open, while I was laying in bed inches from the door, at around 2 am."
RainWindowCoffee
More proof that no one should be living in a garage, just saying.
"Being woken up..."
"Being woken up by my daughter whispering "mom" and then hearing her footsteps softly on the carpet as she walked away from my bed. She was not at home at the time, she was at her dad's."
[deleted]
She wanted a glass of water and astral protected herself to you.
"I'm pretty sure..."
"My sister, our friend and I had just moved into an apartment and one morning found a knife stuck in our door. I'm pretty sure now that it was the woman who lived below us cause it turned out she was a total nutcase, but we had only been living there a few days at that point so it was pretty creepy."
stephers85
Ummm... no thank you. Nothing worse than learning that you have a crazy neighbor!
Think again before you choose to stay home alone again! This piece is definitely an advertisement for communal living.
Have some stories of your own? Tell us more in the comments below!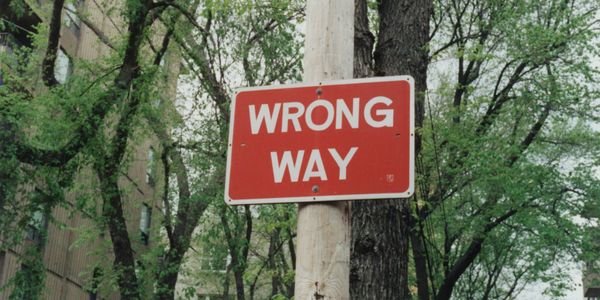 It can be very embarrassing when you pronounce words wrong. Let's face it, the English language is super complicated, especially if you're learning it for the first time. You can't always trust yourself to pronounce things phonetically either because of all the different rules!
Recently, a relative pronounced the word "epitome" like "epi-tome." They were embarrassed when I corrected them. I told them that it wasn't a big deal, though they did note that they love that word, have used it for a long time, and that no one corrected them until that moment...
Ouch.
People told their stories after Redditor adeptwarrior asked the online community,
"What's an 'oh sh*t' moment where you realised you've been doing something the wrong way for years?"
"When I was five..."
"When I was five a Pizza Hut employee told me that the powder on the breadsticks was called fairy dust. Ordered extra fairy dust on my breadsticks until I was around 14 when an employee said 'do you mean garlic salt?' It still devastates me to realize how obtuse I was."
HolyCulture1983
Believe it or not, Pizza Hut does refer to the mixture—made of of italian seasoning oregano, basil, garlic, marjoram, and parmesan—as fairy dust.
"When he caught me..."
"It wasn't very long, but when I was learning to drive my dad was explaining the rule of thumb regarding a safe distance to be behind the car in front of you. I thought it meant to hold your thumb up and if your thumb didn't cover the entire car you were too close to it."
"When he caught me doing that he asked me what I was doing. When I explained he burst out laughing, then considered it, and concluded it wasn't a bad idea but perhaps a bit distracting."
lukelnk
Also every other driver thinks youre a super friendly guy or a bit passive agressive.
"We got it delivered..."
"We bought a nice liquor cabinet. We got it delivered and noticed it was a bit shorter than we thought. No biggie. Three years later, we're moving. Lift up cabinet and these beautiful, ornate, screw on legs wrapped in tape and bubble wrap fall off the bottom. Looks so much better now!"
ethanbubblegumtate
This is cute—it's like you discovered an entirely brand new piece of furniture!
"When he mentioned..."
"Until last week, when my father in law would made a phone call on his very basic non-touch-screen flip phone he would open the menu, scroll to the phone icon, open it, hit the soft key for contacts, scroll to the person he wanted to call, press ok, then press the soft key to call."
"When he mentioned how he preferred his landline because he could just dial the number, I said "Humour me. Just dial the number and hit the talk button." I've never seen a man so simultaneously grateful and embarrassed."
ThievingRock
Aww, this is sweet. It's important to help older folks feel up to speed with technology. He was definitely more grateful than embarrassed.
"Since the dawn of time..."
"Since the dawn of time, I would pick up the silverware and utensils out of their tray in the dishwasher and put them away in their drawers then go back and pick up more out of the dishwasher. Then one day I saw my wife lift the tray out of the dishwasher and I legit stood there with my mouth open."
PetesBrotherPaul
I did not ask to be attacked like this. Leave me alone!
"I always thought..."
"I always thought eggplant tasted "itchy" like itchy was a flavor, like sour or salty. Fed some to my baby and his face turned red wherever the eggplant touched, and I realized we're both just allergic to eggplant. And itchy isn't a flavor."
[deleted]
This is rather sweet but glad to hear that neither you nor your baby had a more serious reaction!
"Apparently the red ring around the bologna is not supposed to be eaten."
A_Wild_Taka_Appears
Tell that to just about everyone I grew up with.
"My mom..."
"My mom has been pronouncing Massachusetts "Massa Two Sh*ts" for years and no one corrected her because they thought she just had strong feelings about Massachusetts."
18tedwards
I mean, have you heard of "Massholes"? They're a thing.
"Well the name I recorded..."
"Well... This was a few years ago. I was the director of IT for a very large company. I was given a new cellphone and told to setup my voicemail. I don't know that when I recorded my name it would be played to whomever I leave a voice mail for."
"Well the name I recorded was, "Dooder84 Corporate IT Godddd!!!"
I worked there for 4 years until someone in the hallway referred to me as the "corporate IT GoD!" I was so embarrassed."
dooder84
Wear it confidently because this type of stuff makes people like you more. They don't feel the need to be fake around you.
"My mom used to..."
"My mom used to refer to me as a "bull in a china shop." Always heard it as "bowl in a china shop." Thinking it was a compliment. At about 22 I hear someone else use the phrase and realized she meant "bull," not "bowl."
cubedtraffic1
Aww, there goes your mom telling you how dainty and priceless you are again!
Don't be too embarrassed. We all fumble, it's what makes us human. Laugh at yourself because chances are that no one else cares as much as you do.
Have some stories of your own? Tell us more in the comments below!
I definitely don't endorse gossiping. Do it all you want, just keep me out of it. Like many people though, while I definitely don't like being involved in drama, I get a vicarious thrill from hearing about it. Hearing juicy gossip is like watching an actual soap opera unfold in your own town. It's truly something.
It turns out that people are sitting on all sorts of secrets.
We heard some of them after Redditor jonhart989 asked the online community,
"What's some juicy gossip you just found out in your personal lives?"
"One student a few years back..."
"I teach kindergarten! One student a few years back was acting off, super hyper and behaving in ways she never had. When asked if she had taken her peanut butter at home (code for her ADHD medicine, as it was administered in a spoonful of peanut butter), she told us that her mom sold all of her peanut butter to some guy in their trailer park named Steve."
[deleted]
Oh dear. This tells you a lot about the environment that young girl lives in.
"I've heard so many stories."
"Hairdresser here, I've heard so many stories. People truly tell their personal business to their hairdressers as if we're therapists."
"Had a client, sweet middle aged woman, she brought up Scientology. Having heard and watched that show about it I went in about it. "Oh they're absolutely crazy, blah blah blah..." And, she blurts out that her son is a Scientologist."
"I wanted to sink into the floor, then had to backtrack and, agree about all of these "nice" things that they do and how, yeah, you're right, DEFINITELY not a cult. Yikes."
glizzygobbler0707
It's totally a cult.
Shame she doesn't see it.
"A local CEO..."
"A local CEO of a telecom company secretly disappears every winter for two weeks. He doesn't tell anyone where he goes. He's married and has children. One of my department's paramedics is gay and goes on gay cruises in the Caribbean. He spotted the CEO on one of the cruises during one of his disappearances."
markko79
That Atlantis Cruise sure wakes up people's inner desires, doesn't it?
"The mayor's wife..."
"The mayor's wife cheated on him with a member of the town council and then they got into a fist fight during a council meeting."
[deleted]
This is definitely juicy! Well, the whole town definitely found out what was up after that!
"My friend..."
"My friend just dropped out of university to become an escort. He's happier, apparently."
daveofreckoning
Hey, if they are, more power to them!
Sex work is real work.
"My parents aren't going to lend out anymore..."
"That my brother asked my mom for a $1000 for rent, she gave him $1400 so he could also pay back a loan. Then he turned around and also asked my dad for $1000 for rent which he also gave him. He then turned around and used the money to buy tickets to Burning Man."
"My parents aren't going to lend out anymore money without talking to each other first."
hammerkat605
I find it odd that a spouse wouldn't bring up that they'd lent money to someone...
"I just found out..."
"I just found out my neighbour has been having an affair with another one of my neighbours and the kids figured it out."
yung_neill
Nancy Drew and the Oh No Our Parents Are Banging.
Awkward.
"My ex..."
"My ex after one week of being single started dating this SoundCloud rapper and now she's pregnant with twins. We're still in our teens."
exKlus
But do his songs slap, tho?
Seriously, though, this is a wild ride.
"My dad is having an affair..."
"My dad is having an affair. Just found out 30 mins ago. Mom is devastated although I had my suspicions. They've been married for 46 years. Dad is 73."
rayrayrayray
This is so heartbreaking, especially after such a long marriage.
"That my uncle..."
"That my uncle left my auntie for the phone sex line worker he was calling for the last three years."
TortoroMei
This is somehow so existentially sad...
There's no doubt that if you prick up your ears, you'll hear something juicy. Just don't gossip yourself. It definitely won't end well.
It's hard out there if you're trying to date.
Tinder, Bumble, Hinge... none of these things have helped people connect as much as they'd like to—and countless people have shared that swiping, swiping, swiping on these apps has been detrimental to their mental health—though there are of course many success stories.
Since dating is so hard, it stands to reason that people would want to poke fun at it. We laugh so we don't cry, as people shared with us after Redditor DOMINOES asked the online community,
"What is the best way to respond to 'Is this a date?'?"
"I once said..."
"I once said 'it's a business proposal.' We didn't date for long."
ok_koreal
Hopefully her sense of humor at least jived with yours.
"Yes, Laura..."
"Yes Laura, we've been married for 1.5 years, it's safe to say we're dating."
Heyson86
To quote Casually Explained, "Yeah you really can't be too sure, it might be dark in the room and she can't see you properly, maybe she's from Canada and just being polite."
"One minute..."
""One minute, I have to ask Reddit what they think."
EitherFunny9570
10/10 reply.
But the answer is always "divorce."
"No..."
"No, this is a robbery," then proceed to rob."
wrightausername
"No, this is Patrick!"
The only way to respond to that.
"I don't know."
"I don't know. Let me check the ISO 8601 documentaton."
hedrone1
This is a next-level reference. Well done.
"Do you want..."
"Do you want it to be one?"
quiadetvincent
The obvious answer. Be sure that your answer is, "Okay, it's a date" if the other person wants it to be one.
Otherwise, just say no.
"Always..."
"Always answer an uncomfortable question with an equal or more uncomfortable question."
[deleted]
This sounds like the beginnings of a war.
I'm here for it.
"Everything's..."
"Everything's a date. That's how calendars work."
Shadowcat1606
Oh, dear. You're a total smart-aleck, aren't you?
"I think..."
"I think it's a prune, actually."
Aurelianshitelist
"I actually..."
"I actually had this happen once. I said, "Why, yes it is." Anyways, we've been married 5 years now."
sweetteaj
Now this is the happy ending we like to read about! Your boldness paid off.
If you're having trouble putting yourself out there, perhaps some humor could break the ice. And if it's all imploding, you have nothing to lose by pulling any of these snarky responses out of your back pocket.
Have some suggestions of your own? Feel free to tell us more in the comments below!