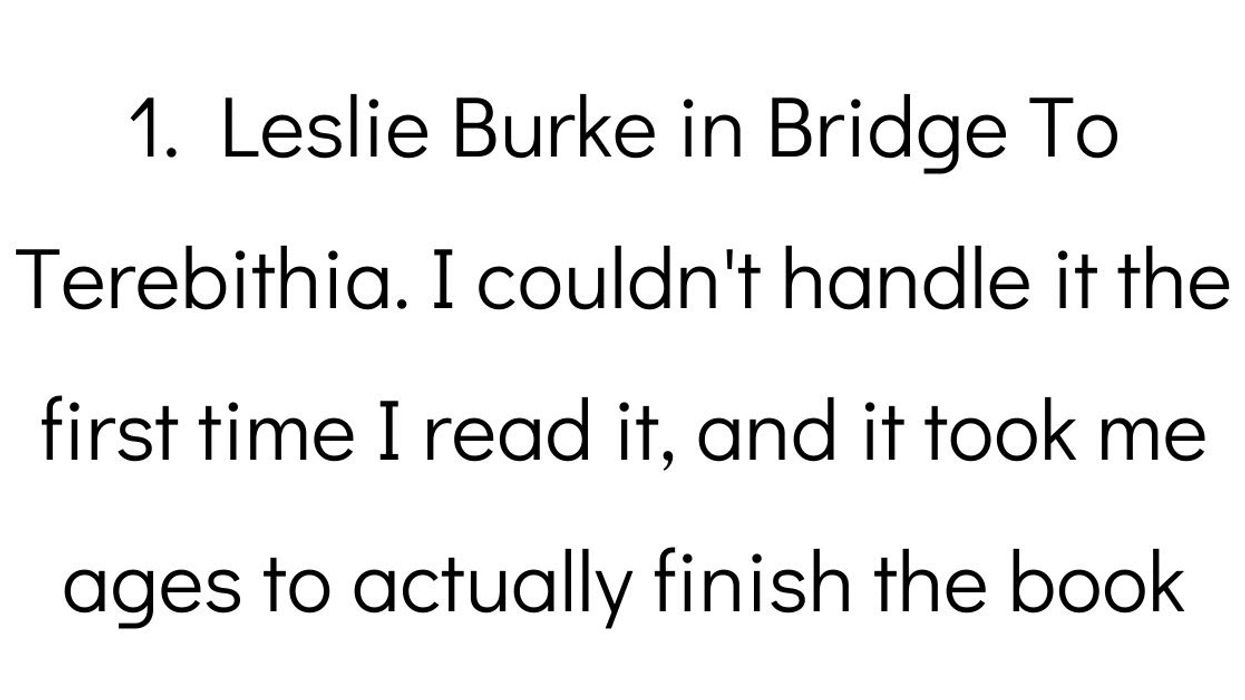 Warning: This article contains character death spoilers for books, films, and television shows.

We're all victims of good writing; characters so developed and thought out that we become invested in their fictional lives. It doesn't matter if we know them for the length of a novel or for a couple of hours of a movie or show. Nor does it matter that we'll never meet them outside of our imaginations. A well written character can be as dear to our hearts as a living being can be.
But then, some creators like to rip our new found friends away from us. With just a moment on the screen or the turn of the page, creators crush fans' hearts by killing off beloved characters all of the time.
Redditor u/BeansAreNotCorn opened up some old wounds when they asked... "Which fictional character's death hit you the hardest?"
**spoilers ahead**
Keep reading...
Show less
Game of Thrones racked up a record-breaking 32 Emmy nominations for its eighth and final season when they were announced on Monday.
But fans of the smash hit fantasy series were shocked that actress Gwendoline Christie, who finally scored her first nomination for best supporting actress in a drama series for her role as Brienne of Tarth, actually had to submit herself for consideration when HBO declined.
Christie shared the news on Instagram.
Writer Julie DiCaro pointed this bizarre factoid out in a now-viral tweet.
HBO didn't submit Gwendoline Christie for an Emmy so she submitted herself and got a nomination. Be your own biggest cheerleader.

— Julie DiCaro (@Julie DiCaro) 1563372846.0
It certainly makes Christie's nomination all the more impressive.
@JulieDiCaro https://t.co/dE7ogjE0vv

— E Kaminetz (@E Kaminetz) 1563374320.0
@JulieDiCaro @cmclymer So that's what she was writing... https://t.co/vl0lOa1h08

— Charles Song (@Charles Song) 1563375237.0
@JulieDiCaro @leebee4life And Gwen deserved that nomination too!

— J. C. (@J. C.) 1563374511.0
gwendoline christie deserves this emmy nomination so much, she was definitely one of the outstanding actors in game… https://t.co/96ry3uISG9

— ben (@ben) 1563293598.0
People were pretty peeved that HBO left Christie to fend for herself, though.
@JulieDiCaro @saloni_g Wait really? HBO what is wrong with you https://t.co/HGztYepIOX

— Linda Maleh (@Linda Maleh) 1563379432.0

@Becca_L_M/Twitter
@JulieDiCaro But let's not lose sight of the fact that @HBO sucks for not nominating her!

— President Kamala's Hand (@President Kamala's Hand) 1563380764.0
@DearDean22 @JulieDiCaro @HBO I'll be mad at them later. First we celebrate. https://t.co/4umWMM68LN

— David Sorenson (@David Sorenson) 1563398640.0
Other fans were quick to point out that Christie wasn't the only Game of Thrones actor who had to self-submit to be considered.
Alfie Allen and Carice van Houten, who play Theon Greyjoy and Melisandre, respectively, also submitted themselves for Emmy consideration, with Allen scoring a nod for best supporting actor in a drama series and van Houten grabbing a guest actress in a drama series nomination.
@leetokeen Via Entertainment Weekly: https://t.co/MLc2r95LCe

— Julie DiCaro (@Julie DiCaro) 1563401451.0
All three of the first-time nominations came as somewhat of a shock to fans and now we know why.
@JulieDiCaro @leetokeen Do all actors & actresses know they can self submit? Interesting. Good on them!!!

— loves Chicago (@loves Chicago) 1563451092.0
Of course, not all actors have to submit themselves.
HBO did, in fact, submit Kit Harington, Peter Dinklage, Lena Headey, Nikolaj Coster-Waldau, Emilia Clarke, Sophie Turner and Maisie Williams in various acting categories, all of whom scored nominations.
But, as one person pointed out, it is most likely about the odds.
The more actors you submit, the more internal competition they end up facing.
@mconnormurphy @JulieDiCaro @ljmaleh @saloni_g @HBO They don't nominate every actor bc then the actor they want to… https://t.co/AdDDVqWRvB

— Leah (@Leah) 1563467201.0
Which makes it even more impressive that three additional Game of Thrones actors were able to break through with nominations of their own after paying the $225 submission fee.
So let that be a lesson for all of us: If you think you deserve to be considered for something, then just take steps on your own to get there if you can.
You might be pleasantly surprised by the outcome.
@JulieDiCaro https://t.co/OIPRp9ncNE

— Jason Matthews (@Jason Matthews) 1563387529.0
Because as Bigfoot knows, believe in yourself, even if no one else does, shirt available here.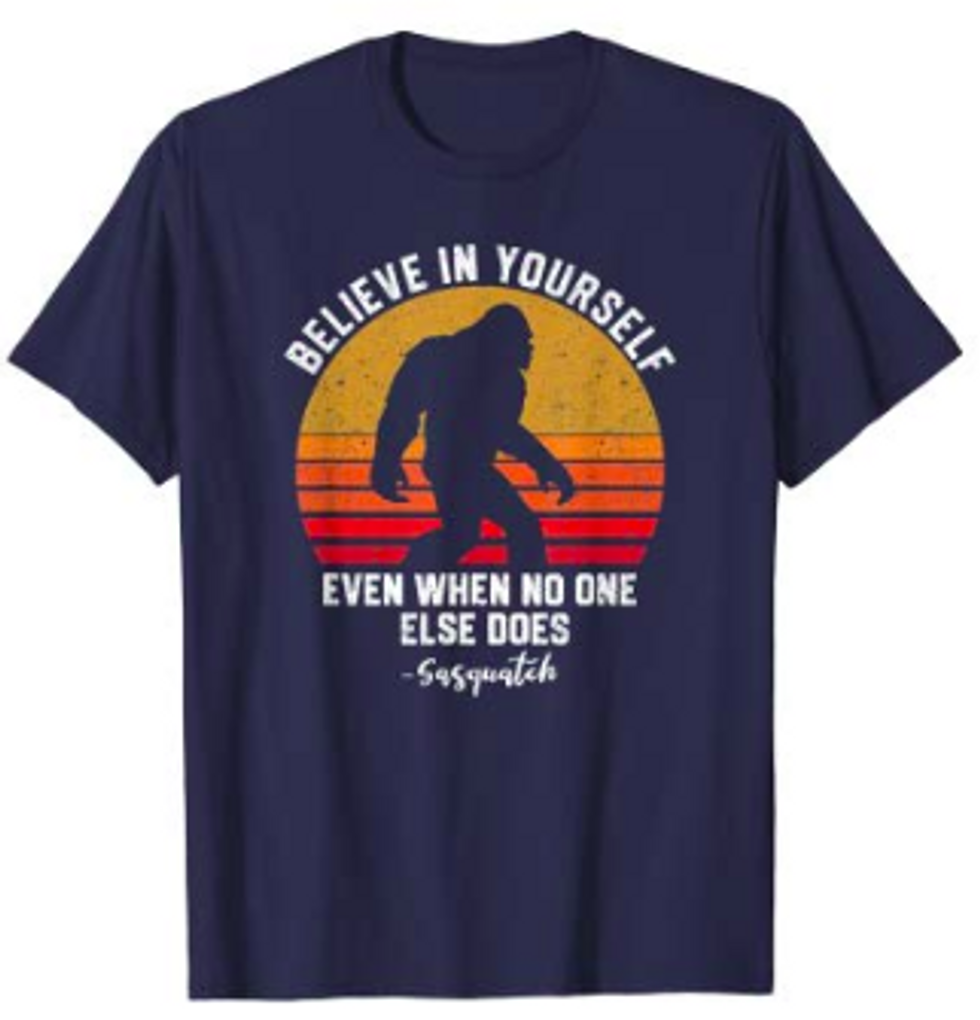 Amazon
Keep reading...
Show less
*Warning: Game of Thrones spoilers ahead!*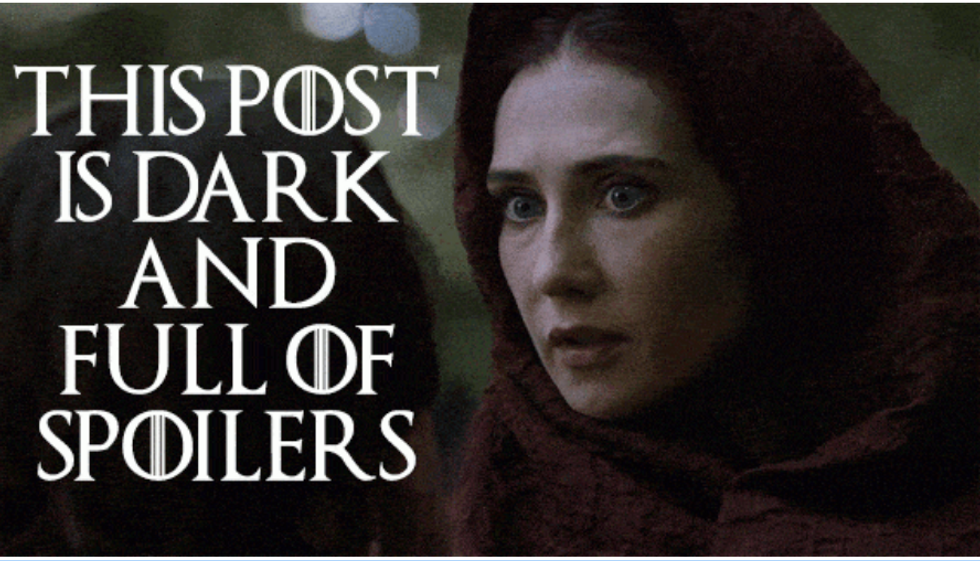 HBO
The final episode of Game of Thrones revealed many endings people were not expecting.
After years of wondering who would finally end up sitting on the Iron Throne, perhaps the biggest twist fans had to deal with was the news that Bran Stark, the three-eyed raven who previously turned down any Lord duties in favor of warging out in the garden by himself, would be the King of the newly formed SIX Kingdoms.
Bran's ascendance to the throne took everyone by surprise...well, ALMOST everyone.
It turns out Gwendoline Christie (who played Brienne of Tarth) has seen this ending coming for a very long time.
Extra released a video showing her laying out the idea of Bran as king in an interview years ago:
Christie couldn't help but brag a bit on Twitter.
Fans wondered whether the actress had some sort of prophetic power...
Many disappointed fans have been on the side of Nikolaj, who said Gwendoline's ending "made no sense."
Of course, there must have been egg on his face when Christie was finally proven right.
Right now is a pretty good time to be Gwendoline Christie.
There were some fans who thought the ending was exactly what it should have been!
Others couldn't help but poke a few holes in how things turned out...
A huge congratulations to Gwendoline Christie: if there was an Iron Throne in the real world, you'd be the three-eyed raven who gets to sit on it in the end.
If Christie appears in any other TV shows in the near future, fans better pay attention to her predictions.
Keep reading...
Show less
Now that Game of Thrones is a closed chapter, cast members are free from their bonds of secrecy and revealing behind-the-scenes footage from the production.
Gone are the anxieties from leaking any spoilers.

Let the candid photos with Starbucks cups and water bottles flow freely.
Emilia Clarke, who portrayed Daenerys Targaryen, posted a cast photo and signed off from the show as if writing in a yearbook without wishing everyone a "rad summer."
"Finding the words to write this post has left me overwhelmed with how much I want to say but how small words feel in comparison to what this show and Dany have meant to me."
She added:
"The mother of dragons chapter has taken up the whole of my adult life. This woman has taken up the whole of my heart."
Gwendoline Christie, who played Brienne of Tarth, expressed her gratitude in all caps.
"THANK YOU. There is no other way to start this. @gameofthrones has changed my life beyond anything I could have comprehended. Playing Brienne of Tarth has redefined the way I look at the world, women and particularly myself."
She is seen in the photo giving one of the show's ADs a fond farewell.

"This photograph was taken on my very last day saying goodbye to my friend Ciaran, he worked on the show from the beginning as an AD and was the first person I met on 'Game of Thrones' - he treated me with respect, kindness and great humour every single day."
But one on-set photo taken in between takes really outshines them all.
Sophie Turner, who played Sansa Stark, didn't have much to say in her post, except:
"The pack survived."
That's all she needed to say, because the photo says it all.
Sansa is pictured vaping with Arya (Maisie Williams) being too cool for school and with Bran (Isaac Hempstead Wright) grinning and...baring his legs.
This is rich.

With one brilliant snapshot, it seemed much of the angst about the finale was forgotten.

@sophiet/Instagram

@sophiet/Instagram

@sophiet/Instagram

@sophiet/Instagram
Those legs, though.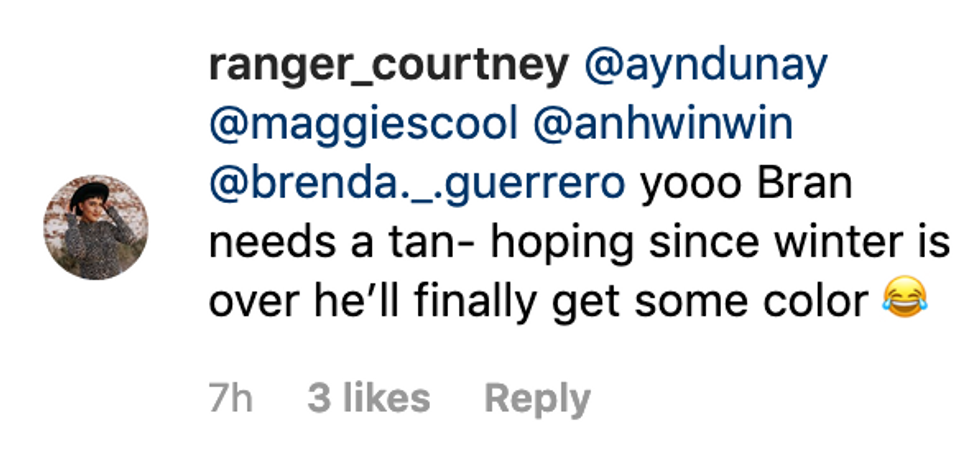 @sophiet/Instagram

@sophiet/Instagram
Final thoughts.


@sophiet/Instagram
We stan with those shades.


@sophiet/Instagram
Turner did post a heartfelt goodbye for her alter ego, Sansa, with whom she grew up.

"Sansa, Thank you for teaching me resilience, bravery and what true strength really is. Thank you teaching me to be kind and patient and to lead with love. I grew up with you. I fell in love with you at 13 and now 10 years on.. at 23 I leave you behind, but I will never leave behind what you've taught me."
The actress, newly married to Joe Jonas at an impromptu Vegas wedding that did not end in blooshed, also shared her takeaways from being a part of the GoT phenomenon.
"To the show and the incredible people who make it, thank you for giving me the best life and drama lessons I could have ever asked for. Without you I wouldn't be the person I am today. Thank you for giving me this chance all those years ago."
She showed her fans some love.

"And finally to the fans. Thank you for falling in love with these characters and supporting this show right through till the end. I'll miss this more than anything."
Whatever your thoughts on the series finale, this is the end of an era. Game of Thrones will forever reign as a defining icon in the annals of pop culture.
Keep reading...
Show less
Warning: This article contains spoilers for those who haven't watched the "Game of Thrones" series finale.

Winter came and Game of Thrones finished its run in a season that captivated audiences as fans waited to see how everything was going to play out.
But when the finale episode aired on Sunday, fans were divided over the fantasy drama series' shocking ending.
You can't please everybody. But actor Jason Alexander knows a thing or two about capping off a series and its repercussions with devoted audiences.
Alexander, who played George Costanza in the sitcom, Seinfeld (1989–1998), reminded the GoT cast about gratitude.
"Dear #GOT company, I know a little something about finales and disappointed fans. My advice: live in joy that you are part of something that moves people so. You were all magnificent. My family and I loved it all. Thanks."
Dear #GOT company, I know a little something about finales and disappointed fans. My advice: live in joy that you a… https://t.co/OfbHEwRgGw

— jason alexander (@jason alexander) 1558361571.0
Seinfeld fans were quick to tell the actor how much they enjoyed his show's finale, which at the time was the fourth most watched regular series finale in the history of U.S. television behind M*A*S*H, Cheers and The Fugitive, with an estimated estimated at 76.3 million viewers.
@IJasonAlexander The final Seinfeld was brilliant.

— Big Fan (@Big Fan) 1558361637.0
@IJasonAlexander the Seinfeld finale was perfect

— Tony Snyder (@Tony Snyder) 1558361650.0
@IJasonAlexander I loved the Seinfeld finale, more rewatches the more funny and thoughtful it is. and the button co… https://t.co/2YogY98t3B

— Prowns (@Prowns) 1558361683.0
Fans and critics were very divided about how GoT concluded. Lucy Mangan from The Guardian wrote:
"There's no doubt this season has been a rushed business."
Over a million disappointed viewers signed a petition calling for the eighth season to be remade with "competent writers."

One Twitter user mentioned that fan reactions are a good indicator of a show's popularity.
@IJasonAlexander People cared enough to get upset. That's a partial win at the very least.

— Fade Dragontear (@Fade Dragontear) 1558361673.0
Even the Seinfeld finale wasn't entirely a home run.
@IJasonAlexander I initially didn't "Get" the Seinfeld finale. But when I realized that the joke was, "The protagon… https://t.co/YreH3EvaeU

— Justin 🎸 Reeves (@Justin 🎸 Reeves) 1558365902.0
@IJasonAlexander When a show is as beloved as Seinfeld, I think fans are mad it's ending and were going to be disap… https://t.co/1yhJOEWafR

— sarah taylor agate (@sarah taylor agate) 1558362485.0
@IJasonAlexander I hated the Seinfeld finale at the time. But now I appreciate it and think it was a good way to go… https://t.co/SADbeZycyG

— GirlInterrupted (@GirlInterrupted) 1558365673.0
May the GoT cast recover from the despair of mixed reviews.
@IJasonAlexander Looking forward for the cast of GOT to reunite on Curb Your Enthusiasm for a hilarious arc.

— Ryan Evans (@Ryan Evans) 1558363481.0
You can't please everybody. But for the record there were those who enjoyed both series finales.
@IJasonAlexander It was an excellent finale as was Seinfeld's.

— Busher! (@Busher!) 1558364090.0
@IJasonAlexander It's not all about the ending. The journey is what matters most. Both Seinfeld and GoT were fantas… https://t.co/fuJhTT91Yp

— chris lounsberry (@chris lounsberry) 1558365323.0
Onward and upward. Few shows can polarize a global audience the way GoT has. That's already a huge win, right?
Keep reading...
Show less