Are you ready to spice up your life?
Emma Stone and HAIM have partnered with Omaze to give you what you want (what you really, really want).
---
Emma Stone joined with Alana, Danielle, and Este Haim to perform a remake of the Spice Girls' hit music video, "Stop".
However, this one had a little more to say to audiences.
You can watch their version here.
Emma Stone and HAIM Invite You to Meet the Spice Girls // Omaze youtu.be
Just as they get into the oh-so-catchy chorus, Emma interrupts the ditty for a very important PSA.
"Stop right now. Thank you very much. I need… you guys to hear this idea we had. What if you and a friend came with us to a Spice Girls concert in London?"
Stone and the Haim sisters are partnering with the Omaze charity to invite a lucky winner to attend one of the Spice Girls' concerts on their upcoming reunion tour.
The tour will reunite the original Spice Girls with the exception of Posh Spice, aka Victoria Beckham.
It begins in Manchester on May 29 and will end with three nights in London in mid-June.
Emma Stone and HAIM are all fans of the Spice Girls themselves and are urging fellow fans to donate for their chance to win a seat at the concert's final tour stop with them.
All you have to do is go to Omaze.com/GirlPower.
The winner will not only win VIP seats to the show, but they will get to ride with Emma and HAIM to the concert, they'll sit with the stars, they'll get flown to London and put up in a 4-star hotel and they will get to meet the Spice Girls backstage after the concert.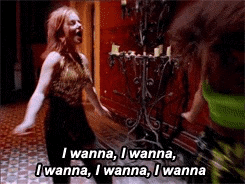 GIPHY
To enter, you have to donate to Omaze, but it's more than worth it as the money goes toward PATH, Child Mind Institute, The Los Angeles LGBT Center, Comic Relief U.K., Girl Up, and Girls' Education via Charities Aid Foundation of America.
People are all about this partnership.
Suddenly I'm an Emma Stone and HAIM stan. https://t.co/F6eft3VjFA

— kareem yasin (@kareem yasin)1548275013.0
I LOVE THIS SO MUCH!! EMMA STONE AND HAIM!! QUEENS!! https://t.co/RPTyExOkl3

— kim (@kim)1548286023.0
emma stone and haim dancing to a spice girls song on a street, that's the thing to live for. https://t.co/WCH2n4YTE4

— alexa (@alexa)1548263912.0
I-CON-IC. 😱😍❤ #EmmaStone #Haim https://t.co/AojI9kquAB

— Darryl Griffiths 🌈🎬 (@Darryl Griffiths 🌈🎬)1548290747.0
deeply concerned that nobody thought to tell me i could win the opportunity to see the spice girls in london with h… https://t.co/JX6U9FEjSB

— Danielle (lover) (@Danielle (lover))1548280498.0
crying cos haim and emma stone are doing a comp to go see the spice girls in london with them and im too broke to e… https://t.co/G1IWf8tjLm

— 𝖊𝖑𝖑𝖆 (@𝖊𝖑𝖑𝖆)1548265305.0
haim, emma stone AND the spice girls?! there'd be no chance in hell i could even pretend to remain chill at this https://t.co/aYoaCiU8RY

— Charlotte Whiteway (@Charlotte Whiteway)1548267503.0
This is the content I'm here for.