Are you ready to spice up your life?
Emma Stone and HAIM have partnered with Omaze to give you what you want (what you really, really want).
Emma Stone joined with Alana, Danielle, and Este Haim to perform a remake of the Spice Girls' hit music video, "Stop".
However, this one had a little more to say to audiences.
You can watch their version here.
Emma Stone and HAIM Invite You to Meet the Spice Girls // Omaze youtu.be
Just as they get into the oh-so-catchy chorus, Emma interrupts the ditty for a very important PSA.
"Stop right now. Thank you very much. I need… you guys to hear this idea we had. What if you and a friend came with us to a Spice Girls concert in London?"
Stone and the Haim sisters are partnering with the Omaze charity to invite a lucky winner to attend one of the Spice Girls' concerts on their upcoming reunion tour.
The tour will reunite the original Spice Girls with the exception of Posh Spice, aka Victoria Beckham.
It begins in Manchester on May 29 and will end with three nights in London in mid-June.
Emma Stone and HAIM are all fans of the Spice Girls themselves and are urging fellow fans to donate for their chance to win a seat at the concert's final tour stop with them.
All you have to do is go to Omaze.com/GirlPower.
The winner will not only win VIP seats to the show, but they will get to ride with Emma and HAIM to the concert, they'll sit with the stars, they'll get flown to London and put up in a 4-star hotel and they will get to meet the Spice Girls backstage after the concert.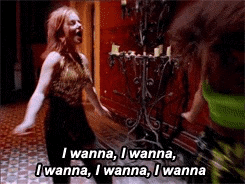 GIPHY
To enter, you have to donate to Omaze, but it's more than worth it as the money goes toward PATH, Child Mind Institute, The Los Angeles LGBT Center, Comic Relief U.K., Girl Up, and Girls' Education via Charities Aid Foundation of America.
People are all about this partnership.
This is the content I'm here for.
Keep reading...
Show less
Experiencing things for the first time is something not enough people really appreciate. When we say "first time" we tend to think about first kisses, first intimate experiences, first heartbreaks... but there are literally zillions of firsts we all have that we just don't take the time to appreciate.
One Reddit user asked people to share the "firsts" they wish they could experience again. Of course some responses were sexual, but you might be shocked at the other stuff that came up! Enjoy some of our favorite responses.
H/T: Reddit
Keep reading...
Show less