Macaulay Culkin is possibly one of the greatest actors that nobody seems willing to acknowledge is great. We all get kind of hung up on his character from Home Alone, and with good reason. Kevin McCallister is an iconic role from a beloved series of films.
---
It's a shame to define Culkin by that role, though. Have you seen his other work? Even as a kid, his role in The Good Son showed that he had the range to be horrifying. If you haven't seen Saved! or Party Monster then you're missing out on some masterful and boundary-pushing work. The actor's mischievous sense of humor always brings him back to Kevin from Home Alone, though, and we love him for it.
Recently, he partnered with Google for an ad that revisits Kevin to see what he's up to as an adult, and it's great!
The spot recreates key moments in the Home Alone film with almost ridiculous faithfulness. BuzzFeed pointed out some of the finer details that set designers worked hard to match as closely as possible, like bathroom decor and wallpaper in the mom's bedroom. Creepy furnace makes a cameo and there's even a nod to everyone's favorite bandits! So what's different this time around?
First of all, Kevin is now almost 40 and throws his back out jumping on the bed. More important, he's got his home hooked up with all the latest Google tech.
It makes his time home alone much easier:
Home Alone Again with the Google Assistant www.youtube.com
BONUS ROUND: There's a behind the scenes/blooper reel too!
The Making of Home Alone Again with the Google Assistant www.youtube.com
Twitter loves it!
@CNN This might be the cutest thing I see all day

— Krista Dawn Pulliam (@Krista Dawn Pulliam)1545299701.0
Wow, this is genius. #HomeAlone https://t.co/HtAexlki7I

— MI$$ 22❤️ (@MI$$ 22❤️)1545284474.0
@CBSNews saw it yesterday, and got a good laugh from it

— shawn zylla (@shawn zylla)1545268904.0
@TwatBibIe @SantaaCIaus Smashed it out the park with this one

— just me (@just me)1545308500.0
@Complex I felt this! 🤣🤣🤣 https://t.co/dBlfFzkd2T

— Avery Hall (@Avery Hall)1545244036.0
@JUNIORC4RT1ER @Complex I literally just queued it up. This ad gave me all the feels.

— Tamarra The Aries (@Tamarra The Aries)1545256091.0
And you can rest assured there was an almost insane number of GIFs in response to the ad: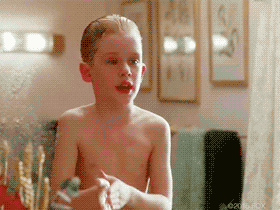 media0.giphy.com
So there you go. Enjoy the commercial, ya filthy animals!