Like mother like daughter is a saying for a reason.
There hits a time in most mother daughter relationships where the child ventures into mom's closet.
---
That time arrived for Friends alum Courteney Cox and her 14 year-old daughter Coco Arquette. Coco is Cox's chid with ex-husband David Arquette.
Mom shared a side-by-side comparison of herself from 1998 wearing a purple dress with embroidered flowers and velvet trim straps and Coco in the same dress 21 years later on her Instagram account.
Cox captioned the split image:
"I'm not one to hold onto things but this was a damn good purchase! 21 years later..."
The post drew some famous attention from her fellow artists including Coco's aunt, Rosanna Arquette.

@courteneycoxofficial/Instagram
English actress and model Poppy Delevigne also chimed in.

@courteneycoxofficial/Instagram
As did singer and songwriter Sheryl Crow.

@courteneycoxofficial/Instagram
Fellow second generation Hollywood denizen Iris Apatow also gave positive feedback. Actress Iris is Judd Apatow's daughter.

@courteneycoxofficial/Instagram
Actress Demi Moore whose own children know the feeling of famous parents weighed in too.

@courteneycoxofficial/Instagram
Fellow 90s sitcom star Christa Miller concurred with Cox's assessment.

@courteneycoxofficial/Instagram
And from the world of style and fashion, India Hicks and Jen Meyer thought Coco and the dress were a hit too.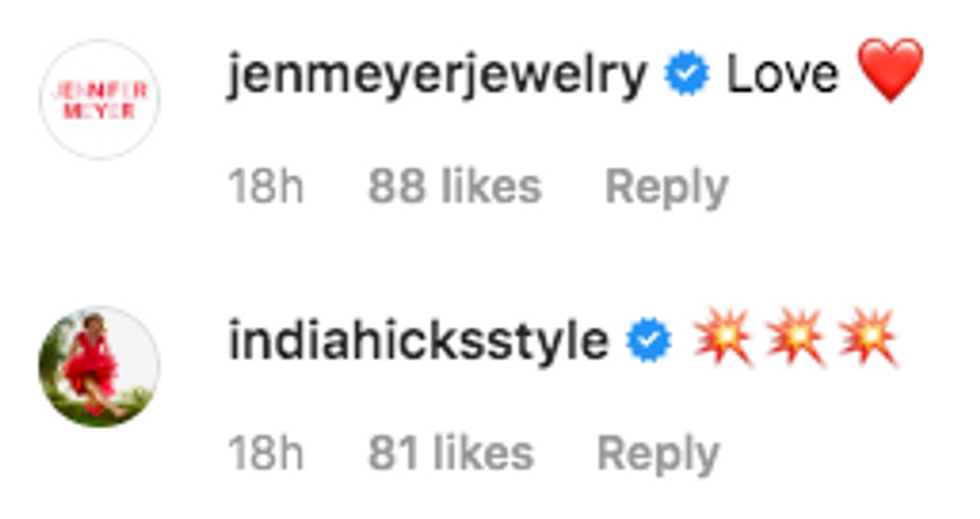 @@courteneycoxofficial/Instagram
Like a lot of famous Hollywood parents in the age of social media, Cox and Coco appear on Instagram together often.
Cox also loves trips down memory lane. She shared several blasts from the past on her Instagram.
Including a certain video... with a certain Boss...
Thanks for sharing your post Friends life with your fans Courteney and letting them enjoy the wonders of watching Coco grow up.
Coco's parents famously worked together on genre changing horror movie Scream, available here.