NASA's plan to build a moon base has taken a "giant leap" forward after the lunar surface was analyzed... using a single grain of soil.
The groundbreaking technique sheds fresh light on the barren world - and could make colonization a reality.
Moon dust, known as regolith, could be made into construction materials for a domed or underground city.
They may also be used to protect the first human settlers from heat, cold and radiation.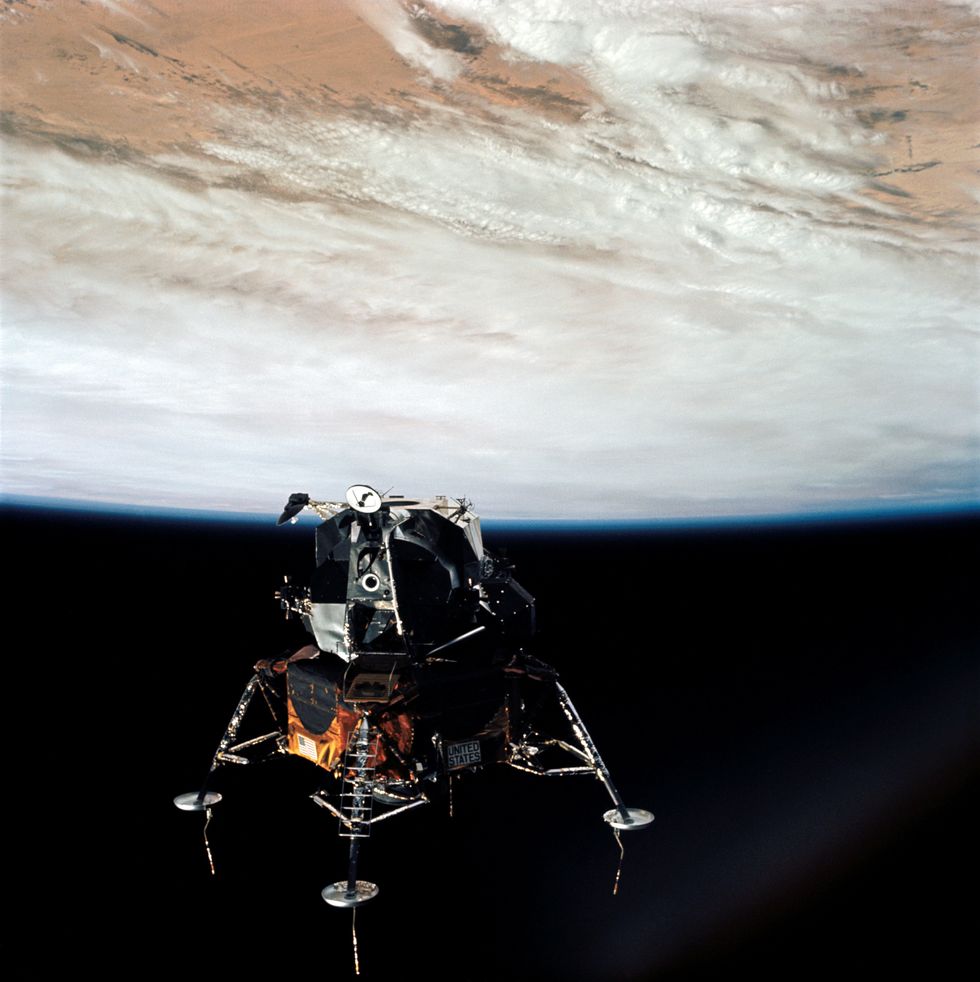 NASA/JSC
First author Jennika Greer, a PhD student in geophysical sciences at the University of Chicago, said:

"We are analyzing rocks from space, atom by atom."
"It is the first time a lunar sample has been studied like this. We're using a technique many geologists haven't even heard of."
Paraphrasing Neil Armstrong, she added:
"One small grain of moon dust is one giant leap for lunar studies."
The moon is the only place we can go to find traces of the geological record from the earliest epochs of our own planet when life emerged.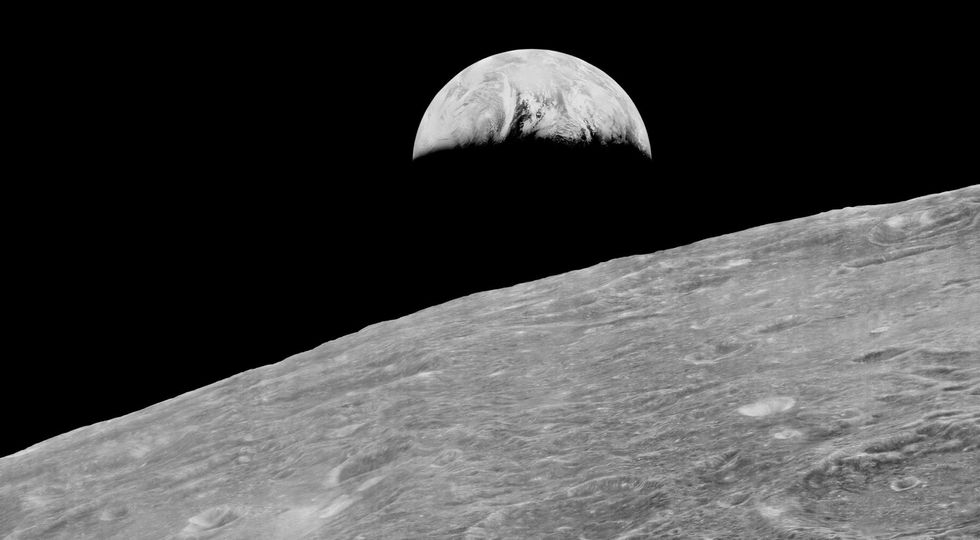 NASA/Ames Research Center/Lunar Orbiter Image Recovery Project
NASA plans to return this decade - for the first time in more than half a century. Permanent habitation may begin within 20 years.

Co author Professor Philipp Heck, a curator at the Field Museum, Chicago, said:
"We can apply this technique to samples no one has studied."
"You are almost guaranteed to find something new or unexpected. This technique has such high sensitivity and resolution, you find things you would not find otherwise and only use up a small bit of the sample."
Called APT (atom probe tomography), it worked on the sharp and gritty grain samples brought back by Apollo 17 geologist Harrison Schmitt in 1972.
The study published in Meteoritics & Planetary Science will help us learn more about conditions there and the formation of precious resources like water and helium.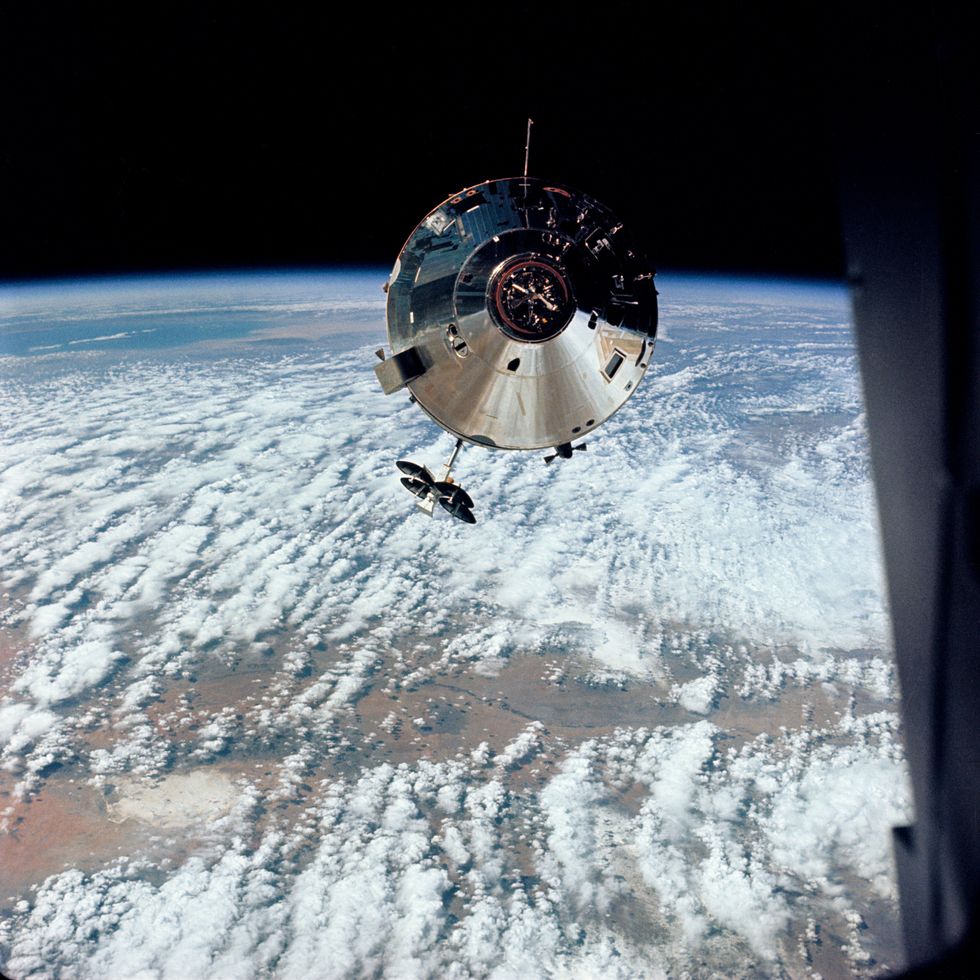 Apollo 9 Mission image - Command ModuleNASA/JSC
APT is normally used to improve industrial processes such as making steel and nanowires.

Most Apollo samples are stowed in a bank style vault at Johnson Space Center, Houston.
They are loaned to researchers sparingly. Ms Greer required just one single grain, about as wide as a human hair.
In that tiny speck she identified products of space weathering, pure iron, water and helium that formed through the interactions of the lunar soil with the environment.
Ms Greer said:
"Extracting these precious resources from lunar soil could help future astronauts sustain their activities on the Moon."
She used a focused beam of charged atoms to carve a tiny, super-sharp tip into its surface.
This was only a few hundred atoms wide. To put this in context, a sheet of paper is hundreds of thousands of atoms thick.
Prof Heck said:
"We can use the expression nano-carpentry. Like a carpenter shapes wood, we do it at the nano-scale to minerals."
Once the sample was inside the ATP scanner, Greer zapped it with a laser to knock atoms off one by one. As they flew off, they struck a detector plate.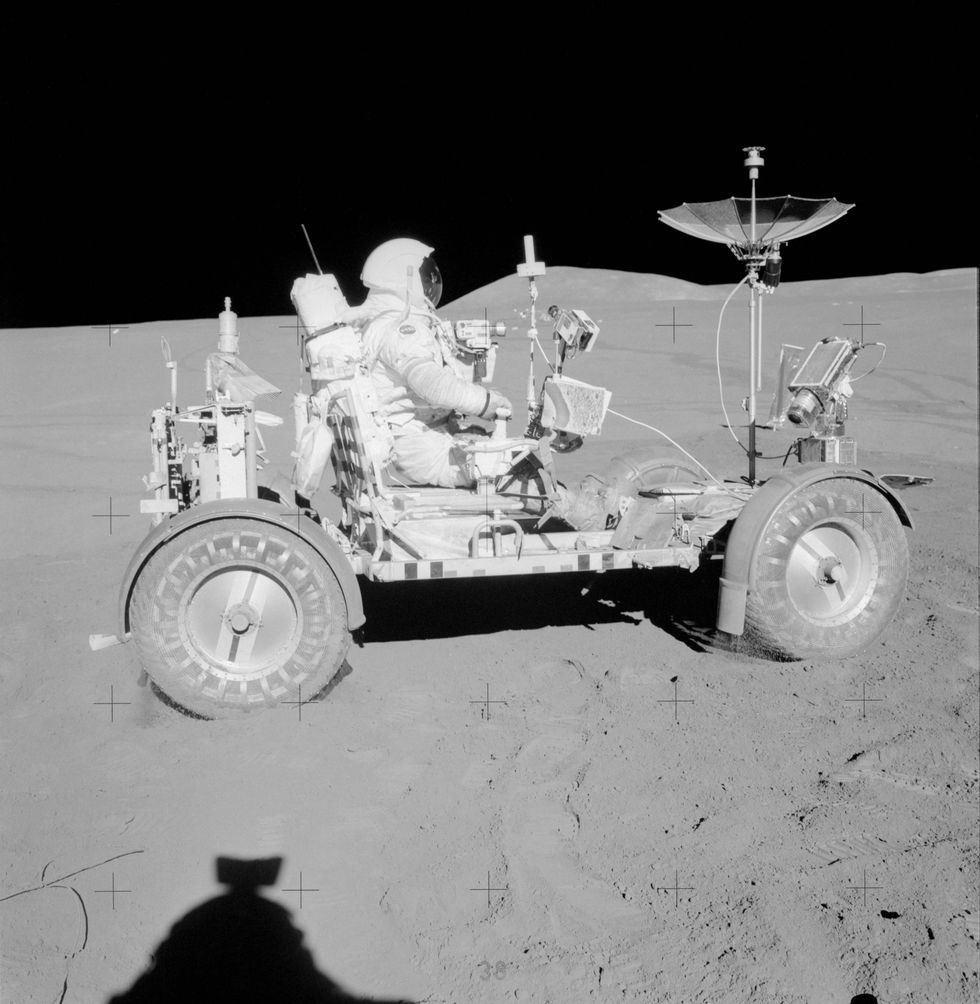 NASA/JSC
Heavier elements, like iron, take longer to reach the detector than lighter elements, like hydrogen.

By measuring the time between the laser firing and the atom striking the detector, the instrument is able to determine the type at that position, and its charge.
Finally, Ms Greer reconstructed the data in three dimensions using a color-coded point for each atom and molecule to make a nano-scale 3D map of the Moon dust.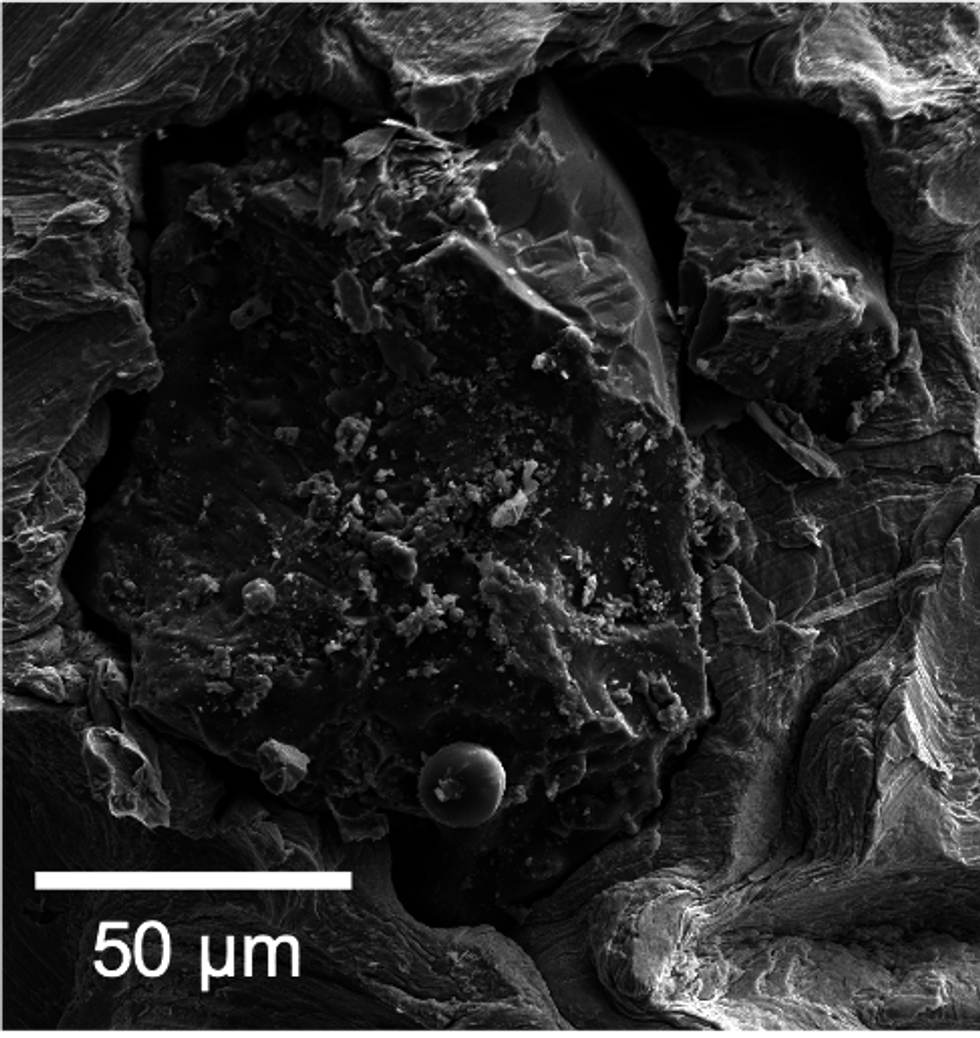 SWNS
It's the first time scientists can see both the type of atoms and their exact location in a grain of lunar soil.

Nobody had ever tried using the device for lunar samples before. The researchers encourage other cosmo-chemists to try it out.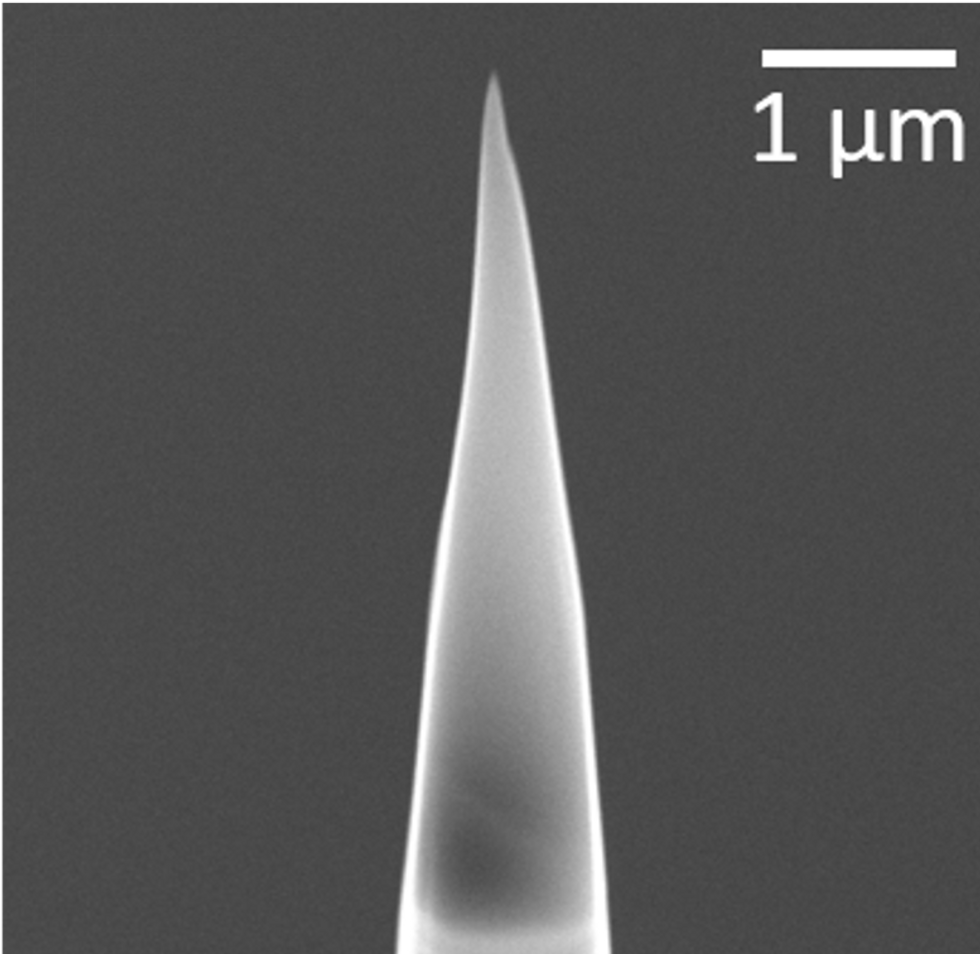 Ms Greer said:

"It is great for comprehensively characterizing small volumes of precious samples."
"We have these really exciting missions like Hayabusa2 and OSIRIS-REx returning to Earth soon - uncrewed spacecrafts collecting tiny pieces of asteroids."
"This is a technique that should definitely be applied to what they bring back because it uses so little material but provides so much information."
Studying soil from the moon's surface gives scientists insight into an important force within the solar system - space weathering.
Space is a harsh environment with tiny meteorites, streams of particles coming off the Sun and radiation in the form of solar and cosmic rays.
While Earth's atmosphere protects us, other bodies like the Moon and asteroids don't have atmospheres.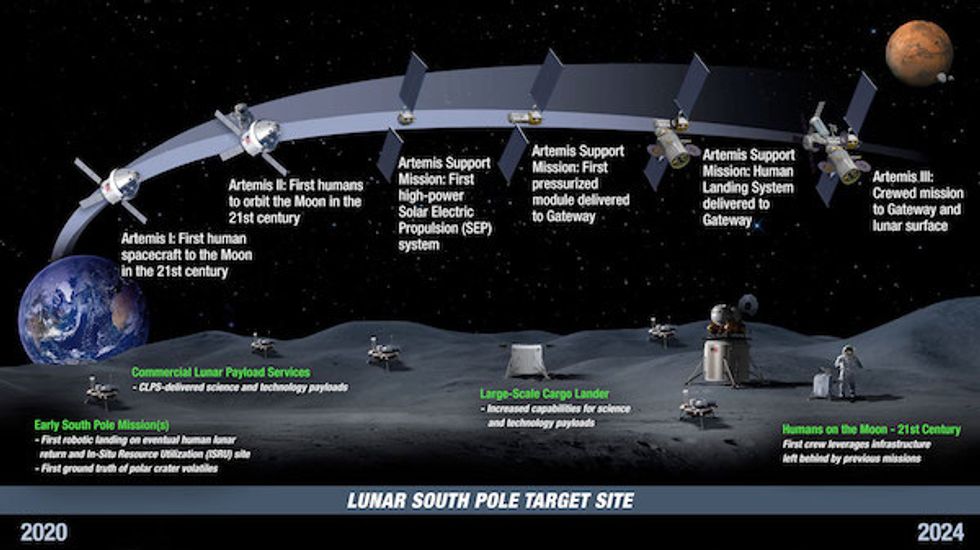 NASA/Artemis
As a result, the soil on the Moon's surface has undergone changes caused by space weathering, making it fundamentally different from the satellite's interior rock.

Ms Greer said:
"It is kind of like a chocolate-dipped ice cream cone - the outer surface does not match what is inside."
Her nano-sized tip also means her original grain of moon dust is still available for future experiments.
Future generations of scientists can make new discoveries and predictions from the same precious sample.
Prof Heck said:
"Fifty years ago, no one anticipated someone would ever analyze a sample with this technique, and only using a tiny bit of one grain."
"Thousands of such grains could be on the glove of an astronaut, and it would be sufficient material for a big study."
Lunar dust is fine, like a powder, but it cuts like glass. It is formed when meteoroids crash on the moon's surface, heating and pulverizing rocks and dirt, which contain silica and metals such as iron.
Since there is no wind or water to smooth rough edges, the tiny grains are sharp and jagged, and cling to nearly everything.
Added Ms Greer:
"It is important to understand these materials in the lab so we understand what we're seeing when we look through a telescope."
"Because of something like this, we understand what the environment is like on the Moon."
"It goes way beyond what astronauts are able to tell us as they walk on the Moon. This little grain preserves millions of years of history."
NASA was so impressed it is funding the team for the next three years to study different types of lunar dust with APT to quantify its water content and investigate other aspects of space weathering.
*A version of this story originally appeared on SWNS and was written by Mark Waghorn
Nearly three in five Americans say a vacation saved their relationship, according to new research.
The poll of 2,000 Americans — who have ever vacationed with their significant other — found 61% have gone on a vacation with their partner in an effort to reignite the romance.
In fact, over half say they used their trip as a way to get some much-needed alone time.
SWNS
A study, conducted by OnePoll in conjunction with Apple Vacations, examined the travel habits and experience respondents and discovered 61% tend to experience more romance when on vacation with their partner than in their everyday lives.

From receiving compliments (37%) and getting all dressed up (53%), to giving compliments (50%) and going out for fancy meals (57%), Americans tend to experience more romantic vibes when on vacation with their significant other, compared to their normal routine.
It's becoming increasingly popular to propose to a significant other on vacation. Forty-one percent had it in their mind their partner would pop the question while on a trip together.
Of those who thought their partner was going to pop the question while on their trip, four in five had their suspicions confirmed.

SWNS
But it's not just engagements that occur during a romantic getaway. Thirty-one percent have eloped while on vacation with their partner, while 64% received a surprise gift.

The results showed that you can tell your partner is in an extra romantic mood if they open the door for you (43%) or give you more compliments than usual (48%).

"Many resorts offer romantic amenities such as dinner for two on the beach, couples massages and mimosa breakfasts in bed," said Anna Maria Addesso, Marketing Director for Apple Vacations.
"For even more excitement, book a tour together and immerse yourselves in the destination. It's very easy to add any of these options to your vacation and surprise your loved one."
Results reveal the average American will go on three separate romantic getaways with their partner in a single year.
But, after a romantic vacation with bae, it just takes a week — or seven days — before the romance fizzles.
"Chances are if you vacation in a destination that lends itself to romance. Take a sunset walk on the beach or capture a special photo of the two of you to cherish for years to come," added Addesso.
"All-inclusive resorts give you endless options to celebrate one another through various daily activities, spa and wellness — and of course, dining."
TOP 5 REASONS FOR A VACATION WITH A PARTNER
To spend more quality time with significant other 72%
To experience something new with partner 72%
To see a part of the world never seen before 66%
To go on an adventure 63%
To reignite the romance 61%
TOP 5 WAYS TO TURN UP THE ROMANCE
Giving compliments 48%
Showering with affection 47%
Going out on a planned date 43%
Holding the door for me 43%
Buying gifts 42%
*A version of this story originally appeared on SWNS and was written by Zoya Girvis
Over half of Americans are cheating on their partners — with food, according to new research.
A poll of 2,000 Americans in relationships found 71% make unhealthy choices behind their partner's back and 55% have hidden food in their home from their partner.
In fact, seven in 10 actually lie to their partner about their unhealthy eating habits.
SWNS
The study, conducted by OnePoll in conjunction with Sabra, examined the eating habits and behaviors of 2,000 Americans in relationships and uncovered 64% of Americans say their relationships are not as healthy as they could be.

A staggering 68% say their partner negatively influences their eating habits.
But what would encourage healthy relationships? Fifty-four percent say eating well is one way to improve the health of a relationship.
Another 54% say they believe eating well can contribute to improving the health of their relationships – almost identical to those who think more sex can improve the health of a relationship.
When it comes to eating healthier, though, Americans are turning to others to hold them more accountable.
Nearly half (49%) say they trust their partners the most to make sure they're sticking to their healthier eating goals.
And it works: Three in four respondents say they've successfully influenced their partner to be healthier overall.
Seventy-seven percent say their partner has positively influenced their overall life and well-being.

SWNS
This positive impact has encouraged 62% of respondents to eat healthier while a further 59% have been encouraged to exercise more by their partner.

But it's not just partners they trust to keep them in line when it comes to healthy habits. Thirty-four percent rely on a best friend to hold them accountable for their healthy eating decisions while a further 28% entrust a co-worker to make sure they make healthy eating habits regularly.
Besides eating better and working out more, partners are encouraging one another to save money (54%), love themselves (53%) and have a general positive attitude about life (41%).
But despite all their efforts when it comes to healthy eating, 42% say Valentine's Day is a "cheat day" for them when it comes to food.
Is your relationship as hot as your favorite foods? When asked to compare their relationships with a variety of different foods, Americans' top choices were melted mac and cheese or spaghetti and meatballs.
The top plant-based comparisons were PB&J and creamy hummus and warm pita.
"Valentine's Day is a celebration of romance and relationships, but let's face it, not every relationship is as healthy as it could be," said Jason Levine, Sabra CMO.
"Enjoying foods you feel great about eating with someone you love may be just what you need to smooth things over and swipe right."
TOP 5 ASPECTS OF LIFE THAT PARTNER'S HAVE POSITIVELY IMPACTED
Eating healthier 62%
Exercising more 59%
Accepting myself/loving myself 53%
Saving money 54%
Attitude towards life and others 41%
*A version of this story originally appeared on SWNS and was written by Zoya Gervis
A woman was reunited with her long-lost father after 56 years when he was 'suggested' as a friend - by FACEBOOK.
Karen Harris was adopted as a little girl in the early 1960s because she was born out of wedlock.
The only thing she knew was her dad's name Trevor Sinden—which was told to her by a social worker when she was 18.
She tried to find him but with little information she failed—until decades later when she saw the name on the 'suggested friends' feature on the social media site.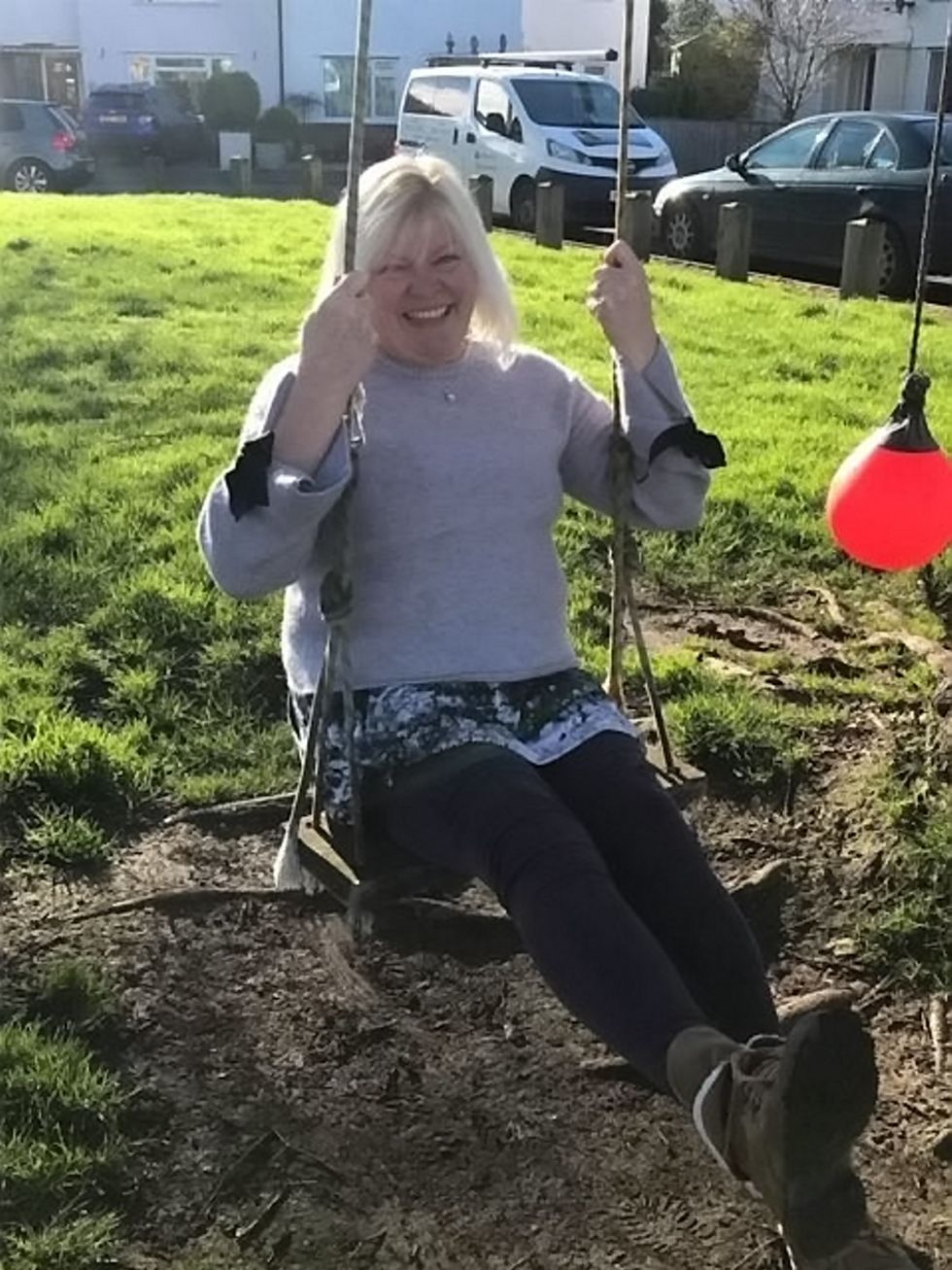 Karen Harris / SWNS
Karen, of Penryn, Cornwall, saw Trevor lived 350 miles away in Kent but scanned the profile and from his details and history realized she might be looking at her father.

The pair then chatted for weeks and met for the first time in an emotional reunion on Friday—and they both said it was like they have known each other their whole lives.
Karen, 56, said her birth parents gave her up for adoption in the early 1960s.
They were teenagers and she was born out of wedlock, which she says "wasn't the done thing in those days".
She added:
"You just don't feel as though you belong."
''Looking at your family that brought you up, you're really grateful that they brought you up but you don't have that sense of belonging."
"Now I've found completion. I've found connection and completion and I'm cherishing it."
The re-united father and daughter decided to meet in Lyme Regis, Dorset, roughly halfway between Cornwall and Kent.
When they first spotted each other, they hugged for so long that a passerby said:
"I hope you know each other."
They had a lot of catching up to do in the following days, which were spent going on walks and searching for fossils on the Jurassic Coast.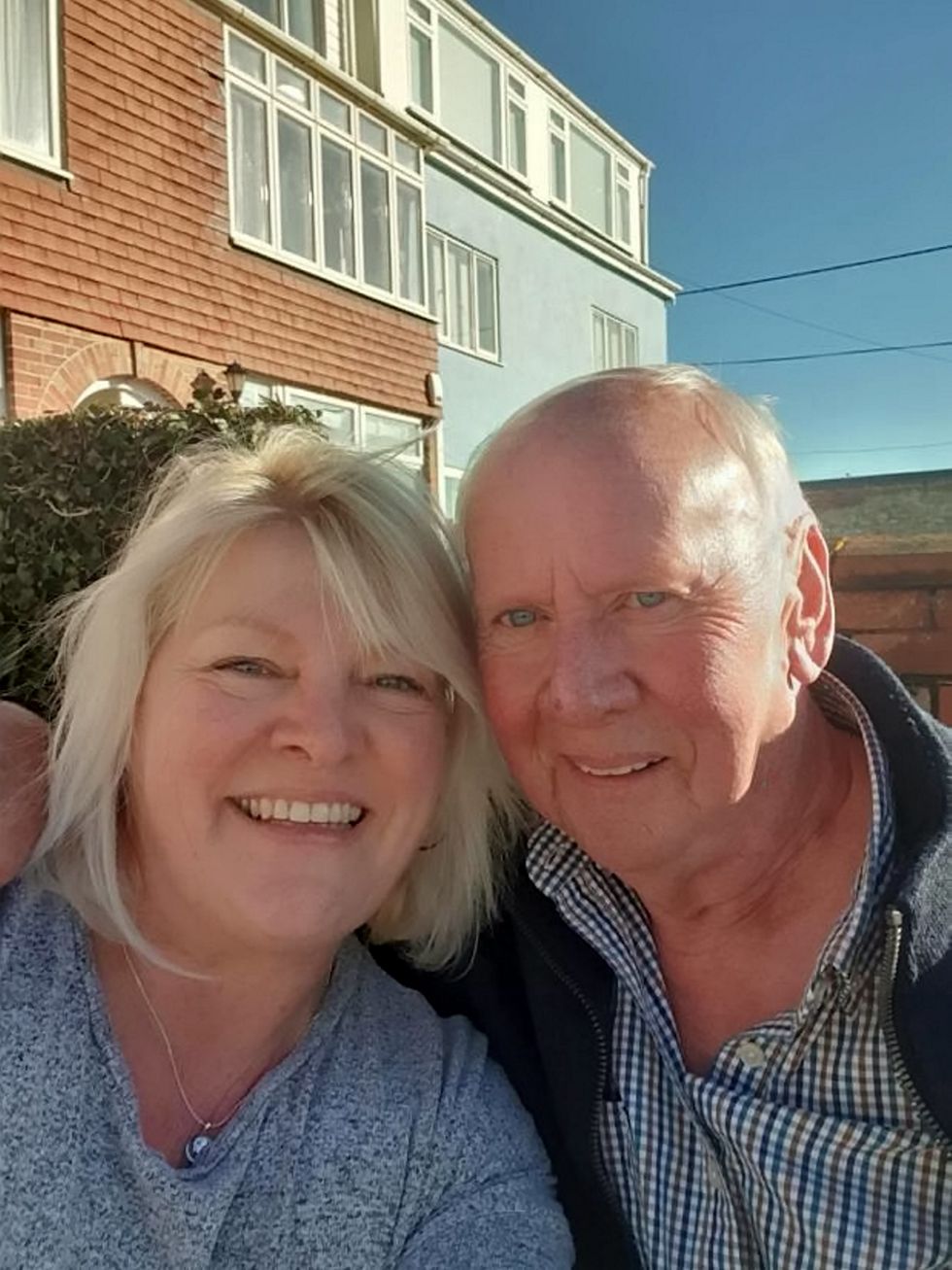 Karen Harris / SWNS
Karen was also introduced to two of her long-lost cousins and has had "an amazing time with many new memories."

Trevor, 72, added:
"It's like all of her Christmases at the same time. It's so surreal, the chances of actually meeting were so slim."
"I have looked on the internet but could never find her. It's early days but I feel we already know each other quite well."
"If it wasn't for Facebook we wouldn't have met."
Karen had known few details about her father since she approached an adoption agency at the age of 18 seeking to find her birth parents.
A social worker shared with her what details they could and Karen managed to track down her mother around ten years later, after she had had a child of her own.
Finding her father proved to be more difficult.
She knew he was an electrician from Croydon but it was not until seeing that the information on his Facebook profile matched what she had been told that she knew she had finally found him.
He responded immediately and after seven weeks of chatting every day, they decided to meet.
She added:
"Those who are adopted can understand that moment when you first see someone other than yourself in a mirror that has your cheek bones, your eyes, your chin."
''It is something that someone who isn't adopted probably can't relate to or understand, but it changes the way you look at the world."
"Now there is someone else like me, loving me for me and I cherish every moment. I'm incredibly blessed to find him now."
A campaign called "H is for Human" planned to hand out 100,000 free condoms in Utah, funded in part by the Utah Department of Health.
Their hope was to try to lower rates of HIV transmission in the state.
However Republican Governor Gary Herbert pulled the plug on the idea.
Why?
He didn't like the sexual innuendo that was part of this safe sex campaign. An "indirect or subtle reference to sex" in a safe sex campaign?
How dare they!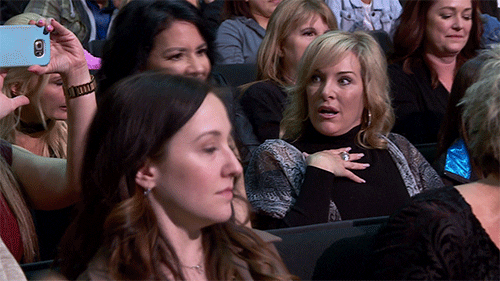 Giphy
In an official statement, Herbert's spokesperson stated:

"The governor understands the importance of the Utah Department of Health conducting a campaign to educate Utahns about HIV prevention."
"He does not, however, approve the use of sexual innuendo as part of a taxpayer-funded campaign, and our office has asked the department to rework the campaign's branding."
Modeled after successful HIV-prevention programs in states like Alaska and Wyoming, they sought to use local humorous references to promote awareness of safer sex and HIV. An advertising firm came up with sex-positive and pun-filled slogans for the condom packaging.
The more eye-catching or entertaining the packaging, the more likely people would be to take and discuss the condoms and their message.
Erin Fratto of the Utah health department, said:
"If the condoms are fun, relatable, sex-positive—people are more apt to talk about them, which we've already seen."
For Utah, slogans included:

"Enjoy your Mountin" with an image of a mountain; "SL, UT" for Salt Lake and Utah; "Explore Utah's Caves"; and "Don't Go Bare" with a picture of a bear.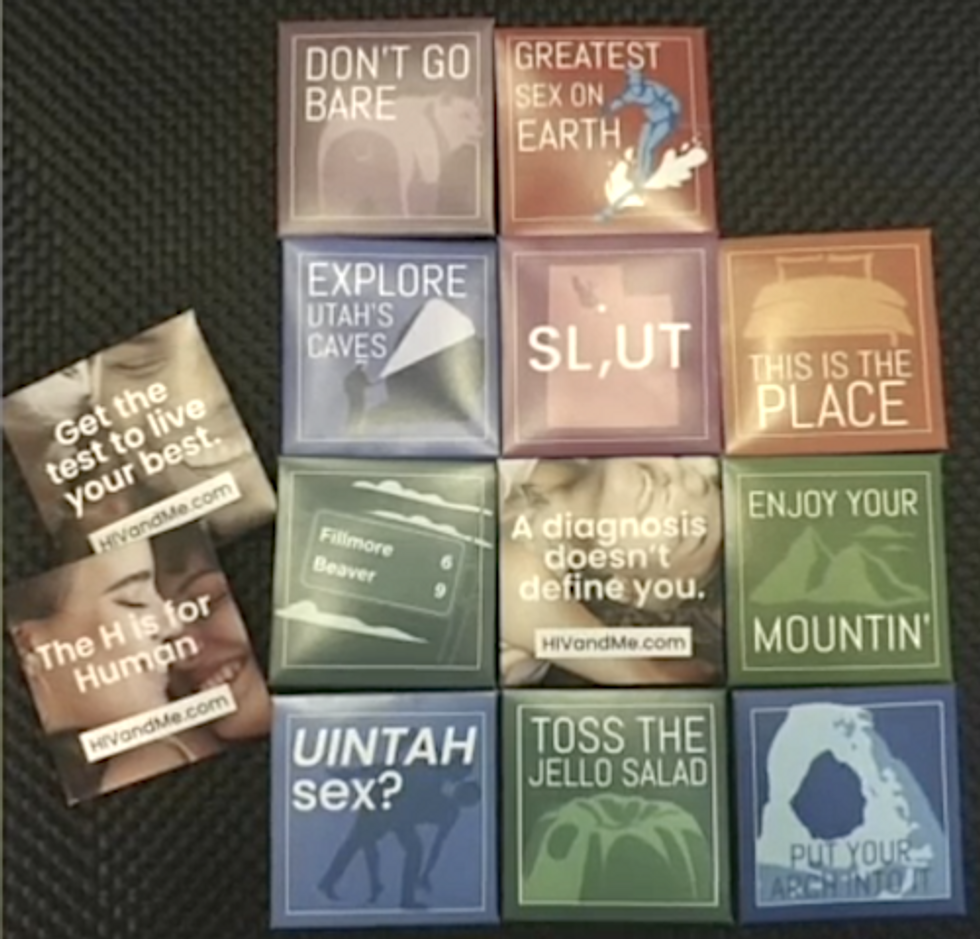 Utah Department of Health
The reverse side of the packaging included messages about HIV and the website HIVandME for more information.
Volunteer Michael Sanders—who had been distributing the condoms before being told to stop—said:

"I was on my way to the University of Utah when I got word that it was about to be shut down by governor Herbert's office."

Sanders said he called the governor's office for more information and was told:
"It was an inappropriate use of taxpayer dollars."
Sanders handed out condoms in LGBTQ spaces like community centers and bars to get the message out to the community.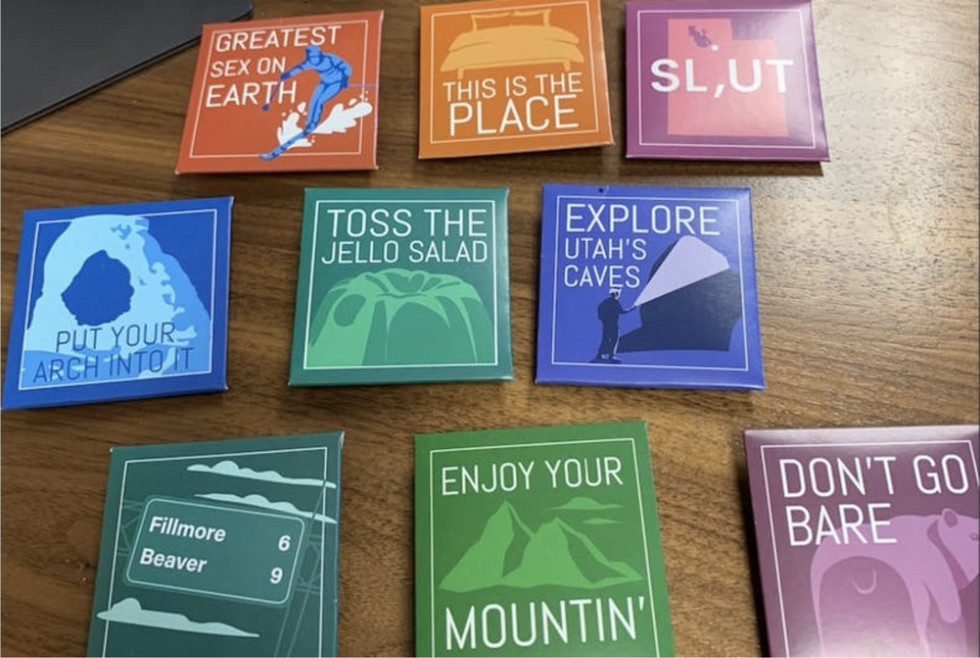 Utah Department of Health
The Utah Department of Health released a statement saying it regretted "the lewd nature of the branding".

"The designs did not go through necessary approval channels and we have asked our partners to stop distributing them immediately."
"We remain committed to running a campaign to help in the prevention of HIV and intend to do so in a manner that better respects taxpayer dollars, and our role as a government agency."