Nearly three in five Americans say a vacation saved their relationship, according to new research.
The poll of 2,000 Americans — who have ever vacationed with their significant other — found 61% have gone on a vacation with their partner in an effort to reignite the romance.
In fact, over half say they used their trip as a way to get some much-needed alone time.
SWNS
A study, conducted by OnePoll in conjunction with Apple Vacations, examined the travel habits and experience respondents and discovered 61% tend to experience more romance when on vacation with their partner than in their everyday lives.

From receiving compliments (37%) and getting all dressed up (53%), to giving compliments (50%) and going out for fancy meals (57%), Americans tend to experience more romantic vibes when on vacation with their significant other, compared to their normal routine.
It's becoming increasingly popular to propose to a significant other on vacation. Forty-one percent had it in their mind their partner would pop the question while on a trip together.
Of those who thought their partner was going to pop the question while on their trip, four in five had their suspicions confirmed.

SWNS
But it's not just engagements that occur during a romantic getaway. Thirty-one percent have eloped while on vacation with their partner, while 64% received a surprise gift.

The results showed that you can tell your partner is in an extra romantic mood if they open the door for you (43%) or give you more compliments than usual (48%).

"Many resorts offer romantic amenities such as dinner for two on the beach, couples massages and mimosa breakfasts in bed," said Anna Maria Addesso, Marketing Director for Apple Vacations.
"For even more excitement, book a tour together and immerse yourselves in the destination. It's very easy to add any of these options to your vacation and surprise your loved one."
Results reveal the average American will go on three separate romantic getaways with their partner in a single year.
But, after a romantic vacation with bae, it just takes a week — or seven days — before the romance fizzles.
"Chances are if you vacation in a destination that lends itself to romance. Take a sunset walk on the beach or capture a special photo of the two of you to cherish for years to come," added Addesso.
"All-inclusive resorts give you endless options to celebrate one another through various daily activities, spa and wellness — and of course, dining."
TOP 5 REASONS FOR A VACATION WITH A PARTNER
To spend more quality time with significant other 72%
To experience something new with partner 72%
To see a part of the world never seen before 66%
To go on an adventure 63%
To reignite the romance 61%
TOP 5 WAYS TO TURN UP THE ROMANCE
Giving compliments 48%
Showering with affection 47%
Going out on a planned date 43%
Holding the door for me 43%
Buying gifts 42%
*A version of this story originally appeared on SWNS and was written by Zoya Girvis
Keep reading...
Show less
Over half of Americans are cheating on their partners — with food, according to new research.
A poll of 2,000 Americans in relationships found 71% make unhealthy choices behind their partner's back and 55% have hidden food in their home from their partner.
In fact, seven in 10 actually lie to their partner about their unhealthy eating habits.
SWNS
The study, conducted by OnePoll in conjunction with Sabra, examined the eating habits and behaviors of 2,000 Americans in relationships and uncovered 64% of Americans say their relationships are not as healthy as they could be.

A staggering 68% say their partner negatively influences their eating habits.
But what would encourage healthy relationships? Fifty-four percent say eating well is one way to improve the health of a relationship.
Another 54% say they believe eating well can contribute to improving the health of their relationships – almost identical to those who think more sex can improve the health of a relationship.
When it comes to eating healthier, though, Americans are turning to others to hold them more accountable.
Nearly half (49%) say they trust their partners the most to make sure they're sticking to their healthier eating goals.
And it works: Three in four respondents say they've successfully influenced their partner to be healthier overall.
Seventy-seven percent say their partner has positively influenced their overall life and well-being.

SWNS
This positive impact has encouraged 62% of respondents to eat healthier while a further 59% have been encouraged to exercise more by their partner.

But it's not just partners they trust to keep them in line when it comes to healthy habits. Thirty-four percent rely on a best friend to hold them accountable for their healthy eating decisions while a further 28% entrust a co-worker to make sure they make healthy eating habits regularly.
Besides eating better and working out more, partners are encouraging one another to save money (54%), love themselves (53%) and have a general positive attitude about life (41%).
But despite all their efforts when it comes to healthy eating, 42% say Valentine's Day is a "cheat day" for them when it comes to food.
Is your relationship as hot as your favorite foods? When asked to compare their relationships with a variety of different foods, Americans' top choices were melted mac and cheese or spaghetti and meatballs.
The top plant-based comparisons were PB&J and creamy hummus and warm pita.
"Valentine's Day is a celebration of romance and relationships, but let's face it, not every relationship is as healthy as it could be," said Jason Levine, Sabra CMO.
"Enjoying foods you feel great about eating with someone you love may be just what you need to smooth things over and swipe right."
TOP 5 ASPECTS OF LIFE THAT PARTNER'S HAVE POSITIVELY IMPACTED
Eating healthier 62%
Exercising more 59%
Accepting myself/loving myself 53%
Saving money 54%
Attitude towards life and others 41%
*A version of this story originally appeared on SWNS and was written by Zoya Gervis
Keep reading...
Show less
A woman was reunited with her long-lost father after 56 years when he was 'suggested' as a friend - by FACEBOOK.
Karen Harris was adopted as a little girl in the early 1960s because she was born out of wedlock.
The only thing she knew was her dad's name Trevor Sinden—which was told to her by a social worker when she was 18.
She tried to find him but with little information she failed—until decades later when she saw the name on the 'suggested friends' feature on the social media site.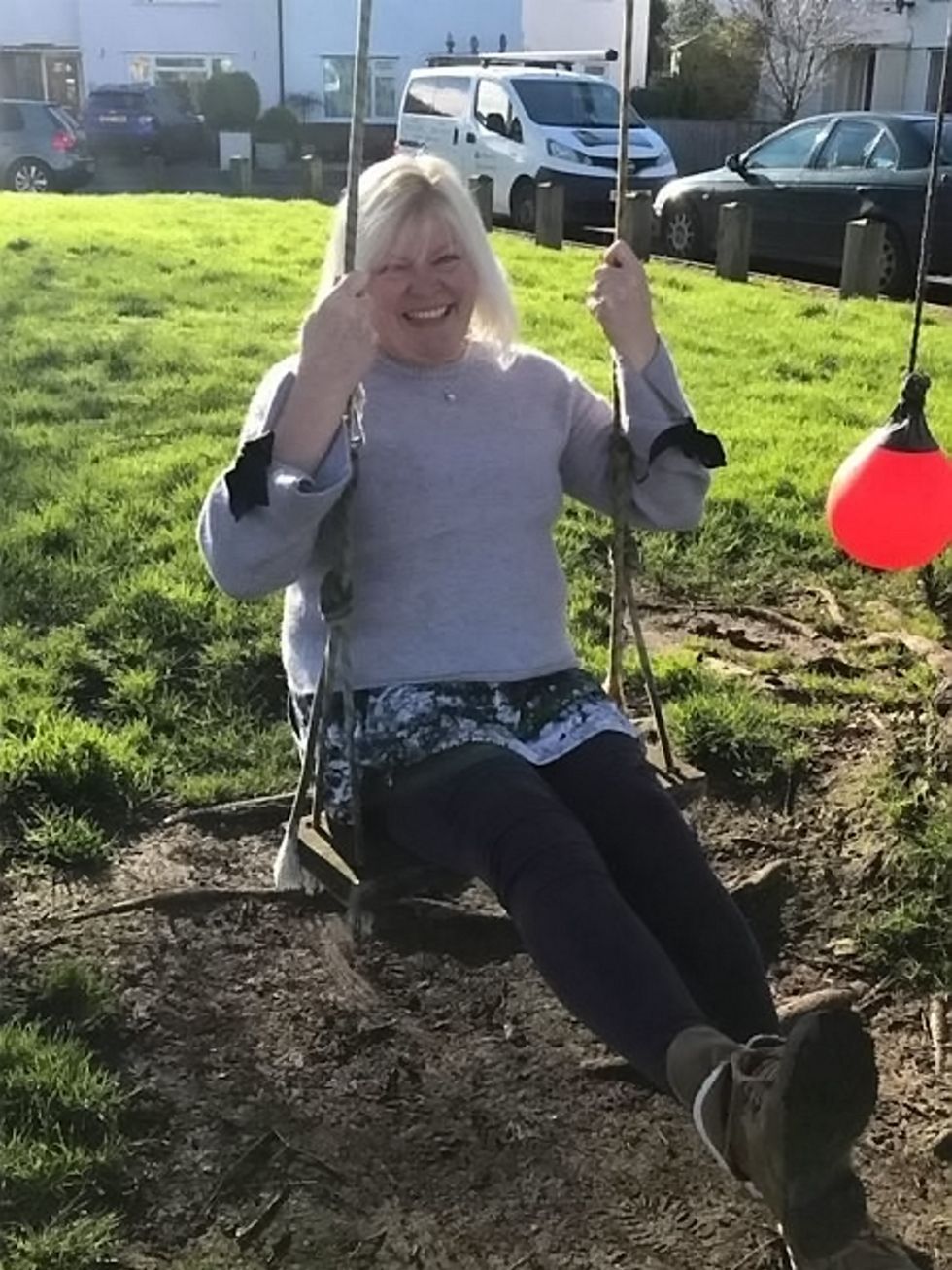 Karen Harris / SWNS
Karen, of Penryn, Cornwall, saw Trevor lived 350 miles away in Kent but scanned the profile and from his details and history realized she might be looking at her father.

The pair then chatted for weeks and met for the first time in an emotional reunion on Friday—and they both said it was like they have known each other their whole lives.
Karen, 56, said her birth parents gave her up for adoption in the early 1960s.
They were teenagers and she was born out of wedlock, which she says "wasn't the done thing in those days".
She added:
"You just don't feel as though you belong."
''Looking at your family that brought you up, you're really grateful that they brought you up but you don't have that sense of belonging."
"Now I've found completion. I've found connection and completion and I'm cherishing it."
The re-united father and daughter decided to meet in Lyme Regis, Dorset, roughly halfway between Cornwall and Kent.
When they first spotted each other, they hugged for so long that a passerby said:
"I hope you know each other."
They had a lot of catching up to do in the following days, which were spent going on walks and searching for fossils on the Jurassic Coast.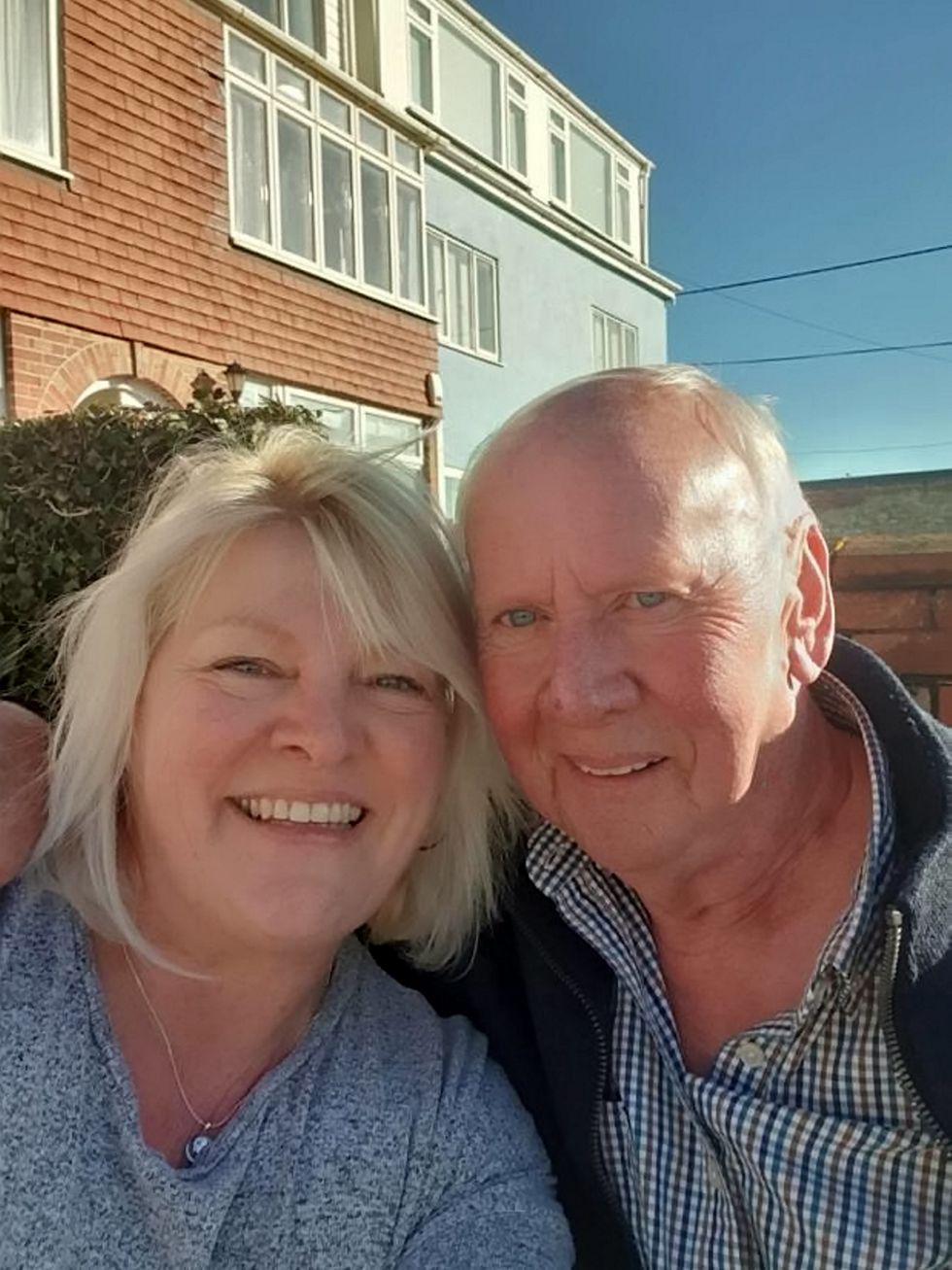 Karen Harris / SWNS
Karen was also introduced to two of her long-lost cousins and has had "an amazing time with many new memories."

Trevor, 72, added:
"It's like all of her Christmases at the same time. It's so surreal, the chances of actually meeting were so slim."
"I have looked on the internet but could never find her. It's early days but I feel we already know each other quite well."
"If it wasn't for Facebook we wouldn't have met."
Karen had known few details about her father since she approached an adoption agency at the age of 18 seeking to find her birth parents.
A social worker shared with her what details they could and Karen managed to track down her mother around ten years later, after she had had a child of her own.
Finding her father proved to be more difficult.
She knew he was an electrician from Croydon but it was not until seeing that the information on his Facebook profile matched what she had been told that she knew she had finally found him.
He responded immediately and after seven weeks of chatting every day, they decided to meet.
She added:
"Those who are adopted can understand that moment when you first see someone other than yourself in a mirror that has your cheek bones, your eyes, your chin."
''It is something that someone who isn't adopted probably can't relate to or understand, but it changes the way you look at the world."
"Now there is someone else like me, loving me for me and I cherish every moment. I'm incredibly blessed to find him now."
Keep reading...
Show less
A campaign called "H is for Human" planned to hand out 100,000 free condoms in Utah, funded in part by the Utah Department of Health.
Their hope was to try to lower rates of HIV transmission in the state.
However Republican Governor Gary Herbert pulled the plug on the idea.
Why?
He didn't like the sexual innuendo that was part of this safe sex campaign. An "indirect or subtle reference to sex" in a safe sex campaign?
How dare they!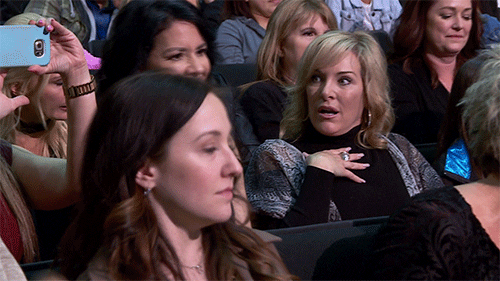 Giphy
In an official statement, Herbert's spokesperson stated:

"The governor understands the importance of the Utah Department of Health conducting a campaign to educate Utahns about HIV prevention."
"He does not, however, approve the use of sexual innuendo as part of a taxpayer-funded campaign, and our office has asked the department to rework the campaign's branding."
Modeled after successful HIV-prevention programs in states like Alaska and Wyoming, they sought to use local humorous references to promote awareness of safer sex and HIV. An advertising firm came up with sex-positive and pun-filled slogans for the condom packaging.
The more eye-catching or entertaining the packaging, the more likely people would be to take and discuss the condoms and their message.
Erin Fratto of the Utah health department, said:
"If the condoms are fun, relatable, sex-positive—people are more apt to talk about them, which we've already seen."
For Utah, slogans included:

"Enjoy your Mountin" with an image of a mountain; "SL, UT" for Salt Lake and Utah; "Explore Utah's Caves"; and "Don't Go Bare" with a picture of a bear.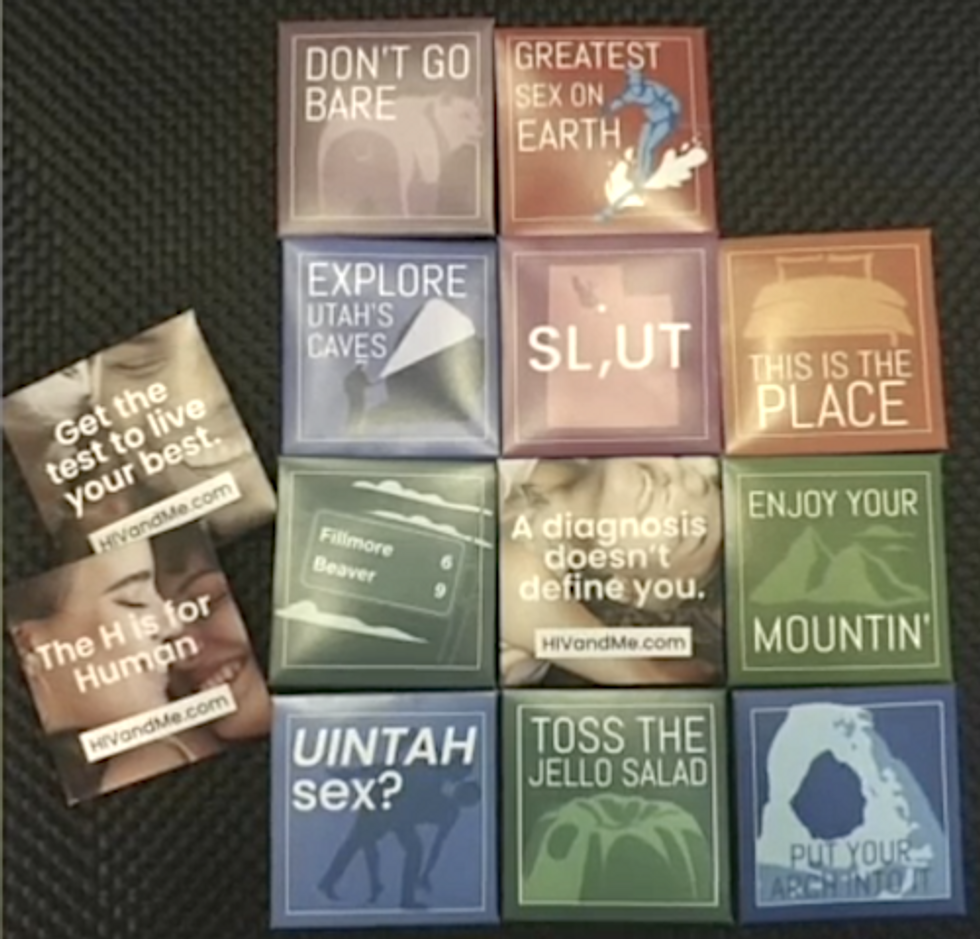 Utah Department of Health
The reverse side of the packaging included messages about HIV and the website HIVandME for more information.
Volunteer Michael Sanders—who had been distributing the condoms before being told to stop—said:

"I was on my way to the University of Utah when I got word that it was about to be shut down by governor Herbert's office."

Sanders said he called the governor's office for more information and was told:
"It was an inappropriate use of taxpayer dollars."
Sanders handed out condoms in LGBTQ spaces like community centers and bars to get the message out to the community.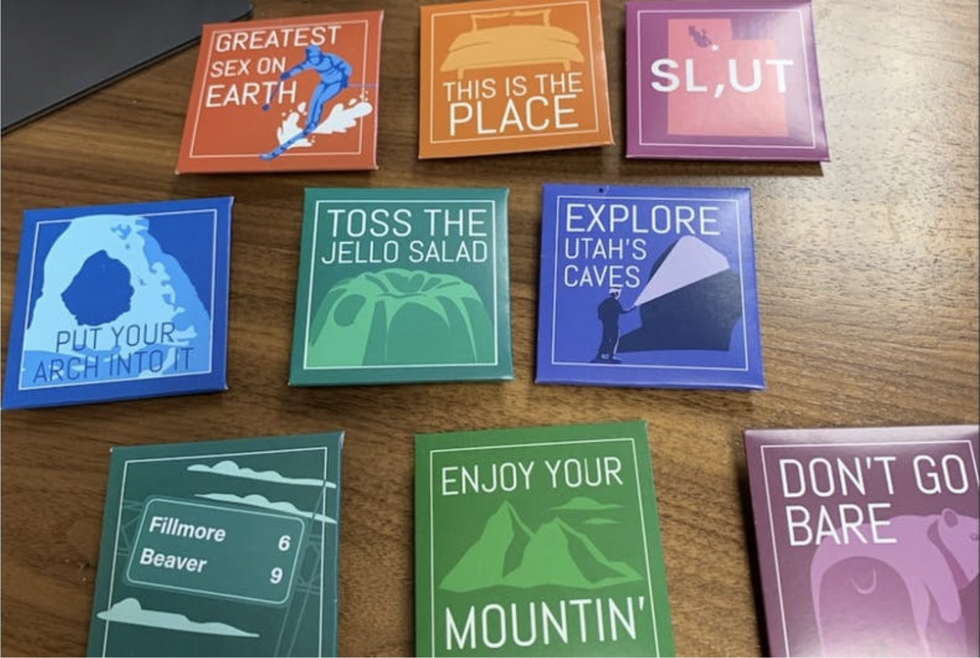 Utah Department of Health
The Utah Department of Health released a statement saying it regretted "the lewd nature of the branding".

"The designs did not go through necessary approval channels and we have asked our partners to stop distributing them immediately."
"We remain committed to running a campaign to help in the prevention of HIV and intend to do so in a manner that better respects taxpayer dollars, and our role as a government agency."
Keep reading...
Show less
A man asked the question:
"What happens when a man kisses his boyfriend at the stroke of midnight on New Year's Eve and posts it on the video-sharing social network, TikTok?"
Mark Pasetsky—who goes by Marknewyork on TikTok—found out the answer when he shared something millions of others do at the start of a new year: a kiss with the person they love.
According to an article Pasetsky wrote for Campaign US, when the kiss is between two men, the post is removed because "it's a violation of the platform's community guidelines."
Pasetsky wrote:
"When I saw the notification on my profile, I was flooded with feelings of shame and alienation."
Here is the video loaded to TikTok.
Just a standard kiss to ring in the New Year.

In fact, it's really quite chaste.
For the former editor in chief of Life & Style and managing editor of OK! Magazine, a double standard needed to be addressed.
"After being out of the closet for 24 years, I knew I needed to take action for myself and for the entire LGBTQ community."

"In a world where bullying is rampant, the relatively new platform that already reaches 60 million active monthly users in the US must support the equal and fair treatment of LGBTQ users and all diverse communities."
"Most importantly, think about a teenager going through the same experience of having their video removed because they simply kissed their same-sex partner. Imagine how devastating it would feel when a popular social network tells them it's not okay to be who they are. Many would be too afraid to speak up and would not know how to respond to this type of discrimination."

As Psychology Today and data from numerous studies state, the beneficial effects of equal representation are real. The damaging effects of exclusion are also well studied and documented.

For members of marginalized communities, being seen and seeing others like themselves can boost their self esteem. For people not part of those communities, this representation can create an unconscious familiarity and normalization of people unlike themselves.
As people of color began to appear in commercials and on television, there was some backlash. Some stations even banned the content or censored it out of programs.
But studies showed direct links between these inclusive media campaigns and increased support for equality for POC by members outside their community. Familiarity doesn't always breed contempt; sometimes it breeds empathy and understanding.

Pasetsky knew equal inclusion in social media was no different.
"That's why I chose to take action – for those who cannot."

"I started by filing a support ticket and then tweeted the company."
When the steps most people take did not yield results, Pasetsky put his extensive experience with media and PR to work.
"Finally, I emailed TikTok's public relations department."
"After explaining that I was writing a piece on the video being removed and demanding answers, my request was quickly forwarded to the moderation team."
"Within two hours, TikTok re-activated my video and let me know it had been incorrectly removed due to human error."
But that excuse wasn't working for Pasetsky.
The social media company previously admitted to removing and suppressing content from LGBTQ users. They claimed it was an attempt to minimize bullying on the site, not by eliminating bullies but by eliminating potential targets.
However censoring and restricting the lives of those being attacked or that they suspect might be attacked is not the appropriate response to bullying in life or on social media.
Whatever the ultimate reason for the removal of his video, Pasetsky wrote that the reinstatement of it on TikTok should not be the end.
"The removal of my New Year's Eve video makes the urgent case for a full internal evaluation of TikTok's policies and moderation practices. A number of tough questions need to be answered."
"If this decision was based on human error, who was the human? How does TikTok make hiring decisions for moderation positions? Is diversity represented on these teams? What about across the organization as a whole? And, most importantly, what will the company do to prevent a repeat of this experience?"
He concluded by stating the removal was not a simple mistake but rather an example of a microaggression.
"The bottom line is we can't allow a social media platform to commit discriminatory micro-aggressions against any community."
Microagressions are the death by a thousand cuts of bigotry and bias.
To those outside an affected community, a microaggression can be easily dismissed as no big deal. Why complain about such a small thing when there are bigger fish to fry?
However studies show these minor offenses lay the ground work for the larger ones.
The Black person who is told they're "so articulate" or the Asian told they speak English so well when it is their first language or the Hispanic person born and raised in the United States questioned about where they are from or the gay man who is told he doesn't "sound gay" are all examples of microagressions. Each one also indicates an implicit bias or sterotype, painting Black people as less intelligent, Asians and Hispanics as foreigners and gay men as speaking in a certain way.
Pasestsky urged others to also speak out.
"TikTok needs to continue to be called out for biased practices. It's critical that the company understands its responsibility to create a safe and welcoming environment for all."
In an email interview with Pasetsky, we asked:

"In your article, you address TikTok with questions about diversity and next steps. If you could create specific next steps for them, what would they be?"
He responded:
"I would suggest TikTok partner with a respected LGBTQ organization to conduct an extensive review of the social media platform's moderation policies."
"I would also suggest holding diversity and inclusivity training for all members of the organization - especially those responsible for moderating posts on TikTok, as well as reviewing overall hiring practices to make sure members of all diverse communities are represented."
"In addition, a new set of community guidelines need to demonstrate how TikTok will be more welcoming to the LGBTQ and all diverse communities going forward."
Q:
"Invariably, people respond to these microaggressions by pointing to 'bigger issues.' What would you say about why addressing microaggressions is important?"
Pasetsky:
"We need to address microaggressions to let companies like TikTok know it's not okay to censor anybody for who they are. It's important to remember that these microaggressions can be deeply harmful to the individuals that receive them and therefore are equally as important as addressing the 'bigger issues'."
"If we continue to address microagressions in real-time, we will prevent what I see as TikTok's anti-gay bias from becoming an acceptable global policy for the social media platform. The bottom line is that it's not okay for a company like TikTok to censor a same-sex video and hide behind the 'human error' excuse when it's really a microaggression."
Q:
"You refer to the documented anti-LGBTQ bias [on TikTok]. Are there other social media platforms that are problematic?"
Pasetsky:
"To date, I've only personally experienced this anti-LGBTQ bias on TikTok."
Q:
"You mention bullying and young people who are still finding their way in life as motivation to pursue this with TikTok to an acceptable resolution. What would you like to say to those younger people about this situation or about anything else?"
Pasetsky:
"As a video platform, TikTok provides its users a unique opportunity to be expressive. Keep being exactly who you are and show the world who you are."
"Posts of same-sex kisses like mine need to be embraced and supported on platforms like TikTok. Stand up for yourself when you feel like you have been unfairly censored!"
"For anybody else that feels they have been censored by TikTok for being themselves, I strongly support them in speaking up. They can reach me on Twitter @markpasetsky and I'll do what I can to continue to support the LGBTQ or any diverse community that feels they were unfairly treated."
Q:
"Is there anything else you'd like to say? Any points you want to expand on?"
Pasetsky:
"With Valentine's Day coming up, let's send a powerful message to TikTok and the world. Give a big kiss to your same-sex partner and post the video to TikTok. Let's show them we are out and proud of our loving relationships!"
Valentine's Day is just around the corner. Mark Pasetsky's suggestion sounds like a great way to celebrate love, diversity and representation.
Who's in?
Keep reading...
Show less