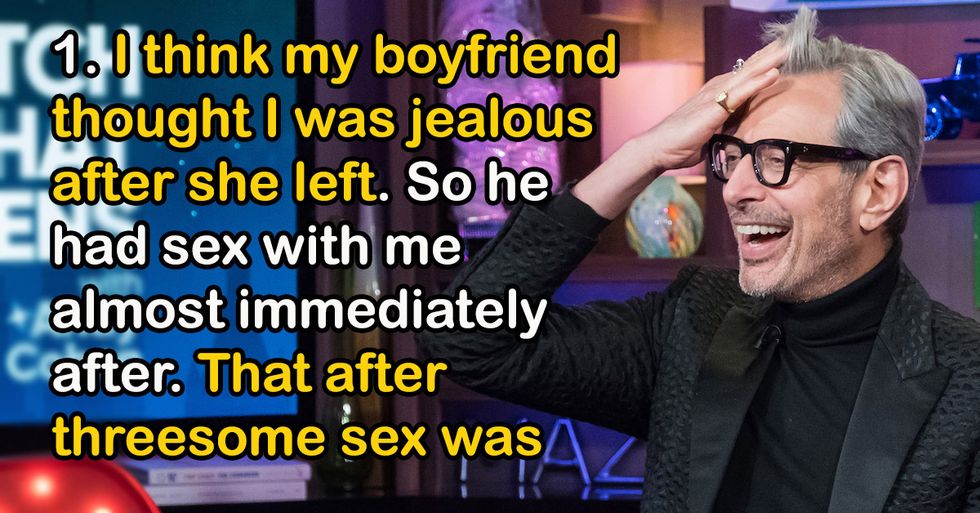 Committed Couples Who've Had A Threesome Sound Off About How It Turned Out
[rebelmouse-image 18347592 is_animated_gif=
dam=1 expand=1]

Love and commitment takes work. It's not as happily ever after as the movies like to portray it. One consistent issue in sustaining a long term love story is keeping the intimacy and the sex interesting. After awhile with the same old face one might feel as though the heat has fizzled. Certain adventure can be a risk but if everyone is on the same page... it's a risk worth exploring.

Redditor _airdnaxela_g expressed interest in salacious details regarding relationship adventures by asking People who have had a threesome with their partner, how did that turn out?

ONCE MORE WITH FEELING!

I think my boyfriend thought I was jealous after she left. So he had sex with me almost immediately after. That after threesome sex was the best I've ever had.
AT LEAST IT'S A SHOW.
[rebelmouse-image 18347593 is_animated_gif=
dam=1 expand=1]

It was a little, hmm, crushing maybe? A hit to the ego?

The two girls seemed to enjoy it with each other more than anything else.
HOW MATTER OF FACT.
[rebelmouse-image 18347595 is_animated_gif=
dam=1 expand=1]

Me and my g/f went out drinking one night, met a girl at the bar and she came back to my apartment for some more drinks. Had a threesome that was amazing, and the girl left when we were done. Talked to the g/f after and we both agreed it was a lot of fun and went to bed. Woke up the next day, talked about how much fun we had and after that it was never brought up again for the next year we dated.
AND THEN THERE WAS 1!
[rebelmouse-image 18347596 is_animated_gif=
dam=1 expand=1]

It went okay. There were two no-shows, but I salvaged it.
CRYING?! THERE'S NO CRYING IN THREESOMES!
[rebelmouse-image 18347598 is_animated_gif=
dam=1 expand=1]

Started out great. We had a female friend who we'd been flirting with for a while. She came over for dinner and a few drinks. The three of us started making out, clothes were coming off, hands were going everywhere, and then... My partner started crying. Threesome over. Friend went home, and we hugged and talked it out.
I LIKE BIG BUTTS AND I CANNOT LIE.
[rebelmouse-image 18977678 is_animated_gif=
dam=1 expand=1]

The other girl had a bigger butt and I didn't even make it to my gf. My girlfriend watched me have sex with her friend. But her friend satisfied her. We are no longer together and its super awkward whenever i see either of them
TRIFLIN'!!
[rebelmouse-image 18977679 is_animated_gif=
dam=1 expand=1]

It was very meh. My boyfriend at the time was really into the idea. We talked a girl we met at a party. Turns out, it was basically two straight girls with one dude, the girl and I weren't into each other at all. It's not like she was unattractive or anything, just am not into girls really, as it turns out.

My boyfriend then goes and keeps talking to her after the threesome, and when he tells me that we were going to do it again, I told him no, but then he said he had flirted with her too much to back out at this point, and it happened a second time. It really pissed me off that he didn't respect that no means no... one of the many reasons that he is now an ex.

Later the girl started texting him asking to have sex with just him...
WHY BOTHER THEN?
[rebelmouse-image 18977680 is_animated_gif=
dam=1 expand=1]

For me, I feel like I couldn't really enjoy it because I was manipulated into it. He spend 3 years trying to convince me to do it. She wasn't all that into it either as it turns out.
JUST ARMS & LEGS EVERYWHERE!
[rebelmouse-image 18977682 is_animated_gif=
dam=1 expand=1]

Not my partner but had a 3 some with my best friend and his girl. (MMF) a couple times and once I picked up a girl at the bar who was into it so we had a 4 some. Friend and his girl are still together and I'm in a relationship with a new girl now who's definitely not into it so we don't do it anymore and I don't push for it.
SEIZE THE DAY!
[rebelmouse-image 18977683 is_animated_gif=
dam=1 expand=1]

Surprisingly well. My husband had a little crush on a coworker and would "jokingly" ask me for a threesome. I brushed it off for a while, and considered it just harmless office flirting. Then one night she babysat for us, and the joke was brought up again, and we just kinda went for it. I initially did it to fulfill his fantasy, but I was surprisingly into it and we all had enough fun to do it again a few weeks later. Before the encounter, I was starting to get a bit jealous of their flirtatious relationship, but here's the twist: it turns out, she actually had a crush on me! She wanted to make it a regular thing and wanted to hook up with me solo. Once I realized her intentions, I had to end it. "Breaking up" with her was a bit awkward, but we had fun while it lasted. No regrets.
SOMETIMES IT WORKS AND SOMETIMES NO.
[rebelmouse-image 18977684 is_animated_gif=
dam=1 expand=1]

I had one partner that really took it hard after (it was her idea in the first place), and I had one that loved doing it on the regular. I was cool with it. Lots of fun times.
BE ON SOLID GROUND.
[rebelmouse-image 18977685 is_animated_gif=
dam=1 expand=1]

My fiancee and i had a threesome. She ended up sticking around for over a year. It was fun while it lasted though. Including her, we had a five \some and a foursome. Still with the fiancee. Relationship between she and i is a bit rocky. Tends to happen when you involve emotions into the mix.
HOW POETIC...
[rebelmouse-image 18977686 is_animated_gif=
dam=1 expand=1]

My girlfriend wanted a threesome

To that I readily agreed

Imagine my shock

When they forsake my "stuff"

And then kept going without me.
THE SECRETS TO FOREVER.
[rebelmouse-image 18977687 is_animated_gif=
dam=1 expand=1]

I've done this several times and everything was good with all the ladies. And guys.

It's not for everyone, probably not for most people. But if you go into it with the right attitude and some understanding it can be enlightening, erotic, and fulfilling for everyone. The first time was my wife's (girlfriend at the time) idea. She had a very good friend who was having some trouble finding a useful partner for sexual purposes. She was also not interested in a long term relationship of any sort. Her career was just taking off and she worked long and irregular hours.

So, my wife offered me for some fun times. My wife and I were, and are, very open about things. But when she came home after a girls night out and said"I told Sherry she could bang you," I was a bit surprised.

The first several times were threesomes. Then Sherry would show up by herself. No issues at all. We're all still great friends. Sherry got married a couple years later and asked us to keep the secret. Her new husband was ultra religious and very conservative. We kept the secret and never was a word spoken.

This happened probably 5-7 times with different ladies. And I was reciprocal. If we met a guy she liked we did the same. That was much rarer. I suppose because she is really more into FFM than two guys. But we do have a guy she sees now, probably a couple times a month. And I still sometimes see the other ladies, whenever they are interested. I'm not as able lately, due to a spinal injury, but I try to help where I can.

It has been great. We've been married 20 years and neither of us has ever hinted at any sort of jealousy. We know we'll be together until the dirt falls on our caskets and, until then, everything is wide open. It's great for us, but I can certainly see where and why it might be a serious obstacle to many others. It takes a special kind of trust and the right people or you'll end up riding off a cliff into disaster.
HOW MATURE.
[rebelmouse-image 18977688 is_animated_gif=
dam=1 expand=1]

My bf (now ex) and I invited another girl in, a few times. An acquaintance of his prior (they hadn't slept together previously though).

We all slept together a few times, I started catching the feels for her, she started getting the feels for him and we called it quits soon after that because we were all open about it and didn't want things to drastically change.

It was always just for fun and enjoyment and yeah, adults about it thankfully and good communication. The threesomes were hot as hell and still think about them at times!
BE IN THE MOMENT.
[rebelmouse-image 18977689 is_animated_gif=
dam=1 expand=1]

Not a threesome, but a MFMF foursome. Twice. With the same couple.

The first time was incredible. The second time was just this past weekend and it was also pretty great but I'm a little in my head about it and sort feeling weirdly vulnerable and self-conscious about it now.
T.M.I !!
[rebelmouse-image 18977690 is_animated_gif=
dam=1 expand=1]

Bad... alcohol and erectile dysfunction.
SEXY SECRETS BETWEEN FRIENDS.
[rebelmouse-image 18977691 is_animated_gif=
dam=1 expand=1]

Pretty great. Happened quite often over the course of a couple years. We're still close friends with the other girl, who is now married.
SPREAD THE WEALTH?
[rebelmouse-image 18977692 is_animated_gif=
dam=1 expand=1]

I got to disappoint 2 women instead of just one.
BE HONEST.
[rebelmouse-image 18977693 is_animated_gif=
dam=1 expand=1]

I wanted to have one, and my ex said she did too.

Well, apparently she didn't, but was too afraid to say anything and eventually dumped me.
I'D RATHER ROAST BEEF & SWISS...
[rebelmouse-image 18977694 is_animated_gif=
dam=1 expand=1]

It was okay. I started to think. " would anyone miss me if I wasn't here?" The other girl started to kick me and then I got bored. I ended up making a snack. It was just a sandwich. Turkey. With a little mustard.