When you stop trying to put people in boxes and let them identify themselves, it's amazing what can happen.
---
The amount of Americans who identify as bisexual has increased in the last decade by 2.2%:
3.3% total, up from 1.1% in 2008.
What's more, the rise in bisexual identification is mainly from women.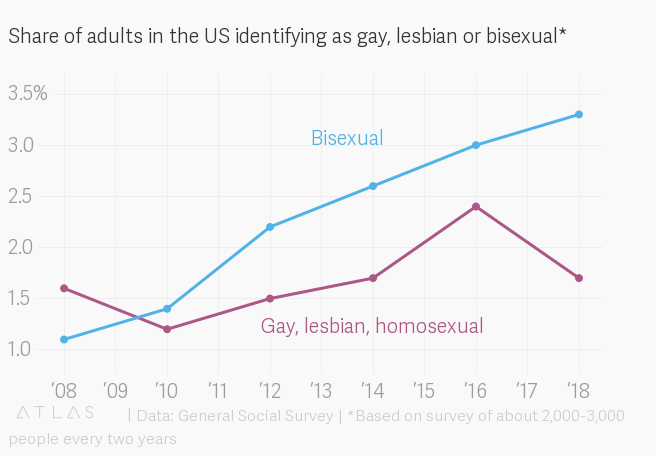 Share of adults in the US identifying as gay, lesbian or bisexual* www.theatlas.com
5.6% of US women consider themselves bisexual, compared to .6 percent of US men.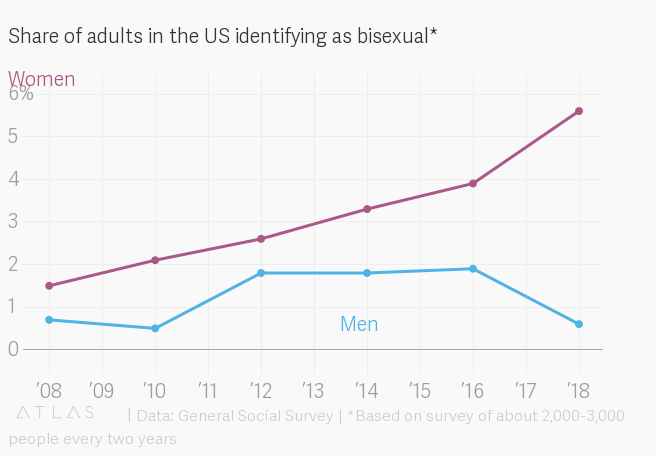 Share of adults in the US identifying as bisexual* www.theatlas.com
"Some people have said that this means new people are identifying this way, but I think actually this is an illustration of what happens as sexual tolerance becomes more mainstream," sociologist Tristan Bridges told The Daily Mail.
"It becomes less scary to sort of publicly identify yourself (as LGBTQ) even in an anonymous survey."

Quartz.com attributes this new "safety" in identifying in the LGBTQ community to a few things.
"For one, there have been more (and more favorable) representations of queer people in the news, on television, and in film over the past two decades, with 2018 seeing record growth in LGBTQ roles on TV, with queer people of color outnumbering their straight, white counterparts by 50% to 49%, according to GLAAD's annual TV diversity report. The study also noted that Netflix is the streaming platform that has the highest percentage of LGBTQ characters, dominating outlets like Hulu and Amazon Prime."
It also went along party lines:
"Democrats were significantly more likely than Republicans to identify as bisexual (4.5 percent and 1.6 percent, respectively). Some 3.3 percent of independents said they were bisexual in 2018."
Which correlates to a rise in LGBTQ candidates running for political office. For example, Kyrsten Sinema, who identifies as bisexual, in the Senate.
And with the popularity of Pete Buttigieg running for the presidency, the picture of LGBTQ people in the US is more welcoming than ever before.
So go on out and take pride.
Proudly declare your sexuality in an anonymous survey, or whatever. It will pay off.