Nobody wants to die alone. That is one of life's more basic truths. We all hope there is going to be a familiar hand to hold and a pair of eyes that witnessed our lives looking into us as we drift off to meet our maker. That feels like the basics of marriage. Well that and a permanent booty call.
That's why a lot of people turn to a trusted friend to maybe one day be a love interest. It's always good to have a fail-safe and a back up. And the older you get the more the chase becomes too much run through, so why not make it easy? It's like... "hey so and so... you wanna get hitched by this date, in case?"
BAM! Instant I Do.
Redditor u/shansnewone wanted the betrothed out there to tell us about their relationship successes and fails, by asking:
Couples who got married on the basis: "if we're both not married by (x) years old, we'll marry each other" how did things work out?
I am out of options. Unless all of my prior fail safes current relationships don't pan out, I'm going to the grave alone. I'm too tired to look, or too lazy. Potato/potatoe... let's see who has better luck.
Decades Later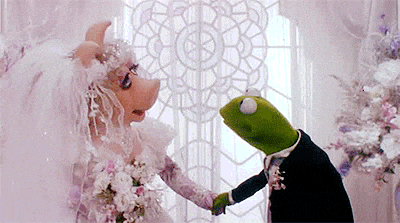 just married love GIF
Giphy
"Yep, worked out pretty well. We've known each other for close to 30 years now and jokingly said something similar years ago. Anyway, we got married almost 6 years ago and pretty happy with the situation."
BFF
"We were best friends for a long time in high school, I was really into her but the feeling wasn't mutual. I told her if we were single 5 years from now I could see us getting together and getting married. I moved across the country and we mostly lost touch for a couple years, but then almost exactly five years after I'd said that, we reconnected and I told here I was miserable where I was."
"She had just moved to a new city, I moved in with her, and we got together pretty quick. In two weeks, that'll have been six years ago. We just bought a house and our daughter's first birthday is next month. It was rocky at first, since we were both escaping miserable situations and living in a studio apartment, but everything worked out and I live with my best friend."
- drmwve
She said yes...
"Funny enough, there was a girl I liked in High School, but I was 17 and she was 15. She asked me out but I said no because I just got a girlfriend, but I was interested in her and I told her. She said if I'm single by the time I'm 25, can we get married? I was like yeah sure. I asked her when she was 25 if she was single. She said yes. Reminded her about our agreement and she said "I'm only really dating girls right now." So yeah."
Jumped the gun a little...
"I made this arrangement with my best friend from college. We spent so much time together, people thought we were dating and it led to some strife in many of my possible relationships because they saw her as a threat. But that wasn't the nature of our relationship. Strictly friends, I had interest in her one time but was quickly friendzoned and didn't try to make any advances. She never held interest in me."
"One night, close to the end of college, we went out and grabbed some beer at a local place and were transparent that we could see ourselves getting married to one another. We made an agreement that if, by the age of 30 pr 35 (I can't remember now), we were both single, we would get married. After college, we went our separate ways—I continued with school, she got a job."
"We talked inconsistently (maybe once every few months?) for about 2 years. I happened to be in her city one day in 2020 and we grabbed coffee. We talked a little more after that, then things REALLY picked up here in the last few months. We're engaged, getting married in March. Jumped the gun a little, but dammit this is the best decision and relationship I've ever been in."
In the End...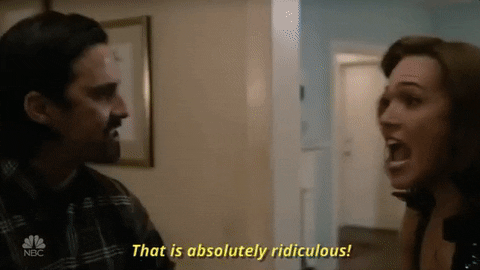 This Is Absolutely Ridiculous Mandy Moore GIF by This Is Us
Giphy
"Couple I knew both thought very highly of themselves and thought they could do better than the other person. They're now together and miserable."
- PCB4lyfe
Well those sound pleasant enough. Well, most of them do. But hey, when you gotta go with what's in front of you, you can't beg. Maybe others had it better.
Cheers to Us...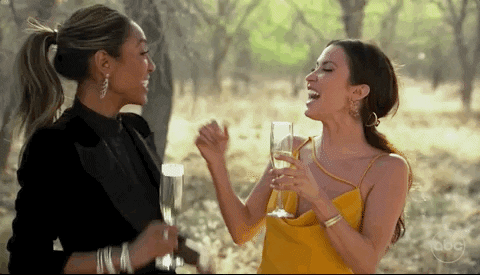 Season 17 Cheers GIF by The Bachelorette
Giphy
"Had an agreement. Both were married far before the date. Did however go out for drinks to celebrate the fact that we were both happily married!"
- Zulias
Finally
"I know a couple who were best friends but dating other people for about 15 years. No one was surprised when they finally started dating and got married, but they didn't have an agreement like you mention. They just finally got over the idea that love had to start with romance rather than friendship."
What happens... happens...
"My best friend dated this chick through high school. They broke up to go to separate colleges, dated other people obviously. Got back in town after graduating, got back together, got married. That was like 19 years and 3 kids ago. He was telling me they never would've lasted a year if they didn't separate for the 4 years of college."
- meh35m
This is a date?!
"My husband and I were friends. I said ,"if you don't have a date on Valentine's Day, why don't you come over and we can drink/ hang out." ( it was senior year of college… this was everyone's past time on non football days or club nights) Valentines came, and we both had nothing to do. He came over with beer AND yellow/red flowers."
"He offered to take me to dinner. I turned around and looked at my roommate like," huh?! Ooohhhhh... This is a date?!" I accepted the flowers and the 6 pack, got changed and 3 days later I just knew he was the one I wanted to annoy for a lifetime. We were swimming in the Jupiter inlet and I said "I think we should get married" he said "Yep. Sounds like a plan."
"That's all it took… friends + valentines + trajectory change = 2 kids, 2 careers, 6 moves, 1 serous illness. We survived together as a team, and It will be 25 years together in February. Man, I got it right and I couldn't even think of anyone better a fit for me. It's been AWESOME!!!"
Let's Party...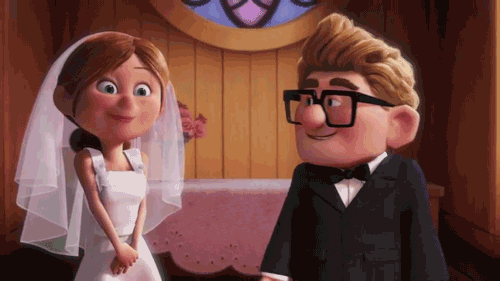 Marriage Love GIF
Giphy
"In my case i had good friend studying together abroad who had boyfriend."
"I told her to call me when she's free. Two years later she came to work to my city she was already free. She called me and we went to a party where after an hour or two we decided to be together and we are for 10 years."
I'm comforted by a lot of this. Maybe I'll meet some new back ups. And then love will overcome. Anybody free for a chat? ;)
Want to "know" more? Never miss another big, odd, funny, or heartbreaking moment again. Sign up for the Knowable newsletter here.
Keep reading...
Show less
When I was ten, twenty even, I remember having so many friends Christmas would drive me to bankruptcy. Friends at work, friends at school, friends in the neighborhood; they were everywhere.
I couldn't even define the feeling of loneliness until I was almost 30. And knowing loneliness isn't actually a bad thing, more people should know that sooner rather than later. Eventually my friend pool dwindled, as does everyone's.
You realize quickly that hanging around on the monkey bars isn't an efficient way to meet new people when you're 40. And monkey bars themselves are a detriment to your back.
It isn't always easy to go out and meet new people, but you have to try. So let's compare strategies.
Redditor u/zehlewe wanted to meet some new people for platonic fun, by asking:
How the hell do you make new friends as an adult?
Want to "know" more? Never miss another big, odd, funny, or heartbreaking moment again. Sign up for the Knowable newsletter here.
Keep reading...
Show less
As we grow older, we may find our relationships with people in our lives have evolved drastically.

Some friends, who may have been close to us at one time, may no longer fit in with our current life situations, and we inevitably drift apart from them.
There are usually no hard feelings when distance and life experience test the endurance of our friendships.
But, sometimes, it's time to cut our losses.
Curious to hear how people's friendships were deliberately cut short, Redditor ionlyhaveme asked:

"What ended your relationship with your best friend?"
The following people realized their friends' conniving and manipulative ways were no longer worth their time.

Toxic Friendship
"Their negative as hell attitude towards EVERYTHING including pretty innocuous, normal problems."
"I couldnt handle how bitter they had become...it was toxic."
Lies And More Lies
"She made up a story about being pregnant by rape, being addicted to pain killers, and then miscarrying said pregnancy. also she said she wanted my boyfriend and manipulated me into feeling guilty for being with him. she was dating someone else at the time. she admitted she was lying about everything in order to 'test my friendship'. I walked out that day."
The Philanderer
"He cheated on his girlfriend, who I was close friends with before I ever met him, multiple times with multiple girls and was then bragging about it. So I told her."
Romance complicates things. These Redditors can attest to that.
The Girl Whose Heart Belonged To Someone Else
"The girl he liked told him she liked me. That was the start of it. He just got distant after that happened. Then he got together with another girl who convinced him to stop hanging out with the rest of us and now we never hear from him."
Love In The Equation
"I had Feelings for him. He knew. After 4 years I couldn't torture myself anymore and ended the friendship. 3 months after that he claimed he always loved me. Oof."
First Love
"I had my first 'girlfriend' when I was 17. I was a super awkward kid (and a f'king a**hole) who had never even kissed a girl, and she was my first. She was a friend of my best friend who set us up as dates for junior prom. Well, we only 'dated' briefly, I was completely out of my depth, and she broke up with me after less than two months. About 2 months later, she was dating my best friend who set us up. Well, he texted me about it afterwards to ask if I was ok with it, and I lied and said I was.
As I said, first 'love' and all that, awkward teenage drama bullsh*t. Well, I bottled it up until the night before graduation almost a year later, I went to a baseball game with a few friends, but without my 'best friend', and I for whatever reason decided that that was the perfect time to tear him apart via text message. I went off, called him a bunch of horrific sh*t, and called him a p**sy for not even responding. An overwhelming feeling of 'what the f'k have I done?' washed over me. Well, graduation happens, he was crying when I saw him and said nothing to him. That night, my 'ex' texted me, and I brilliantly doubled down. Well, eventually a year or two passed and we patched things up, but we agreed that we would never really be friends again. I run into him once every few years and we are cordial. This was over a decade ago. Easily in the top three biggest regrets of my life."
A friend doesn't have to necessarily harm you personally in order for you to unfriend them. Their actions alone can speak for themselves.
The Embezzler
"He stole $300,000 from the company we both worked. It was over a period of time and I'm the one that figured it out."
– Rmanager
The Abuser
"I found out he regularly beat up his girlfriend."
– Barl0we
The One Who Went To Prison

"My best friend went to prison and came out a nazi. I'm not equipped to deprogram that and can't be around that."
A lot of Redditors also mentioned time was a common factor resulting in friends cutting each other off.
When neither person is willing to make an effort to reach out to the other, both are complicit in the demise of that friendship.
I have friends with whom I can pick up right where we left off, no matter how much time has passed.
Sure, life gets in the way, but those are the friendships I should make an effort to hold on to.
The moral of the thread is, if you have that one person in your life you think of fondly but fell out of touch with, it's never too late to reach out to them.
Why wonder what they're up to when you can easily DM or text them, or better yet, give them a random call. Life is short.

Keep reading...
Show less
Fake friends can really be the worst. They're the kind of people who will use someone to gain something for themselves. Sometimes it's money, sometimes it's for social gain.
But in the moment, it can be hard to spot those fake friends until they've been cut off from your life entirely. Whether they stopped responding to texts, hung out without you, or only included you to gain what they wanted, it can hurt just as bad.
One Redditor wanted to know what the tipping point for those fake friends was.
Redditor VexAndStuff asked:
"When did you realize your 'friends' were actually fake friends?"
Get ready for some sad but true realizations.
Want to "know" more? Never miss another big, odd, funny, or heartbreaking moment again. Sign up for the Knowable newsletter here.
Keep reading...
Show less
Sometimes friendships don't last forever. Especially when they exist within a big group of friends--that's when things can get messy, especially when you're young. Eventually, you grow up and realize that the drama just isn't worth it, and part ways.
This seems to be a universal experience. 606hound asked:
Why did your friend group break up?
​This phenomenon seems to happen the most after high school. It can be tragic, but sometimes it just doesn't make sense to be friends anymore.
It's a lot of work to stay in touch as adults.
"Time and distance means both parties have to work at it to keep it going. There are a lot of people I thought I'd remain friends with all my life who are now people I will always remain in contact with, and if they ever want to try and reconnect, my door is open, and I hope the same offer is open to me should I want to reach out.
I think there's also something to the idea that what made us friends back then isn't who we are today. The friends I am still friends with from my high school days or my university days or my first job days have grown up with me and like me for who I am now, not who I was when we first met, and vice versa. There are people I stay in touch with for the sake of shared history who I am confident we will never make new memories together. That's okay. I care about them to the extent that I like to know they're doing okay, and that's enough for both of us."
It's best to avoid people like this.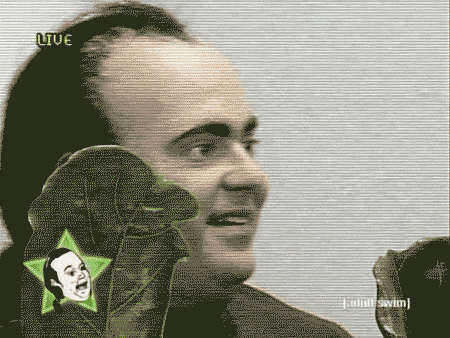 Tim And Eric Smile GIF
Giphy
"It was three of us and we were inseparable back in high school. Then, when the girl I was crushing on started hanging out with us more, one of my friends started acting different. At first, he was going out of his way to look good in front of her and like a really good/funny guy. It was annoying. Then it moved to him lying to me and talking sh*t about me to her and other people. And finally, he started to flirt her under the thinly veiled excuse of "wrestling."
A dozen talks and all of them ending in him threatening suicide later, I told him to f*ck off and broke it off."
​Gotta grow up at some point.
"Everyone was really fun as a group for the first couple years, but as we got older some grew up and others didn't. Which led to some people doing some sh*tty things to others in the group that brought on some fights and arguments which eventually split everyone up.
There are a few members of the group that I stay in contact with but we will likely never hang out as a group again."
They had to learn their lesson twice with these folks.
"Girl A told girl B that this boy was cheating on B. B called A a liar and physically fought her. All my friends took different sides. I remained neutral like Switzerland. I am now the one with no friends since those backing A were angry I was still talking to those backing B and viceversa.
Edit for answers:
The guy was cheating but made B think she was crazy for believing A. He was abusive and toxic. They are still together 15 years down the line and have 2 children.
I sort of took A's side as she was right but my best friend (C) took B's side. A had no problem with me talking to B and the ones on her side. My then best friend C got jealous I was also talking to A and got the girls on A's side to stop talking to A.
Whole group rekindled about a year later, apologies were exchanged. B never joined any plan as the guy didn't want her to see her friends.
When me and A started uni (we were the only two from the group that went to university) everyone stopped calling us as we were broke students and didn't have money for clubbing. We tried to organise free plans but no one was interested.
Conclusion:
Lost the same group twice. Better off without them. Girl A is still my best friend."
Unfortunately, there are common traits between people in a friendship that one might outgrow, like partying, drugs, or other reckless activities.
​Drugs can tear apart any relationship.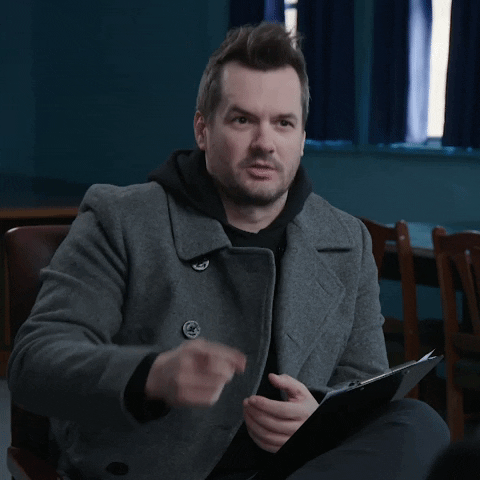 comedy central GIF by The Jim Jefferies Show
Giphy
"Cocaine.
Steve always had a coke problem and so did Shane. Then I got one and it was bad. All the girlfriends blamed Steve and Shane for what happened to me as they introduced me to it.
Then Steve got too coked out while I was at rehab and beat the sh*t out of Shane.
I still talk to Shane occasionally hoping he's ready to quit drinking but the rest of them are long gone.
Drugs suck."
Growing up means losing friends.
"I think most of my group still hangs out. But over the last five years, I've just stopped talking to them.
I used to be a huge partier, but had a major health event that has effectively ended it. I no longer drink or do hard drugs.
I just lost interest with them since it all revolved around getting messed up. I used to go out maybe a few times a year, but after the social distancing this past year, I lost touch even more. On top of that, my longest friend unexpectedly died due to drugs earlier this year. I'm glad I got out when I did because I was on track for the same fate.
On top of that, I stopped doing Facebook and that has contributed as well. I recently saw they all got together for some 100 days celebration of my friend dying but nobody invited me and I found out after the fact.
Sometimes you just grow up and leave it behind."
All went in different directions.
"I was part of a group of 6 that hung out the summer after high school graduation. This is what happened.
One liked drugs.
One became a cop.
One got sent to jail.
One moved to Oregon.
One is still getting his Masters.
I'm just working.
I still hang out with the guy getting his masters and the guy from Oregon will come back home sometimes."
​Sometimes we just outgrow people. It's a part of becoming an adult.
​Don't bang your band mates.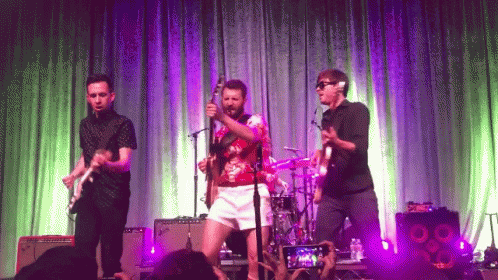 band jamming GIF
Giphy
"Not as much as a friend group, but a band. I was in a pop punk band in high school, and we were together for about 2 years just playing local shows and sucking at writing songs together.
My junior year, I (vocals) started dating the guitar player. Turns out, the bassist and the keyboard player also both had the hots for me. Bassist and Keyboard player dipped, other guitar guy and drummer awkwardly backed out, and me and girlfriend/guitar player did acoustic covers together for another year and a half before she cheated on me and we broke up.
Moral of the story, don't bang your bandmates."
Big yikes.
"Some friends had very clear mental health issues. One decided to lash out and cut contact for seemingly no reason, another just straight up ghosted everyone and we never found out why.
One of my good buddies from highschool has problems with alcohol and also wants to be a cop despite being racist and sexist. He made a sexual comment to my wife while blacked out and refused to take responsibility. Another friend freaked out months later screaming at us for daring to hold him to account and said a bunch of awful things, we haven't heard from her since.
Growing up f*cking sucks sometimes."
Something I wish I learned when I was younger was that if a friendship is toxic, it's more than ok to let them go. It's no use clinging to people who don't value you, or are just plain problematic. You're allowed to leave.
It's honestly better to just have a few close friends anyway. Friend groups are too dramatic.
Keep reading...
Show less