As desperate as people are for a job these days, sometimes you realize real quick, this place ain't worth it.
Yes, we need to make money to survive, but some work opportunities will only ever lead to toxic drama.
Listen to your instincts.

Just politely say... "I'm sorry. I just had a death in my family. I must go."
Then run. I promise there are other jobs.
Redditor sheepofwallstreet86 wanted to hear about the reasons why they knew a job was not going to work right from the start. They asked:
"What happened during an interview that immediately made you realize you wouldn't take the job no matter how much they offered you?"
I once thought I might sell steak knives. The orientation was five hours. For steak knives. I wanted to stab myself with my product.
Negative Much?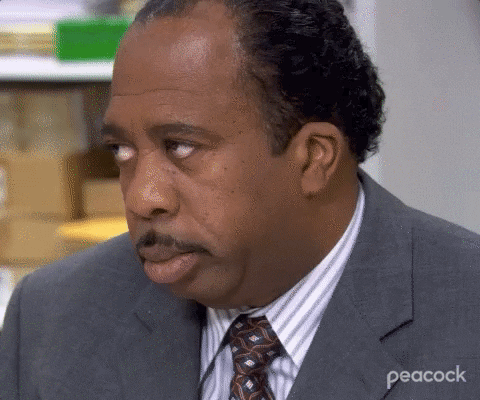 Bored Season 3 GIF by The Office
Giphy
"Three of four people who interviewed me spent the entire time talking about how bad the company was and why I really don't want the job. The fourth was the CEO. His story was different. I didn't take the job."
IAmDotorg
I still felt terrible...
"I tried getting a job as a telemarketer once. The interviewer had me go into another room and call her, and she would pretend to be a person I'm trying to get money from. I started into the script, and she said, 'Oh, but I'm just a poor college student with no money!' Even though I knew she was just pretending, I still felt terrible. I knew that I could never do that work in real life. I told her that my coming there was a bad idea and I had to leave."
CapnFang
The Resume
"Back when I was unemployed long term, I was applying for roles anywhere I could find really. Got an interview for a retail position, not great but better than nothing. First interview is a group one, I get through that fine. Second interview is with the manager of the store. He spends like 10 minutes telling me how sh*t my resume is."
godzillastailor
Pants on Fire
"The amount of lies discovered during the interview itself. They tell you one thing online and in emails, only to see something different when you show up and go through the interview. If there was already that much lying and falsehoods seen during the interview, no telling how much worse it actually can be. Could understand why the person left."
Lostarchitorture
Pass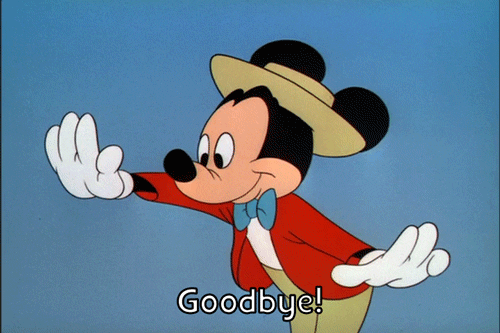 Bye Bye Goodbye GIF by Mickey Mouse
Giphy
"They called me back for a… 5th interview… after that I had enough and told them it was getting a bit much and I'll take a pass."
kyle71473
Seriously. How many interviews do you really need? Nothing is changing from meeting to meeting.
Smarter than the Average Turnip...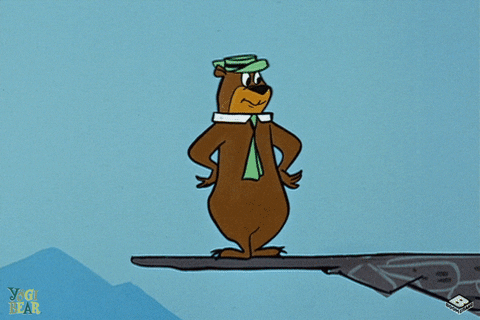 epic fail falling GIF
Giphy
"When she started explaining that my 'role' in handling payments would involve depositing 'client payments' into my own personal account before transferring it to 'the company'. I may be a dumba**, but I didn't fall off the turnip-truck yesterday."
asstyrant
Excuse me, what?
"Asked me if I would be willing to take a three month deferment while under a 'Probationary' period. If after 3 months, they didn't like me, they'd let me go and give me a check for $0.10 on the dollar for every dollar/hr worked. If they kept me, I'd get a check for all my hours, plus a bonus of $500 for office supplies, but I could only buy out of their selected catalogue. I almost laughed in her face."
FreeSpeechMatter1776
Always trust your gut...
"After 2 panel interviews, was invited for a lunch with the team - I pretty much knew I had the job, the offer was just a formality by that point. Went to a random buffet restaurant at a forgettable hotel miles from the job site (which was really odd). Carpooled with the team and it was a very weird vibe during the ride and getting to the table - everyone was walking on eggshells around the manager, laughing too loudly at her jokes etc."
"As soon as we sat down, the manager went up to get her food, and the rest of the team stayed at the table - when her phone started ringing (she'd left it on the table), they were panicking to be the first one to get it before the 2nd ring. They were so deferential (almost comically so), and so worried about what might happen if the manager got upset, I just couldn't see myself working there. I turned down the offer when it did come in the next day. Saw the job advertised again a few months later, wasn't surprised. Always trust your gut."
bassgirl23
20%
"This was a grad school interview, so slightly different, but still fully convinced me to divert my focus to other programs and interviews completely. I was asked to prepare a five minute presentation that I would give via zoom at the start of the interview."
"About a minute into the presentation, the interviewer got up and walked away from her laptop before returning about a minute later. She missed 20% of my presentation. I kept giving my presentation because there was also a student representative on the call, but the faculty interviewer neither apologized nor acknowledged leaving during my presentation."
"If I am not worth five minutes of your attention as a prospective student, then your program is not worth my tens of thousands of dollars. Lucky for me, I was accepted into my first choice program that same day."
JimboSliceCAVA
Sorry 3rd Lady...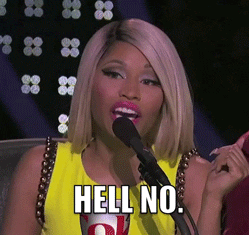 Nicki Minaj No GIF
Giphy
"I was told the person I would be supporting as an Executive Assistant was on his third wife, he has 6 kids and that I should include the wife in certain decisions so that she doesn't feel insecure (being the 3rd wife and all). Ain't nobody got time for 3rd wife insecurity drama."
SSOJ16
3x times a charm...
"I remember making it to the third interview round for this organisation only for them to tell me that I don't have the particular background in the sector that they're looking for. This is after a general recruitment test, a case study assignment and two interviews. Needless to say, it was super frustrating."
PM_ME_YOUR___ISSUES
"taster session"
"It wasn't an interview but a 'taster session' where I had to work there for 3 hours then make my decision. A lot of the hardware didn't work, the guy training me was away and had to train me over a video call so whenever anything went wrong I was fucked and he would loudly sigh every time I needed something explaining. Because how dare someone need something explained to them on their first job."
TheNameless00
"no excuses"
"I interviewed at a "no excuses" charter school. They gave a scenario where a student comes in to class and doesn't have his homework done. He says it's because he spent the previous night in the ER because his brother was shot. School policy is that unfinished homework is a mandatory detention. I could not, in good conscience, answer that question the way they wanted."
fxcassell
Game Time
"Stupid interview games. The d**kheads put me at a low table with a low chair, placed water in a carafe with an empty glass - all just out of reach so that I'd have to stand and reach for it, and then interviewed me as a panel of six employees sitting at a tall table with tall chairs."
"The questions were all more about my character than my skills. The whole thing was so obviously staged to make me feel uncomfortable. An interview is a conversation, not an interrogation. Treat it like an interrogation, and I'm freaking out. It's a clear sign of a toxic workplace - I've yet to see an exception to this rule."
fargmania
2 of us...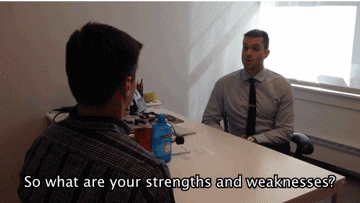 job interviews GIF
Giphy
"It was a low paying retail job, but I've been interviewed at the same time as someone else. The issue I had with this is that it pits two people against each other and it becomes incredibly awkward. I was interviewing against a woman who had lost her job and was talking about supporting her kids."
"I felt like I had to make a stronger case saying that I didn't know how I'd afford college without the job. If an interviewer doesn't have time for 2 separate interviews then just walk out because things will only get worse."
Future_Classic_
Someone better...
"After the job interview they said they will call me in one week. A month has passed and I still didn't get a call so I decided to call them myself. They said 'oh yea.. we remember you.. yea.. Um sorry about that we completely forgot to call you back. We already found someone (better).' Turns out That that someone then turned the job down and so they contacted me again to see if I was still interested after two months. I said 'No thanks. I already got a job.'"
Redittoranian
It was a full time job...
"I went to interview for an entry level marketing position in the film industry. Two hours in the boss slipped in that I wouldn't be paid for the first few months while they trained me. It was a full time job. He also wanted me to start immediately that day using my personal laptop. I made up an excuse and left shortly after."
thecylonstrikesback
1997
"This was during a phone screen rather than an interview. Time frame was 1997, during the height of the .com boom. I'm a programmer. The screener told me that they were a 'fast-paced company' and I asked for some clarification on what exactly that meant. After some evasive answers, I asked more directly what kind of hours people worked and found out that many people were working 60+ hours a week. I politely declined."
"The company did have an IPO in early 1999 that could have been lucrative for me, but I had an 18 month old daughter and another on the way - I was changing jobs to be able to spend more time with them, not less. I feel very good about that decision."
stevedonie
It's a Cult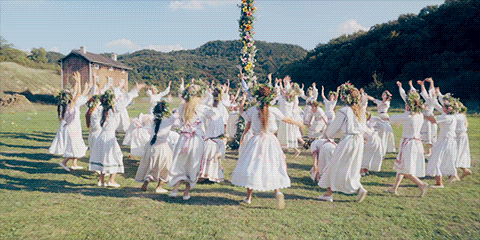 Dance Flowers GIF by A24
Giphy
"Wasn't the interview per se, but I caught a glimpse of a whiteboard in HR that had a bullet point list that seemed to be things to talk about to convince people to join the company, and one of the items was, 'Not a cult.'"
poe_todd
Damn You John!
"My brother once had an interview for a cooking position at a local restaurant. He walked in and immediately ran into a female employee who was crying and yelling 'F**k you John!' John was the guy who interviewed him."
Arcinbiblo12
Again... just get up and run.
There will be other opportunities.
Want to "know" more?
Sign up for the Knowable newsletter here.

Never miss another big, odd, funny or heartbreaking moment again.
Keep reading...
Show less
Nobody is better than anybody else. Why is that such a difficult concept for so many people? One person doesn't get a pass for certain things that another person would be scolded for "just because."
Even in family dynamics, double standards are at play. Why should sons get a later curfew than daughters? Why can't a man vacuum? HOW are we still having these conversations?
It's time to break down the constructed hierarchies that have been imposed upon society. Let's get it all out there, so that we're all aware, so we can do better.
Redditor WistfulNightSky wanted to discuss the most unfair issues we all face on the daily, by asking:
What double standard are you tired of?
Want to "know" more? Never miss another big, odd, funny, or heartbreaking moment again. Sign up for the Knowable newsletter here.
Keep reading...
Show less
"The Office" was, of course, a piece of satire. Surely, no actual office workplace is that absurd, that full of that many inappropriate comments and behaviors, run that ineptly on a daily basis.
But we must remember that satire always has a foot in real life experience. A recent Reddit thread shed some light on the prevalence of Michael Scott antics in real life work environments. Read enough of these stories and you'll be left considering "The Office" a lot less far-fetched than you had assumed.
There were some common themes that cropped up in these comically horrible office leaders. A childlike humor was almost always present. Often, a woefully ignorant understanding of other cultures resulted in cringe-worthy microaggressions.
And, of course, there were several very involved office-wide activities that had almost nothing to do with making the company more productive.
Supersmaaashley asked, "Do bosses like Michael Scott actually exist? And if you work/ed for one, what's your craziest story?"
Wild Goose Chase
"He wanted a pomegranate for lunch and they were out of season, but that didn't stop him from sending me on a quest to every grocery store in town in search of a pomegranate."
"Multiple produce guys laughed at me, but that was the easiest $13/hr I've ever made."
Hard at Work
"I had a boss once who spent all morning locked in his office. He asked me to come in after lunch where he showed me a handmade graph."
"He then proceeded to explain that this was a chart of all the sex he had ever had in his life."
" 'See, here it is blank until I joined the army. Then I went to a sex worker here. That's where you see the big jump. I was on two tours but then got shot in the face. I came back home and you see how it just drops to almost nothing.' "
"I was astounded."
The Horror
"I had a boss sneak up behind a middle-aged female employee and pick her up, then immediately drop her down saying 'I didn't think you weighed that much!' He could not stop laughing."
"He was the principal. This occurred during passing period in a crowded middle school hallway."
-- jezebellrae
Wear's His Insecurities on His Sleeve
"I had a redhead boss who made us all sit down and watch a training video about how we shouldn't refer to him as a 'ginger' because it is bullying."
"No one had ever called him that."
-- RespectFar
Checks All the Boxes
"Organized a thoroughly awkward award ceremony once (that we never did again)."
"Asked a Mexican employee if his new baby's name was going to be "No Mas" during the shower we threw for him."
"Heard me once use the phrase 'economy of scale,' then used it wrong 5 minutes later in a conversation with different people."
"Didn't know the meaning behind 'Black Friday' and what it meant for a company to be 'in the black.' "
"Just like Michael Scott, only more of a di**."
You Just Can't Say That
"Never have worked for one myself, but my dad told me a story about his boss who was giving out awards to everyone in honor of how long they've worked there, and he would give speeches for each person."
"A woman employee received her award and he gave a speech about the story of how she came to work there. And he said, 'At first I didn't want to hire her because she was so hot.' "
"My dad's not working there anymore, but I love that story because I will never not picture Michael Scott giving Pam a Dundie and saying that about her."
Bigger Fish to Fry
"I literally had a boss who would stop us in the middle of our work and hold company-wide meetings talking about 9/11 truther conspiracies and chem trails. Mind you we were furniture-making company."
"He would get so caught up in his conspiracy theories that he forgot to order wood to make furniture one month."
-- PAzoo42
A Very Important Side Project
"I worked for a woman as her 'personal assistant/ cat sitter.' She was super rich and off the deep end nuts."
She had me order a mannequin online, and then paid me to take one of the mannequin legs to Nordstrom to try and see what suitcase I could buy that would fit the dismembered mannequin body, because she wanted to fly with the mannequin to Pittsburgh to display 'as her daughter,' dressed in her daughter's clothes, at that daughter's graduation celebration. buying the mannequin was a whole thing too."
"She kept trying to get me to order from "adult doll" websites because she didn't get it. lmao."
Company Incentives
"My boss used to carry around a backpack full of hammers and if you fell sleep at your desk he started banging a hammer on your desk until you woke up and then he would autograph the hammer and give it to you as a gift."
Anything But Work
"We had kidnapping drills one day, where we learned how to 'not be kidnapped'. Notably, this was a regular, boring office in a regular, boring suburb. No reason why kidnapping would be on anybody's radar..."
"He and several of the guys randomly broke out into a push-up contest. Again. White collar office. Middle-aged dudes in khakis."

"Couldn't remember the nationality of our Hispanic colleague. Tried to 'learn Spanish' to make her feel special when she returned from maternity leave. (1) What he learned was NOT Spanish, and (2) she was from Portugal. She knew like, five words of Spanish."
"Disappeared for four days. No call. No email. Wouldn't respond to any of our attempts to reach him. Finally, someone drove out to his house to make sure he was alive. He was. He'd just forgotten to tell us he was taking the week off, and then lost his phone in a lake."
"There were many, many moments like these. Great boss. Genuinely cared about everyone in the company. Occasional moments of brilliance, where he really got things done. But OMG, so many moments of ridiculousness."
The Great Golden Hamster Ball
"My boss is certainly Michael Scott-esque. When I first started I was essentially Pam as well since I was both receptionist and his assistant to some extent."
"My favorite story was back when we were prepping for a conference. Some context, he's terrible with the English language in general and will mangle phrases and descriptions to no end (how the turn tables...)."
"So on a group call he kept talking about wanting a 'golden hamster ball' to do giveaways with. Was raving about how great it would be spinning around while people walked by, all the while everyone on the call was just sitting in confused silence."
"However by that point, I had become so good at decoding his nonsense that I knew he was referring to a gold raffle cage and sent him image privately asking if it's what he was thinking."
"To this day he still talks about the fact I can read his mind and must be psychic. And he still refers to it as a hamster ball."
"All in all he's a pretty nice guy and a solid boss. Hired me based on a gut feeling and has been decent to me ever since."
"I think I knew it would be a good fit when during the interview he tried to tell me about the four pillars of the company and forgot one. Told me later it was Knowledge."
"I used Michael Scott as a reference point for an old boss of mine from the moment I started working there.
"He made Chewbacca noises on the regular because one of my coworkers' names sort of vaguely sounded like Chewbacca (it didn't), used voice to text extremely loudly in his office for no reason to send really personal messages..."
"...got really excited and wore a specific vest any time we had after-work outings scheduled, shouted the same like 7 references to old movies and extremely awkward hip-hop song quotes 100 times a day..."
"...and insisted on greeting all our international coworkers very loudly in their language (they all speak perfect English, of course), looking around for approval afterward, and then fully giggling at everyone's French accents on conference calls. He also told me a lot about an improv show he did for a full year after it happened."
Just a Complete Human, Flaws and All
"That said - he had all the good parts too."
"He never hesitated go to the mat for any of us whether we deserved it or not, he gave really sage business advice and great examples of how to face challenges out of absolutely nowhere, and he came to every community play I did in the 4 years I worked for him - and told everyone else in the office how good I was in it for the following month and chastised them for not coming."
"When things really got serious or bad in my life, he couldn't have been more kind, helpful, and supportive."
"Honestly? Probably the best boss I'll ever have."
Like a Spelling Test
"I had a boss that used to watch me through a gap in the glass partition between our desks. She wanted to see if I was paying attention during meetings."
"One day, I put a large folder to cover the gap and she freaked. I still laugh when I think about it."
-- harperv215
Questionable Hiring Practices
"Never have worked for one myself, but my dad told me a story about his boss who was giving out awards to everyone in honor of how long they've worked there, and he would give speeches for each person."
"A woman employee received her award and he gave a speech about the story of how she came to work there. And he said, 'At first I didn't want to hire her because she was so hot.' "
"My dad's not working there anymore, but I love that story because I will never not picture Michael Scott giving Pam a Dundie and saying that about her."
Want to "know" more? Never miss another big, odd, funny, or heartbreaking moment again. Sign up for the Knowable newsletter here.
Keep reading...
Show less
Almost all of us have daydreamed about quitting a crappy job in an awesome way. We imagine a moment when we know quitting would have the biggest impact and savoring the wicked pleasure of choosing THEN to just... walk away.
God it sounds so satisfying.
Keep reading...
Show less
Some managers think that their employees are robots.
Keep reading...
Show less