A 19-year-old young man has found himself bystander to a new friendship spawned from motivations that he concludes are problematic.
What tipped him off?
First, the use of the phrase "my cool gay bestie." But it was the shared ins and outs of masturbation habits that really hammered home the issue.
The DIY vetter of friends encountered the trouble when his childhood buddy began keeping some company with a new gal.
It is certainly not an issue of romantic jealousy AT ALL, as the narrator immediately informs.
"I have a best friend (M19) called 'Avery.' He's been my friend since kindergarten, and we're tight as hell.
"He came out as gay when he was 15, and I'm super proud of him and how far he's come."
Math time: the narrator has been kicking it with Avery for 14 years. The friendship passes muster.
Stage Left: enter new friend, followed by a chaotic, webbing hierarchy of friendship bonds with varying strengths.
"So we recently met a girl called 'Sally.' Sally is F20, and she says she's super supportive of the LGBT+ community and sh*t like that."
"She's closer to Avery than she is to me, but we're all kinda close, but Avery and I are still closer to each other."
Three would have been a crowd, but it's even more confusing when Avery's boo, Jackson, is in the mix.
It is here in the story where Sally spooks the narrator.
It's a bit of one-two punch from Sally. First, she eases into problematic by tokenizing Avery and Jackson.
It reminds of when a White person is over the moon when they make a Black friend.
"Last night, while we were all drunk, Sally confided in me that she thinks it's cool she finally has a a 'gay bestie' and that it's super sexy when Avery and Jackson make out, and she's touched herself thinking of that."
After sharing the fantasy, Sally even expresses an interest in enacting it LIVE.
"She also told me that since Jackson is bi, she wants to have a threesome with him and Avery, and maybe make Avery realise 'girls aren't all that bad'."
That was just about the end of discussion for our narrator.
His friend is gay. Sally is not an ally if she thinks all Avery needs is sex with a girl to make him bisexual.
He reached out to the subReddit "Am I The A$hole" (AITA) at a loss for what to do next.
"I honestly don't know if I want to be her friend if this is how she views my friend."
"[Would I Be The A$hole] if I tell Avery about this? I feel I'd want to know if I was my friend's walking porno."
Plenty of comments took the narrator's side and viewed Sally's behavior as disrespectful.
"She's not being a friend to them; she's being a creepy pervert. They should know." caffeine-and-emotion
"I'm a lesbian, and in my experience even after coming out I struggled a lot with men that thought they could 'change my mind' the way Sally seems to think she could change Avery's."
"It feels shitty and invalidating to have your sexuality treated like a challenge," desmodontriae
"She is not actually supportive of LGBT people, she is very homophobic. She seems to think gay men's sexuality is nothing but a ploy to attract girls, specifically her."
"She can't "turn" Avery, no matter what she does. He is gay. This is not something that can or should change." Niveot
Some offered advice to help the narrator let Avery know what's been going on.
"You need to be careful telling Avery and his bf."
"Maybe sit them both down together, inform that she's said some pretty alarming things, and that you're under the impression she's using them for clout and sexual gratification." ultimatesocks
"You can tell him your concern; but don't tell him things like "you've got to stop hanging out with her". Let him decide how he feels and see how he reacts." proteamom
Not everyone was all in for a Sally take down, though.
Many felt that nobody in this situation is really a problem.
"You should wait for her to introduce these ideas to your friend. Just because you might think it's wrong and perverted, it doesn't mean that your friend will feel the same way."
"If your friend is into the idea, he can embrace it. If not, he can tell Sally off." generalwhitmore1
"She may very well want them as friends and simultaneously fantasize about a threesome. One does not exclude the other."
"Girl might be an a**hole, she might not be, confirm her intentions before raising hell." Gauloises_Foucault
"My wife is bi, and we have MFF threesomes from time to time. The only issue here is her not respecting homosexuality over bisexuality, but its not a hate crime. Explain that one."
"You guys are basically kids, kids have bad assumptions." Chicup
There were even some that felt the narrator would be totally in the wrong to tell Avery about what Sally said.
"Seems like you're kink-shaming her righteously, when she has done nothing wrong at all. You're being very holier-than-thou about your friend's wank material and you need to calm down and recognize this is nunya business in general."
"She's not harming anyone and you're thinking of breaking her trust." boxer_santaros_2020
"Getting occasionally turned on by your friends is no big deal. Drunkenly telling you about it is no big deal."
"Best case you'll just make things awkward and weird, and make Avery feel bad for no real reason. Worst case, you'll divide the group and ruin friendships." VegetableConfection
"You are acting as if Avery's sexual preferences are etched in stone and that she would be deeply transgressing him by finding out what he's into, and what he's not."
"His boyfriend might be into it. They both might be into it, They both might not be into it. You don't need to police your friends relationship." theheartsofdarkness

As is sometimes the case, the original poster leaves the forum without much help in the way of next moves. Sometimes the slew of responses and judgments only serves to make one's head spin even more than before.
But the narrator did add two updates.
The first stated that if genders were reversed, he would still not be OK with a male friend's agenda to convert his lesbian bestie.
Then he added that he decided to message Sally before deciding what to do.
"Okay, so I messaged her an hour ago, and her sentiment hasn't changed, but she did try and laugh it off."
"She pressed on the 'maybe Avery's secretly bi' for a hot minute, and that if the roles were reversed, I'd probably jerk off to it."
Not a great look for Sally the ally here. Would she be OK if someone befriended her then tried to sleep with her to prove she was "secretly a lesbian"?
What do you think?
Keep reading...
Show less
You know how when you hear the same thing over and over again, it kind of makes you want to kick someone in the shin? Yeah ... this article is totally about that.
Reddit user _ligaya asked:

And if you, like me, foolishly thought that some of the more awful or annoying stereotypes had gone away, then brace yourself. They're still here in full effect. Here are some of the things that members of LGBTQ+ community are tired of hearing, both from outside and inside of the community.
In the words of Motormouth Maybelle: "Brace yourselves for a whole lotta ugly comin' at you from a neverending parade of stupid."
Keep reading...
Show less
When you stop trying to put people in boxes and let them identify themselves, it's amazing what can happen.
The amount of Americans who identify as bisexual has increased in the last decade by 2.2%:
3.3% total, up from 1.1% in 2008.
Bi update: Miserably bisexual at the moment.

— BiBot (@BiBot)1556286340.0
All human beings are born free & equal. 🌈Lesbian, 🌈Gay, 🌈Bisexual, 🌈Transgender,& 🌈Intersex persons must enjoy t… https://t.co/dneF3MKrAK

— UN Women (@UN Women)1556356505.0
I am a bisexual and bi stands for biodegradable because im also trash

— féli (@féli)1556143701.0
jake peralta, bisexual icon and killing eve stan https://t.co/s5l3YOVrIe

— amanda (@amanda)1556260398.0
What's more, the rise in bisexual identification is mainly from women.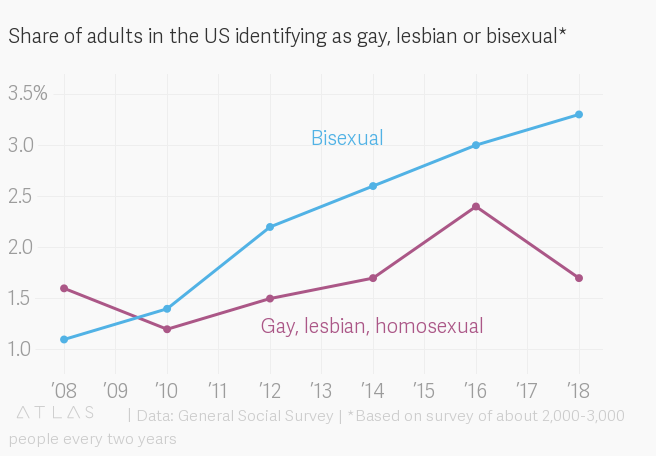 Share of adults in the US identifying as gay, lesbian or bisexual* www.theatlas.com
5.6% of US women consider themselves bisexual, compared to .6 percent of US men.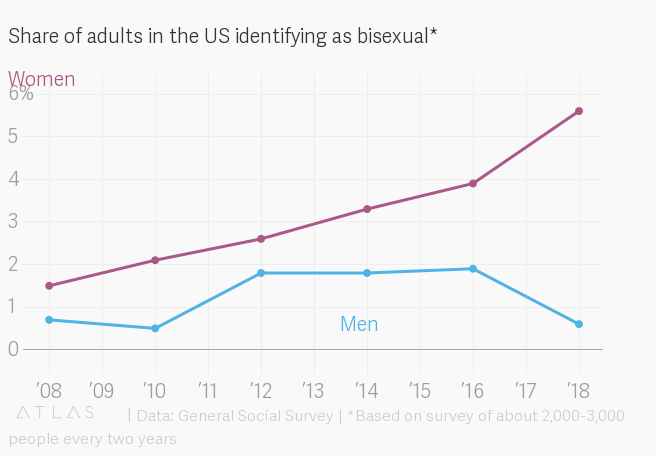 Share of adults in the US identifying as bisexual* www.theatlas.com
"Some people have said that this means new people are identifying this way, but I think actually this is an illustration of what happens as sexual tolerance becomes more mainstream," sociologist Tristan Bridges told The Daily Mail.
"It becomes less scary to sort of publicly identify yourself (as LGBTQ) even in an anonymous survey."

that is the most bisexual thing ive heard in my goddamn life someone please get him a flag for unveil he's one of u… https://t.co/I4YxqDR95F

— bella (@bella)1556379620.0
Bi update: I'm exceedingly compassionately bisexual.

— BiBot (@BiBot)1556372713.0
rizha said this whole entire scene was improvised which honestly makes so much sense like that is why it's so raw a… https://t.co/LSA1tjpDAC

— elena (@elena)1556365197.0
just now found out that sarah urie is bisexual how did i miss this

— 𝘭𝘢𝘶𝘳𝘦𝘯 ❥ (@𝘭𝘢𝘶𝘳𝘦𝘯 ❥)1556295563.0
Bi update: I'm really angrily bisexual.

— BiBot (@BiBot)1556348241.0
Quartz.com attributes this new "safety" in identifying in the LGBTQ community to a few things.
"For one, there have been more (and more favorable) representations of queer people in the news, on television, and in film over the past two decades, with 2018 seeing record growth in LGBTQ roles on TV, with queer people of color outnumbering their straight, white counterparts by 50% to 49%, according to GLAAD's annual TV diversity report. The study also noted that Netflix is the streaming platform that has the highest percentage of LGBTQ characters, dominating outlets like Hulu and Amazon Prime."
INFO | Today is the one year anniversary of the 99 episode.. This episode is so special, even more so bc rosa came… https://t.co/B7VkIo1QJZ

— Brooklyn 99 Updates (@Brooklyn 99 Updates)1544017939.0
17 bisexual women TV characters who thwarted tropes and won our hearts. https://t.co/HJDVELxiAM #BiVisibilityDay https://t.co/FXunUUM98t

— Autostraddle (@Autostraddle)1537711200.0
I never thought I'd see the day a bisexual TV character who came back from the dead crossed over shows to smoosh mo… https://t.co/50buIcl8mr

— Heather Hogan (@Heather Hogan)1511834822.0
One of my favorite female characters on TV came out as bisexual, and the next day I find out that she's also into game nights. I'm so happy!

— M. (@M.)1556375325.0
Every time a #bisexual tv character calls themself bisexual, a fairy gets its wings ❤💙💜🌈 #brooklyn99 #rosadiaz #shesaidtheword😍

— Amethyst Marie (@Amethyst Marie)1513131410.0
In honor of #PrideMonth here is a slideshow highlighting some wonderful bisexual TV characters and the fans that co… https://t.co/VKoIsN2Mg1

— Yana Grebenyuk (@Yana Grebenyuk)1528039201.0
It also went along party lines:
"Democrats were significantly more likely than Republicans to identify as bisexual (4.5 percent and 1.6 percent, respectively). Some 3.3 percent of independents said they were bisexual in 2018."
Which correlates to a rise in LGBTQ candidates running for political office. For example, Kyrsten Sinema, who identifies as bisexual, in the Senate.
And with the popularity of Pete Buttigieg running for the presidency, the picture of LGBTQ people in the US is more welcoming than ever before.
So go on out and take pride.
Proudly declare your sexuality in an anonymous survey, or whatever. It will pay off.
Keep reading...
Show less
Shazam! tells the story of Billy Batson, a young teenager who is given powers spelled out by the acronym Shazam, the same name of the sorcerer who gives Batson the powers in the first place.
Batson has the wisdom of Solomon, the strength of Hercules, the stamina of Atlas, the power of Zeus, the courage of Achilles and the speed of Mercury. These powers can be activated by saying the word "Shazam!"
The superpowered version Batson looks like an adult (played by Zachary Levi), though retains the mind of the teenager.
SHAZAM! Trailer (2019) www.youtube.com
Shazam! director David F. Sandberg teased to PinkNews that this Friday's release may include an upcoming and as-of-yet unannounced LGBTQ+ superhero.
Shazam! movie's Zachary Levi and Mark Strong on LGBT superheroes www.youtube.com
"Don't want to put spoilers [out there] or anything … but I think you will see one sooner rather than later," Sandberg says about the possible reveal.
"I think on April 5th it will become clear…"
The DC television universe has a few LGBTQ+ players.
There's, of course, Batwoman.
Ruby Rose, an out queer woman, will be Batwoman on the CW and this is just beyond exciting, I'M SCREAMING. Even t… https://t.co/iCXB2RLLA5

— Alex Berg (@Alex Berg)1533664826.0
@DoctorRagnarok Batgirl's (Batwoman) show debuts on The CW this fall. Fake outrage crowd needs to do their Googles. https://t.co/yBnUQvHpZq

— AJ Harris (@AJ Harris)1554311252.0
John Constantine and Sara Lance from Legends Of Tomorrow:
DC''s Legends of Tomorrow 4x08 Constantine Kiss his Boyfriend and changes back Reality Full HD www.youtube.com
Legends of Tomorrow 3x12 - Sara and Ava scene 4 "first kiss" www.youtube.com
Alex Danvers from Supergirl:

Alex Danvers || 2x06 || "You're Gay Too?" || Alex Coming Out to Kara www.youtube.com
In addition to countless more in the many different "Earths" that the universe contains.
However, the inclusion in the cinematic universe has been extremely lacking, so fans are waiting in serious anticipation.
Sounds like a gay superhero... is it a gay superhero? #Shazam

— Angry Stoned Dad (@Angry Stoned Dad)1553401267.0
Marvel : We now have a black superhero so you can relate. Oh look… now we have a female one. Next up, an Asian, and… https://t.co/FmE3FLacn7

— ᴊᴏᴇ ʟᴇᴇ 🇲🇾 (@ᴊᴏᴇ ʟᴇᴇ 🇲🇾)1554201539.0
#shazam #shazammovie loved it #latino #asian #gay maybe superhero finally a movie my friends and I can see https://t.co/5ZYLhnpMh4

— Alex Gonzales (@Alex Gonzales)1553402948.0
However, sci-fi and fantasy LGBT representation needs to up its game as a whole.
Disney's first openly gay superhero is named Poe Dameron

— dani! (@dani!)1554297176.0
You know what? I would not say no to a gay Puerto Rican/diasporican superhero who has to try and explain that he's… https://t.co/AeRQ70YE2a

— a garbage fire who reads (and sometimes writes) (@a garbage fire who reads (and sometimes writes))1554333684.0
the gay marvel superhero will heal the deep rift between my mother and i

— ursula (@ursula)1554266751.0
they said i could do anything so i became a gay superhero #pride https://t.co/9p40KbuhMx

— ℓєαн (@ℓєαн)1553954497.0
Yesterday at Tampa Pride they had a Star Wars float and it was everything I needed 👏🏽😫 Chewbacca said gAY RIGHTS!!! https://t.co/pN4SKRS3re

— Artemis Luna @ Anime North 💕 (@Artemis Luna @ Anime North 💕)1554046443.0
star wars is just about being gay and committing war crimes with your friends

— daisy ridley's wife (@daisy ridley's wife)1550238744.0
There are so many whole worlds created in fiction—science fiction, fantasy, and everything in between—that are completely devoid of LGBTQ+ representation.
As of May last year, LGBTQ+ people made up an estimated 4.5% of the population of the USA. That means about 1 in every 40 people are gay.
In a universe containing 200 characters, for instance, at least 5 gay characters should statistically be present. But LGBTQ+ stories are often ignored.
Will DC seek to change this with its new superhero?
We'll be looking forward to Friday to find out.
Keep reading...
Show less
In the last year or so, lemon bars have come to be associated with the bisexual community.
Many people are a bit confused about the origin of the association.
There are quite a few stereotypes that are harmful, but stereotypes are often also used by members of those communities themselves as a sort of self-deprecating humor.
Two fairly well-known examples: bisexual people apparently can't sit in chairs properly and always roll up the hems of their jeans.
bisexual culture is letting your ankles freeze in below 0 weather because you roll your pants

— narah (@narah)1548692791.0
These are, of course, not true of every member of the community. That hasn't stopped them from becoming common inside jokes.
Lemon bars are a relative newcomer to "bisexual culture" however, and the delicious addition can be traced back to Reddit.
Reddit user u/Tuxedo-T-Shirt explained the origin of the lemon bars in a post on subReddit thread r/bisexual.
He started out by offering a lengthy explanation of the origin of lemon bars as a dessert, and why he chose them for his welcome message to new Redditors.
"You see, lemon bars were created by someone who wasn't content with the texture of most pastries. They wanted something fruit-flavored warm from the oven, but pie just didn't have the right feel to it, and jelly-filling could only go so far. They experimented with several recipes until they finally found an ideal combination of sweet and sour in what we now know as the modern lemon bar."
"This refusal to compromise and this desire to have their cake lemon bar and eat it too is predominant in the spirit of bisexuality, in which we refuse to hide who we truly are and compromise our true desires just to fit in to a society that often ignores our validity. The combination of flavors represents our interest in both male and female genders, and the wonderful burst of flavorfullness represents our interest in everyone inside and outside of that gender spectrum, as well as our own vast degree of sexuality that runs the gamut of that spectrum."
He could only carry on with the pomp and circumstance for so long before he could no longer keep a straight face, metaphorically speaking, though.
"LOL I can't hold it anymore, I'm sorry, I'm TOTALLY making all of that shit up."
The real reason lemon bars became a bi thing?
"So I just started using lemon bars because I love them and you don't often hear them mentioned in typical conversation."
"I came out, I felt immediately welcomed and warm and fuzzy, and when I saw others coming out here, I commented with the phrase, "Welcome to the Bi Side, we have lemon bars." or something similar."
"I only said this because I remembered seeing T-shirts that said, "Come to the Dark Side. We have cookies." And cookies being associated with that aspect of Star Wars. I thought it was kind of fun. Then I remembered watching the South Park Movie (I don't think many of you were even out of diapers when that came out) in which two popular tv actors were arrested and sentenced to death for their profanity and the main characters banded together to try to rescue them."
"In their effort to recruit for the resistance, they added the words "...Punch and Pie" to the end of their recruiting emails. People inevitably showed up for punch and pie, and some left when they found out there wasn't any, but the theme of offering treats to people to come to something kind of stuck."
You can read u/Tuxedo-T-Shirt's full post below:
Lemon bars have since spread beyond Reddit to become a thing with the larger online bisexual community.

Bi culture is lemon bars, pant legs that are rolled up too high, and awkward finger guns

— morena (@morena)1535126205.0
Apparently there were quite a few people who were unfamiliar with lemon bars, though.

@PinkNews As a bi man I can confirm the first two but what in the name of the unholy Cthulhu is a Lemon Bar?

— Andrew J Ritchie 🏳️‍🌈 (@Andrew J Ritchie 🏳️‍🌈)1553710649.0
@PinkNews great i fit all the stereotypes except lemon bars . . what the actual hell is a lemon bar!!

— Rhelrahne Wiseman (@Rhelrahne Wiseman)1553745922.0
The lemon bars have spread beyond a simple Reddit meme.
They have become part of the community identity and a symbol of pride and hope.
"I want to say thank you for coming up with the bisexual lemon bars of initiation. I've used them to subtly celebrate pride. In my family, I'm out to my mom - only my mom. I wanted to learn to bake, and I just so happened to bake lemon bars on June 1, only having heard of them because of you. They are my favourite dessert now. I shared them with my family. I've made two pans. People want them for parties. They're a success, and I'm being humble when I say they are the best things in the world."
"No one knows what they mean to me, but I find it really warming that they're enjoying something that means something to me, even if they don't know it does."
"Thank you for the lemon bars, and thank you for your wonderful presence on this sub. :)" -RedChairGaming
"Tux, you know what you created for me (and probably a lot of other people)? Probably an awesome coming-out tool. I've not tried it, and I'm not gonna try them now because I'm not ready, I still have a lot of things I want to get through before coming out, but the day I'm ready, for sure, I'm gonna do it with lemon bars and I know it's gonna be easier because of you. Thank you Tux." -ParadoxOnLegs
The internet works in mysterious ways, and an offhanded comment or joke can easily become a meme.
Sometimes, though, it goes a little further than that and becomes an integral part of a community.
Keep reading...
Show less