Artist Francesca Hause is drawing her way through the parenting process.
---
On her website, Litterbox Comics, Hause uses humor to navigate her way through parenting and life in general. Hause was born in England in the '80s and grew up just outside London. She was known as "the cartoonist" at school.
In 2000, she met her American husband, who had moved to the UK as a child. In 2010, she and her husband returned to the United States and settled in Austin, Texas. They have two sons, ages 4 and 1, and Hause gets much of her inspiration from them.
We got to know the artist a little more in a Q&A.
What inspired you to create these comics?
I wanted to do something that combined my cartoons with my new "Mom" perspective. For a while, I assumed it would be through kids books, but my humor always ended up a bit more skewed towards the parent than the kid. One day I was rolling my eyes at Daniel Tiger (again) and thought how funny it would be if someone did a spoof with how families actually are. It suddenly hit me that I could be that someone!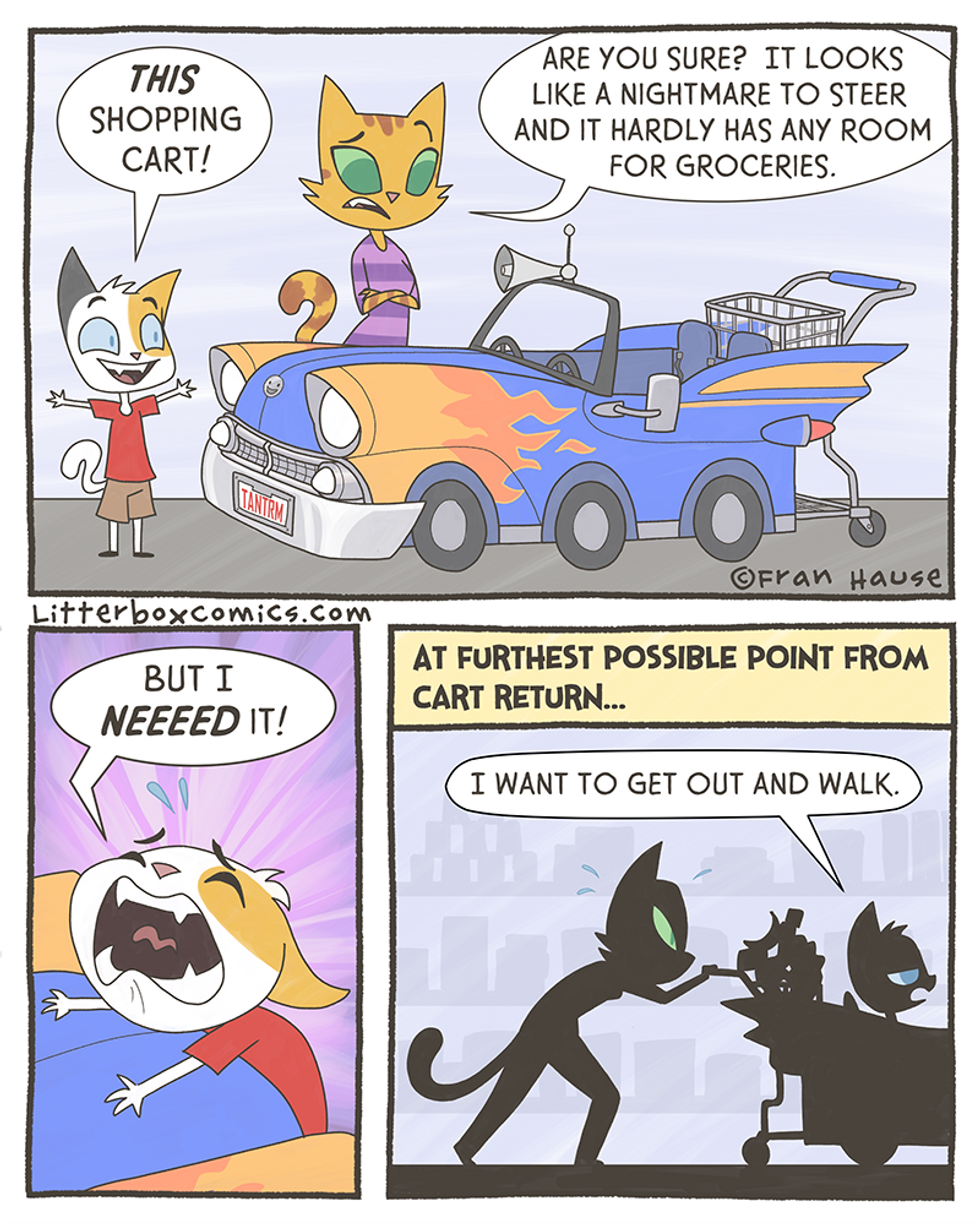 Litterbox Comics
Why cats?
I hate drawing people. Originally, they were going to be a family of tigers, á la Daniel Tiger, but my husband pointed out that cats would give me more comedic options and saved me from a lifetime of drawing all those bloody stripes!! In real life, we're actually more dog people, so for a while I toyed with the idea that they could be dogs, but cat faces just express the range of parenting reactions so well -big adoring eyes for when things are going smoothly and bushy fur with angry slit pupils a moment later when the shit inevitably hits the fan.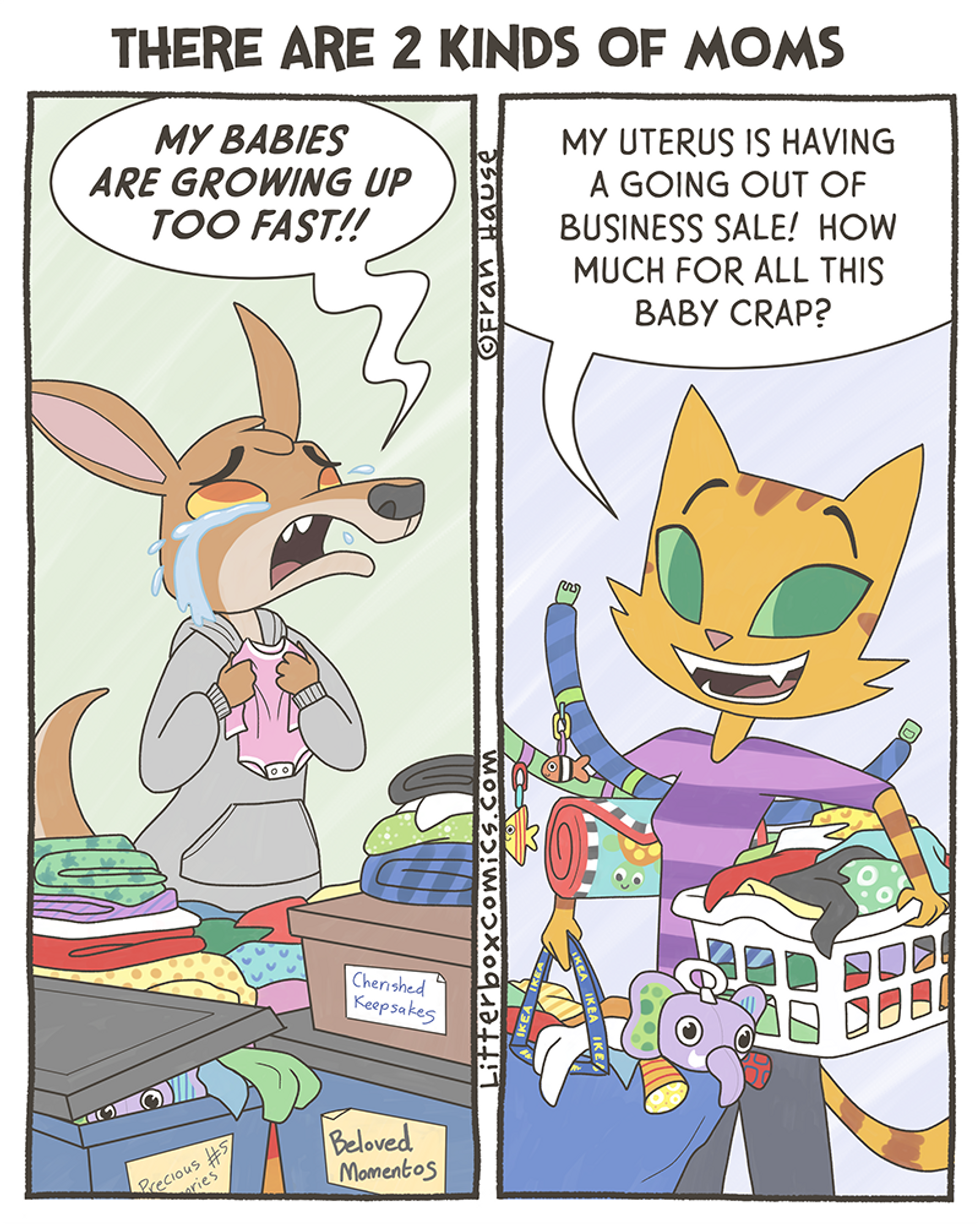 Litterbox Comics
Are the comics always based on real interactions you've had, or are they sometimes made up/exaggerated?
All of the above! They're usually based on something that happens, or a typical parenting/cat trope. My husband and I then bat the idea around a bit and see how far we can push it, or add another twist or layer to the gag. I also love hiding little "Easter eggs" into the backgrounds; animal versions of pop culture references, or even just toys that are popular with my kids right now.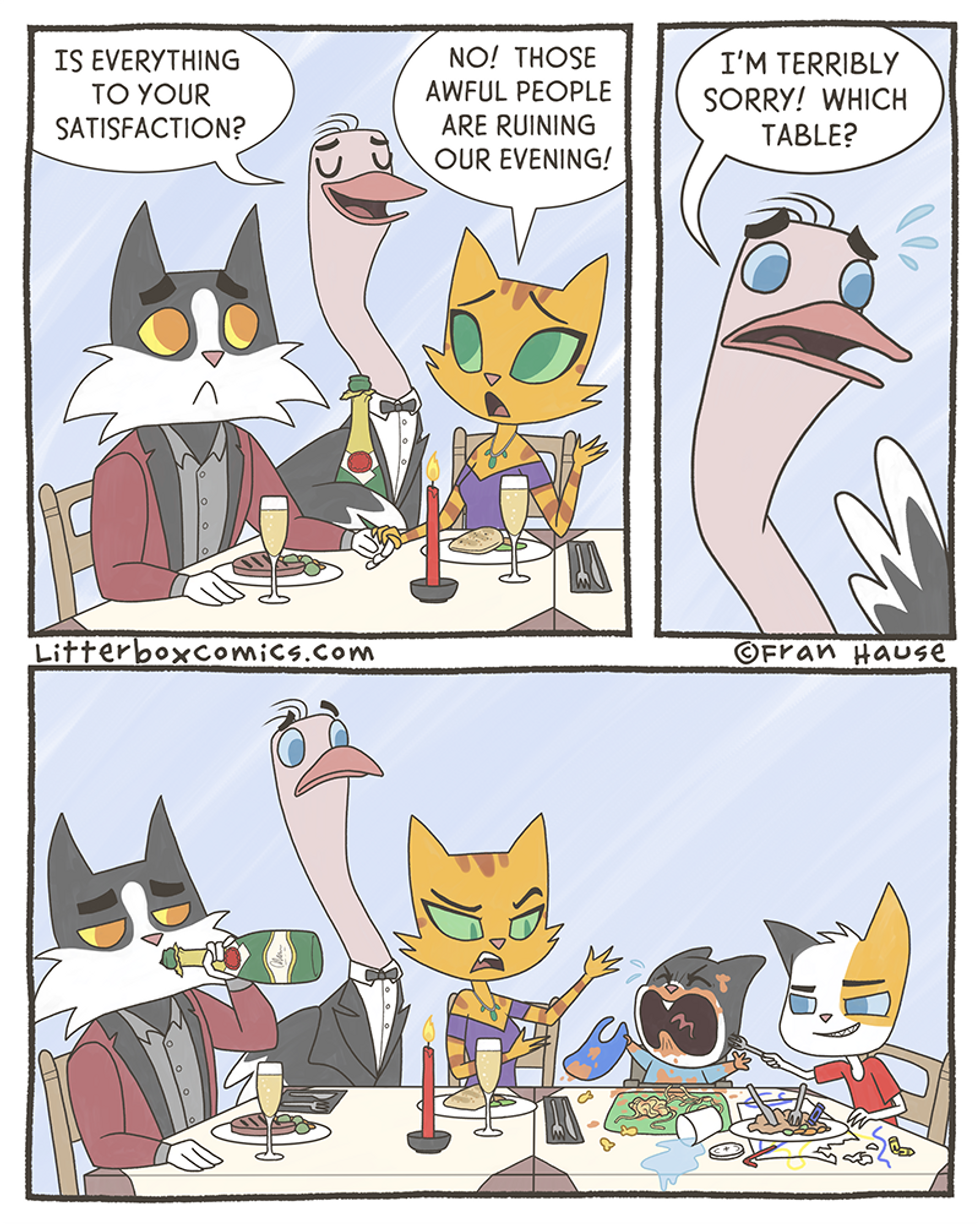 Litterbox Comics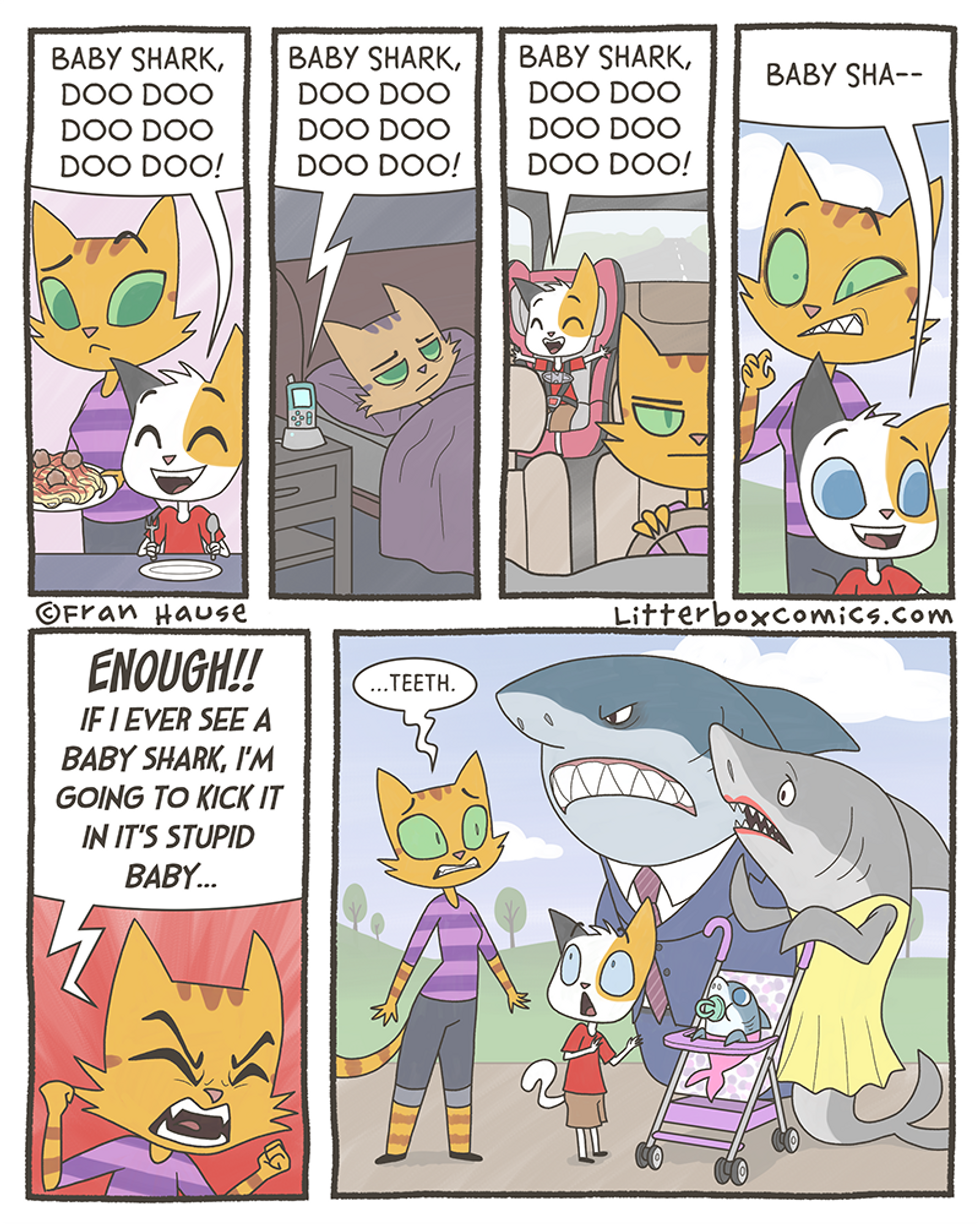 Litterbox Comics
What has been the reaction/reception to the comics from family/friends/strangers since you started making them?
Drawing cartoons was my "thing" growing up, so my parents are overjoyed that I'm doing something with my passion. My friends have been super supportive with sharing and giving me ideas. I never have a notebook too far away at play dates!
I sometimes get a little nervous that a strip won't go over well, especially if it cuts a little close to home. I really don't want to rile up the sanctimommies! But so far, people online have been lovely too. Parenting can be an awful business at times and it warms my heart to be able to laugh about it with like-minded people.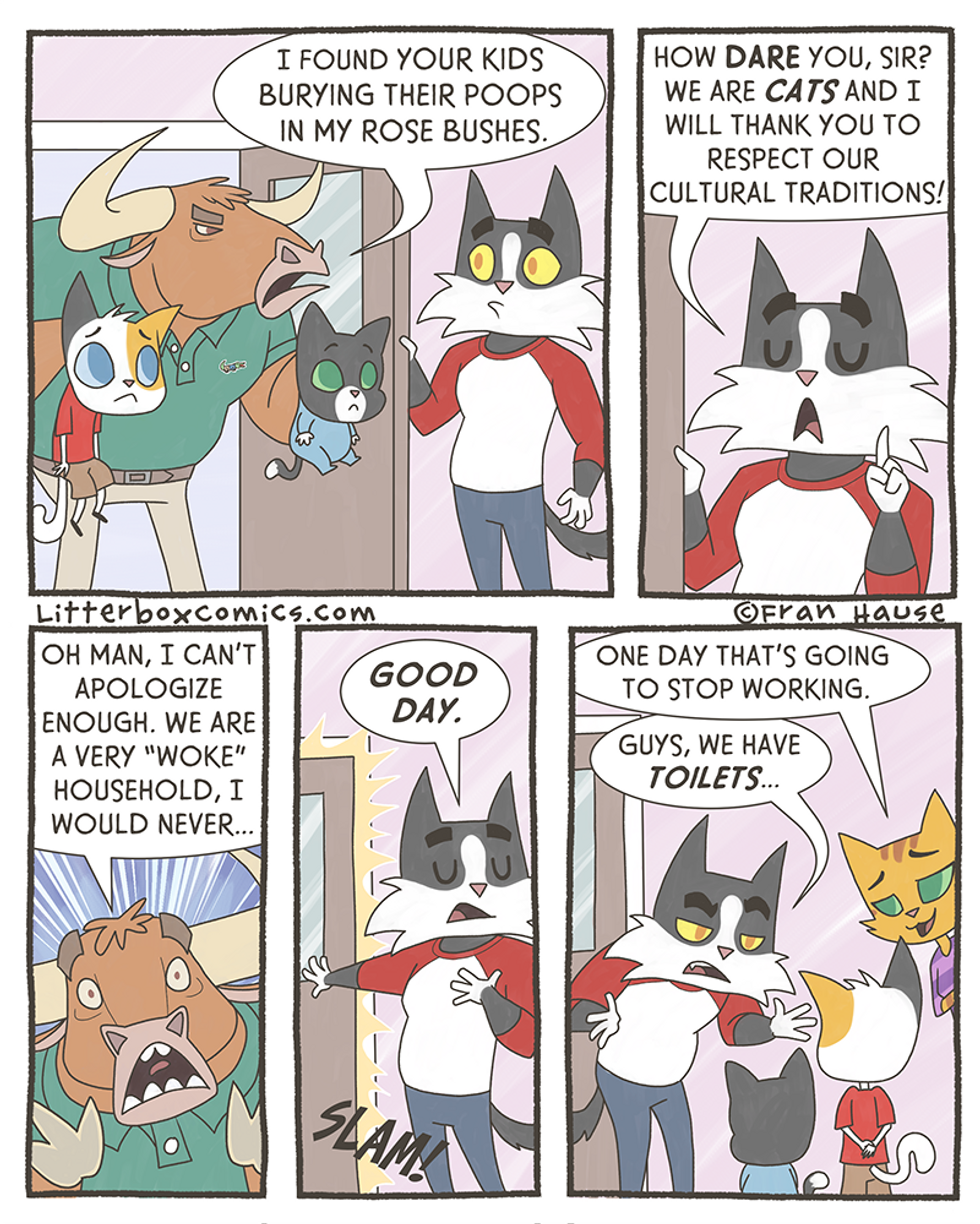 Litterbox Comics
What do you hope to achieve with these comics?
Step 1 is to get enough comics and fans together to get a book out there. It's still pretty early days, so I'll figure out the rest later. For the time being, it's at least saving me a fortune on therapy!
Hause's Litterbox comics can also be found on Facebook, Instagram, and Twitter.
For the website, head to: https://litterboxcomics.com