Who says Halloween is exclusive for humans?
Not this critter.

Twitter user Todd Spence made sure to include all walks of life to participate in trick-or-treating this year by rigging a squirrel feeder in disguise, inspired by the movie, Scream.
---
The greatest squirrel feeder ever https://t.co/QwnNB2BFUT

— TODD SPENCE (@TODD SPENCE)1541029498.0
In the video, a squirrel sniffs out the sweet nectar lodged inside a Scream mask. The woodland creature approaches the odd ornament dangling in front of the window and succumbs to the sweet aroma by poking his head inside the cumbersome black cloth.
It had goals, but in our eyes, it just wanted to get in on the fun of Halloween.

Little does he know that the joke is on him. Trick or treat!
People thought the video of the cute critter becoming one with creepy mask was hysterical.

Lol, trick or treat for squirrels! @Ridd1e https://t.co/FX2xVxeMso

— Josh (@Josh)1541139752.0
I really don't get Hallowe'en but this has *almost* made me a convert https://t.co/7FqrorF0uv

— Felicity Dolby (@Felicity Dolby)1541095589.0
OMG...my pets would go crazy!! Love it! https://t.co/CDknbWi3u1

— Abby Geotz (@Abby Geotz)1541124219.0
Really hoping the poor squirrel can't see itself! https://t.co/o5lLXHFHwg

— Alexandra Citron (@Alexandra Citron)1541110780.0
Creativity abounds https://t.co/7ZS5tlYA5X

— Steve Hullfish (@Steve Hullfish)1541031795.0
@Todd_Spence @MimiBenfield 😆😆😆😆😆😆😆 I'm switching to this emoji because I hardly ever have tears coming from my eyes.

— Yakman302 (@Yakman302)1541171324.0
@Todd_Spence Twisted. I like it! @Nap_and_Rally @CameronBrittonH

— Mr. Halfspeed (@Mr. Halfspeed)1541081882.0
One user had a legitimate inquiry, though.
@Todd_Spence that's cool but my first thought was where did they get a scream mask that small?

— Wayne (@Wayne)1541080938.0
@wcarson Maybe the squirrel's that big

— TODD SPENCE (@TODD SPENCE)1541080982.0
The ghoulish mask that first appeared in the slasher flick Scream (1996) terrified moviegoers everywhere.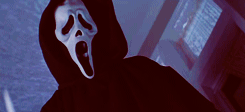 media1.giphy.com
After audiences were shell-shocked by the murderer's disguise in Scream, it was time for Hollywood to undermine the mask's spook factor through mockery.
The mask was later refashioned and utilized in the comedy, Scary Movie (2000), a parody Scream.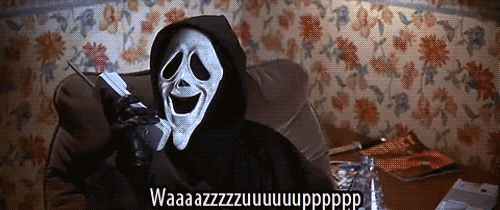 media0.giphy.com
Thanks to the cute critter, we now have another reason not to spooked by the spectral mask.

Animals in scary masks will never get old. Others shared their photos.
@Todd_Spence Cool! I made a #clown mask into a squirrel feeder a few years ago. https://t.co/4EJkLD24L7

— CheesyEarthGirl (@CheesyEarthGirl)1541088668.0
@Todd_Spence You think that's terrifying, check out the night vision! https://t.co/fDJgvSAig8

— CheesyEarthGirl (@CheesyEarthGirl)1541176457.0
It looks like terror has a new face, and it's oh so cute.