Being at a loss for words can be incredibly frustrating.
Particularly when someone has just thrown an insult in your direction.
While your brain is simply screaming to take them down, sometimes it's just impossible to find the right words in the heat of the moment.
Redditor anonymoussalmon1 surveyed his fellow Redditors for the best comebacks that can be used at almost any time by asking :
"What are the best comebacks you know to any kind of insults?"

"I'll show you where you can put that..."

"I learned this in third grade:"
"If someone sticks their tongue out at you, say, 'No thanks...I use toilet paper'."
"They will never do it again. Works with ALL ages."- Sandpaper_Pants.
Inside joke.
"'OH now I see what people were talking about'."
"And never fill them in."- SprinklesMore8471.
Can I help you?

"If somebody says "'what are you looking at?', I respond with "'I'm asking myself the same thing'."- MochaManBearPig.
That the best you've got?
"I've been called worse by better."- UltraaMilds.
"That might be hurtful if anyone gave a sh*t what you think."- PowerStacheOfTheYear.
Some people...
"'I envy the people who've never met you'."-Back2Bach.
What was that?
"I'm sorry I wasn't listening."- LurkysGoCart.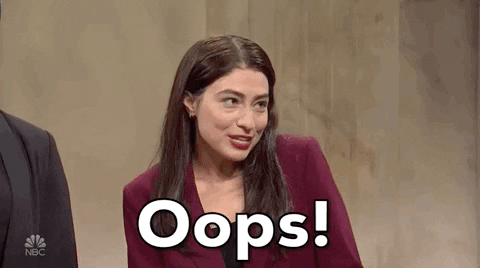 Melissa Villasenor Oops GIF by Saturday Night Live
Giphy
A comeback for a comeback.
"Not reeeeally an insult, but if someone says 'thats what she said!' I reply with a solid 'yeah, not to you.' "
"Never fails to amuse."- legitttz.
Daddy Issues.

"When somebody says, 'Do you know who my father is?' just reply, "why? Your mom didn't tell you?'"- Doctor-Dragonborn.
Judge and be judged.
"'What people say about you was indeed the truth!'"
"Even if it's fake, it will eat anyone from inside thinking how they're being judged."- TunakYourLastTun.
Perhaps the most effective and efficient comeback seemed to escape the Reddit community.
Which is to simply walk away, and take the high road.
Then again, a good comeback should never be put to waste.
Want to "know" more?

Sign up for the Knowable newsletter here.
Never miss another big, odd, funny, or heartbreaking moment again.

Keep reading...
Show less
You've probably had someone tell you "f*ck you" or to "go f*ck yourself" at least once or twice or ten times throughout your life and if you haven't, have you even lived?
But what do you say when you want to be smart and witty and want to shut someone down while you're at it?
After all, you can't just stand there, you probably should have a response lined up.
(Disclaimer: Know when to walk away, seriously.)
People shared their best suggestions with us after Redditor Bluephoenix681 asked the online community:
"What's the best response to 'f*ck you?'"
Clever.
"'You want to what?' Hopefully then the reply is another f*ck you."
divinetrackies
Hopefully – and when it does happen you must feel so powerful!
You could say this:
"In this economy?"
Trytek1986
I felt this in my soul.
The rent is too damn high.
Or this!
"Don't threaten me with a good time."
Austintk
Who's to say it'd even be a good time, huh?
Ouch.
"Tell your mom to top up the cell phone she bought me so I can FaceTime her late night!"
catch10100
But then what do you say if they remark that their mom died?
The Welsh appreciate this joke.
"You'd never be satisfied with a sheep again."
citsonga_cixelsyd
Paging the Welsh – you must have a response to this joke.
You must.
Self deprecation.
"You wouldn't like it I just lay there."
Drongo11
Ummm... you might want to work on that, in that case.
How polite!
"Thank you."
Select_Coyote7644
Kill them with kindness.
They won't know what hit them.
Burn.
"You aren't my type."
Ape28Comoco
This is an excellent way to stop someone in their tracks.
This works, too.
"My go to response to statements like this is "I will try anything 4 times." Mainly causes confusion at first but tends to make people laugh."
juniorohio
Four times?
That's quite specific.
There's a story here, isn't there?
That's quite the claim.
"You'd never go back to women."
rogerofdale
I'm okay in this regard but thanks!
Next time someone tells you to go f*ck yourself, you'll be prepared, won't you?
Or just throw back another f*ck you or some other variation.
It's the most versatile swear word in the English language, after all.
Have some suggestions of your own? Feel free to tell us more in the comments below!
Want to "know" more?

Sign up for the Knowable newsletter here.
Never miss another big, odd, funny, or heartbreaking moment again.
Keep reading...
Show less
I love a good war of words. There should be a game show based on how everyone cuts the deepest and with style.
Can you imagine winning a million dollars for telling someone off?
I could die satisified.
The perfect way to use language in an insult has become an art form.
Especially when people who deserve a good tongue lashing can't tell they're being rightfully taken to task.
Redditor da-noob-man wanted to hear all the best verbal slings we love throwing. They asked:
"What is your signature insult?"
I've deserved several good insults thrown at me. I can be a bit a tantrum starter. And then I write down what I'm hit with and use on others.
Brainstorm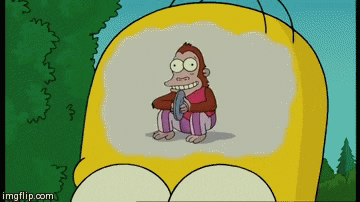 Mrw GIF
Giphy
"You only have two brain-cells, and they're both scrambling for third place." ~ Iloathwinter
"This reminds me of: 'you have two brain cells, one to keep a balance while walking and another not to poop on the floor.'" ~ L33K0R
Impossible...
"It's impossible to underestimate you." ~ FourYearBeard
"Those who deserve this probably won't get it." ~ jennybella
"I'm so gonna use that." ~ AbaloneMore603
Say Sorry
"Go apologize to the trees for wasting the air they make for you." ~ abspencer22
"Drill sergeant in basic training made a guy apologize to all the trees for wasting their air. About 30 min of him running around yelling 'I'm sorry tree.'" ~ BjagzTTV
Kill It...
"You are a really good trier." ~ Roadkill_Bingo
"My wife tells me this... we were at a wedding last night and I thought I was killing it. We get back of the floor and sit at the table and I go..."
"I'm really feeling it tonight, I'm not a bad dancer..."
"She says..."
"Oh, hun...you're really good at trying."
"F**k... I love her." ~ KamikazeFox_
Envy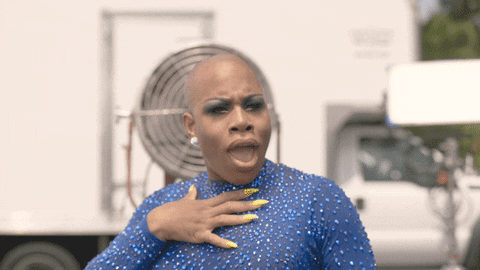 The Shade GIF by Pepsi
Giphy
"I miss the time when I didn't know you." ~ 221B_OO7
"Or, you can also say, I envy everyone who doesn't know you." ~ dr4gonr1der
Ok, now, some of y'all are artists. Artists of the insult.
Fido Lerwks...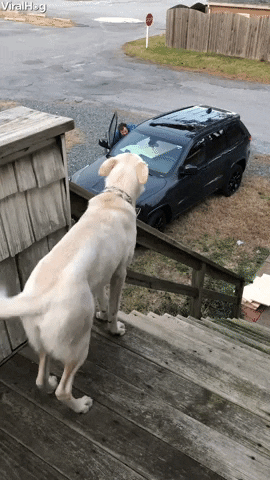 Dog GIF by ViralHog
Giphy
"If my dog looked like you I'd shave his butt and teach him to walk backwards." ~ jackatman
Good Days
"I hope you have the day you deserve." ~ bigysmals
"This reminds me of what my grandmother would say to rude people, 'Well honey, I sure hope your day gets better.'" ~ milesunderground
"I hope you spend the rest of your life surrounded by people just like you." ~ rawysocki
Bad Basics
"Wow, your signature looks like s**t." ~ whywasthatagoodidea
"I can't read or write cursive because i transferred schools before my past school taught it but after the other one had I still haven't learned it because I haven't found a need for it yet." ~ jershdahersh
The Great Battle
"I refuse to have a battle of wits with an unarmed person." ~ Bizzlebanger
"It's is easy to win an argument with a smart person but impossible to win an argument with an idiot, henceforth I withdraw from this debate." ~ Grim75
"My favorite response to this one: then stop looking into the mirror." ~ blueavole
Ouch
"You are not being the person that Mr. Rogers knew you can be." ~ IronChariots
"Damn that's heavy, Ken. Especially since we always knew he loved us just the way we are, had our backs, but knew we could be so much more." ~ I_Call_Everyone_Ken
It's Me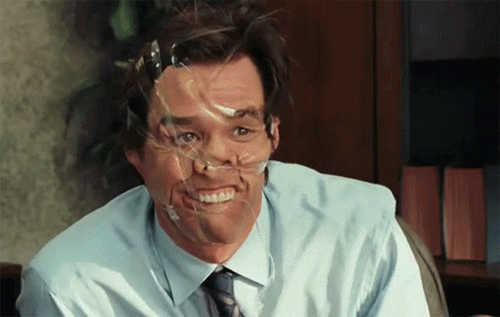 Liar Liar Movie GIF
Giphy
"I wish I was dumber so I could understand you." ~ OptimalF**kage
These Actors Were Perfectly Cast In Their Roles | George Takei's Oh Myyy
Sometimes an actor comes along that is able to reach the audience on a deeper level. The actor that immediately comes to mind is Robin Williams. Although it ...
Relations
"Are your parents related or something?" ~ screwplease
"I said this to a kid when I worked in a toy store. His friend said 'is that what makes it so you can't stop bleeding' and oh my God I made a mistake." ~ a**inyourpants
IQ Stat
"You have a room temperature IQ 'is pretty good.'" ~ BustyOgre
"I sure hope the speed limit is lower than your IQ, but I'm not holding out hope." ~ Patchy-Paladin20
PERFECT
"I hope you will have as pleasant a day as you are. Yes, I work in customer service." ~ Arazos93
"This. Is. Perfect. I'm gonna try to translate this to my own language and use it." ~ TheBirdGames
Crayola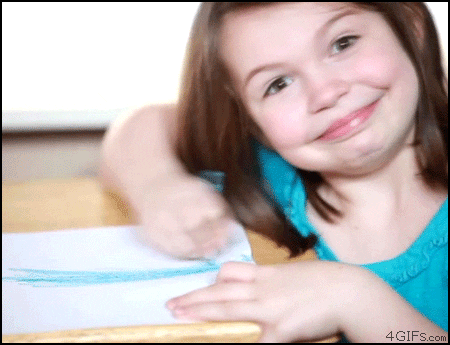 girl GIF
Giphy
"I have nether the time nor the crayons to explain it to you." ~ crazy-jay1999
"When someone is giving a difficult time understanding notes I'm making for them, I like 'I'd use a crayon but I'm afraid you'd eat it.'" ~ Eljaynine
The Dance
"My expectations of your intelligence were low but damn, here you are, limbo dancing with the devil." ~ SwiftRoboWolfBlue
"Your version missed an important part of the joke. I believe the original quote is: 'The bar was so low it was a tripping hazard in hell, yet here you are, limbo dancing with the devil.'" ~ MediocreHumanThing
Drop It
"You look like you drop common loot." ~ Ih8Evrythng
"Seriously underrated, that would speak volumes to any gaming community." ~ ExternalSad8524
Lead
"You have the personality of a pencil." ~ atomicrutabaga
"Maybe it's the designer in me but i feel you could get really personal with this one. 'You have the personality of a 9b Pencil.' For someone really boring and really f**king wet behind the ears." ~ palov43075
GAS!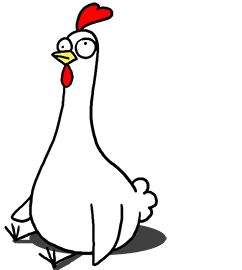 fart GIF by happydog
Giphy
"I FART IN YOUR GENERAL DIRECTION!!" ~ Mr_DuCe
So Low...
"When I'm in a place where I cant properly insult someone I call them an ankle, as in you're a proper ankle, it seems harmless but an ankle is lower than a c**t." ~ irishtemp
I just spit out my coffee. This has to be a game show. Y'all crazy.
Want to "know" more?
Sign up for the Knowable newsletter here.

Never miss another big, odd, funny or heartbreaking moment again.
Keep reading...
Show less
Whether the person delivering the remark is joking or dead serious and miserable, chances are that we'll be insulted plenty of times in our lives.
And the worst thing that can happen is to freeze.
Nobody wants to be a dear in the headlights when someone decided to bully them. Instead, it's best to be prepared.
A recent Reddit thread asked people to pool their best comebacks to insults they could come up with. Thanks to them, we can walk around stocked with some return fire on the occasion we do fall prey to a person's put downs.
Redditor Concert-Extra asked:
"What is your go-to comeback when insulted?"
Of course, there were plenty of witty one-liners proposed. The hope here is that wittiness of the comeback trumps the intelligence level of the insult that provoked it.
It's all math.
Firmly Mediocre
" 'I've been called worse by better men' " -- Atbunyar
"Stealing that, thanks" -- GSavvage
Saying It Without Saying It
"Let's play horse: I'll be the head and you be yourself."
-- Back2Bach
Getting Literal
"If they say 'fu** you.' I say 'not even if you paid me.' "
"I say, 'I'm not that desperate, and you're not that lucky...' " -- webjocky
Free Reign
"If the insult is funny / good, laugh with them. If it's bad, laugh at them, and just go 'you know what buddy, we'll give you another crack at that one if you'd like.' "
Others advocated against getting into the weeds with a counter-insult. Instead, they advised a response that, above all, thrived on its absurdity to leave the insulter as puzzled as possible.
Just Nothing
"Complete silence… let the uncomfortable sizzle and sink in. It's debilitating to the ego." -- LivingBeneficial3814
"That's what I do. Insults only have validity if the issuer thinks it worked." -- trenchfootflyfisher
Annoy, Annoy, Annoy
"Ask them to repeat themselves. Then do it again." -- Global-Ad404
"This is the best one because a good insult relies on timing. Having them repeat it makes it sound dumb and mean." -- Elephinker
Keep Pushing
"i just say 'and then?' and i keep saying it after every insult until they run out of insults." -- snodnif
"and theeeeeeeeeeeeeen?" -- Ninkaso
Finally, some advocated the "kill them with kindness" approach.
Opening Things Up
"When somebody is insulting me without any purpose, I just tell them 'bad day, huh?' "
"I swear, 90% of the people almost immediately calm down and even apologise to me, beacuse they seriously had a bad day and they just had too much bad energy without a way to let it go."
"There's no need to fight back, sometimes we need a good approach to end the argument and calm down the attacker."
-- W4rr3n00
BUD
"You doing alright, bud?" -- 7788445511220011
"Oooo the condescending use of 'bud.' Nice touch." -- Kuli24
"noooooooo not the BUD!!!! he's to evil to be left alive" -- Kbirt24
Wind Out of the Sails
"I don't get insulted often but the odd chance when it happens I say 'God Bless You' It either enrages them or they look confused for some reason."
-- Hopenomo
Here's to you leaving here with 10 comebacks in your back pocket.
Want to "know" more? Never miss another big, odd, funny, or heartbreaking moment again. Sign up for the Knowable newsletter here.
Keep reading...
Show less
Food is an essential part of life. We're supposed to use it for survival but let's be serious, so many of us just use it for love.
And there are so many meals and certain products that have brought us comfort and joy over time that get snatched away.
Going shopping or just popping into a local store with high hopes, while salivating at the mouth about that one thing that will satiate a craving, is a beautiful thing.
That's why it can be soul-crushing to discover that your favorite food or food product has been discontinued. Say what?!
Redditor u/PixelPervert wanted to discuss our favorite shopping lists by asking:
What discontinued food do you wish was brought back?
Want to "know" more? Never miss another big, odd, funny, or heartbreaking moment again. Sign up for the Knowable newsletter here.

Keep reading...
Show less