We all want a love like Ron and Tammy Swanson... um, I mean Nick Offerman and Megan Mullally.
---
Offerman and Mullally have been together for nearly 20 years and they've been making legions of fans laugh ever since. When they're not writing books about their Hollywood love story (The Greatest Love Story Ever Told was a bestseller) or appearing on the same shows (their Parks and Recreation shtick was comedy gold), they're charming people with their hijinks on Twitter.
Mullally's also a natural born artist, as she showed with an, um, portrait she made of her husband in character as his Parks and Rec character Ron Swanson.
"I've been talking to this for three days," she wrote

I'm pleased to report I wasn't the only one who was reminded of Mr. Potato Head as the tortilla in Toy Story 3:
Others just thought it was a brilliant depiction of Offerman in action.
But it was Offerman's pitch perfect response...
...that had fans rolling:
We hope this relationship never dies.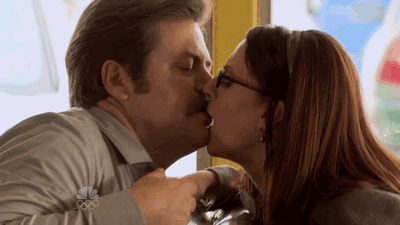 media0.giphy.com