The older you get you realize... there are things that go bump in the night.

There can be danger around every corner.
And yes... somebody may actually be in the closet.
So being constantly creeped out is a norm.
Redditor unripenedboyparts wanted to hear about the horrors we've all been witness to, so they asked:
"What is the creepiest thing you've seen in the woods, or in the mountains, or in deserts, or caves, or in small towns, or in big cities, or in hotels, or in remote or rural areas, or while asleep, or home alone, or while on large bodies of water, or while on an aircraft or a nautical vessel?"
I don't camp.
I don't hike.
I don't do wilderness.
And this is why...
Textures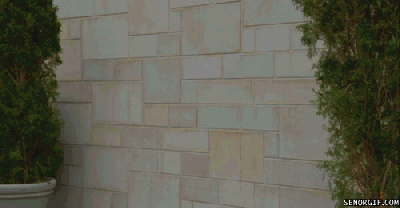 Life Smash GIF
Giphy
"Coming out of anesthesia from open heart surgery, every time I closed my eyes I could see a perfectly formed brick wall inches from my face. I could see the texture of the bricks through the paint, the mortar, all in perfect detail. Every time I changed rooms, the wall would change colors."
GlobalPhreak
The Wolf
"I was up north. Far North British Columbia, Canada working in a (oil) rig camp out in the woods. I was working as a cook, I went out one afternoon for a smoke on the back deck. It was about 2 o'clock n the afternoon. It was a very quiet, still winter day. It was snowing those kind of big snowflakes that make it look like the world is moving in slow motion."
"So as I was standing there smoking, just staring off in the distance not looking at anything particular... you know looking left right, up down at my feet whatever. I felt something looking at me. Then I looked straight ahead. About 30 feet or less in front of me was the tree line of the forest, and directly in front of me in-between two trees I see the most gigantic wolf I have ever seen."
"This thing sitting looked like it was the size of a man standing. It was massive, sitting there and just staring right at me. We locked eyes, then I looked away for a split second and then looked back and it was gone. I don't know, it just gave me the weirdest feeling. It was definitely like, "hey.. I see you, I could eat you... butttt I won't, k byeee"
"Something I'll always remember."
vatersgonnavate
It's absolutely unnerving...
"I live in a really remote part of Alaska. I think the scariest thing I've ever encountered is how silent the woods/tundra can be in the dead of winter. I'm talking like 'I feel like I am about to go insane' quiet. It's absolutely unnerving. I become hyper aware of my heart beat and my breathing sounds like a f**king airplane taking off."
"And I know a lot of people will say 'it's because a predator was near by' nah man, some places up here just have nothing. That's what really freaks me out. I am absolutely alone in this one spot. I could drop dead and no one would ever find my body."
idontcareilikedogs
The Sow
"I rounded a corner in a trail in the Appalachian Mountains and came face to face with a sow black bear and her cub. Same situation, we locked eyes, she seemed to convey - look dude, I can un alive you in a second, but I'm not about it today so just be patient while I dig these bugs outta this hillside. I sat and watched this bear and cub for prob 20 mins at a safe-ish distance."
m0992104
Who Are You??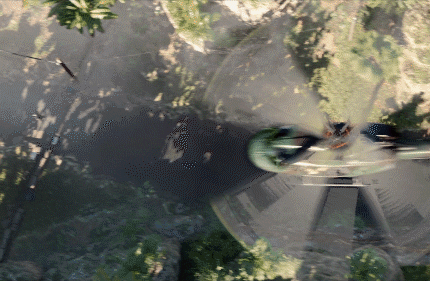 Video Games Gamer GIF by Call of Duty
Giphy
"There must be wilderness dwelling gamers out there, because I found a pile of xbox games in the mountains. Like two dozen in a pile in a remote location."
LittleBkGuy1
It Flies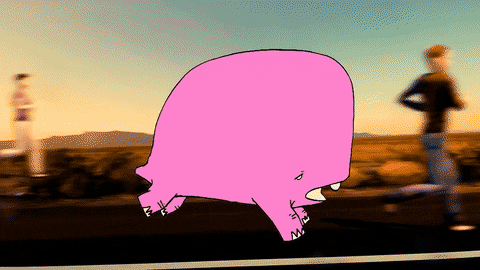 David Choe Love GIF
Giphy
"Hallucinated a flying whale alongside the night time flight from Alberta to Ontario when I was 12. It was snow white, seemed friendly enough. Roughly the size of a blue whale."
jakebreakshow
Onto the Rocks
"It happened when me and my parents were on vacation to some place near Spain when I was still little. We went to a little beach at some coastal town where I then immediately jumped into the sea with my swimming goggles on. I then crawled on to some rocks and walked around until I noticed a crab sitting on the rocks."
"I then traversed them carefully while trying to catch it, but it kept crawling away. This continued until I then followed it to a point where the little bay I was in ended and the open ocean began. So then little me decided that it was a good idea to jump into the open water to see if there was anything cool down there. I then jumped in, and I was immediately hit with the cold temperature of actual ocean water."
"But the worst part was that even with my goggles on, I couldn't see anything down there. I was met with a giant black void. No fish, no plants, no rocks. Nothing. I then immediately turned around and began swimming back as quick as I could. And since that moment I haven't gone beyond the shallows ever again."
Successful-Seaweed12
Orbs
"This was almost a decade ago; I live in a town outside of Phoenix, AZ. It was late in the afternoon as the sun was starting to set. I went out in the backyard to smoke a cigarette and play fetch with my dog. As I was throwing the ball I noticed a small orb shoot from the ground directly into the sky."
"A few seconds later another one followed, and another, and another, and another. It didn't stop for a few minutes. At first I thought it was a Roman candle but I just couldn't hear but you'd normally hear them fizzing as the fly. I couldn't hear anything. It was dead silent. To this day, I still don't know what those were."
ThurSTIII
Appendages
"When I was a kid in the early 80's my parents had a house they rented out to people. We were cleaning it out after a set of unsatisfactory tenants and I was going through the kitchen cupboards making sure they were empty. I saw a mason jar tucked way back in the corner of one of the top shelves so I hopped up on the counter, stretched my arm, grabbed it and hopped back down. When I looked at the jar I saw a finger floating in a clear liquid. I set it down on the counter, walked out of the kitchen and called, 'Mom, I found a finger!'"
Narmer_3100
Jiggles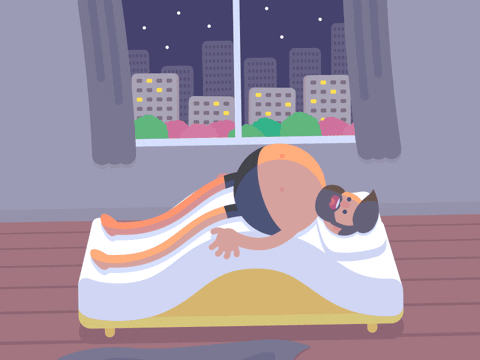 earthquake GIF by James Curran
Giphy
"I was on a fishing boat just off the Pacific coast and there was an earthquake. The water jiggled a bit as we heard a boom and a quick shake. Only time I was on water during an earthquake."
teebpix
This is why I don't fish. Not even on dry land.
Do you have any bizarre experiences to share? Let us know in the comments below.
Sometimes learning about us humans is downright scary.
The things we're capable of... or the things we're too stupid not to be aware of, is mind-boggling.
And the more we know, the better we can cope and maneuver.
Redditor rui_xox33 wanted to discuss some of the darker aspects about this mortal coil, so they asked:
"What are some creepy facts about human nature?"
Get Naked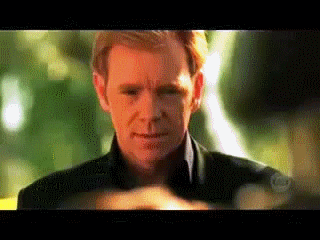 csi miami GIF
Giphy
"On a recent date with a CSI agent I learned that a lot of people die naked on or near the toilet. Apparently people get very hot and try to strip down when close to death."
KingPnutticua
Like a Starfish
"We possess the genes for regeneration similar to starfish and salamanders. They are on the same chromosome as the genes for scar tissue formation. However they are not turned on whereas the scar tissue genes are."
"So technically, we could pull a Piccolo and regenerate limbs like a starfish."
"But we don't because it's waaay too metabolically demanding on energy. If we could do it, you'd likely shave years off of your life in exchange. Instead we make scar tissue to reinforce the injured area."
StopFool
Moving Parts
"After a back surgery, your organs might have been moved to perform certain parts of the surgery. The doctors don't move your organs back to their original place. This funny feeling you get after the surgery is your organs moving themselves back to their original place. Yes, they are capable of that."
VetreeleekYT
Separate Systems
"The eyes have a separate immune system than the rest of the body. If your body's immune system realizes your eyes exist, it'll attack the eyes and reject them from the body as it would a virus."
berripluscream
"I also have a fun (?) fact about the eyes: The retina isn't really fixed in the eyes."
"The part where the nerves leave them is quite inflexible but towards the outside/lens the retina is staying because of osmotic pressure. I know because I had a blood vessel that somehow leaked and a couple of months later the retina in that eye detached in a big way. It's not so funny when several doctors say something like, 'that doesn't look good' when examining your eye."
Awkward_Volume5134
Object Around You...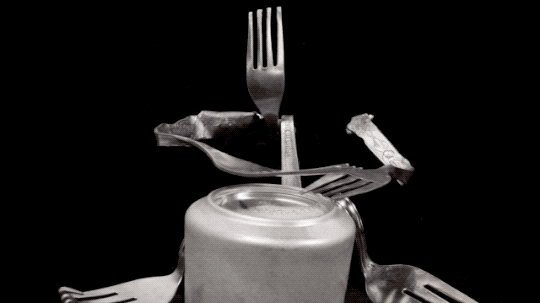 drumming sub pop GIF by Sub Pop Records
Giphy
"If you happen to have brain injury, there is a condition that makes you unable to recognize objects around you. Like, you will see a fork, the colors and the shape of it, but you can't know how to use it, if it's edible or not, etc. Pretty scary thing to imagine."
Big-Bridge-6142
Brains and forks, not always a great combo.
From the Top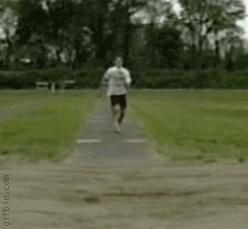 Fail Long Jump GIF
Giphy
"The call of the void. This occurs when humans are on high places, like rooftops or cliffs, and get the urge to jump. It's actually pretty common."
jstclair08
'Clearly Remember'
"Learned memories, i.e. people 100% sure they remember things which actually never happened but were told many times by media/memes/others. I observed this for certain episode which happened less than 10 years ago and which everyone whom I asked witnessed themselves personally, but they all 'clearly remember' it in a way it was presented in memes and jokes and not how they actually saw it happen."
p17s82
Head Issues
"Risks during birth are abnormally high compared to other species. Because of our upright gait (mother's narrow pelvis) and big heads, fetuses cannot 'fully' gestate until being born. Humans have to be born prematurely while the head is still tiny and squishy. Otherwise, childbirth would not be survivable at all."
deepestfish
"Gives Out"
"Most people that die due to hypothermia get naked before dying."
"This is because, blood stops flowing to your extremities, so you don't lose body heat. Just before death, the brain kinda 'gives out' and allows blood flow to return to normal. This sends warm blood to your cold limbs, making you feel very hot and sweaty, so you strip."
diamondhound2509
Evil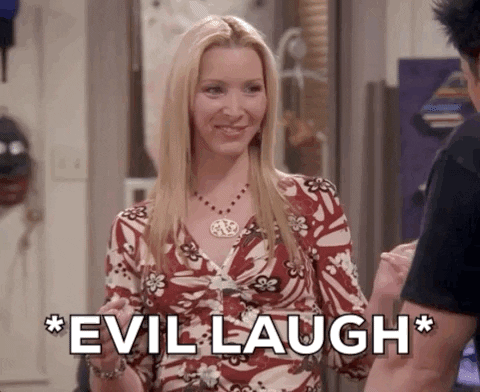 Season 9 Phoebe GIF by Friends
Giphy
"That pretty much everyone has the capacity for extreme evil given the right circumstances."
Affectionate-Goat896
Humans are weird. I wanna be a spider.
How about you? Do you have anything to add to this list? Let us know in the comments.
Those who are fascinated by the paranormal or unsettling situations can quickly get their fix by watching many shows on various streaming platforms and literature.
But they seem to forget that truth is actually stranger than fiction and many of the bizarre plotlines depicted in shows and books are inspired by actual life events.

Curious to hear what keeps strangers online up at night, Redditor wisteriasgirl asked:

"What's the creepiest Wikipedia article you've ever read?"
All it takes is a toxic environment to have deadly consequences.
Gas Attack
"Tokyo Subway Sarin Attack, wherein a 10 members of the doomsday cult 'Aum Shinrikiyo' launched five separate Sarin gas attacks onboard five subway trains across three major subway lines in Tokyo. Killed 14, and injured approx 5,000 people, 1,000 of which received serious injuries."
"The cult itself started out as simple yoga group, which gradually turned into a doomsday cult whose goal is to start World War 3. They are also infamous for using chemical weapons in their attacks: VX, Phosgene, Cyanide, and Sarin gas."
– TheRepublicAct

Fatal Exposure To Chemical Elements

"The death of Karen Wetterhahn. She died of mercury poisoning at the age of 48 due to accidental exposure to the extremely toxic organic mercury compound dimethylmercury."
"Protective gloves in use at the time of the incident provided insufficient protection, and exposure to only a few drops of the chemical absorbed through the gloves proved to be fatal after less than a year."
https://en.wikipedia.org/wiki/Karen_Wetterhahn

– dorvann
DIY Cancer Cure Specialist
"The Toxic Death of Gloria Ramirez which is about a woman who possibly (the definitive cause is unknown) used household chemicals to treat cancer and in the process of caring for her many doctors and nurses fell ill. The chemicals reacted with her blood, creating an airborne toxin. She presented with an oily sheen on her entire body and her insides (mouth, blood, etc) had a pungent, sweet, garlic-y smell."

"Edit: A likely cause for Gloria is known but we can't rule out the theory where her IV bag gets switched out with meth ingredients being smuggled through the hospital (that is actually listed in the wiki) or, of course, aliens. /s And YES, I did first hear of her on buzzfeed unsolved, but I read the Wiki after okay?"
– ronaldreagular

The things humans are capable of doing by causing harm to others is deeply disturbing.
Led By A Doomsday Cult Leader
"Oh man, you should check out the Ant Hill Kids then."
"I'm not sure wikipedia goes into the brutality of it, but imagine screwdriver + brain + acid and a bunch of other f'ked up things. No real reason other than they felt like it in the moment."
– Cult_ureS
This Duo Filmed Their Killings
Dnepropetrovsk Maniacs

https://en.wikipedia.org/wiki/Dnepropetrovsk_maniacs
"It was actually mainly just two guys, the third guy didn't get charged with any murders, just armed robberies that took place before the murders."
– onarainyafternoon

School Bomber
"The Bath School Massacre about a man who went insane and bombed a school in order to kill the next generation of his town and get back at the prominent community members that 'slighted him'. Awful, awful."
– ronaldregular
Murder Of A Japanese High School Student
"Junko Furuta. That whole article just makes my blood boil."
– Cleverbird

Obsessed Radiographer
"Carl Tanzler A radiographer who got obsessed with a patient of his, Elena Hoyos. She succumbed to tuberculosis while under his treatment. He stole her body and kept it in his house for years to come, until her family discovered what was going on. Hoyos' decaying body was kept together with wires and a mask was made. He was also married to another woman all this while. Just an all-round disgusting case."
– identitty_theft
Redditors can't bear to imagine perishing by way of these horrific circumstances.
Inhumane Torture
"The article for Lingchi, or 'death by a thousand cuts.' Its a kind of execution method that was used in China where someone is tied to a wooden frame and is cut to death, usually over the course of several days, sometimes in public."
– dudebro1275
Ripped Apart
"Hv u heard about the method where a person's head, arms and legs are tied to five different horses and they walk in away in different directions tearing the guy apart?"
"It's called 車裂"
– Evelyn_Bliss

The article I personally found absolutely unsettling was the death of Elisa Lam, whose body was found in a large cistern atop the Cecil Hotel.
The budget hotel, which was named Stay On the Main at the time, was notorious for hauntings and housing serial killers like Richard Ramirez–a.k.a. "The Nightstalker."
Lam was last seen alive inside the building's elevator through viral surveillance footage of her behaving erratically.
Social media users were fixated on her subsequent disappearance, and much of what happened to Lam and how her body found its way into the water tank remains the subject of many theories and debates.
CW: Graphic stories about accidents.
When you spend a lot of time on the road, you're bound to see some crazy or spooky things.
Truck drivers spend a lot of time on the road, and it seems like they've seen plenty of creepy things. The truck drivers of Reddit are ready to share those creepy sights and stories.
It all started when a Redditor asked:
"Truckers of reddit! What spooky things did you witness on the road?"
Yikes!
"my grandfather-in-law, who recently passed away, said back in the 70s, he saw a man get decapitated by some kind of heavy duty cable at a truck stop."
– _bakedgouda
Shouting Fire On A Street
"I was driving between Melbourne and Albury very late one night on the Hume Fwy. For the non-Aussies, that stretch of the Hume is very wide, flat, and straight, so it's boring and hypnotic, especially driving alone at night."
"It was the middle of summer, so I was surprised to see little wisps of fog whipping through my headlight beams, but then the smell of burning plastic hit my nose and I realised it was smoke. Up ahead, there was one other car on the road, and I could just see a tiny yellow light on the back, like a candle flame."
"Worried, I sped up to catch this guy, and by the time I reached him his entire muffler was on fire. I flashed my lights and honked my horn, trying to get his attention. Just as I drew up alongside him, I saw him turn to look at me, and then a HUGE gout of orange flame burst out from under the car and licked across his driver's side window."
"Needless to say, he pulled over in a big hurry and I pulled over about 50 metres ahead of him. I jumped out from behind the wheel and sprinted back to him to make sure he was out of the car and safe, then back to get my phone, and called emergency services while running back to him. It was less than a minute since he'd pulled over and the entire car was a fireball."
"I asked if he was okay, and he said yeah, but his phone and wallet were both still inside the car. I let him use my phone to make some calls and gave him all the cash in my wallet, which wasn't much at the time, and finally continued on my way once the firefighters and ambulance arrived."
"Let's just say I was WIDE awake for the rest of my drive."
– MCDexX
A Truck Driving Hero
"TL:DR Stopped to help a motorist with a possible flat, may have prevented a murder."
"I service fire equipment, so I drive a box truck, and cover parts of PA, NY, OH, MD, and WV. I was in rural NW PA, returning from a service call and heading towards the interstate to go home."
"On the way to this customer, I saw a small pickup truck on the interstate whose right rear tire was steadily deflating. A mile or so before my exit, they pulled off to the side. I didn't stop to see if they needed help, and felt a little bad about it."
"As I drove down this dark, twisty road, I passed a Dodge Durango pulled over into a barn driveway. There was a person lying on the ground behind it, struggling with something. It looked like the guy was trying to change a tire or get the spare out from under the Durango."
"Remembering the pickup from earlier, I decided to turn around and see if he needed help. I pulled into the first driveway I saw, about 1/4 mile down the road, turned around, and headed back. Halfway back, the Durango passed me, going the direction I had originally been headed."
"I got back to where I had seen the Durango, planning to turn around again, but as I swung into the driveway, my headlights caught a figure lying motionless in the snow."
"I stopped and jumped out just as the figure sat up. It was a woman, maybe in her 40s, in a thin, torn black skirt and top. Her hair was mussed, her eye was starting to swell, she had red marks on her throat, and her lip was bleeding."
"I helped her up, got her into my truck, and cranked up the heat. I had taken my jacket off, so I gave it to her, and she covered her torso and arms."
"She didn't want to say anything. Her throat was sore, and she was badly frightened. I called 911, and they dispatched a police car."
"I gave her a bottle of water, and she whispered, "Thank you", then sat with her head bowed and eyes closed. It took about 15 minutes for the police car to get there, and she stayed silent."
"As the car pulled in, she said, mostly to herself, "He's gonna arrest me." The trooper walked up and motioned me to exit, asked her if she needed an ambulance (she declined) then asked me what had happened."
"I explained what I had seen. He wrote everything down, then talked to her for a few minutes. He helped her out of the truck and into his car. She quietly thanked me for coming back, because she thought that guy meant to kill her."
"A far as I know, she wasn't arrested. She was pretty beat up, and the trooper spoke and handled her as if she were the victim of an assault. It was almost certainly a transaction that had gone badly."
"I never found out what had happened. I watched the news outlets for that area for a while, but never found anything."
– Jef_Wheaton
Put On Your Seatbelt
"A fresh solo traffic accident. the car was flipped upside down on its roof. the drivers head was halfway out to the neck, through the shattered front window. he did not have a seatbelt on."
– Divutski
"With a seatbelt you not only protect your life but also the mental well-being of others. No one should have to see something like this!"
– Deleted User
Never Found Out The Truth
"I used to travel for work doing construction. My boss was driving and I was passenger. were on our way back home from Tennessee to Illinois. Just leaving the mountains but still pretty much the middle of nowhere and we notice a couple dead deer on the road. These things are like... Exploded. My boss and I say something about "that sucks, a semi must have been hauling and clipped a herd". We get to the top of a hill and there are so many more dead exploded deer. Possibly hundreds. Definitely dozens. They didn't look like they got hit by a semi. They looked like they had sticks of dynamite put into them and lit off."
"Semi trucks had definitely been driving through because we didn't have to dodge any of them. And we were driving our big work truck and trailer so if we had to crush a couple it was no big deal. It went on for more than half a mile. Maybe up to a mile and a half."
"My boss had been on the road a lot more years than I had. I asked him "what the hell was that?" And he seemed just as lost as me. Said "I have no f*cking idea and I'm not stopping to find out. That sh*t didn't make any sense.""
– kickaguard
Migrating Tarantulas
"My mom is a trucker, this is her story."
"She was driving through Arizona when she saw what she thought was leaves blowing across the road in the distance. This puzzled her since there's mostly pine trees in northern Arizona. When she finally got to the "leaves" she realized that they were migrating tarantulas, 1000s of them. There were so many of them that her truck was sliding on their guts so she had to slow down. She stopped at the first truck stop and told her co-driver to fuel up (he was sleeping at the time) because she wasn't going to step foot outside after what she just saw. Her co-driver was pissed since it was technically his time off, and he thought she was crazy, until he saw the tarantula guts and legs caked in the inside wheel well of the truck."
– digitalmarketeramil
Last Words
"She also outran a tornado in the midwest. She was about to pull over and take cover until she saw another big rig that was parked on the side of the road get tossed a couple hundred yards like a toy. She called me and told me that she thought she was going to die and wanted her last words to be "I love you" to me. She pulled off the freeway and got to a Wal-Mart, where she ran into the basement where all the staff and customers were taking shelter. After the tornado passed, they stepped out of the basement and into daylight, since the Wal Mart was destroyed."
"She has many many stories like this. Trucking is 90% boredom, 10% insane sh*t like this."
– digitalmarketeramil
The Dog-Man
"A trucker I know claims he was driving a logging truck down a remote dirt road in the middle of a forest at around midnight when a "dog-man creature" walked out in the middle of the road. It stared at him for a few seconds plainly visible and well illuminated by all the auxiliary lights on the truck, then it just took off and disappeared into the woods on the other side of the road."
"He's not a superstitious man and he rejects everything supernatural as fiction, but he 100% believes that what he saw that night was real. I've only heard him talk about this twice, he was very drunk both times he opened up about it. Just talking about it rattled him, he was clearly uncomfortable thinking back about that night."
– Kitten-Eater
Truly Tragic
"This happened in Chennai, India. Was driving back into the city on the two-lane coastal highway with a few of my friends. Most of the highway has no streetlights, just reflectors. Around on of the bends, my friend who was driving slammed on his brakes. This was just after sunset."
"At first, all we could see were two motorbikes on their sides, little debris from them scattered around. It was only when we got closer that we saw three guys laying down awkwardly."
"Turns out, the bikes were heading in opposite directions at high speeds, lost control and slammed head-on. The riders of one of the vehicles wasn't wearing his helmet, and his face was smashed. We could hear his shallow gasps for air, but he was definitely a goner."
– dontdieinthesky
Definitely Ghosts
"When I was a kid my mother was driving at night with my step-dad in the passenger seat and us three kids in the back."
"Apparently (I learned about it later as I was asleep) what happened was my mother and father both saw, flitting across the road from one side to the other, two glowing silhouettes of what looked like two little girls holding hands. My mother said, picture a silhouette, only instead of featureless black this was featureless bright yellow/white, in the perfect shape of two little girls holding hands and moving across the road in their headlights."
"They saw them for so long that my step-dad was able to process the scene and sternly tell my mother not to steer suddenly, just to brake and not to attempt any huge steering movement."
"The forms reached the side of the road and faded away; our car slowed but didn't stop, and my parents continued their journey."
"When they related their encounter to my grandparents, whom we were visiting, they said that two young girls had been killed in a traffic accident on that same road."
– MagicSPA
That last one is the scariest in my mind!
When it comes to sexual harassment, everybody needs to be on the same page.

The focus has predominantly (and rightfully so) been on educating men.
But the men of Reddit wanted to discuss some of their experiences that some people may not realize are harassment.
Redditor Babydolltoes544 asked:
"Men of Reddit, what's something women don't realize is sexual harassment?"
First up, let's listen to our Kindergarten teachers and keep our hands to ourselves.
Gloves On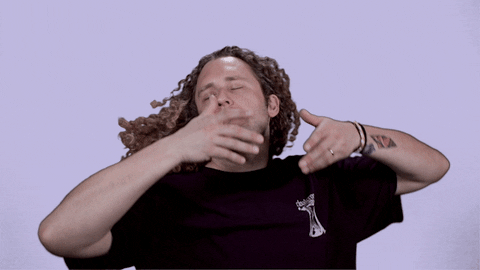 Long Hair GIF by Slingshot Dakota
Giphy
"As a guy just because I have long hair doesn't mean you can walk up to me and run your hands through it when I don't even know you."
TheSilkySpoon76
"Definitely a long hair or curly hair problem. actually why do people think it's cool to touch your hair, beard, muscles, pregnant belly etc?? personal space everyone!"
ashoka_akira
Leave me Alone
"Some women once tried to take off some of my clothes in a club (without me showing interest in them at all). When I told them to «f**k off» after a while, they got angry at me. Never been so confused."
"Edit: I almost forgot lmao. They talked to one of the guards at the club right after. "
"Don't know what they said, but as they talked to him, they pointed at me. (Maybe they said that I was the bad guy or something). When I saw that, I just left. I figured the guard would trust the two girls more than me. Club was boring anyways."
UngabaBongDong
Fix the Damage
"I had a drunk young lady rip my button up shirt off in a bar on a dance floor then proceed to cup my d**k. I was mad so told her and her friends to f**k off after I got my shirt back from them, which had all the buttons torn off except the bottom 2. That was super annoying but I was just going to deal with it until I was asked to leave by the bouncers for yelling at women and not buttoning up my shirt."
"Another group of women approached me and said they had the whole thing on video which I then sent to the bars management and got a $200 gift certificate for it. In hindsight, I probably should have just taken it to the police. I never felt in danger or scared for my safety but it was totally inappropriate and if I did that I would be in jail."
krzysztoflee
You're an Adult
"I was working at a birthday party in a bar once, and a really drunk 40 year old woman decided to just walk behind the counter and slip a banknote into my shirt. She then started to rub around my chest like some sort of massage I guess? It was really weird, I just stood there confused waiting for it to end."
"Her husband was watching the whole time and didn't seem to happy about the whole thing. But nobody really seemed to care or just laughed about it. If I as a 40 year old man had done that to a 17 year old girl working at a bar, I would've gotten one hell of a lawsuit."
Xender04
Creepy Granny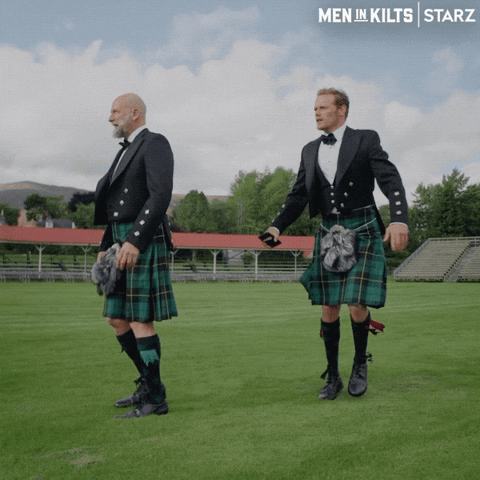 Sam Heughan Dancing GIF by Men in Kilts: A Roadtrip with Sam and Graham
Giphy
"Every wedding and funeral I have ever been to as a Scotsman, there are a gaggle of horny grannies who at every opportunity try to get a look under the kilt."
bonjelascott
Not okay, grannies. Let's respect cultural tradition and healthy boundaries.
She gets it now...
"I've been into weightlifting most of my adult life. As a result, my arms and chest are noticeable. I'm not like a body builder or anything but I've got big arms and a protruding chest. Women think that they can just grab on my arms and rub my chest without permission or warning. I think that they think it's okay because they compliment me afterwards. It makes me uncomfortable."
"My fiancée never really took me serious about it until at a work party one of my female coworkers basically groped my arms in front of her and it made her jealous. She gets it now."
IWillFindUinRealLife
LIAR!
"The same exact crap that applies to sexual harassment against women. I had a girl I used to work with slap my a**, grab my crotch and try to rub her breasts against me. When I took it to HR nothing was done about it. A week later I got written up because she lied and told HR I had verbally abused her."
SugoiBakaMatt
Where is She?
"My partner was at a truck stop waiting for his food when some lady came up and grabbed his junk. Just walked up and shoved her hand down his pants. He pushed her off, said he was taken and told her to f**k off. She reached for him again and said 'Well she isn't here now, is she?'"
"It disgusts me people are like this, regardless of gender. It's even worse that women aren't held as accountable as men are."
peckerlips
This is Odd...
"My partner went to a job interview and the older woman kept touching him as they talked. Like on his arm or hand. I told him that's not okay and he doesn't have to take that."
"He said that he didn't want to make a scene because she might accuse him of harassment in retaliation and she had his information."
"And I realized men put up with harassment out of fear too. Different reasons, but it sucks for both genders."
BarbarianFoxQueen
Excuse You?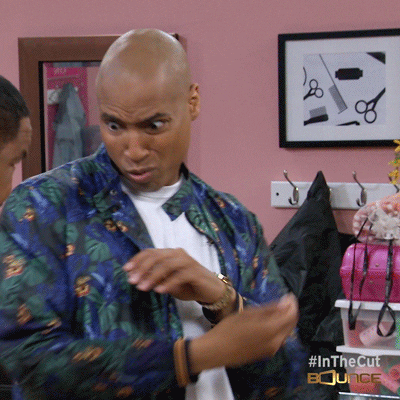 Excuse Me Reaction GIF by Bounce
Giphy
"I once had some chick walk past me and squeeze my junk and another one slap my butt and I'm pretty sure that neither of them knew that that was sexual harassment. (Edit: Both of these instances were on two separate occasions)."
CapG_13
Sexual harassment is still all too prevalent. We have a long way to go.
Do you have any experiences to share? Let us know in the comments.