Sometimes we are in the wrong place at the wrong time. We don't plan on it, but sometimes our curiosity--or bad timing--gets the best of us.
In those moments, we find ourselves suddenly staring dangerous or creepy things right in the face.
We try as hard as possible to leave the situation and go back to how we felt before. But some things are a bit too upsetting to let go of so quickly.
Some, in fact, stick around in our minds for a good while.
Redditor pikachu2_op asked:
"What's the most creepiest thing you've seen that you weren't supposed to see?"
Many Redditors shared stories about the creepy observations they've made that are very sexual. Sex positivity is one thing, and problematic is another.
Gotta Be A Felony
"Walked in on my gym teacher with his member out. In his office alone. In the seventh grade." -- devo23_
"What is it with middle school teachers? We had one science teacher whose contract was non-renewed because he would leave the students to run ourselves and go meet his boyfriend in the parking lot for... Things. We know this because once he actually parked in the lot outside of the classroom, which had big windows and you could see everything going on about ten feet away."
"Got caught (and fired) after a student turned him in and they found all of the history on his PC." -- LinkMom37
Way Too Intimate
"It's creepy to me but not all that creepy on the whole but on two different occasions I've helped my dad with his iPad and found very specific types of porn in open windows because he doesn't feel the need to close them apparently."
-- Cuboneskull
As Good A Place As Any
"When I was growing up, my Mom and Dad were shopping for a new house. We went to a new construction neighborhood to take a look.
"There was a model that my Mom liked and the sales lady said there was one being built down the street, it was about 50% done, but we can take a look to get an idea of the space. So we all hopped into the sales lady car and went to go look.
"We got in the house and she started to show us around. We went upstairs and in the 2nd-floor bedroom, there was a guy fully nude. I am 100% sure he heard us coming as the house was empty and our voices were slightly echoing as we moved around."
"My Mom screamed, the saleslady screamed, my Dad said 'WTF,' I was just hysterically laughing. The guy grabbed his clothing and just ran past us and out the house."
-- mrsheikh
Others discussed the times they were unfortunate enough to stare death right in the face.
In His Chair
"Had to go to a coworker's apartment to retrieve office equipment and files, because he had died suddenly of a heart attack the night before."
"When I got there he was still in his recliner, the funeral home hadn't picked him up yet. I was not a happy puppy that day."
-- 1964GamerBro
Suddenly Gone
"On my way home, I was looking at a busy street from the subway platform I was on and I saw this guy that everyone knew as a scammer in the neighborhood. He'd throw himself In front of cars for money."
"But that day he threw himself Infront of a real nice car and it struck him real hard. He flew into the 4-way intersection, clearly shocked by the pain, and his head got crushed under a truck passing by that didn't slow down in time."
"It looked like a watermelon exploding. It's crazy seeing a full-on human who has existed for decades just stop existing in a few seconds."
-- stakedrivers
Too Much Snooping
"My uncle was babysitting me when I was about 9 and so I went to work with him for the day. He was a landlord for some buildings in a city at the time and got complaints that an elderly woman hadn't been seen in a few days from the neighbors."
"She was on the ground floor and I think the door may have been locked from the inside with a chain or something but he had me climb in through the window to open the front door for him. My naturally curious self crawled through the window and instead of going straight for the front door I followed an awful smell towards the bedroom and found this lady face up on the ground dead."
"The place was a mess so I didn't immediately associate the bad smell with death but I bolted to the front door and watched them take her away in the ambulance. I don't know any legal answers here and I never really talked about it. Weird day"
-- Wellick342
And others discussed the horrifying times they've encounter very dangerous people.
Not Very Neighborly
"As a kid I was walking through the woods when on holiday. I was only following the river up and down so I couldn't get lost. I saw a tarpaulin through the trees and thought I would go check it out. As I got close, someone I couldn't see said 'Turn around and keep walking.' "
"Which, unsurprisingly, I did. At a run."
"When walking back along the river the next day, the tarp was gone."
-- DoomsOfGod
Not a Group You Stick Around to Chat With
"When I was 15 me and a buddy were hiking along the Merced River to our fishing spot when we were stopped on the path by three guys with ball caps and bandanas covering their faces and holding shotguns. They told us to turn around and go back, which we did without question."
"Was very strange since we'd been down there dozens of times and had never seen them before or after this. Found out a few months after that there was a Klampers rally happening on the property of a guy who lived down there and they were guards."
-- Cwcooper57
Casing the Joint
"A few years ago I still lived in my parents house, it was about 11pm and our dog started barking viciously. The dog is only able to move around in the backyard, and normally he would bark at cats in the front yard, but something about his bark was different, so I walked to the window to see what was going on."
"I looked out and saw a man looking through the same window... We both froze and after a few seconds he ran off."
"A few weeks later when we came home after work all our electronics and expensive stuff was gone."
-- HeartStoneTV
Here's hoping you've managed to stay out of these unlucky, unnerving situations.
Want to "know" more? Never miss another big, odd, funny, or heartbreaking moment again. Sign up for the Knowable newsletter here.
Keep reading...
Show less
Gas stations are a necessary evil. They often smell, they can take a while, you have to drop some cash, and there's no knowing who you'll encounter there.
It was that last detail that a recent Reddit thread zeroed in on.
Plenty of people have all sorts of alarming stories to come out of their time spent at gas stations. Nighttime stops are especially infamous.
So if you have any interest in thinking twice the next time you go to fill up, read on.
Redditor loftwinglink asked:
"What's the scariest experience you've ever had at a gas station or rest stop?"
Many people shared experiences that were downright creepy. Sometimes the vibes are just palpably unnerving.
Just Missed
"Bitter cold, dark MN winter, gassing up at 5:30am. Just barely awake."
"While I'm at the pump, I see a bundled up dude, hoodie pulled tight around his face walk out of the gas station, right past my pump, avoids eye contact and heads down the street. No big deal, it's winter, right?"
"I finish fueling up, pay at the pump. I head to the station to grab a snack and the door is locked. Lights on, I can see employees gathered in there...but they won't let me in."
"Suddenly it dawns on me... They just got robbed. At gunpoint. By the dude that had just walked by me a minute ago."
"Checked the news later that day. A robbery. If I had been 2 minutes earlier, I'd have been inside while it happened."
"Crazy world, I tell ya."
-- wojspam
Nope, Nope, Nope
"A while ago I had an early flight leaving at 6am so I was driving to the off-airport parking and was very low on gas. I pulled into a gas station close to the airport around 4am."
"The station was poorly lit and I noticed there were two guys sitting outside drinking and a third guy came out - but I was the only one at the pumps. When the third guy started walking to my car I realized how vulnerable I was. I drove away immediately without getting gas."
Very Poor Maintenance
"Just last week I was returning a rental car to an Enterprise location in Philadelphia and needed to top up the gas tank. The only gas station the Waze app would show us close by was a Getty."
"When we pulled up to the station my eyes went wide: every single pump was vandalized (broken or missing panels/signs), broken glass all over the parking lot, all of the doors were shuttered except for one lone door and a weak 'open' light."
"We drove right through without stopping and just returned the car without filling the tank."
-- xiaxian1
When YOU Are the Creepy
"This is probably the reverse of what people expect to read here. It's not like it's a spooky horrifying experience, just my scariest experience. Some friends and I wanted some snacks from corner store/gas station, I was sitting in the back right seat... so pulled up near the front and dropped me off in and out... "
"So anyways I grab all the snacks and come back out and enter back into the car and before / while entering I can't see my friends in the front.... huh? Anyways I continue to enter the car and sit down look to my left and there's a little kid just sitting there staring at me. I was the stranger."
"I entered the exact same car model/color where it dropped me off like 1 minute earlier but it was not my friends vehicle.... all I could think is that some dad is about explode on me... so I quickly get out of the vehicle and spot my friends parked just ahead in a parking spot now and quickly head over and recount what just happened."
"So that may have been my scariest experience and that kids scariest experience."
-- cephaswilco
Nowhere to Go
"Waiting for a complete tire change at a garage in San Antonio years ago. Guy beside me noticed I smoked a pipe. (Since stopped smoking)."
"He pulls out a tobacco pouch, unzips it, and holds it out. 'Check what I keep in there,' he says. So I look. Find a severed human finger."
"He goes on to explain he was an interrogator for the Army and took it as a souvenir in South America."
"So I'm sitting beside a psychopath pretending everything's normal for like an hour. Freaked me out. Creepy as anything."
-- GeneticRays
Others shared stories about the dangerous moments they've encountered at the pump. Remember, it's all flammable.
Potential Energy
"Working at a gas station. This lady came in through the front door and said she was having a problem out at the pumps."
"She'd clicked the lever that let the nozzle keep pumping gas, but then somehow managed to pull the nozzle out of her car's receptacle. Not knowing what to do, she walked to the store and told me about it."
"I thought she'd just spilled a little gas on the pad, but no...she'd left the nozzle on the ground, spilling gallons of fuel onto the pad. By the time I got out there, it was a pool of flammable liquid."
"Holy sh**. Shut down the pumps, evacuate the area, call the fire department. No, ma'am, don't get into your car and drive away. Don't touch anything. The FD showed up and said 'wow...we've never seen anything this bad.' "
"Fortunately, the gas station didn't blow up. Took a few hours to clean up the mess. In the middle of an Arizona summer. In 100 degree heat."
-- gogojack
Dodging Sparks
"20 years ago I worked at a marina gas dock. Guy comes in to get his boat filled"
"What no one knew was that the guys who had just finished fixing his boat hadn't properly reconnected up his gas lines."
"So as my coworker was pumping gas into his boat, the gas isn't going into his fuel tank, but was instead flowing into his bilge"
"Then the bilge pump automatically kicked in to deal with the rising 'water' level inside the boat."
"Had that pump sparked, the fireball would have burned us all to dust. Instead it just created a bit of an ecological nightmare as all the gas that we'd pumped into the boat got pumped out into the lake."

-- USSMarauder
A Foot Away
"I was parked at a rest stop in the middle of Texas, stretching my legs. There was a good amount of traffic right behind me on the highway and plenty of road noise."
"As I stepped towards the restrooms, I heard some horns honking so I glanced over my shoulder while walking and felt a rush of wind and the roar of a truck engine go past me."
"Traffic was stopping on the highway and an 18 wheeler lost its brakes and went hauling a** through the rest stop parking lot and nearly took me and 4 cars out, but managed to avoid everything except a dog poop station on his way through."
"If I wouldn't have slowed down to look over my shoulder, I would have been a smear on the asphalt"
-- GRZMNKY
Finally, plenty of people have been unlucky enough to encounter violence at the pump. Though it didn't involve them directly, it was horrifying to witness.
A Nearly-Lethal Blow
"Gas station in Poway CA in 2009, I witnessed an attempted murder. I was sitting in my truck with the lights off late at night. I saw a a teenager hit another teenager in the head with what looked like a chunk of rebar. Kid went down and the other kid ran away. Somebody called 911."
"Kid was unconscious and bleeding. Ambulance came for the kid. I Gave a description to the cops. They found the kid in a garage a block away. I identified him from the back of the police cruiser while the cops had him pressed against the wall. I had to give a statement of what I witnessed to the juvenile court in San Diego."
-- budzdarov
All for $60
"I went to pick my sister up from the circle K she worked at. There were cops and an ambulance (leaving) when I pulled up. Found out that my baby sister had been jumped and was robbed."
"I get to the ER and she has a blanket pulled up to her face and she is saying. 'Don't freak out. Don't freak out. I'm ok' she took it like a champ I'm telling you.
"She had 2 black eyes. A broken elbow. A split lip. Broken nose."

"The video was hard to watch. She came out of the freezer to say hello and he hit her so hard in the face that she fell backwards into the freezer and hit the floor. He stood over her and continued to punch and kick her. My 100 lb sister is seen kicking and punching him back."
"She was more mad that she was beat up over 60 dollars in the register than anything else. Because she had pulled the drop out and had it sitting in a folder under the register and the man didn't grab it. 😂 'If I am going to get beat up he could have at least took the 400 dollars under the register.' "
"The crazy thing was the man was caught. Covered in blood. They tested the DNA on from the on him for the trial…. The blood didn't belong to him or my sister. 😳"
-- Geratric_A**
Of course, it's important to keep in mind that this is a biased sample of people's worst moments. But nonetheless, keep that head on a swivel next time you're gassing up.
Want to "know" more? Never miss another big, odd, funny, or heartbreaking moment again. Sign up for the Knowable newsletter here.
Keep reading...
Show less
Nighttime is a little scarier no matter where you are, but there is something especially eerie about the silent pitch darkness of unpopulated rural areas.
The unknown sights and sounds that lurk in the deep dark are enough to make one's skin crawl. A sudden shriek or a piercing light can make the blood run cold.
Perhaps curious about what life is like in those rural spots, Redditor catarpillarfu**er asked:
"Rural folk, what is the most creepy thing you've seen or experienced?"
Keep reading...
Show less
As humans, we always have this natural desire to find an explanation for every weird thing that happens to us. We are inherently skeptics. But at least a few times in our lifetime, we stumble upon an experience that is completely unexplainable, and it permanently rocks our world.
Keep your mind open when you read these stories. Because some of these things just aren't meant to be explained. NotAMazda asked:
What is the most unexplainable thing that ever happened to you?
​These encounters can get pretty spooky. And when things get spooky, the unexplainable also becomes unforgettable.
The creepy stuff stays with you forever.
"I had a living room in my parents two story house that connected to stairs leading to the second floor of the house. You could see completely down the hall on the second floor from the couch in the living room. One time my family went away on vacation, so I had my cousin come over while I house sat for them. I'd been alone in this house for a couple of days now and I just really wanted company.
We're sitting on this couch playing Xbox, or something. The stairs leading to the second floor are almost out of my vision. At the very top of the stairs on the left is a doorway leading to a bathroom and nothing else. We were up pretty late gaming when out of the corner of my eye I saw a grey face lean out and stare at me for a split second. I didn't budge, I just barely noticed it, but as soon as I did, it was gone. I hadn't snapped to look at it, nor did I say anything. I just continued gaming for about three seconds until my cousin said "Did you just see that?" As soon as our eyes connected we both knew we saw the same thing.
The second my cousin said that, I felt my heart sink. It scared the sh*t out of me to have him pretty much confirm what I saw, but brushed off. I had immediately assumed it was just one of those blurs, or darting shadows you get in the corner of your eyes at times. The creepiest part is that it slid out as if it were lying on the floor. Whatever it was, it's head was at level with the top of the steps right at the bottom of the bathroom door frame. It just sorta slid out, stared, then slid back. Again, I just saw it from the corner of my eyes, but it appeared to be grey skinned with black hair from our combined description. We went up stairs and checked the whole bathroom, including the insides of luggage bags in the closet. We never found anything.
Edit: To this day I still can't have a door in my house open. I'm afraid Ill be looking down the hall and some gray skinned creature will just lean half it's face out to silently stare at me, and then vanish.
To all the people saying it was a raccoon or something, you think exactly like me. Using that as an excuse to go make sure the bathroom is clear. We both knew it was a lie, but we both would've felt safer getting attacked by a raccoon at that point. That's why we checked every single bag in the closet. Whatever it was, we had trapped into the bathroom. It had nowhere to go. Whatever it was, it disappeared without a trace."
That's a loooong nap.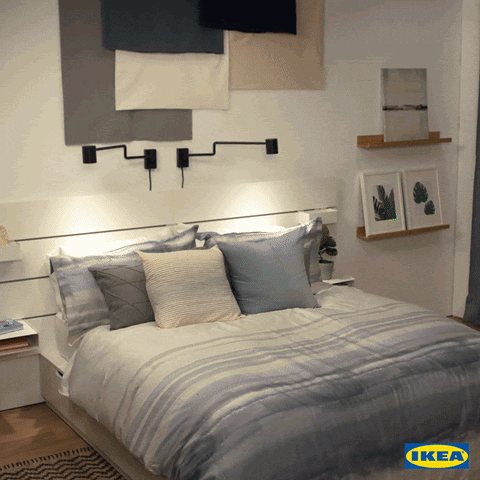 At Home Reaction GIF by IKEA USA
Giphy
"When I was around 15, my parents left me home alone for the weekend (Friday night to Sunday later afternoon), and I was thinking 'this is awesome. I can chill, play games all weekend and eat what I want.' Went to sleep Friday night, and then woke up to my mum waking me up to what I thought was the next morning. So I asked, 'what happened? I thought you were going out the whole weekend?', to which she replied, 'what are you talking about? it's 4pm Sunday.'
I have no idea what happened to those two days. I didn't leave the house. There was no food or washing up that had changed since they left. I hadn't looked at my phone, there were unread messages from Saturday morning. But I refuse to believe I was asleep the whole time."
​Trust your intuition.
"A really strong feeling kept me out of a high-rise building during an earthquake.
I was staying late at work with some colleagues. Our office was located around the 40-50th floor of the building. I suddenly had a really strong thought that wow, if an earthquake were to hit now, the dash downstairs would be chaotic. I tried to brush it off but couldn't, the feeling was so strong. And it's not like I'm not used to working in high-rise buildings - I've been working at the place for around 2 years at that point, and had never felt that way before or since.
I decided to leave and work from home, which was only 15 minutes away on foot. Just as I arrived at home, an earthquake struck. It was pretty intense, and thankfully everyone at the office was alright, just freaked out, but it was so strange that something just told me to leave just minutes before it happened."
A lot of these things can be chalked up to what some call "a glitch in the Matrix". Here are some prime examples.​
Mysterious rectangles are spooky.
"I was walking to my friend's house one summer, maybe 10 or 11 years old. Anyways, sunny day, couple clouds but otherwise it's bright out, perfect visibility, when a perfectly rectangular shadow comes up from the direction behind me on the ground, maybe 15' x 30' in size, travelling just faster than a car probably would be and goes over top of me. I'm looking at the shape on the ground as it goes over, and when I do look up to the sky I don't see anything that could have possibly cast it. Even the clouds were just trailing little wisps. I looked back down and it was going over some houses, and then it was gone forever.
So yeah, weirdest thing was a Mystery Rectangle Shadow."
​Spooky boy.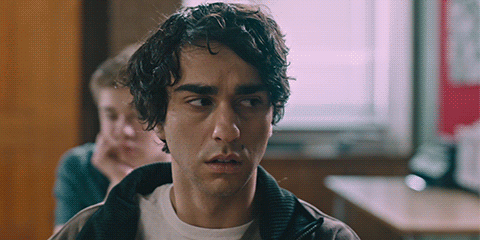 Scared Alex Wolff GIF by A24
Giphy
"Not me but my parents. In the place they used to live in, there was this old couch. My mom sometimes would walk by in the middle of the night and see a silhouette sitting there. She describes it as a man, sitting down, with a hat on, just sitting there. She saw it several times but thought nothing of it (damn she's brave lmao).
She never told my dad, who one day said to her "it's weird, but sometimes in the middle of the night I think I see a man sitting down on the couch doing nothing".
So yeah, they both saw the same man sitting on this couch, and they told each other after they'd both seen it. Weird."
​Kids can see ghosts, and you can't convince me otherwise.
"When my daughter was about 18 months old, her grandmother passed away.
That evening, I put my daughter to bed as normal, but instead of going to sleep pretty quickly as she usually did, she spent over an hour giggling and squealing with laughter. When I went to check on her, she was staring at an empty chair in her room, laughing as if she was watching the funniest thing ever.
This carried on every night until the day of her grandmother's funeral."
This one is sweet.​
"2 days after one of my closest, dearest friends died (we were semi-expecting it after he was in a terrible accident) I fell asleep in the library at school. This was after a horrific couple of days trying to process everything & function normally - I was massively sleep deprived. I placed my head in my arms on the library desk and I woke up and there he was beside me.
It was a scenario that had happened so many times - us revising and hanging out in the library together, whispered jokes and banter - that it didn't feel strange at all.
We stood up and wandered around, watched one librarian putting books away on shelves, there was a girl reading a book sat on the floor with sickly bright yellow socks, my friend made some silly Dad-joke about them being too 'loud for the library'. We chatted in low voices, about nothing much - the usual chit chat - and then went back to the desks.
I woke up and he was gone, of course, I was startled but weirdly euphoric. I went over the same set of shelves and had deja-vu: saw the same librarian putting away the books and the same girl with the yellow socks still there sat on the floor reading. I swear to this day I hadn't seen them before I went to sleep.
I like to think it was his way of saying goodbye. It helped me immensely, even though I know it was probably just a dream. But the socks thing has always stuck with me, and anytime I see a pair of 'loud' yellow socks (not very often!) I think of him and our final chat."
​It's best not to be scared in these moments. You gotta just accept the unknown.
Some Harry Potter sh*t going on.​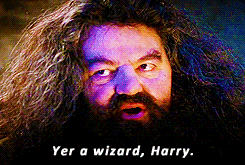 harry potter and the philosophers stone GIF
Giphy
"Not totally unexplainable and can just call it coincidence if you don't believe in sorcery. When I was in kindergarten or maybe first grade, we had a blackout at my school, and this kid goes "wait, I'll light a match" and proceeded to pretend to light an invisible match and the lights came back on, and we cheered for him. Then he said "oh it's too hot, and he "blew it out", then the lights went back out.
Wizardry."
​Oh, Edgar.
"15 years old, I was taking a shower at home. The rest of my family was out and it was around 930 at night I believe. Anyway, I hear someone knock on the bathroom door while I'm showering, so I call out "I'll be out in a sec!" Thinking it's just my dad or one of my brothers getting home.
There was silence for a few moments, and then knocking again--only this time it was pounding, like someone was banging on it with their fists, trying to break it down barehanded. It was a little creepy, but my dad always loved to prank us so I didn't think too much of it. I decided to get a towel around me and see what the hell his problem was anyway, but when I opened the door, no one was there.
The house was locked up, no open windows. No cars in the driveway. I checked every floor, every room. No one else was home. That was the first occurrence; the weird happenings continued in smaller ways until we moved out of that house, to the point that we imagined it to be some sort of Poltergeist and named them Edgar."
​Once again, always trust your intuition.
"I started having a panic attack one night out of nowhere, I kept repeating "somethings wrong." I do have anxiety but had only had one other panic attack before this day.
My husband sat on the bed with me and we tried to figure out what had triggered this. The only thing we could think of is that a family member of mine was going on a trip the next day and maybe that was making me nervous. So I made up a weird excuse to drop off coffee before they left super early the next morning. When I saw them, I felt fine. I immediately knew it wasn't connected, wished them well, and drove home.
About an hour later, I get a call that a person in my family on the other side of the country died the night before."
​My personal opinion is that we all have psychic gifts, and we all have the ability to see into the unknown. It's just about whether or not we tap into it.
So the next times you feel an intuitive pull, don't be so skeptical! You never know where it can lead you.
Keep reading...
Show less
Summer camps can be a place where kids form some of the best memories. In contrast, without proper oversight summer camps can lead to some disturbing experiences. From unlikely accidents to scare tactics, some people may not reflect on their time spend fondly.
We had an excellent summer camp close to where I grew up, we went every year and it was amazing. One summer stuck out more than the rest and looking back was a bit creepy. The speakers at that year's bike camp were, let's say, conservative. We had the example give that when we (a group of 12/13-year-olds) sin that God a big ultimate being hates it and will then oppose us. Fire, brimstone, gnashing of teeth, you can fill in the rest.
Keep reading...
Show less