Nostalgic People Tell Stories Of The One Stranger They'll Never Forget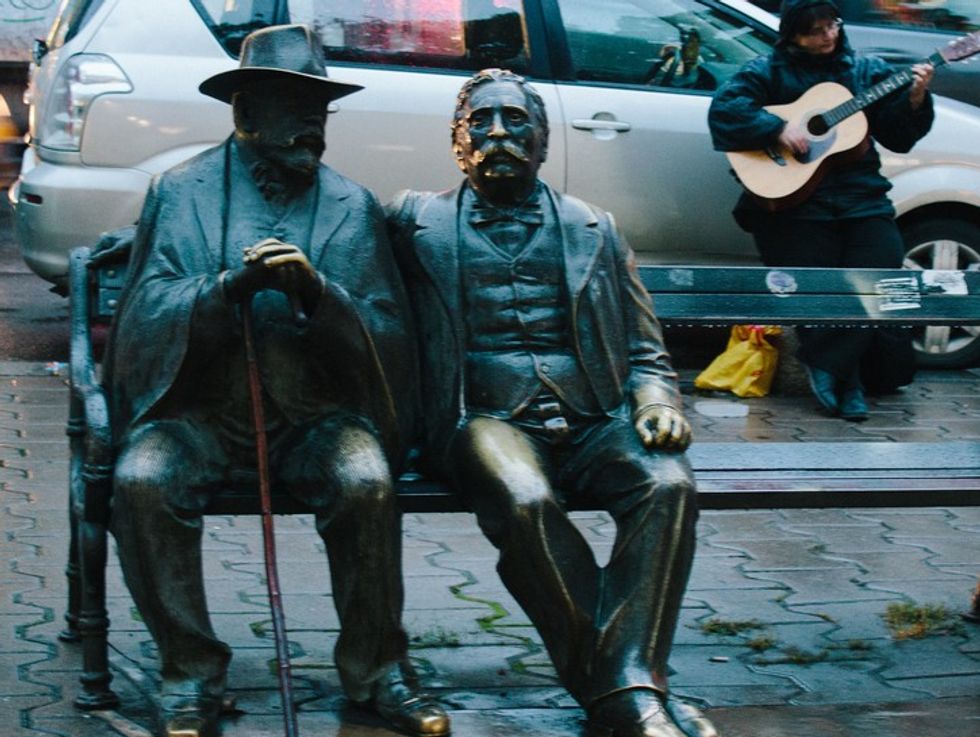 Nostalgic People Tell Stories Of The One Stranger They'll Never Forget
[rebelmouse-image 18353195 is_animated_gif=
dam=1 expand=1]

_Life is an abundance of utter chaos. People fly in and out every other second. Many times we recognize the profound differences they make; like saving our lives when we're choking on meat or turning out to be our significant other. But 90% of the time we'll never know the people who float in and out of out lives. And that 90% can change it within the blink of an eye. _

_Redditor ___The_FunkyPigeon_askedpeople to share stories of the one stranger they'll never forget.

WHAT HAPPENS IN TAHOE.

A boy I met 30 years ago in Tahoe.
SOMETIMES LANGUAGE HAS NO BARRIERS.
[rebelmouse-image 18353196 is_animated_gif=
dam=1 expand=1]

Whenever I go to the airport, I think about that one girl I met when I was like 4, in Miami. She spoke Spanish and back then I only spoke French. Yet we managed to become bffs in a matter of minutes. She was so damn generous with all her toys and she drew me a picture as a parting gift. She was so nice. I wonder who she's become.
LOST IN THE CROWD.
[rebelmouse-image 18353197 is_animated_gif=
dam=1 expand=1]

When I was a very nervous 14 year old I saw a short blonde girl with a lip ring wearing an Atticus t-shirt at a local carnival. I thought she was beautiful, but when I attempted to approach her I lost her in the crowd. Whenever someone mentioned a carnival I thought of this girl, even during and after some serious relationships (note to self: no matter how close you and your s/o are, don't bring up this girl).

Now, I worked at a burger restaurant about a mile from the carnival site from when I was 16 until I was 18. When I was 17 I swear to god this same girl came in. I felt like a nervous 14 year old again. I wanted to approach, but she was eating with her mom and dad and I wasn't their server. They left when I was in the kitchen. It was a sad day.
THUMBS UP FRIEND!
[rebelmouse-image 18353198 is_animated_gif=
dam=1 expand=1]

There used to be a cheap, but tasty Shawarma place opened very close to where I lived back in uni. I used to visit there almost daily, every day, for a sandwich.

The shawarma guy was an old Turk that didn't speak any English. I had to do gestures to describe what I wanted on my sandwich. After a while tho, he'd recognize me. I'd nod, he'd nod, and he would know what I wanted. This went on for 5 years. We've established a strong relationship of sign language that, as far as I know, isn't recognized anywhere else.

The last day I visited was right when I graduated. I visited there, graduation hat on the table. He gestures to it, I smile and nod twice...and he grinned. The biggest grin I've seen a stranger show me. He was so happy for me. He gave me a thumbs up. I gave one back.

I went back home, many miles away, but I still think about that "friend".
SOMETIMES IT'S JUST ABOUT LISTENING.
[rebelmouse-image 18353199 is_animated_gif=
dam=1 expand=1]

When I was 15 years old I had some pretty dark thoughts. I was really lonely, had no friends, no idea of what I wanted to do after high school, I never felt so lost in my entire life. Depression was a new thing for me so I had no clue of how to deal with it in a healthy way, so I did what every depressed teenager does: I acted out. A lot. My grades were garbage, I started drinking, fighting all the time with my family. Then one day I was at school sitting by myself, listening to some music and minding my own business when this new teacher sat next to me and asked how I was doing.

I told him to shut up, he said "ok, I will, if you tell me how you're doing". He was so calm and kind that I felt bad for treating him that way, so I apologized and we started talking. For some reason I told him everything that was going on and he just sat there listening to me. Barely said anything, just listened. When I was done venting, he just said something along the lines "problems come and go, sometimes they feel like the end of the world, but you have to put up a fight cause that's how you become stronger for the next problem. It's okay to feel sad and angry, but eventually you have to stand up for yourself." I don't remember the exact words cause that was six or seven years ago, but in that moment, I decided not to harm myself. I never saw that teacher again, maybe he got fired or something, I really don't know. But since that day I've been punching depression in the face almost everyday. Life isn't the best right now, but I know it gets better eventually and it's worth the struggle =] And I'll always be thankful to that man.
LOVE IS IN THE EYES.
[rebelmouse-image 18353200 is_animated_gif=
dam=1 expand=1]

I was walking out of a store with my son who wasn't more than a couple months old. An older woman was walking behind me, and she said, "look at the way he looks at you! He loves you so much!" I don't know why that meant so much to me, but I think of her and those kind words often.
JUST KEEP BREATHING!
[rebelmouse-image 18346701 is_animated_gif=
dam=1 expand=1]

I called a suicide hotline one time about three years ago when I was seriously considering doing it. I was sixteen and crying alone and the woman was so kind and calmed me down. She asked me how I was gonna do it and when I told her I was going to take loads of pills she told me quite frankly that it wouldn't work, and I would just really damage my liver. She spoke to me for ages. She reminded me that I still a whole life that I could make as exciting as possible if I wanted it. I realized I did really want it.

She told me if I called back within the next two hours she would still be there and she would be waiting for my call. My family came back home and I got distracted and never got the chance to call her back and tell her I was okay. I hope I didn't worry her and that she's alright. I wish I could tell her that I'm still alive and doing great. She honestly saved my life and pulled me back from the darkest hour ever. I think about her around this time of year a lot.
ANGELS ARE ALWAYS WATCHING.
[rebelmouse-image 18978781 is_animated_gif=
dam=1 expand=1]

My best friend died from cancer when I was 19. I had just started an internship in Boston at the time and had to fly back home to Illinois to attend the funeral. While at the airport waiting to board my flight, I was on the phone with someone. I don't remember who it was as I had to make so many phone calls during that period of time to friends and family to inform people of what happened. After I hung up the phone a woman, probably in her mid 30's, who had been sitting near me came over and said she had overheard me on the phone. This didn't surprise me, as basically every phone call I had to make had me nearly in tears (if not actually in tears). She went on to say that she couldn't even imagine going through something like that at 19, and how maturely I was handling it.

I thanked her, and went back to making phone calls. The next time I looked around, which couldn't have been more than a few minutes later, she was gone. It has always stuck with me, and I will never forget it. Just those small words of kindness meant so much to me at that moment.
ALWAYS LISTEN TO THE DOC.
[rebelmouse-image 18978782 is_animated_gif=
dam=1 expand=1]

I was a total screw up in high school. Almost got expelled, eventually dropped out, ended up with a GED. In my 20s I finally decided to do something with my life and went to community college. Did well, but didn't take it seriously enough. Applied to graduate school for a career that would boost me out of the poverty I grew up in. Got accepted by a program before I finished the pre-requisites for that program. I was supposed to complete the last few pre-requisites in spring quarter and start grad school three weeks later in summer.

First day of spring quarter I was too busy hooking up with this woman and forgot to pay my tuition, so the computer system automatically booted me from all my courses. I was able to salvage all of them except one advanced microbiology course because they always have a wait list and immediately filled up. I was literally screwing myself out of grad school and a better life. I had my first and only panic attack in the counselor's office when she wouldn't give me an override and said I had to plead my case to the professor, who I'd never met.

I went to talk to the professor, a crusty retired veterinarian who glowered at me as I told him how I'd gotten into graduate school and would literally be kicked out before I even started if I didn't complete his course that quarter. He stared at me for a while and said, "you ever going to f--- up that bad over something so important again?" I said, "not this badly." He smiled and gave me an override, I went to grad school and got my doctorate. I make a comfortable living, have a kid that I never worry about providing for or feeding. And I have never screwed up that badly again. All thanks to Doc.
IN THE LONELY HOUR.
[rebelmouse-image 18978784 is_animated_gif=
dam=1 expand=1]

I met a woman my age in an elevator in my 20s. She asked how old I was, and commented that we were the same age, and that while I was an MD, all she had done in her life was get married and have kids. I was coming off call after some 36 hours in the hospital, in my intern year, lonely, miserable, and exhausted. I just looked at her and thought about how strange it was that we both wanted what the other had.
IT GETS BETTER
[rebelmouse-image 18978785 is_animated_gif=
dam=1 expand=1]

This dude came up to me in public and said "it will get better, I promise" when I was at my absolute lowest and couldn't talk about it with anyone. No one else around me noticed how depressed I was but this random stranger saw it.
GARY THE BABY BOOMER IS A HERO!
[rebelmouse-image 18978786 is_animated_gif=
dam=1 expand=1]

Last year I went out to eat with a couple of my friends and they were standing outside of my car when I parked. As soon as I opened the door they started making conversation with me, so I got distracted and left my keys in the car. My friends and I got to work on trying to somehow open the door. We were struggling with a hanger until an old man came up to us and asked if he could try. He bent up the hanger in a way that my friends and I hadn't even thought of, and within like 5 minutes he managed to get the door open with a little of my help. I still remember him telling me "Tell your parents that a baby boomer named Gary helped you out." Thanks old man :)
REDDIT BRINGS US TOGETHER.
[rebelmouse-image 18978787 is_animated_gif=
dam=1 expand=1]

We were similarly aged, and played Diablo 1 waaaaaay back in the day. Always a blast to talk to, and we kept up for the longest time on ICQ. She was just a really genuine, fun person. And then, as internet folk do, she moved on and we never talked again._

It'd be cool to see how she's doing, but I've made peace with the fact that I'll never hear from her again.
THE BABY WHISPERER
[rebelmouse-image 18978788 is_animated_gif=
dam=1 expand=1]

I used to work checkout at a grocery store. One day, this woman comes up to my line with her baby sitting in the top part of the cart. The woman was calm, at ease, carefree. But she had an aura that she was a genuinely good person. Her baby starts screaming at the top of its lungs. Most parents I know would reach to their kid and pick them up to calm them down, yell, get embarrassed, all that. But this woman, without it being a big deal, just looked at her kid with the kindest face, and without words comforted her child. And her kid stopped crying instantly. And I think about how one person could so simply listen and communicate back love in such a meaningful way, I sometimes think about her and how to be someone like that.
DON'T BE AFRAID OF THE DARK.
[rebelmouse-image 18978789 is_animated_gif=
dam=1 expand=1]

The dude who mugged me. I've moved countries since then, but I still get the feeling he's lurking around nearby whenever I go for a walk.
FRIENDS KEEP FRIENDS WARM.
[rebelmouse-image 18978790 is_animated_gif=
dam=1 expand=1]

I must have been around 10 years old and was skiing with my parents. The temperature dropped, and my toes were killing me, so we went into a cafeteria located midway up the mountain. My mom took off my boots and was trying to warm up my frozen toes with her hands. A random stranger walked by, took pity on me, reached into his jacket, and handed me two boot warmers. Since then, I've always carried extra boot warmers in case I see a miserable kid on the mountain. Still hoping to pay it forward one day.
ANIMALS FIRST, ALWAYS.
[rebelmouse-image 18978791 is_animated_gif=
dam=1 expand=1]

When I was a young child my dog got sick. We took her to the vet. She had a problem with her leg. To help her the vet had to move her leg and it put her in a significant amount of pain. Seeing my dog in pain made me cry so one of my parents took me out of the room. The receptionist saw me crying, gave me a lollipop and comforted me. Thanks receptionist lady for making young me feel less traumatized.
FROM THE MOUTHS OF BABES.
[rebelmouse-image 18352758 is_animated_gif=
dam=1 expand=1]

I was once at the Museum of Play in Rochester, and they have a set of giant foam lego type blocks for building structures. This little boy no older than 4 or 5 was sitting all alone, holding a block like a rifle and halfheartedly pointing it around him. I lead a pretty lonely childhood, so i ran over and picked up a block and had a mock shootout with the little guy, complete with a scarface style bullet barrage death on my end, I've never felt more fulfilled than when he ran over to his dad and shouted "I got him!" I cant wait to have kids of my own.
NEVER FORGET OUR VETERANS.
[rebelmouse-image 18978792 is_animated_gif=
dam=1 expand=1]

When I was in the Navy, stationed in San Diego, I got rolled out in town for about $160...all the money I had. Hitched a ride toward the base and caught a ride with this old guy who let me crash at his place overnight until he could take me back to the base before muster. I'm sure he's dead by now but he kept me out of a lot of trouble.
HOW DID WE LIVE BEFORE TECHNOLOGY TOOK OVER?
[rebelmouse-image 18346382 is_animated_gif=
dam=1 expand=1]

Meet a pretty girl from France in a tiny village in Romania as I was traveling. Got her contacts but lost the note at the train station. This was before the age of smartphones.
YOU CAN'T SAVE EVERY LIFE, BUT YOU CAN TRY.
[rebelmouse-image 18978793 is_animated_gif=
dam=1 expand=1]

I don't know if this counts as a stranger but.... I'm a nursing student and while on placement in a psychiatric facility i was responsible for this 18 year old guy who had tried to kill himself. I ended up spending quite a bit of time with him, chatting about anything from Rick and Morty to his deeper issues. I was due to leave the ward after working with him for 3 days. I think of him most weeks.

H/T : REDDIT
Reddit user Monsah asked: 'What is the most unprofessional thing a doctor has said to you?'
"I shall do by my patients as I would be done by; shall obtain consultation whenever I or they desire; shall include them to the extent they wish in all important decisions; and shall minimize suffering whenever a cure cannot be obtained, understanding that a dignified death is an important goal in everyone's life."
~ English translation of the modern abridged Hippocratic Oath
It is the hope of those seeking medical help that the medical professionals providing it will be just that—professional.
But no profession is immune to bad days, bad attitudes or bad apples.
Reddit user Monsah asked:
"What is the most unprofessional thing a doctor has said to you?"
Reproductive Health
"I was being treated on week 2 with medication for an ectopic pregnancy—fetus in the fallopian tube, 0% chance for baby, very small chance for myself to live if not taken care of. I was told to go to the ER if I developed severe pain."
"I developed severe pain and went to the ER."
"The doctor on call sat there and tried to casually discuss what kind of pain meds I might like WITH MY HUSBAND as I was writhing in pain on the bed. Husband insists doc should just make a decision and give me the meds now."
"Finally gave me a pain pill and told me no need for an ultrasound, just did some bloodwork for my file. I go home and wait it out with a script for pain meds."
"I told him the pain was severe and could be the tube bursting and he told me that miscarriages just hurt."
"I went into the gyno treating me 2 days later and he took one look at me and booked me for emergency surgery. The tube had burst and I had so much internal bleeding that they had to have a general surgeon assist in the cleanup in my abdomen."
"My bowels were adhering to the broken tube and had to be carefully separated. Later, my doc told me I was very lucky and the moron at the ER should have sent me in to an ultrasound based on the pain alone."
"The blood work was apparently alarming."
"Went back for an IV to the same sh*tty ER a few months after. That same sh*t ER doc checked my abdomen and saw the surgery scars."
"He commented I must have recently had an operation!"
"I told him 'yeah, you misdiagnosed my burst ectopic pregnancy and I had to get emergency surgery at a different hospital'. He didn't say sh*t after that."
"If I had the money, I would sue the a**hole."
~ poppykayak
"I also had an ectopic several years ago. I had missed my period and suspected being pregnant."
"A week later had severe pain where I couldn't stand up and walk and wasn't sure if it was my period coming on. Went to an urgent care and they confirmed I was pregnant but probably having a miscarriage."
"The pain was bad in my side, and I even suspected ectopic—but the male doctor there said miscarriages are painful and he knows what ectopic pain should look like, and that's definitely not what I have."
"He told me to go home and just basically rest."
"So I believed him, and headed out—a nurse, female, stopped me in the front lobby and strongly insisted I go to the ER. My husband also wouldn't let me just brush it off and took me in."
"At the ER they did an ultrasound and my entire abdomen was filled with fluid. I had emergency surgery and got really lucky with a rare ectopic that exploded backwards into my peritoneal cavity (called a tubal abortion) and got away without a ruptured ovary."
"The female surgeon said that in her 20 year career she had never seen a case like mine."
"Still sucked, and f'k that first doctor."
~ pheonixrising23
"Doctor said that either I cheated or my husband did because that kind of cervical pain was always chlamydia."
"It was an ectopic pregnancy that ruptured and resulted in emergency life-saving surgery. But thanks for listening doctor!"
"My personal OB happened to be at the hospital that night and came to tell me the news herself, giving him the angriest look I've ever seen in a professional setting."
~ grannywanda9
"I'd been sent by ambulance from our local urgent care to a hospital due to kidney pain and a funny shadow on my xray. Emergency room doctor was insistent 'it must be a STI' despite me having no genital symptoms, and he demanded to do a pelvic exam."
"This doctor aggressively tried to mimic my pain from the inside by jamming his hand up my vag. The nurse chaperone looked embarrassed when I said to the doctor, 'if you're not careful, you'll lose your watch up there'."
"He then discharged me from the hospital at 3 am saying he couldn't find anything wrong with me."
"At 9 am the original urgent care doc called back since she saw I was discharged but my blood tests were back and I was septic."
~ Omissionsoftheomen
Digestive Health
"My older sister had unbearable GI issues for years growing up."
"Pediatrician told our parents that 'children get tummy aches' and to try peppermint Altoids.
"She ended up having emergency surgery where they had to remove her entire large intestine because it was necrotic and had tumors.
"Permanent colostomy by the time she was 14."
~ Currentlyunsureatm
"Both my parents are doctors, a Pediatrician and a Pulmonologist/ICU doc."
"Since 4TH GRADE I'd had very frequent upset stomachs and pain. I was always told 'it can just happen' or 'it's too hard to figure out'."
"It got to the point where when I had BLEEDING from my intestines I didn't want to say anything cause I thought I'd be brushed off. This was until I was going into my senior year of high school."
"It flared to the point I couldn't move and lost 15 pounds in 2 weeks."
"Lo and behold, I had Ulcerative Colitis that was diagnosed within a day of tests it was so bad."
~ GamingBeluga
"I had been bleeding for 8 months when my GP told me I 'didn't meet the criteria' for a colonoscopy."
"Finally did get diagnosed with mild ulcerative colitis later on, but that conversation with the GP was the most frustrating part of the whole saga."
~ calvesofdespair
"'It can't be colon cancer because you're too young'."
"My brother got cancer at that exact age, as she knew."
~ Liraeyn
"The really f'ked up thing about this one is that it's standard procedure to monitor for colon cancer based on family history."
"Generally guidelines recommend if a first degree family member (mom, dad, brother, sister) had colon cancer before they were elderly, they should start getting screened at an age 10 years younger than when they were diagnosed."
"So that doctor straight up ignored national treatment guidelines."
~ thatrandomdude12
"My younger sister was diagnosed with stage 4 colorectal cancer at 26 (not a typo, that's twenty six.) And it took her a couple of years to convince her doc to order any tests, despite passing blood in her stool."
"I get that she was especially young to have such an advanced case, but I will never not be angry when I read a comment about docs telling folks that they are too young to be checked for colon cancer."
~ Coldricepudding
Children's Health
"I took my then 4-year-old daughter to a pediatric gastroenterologist. First he said 'she's just being dramatic'."
"Then he said, 'well, she'll get married some day and be someone else's problem'."
"That was 25 years ago, and it still shocks me!"
"Turned out she had a partial bowel obstruction."
~ kellygrrrl328
"When I took my then 4-year-old to a pediatric gastroenterologist because she still couldn't control her bowels and clearly had no feeling down there, the specialist told me she was doing it for attention and just didn't 'want to' use the toilet."
"She went on and on about how she'd been in the business for 20 years. When my daughter told her she really wanted to fix the problem so she could go to day camp, the doctor told her she was lying."
"That human turd was in the room when I finally got my daughter tested for bowel insensitivity (I don't remember the official name) and they found out that she did not, in fact, have any feeling in her bowels."
"I looked that b*tch in the face and said, 'Now do you believe us?' She just looked away."
~ paingry
Mental Health
"'You're 27. I don't know what you have to be anxious about'."
"This was in the 1990s."
~ PrincessSummerTop
"When I described my anxiety and depression the doctor said, 'but you aren't overweight and over thirty!'."
~ seventh-street
"I was told the same just a few months ago at age 25."
"I replied 'well my mom just died' to which he said 'that's too bad' and continued on with the exam."
~ Familiar_Honey_98
"'That's normal in your line of work. Just ignore it, the pain will go away'."
"I went in for shoulder pain, as my left shoulder would be killing me after a day loading trucks all day. This was an ongoing thing for weeks before I went to get it checked."
"Didn't examine my shoulder. Didn't have any x-rays done, catscans done, MRIs done, nothing. Hell, didn't even have me take my shirt off."
"Turns out that I had a torn rotator cuff."
"Had another doc tell me that the stomach pain that had me pissing myself, throwing up, and passing out was from 'gas'."
"Again, without any type of examination, just listening to the symptoms. Two days later I was dying on the OR table from a necrotic appendix."
~ Redditor
A common theme in all these stories are doctors not listening to their patients or their parents.
While a doctor may be a medical expert, they should remember the patient is the expert for their own body.
When it comes to making a point, the stronger language you use, the better.
Sometimes, this is true of insults too. If you use strong language, the insult may hurt more. This language may include curse words. A lot of times, cursing while insulting someone is a surefire way to make sure the insult lands the way it was intended.
However, this is not always true.
Redditors know it's completely possible to deliver savage insults without using curse words, and are eager to share their favorites.
It all started when Redditor ILikeExistingLol asked:
"What's an absolutely devastating insult without any cuss words?"
Bad Breath
""First of all, brush your teeth...""
– iSniffMyPooper
"I literally just brushed my teeth because of this comment. I was gonna put it off for a little later, but I couldn't after reading that."
– ClumsyGhostObserver
"A coworker who never showers, washes his clothes, or brushes his teeth was trying to intimidate me once and I told him the scariest thing about him was his breath. He hasn't spoken to me since."
– Floptopus
""Well, at least you have more teeth than IQ points.""
– Average_Aloe
"About the same in his case, really."
– Floptopus
Yikes! That Face!
""I never forget a face. But in your case, I'll be glad to make an exception.""
"– Groucho Marx"
– chumloadio
""You have the face for a career in radio.""
– badmother
""...and a voice for print.""

– Byanl
If Only We Never Met
"I miss the feeling of not knowing you."
– Swivel_D
"I think Shakespeare once said something along the lines of "I wish we were better strangers.""
– Non_Music_Prodigy
Crime Against Humanity
"Have you ever considered that perhaps your low self-esteem is just good common sense?"
– pantsoncrooked
"I'd say shots fired but damn that's a nuclear warhead."
– RBpositive
Winston Churchill
""He's a humble man with much to be humble about.""
"-Winston Churchill"
– Triton289
"Another Winston favorite: "Madam, I may be drunk, but you are ugly. Tomorrow, I will be sober.""
– hdroadking
"Some lady: "If you were my husband, I'd poison your drink.""
"Churchill: "If you were my wife, I'd drink it.""
"May be slightly different wording."
– No-comment-at-all
"Lady Astor! She was an interesting person."
– Rare_Parsnip905
Wrong!
""I could agree with you, but then we'd both be wrong.""
– shaidyn
""You're entitled to your opinion. It's wrong, but you're entitled to it.""
– a_in_hd
Tough Love
"A teacher called my son success-avoidant 3 years ago and he still thinks about that every day. But it did motivate him to get an A in that class, and all his other classes too!"
– OhSassafrass
"Damn, a harsh truth can be very motivating."
– InverstNoob
What I Like About You
""Do you know what I like about you?""
"When they say "what?", you reply, "See? You can't think of anything either.""
– Axeman517
"These are always the most devastating ones, when you set them up to expect a compliment."
– TruCelt
"It's risky though. If they actually give an answer, like some cocky "that i'm hot?" or whatever, then you'll have to think fast."
– Ketcunt
""No, that's definitely not it. I'll keep thinking, I'm sure something will come to me.""
– OnionMiasma
Rumor Has It
""I had to see for myself, but people are absolutely right about you.""
"No cussing, no meanness, but they'll get paranoid about who's talking about them and their reputation."
– NinjatheClick
Intelligence Called Out
"Your grades say marry rich, but your face says study harder."
– rrashad21
"Please donate your brain to science, at least that way someone will actually use it."
– MembraneintheInzane
Oooh!
"You are impossible to underestimate."
"You never fail to meet my expectations."
– Zyhre
Hilarious
"You couldn't guess which way an elevator is going if you had three guesses."
– Edward_the_Dog
"I love this insult because you have a moment of silence afterward as the insultee pieces it together."
– -Envixity
I love that one; it's brilliant. I'm using this as soon as I get an opportunity!
I once worked in a cubicle farm doing finance and accounting. A new employee disappeared just a few hours after the day started.
Eventually they were found.
On the floor.
Under their desk.
Sleeping.
They were promptly fired once they woke up. I wonder how their version of the story goes.
While that was a ridiculous way to be fired, for these folks, the employers were the ones with questionable judgment.
Reddit user strykazoid asked:
"What's the dumbest reason a job ever fired you?"
Heartless
"I was 17. My Grandpa died unexpectedly from a heart attack. My Mother called my work's office to let me know."
"I was called to the office to talk on the office phone to my mother, and staff (who were told what was going on) left the area so my mother could privately break the news to me."
"I was obliterated of course, and walked outside for about 15 minutes to clear my head. I then went back to work."
"The woman who was in charge of the entire operation fired me for leaving the building."
"Human Resources stepped in and stopped the situation before I could be notified that I had been fired."
"I only found out that this had happened after my grandpa's funeral days later."
"I quit immediately."
~ moochir
Weekly Occurrence
"I had an alcoholic handy man who was promoted to manager. This was a family owned restaurant and this guy had known the father of the current generation."
"He 'fired' me several times a week for not bumming him a cigarette or not wanting to work the second dining room when we had 5 reservations or taking my approved unpaid time off."
"But he was a drunk who started with scotch and moved into amaretto so never remembered."
"I'd just come back the next day."
~ Shababajoe
Going Surfing
"For surfing the internet."
"Punchline: part of my job was to surf the internet and find content for their social media platforms."
"I wish I was making that up. I am not."
~ Sea-Woodpecker-610
Throwing Their Voice
"Fast food manager said a customer complained that he could hear me cussin' in the back."
"It was a couple days later when they fired me, but they said the incident happened on a day I happened to be off."
"I had a feeling the manager didn't like me much and planned poorly on when they'd claim the so called 'incident' happened."
~ Cool1Mach
"'I heard you cussin' when you weren't here. Don't ask me how that's possible'."
~ probablythrowaway71
Not an Escort Service
"I was 16 and refused to date the owner's niece."
~ VosTutZich
"Do people think other people are property???"
~ Crackheadwithabrain
"Yes. Many, many people who own or manage businesses think exactly this."
~ G0-N0G0-GO
Last In, First Out
"In the days after 9/11 my employer (multinational bank) instantly fired the last 2 people hired in every department where there was redundancy, hedging against a financial collapse whenever the markets reopened."
"I just happened to be the last guy hired in my department."
~ ClmrThnUR
Poor Pandemic Planning
"Covid-19 forced everyone to work from home on hastily setup computers and infrastructure."
"Then they fired the IT staff because we were deemed 'nonessential'."
"Bit them in the a** hard enough to remove chunks."
~ wkarraker
Not a "Team Player"
"Not 'fired' but let go with severance. CFO told me to make up historical reports because they weren't done in the past, but now required, and wanted to show how so much better metrics are now than in the past."
"What they were asking for was literally not possible to do since the data was not tracked to what they were asking and wanted to tweak the past numbers into a full-on made-up breakdown."
"I told the controller I wasn't comfortable doing this. The next week I got paid out."
"A month later I found out the CFO was canned."
~ Kir-ius
On Your Own Time
"Performance was bad. one of the reasons given was."
"'Reading newspapers in the lunch room'."
"Which was during my scheduled break."
~ tmacdevitt
Oops!
"I wrote a video game script for a small developer. They 'forgot' to tell me when they started voice work—part of my job required me to help with voice acting sessions."
"I finally was invited to a session with a big name actor, especially known in video games. The director asked me why I hadn't been present for the past two weeks' worth of recording."
"Apparently, telling the truth, that no one had told me recording had begun, was the wrong move."
"The developers fired me the next day despite my work already being done, which essentially meant I'd have no part in DLC or sequel(s)."
~ drewxdeficit
Should Have Dropped Out
"I worked at Walmart while I was in high school and one of the managers kept scheduling me to open or for me to be there at 2."
"I told them, many times, that I was in high school and those shifts wouldn't work."
"I guess they didn't get that memo; the store manager fired me for missing work and being late."
~ stackjr
What Do You Mean You Were Gone?
"Walmart fired me because they put out the schedule while I was on vacation and put me on the schedule during my approved days off."
"When I brought this up they just told me approved days off are just a suggestion but not guaranteed days off."
~ Tee_hops
Good Customer Service
"I gave highway directions to a customer."
"They fired me for talking to my friends at work."
"I was a barista."
~ Cobra-Serpentress
Bereavement?
"Took a day off for my Grandpa's funeral which was out of town."
"Fired me when I came back the next day."
~ bublesboo
"My wife was fired for not coming to work after she found her father's 2-day-old corpse in his apartment."
"She had to talk me down from some violent intentions towards her former employer."
~ isinhower
Has an employer ever done you dirty for an absurd reason?
Sound off in the comments.
Anyone who has gone on a few dates knows a few things that they like and don't like to see in a relationship, and they definitely know what some of their dealbreakers are.
But there are some dealbreakers that, when looked at from the outside, are totally petty in nature.
Redditor bigdawgcat asked:
"What is the pettiest reason why you wouldn't date somebody?"
Food Allergies
"I have a friend who stopped dating someone because he found out they were lactose intolerant."
"His example of why was, what if I taste a really great dessert, and I want to share the experience with her, and she can't even taste it."
- Horknut1
"I know someone who is allergic to alliums (garlic, onions, etc.). I could never date this person as there is no meal I could make which doesn't include them in some amount."
- Fixes_Computers
"Same with peanut allergies. I love peanut butter too much to start a relationship with someone who couldn't be in the same room with it, not when there are plenty of other wonderful people who can. If the allergy suddenly developed long into the relationship, that would be a different case."
- cottagecheeseobesity
The Ups and Downs of Physical Fitness
"A college friend of mine was dating a girl who was amazing, smart, and funny, and she had put on a few extra pounds recently, which bothered him (don't shoot the messenger)."
"We were driving at night down a big hill on a hot summer night and saw a young woman running up the hill toward us, really sweating, face purple, and looking pretty haggard, huffing and puffing."
"He made a comment like, 'Holy s**t, this girl is struggling.' We got closer and realized it was her."
"Long awkward pause. 'Well, I'm going to have to break up with her,' he said."
"Fast forward six months, and we ran into her at a pub, and she was in absolutely perfect shape."
"When he tried to make a move, she told him aloud, in front of a table full of her friends, 'That she wasn't interested in him, and that he had dumped her for getting fat.' Top five funniest takedowns I've ever seen."
"Fast forward 10 years, he's been divorced twice and has had a long list of s**tty relationships. The end."
- Much_Progress_4745
Conspiracy Theory Investment
"If they're into conspiracy theories. I dated a guy who was and it consumed his life. It's all he talked about."
"I couldn't even watch a movie with him because he would talk through the whole thing about how it relates to certain conspiracy theories…"
"I also could never enjoy my food. We would make a big dinner on Friday nights to start the weekend, we both had a long day at work... we'd sit down to finally eat and he'd pull out his phone and put on conspiracy videos, and he'd make me watch them sooo loudly while I ate. And he'd talk through all of them too."
"I could never tell him that I wasn't interested or I just wanted to eat because he'd get mad. It ruined my whole meal... I think most people like to eat in peace.. also he'd spend hundreds of items he needed in case we ever got attacked by 'skin walkers'... Never again."
- Low-Sky-4812
Eating Noises
"They slurp when they drink or smack when they eat."
- just-say-it-
"Soup should be seen and not heard."
- Playful-Profession-2
Same Names, Same Problems
"I will never date or f**k another Anthony ever again. I've dated or had a relationship with three different Anthonys at three different ages and they all turned out badly."
- SylphofBlood
"I had a friend years back that had three bad boyfriends, one after the other, each more of a D-bag than the last. Each one was named Rob."
"When talking to her one night, having a few beers, she complained that she always attracts d**kheads and then she asked what she should do. So having had a drink or six, I just blurted out, 'Maybe don't date anymore Robs.'"
"Anyway, the next guy she dated was Steve... they got married."
- vejbok
Love for Animals
"My cat said hello to her and she didn't say hi back."
- StephenHawkings_Legs
"I had a one-night stand kick my cat off of the bed. First, never ever have I kicked a cat. But I did kick that guy out of my house and my life. Instantly. GET THE F**K OUT. NOW."
- e11spark
"Not petty. If someone ignored my dog greeting them, I would be put off, too."
- A-Yandere-Succubus
Unexpected Sleeping Arrangements
"He slept in those tiny no-show socks. Let me be clear, he didn't wear them any other time than when he went to bed."
"There were some other, more real, red flags, but when I saw him whip them out and put them on the second time we slept together, I legitimately thought to myself: 'Actually, I don't think I can fix this one.'"
- Potential-Plastic-66
Matching Clothes
"He wore the same shirt on both of our dates.
Get this, years later, I get into the elevator at work and he's there. IN THE SAME SHIRT."
"I wanted so badly to demand to know if he has multiples or just one! Or find out which department he was in and stalk him. Unfortunately, I had given in my two weeks and didn't work in that building often."
- SunflowerSeed33
Different Interests
"If a woman has a horse in her dating profile, you will never be more important than that horse."
"(It may be petty, but it's backed up by personal experience)."
- No-Hat-689
"Horse girls do really love their horses, so I believe you. And I can't blame you."
- dumpster_cherries
"Worst of all, if you break up with the girl you won't be able to see the horse again! Imagine how heartbreaking that would be."
- one-eye-fox
Social Media Schemes
If they have emojis like their signs, or money signs, or airplanes, or some s**t like that in their bio. Just seems like some scammer or Ponzi scheme s**t."
- UrinePulp
Weakness?
"Wasn't me, but a female friend broke up with a guy because 'his allergies were a sign of weakness.'"
"Yeah, I responded the same way you did."
- Street-Comb1000
"My brother believes this about my allergies. He thinks I 'shoulda grown out of it by now.' Infuriating."
- I_Stan_Kyrgyzstan
Finals Week Troubles
​"Because her eye was twitching while we were talking to each other. I was a dumb freshman in college. This girl was super attractive and smart, and we got along great."
"For some unfathomable reason, this made me want to not talk to her again."
"Later it dawned on me that it was during finals and she was heavily caffeinated and that can be a side effect. She dodged a bullet because I was a complete dingleberry, lol (laughing out loud)."
- Atlas88-
Deal-breaking Voices
"I briefly dated a young woman who was insanely out of my league. People stared when we went out."
"Anyway, her voice was like Minnie Mouse, and I just couldn't take it. I still feel bad about that one."
- Pickleliver
Dental Preferences
​"Not me, but I had a friend who wouldn't date this guy because he had one crooked tooth. He was the nicest guy truly a wonderful person. Like if I hadn't been in a serious relationship I would've dated this guy."
"Fast forward, he meets a wonderful woman, and they get married, and my friend was all weird about it."
"I asked why and she said, 'Well, I thought he liked me enough to get his twisted tooth fixed.'"
"It was the silliest thing I've ever heard."
- Foxy_locksy1704
Preferred Facial Features
"I knew and almost dated a girl who talked out the side of her mouth. I'm not sure if that's the best way to describe it, but that's all I thought about when she spoke."
"Like, the front of her lips barely moved, and it was like a weird little smirk kinda thing when she spoke. I couldn't get past it."
- newadventures96
"Weird ick: people with big/wide mouths. Why can I see all of your teeth and the back of your throat while you're talking? You don't need to open it that much just because you can."
- burritoboles
When one Redditor wanted to hear others' "petty" reasons for not wanting to date someone, their fellow Redditors really delivered. While some of these could simply be a matter of taste, like finding some facial features attractive where others do not, some of these, like allergies, are pretty, pretty petty.