People Share The Most Surprisingly Nice Random Celebrity Encounter They've Ever Had
Sometimes you hear stories of celebrities who are nightmares, but then there's the celebrities who are just the sweetest!

Below are stories of people meeting celebrities that'll warm your heart. Check them out!
---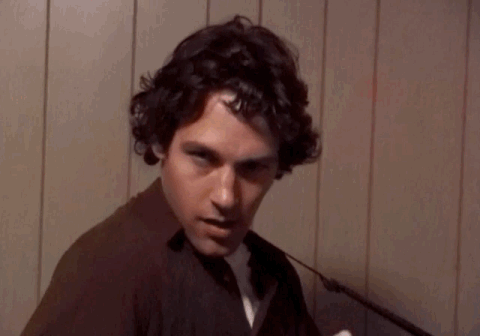 Paul Rudd Guitar GIF - Find & Share on GIPHY
Giphy
I met Paul Rudd. I was at a Decemberists concert, and in between opening acts, I headed to the women's bathrooms. Paul Rudd was standing outside of the bathroom, obviously waiting for someone. As I passed by Paul Rudd, I did the finger guns at him and said:
"Hanging out in front of the women's bathroom? That's a good way toto pick up chicks."
I could hear him laughing as I entered the bathroom. I was torn between being pleased that I made him laugh and being mortified that I was such a dork. When I left the bathroom, he saw me and started laughing again, so I went over to him and said I had no idea why I said that. So we had a little laugh together, and had a nice little chat. He was a really nice guy, not even as a celebrity, just as a cool dude.
Although thinking back on it, no woman came out of the bathroom and came over to him while he was waiting, so I still don't know why he was hanging around outside of the bathrooms.
adhoc_lobster
Met Mila Kunis at a bar in Manhattan several years back. My buddy offered to buy her a drink, she kindly turned it down. But when I went up to her, I actually managed to chat with her for half an hour.
AveofSpades
Ice T was on the same flight as me, my mom, and my sister when I was younger. My sister needed help getting her bags off the carousel but I was too busy reading Harry Potter and basically told her to piss off. Ice T comes walking over, shoots me the worst look, then grabs all my sisters bags and helped carry them to our car.
I learned a good lesson that day; never help anyone because it's easier to let a celebrity do it for you.
slightly_inaccurate
I was at a shoe store in Cleveland about 4 years ago. . I think it was Finishline. And I'm looking at the new Lebron shoes, (mind you that I'm only 18 at the time), and a huge shadow appears over me. And i turn around, and it was Lebron fucking James standing there. He smiled and said "you want my new shoes" I stumbled over my words for a few seconds then said yes I think I'm going to buy a pair right now. He then asked me my size, went up to the front desk and bought me 2 pairs. 1 he signed, and he said the other was for me to practice my post moves in. One of the best days of my life.
Twist83
Working in a magic shop in my 20s, Muhammad Ali came in. My boss (huge Ali fan from back in the day) was visibly staggered. I guess Ali was his idol when he was younger.
Ali hung around for a couple hours, we did some tricks for him, he did some for us (pretty good, too, considering his hands trembled and he didn't talk). He was totally beyond cool with us taking some pictures (he posed my boss punching him in the chin), and wrote a "thank you" post card to us a week or so later...
...he signed it "Cassius Clay, oops, I mean Muhammad Ali."
[deleted]
Dwayne "The Rock" Johnson. He was walking out of the restroom at my work place. I commented, "I smelled what The Rock was cooking" as we passed each other in the hallway. He turned back and gave me the People's Eyebrow. Actually got to chat with him a little while, and led him to the edit bay that he was looking for.
[deleted]
Believe it or not, Marilyn Manson. This was 2000. My brother had cancer and got the chance to meet him. He brought my brother all sorts of memorabilia and sat and chatted to him for a few hours, playing TV games with him, playing guitar, even reading Beano comics. All in the comfort of my own home. My brother passed away 3 weeks later and was in his M.M t-shirt when he passed.
sultree
Morgan Freeman. We're both from the same state (Mississippi). I was having lunch near his home town when I noticed him. He took the time to talk to me, despite my epic fan grin, and paid for my food before he left. Best lunch I ever had.
nesshin_chan
Ryan Gosling paid for my parking on Hollywood Blvd once. We had parked in the same parking lot. He was leaving and we were arriving and I struck up a convo with him real quick.
He asked where I was from and why I was there/who I was with. (Spring Break, 9 friends, 2 cars). And he was like "Oh you guys have 40 bucks to drop on just parking? Must be loaded" I chuckled and was about to say something back and he just says the coolest thing to me.
"Don't worry about parking today man, I'll cover you all for the weekend. Have a fun spring break!"
It was so cool. He is JUST as nice in real life as you think he would be.
MaynardJayTwa
I met Margaret Thatcher, briefly, and was really surprised at how polite she was in person.
Mecxs
Lady Gaga. I sat down with her and had someone take a picture of us. I complimented her on her show but I was overall super nervous and flustered. I quickly got up to walk away but she grabbed me, told me to sit down, and demanded we talk some more and take a few more pictures. It was glorious.
boober_noober
Kourtney Kardashian. She was pregnant with her first kid when she came into the homeless shelter I was volunteering at. No cameras, she was there by herself to play with the kids, even stayed after to help me sweep and clean.
hungree
Paris Hilton.
My car broke down on an autobahn in Germany. Managed to coast to sort of lay-by thing with a burger van and toilets in it. I was in a bad state because I can't speak any German, my phone had no credit and I didn't have my breakdown details with me so I had no idea what to do.
I unsuccessfully asked the guy in the burger van for help and he apparently didn't speak English so rather pathetically I started to cry. Then this big old American guy appeared and offered me a cup of tea in his motor home (it wasn't proper tea but that's besides the point). In the van was another guy and friggin Paris Hilton! I kid ye not.
She was sweet and made me a sandwich and gave me a hug then proceeded to talk to me for 30mins about some old radio bits she'd bought in some show in Freidrichshafen. I didn't understand most of it. She said that when she wasn't working she liked to drive about Europe going to radio and air shows as if she put a hat on nobody ever recognised her.
Then they towed me to a garage at about 40km per hour (scarey stuff on the autobahn). Oh yeah and she sat in my car and asked if it was ok before she smoked.
[deleted]
Chuck Norris- tipped me $150 bucks... on a $30 bill, was right around the time the Chuck Norris jokes were becoming popular, and while i was taking the order I overheard a coworker make one of the jokes, saw Chuck's face just sorta tighten like "Not this again" and I politely excused myself, took the other employee aside and told them to leave him alone so he could eat.
Napoleon98
I bought Kevin Smith a beer at a airport lounge, we wound up shooting the sh!t, after a while he bought a piece of pie and we split it.
Punch_Drunk_AA
Keanu Reeves. Was at coffee shop and no place to sit, a man said please join me here. I sat and realized it was him and talked about comic books for about 30 min. Normal as can be.
[deleted]
I played paintball with Robin Williams and made it a point to run straight to his bunker and shoot him right in the face, he was going to be my prize. He was a good sport about it and spent the rest of the day giving me a running commentary/riff track on the game as it progressed. Really nice guy considering I just shot paint into his face.
The_Adventurist
Clint Eastwood. Had dinner with him while he was directing Mystic River. Great guy.
Sr_Navarre
My girlfriend's mom lives in a house on a private island off of Miami Beach. The girlfriend and I are down there on vacation last summer and I am fixing the tail light on her mom's car when I see Lenny Kravitz walking up with his little dog. He says something along the lines of, "I have never seen you around before." I said I was visiting with my girlfriend. I will never forget this "tall chick?" "Ya." Then he got this big smile on his face and said, "right on." He high fives me and walked away. At that moment I knew what cool was and I knew I would never have it.
SchlapHappy
Robert Downey, Jr. Met him a long time ago when he was filming U.S. Marshalls. He is just a really nice guy.
Rollergirl66
Adam Savage of the Mythbusters. Very nice and personable, and that child like excitement he has on the show is definitely not an act.
[deleted]
Penn and Teller need to be at the top of this list. At the end of every show they do (which is at least 5 per week) they literally run out of the doors ahead of everyone else so that they can personally shake everyone's hand and thank them for coming. They'll sign whatever you want for free, talk to you, and take pictures. They've been doing this for over 20 years and always talk about how appreciative they are of their fans. I haven't met them on the street, and it is somewhat anecdotal, but I hear they are exactly as approachable outside their shows, too, and will make time to chat/sign things as well.
SeamlessLink
Russell Brand was an absolute peach to me. I interviewed him for my blog and he stopped mid-sentence and said, "You're beautiful you know that, right?"...and my favorite compliment from anyone, "You've got lovely cheeks!"
Mellyv
When Joe Biden was a Senator I accidentally walked in on him while he was in the stall of an Amtrak bathroom. He sat there awkwardly for a second and then said "I'd shake your hand but I don't think either of us want that."
AKPhilly1
When I was a kid, like 2 or 3, I often saw an old man at a grocery store with a small, white dog. The man came up to me one day and handed me a basket. He said I could walk the dog while filling up the basket with candy (which he then later paid for). This became the routine whenever I saw that man at the grocery store. Walk dog, get candy.
That man was Gene Wilder. I got candy from Willy Wonka himself.
HypatiaofEdmonton
Tom Hanks.
Was at a friends wedding at the Wynn in Las Vegas and were taking pictures in the Atrium (also the VIP Entrance). He emerged from the double doors behind our group and said "Hey! Is this a wedding? Can I be in the pictures?" Everyone was quite pissed off until we realized it was Tom Hanks.
He took pictures with the whole group and was a general all around great guy.
jbibby
Met Adam Devine of workaholics. He was obviously hungover but still took the time to be a nice guy.
Snoop Dogg was also a really laid back dude, but what do you expect.
Arturrono
I went on the Pirates of the Caribbean ride at Disney with Tony Hawk. He had given me his autograph earlier at a convention and we just happened to be in line together. He was really cool.
Possum_Pendulum
Dave Chappelle has a history of running very long comedy shows. My buddy and I saw one of his shows a while back. It ran very very late, until almost 4am (on a weekday), by the end, almost the entire crowd had trickled out- to get up early for work the next day and what not. Only about a dozen of us remained at the show by this point. Dave invited us to all play basketball with him the next afternoon. He had rented out an entire gym for an hour. Of course my buddy and I took him up on the offer. We played pick up hoops with Dave Chappelle for over an hour. After everyone finished playing, a handful of us stuck around and shot the sh!t with Dave. He bought us all fruit smoothies and gave us free tickets to his show the next night. SUPER nice guy, just like he is on TV. Couldn't have been any cooler
banked1
Victor Wooten. He was signing a Flecktones CD for me after a show and I shook his hand and said "I hope 1% of your talent rubs off on me." He said "Hey I want some of what you have."
waccused
My friend met Zach Braff after watching his show in london. My friend hugged him and said he smelt like a father figure apparently he cracked up. I am seriously jealous of that! Zack Braff is a lad!
wallenbear
Neil Gaiman, at the Edinburgh Book Festival. It was pouring, and some of us were waiting in the rain for about two hours to get his autograph. I asked him how he was and he told me how sorry he felt for everyone outside. I told him they were in Edinburgh; they could hardly be surprised if it rained.
angua_von_uberwald
Medicine is a difficult profession. Thanks to the wonder that is human nature, healthcare workers are subjected to incredible Darwin-award-winning scenarios daily, so it's no wonder that many of them feel the need to go home and scream into their pillows at night. From self-inflicted injuries to dangerous prescription misuses, these Redditors revealed the most facepalm-worthy patients they've ever encountered.
But be warned: They'll all leave you wondering how we've survived this long as a species.
In almost every interaction with a Karen, there will come a point where she (or he) will ask to speak to the manager. They seem to think that if they over others and just act a fool, they can get what they want—but the following managers REFUSED to let these Karens get away with their inconsiderate antics.
In the United States, it's no secret that sex education for minors is inconsistent at best.
But some people learned very unexpected stories about how babies were made, and those stories had a way of making a lasting impression.
Curious about other's stories, Redditor ILoveYourCat asked:
"How did you think babies were made when you were little?"
One Time's the Charm
​"I knew babies came from sex as a fairly young child. My parents never sugar-coated that. But for some reason, as a kid, I thought you only had to have sex once to have multiple pregnancies. I seriously didn't fix that misunderstanding until early middle school."
- Crazey1988
"At some point, when I finally accepted that you had to have sex to have a baby, I thought the only time people have sex was to make a baby, and it only took one time to get the job done."
"Then when I figured out teenagers were having sex, I thought you had to be married and have sex to make a baby, but then when my unmarried cousin got pregnant, I was just confused."
"But I was sure my parents only had sex four times, and then when my mom got pregnant with number five, I thought, 'Wow, they did it again.'"
- Raw_Combination_438
Stealing Storks
"A stork delivered them, of course. What the f**k, lol (laughing out loud)."
- Dells51
"Storks... I thought people trained them to steal babies from a factory and you would leave special treats on your doorstep as payment and encouragement for the stork to steal one for you."
"I was scared to death of birds for the longest time and would have a tantrum at the zoo when I saw a flamingo."
- No_Finish_3144
Young Conspiracy Theorist
"The government. I used to think that we lived in a totalitarian society and that the government was in complete control of everything."
- bebotak**t
"I thought the President sent people their babies when asked by mail."
- GustavoAlex7789
Scheduled Baby Delivery
"The women in my family explained to me at the age of six that a doctor calls you sometime after reaching adulthood at the age of 18 to schedule a baby delivery date."
"The husband either pays to schedule the appointment or the government does after verifying that you have been married and financially stable for quite some time."
- Lokikat00
Marital Kissing
"When two people kissed."
- Short-Reality7353
"I thought the same thing, but I understood that when my mom gave me a kiss, there was no risk. Being someone raised in a very Christian background, I assumed that when you got married, God made kissing a reproductive act."
"Since I made this assumption, I remember questioning why teenage pregnancy could possibly be an issue."
- meuserj
The Ultimate Christmas Gift
​"I thought Santa was bringing them."
- NorskoTheScorpion
"He was. I mean, Christmas comes but once a year..."
- Nouveauuuu
"I MAY NEVER ENJOY CHRISTMAS AGAIN."
- NorskoTheScorpion
A New Meaning to 'Forest Friends'
"When I used to ask my dad where I came from, he'd say he found me under a rock in the forest. Of course, I would go look for babies under rocks, too, but all I ever saw was dirt and those rolly-polly pill bug thingies."
"It was so gross thinking babies were just found THERE that I was actually relieved to find out how they were actually made!"
- melodie-artist
Pregnant By Proximity
"I thought women got pregnant by just being around a man, and I was always confused about what would happen if a woman still lived with her parents or dad after she's an adult."
- ILoveYourCat
Coming of Age Story
"I thought it was a 'just happens once you reach a certain age' sorta thing. As a woman, I was terrified because pregnancy sounds like the most awful thing, lol (laughing out loud)."
"(I know the end result is worth it but even as a 31-year-old, I'm like, nope.)"
- BansheeShriek
Sounds Plant-Based
"I thought they grew like a seed inside the mother's belly."
- maclaglen
"Technically, that's true."
- ManagementFresh4960
"Watermelon seeds."
- bravovice
"Well, not like that."
- ManagementFresh4960
The Power of Marriage
"My mum told me you couldn't have a baby if you weren't married. Note that she said 'couldn't', not 'shouldn't'."
"When my unmarried cousin was sleeping a lot my mum told my aunt 'she's having a baby'. I thought 'she can't be having a baby, she isn't married.'"
"A couple of weeks later she had an engagement party, quickly followed by a registry office wedding. She had a baby a few months later."
- MolassesInevitable53
Baby Trees
"I thought they grew on trees. True story."
- 8inchsalvatorre
"Baby trees, lol (laughing out loud)."
- ILoveYourCat
"I was surprised when I learned how it really happened, lol. I was like, 'You mean there are no trees?' And Mom just shook her head."
- 8inchsalvatorre
They Were Just There
"I don't recall a time where I gave the matter any thought without knowing the reality of it."
"Like, literally, until the day I was first introduced to the concept of birth, I don't think I cared where babies came from."
- N_Who
"Right, the little guys just EXISTED."
- Mizar97
Educated Is Best
"I asked my mom and she told me the truth."
"Educate your kids, folks. They can handle it."
- Bite_Me_23
Spontaneous Babies
"I didn't... They just showed up, honestly."
- badguywindow
"That's what I thought. I was terrified as a little kid that I'd wind up being a teenage mother because I thought it just happened spontaneously."
- dinosore
"Exactly what I thought would happen. Like one day you were just, boom, six months pregnant."
- badguywindow
While these responses might be funny, it's an important reminder of an area in the educational system that's often lacking.
But in the meantime, while the system's curriculum is getting sorted out, at least we can take comfort in the fact that we weren't alone in believing these tall tales.
What is it that makes people confess their deepest, darkest sins to millions of strangers on Reddit? While we may not know the answer, we do know that the following confessions run the gamut from funny to salacious to nasty nightmare fuel. In fact, you might want an Ouija board to send some of these skeletons back to the closets from whence they came.