If you don't meet an arbitrary standard in our society––whatever that might be––you might as well be an outcast.
And so it goes.
But guess what? You do you. That's the key lesson behind "What shouldn't we be ashamed about?" which is today's burning question from Redditor DazedMoose.
It turns out not everything we're taught to say or think is necessarily the best thing. Who knew?
---
"Not knowing..."
Not knowing something. People should be ashamed for putting down people who ask honest questions.
"Poor choices..."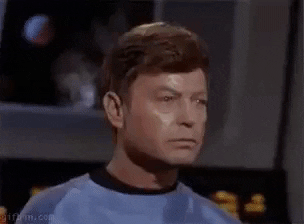 Giphy
Poor choices that we made when were younger. As long as the ship has been righted, hold your head high and carry on.
"Regularly needing..."
Regularly needing a full nights sleep in order to function as a normal person each day.
Also not wanting kids or generally not being interested in someone else's kids.
I've got kids but I've realised that just because I find them great and interesting doesn't mean my work colleagues want to see 15 pictures of them pumpkin picking last weekend because they got muddy and it was cute.
See also when people bring their kids to the office. It's fine but don't get pissy that I'm happy to continue working rather than come and look at the sleeping baby.
"As a professional artist..."
Your creative work.
As a professional artist I'm generally the last person to volunteer to show my work. This isn't some humblebrag bullshit but generally when I look at my own work all I see are the flaws. There is a saying that art is never finished it's only abandoned, and honestly that's how I feel and how a lot of creatives I know feel. We'd all love an extra month to touch up our work but the fact is we don't have that luxury. Couple that with seeing EVERYONE else's finished works on various platforms and you only feel worse about the work you're creating even at a high level.
And this isn't anything new as it seems to be something that everyone feels at a certain point in their lives. When you're a kid and you're asked to draw a picture of your family you don't care, and you make the tallest stick figure your dad, the next tallest your mom and the smallest you, or your sibling. The grass is a bunch of green lines and your house is a box with a yellow circle in the sky. You're done. It's perfect.
Then somewhere along the line it doesn't look like something Rembrandt has done so naturally it sucks and so do you.
Honestly it's a common feeling and one that comes from a sense of pressure we put on ourselves to be great.
So to my fellow creatives, take a breath, realize where you are today is better than where you were yesterday and take pride in getting there. Never be ashamed or measure yourself creatively against anyone but your previous self.
"Being good at something."
Being good at something.
I always try to hide it when I am and if I ever tell anyone I think I'm maybe okay at something, it feels like bragging and then I feel worse about it.
"I don't understand..."
Being a virgin.
I don't understand why there's such a stigma surrounding virginity. A lot of people I know who are virgins (including myself) are ashamed of it and feel like there's something wrong with them (especially if they're 20 or more).
"Our friends..."
Our friends and family's actions. They don't reflect you or who you are so there's no need to feel ashamed because you can't control what they do or say.
"Be it a girl..."
Getting rejected. Be it a girl you see at the bar, an application to a school, anything.
"It's so sad..."
Body hair.
It's so sad how women and men are put down so heavily for the way they choose to groom themselves. As long as you're clean, I don't care what you choose to shave/not shave.
"It's natural..."
Pubic hair, It's natural and is used to keep our pubic area warm.
"Whether it be..."
Getting help if you're having issues. Whether it be asking a teacher for help in school or asking a friend or someone for advice. There shouldn't be any shame in trying to better yourself.
"The extent..."
Having a little stomach pudge. It's supposed to be there. Just look at the curve of the human spine--it curves inward where your stomach is while standing straight. Of course your belly's going to stick out a bit! The extent some people will go to on a diet is disturbing.
"Knowledge."
Knowledge. If you don't know something, say it. Don't just say that you know it even if you don't.
"Doing..."
Doing and enjoying things that are stereotypically assigned to the opposite sex. Why can't a man enjoy knitting or a woman love working on racing cars? There's no reason in the world not to.