Mind Blowing Facts From Behind-The-Scenes Of Popular Films.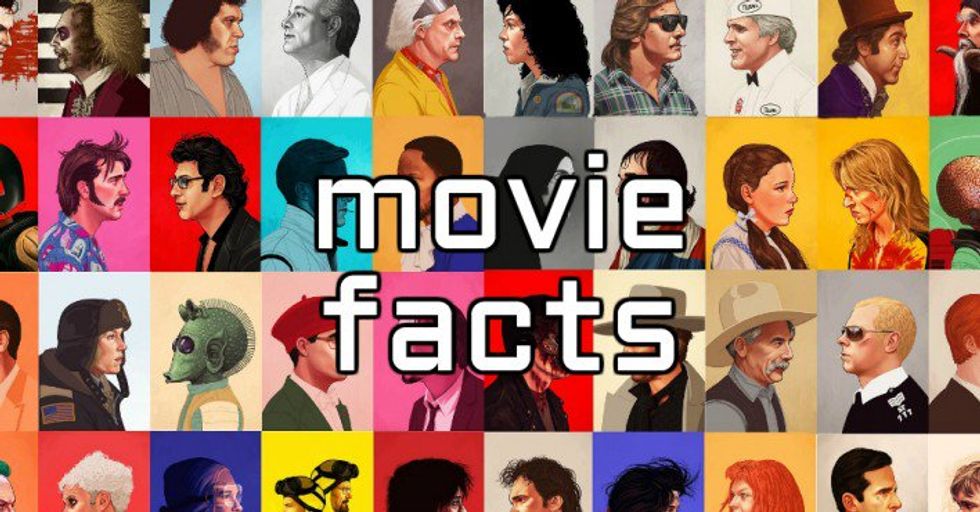 When dozens, sometimes hundreds of people come together to create a project on a large budget, magic can be made. But what happens behind the scenes of the magic? Wild things. That's what.
1. Jack Nicholson pulled a real gun on Leo DiCaprio in The Departed, even though it wasnt in the script. He thought the scene wasnt intense enough initially.
2. Prior to filming the movie Psycho (1960 movie), Alfred Hitchcock, widely considered the master of suspense, made arrangements to buy every copy of the book he could find, so nobody would know the ending. Psycho is considered by many to be one of his finest films.
3. The role of Dr. Hannibal Lecter was originally to be played by Gene Hackman, who also wished to direct; but he later withdrew from the project owing to the evolving screenplay's graphic content.
The role later on, as we all know, was played by Antony Hopkins which landed him an Oscar Award.
4. Over 450 gallons of blood were used in the production of the film Kill Bill. The fight in The House of Blue Leaves (the bar in the movie) took eight weeks to shoot. The MPAA insisted that Tarantino cut the scene due to the amount of blood. Instead he changed it to black and white, which the MPAA approved. The Japanese version of the scene remains in color.
6. In The Wolf of Wall Street, the chest beating and humming performed by Matthew McConaugheyis actually a warming up ritual that he performs before acting. When Leonardo DiCaprio saw it he encouraged him to include it in their scene.
7. O.J. Simpson almost played the Terminator, but James Cameron thought his persona was too pleasant to portray such a dark character.
8. The sound of the velociraptors communicating with each other in Jurassic Park is actually the sound (Continued)
---
Continue reading on the next page!
of tortoises mating.
9. The big scene in Pulp Fiction where Vincent stabs Mia in the heart with a needle was actually shot in reverse. So really, John Travolta was pulling the needle out of her.
10. The burning-of-Atlanta scene in Gone With the Wind was created by setting fire to old sets found on the MGM lot.
11. While filming Poltergeist, Robbie truly got choked during a take by the robot clown doll it wasnt until the boy turned purple that Spielberg realized what was actually happening.
12. In Django Unchained, theres a scene where Leo DiCaprio smashes a glass in a fit of rage, causing his hand to bleed. This was an accident, but Tarantino kept it in the movie.
13. The stunt double for Daniel Radcliffe was paralyzed in the last Harry Pottermovie, so Daniel created a fundraiser to pay for his college education.
14. In The Hangover, Ed Helms is ACTUALLY missing a tooth. He got a permanent implant when he was a teenager, so his dentist removed his implant for filming.
15. In The Wizard of Oz, the Wicked Witch of the West was severely burned by a flame in the scene where she (Continued)
---
Continue reading on the next page!
is leaving Munchkinland after confronting Dorothy.
16. When Alex is being dunked repeatedly in A Clockwork Orange, there was an air tube underwater for him to breathe through however, it got clogged, so all of his struggles were him actually drowning.
17. Viggo Mortensen had no intention of working on The Lord of the Rings until his son begged him to do it.
18. Tony Todd put actual bees in his mouth while filming this scary Candyman scene.
19.The voice of Boo from Monsters, Inc., Mary Gibbs, was just a toddler during production. The crew couldnt get her to sit still and read her lines, so they had her play in the studio while following her around with a mic.
20. Joe Pesci actually bit Macaulay Culkin while filming this Home Alone scene.
21. ET and Poltergeist were originally supposed to be the same movie, called Night Skies.
22. Will Ferrells reactions during the jack-in-the-box scene in Elf were totally real the director surprised him every time he played with one of the toys by using a remote control.
23. During the chestbuster scene in Alien, the actors didnt know what was about to happen, so their absolutely horrified reactions are real.
---
Continue reading on the next page!
24. Sean Connery wore a wig in every single one of his Bond performances.
25. Some Wookie suits in Star Wars were made from human hair.

26. Alfred Hitchcocks, Psycho (1960) was the first American film ever to show a flushing toilet.
27. Ryan Gosling was cast as Noah in The Notebook because the director wanted someone not handsome.
28. Barbie in Toy Story is voiced by Jodi Benson, the same actor who voiced Ariel in The Little Mermaid.
29. The original cut of The Wolf of Wallstreet had over four hours worth of content.
30. The movie Titanic (1997) cost more to make than the actual ship (Titanic) that sank.
The movie cost $200 million. The actual costs to construct the ship between 1910 to 1912 were (Continued)
---
Continue reading on the next page!
$7.5 million. Adjusted for inflation, that would be around $125 million in 1997.
31. Pierce Brosnan was contractually forbidden from wearing a full tuxedo in any non-James Bond movie from 1995-2002.
32. The ornaments that Marv steps on in Home Alone are actually candy.
33. In Ferris Buellers Day Off, Charlie Sheen stayed awake for 48 hours to achieve a suitably wasted look for his cameo.
34. Fantasia (1940) was originally a short called The Sorcerers Apprentice, but Walt Disney overspent on the score and decided to make it feature length film rather than waste money.
35. Sean Connery turned down roles in The Matrix, The Lord of the Rings, Jurassic Park, Indiana Jones 4 and Blade Runner.
36. To thank Robin Williams for his work on Aladdin, Disney sent him a late Pablo Picasso painting.
37. In Harry Potter, Alan Rickman was the only person other than J.K. Rowling to know Snape was defending harry because (Continued)
---
Continue reading on the next page!
he was in love with Lily Potter to make his performance genuine.
38. When Edward Norton first fights Brad Pitt in Fight Club, he was asked to actually hit Pitt. Pitts reaction is genuine and Norton was trying to stop himself from laughing during the scene.
39. Heath Ledger almost broke Jake Gyllenhaals nose by grabbing his head and kissing him too hard in Brokeback Mountain.
40. Each frame of the CGI scenes in James Camerons, Avatar (1/24 of a second) took an average of 47 hours to render.
BONUS: Jurassic Park did not use any real dinosaurs. Spielberg wanted real dinosaurs, but none of the available raptors were members of the Screen Actors Guild.
The only thing more satisfying than wiping the smirk off the face of some mean girl, mansplainer, or smarmy smarty pants is reading about it. And although some say revenge is a dish best-served cold, these Quora clap backs are comin' in very hot. In fact, you may want to pop an Ozempic before diving into all of this sweet, sweet revenge.
Whether or not we liked going to school growing up, we can likely all agree that we had one of those teachers who really didn't belong in the classroom.
From terrible tempers, little patience, and other bad behaviors, there are qualities that absolutely shouldn't be exhibited by a teacher.
But at least in some cases, the teacher gets caught in the act.
Redditor Ok-Discipline-4312 asked:
"How did that teacher get fired at your school?"
Creepy Phone Calls
"In the early 90s, a female student at my high school was receiving obscene phone calls."
"When police interviewed her, she told them, 'He sounds kind of like my history teacher.'"
" The police put a tracer on her phone, and the caller did turn out to be her history teacher."
- mythrowaweighin
Passing the Torch
"My high school had a notoriously stoney gym teacher, who was also hilarious. Every year, he did a miscellaneous object raffle during a random lunch hour. He basically just gave away whatever was in the lost and found box."
"Well, my junior year, one of the objects was a large and elaborate 'vase.'"
"Basically, he handed a student a giant f**king bong. He retired a few days later."
- Forever_Man
Rolling with the Punches
"A teacher used a sick day rather than a vacation day to fly to Japan to fight in MMA. He got caught and was fired for improper use of time off."
"He lost his fight and chose a different career path afterward."
- flickmypoodle
Questionable Drinks
"They used alcohol on the job. They had a bottle in the top left drawer."
"It took years to catch them, though."
- ray458
"I had a few teachers like that. One lady had a can of Tab every day (remember Tab soda? laughing out loud)."
"Some kid made a mark on the bottom with a pen or something and found out it was the same can every day. She was refilling it from a bottle in her car."
- AdWonderful5920
One Word: Embezzlement
"Embezzling from the students. For quite a few years, she would collect money for this 'senior trip' that never seemed to materialize."
"She was arrested a few years after I graduated. I wonder if she's out of prison yet?"
- Aeolian78
"Holy s**t, I just had a repressed memory pop up in my head. We had a 'ski club' when I was in 8th grade, and the teachers constantly collected money from us for our 'ski trip' that we never took. I wonder where all that money went?"
- whimsy_xo
All for the Prom Queen
"S**t, there was a vice principal that wanted her daughter, who went to the same school, to be the homecoming queen super bad."
"So she hacked into dozens of parents' district portal accounts and stuffed the ballot for her daughter."
"Not quite 'steal the money' or 'embezzle' bad, but still 'go to prison and never work in education again' and also 'your daughter isn't going to college now' bad."
- thewrongbakedpotato
A Sweet Future
"My middle school choir teacher was a closeted gay man. He had a long-term boyfriend but none of us knew about it, until one day a parent saw them at a HOUSE PARTY making out."
"They spread rumors throughout the school and multiple parents immediately removed their children from his class. The parents complained to the school and got him fired."
"The good news is, he eventually quit teaching and opened up a bakery with his partner, which did very well and got featured on 'Cupcake Wars.'"
- xain_the_id**t
Sprinkled with Annoyance
"A teacher threw a donut at an annoying student."
- AdEffective3077
"What a waste of a perfectly good donut!"
- No-Swing-2099
Possible Repercussions
"Because of me, I think. Once in primary school, I was messing around with a classmate, and she threw a sponge at me, making me chase her around the classroom."
"The teacher tried to stop me and grabbed me by the neck, making me fall on my back. It didn't hurt, but I was surprised."
"I don't remember how, but the principal and my parents got involved, and we never saw the teacher again after that. He was sort of a substitute teacher, and from what I can remember, he was pretty well-liked even by me."
- jeremydeoderant
Incredible Road Rage
"He cut off my grandpa in an explosive road rage incident, pulled him out of his truck, and beat him to the ground so bad that my grandpa was in the hospital for weeks."
"Thankfully, my grandpa was okay, but his job (and his marriage, and social life) didn't survive."
- NykxMarie
High School Drama
"At my school, the new French teacher started screwing the old computer teacher, who was married to the geometry teacher."
"At the end of it, just the geometry teacher had her job and all the other two teachers' money because she divorced the computer teacher and managed to sue the French teacher as part of an alienation of affection suit."
"Then she hooked up with the metal shop teacher."
- mama_bear_740
Three Strikes, You're Out
"The teacher called up a female student to work a problem on the blackboard. The student didn't want to participate. After some verbal back and forth, the student went to the blackboard and muttered something under her breath."
"The teacher grabbed the student's hair with both hands and proceeded to slam her head into the blackboard. 'You (slam) will listen (slam) to me (slam)!'"
"About three seconds later, the teacher realized what she was doing and released the student's hair. The student looked at her, said, 'You are sooooo fired,' and left the room."
"We had a new math teacher the next day."
- reference999
The Dispassionate Teacher
"My memory of this is kinda hazy since this happened 10 and a half years ago."
"She was telling at us, I don't remember if anything specific triggered her episode but she said s**t like, 'I don't give a rat's a** what you think,' and 'I wish I could use the paddle.'"
"Although the one thing I'll always remember was before she sat down, she said, 'I'm going on Facebook, I don't care what the h**l you do.'"
"I guess she got fired the same day, because we had a sub after lunch, and we had a new short-term sub every few days before we got a long-term sub for the rest of the year."
- mariofan426
That Would Do It
"He taught me physics for three years and became principal for two years."
"Then they realized he didn't even have the teaching qualification."
- pol9500
It's obvious why these teachers were quickly removed from their roles as teachers and unable to ever teach again.
But the thought that these things ever happened in a classroom are deeply unsettling.
Working at a job where you get along with coworkers is ideal.
Strong teamwork can establish efficiency, and good rapport at the workplace can inspire friendships.
But not even the kindest person can vibe with everyone despite good intentions, and it could be due to toxic personalities.
Those types of coworkers can be ones who are unfriendly, manipulative, super arrogant, or completely lacking in self-awareness.
Annoying right?

Curious to hear about the latter, Redditor Woodchipper_AF asked:

"Who is the most insufferable a**hole you've ever worked with?"
These individuals did not look forward to showing up, due to individuals who've made their lives miserable.
Sweet Revenge
"At my old job, my boss would give me difficult projects from difficult clients. When I finished the project, she would go into the system and add her initials (whoever does the work has to initial after every step) and take off mine."
"Then she would go to her supervisor and be like, 'Look what I did! Hehe!' And she would get all the credit. When I finally figured out she was doing that, I wouldn't let her know when I was done, and I would personally submit my work to her supervisor."
"His mind was blown that I just 'magically picked up the work so effortlessly,' and I got promoted lol."
– i_am_dean

New VP In Town
"Matt, the new VP of operations decided that everything about our company needed to change, including undermining my role, essentially taking over my team, and started implementing these incredibly micro managing processes that nearly halved our productivity, then blamed it all on me. He then proceeded to place our junior as the team lead and left me on my own island. It really felt like he was trying to get me to leave and well, he got what he wanted. F'k you, Matt."
– Corgon
Her Way Or The Highway
"Sierra. Sierra knew the answer to every single question, had better ideas than you, had done more than you had done, tried everything that you thought of, seen more a problems than you had, and just all around was an insufferable know-it-all. Everything had to be done exactly the way she wanted it to be done even if it didn't need to be done that way, it still had to be done that way because that's the way she wanted it. She micromanaged everyone around. I was so happy when she moved to a different job."
– edgarpickle

Major Hypocrite
"Sounds like my insufferable coworker. Except mine is also a f'king hypocrite who'll rat you out for bending a rule that is flexible while constantly breaking rules she's not supposed to because she's been working this entry level job for 30 years."
"I look forward to the day she gets fired but unfortunately this is a union job."
– sketchysketchist

Sometimes, things backfire.
Called Out
"I had a coworker who would sh*t all over my ideas in meetings and then offer up the same solutions I'd just offered like 5 minutes later. Everyone watched her do it and I don't know if she thought she was getting away with something or had some kind of mental block where she didn't even realize she was doing it. After a year or so we had this guy Dave get hired and the first meeting she did that he blurted out, 'wait a minute, 5 minutes ago Joe suggested that and you sh*t all over it.' And she was kind of like, 'Oh,' and like mumbled something while everyone stifled a giggle."
– Homerpaintbucket

The Saboteur
"Lady tried to get me fired and was totally harassing me - it backfired and she was escorted out by HR. I've been with my company for almost ten years now. See you never✌️"
– natureismyhappy

Gaslighting
"Yeah I just went through 2+ years of hell because of a total abusive gaslighting coworker a-hole. She would say abusive stuff to me when no one else was around and then completely deny it with management. She would create weird situations to make me look bad or crazy and would like daily attempt to turn coworkers against me. She would straight up mock me in front of coworkers and customers. Also, many incidents of her mocking me for being a guy and being 'too sensitive.' Sh*t like 'You are too sensitive. You should be able to handle what I say.'"
"She even knew I was sober (25+ years) and on a couple of occasions managed to make me feel like sh*t as if I was some total scumbag. It was unbelievably frustrating and I had no idea how to handle all this. I managed to kick alcohol and drugs a long time ago and survive a very rough childhood but had no tools to handle something like this. It was like the twilight zone. She successfully convinced management I was the problem and that I was making the whole thing up for a long long time. I felt completely defeated and hopeless."
"Massive stress for something like 2 years. I finally broke and told management do something or I will sue. They first hired a mediator who took us through the mediation process. I was not told what the mediator thought of the situation but I definitely get a sense the mediator told management yes you have a problem here."
"Then the company called in lawyers who investigated my claims. Took about 6 months but it turns out several of her own employees (we were both foreman) backed me up and from what I know the lawyers told my company they were in serious legal jeopardy. Every one of the women I work with said I am kind and never have I ever been mean, snapped or been rude to them."
"Several of them said they love working with me and some actually witnessed some incidents. I was kept in the dark as to the whole timeline of the investigation but one recent Friday management walked in and told her to gather her things and they escorted her out of the building. I literally had to step out and weep. Not just because it was finally over but why did any of this have to happen? I still don't really know why I was her target and I don't think I ever will. My stress levels are 1000 times better but yeah I think I need therapy. Still processing it all."
– Quinnjb
These are the kind of work colleagues you don't go out for drinks with afterward.
The Thing About Dave
"Dave."
"Dave is a guy who thinks he's much smarter than he is. He's been with the same company for 20 years and has worked his way up the ladder at a small company, where he now leads Operations."
"He's a control freak and micromanager and this job is pretty much all he has in life. He will do anything and everything to block progress and innovation and will ruthlessly stab anyone in the back who gets in his way."
"Sometimes I have pity on Dave because this job is as good as it's ever gonna get for him. I'm gonna leave this job soon and move on to better things, but Dave's gonna be doing Dave things until a heart attack or kidney failure takes him out eventually."
– rockit454

Can't Be Pleased
"Guy that I worked with on a cabinet door assembly line. One night we got done about 30min early and this guy throws a fit. How is he going to pay his bills if they send us home early ect ect. Two nights later we had to work about 45min late. This guy starts throwing a even bigger fit. No one helps us, whining we have to work overtime ect ect lol."
– Munson4657

Working Quitter
"Got a dude i work with who always claims he will quit when it comes to OT. Thing is, its never mandatory unless dire. We usually always have volunteers to fill in. Its been like seven years. Quitter still works there, claiming he's gonna quit."
– hobgoblinreacharound
I've been fortunate enough to have worked with amazing groups of people throughout my performing career.
But my first job experience as a 16-year-old was not a positive one. I worked in retail selling video games at the mall where I grew up.
My trainer who worked shifts with me behind the counter was the boss's girlfriend. She was condescending and would often abandon her job duties when things at the store was slow and go shopping around the nearby shops and department stores.
Of course, whenever she was gone, I dealt with mayhem. I had to figure out how to deal with exchanges, giving refunds, which I had yet to learn.
I also had to call security on a kid who wandered in unattended and swiped an item from behind the counter, then later dealt with his irate mother who had to leave her job to pick up her kid from the mall and yelled at me for accusing him of stealing.
After two weeks, I quit.