I have loved so many celebs that trying to give an actual number would be futile.
The list is endless.
But isn't that true for all of us?
To dream about the unattainable is normal. And fun.
Just like in that famous episode of Friends, we all get a celebrity pass or two.
Who is on your mind?
Redditor JuicyCiwa wanted to hear all about the famous people we all have a little or BIG, thing about, romantically.
So they asked:
"Who is your celebrity crush?"
Joel Kinnaman.
Look him up.
And then tweet and share this piece so he finds me.
Thank you.
Good Choice
"Just like Costanza, I'm going with Marisa Tomei." ~ WiscoInTexas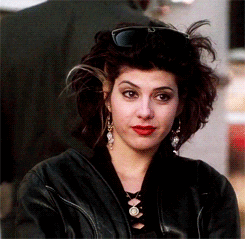 Giphy
HER!!
"I met this gorgeous woman on the street in Manhattan and she had a dog, and our dogs met and played briefly. We talked for a while and I just developed the biggest crush on her. She was funny, absolutely gorgeous, super charming and easy to talk to. I asked if she walked her dog around the area and she said she had a dog walker but she sometimes takes walks with them."
"Then some other lady came and basically took her away into a car and we said goodbye. I had no idea who it was, but I was just madly in love in that moment, and I turned to my sister and asked if it seemed like she was into me, and she just laughed at me."
"I thought I just met this beautiful amazing woman on the street and had a chance with her. My sister had to point it out to me afterwards that she Salma Hayek, who was that demon lady who sucked Quintin Tarantino's toes in dusk till dawn (my only reference point). My sister still brings it up to me all the time that I fell in love with Salma Hayek and had no idea who she was." ~ slugan192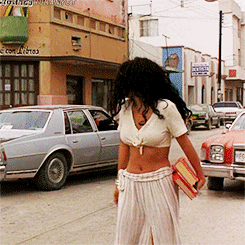 Giphy
The Best
"Do dead people count? Alan Rickman (when he was alive, obvs)." ~ PresentationNo8745
"'And as for Marianne, may he endeavour to deserve her.' I think [Sense and Sensibility] was one of his best and nuanced roles. His patience with Mrs Jennings is just unbelievable. I don't think there is a weak performance in that movie. I love it so much. When I think of Rickman, that is the movie that is forefront." ~ American-Mary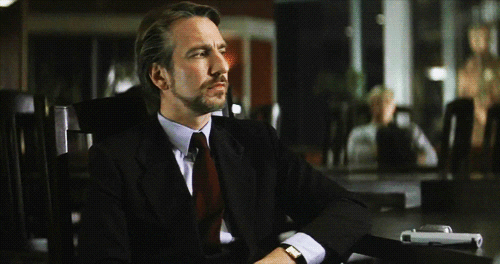 Giphy
Winning...
"Katheryn Winnick." ~ Badjib
"She had a bit part in Law and Order, and like I usually do with very beautiful actresses, I looked her up to see if she'd done anything else. Then I saw she was in Vikings and thought that's just too much telly and went back to Goran solving crimes." ~ Pornthrowaway78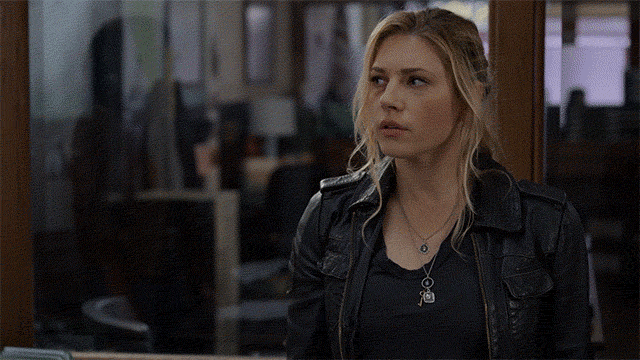 Giphy
Linda
"Linda Cardellini. Ever since I was young, watching Freaks and Geeks. Then the karaoke scene in Grandma's Boy happened." ~ gatheringdusk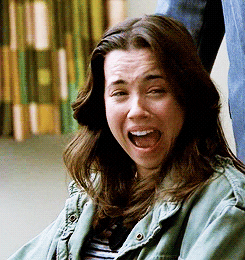 Giphy
Lots of great choices.
I approve.
Love me some Linda.
He's a Super Man
"Henry Cavill isn't fair. The body and looks of a Greek hero, the personality of a humble down to earth regular Joe."
"I've said it before, as a man I would be jealous of him if I didn't admire and desire." ~ megapuffranger
"Like if my wife said she was leaving me for Henry, I'd be like, 'yeah, that's fair'." ~ rricenator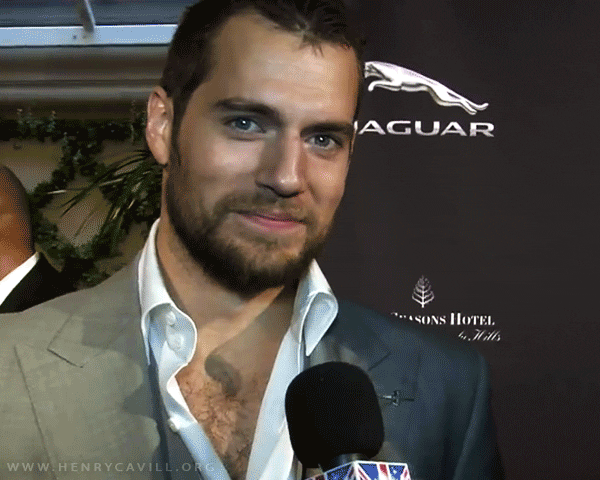 Giphy
Opportunities...
"Jennifer Connelly." ~ Thespecial0ne_In
"Career Opportunities. Oh man!" ~ marcuscrassus98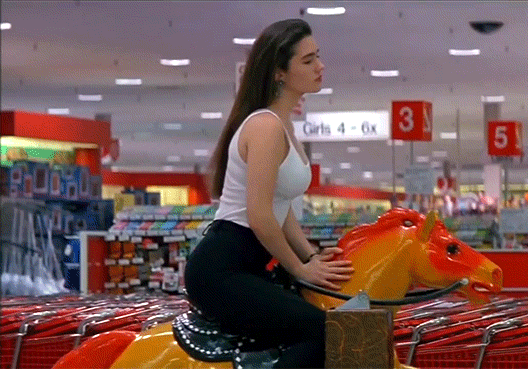 Giphy
Beauty...
"Monica Bellucci!!!" ~ twlghtprncss
"I'm a gay man and I've always had a crush on her. She is without a doubt one of the most beautiful and sexiest women to ever live.Her role in Dracula and The Matrix and The Brothers Grimm are my favs. Not to mention she's basically been the face of Dolce and Gabbana forever." ~ perryquitecontrary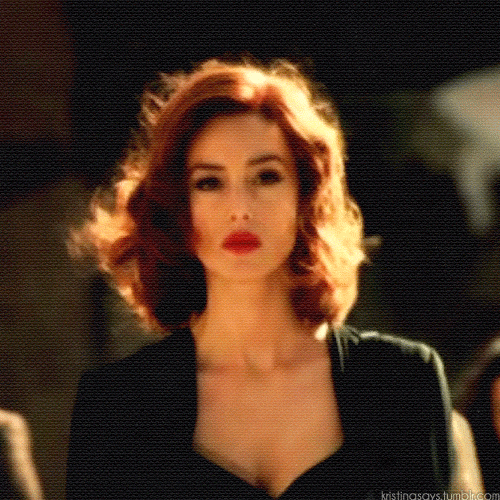 Giphy
Good Stan
"Stanley Tucci. I know not the norm, but he is just such a sexy dad IMO 🥴." ~ kisforkyle
"I think he appeals to so many sectors. He's got such a calm and confident persona that I can't imagine people meeting him and not walking away aroused even if it may confuse some." ~ blademak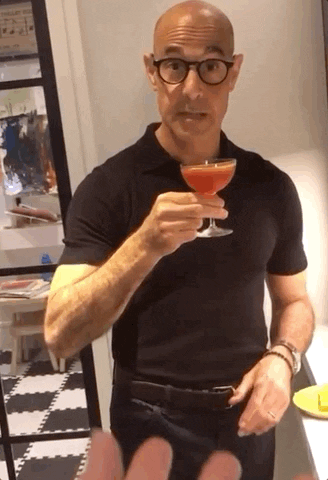 Giphy
Ricci...
"Christina Ricci. As a kid I immediately knew I was into women when I first glimpsed Wednesday Addams." ~ Relatively-Relative
"As much as I loved Ricci when I was younger, I have to say maybe it's just me, but Jenna Coleman feels more like a grown up version of young Ricci than the adult Ricci does. And that's nothing against Ricci at all! Just, when I was young and pictured a grown Christina Ricci, in my mind she was always what Jenna Coleman is now." ~ mallad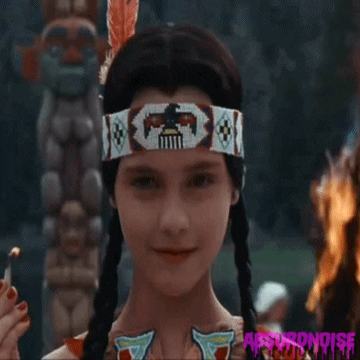 Giphy
1989
"The same as it's been every day since 1989: Winona Ryder." ~ MrGrumpyBear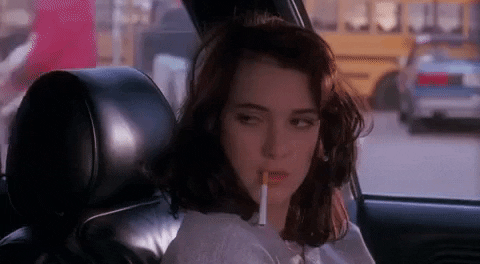 Giphy
Classic Winona... ALWAYS!!
Let's get her attention as well.
Also... Adele... I love you!
Want to "know" more?
Sign up for the Knowable newsletter here.

Never miss another big, odd, funny or heartbreaking moment again.
Keep reading...
Show less
Have you ever seen someone take to the role of villain so easily and so well that you forever associate them with that role from then on?
Whether or not it's the first time you saw Othello in your community or the first time you saw What Lies Beneath with Harrison Ford as a murdering, unfaithful husband—it sticks with you.
It can become difficult to separate the human actor behind the role from the role when you're younger and even more so, when you are deeply affected by the movie. They become the face of something you loathe, and it's difficult to divorce them from that.
Redditor Cutiebeautypie asked:
"Which actor/actress was so good at playing a villain role that you almost hated them in real life?"
Here were some of those answers.
Joffrey Was Always Doomed
"Jack Gleeson, the actor who played Joffrey Baratheon on Game of Thrones."-Ashesza
"GoT wasn't perfect, but boy did they knock it out of the park when it came to casting. Especially the Lannisters."-Jockobutters
"Such an incredible actor! I read stories that people would yell at him and spit on him when they would see him in public. Super f**ked up."-Breezy_Luv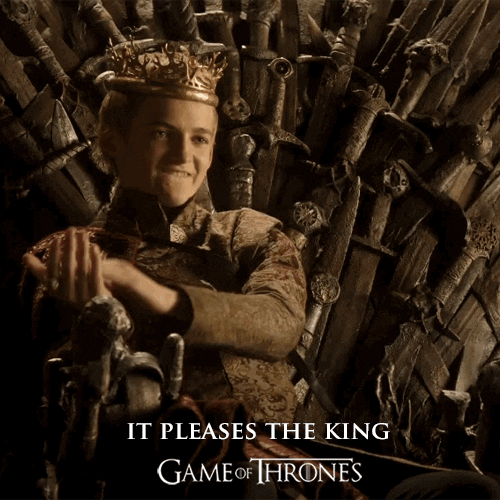 Giphy
That Breaking Bad Energy
"Jesse Plemons. He's always f**king Todd to me. F**king Todd. Shooting that kid. F**k you Todd."-hamtronn
"Oh god same!! I hate his face.. I know that's mean."
"He is so awful in BB. He's somehow kinda childlike and a psychopath at the same time. Sorry Jesse Plemons, and credit due for your epic acting skills."-Ilikezombiemovie

All Hail
"Joaquin Phoenix in Gladiator. Such a great actor for the role. He was terrible and also tragic, an overgrown child who was spoiled by his father who didn't love him and simply let him play around so he wouldn't need to deal with him, leaving him spoiled but empty inside."
"And the one time his father showed him any love it was when he was trying to take away all he had known to give it to someone else after he'd been promised it all his life. He was a f**ked up character, but you could see what f**ked him up."-JazzmansRevenge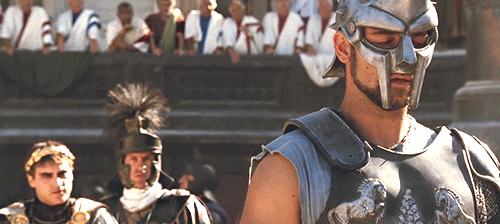 Giphy
See anybody you had a full body negative reaction to on this list?
Art School
"JK Simmons in 'Whiplash'. I can't stand the guy now and shudder at his name because he was so damn good."-TravelSized504
"You know what really bothered me about that movie? He won, in the end. He (spoilers, movie is amazing go see it) abused students to the extent that they killed themselves, and the absolute emotional climax of the movie featured his student...listening to him."
"And letting himself be directed, and they produced amazing music together. It vindicated him. It essentially said, it's okay to treat your students like sh*t because you are pushing them and that drives them to become exceptional."-thebaehavens
George Is A Loser
"Not me, and not really a villain, but my wife absolutely and irrationally hates Jason Alexander, all because of George Costanza."
"I try to tell her that he must be a great actor to instill that kind of emotion but she won't listen."-ParsifalJones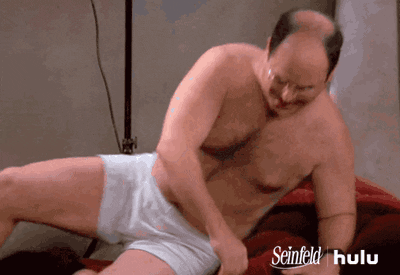 Giphy
When It Becomes Confusing
"I have a hard time deciding between John Lithgow in 'Third Rock From the Sun/Dexter' and Bryan Cranston in 'Malcolm in the Middle/Breaking Bad' for most jarring character change."
"Dick and Hal were both great lovably goofy characters and the later roles were both so brilliantly ruthless. It also makes me wonder what other actors also had polar opposite roles like those."-Buddahrific
These Low Effort Jobs Have Surprisingly High Salaries | George Takei's Oh Myyy
Have you ever worked one of those jobs that paid you to kinda sit there? If you have, you know the joy that comes with watching the entirety of Breaking Bad ...
All Work And No Play
"Jack Nicholson in the 'Shining'. The disdain he has for his wife in that movie is so real. Like you almost think that for him to access this level of contempt for his wife it must come from a real place."
"Brilliant acting. 'You think that MAAYYYBBEE we should get DAANNYYYY to a Doctor?!'"-user7890123456789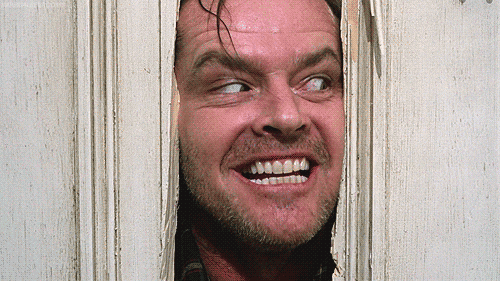 Giphy
And these villains are very likely responsible for moments of TV and film that still haunt you to this day.
A Mimetic Polyalloy
"Robert Patrick in 'Terminator 2'. Patrick did some really amazing training and preparation for that role, including things like learning to shoot without ever blinking."
"Also, when he's running to chase Furlong on the dirt bike, it's not sped up; he was really running like a machine and not even breathing through his mouth."-guitarz333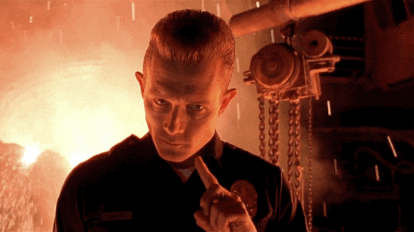 Giphy
Mike Flanagan Loves His Villains
"Samantha Sloyan as Bev keane in 'Midnight Mass'. She's so disgusting and horrible. She talks down to everyone, is obviously prejudice and revels at being a holier than thou person."
"Everybody in their life, especially if you're a church goer, knows a Bev Keane. It's on netflix and it's a seriously great show by the guy who did haunting of hill/bly manor and geralds game."-FlynnLight
Love To Hate
"Jeffrey Dean Morgan as Negan in 'The Walking Dead'. That guy just oozes charisma. I find him hard to hate while simultaneously hard to forgive. I gotta respect both the actor and writers for doing such a great job with that character."
"In the later seasons, I find him easier to respect than most of the other main characters. Like the paranoia and PTSD most of the characters have is totally understandable, but it's frustrating seeing it cause so many issues."-Buddahrific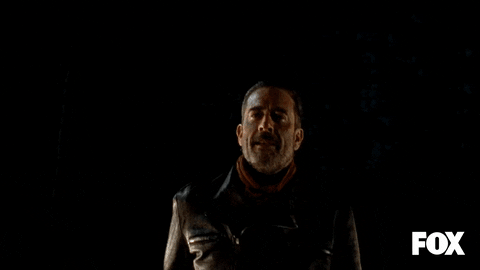 Giphy
While these villains are endlessly irritating, no story is complete without its antagonists. They are just as important to telling the story as the heroes.
And the actors aren't responsible for the things their characters do--or else, we need to have a serious conversation with everybody who has ever played "Iago" in Othello.
Want to "know" more?
Sign up for the Knowable newsletter here.

Never miss another big, odd, funny or heartbreaking moment again.
Keep reading...
Show less
Every now and then, an actor lands a dream part. It brings them fame and it brings them fortune.
It can even typecast them, because the role becomes so iconic that audiences have trouble seeing them as anyone else.
Anthony Hopkins is a brilliant actor. He's won two Oscars, including one just earlier this year for The Father. But if you ask the average moviegoer their thoughts on Hopkins, they're bound to rave to you about The Silence of the Lambs—which Hopkins won his first Oscar for.
Is Hopkins more than Dr. Hannibal Lecter?
Oh, absolutely. Just check out his impressive body of work.
But is his performance so iconic that to many audience members, he'll forever be that character? Also yes.
People shared their thoughts after Redditor preposterous_potato asked the online community:
"What actor can never be another character in your eyes no matter what?"
"The Rock is just The Rock. Whenever a new movie comes out with him I don't even remember his character's name, he's just The Rock."
npcgoat
This is true.
Does The Rock even act?
Does it matter?
"Aaron Paul..."
:Aaron Paul will always be Jesse Pinkman."
mikeyneri108
Well, Jesse Pinkman is AMAZING so this isn't so bad.
And you should check out his work on Bojack Horseman if you have any doubt that he can do anything else.
"Every Jason Statham movie..."
"Every Jason Statham movie is a documentary about Jason Statham's life."
Late-Veterinarian90
Jason Statham knows this–the way he parodied himself in Spy was one of the most rewarding pieces of comedy to come about in the last few years.
"Forever Ross."
"David Schwimmer. Forever Ross I saw him in Band of Brothers and thought - Oh, crap, there's Ross."
garthog2020
David Schwimmer knows he's Ross... but he's also proven himself to be a competent filmmaker.
Just watch Trust, a dark film Schwimmer directed about a child predator and the impact his crime has on a teenage girl.
"Bruce Willis..."
"Bruce Willis just always seems to be Bruce Willis, slightly different flavors but still the same guy."
MeepieMaster
He's been cycling through the same roles for the last 20 years, too, most of these not very good.
"Mark Hamill will always be..."
"Mark Hamill always will be Luke Skywalker in my eyes. He embraces his fame as Luke Skywalker. I think he realizes he is forever attached to that role and just goes with it."
PeanutRecord698
He's also the Joker–and that's no small feat!
"Morgan Freeman will always be..."
"Morgan Freeman will always be Morgan Freeman. My goal in life is to win the lottery and hire Morgan Freeman to follow me around and narrate my life."
PhantomBanker
Morgan Freeman wishes his life was narrated by Morgan Freeman.
Can you blame him?
"Emma Watson..."
"Emma Watson just IS Hermione to me no matter how many other movies she's been in."
scunfishy
This is true, though I highly recommend you check out her work The Perks of Being a Wallflower, The Bling Ring and Little Women to see what she can do.
"He has a very particular set..."
"Liam Neeson. He has a very particular set of skills, skills he acquired over a very long career, skills that make him a nightmare for people like you."
wandrlusty
Taken was one of the best things to happen to Liam Neeson's career, not that he wasn't an excellent actor before that.
"I've never seen him anywhere else..."
"Jim Parsons will forever be Sheldon in my head. I've never seen him anywhere else but I cannot imagine him as another character."
Snoo64420
Check out his work in The Normal Heart if you want to see something different.
He's definitely far better than the material he had to work with on The Big Bang Theory.
Many actors would kill to land that one major part.
Movie and television immortality? The people above have all achieved it, and then some.
Have some thoughts of your own? Feel free to tell us more in the comments below!
Want to "know" more?
Sign up for the Knowable newsletter here.
Never miss another big, odd, funny, or heartbreaking moment again.
Keep reading...
Show less
As an actor, I find it insulting when other actors' accents are not correct. It's simple if you can't do the part, then please don't!
And completing the part may very well be mastering an accent different from your voice. Get a coach, get a teacher... WATCH A MOVIE FROM THE REGION!
This is not an arduous task to take part in, especially if you're being paid!
Get it together, people.
Redditor bungeeman wanted to discuss and critique all the bad acting we've had to listening to, by asking:
What's the worst attempt at an accent you've ever heard in a movie or TV show?
Now we can't all be Meryl Streep, but we can try.
"please stop that"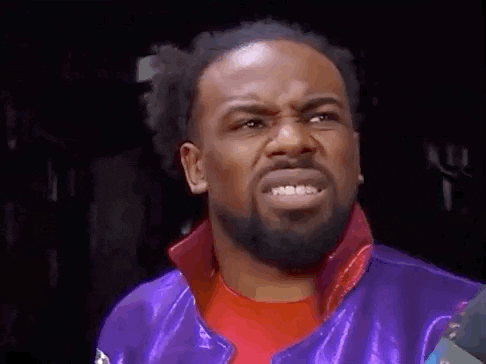 Smackdown Live Reaction GIF by WWE
Giphy
"I love that bit in David Tennant's run of Doctor Who where his companion attempts a Scottish accent and David Tennant (who is Scottish) just goes "please stop that" in character." ~ available2tank
SOA
"Sons Of Anarchy when they 'visited' Ireland. Abysmal. Just employ Irish actors, there are freaking crap loads of them." ~ Kenneth-Kebab
"Enjoyed this until that season."
"So much of it was bad, having to smuggle across the border from Northern Ireland to Ireland (there is no border, its open), the accents were terrible, and even when they got Irish actors, they didn't even try to do the correct regional accent. We have super green grass, we do not have brown sun scorched grass! Also why were the paramilitaries running guns from Belfast, where it's hard to get guns, to the USA!" ~ bickykid
Mr. Reeves
"Keanu Reeves in Bram Stokers Dracula. Love the guy, but no. Just bad, bad, bad." ~ UnfinishedThings
"I loved that version of Dracula. The visual style, the cinematography, and the performances of Gary Oldman and Anthony Hopkins. The biggest problem in the movie are Keanu Reeves and Winona Ryder. They're fine actors, they were just kind of miscast in those roles. And the accents (especially Keanu's) didn't help." ~ Hutcher_Du
False
"Half the people on True Blood." ~ keesouth
"It started as a Louisiana whodunit and the adventures of a Mindreader, Vampires (from the mysterious new arrival to the vampire politicians having debates on CNN), racists drug addicts, and the most flamboyant drug dealer in recent times (RIP Nelsan Ellis). It was always off the rails, it;s just a fun ride that wasn't meant to be taken seriously (but yeah still last seasons are all over the place)." ~ Dynamicphone
Steven Seagal. Is he still a thing? Does he even have a normal voice, never mind an accent? And Keanu Reeves can do no wrong!
Oh Girl!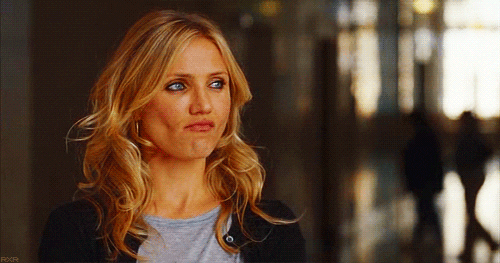 cameron diaz thinking GIF
Giphy
"Cameron Diaz-gangs of New York. Comes and goes, and is difficult to figure out what accent she's doing." ~ PirogiRick
Emma
"Not as bad as some of the others mentioned here but, Emma Watson's American accent. Her English accent always slips through." ~ mandafofanda
"Perks of Being a Wallflower is one of my favorite movies but when I recommend it I have to acknowledge that her accent is spotty and best and kinda distracting." ~ painterknittersimmer
"I just watched this last week, and MAN it was hard to watch. It's like she could do nothing else but focus so hard on trying to mimic an American accent." ~ GavinTheAlmighty
Tommy Boy
"Tom Cruise's Irish accent in Far and Away. Worse, I was watching it in Ireland at a movie theater when it came out. The audience was laughing so hard it was difficult to hear the dialogue." ~ desertsail912
"It's LEGENDARY in Ireland as the ultimate example of a truly terrible Irish accent. It's up there with Derby O'Gill and the Little People!"
"To be fair, most Irish accents in film and TV are terrible With the notable exception of Charlie Cox in the Irish drama Kin that's airing at the moment. His Dublin accent is almost flawless. Ireland is super impressed, the media keep mentioning it!" ~ Queen_beeeeee
Gibberish
"German language in general sounds awkward in english productions. It seems they never bother to get an actual german speaker to do the lines." ~ Mangobonbon
Y"ep and they always use that 80 years old dictionary to have them say 'Fräulein' and 'Liebchen'. 'The man in the high castle' had some actors who at least spoke german. But mostly it's just gibberish that makes germans cringe." ~ DocSternau
Stop Talking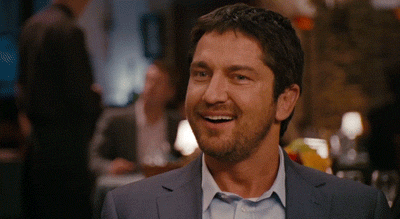 gerard butler GIF
Giphy
"Every movie that Gerard Butler has with his horrible American accent. Just let the guy talk with his Scottish brogue! I'm always embarrassed for him." ~ Canuck_Loonie
That is a lot of wasted money. I remember Cameron in "Kings of New York"... that was a mess. Do better Hollywood.
Want to "know" more?
Sign up for the Knowable newsletter here.
Never miss another big, odd, funny or heartbreaking moment again.
Keep reading...
Show less
When performers are "known" for a particular performance or type of character, it's easy to brush them off as someone whose work you don't like. So you just don't watch most of the rest of their stuff, going about your life not even thinking about them.
Sometimes, that same actor turns out a performance that shakes up everything you thought you thought about them - and honestly it's one of my favorite things to happen. Having a performance show you someone in a totally different light opens up whole new worlds for you!
Reddit user HollynMagruder asked:

What role caused you to sit up and realize you underestimated an actor? And why?
So let's talk about those performances - the ones that shake up preconceptions, shake off old reputations, and flat out change people's minds.
Not Edward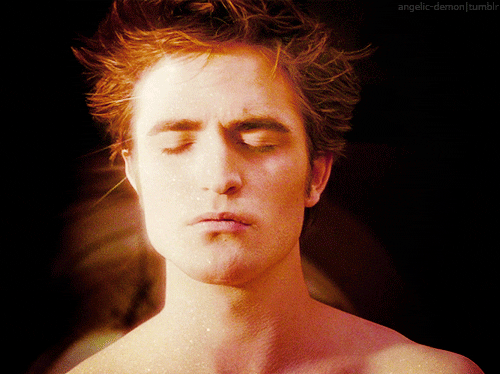 new moon twilight GIF
Giphy
"Robert Pattinson in The Lighthouse. Going toe to toe with Willem Defoe is no small feat. Especially with no other supporting cast." - Justice-Gorsch
"Robert Pattinson is a treasure of an actor. Ignore the Twilight sh*t (or not if that's your thing) but what really turned me over to his work was Lost City of Z. I know it wasn't a huge part but it was that moment that I saw him and said 'That's the dude from Twilight?' " - NyetRifleIsFine47
"Came to say Robert as well, for me it was "Remember Me". I never saw Twilight but thought the role reflected his skill so wrote him off. I'm really excited for the new Batman." - Bolteus
"Aw, yeh...totally. Check out "The Devil All the Time". He was postively Earth shattering in that." - planetstarbux
"Just" Sketch Show Comedians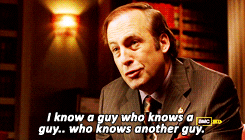 better call saul thread GIF
Giphy
"Bryan Cranston and Bob Odenkirk both blew me away in Breaking Bad and Better Call Saul, I previously thought of them as "just" sitcom/sketch show comedians but they did an amazing job there" - cunacademy
"I think it's a lot easier to go from comedy to drama than vice versa. A good comedian is usually trying to make light of some great pains." - tmmzc85
"I saw Bob Odenkirk in Better Call Saul and then I saw him in the Tim and Eric Awesome Show: Great Job. I was both in belief and disbelief. Just an astounding actor." - spicedshrub
Scared Of Her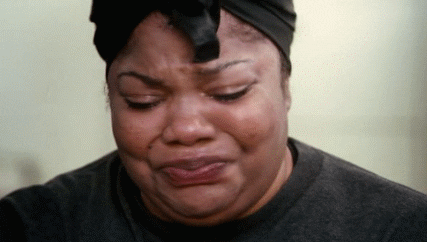 party has GIF
Giphy
"Mo'Nique in Precious. I always loved her comedy and was curious to see her to a serious role. After watching it, I was actually afraid of her, not just the character." - xandrenia
Well Alright
Matthew Mcconaughey Crying GIF
Giphy
"Matthew McConaughey in True Detective. He was always in such lame romcoms, I didn't think he had it in him." - parodyofsincerity
"I thought his performance in Interstellar was absolutely amazing and heartbreaking." - jokiccheeseburgerclub
"Dallas Buyer's Club was even more of a revelation. Such a complex and conflicted character." - Robmox
"Do yourself a favor and watch his closing argument in A Time to Kill. He's incredible there." - AnnieAbattoir
"That Guy Can Really Act"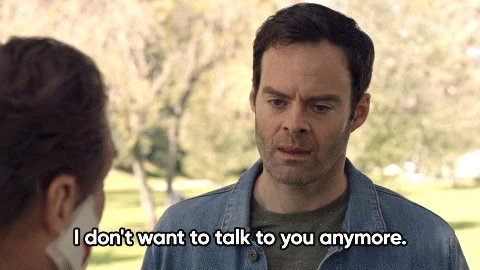 Im Out Bill Hader GIF by Barry
Giphy
"Bill Hader in Barry (the TV series). I was just used to seeing him as a funny man on SNL but damn that guy can really act." - greentofu402
"This was my answer too! Also, if you haven't seen Skeleton Twins, he's great in that as well. And Kirsten Wiig is amazing in it."
"I feel like comedians usually get underestimated, but honestly I think being genuinely funny and good at comedy (especially sketch comedy) is really difficult and it's probably easier for an actor who can do that well to also do drama well, whereas I feel like dramatic actors might have a harder time nailing comedy." - knm20
"The thing is that I didn't even think he was funny before! Barry was a real surprise." - SeniorBeing
Steve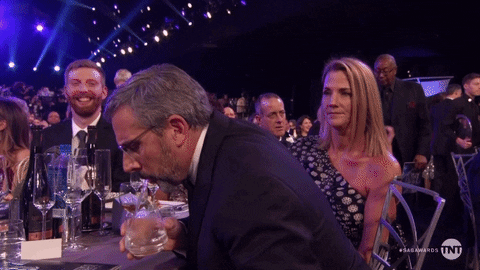 Steve Carell Thumbs Up GIF by SAG Awards
Giphy
"Steve Carrel in Fox Catcher and the Big Short, never knew he could make anything other than comedy (which he did pretty well)" - MuchCommittee_9355
"The Way Way Back made me really fall in love with Steve as an actor, because of how much I despised him in that movie."
"He plays that role with perfection. It's a movie that stays with you a long time after watching it." - thenutcracker_78
"I didn't even realize it was Steve Carrel in Fox Catcher until like halfway through the movie, because he walked, talked, and just overall acted different than other roles."
"I just thought 'huh, I wonder who that actor is, he looks so much like Steve Carrel! Wait... Man the resemblance is uncanny... Oh sh*t hold up thats him!' " - sSommy
Heath's Joker
the dark knight joker GIF
Giphy
"Heath Ledger as the Joker. I really didn't enjoy his previous rom coms and I didn't find anything particularly amazing about his performances in them."
"So I was completely blown away by him in the dark knight (?). Like glued to the screen, utterly mesmerized by how compelling he made that character." - AnnieAbattoir
"Came to post this. He was a b-class pretty boy, although I did enjoy A Knights Tale."
"But specifically because of his casting as the joker, I had super low expectations for the Dark Knight and then HOLY F*CK IT WAS THE BEST BATMAN MOVIE EVER MADE and a huge part of that was Heath Ledger absolutely stunting the role in a way we'd never seen on the screen before" - Method8888
Split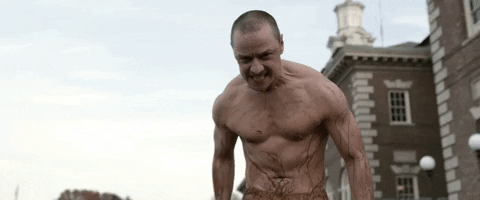 james mcavoy flex GIF by Glass
Giphy
"James McAvoy, Split. I liked him but didn't know how brilliant he was until Split." - charlie_wonka
"My wife and I have always enjoyed movies with him, but when we saw Split, we were both just slack jawed the entire time. He should have won an Oscar for that role." - Frankensteins_Friend
A Strawberry In A Bald Cap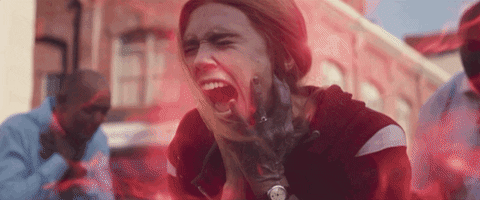 Scarlet Witch Disney GIF by Nerdist.com
Giphy
"Elizabeth Olson in Marvel movies because she really had to look tenderly and cry over a man who, behind the scenes, was dressed like a strawberry in a bald cap without laughing." - Loaf-Memes
"Oh yes, she totally knocked out out of the park in Wandavision. Not only in the early episodes, playing the perfect 50s/onwards housewife, but then all the later episodes as the reality and reasons for it all become clear." - Suisanahta
Mayfield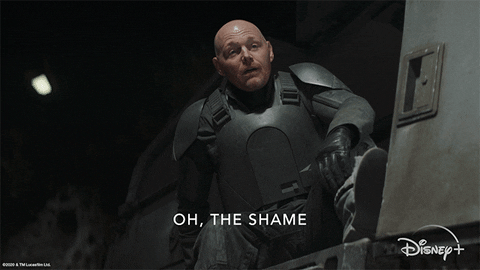 Awkward Bill Burr GIF by Disney+
Giphy
"Bill Burr in his second appearance as Mayfeld on the Mandalorian. Motherf*cker can act."
"Mayfeld's initial nonchalance and flippancy towards his situation, the Empire, everything, shown to be nothing more than his shield against the trauma he endured, the PTSD he still suffers from, thanks to Operation Cinder."
"And that moment where the facade cracks in the face of the stark reality that it could happen again, confronted by a man who is the personification of everything Mayfeld thought he was too jaded to hate. And all conveyed with tone of voice and mannerisms. F*cking blew me away." - Peregrine2976
Tombstone Should Have Been Called Doc Holiday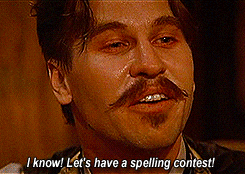 val kilmer tombstone GIF
Giphy
"While Val Kilmer was a 'good' actor, when I went to watch Tombstone and saw he was playing Doc Holiday, I almost turned it off."
"I told myself 'he can't play Doc!' I thought for sure he didn't have the chops. By the time the movie was over I was screaming that they should have called it Doc Holiday!" - ecdolphins

Generic White Actress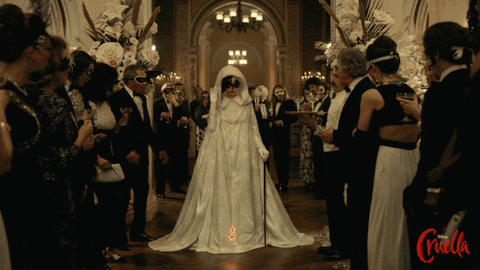 Emma Stone Fashion GIF by Walt Disney Studios
Giphy
"Emma Stone in Cruella. I've disliked her for so many years (always thought she was just kind of a generic white actress) but she was absolutely incredible in Cruella" - EssenceOfEspresso
Now that you've seen what Reddit has to say, it's your turn. What performances absolutely blew your mind and changed how you saw someone?
Keep reading...
Show less