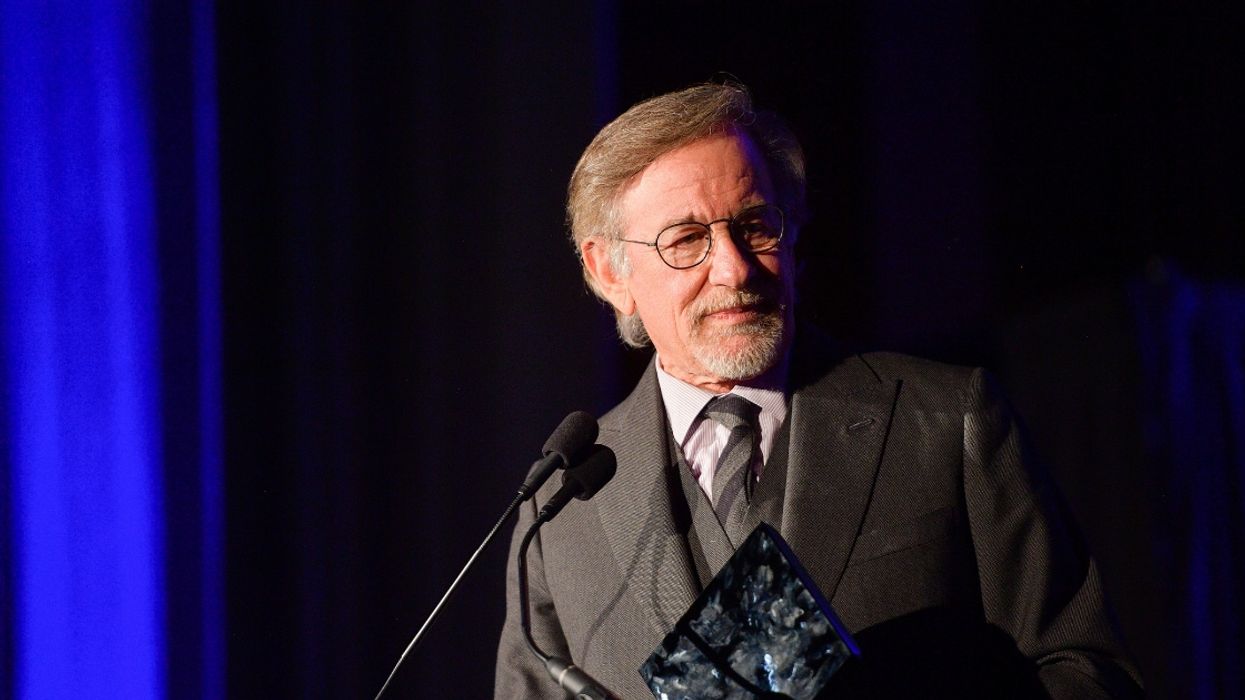 Matt Winkelmeyer/Getty Images
At the Cinema Audio Society's Awards, director Steven Spielberg made pointed comments against streaming services like Hulu and Netflix. This isn't the first time the director has vented his feelings about the services.
---
While accepting a Filmmaker Award, Spielberg said:
"I love television. I love the opportunity. Some of the greatest writing being done today is for television, some of the best directing for television, some of the best performances [are] on television today.
"The sound is better in homes more than it ever has been in history but there's nothing like going to a big dark theater with people you've never met before and having the experience wash over you. That's something we all truly believe in."
It's hard to not write him off as someone out of touch with modern life.
Breaking News: Senior Citizen complains about new technology he doesn't understand https://t.co/3tandqL85Q

— theVoiceofReason (@theVoiceofReason) 1550526493.0
@Variety https://t.co/5XjEP4BXWB

— August (@August) 1550502922.0
@Variety @DanielRPK Awful stance by Spielberg. The best take on streaming vs. theaters came from Alfonso Cuarón las… https://t.co/G0I4tiIaPy

— Jeff D Lowe (@Jeff D Lowe) 1550441594.0
Not the fact that they're making shitty movies. Make a decent movie and ill go to the theater. I go like once a yea… https://t.co/wAgns6Is8V

— UpLateNerd (@UpLateNerd) 1550530183.0
Spielberg's views have never been a secret. He's often railed against streaming content being put in the same category as theatrical films.
In an interview with ITV News almost a year ago, the director said,
"Once you commit to a television format, you're a TV movie. You certainly, if it's a good show, deserve an Emmy, but not an Oscar.
"I don't believe films that are just given token qualifications in a couple of theaters for less than a week should qualify for the Academy Award nomination."
There is a point to be made about a movie theater experience vs an at home experience.
I'm with Sir Stevie 🎥 🍿 https://t.co/o1CYfc6kgi

— Marc Vibbert (@Marc Vibbert) 1550494316.0
@verge People please continue to see movies in the theater!🎬

— Libby's Movie (@Libby's Movie) 1550539790.0
Spielberg is right that the theater is the best viewing experience for movies. When it comes to streaming, I advoca… https://t.co/3rhllHOBpz

— Aaron Sarnecky (@Aaron Sarnecky) 1550543216.0
However, this discussion has resurfaced after the 'Netflix Original' film Roma was nominated for 10 Academy Awards, including for "Best Picture" and "Best Director". The film is the top pick in both categories.
This brings up what Spielberg is talking about. Roma was a personal, passion project, that happened to get funding and distribution by Netflix. It met the minimum requirements to be considered for an Academy Award.
So does it belong on that list?
To many, the at-home experience is preferable in many ways to a theater.
I smile when I see @netflix promoting, "In Theaters and streaming on Netflix now!" ... I was once told by a Studio… https://t.co/7Drr8C894d

— Frank Buckner (@Frank Buckner) 1550273620.0
@BroCamDad72 It's why I only go to theaters with reserved seating. Tix are $16 so it weeds out cheap rude ppl

— Wes Allred (@Wes Allred) 1550500562.0
@nickeesota @Variety My wife and I used to go to the movies every weekend for "date night." The last two years, in… https://t.co/T43wXQMYA2

— Eddie ⅯcClintock (@Eddie ⅯcClintock) 1550442529.0
@TheThing444 @Variety Actually, the movie studios are at fault. Theaters don't make any money off of ticket sales f… https://t.co/muzcQSp2zc

— eLLe Cee (@eLLe Cee) 1550431194.0
While his opinion on streaming vs theater makes sense considering it's how he made his career, and spends his days, it becomes strange when you compare it to how he talks about the movie industry as a whole.

In a 2013 panel, Spielberg said,
"You're at the point right now where a studio would rather invest $250 million in one film for a real shot at the brass ring than make a whole bunch of really interesting, deeply personal — and even maybe historical — projects that may get lost in the shuffle…"
Spielberg was on that panel with George Lucas, who potentially prophesized the very situation that is now upsetting his friend.
"It's a mess. It's total chaos. But out of that chaos will come some really amazing things.
"And right now there are amazing opportunities for young people coming into the industry to say, 'Hey, I think I'm going to do this and there's nobody to stop me.'"