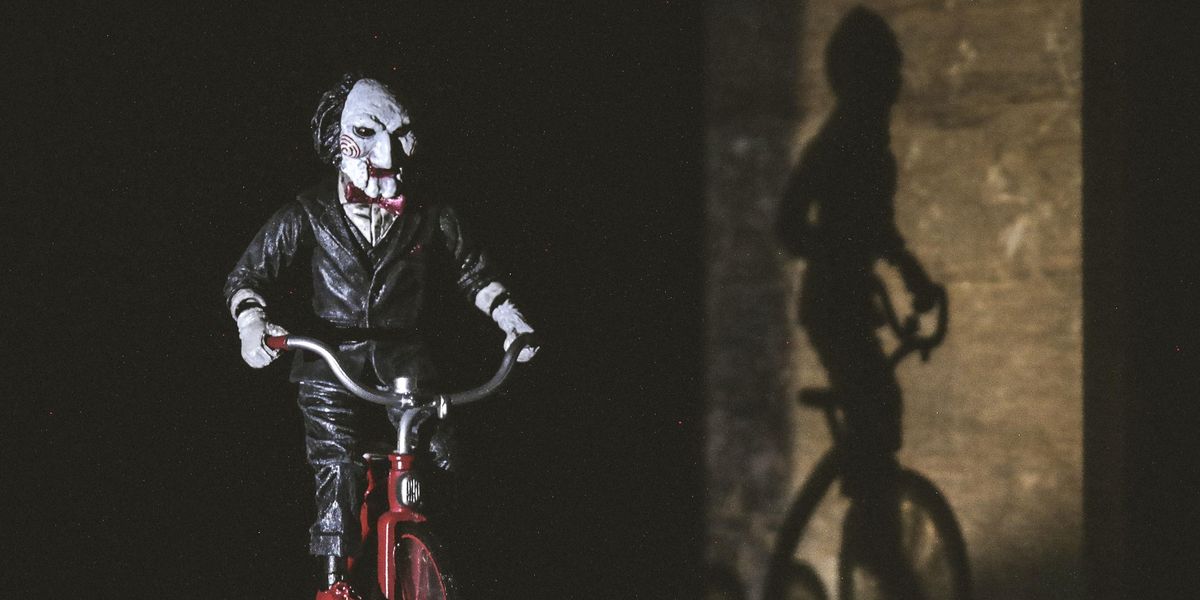 Jose Francisco Morales/Unsplash
You might say moviegoers who love horror films are sadists.
They derive pleasure from being spooked and terrified, and they somehow love crouching in their seats out of sheer fright watching supernatural entities scaring the daylights out of homeowners or serial killers stalking their prey.
It's all an adrenaline rush.
However, even gore and slasher fans have their limits.

---
Curious to hear the breaking point of movie fans, Redditor SoundRevolutionary97 asked:
"Whats the scariest movie you ever seen?"
Movies involving the supernatural give most people the heebee jeebees.
The Possession
"For some reason The Exorcism Of Emily Rose f'ked with me, got anxiety watching it."
– aqxea2500

Nothing Sweet About This Man
"OK I've scrolled long enough. The original Candyman. Watched it at a sleep over in third grade and I've hated horror movies AND bees all the way through to my late 30s"
– Promethia

Why You Should Never Watch VHS Tapes
"The Ring. I didn't know what I was getting myself into."
– FeynmanAndTedChiang

The Malevolent Force In Your Home
"Sinister, not just scary, but deeply disturbing too."
– [deleted]

Not all scary movies are necessarily categorized as a horror genre.
Apocalyptic War Drama
"Threads. It will f'k your day up."
"It's the scariest film I've seen and it's not technically a horror. Competition is not even close. And I watch a f'k ton of horror."
– tntblowsinurface
Inquiring Minds Wanted To Know
"It's a British film depicting a nuclear war, and the aftermath. The segment detailing the nuclear exchanges is terrifying, and then of course all the stuff after... it deals with the future, basically the UK is left with only a few million people living, subsistence type agriculture... people suffering from long term radiation effects, etc."
– OlasNah
Why It's Scary
"Absolutely. I still have nightmares decades after I saw it. The Exorcist scared me, sure, but it's not real. Poltergeist was unsettling but fake. Threads can actually happen--it just takes one of the old guys to push the button...."
– TeacherPatti
We are not alone, and to think we are the only intelligent form of life is very very foolish.
As If Tight Spaces Weren't Enough

"I still keep The Descent at the top of my list. I expected it to just be a thriller with the claustrophobia and terror between the group."
"Didn't expect a creature feature."
– Vaxxinateurkidz

Extra-Terror-estrials
"The fourth kind."
"When I saw it I was told it was a true story and I was just dumb enough to believe it at the time. Also I was the type of person to believe in aliens so that certainly made it scarier."
– Doom_Toon

Sonic Fright
"Honestly, Event Horizon. Put it on in the background thinking it was just a kind of creepy sci fi. It was the sounds that really got to me on that one."
– 7grendel

There were the usual suspects.
Leatherface
"The Texas Chainsaw Massacre (the original obviously). I saw it as a grown man and screamed like a little girl throughout the whole film."
– HouseHopeful7029

No Feeding After Midnight
"Gremlins, the end telling me to watch for a Gremlin every time something is malfunctioning had 6 year old me scared sh*tless."
– Chubby_Tux

Psychological Nightmare
"Hereditary, if you have family issues it will hit close to home."
– Ashton_Garland

Personally, one of the scariest films relating to demonic spirits and ghosts was the first Paranormal Activity.
The found-footage format really worked well here. It create such an unsettling atmosphere that relied mostly on aural scares to brilliant effect.
The scene where you see nothing but the couple sleeping on their bed but you hear the slow foot steps that accelerated and led to a slamming door made me sleep with my own bedroom door closed for a couple of weeks after seeing the movie.
It's what you don't see that really keeps you up at night.