People Share The Scariest Thing They've Ever Witnessed
There are just some events in life that are too difficult to bare witness. These are the moments that you think about or see on the news or a Dateline NBC episode that you pray to whatever deity you believe in to spare you from ever having to be a part of any of it in real time. You would assume death was the worst thing to see, you'd be wrong.
Redditor u/AviahWinchester wanted to know what people have seen firsthand that still gives them nightmares by asking.... What is the scariest thing you've ever witnessed?
---
Saucy Minx....
Giphy
Damn horny bobcats trying to hook up in the middle of the night. Yeah, they really do sound like someone being murdered. khegiobridge
The first time I ever heard a cougar I was a security guard at an outdoor theater on the edge of town, I thought a woman was being murdered, I called my LT and he told me to google mountain lion screams to see if that was it, that's exactly what it was and it didn't really make me feel any better. LOL. BadReputation2611
The Scream.....
Just after college, my roommate and I lived in a townhouse. Our neighbor was murdered and I was home when the police think it happened - I was even called as a witness to what they believed was a struggle and a silenced gunshot.
We didn't realize what happened until his sister and some of his friends broke into his house the next day and saw him laying on the ground with a bullet wound in his neck. The police showed up, roped off his house and the two surrounding (ours and the other neighbors').
His dad showed up and his expression when he saw his only son murdered and the scream that he let out were the most terrifying expression of grief I've ever seen and hope to ever see. agatheg
Be Prepared....
My mom having a seizure when I was about 6. It was the middle of the night and I was the only one there with her and had no clue what was happening. She was alright but God seizures are terrifying to watch. billbobhob
Can confirm, have had 2 in my life.
Neither were very fun but for me I felt like I just passed out and woke up in an ambulance with a headache.
The doctor says he had no idea what happened and it's still a mystery to this day as to why. Has not ever happened again but the brain works in strange ways.
Jestire
Damn Kids....
This guy collapsed in the movie theater line while ordering food. He was chatting with his girlfriend one minute then he just rocked forward and fell backwards right into me. I really thought I witnessed someone die right in front of me and that I was holding a dead body. Luckily, the guy popped right back up and he left with his girlfriend. The people in line behind me were really rude, saying "there's two stupid teenagers playing drunk." I just assumed the guy had narcolepsy or some other neurological disorder. sleepilyLee
Stay Sober....
Giphy
Someone in my immediate family came home high on hard drugs and was hallucinating bugs in their neck so they took a knife and started cutting their neck. That was..... not lit. sneakysillysteve
Birds of a Feather.....
I snuck into my high school late at night whenever nothing was scheduled to be going on that late. Fast forward ten minutes and I hear instruments playing in the darkness.
Turns out some band kids snuck in that night too. UnderratedCommentor
Into the Abyss..... 
At my childhood house, my parents never bought any blinds for the basement sliding glass door, so it was always kinda like this horrifying black abyss at night. So yeah, me and my brothers were playing down in the basement one night and through the window we saw our neighbor through her window dressed as a clown, sitting reading a book. It was truly horrifying. I'll never forget that day. iammine88
KABOOM!!!! 
I was in the break room eating lunch at my first job out of college. The break room had windows that had a perfect view of the interstate and I would mindlessly watch the interstate traffic every day on my lunch. One time I watched a semi truck smash into one of the concrete pillars for the overpass. As I was calling 911 I saw a gentleman in the opposite bound lane pull over to the shoulder, get out of his car and sprint to the semi truck I saw the trucker hand his dog to the Samaritan and then climb out shortly after and as soon as they got out of the truck, the vehicle exploded. Seriously the most nerve wracking thing I've ever seen. MattyIcex4
To Grandma's House.... 
I was about two or three when I watched my dad punch my mother in the nose. He was abusive and that was the last straw for my mother. We were living in a apartment building and fortunately, my grandma lived in the next apartment.
So my three year old self had to run out of my apartment, past the elevator, and knock on my grandma's door and she ended up getting my mom out of there. I haven't seen him since and she's been with her current boyfriend for over 10 years. Joos_Toos
The Crash....
Had swing by my dad's place earlier in the day and talk to him about my plans for the rest of the summer evening good. He told me he was going to go on a motorcycle ride after he just got done building a custom sportster.... Later on that afternoon I drove up on a wreck on a two-lane Road often used heavily by semis, traffic backed up at a slow crawl... The closer I get to where it looks like the wreck is at, I start wondering what it could be.. Traffic comes to a standstill and I am within talking distance of a State Trooper who had been waving traffic through.
I rolled down my window and asked him if he knew what the wreck was.. He said it was a vehicle vs motorcycle head-on collision... I cringed because that sounded bad.... Traffic began to slowly move again, as i roll by the ambulance which had been blocking my view... i gazed upon a crunched SUV... and a custom sports car on it's side... my heart sank.
I immediately pulled off to the side as i sat there in shock, watching the EMT'S proceeding to load the stretcher up; which had my dad on it. Bat_man_89
Where is the Humanity?
Giphy
I worked as a host at an Olive Garden over a decade ago. It's a busy weekend night. Out of nowhere, this woman comes up to me and says quietly, "my baby isn't breathing." I was 19. Not really sure what to do, so I just yell out the movie thing, "is anyone here a doctor?! This baby isn't breathing!" and thankfully there actually was a doctor and a nurse in the lobby.
The bar called an ambulance and I had to keep new people from coming into the restaurant (they had the baby on the floor) and getting in the way/adding to the crowd when the ambulance crew arrived. Some people were really crappy about having to wait. I'll never forget the old hag who said, "what does that matter? We can walk around," to me. We found out a week later that the baby died. Very sad. And the baby was definitely over 1, so I don't think it was SIDS. napalmtree13
Reddit user Joker101001 asked: 'Albert Einstein once said "The difference between genius and stupidity is that genius has its limits." What are some examples of this that you have experienced?'
The human race is supposedly touted as a superior species compared to other lifeforms on Earth.
Sadly, the generalization does not apply to everyone.
And while the notion that "nobody is perfect" is perpetually expressed to console those who've made regretful mistakes, that is not entirely true.
We see them in the news all the time.
Dimwits–which may include those with no social graces or lack of basic life skills in order to survive adulting through life–are among us.

Curious to those who've face-palmed in response to an individual's intelligence level, Redditor Joker101001 asked:

"Albert Einstein once said 'The difference between genius and stupidity is that genius has its limits.' What are some examples of this that you have experienced?"
People shared their observations about our intellect..or lack thereof.
Touché
"You shouldn't believe every quote you read on the internet. — Abraham Lincoln."
– _PM_ME_PANGOLINS_
"I think he was re-quoting Julius Caesar who made this comment the morning he was warned not to go out that day."
– Emergency-Ad-7002

Humbling Realization
"I think the more educated we become, the more we know how little we actually know, and it's humbling, but ignorant people really have no idea what they don't know, leading them to be confident about their ignorant stances."
– PuzzleHeadedNinny
Reaching Limitations
"Physics has kind of reached a point where we realized we don't know how anything works at a fundamental level. Every theory breaks down at tiny or gigantic scales. There is a crisis in cosmology, spinning glaxies have either disproven gravity or proven undetected dark matter, and the vast majority of matter and energy is undetectably dark. We don't know why matter exists (as opposed to antimatter, given their symmetries). We don't know how time and space work inside black holes, how many dimensions there really are, or whether space and time are quantized. We've kinda figured out ordinary matter at human scales, but that's it."
– turbotong
The Thing About Doubt
"There are limitations to human knowledge and our understanding of things. Rather than acknowledging these limitations, people fill them in with supernatural explanations. When you express uncertainty or doubt, you are mocked or they ascribe to a lack of self confidence."
"Doubt is the beginning of wisdom, not the end of it."
– RecalcitrantMonk

Knowledge Vs. Intelligence
"Knowledge is knowing a tomato is a fruit."
"Intelligence is combining the tomato with other ingredients to make something better."
"Knowledge is what we learn, intelligence is what we do with what we have learned."
https://pubmed.ncbi.nlm.nih.gov/7183572/
"Charisma is the exact opposite of what I just did - citing an academic paper on reddit."
– egregori3

People shared their most dullest interactions.
Dumbfounding Stupidity
"Oh boy. I once met a guy who was so stupid that he thought the ocean was alive and waves was it breathing. I remember one time in school he was doing homework for another class and asked the teacher "Where were the Canaanites from?" She jokingly said Nova Scotia. He asked how to spell it. This guy thought Beauty and the Beast was based on a true story about a girl and a bear. He would constantly make bets that he lost and never learned his lesson. He didn't know that chicken the food came from chicken the animal. I have met a lot of stupid people in my life but I have never met anyone quite so bafflingly stupid that I had to wonder if they, in high school, could even read."
– Not-sure-wtf-I-am

"A friend of mine once met a young woman who thought that fluttering leaves caused the wind to blow."
– Ancguy
"A former classmate of mine (in college, mind you) once said the sky was blue because it reflected the ocean."
"She thought the sky was blue everywhere, even hundreds or thousands of miles inland, because of the ocean."
– CrypticBalcony
Scam Fail
"I worked at an embassy. One day a guy came to me, completely explained a scam he did. It had failed and he wanted to know how I could help him "as we are countrymen".
"Called my colleagues at home and set them on his a** too."
– Dependent-Cress-948

Expected Expectations
"As a high school math teacher, I cringe when students hand in a test and say 'I think I aced it.' It's almost always an F."
– kasgar77
"One time I left a stats exam in college and texted my friend, "if I knew a test was going to kill me and I went anyway, is that suicide?" She said "I think it's more like when you walk through a bad part of town alone at night and get shot. It's not really your fault."
– FlockofDramaLamas

Kiwi Get A Clarification?
"When I was in middle school I convinced a girl that the kiwi birds laid the kiwi fruit as food for their babies. It wasn't that hard to convince her."
– ChaoticCauldron
Conspiracy Theorists
"Flat eathers. It is difficult to find more dumb."
– DrowningInMyFandoms
"These days, there's quite a bit of overlap there. Flat earthers tend to be very anti-establishment, but because they also tend to be very religious and Trump is supported by many fundies, there's a definite connection there. Plus, his support of conspiracies makes him seem like 'one of them'; some flat earthers thought Trump would be the one to expose NASA and the fake ISS, but that never happened."
– SyntheticGod8
I think COVID pulled back the curtain on the lack of intelligence on display.
Irrational mob mentality prevented US citizens from critical thinking and drawing irrational and false conclusions from sheer panic.
Remember the toilet paper shortage and the anti-vaxxer movement?
I was more terrified of our lack of humanity and compassion than the virus that was being allowed to spread thanks to ignorance.

More often than not, when men try to do something "sexy" in an effort to impress a woman, it tends to backfire on them.
Perhaps it is the visible amount of effort behind what they're doing or the fact that they don't do it as well as the movie star they took inspiration from.
Either way, despite their best efforts, women tend to find this sort of behavior anything but sexy.
In fact, more often than not, men have a way of turning people on without them even realizing it.
As it's often the little things that can make someone blush, anything from opening a door or slicing into a ripe tomato.
Redditor finnjakefionnacake was eager to hear all the sexy things men do without their even realizing it, leading them to ask:

"What things do men do that are sexy that they don't realize are sexy?"
When They Don't Even Know Their Own Strength

"Was getting busy with a girl one time and her head was too close to the headboard, trying to save her a potential concussion, I moved backwards and grabbed her under her hips and pulled / lifted her about two feet down the bed towards me."
"The sound she made and the look she gave me is still in my head lol."
"Afterwards she brought it up and said it was incredibly sexy how I could just handle and move her around so easily with so little effort."- Mage2177

So, So, Hot...
"I once changed a radiator in my house and that, without doubt, got me more attention and flattery from the women in my life than anything else I've ever done."- Jasper-Packlemerton
It's The NOT Knowing...

"It's a trap fellas, just live in ignorant bliss."
"Once you realize something is sexy, you will become a self-conscious dork about it and it will no longer be sexy."- PMMeUrHopesNDreams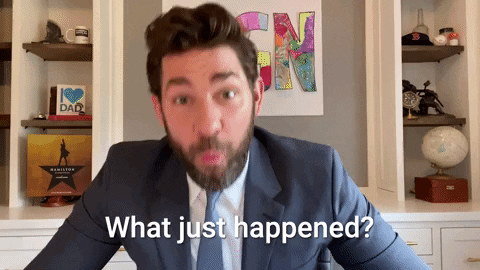 What Just Happened Wtf GIF by SomeGoodNews
Giphy
Magic Fingers

"My bf and I went to eat at this restaurant before we knew we had feelings for each other."
"While I would talk he would either laugh or smile and once while doing so he circled the rim of his glass with his finger."
"I later found out that he did it unconditionally but I short-circuited while he did it."- AsasLowkey
To Each Their Own...
"An ex of mine once got turned on when I told her I put a hand on the wall when I pee."
"I'm not sure I fully understand that one."- PaleAleDale
One Hand, One Heart...
"My wife has told me taking my shirt off with one hand is a thing."
"That kind of blew my mind."- trugrav
"One- handed steering wheel grip, reverse parking with their arm resting behind the passenger seat."- getupandstudy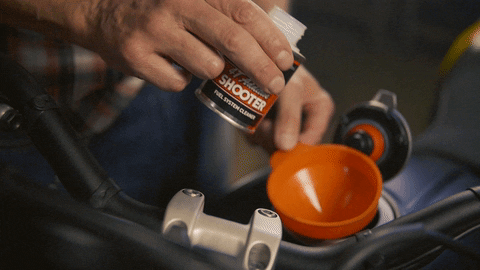 motor oil shot GIF
Giphy
Doing It For The Thrills... And Then Some...
"My girlfriend was locked out of her apartment and I picked her lock."
"I picked the hell out of that lock."- paulo39Atati
Hits The Spot...
"My heart does a little flip each time my significant other, ever so slightly puts his hand on my back when we're walking (to guide me), or if he's trying to squeeze by behind me."
" I don't know why that gets me fired up lol."- princess19977
Knowledge Is Power!
"Being booksmart."
"If I ask my boyfriend a history question and he randomly knows the answer to it or if I ask about a math problem and watching him figure it out is the hottest thing, like yea you divide those numbers baby."- maneaterlex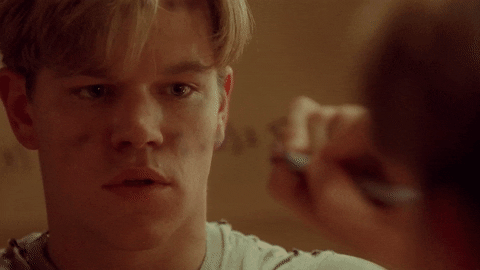 Matt Damon Math GIF by MIRAMAX
Giphy
Nice And Oily...

"An ex said it was hot watching me change her car's oil."- SafeAndSane04
Compassion Is Always The Answer
"Caring for helpless things."- Maleficent_Scale_296
Speed Can Be A Turn On...
"There was a study done in Japan to see what school-aged ladies saw as attractive in their male counterparts and 'running fast' was like number one or two for elementary and middle schoolers."- Embershot89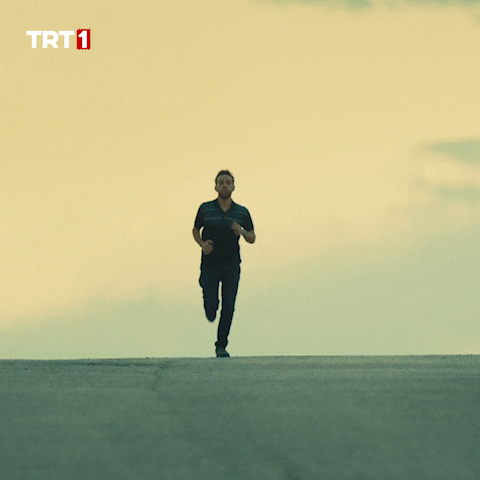 Run Fast Running Man GIF by TRT
Giphy
There's Someone Out There For Everyone
"I heard one million power in 'Rise of Kingdoms' gets you any girl you want."- Key_Vermicelli_3138
Strong And Efficient...
"Carrying as many folding chairs as you can at once."- KbossDPT2019
Most of the time, the sexiest things are also the most unexpected.
That being said, any good boyfriend knows that a wet t-shirt now and then can't hurt...
Imagine starting a new job and learning that the uniform was chaps and a thong, or that the company had just fired most of the staff and you were hired to do the work of three people. These Redditors shared their horror stories of the moment they decided to walk off the job. What would it take for you to do the same?