Reddit user Animeking1108 asked: 'What infamous movie plot hole has an explanation that you're tired of explaining?'
A movie is only as good as its ending.
Unless audiences are left with a major cliffhanger under the premise there's a planned sequel, all plot points should be resolved to a degree.
However, even the best films that are thoroughly satisfying and enjoyable can lead to a disappointing finale that leaves audiences hanging with no promise of a follow-up. It can be frustrating.
And then there are the thin plot holes that are so arcane, it's nerve-wracking trying to make sense out of them.
Yet, there's somehow logic in them that escapes the minds of audiences with short attention spans.

Curious to hear examples of these, Redditor Animeking1108 asked:

"What infamous movie plot hole has an explanation that you're tired of explaining?"
And...action!
Scenes from these thrilling films left some audiences stumped.

Beast Follows Feast
"In Jurassic World, Claire didn't 'outrun' the T-Rex (in heels) … because it wasn't CHASING her. The dinosaur was conditioned to equate the flare with feeding time so it was patiently following her to an anticipated meal. The situation is similar to how zookeepers can have (limited) interactions with lions and bears."
– PARed717
Choosing Correctly
"How does Sarah Connor know which button to press to crush the Terminator in Terminator(1984)?"
"Because she accidentally presses it a few minutes earlier and it set the crusher off, it what lead the Terminator to find them."
– SuvenPan
"Oh, like in The Incredibles where Elastigirl has the remote and Bob tells her to push that button again."
– DBSeamZ

The Glitch In The Machine
"The matrix reloaded the scene where Neo is talking to the architect, the screens behind them are not other ones, it is the predictions the machines are making on Neo's responses, most of the scenes are incorrect in those predictions, except for when Neo must choose between Trinity and all of humanity, the machines nailed that response on all screens."
– Omegaprimus

These classic examples left some viewers completely flummoxed.
Getting Intimate
"There was a whole topic on the front page a while back about The Truman Show asking about what happens when Truman wants to sleep with his onscreen wife, is that upsetting to her because she's just an actress, how do they avoid showing it on TV. People offering all kinds of explanations like 'he was raised not to know what sex is.' I thought I was going crazy because not only does the movie directly address this (two guys watching the show complain that the camera always cuts away when Truman and his wife go to bed) but it's an actual plot point in the movie that she's trying to have a baby with him so that they can start Truman Show Phase 2, and his obsession with a woman they kicked off the show years ago is ruining the director's plans."
– plankingatavigil

Remembering Memory Loss
"In Memento, people always wonder how a guy with short-term memory loss remembers he has memory loss. But he's conditioned himself to say it, just like Sammy was subjected to conditioning in the flashbacks."
– wakeruncollapse
Eavesdropping
"One of Charles Foster Kane's servants was outside his bedroom when Kane said 'Rosebud.' The door was wide open. The dialogue later confirms that a butler heard Kane's dying words and reported it to the paper."
– TheNavidsonLP
Establishing Reality Up Front
"FRIENDS. 'How did they pay for that apartment on their salary in New York?'"
"The very first episode, Monica mentions that her grandma owned the apartment, and she would never be able to afford it otherwise!!"
– PleasantFix5
"And it was rent controlled, plus i think it was an illegal sub lease and they had to hide that from the super."
– turkturkeIton

Playing On A Steretype
"I am so late to the party but… Legally Blonde"
'OMG, a dumb blonde sorority girl studied for the LSAT for a summer and aces it? Bullshi*!

"No. No, the point is that Elle Woods was never a 'dumb blonde.' She was always brilliant. Literally the first scene is her interrogating the salesperson and catching them in a lie because she was observant and smart."
"Rather, Elle was pigeonholed by the circumstances of her looks and her privileged upbringing to pursue a vapid life. While inspired by the wrong reasons, it results in her breaking the mold she was confined in so that she is able to reach her full potential."
– Spectrum2081
Is it too much to ask the audience to suspend their disbelief?
It depends on the movie.
Witnessing The Supernatural
"People sometimes wonder how Indiana Jones initially remains sceptical of the mystical events happening in the second film, when he just witnessed a magical ark mass killing a bunch of Nazis in the first film."
"But that's because the second film is a prequel."
– chillyhellion
Accepting The Mythical As Real
"Also the majority of artifacts and myths Indiana Jones interacts with are completely mundane. They have fascinating cultural significance and implications on history, but they're ultimately just mundane. The encounters with the supernatural are clearly rare exceptions he gets caught up in, not his primary field of expertise."
"Like, even if literally Atlantis was discovered right here and now today, that doesn't mean the lost continent of Mu, or the city of El Dorado, or the lost colony of Norumbega, or anything else is real. It means Atlantis is, apparently, real."
– wererat2000

Heightened Awareness
"On watching The Sixth Sense it may seem completely improbable that Bruce Willis' character didn't realize that he was dead. Yet it's explained right there in the movie: ghosts see only what they want to see."
– prosa123

What makes the moviegoing experience enjoyable is the assessment afterward with other cinephiles.
It's fun to discuss the contrasting takeaways each person may have had from watching the same movie.
Occasionally, there are plot holes that seem easily identifiable, but wind up having a perfectly logical explanation behind them, which warrants a second viewing.
But one movie that my friends and I had a difficult time figuring out was Back to the Future.
Even though Marty successfully corrected the course of time with his parents falling love, wouldn't they have recognized their son when he eventually became a teenager?
They each interacted with the catalyst–their future son–who brought them together in the first place after all.
But that's just an example of the suspension of disbelief.
Sometimes, you just gotta go with it.

Reddit user Tyroneous13 asked: 'What's the weirdest thing you've ever eaten?'
There are a lot of strange foods out there.
It could be food we've eaten before with a twist, like pickle ice cream (yes, that's real)! Or it could be multiple foods we've eaten before that are put together in a combination we'd never thought of.
And of course, it could be something you've never heard of and would never try.
Redditors know this all too well, and they are ready to share the weirdest thing they've ever eaten.
It all started when Redditor Tyroneous13 asked:
"What's the weirdest thing you've ever eaten?"
Does It Make You Smarter?
"Moose brain"
– ssandhanitizer
"Hello prion disease my old friend, I've come to talk to you again"
– be-nice-or-else
Delicioussssss
"Western Diamondback Rattlesnake."
– Scrappy_Larue
"I've eaten Eastern Diamond Back, I nearly stepped on him about an hour before we ate him. It was during survival training."
– hems72
"Sooo much better than the eastern! /s"
– Eyfordsucks
We All Scream
"Curry & coconut icecream. It was interesting but got very uninteresting pretty quickly."
– stuloch
"Pear and bleu cheese ice cream is the strangest combo I've ever had. Finished the whole cone."
– CheeseburgerKarma94
"Had black pepper ice cream in Richmond, Virginia once. I do not recommend."
– Maverick_1882
Not Even For A Chocoholic
"Chocolate flavoured baked beans."
"They were disgusting."
– Marmitecashews
Yum, Yum
"Gator and it's damn good. Vacationed in Florida for a week and a half and tried it. My god is it good it's like heaven."
– Apple_turn_over12
"We made gator tacos cooked in Achiote sauce last week and it was delicious."
– PsychologicalIce106
Me Too
"My own words."
– lukeoutside
"Lmao I hear it's hard to swallow"
– Tyroneous13
Ick!
"Baked crickets. Taste like sunflower seeds."
– darlayoupieceofsh*t
"You can substitute a portion of your regular flour for ground up crickets in baking. I've even made cookies and pancakes using cricket flour a few times. Insects are an excellent protein source and taste good too."
– Naive-Button3320
"NASA is studying termites as a food source on long space missions. The termites would help recycle organic matter and be ground into flour for boosting the astronauts' diet."
– Renaissance_Slacker
How Upsetting!
"I thought it was weird at the time and I was so upset: Bubble tea."
"I was in Grade 1 and was invited to my old besties' family picnic. They're from the Philippines. I'm a white-looking girl...the only blondie at the (very large) gathering."

"Her older boy cousins handed me a glass of this red liquid with gooey little spheres in the bottom of the glass. They told me it was fish eyeballs and flavoured blood...and I had to drink the blood amd eat the eyeballs, otherwise I'd insult their family."
"I was so scared I tried the liquid and it tasted like strawberry but I was so confused."
"Anyhow, the cousins got in huge trouble when the aunties realized the prank they'd pulled on me."
"So yeah."
"Fish eyeballs and strawberry-flavoured blood."
– ZookeepergameSea3890
Yikes!
"I had escargot as a kid. I figured a garden snail was the same thing, so I ate one. I quickly found out it was not the same."
– Jack915
"You might have dodged a bullet, some slugs and snails carry Rat Lungworm, read a horror story about a kid who ate a slug on a dare and ended up with worms in his brain. No bueno."
– Renaissance_Slacker
I Never Wondered Either
"In the grand scheme of things it probably isn't that strange but the first time eating Kangaroo felt a little as close as it gets. Growing up i never thought "i wonder what it tastes like" but there i was eating some, at least that is what they told me it was."
– JeffreyJWhitea
How Much Wood Would A Woodchuck Chuck...
"woodchuck goulash"
– Merrader
"When the woodchuck wouldn't chuck wood anymore..."

– AirCautious2239
Ew!
"Deep fried Pigeon feet"
"It was at a fancy LA restaurant, I think it was called Animal. I also had a bone marrow appetizer, and chicken hearts with a pomegranate glaze. It was great, but the pigeon feet had a texture I didn't like and will never forget. Like eating soft plastic bones."
– rollercoastertyc
Poor Unfortunate Sebastian
"A whole dried candied crab. Tasted like someone had sprinkled sugar on the ocean's a**hole. Got stuck in my teeth and wouldn't go away."
– nearlyatreat
If I Had Known...
"Ostrich steak, pretty good."
– 96vette
"I had this too, texture of a steak with the flavour of steak and bacon combined, it's amazing 😍"
– NTB1997
Ostrich steak actually is pretty good, but if I had known that's what I was eating, I wouldn't have continued eating.
Sometimes, ignorance is bliss.
In the words of Lorelai Gilmore, "Eat in ignorance and enjoy..."
There's nothing more thrilling than going to see a movie inside a theater for the first time.
The anticipation builds as the lights dim, all the previews are finished, and the production company and studio distributor titles appear–signaling the movie you've been waiting for so long to see is about to begin.
Is going to be awesome? Will it tank? Who cares?
It's all about taking in the moment and experiencing the story unfolding without knowing what happens next.
That is the magic of cinema.

Curious to hear from moviegoers, Redditor ambitchious70 asked:

"What movie blew your mind the 1st time you watched it?"
People were invested in these movies.
The First Reality Show
"The Truman show. I actually heard about this movie and the plot years before watching it, but I never watched it because I assumed it would be boring and hard to get through. So wrong. I already knew the plot and yet I was still in a trance while watching it unfold."
– Working-Still-2881

"I'll Be Back"
"T2 judgement day."
– rhb4n8
"Came here looking for this. Was then and still is the best sci-fi action movie of all time. Nothing else comes close except Aliens."
– Ltimbo

One Of Christopher Nolan's Best
"Memento probably was the only movie I ever watched then immediately watched again and even enjoyed it better the second."
– kdubstep

Audiences were riveted by the following commercial box office successes.

Total KO
"Fight Club. In 1999, I had never seen anything else like that movie."
– yeahwellokay
Action And Tension

"Snatch. By far my favorite heist movie."
"The intricately woven story made my young adolescent self appreciate chaotic filmic storytelling."
– RaccoonaMatata42

Welcome To Jurassic Park
"Jurassic Park, but can you blame me? I was like, four."
– Casca_In_Red
"The effects. I saw it in theatres and seeing the dinosaurs for the first time walking across the field was AMAZING. Then. THEN. THE T-REX. Plus all the characters were fantastic."
– MaximumGooser

Revisiting these never gets old.
Long, Long Ago...
"The opening scene of Star Wars in the theater in 1977, mind blown."
– Tac0Tuesday
"I was 7 in 77 and I will never forget. What an opening scene. Pan. First ship goes over. Damn. Second one just keeps coming and coming and coming. Brain melts."
– PlaMa2541
A Tarantino Classic
"Pulp Fiction. It was just so different from anything else when it came out.. the bouncing around between stories, the caliber of actors, all seen in a way we'd never seen them before, the number of shocking moments that were also humorous in a sick way. I remember coming out of the theater thinking how much I loved that movie but I wasn't really sure what the hell was going on."
– Realistic_Fact_3778
You can only really enjoy a shocking ending once.
The Twist Revelation
"The Arrival third act reveal is a moment I wish I could experience again..."
– DeathisLaughing
"Arrival was the first movie that gave me a real 'oh sh*t' moment. It does a great job of keeping you just confused enough about what's going on to want to know more, and then the pin drops."
– FishInferno

A Parent's Worst Nightmare
"The Mist, that f'king ending. I don't wanna watch that again in my life."
– Maso_TGN
"Dude. I only first saw this a couple months ago because it was on Netflix and I didn't have any background. That movie stuck with me for weeks. I haven't experienced that since I was a kid. And the funny thing is, there is no one element that is really spectacular. The effects were mediocre for the time and barely serviceable now. The writing isn't great. The actors are all second rate. But man, the way it all comes together is a stroke of genius. One of the biggest surprises I've seen In Years."
– Ltimbo

I was blown away after seeing the movie 1917 in theaters.
I heard about the British war film being composed of two extended tracking shots, and I initially thought the movie was going to capitalize on the apparent gimmick.
But as I got immersed in the story, I became less interested in looking for possible film cuts and clumsy transitions and was more engrossed in the two soldiers on their important mission–making me feel I was right there with them.
What an incredible feat effortlessly pulled off by director/co-writer Sam Mendes.
When it was all over, I was in tears and I was slackjawed at the impressive cinematic masterpiece I had just witnessed.

"No. It wasn't me. It was the one-armed man." – The Mask
Hang on to your hats, here are some fun facts about The Mask.
1. The Mask Is Based On A Comic Book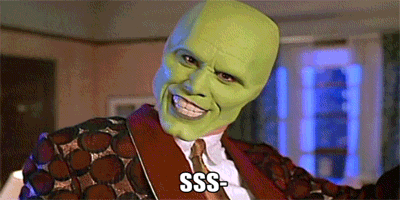 the mask smoking GIF
Giphy
Yup, the Mask character is the creation of Dark Horse Comics. The comic books were more sinister than the film though.
2. The Movie Was Supposed To Be Much Darker
Much in line with the darker side of the comic books, initially the mask wearer was meant to be a dangerous anti-hero with violent tendencies—it was pegged as the replacement for Nightmare on Elm Street. It was difficult for the production to balance the horror elements with the comedy and when Carrey climbed onboard, it just turned into a comedy.
3. He Talked With Teeth
The large prosthetic teeth Jim Carrey sports as the Mask were originally meant to be used only in silent scenes, but the actor taught himself how to speak with them to make the character even quirkier.
4. The Mask Was Inspired By A Real Person
Jim Carrey allegedly based his character on his father. We're not sure if that's flattering or not?
5. Jim Carrey Was A Real-Life Cartoon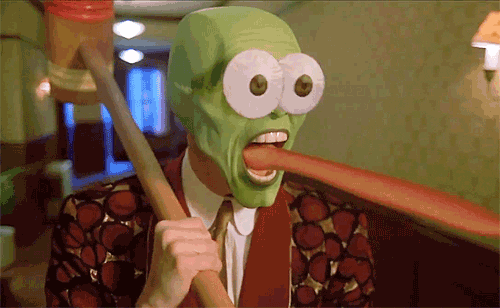 the mask GIF
Giphy
Director Chuck Russell has revealed that the production saved a lot of money on special effects with Jim Carrey in the leading role – the actor's movements were so exaggerated and cartoonish, they didn't need to be touched up digitally.
6. The Mask Was A Big Debut For One Actress
The Mask was Cameron Diaz's first movie role and she earned less than $500,000 for it.
7. Carrey Improvised
The scene where Carrey (as the Mask) is being chased by gangsters and pulls a condom out of one of his pockets, and says, "Sorry, wrong pocket," was actually improvised by the actor.
8. It Was Shot In The Ghostbusters' Garage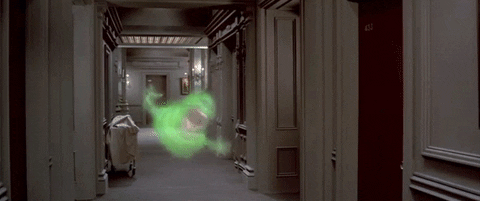 Ghostbusters (1984)Giphy
The interior shot of the garage where Stanley Ipkiss takes his car for repairs is the same location as the firehouse for Ghostbusters.
9. Carrey Referenced His Own Career
Jim Carrey does a Dirty Harry impression in the film, which is poignant since the actor appeared in the last of the "Dirty Harry" movies, The Dead Pool.
10. Carrey Said No
Before the Son of the Mask came out in 2005, there were talks of a sequel, but all that was scrapped when Jim Carrey refused to return as the titular character, despite being offered $10 million.
11. He Had A Real Zoot Suit
The bright yellow suit that Jim Carrey wears as The Mask is reminiscent of a suit the actor's mother made him for his first stand-up gig.
12. The Dog Couldn't Fetch
The dog used in the film was not well trained, so the scene where Ipkiss is frustrated with Milo while trying to stuff the cash into his closet was ad-libbed by Carrey, showing the actor's very real impatience with the animal.
13. Carrey Made A Real Nightclub
The nightclub Coco Bongo that the Mask enters in the film is also the name of Carrey's nightclub in Cancun, Mexico.
14. Carrey Related To The Character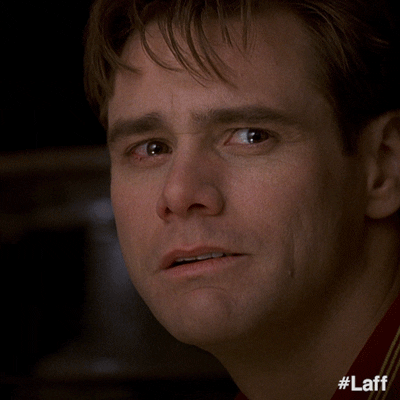 Jim Carrey Reaction GIF by LaffGiphy
A large aspect of what drew Jim Carrey to the role is that his character, Stanley Ipkiss, is a fan of cartoons, just like Jim.
15. They Made Cartoons Real
Representative of that adoration for cartoons, the Mask behaves like many iconic animated characters like: Pepe le Pew (romancing Tina), the Tasmanian Devil (whirling like a tornado) and Bugs Bunny (dramatically "dying" in a gangster's arms).
16. He Wasn't Quoting Homer
When the Mask swallows a bomb and exclaims, "That's a spicy meatball!" – it's a reference to a heartburn relief commercial for Alka-Seltzer.
18. Carrey Got A Pay Bump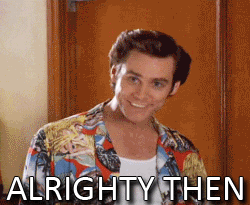 Hey Ace.Giphy
This may seem impossible now, but Jim Carrey was paid $450,000 for his role. He signed the contract before it turned out that his other film, Ace Ventura: Pet Detective (1994), was a huge hit. For his role in Dumb & Dumber later that same year, Carrey signed a contract for $7 million.
19. Diaz Didn't Sing
Cameron Diaz's singing voice was dubbed by Susan Boyd – who also landed her vocals to films like The Little Mermaid and Mulan.
20. Carrey Can Really Dance
Did you see those dancing feet? In the big Coco Bongo dance scene in The Mask, it was actually Jim Carrey dancing. Although Carrey landed his voice for the song and Cameron did not.
21. Critics Hated It
After the release of Ace Ventura, Jim Carrey clearly proved himself to be a cashable star, but the critics hated the film. The Mask turned it around and earned Carrey praise for his performance.
22. Diaz Had To Work Hard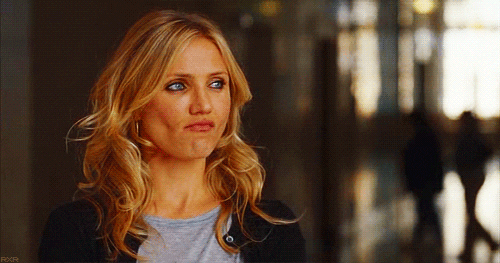 cameron diaz thinking GIFGiphy
Cameron Diaz had to audition 12 times before she got the part – just seven days before shooting.
23. A Promise Fell Through
Nintendo Power Magazine promised a fan a part in the sequel. Long before the dreadful Son of the Mask, they were planning to bring back Jim Carrey for a sequel. Nintendo Power ran a contest that promised the winner a non-speaking role in the movie. The movie never happened, and the winner's dreams were crushed forever.
24. Carrey Wasn't The First Choice Either
Before Jim Carrey nabbed the role, actors who were considered for the role include: Martin Short, Steve Martin, Matthew Broderick and Rick Moranis.
25. The Mask Was Horrifying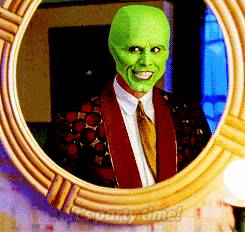 jim carrey GIF
Giphy
20-year-old Cameron Diaz said she was horrified on the set when Jim Carrey took off the mask. "The process of taking it off is terrifying. It's just like, glue and chunks of sponge would stay on his face…"
She recounted the story at age 41 with talk show host Ellen DeGeneres. As a prank, Ellen had a man dressed as The Mask sneak up on her, which left Cameron in a fit of giggles.
26. He Misquoted Sally Field
The scene at the Coco Bongo, where the Mask makes a fake acceptance speech and says, "You love me, you really love me!" is a reference to Sally Field's iconic Oscar acceptance speech for Best Actress in 1985 – often misquoted, since the actress used the word "like" not "love".
This article was created by and licensed from www.factinate.com
Movies can be one of the most entertaining forms of media, but it has to be good.
Seems simple, right?
Some movies are really good. As an avid reader and huge fan of book-to-movie adaptations, I enjoyed the ones that were made well. This included The Count of Monte Cristo, The Hunger Games series, and even Twilight, despite not actually liking the book series.
However, some book-to-movie adaptations were so bad, I wished I hadn't spent time or money on it. The Maximum Ride movie, the two Percy Jackson movies (I can't believe a second one was even made after the disaster that is "The Lightning Theif"), and of course, "Harry Potter and the Half-Blood Prince."
David Yates, who directed the fifth movie, also directed the sixth. Known for directing darker movies, he decided to go in a funnier, lighter direction for the sixth movie and took away all the magic that made Harry Potter so amazing. Luckily, he went back to his talents for the seventh and eigth movie, but I spent a fortune (or what was a fortune for a teenager) getting tickets to the midnight premiere, and I ended up aplogizing to everyone for taking them to see that movie. I will never not be sorry about that.
Redditors are familiar with the experience of paying money to see amovie and wishing they hadn't, and they are eager to share.
It all started when Redditor Pitiable-Crescendo asked:
"What was the most disappointing movie you paid to see?"
Couldn't Pay Me To See It
"Cats. I couldn't believe anyone thought that was passable as quality"
– Majirra
"I like the 1990s version with Elaine Paige, but that's because I like the music, Elaine Paige, musicals, stage movies, etc. (Like Newsies and Hamilton are awesome, grew up watching stuff on theater irl like plays.)"
"I wouldn't even watch the 2019 Cats for free, despite the casting."
– Binx_da_gay_cat
Poor Adaptations
"Eragon. It's not even close. My dad and i were huge fans of the series when it came out. We walked out of the movie early and it left such a bad taste in our mouths that we stopped reading the series."
– An_Actual_Pine_Tree
"Was coming in to say the same thing. Read it as a child. What a dumpster fire."
"Coming off Harry Potter I thought adaptations were inherently good."
– magvadis
"I love that r/eragon just acts like the movie was never made lol. I'm cautiously optimistic for the Disney+ remake of Eragon to be released"
– SaltyWitch1393
"As a fan of both Artemis Fowl and Willow, I'd advise you to have far more caution than optimism."
– Flustro
"God I'm so glad I didn't pay money to see Artemis Fowl, that was an irredeemable piece of lazy CGI a**hole. Bad script, bad acting, bad production design, ALL of the dry Irish humour sucked out of it, no personality."
"I feel bad for Eoin Colfer, I at least hope he got paid enough for the rights."
– Charlie_TheRoadQueen
Bad Movies
"The Fantastic Four remake"
"ETA: Fant4stic, 2015 is the one I'm talking about. Realized I should've specified that."
– robert_flavor
"Fant4stic? The one where Doom is an ecoterrorist who only appears near the end of the movie?"
– CttCJim
"I remember being 11 and seeing it because i was big on Marvel Ultimate Alliance 1 & 2, and pretty much coming to the realization for the first time in my life that movies could be bad, lol"
– tsushi17
Master Of No Movie Elements
"Avatar: The Last Airbender"
"$17 and change for the IMAX showing when it first came out"
– Spenceresquire
"Okay so it was the most disappointing movie I ever paid for but the best movie experience of my young life. I was in a theater that was literally Shouting "Aang!" Every time they said "Ong". There was booing. There was screaming. The audience made the movie."
– GViceyroy
"There is no movie in Ba Sing Se"
– KaityKat117

Horrible On All Levels
"Pooh: Blood and Honey. Please don't watch it."
– Sure-Mathematician68
"I've loved Pooh and the 100 Acre Wood community my entire life. Also a big horror fan. My friends know this. My best friend had gift certificates to our local theater and decided to treat my husband and I to a double date with her/her hubby. I was so excited. Even dressed up in my Pooh onesie...it was so, SO bad. Like, not even good bad. No clever writing or dialogue. No creative kills. Terrible acting. Terrible effects and makeup and lighting. Wasn't even good enough to be considered "b" or "c" level. Just all around bad. Surprisingly, the theater was actually pretty full too. The majority of audience members were laughing/cringing/booing, but not even in a fun way...the whole experience felt very awkward and forced. At least I didn't pay for it tho lol"

– Eleven77
I'm So Sorry
"A Wrinkle in Time. Took the family to see it one Mother's Day, I apologized on the way out of the theater"
– Octowuss1
"This was definitely mine. I have never wanted to get up and leave a theater before in my life...ever for the worst of the worst. But A Wrinkle in Time almost broke me."
– MikeCross234
A Positive Result?
"Emoji movie. Don't ask"
– wh0_is_jj
"Wasnt this the movie that got Jordan Peele into directing because he was so insulted after being offered the role as poop and decided to just quit acting?"
– EXusiai99
"I had a former boss that said he watched it at a theater and was glad that it was at a theater with alcohol so that he was drunk watching much of it, but said that it probably would have been better on shrooms."
– SAugsburger
"My favorite thing about the Emoji Movie is that it's the reason Jordan Peele went into directing movies"
– eatenbyagrue1988
Yikes!
"Dragonball Evolution."
– briktop420
"Damn you paid to see it?"
– nctu5150
"So did I. What a waste of time and money. It's been 14 years and I'm still angry about it. Even for a generic teen B-movie it's been subpar. The blatant disrespect for the source material, it's almost as if the writers and director hated dragonball and did the movie out of spite."
– XTJ7
Respect The Source
"The Dark is Rising."
"The novels are a classic series of creepy, weird, Celtic mythology-based collection of nightmares... but for kids (or young adults). I've loved them my whole life."
"The movie is abomination to the extent that the guy who wrote the screenplay said he'd never actually finished the books because they were "boring.""
"It's beyond awful. I was fuming."
– matty80
The House Of Mouse
"As a lifelong X-Men fan, Dark Phoenix. Especially since it came out after Endgame."
– lakersfan1989
"Dark Phoenix was Disney's fault. The film had already been finished (or was already in the final stages) when negotiations began for Disney to buy Fox, which led to the release being postponed. When Disney bought Fox, they changed many things, they did re-recordings and redid a part of the post-production."
"Everything so that it would not overshadow the MCU Movies. Even the flames that characterize Fenix were removed and something else was put in, so that Captain Marvel was the only Heroine with flames and avoid comparisons."
"And I'm not exaggerating, I remind you that Dark Phoenix was going to be a trilogy. Beginning when Jean is possessed by the Phoenix force, Ella and Scott are chased and have to flee, the plot would take them to space and the third film would end as it did in the comics. Jean Gray sacrificing herself to save the universe."
"I can't believe what that damn mouse did to the x-men, he canceled the trilogy and changed the movie so much that it was horrible."
– Soren-J
2 Hours We'll Never Get Back
"Green Lantern starring Ryan Reynolds"
– Mash_Ketchum
"I will always love what they did in Deadpool 2 regarding the movie"
– edwpad
"Went to the midnight showing. The place was packed. Some guy came in cosplay too."
"He was the first to break the awkward silence after by shouting "WTF WAS THAT SH*T!""
– savwatson13
Wish This Didn't Exist
"Batman V Superman."
"Took my family and some friends to see it in the theater. I was hyped. First time seeing bats, Supes and Wonder Woman in the same film? It was going to be an event. You know? Like it'd surpass the avengers first assembling. I was looking forward to it more than Civil war."
"Then the movie was sh*t. I legit apologized to everyone I took for wasting their time."
"Then I saw it again thinking maybe I just didn't get it and went in hoping for X but was disappointed in Y. Nope. Still didn't like it."
"Then I heard about a directors cut of the movie that would add more time to it and I knew this was where the money was. I bought it the instant it came out. I watched it twice. Just to soak it all in."
"Nope. Still sh*t, but 30 minutes longer."
"I'm still mad at myself for seeing it twice. Every time since? Well, that's just me doubling down."
– Finito-1994
Yep. I hated that one too!
Any films to add to the list? Let us know below in the comments.