You spend too long on the internet and you turn up things like....this.
---
In the spirit of Yanny/Laurel and the infamous dress that broke the internet, we present to you: demon goat, or cute little doggo?
Looking at it from bottom to top, it looks like the mouth of this...creature....is resting on the bottom of the frame, its ears pointing up, and its body laying down.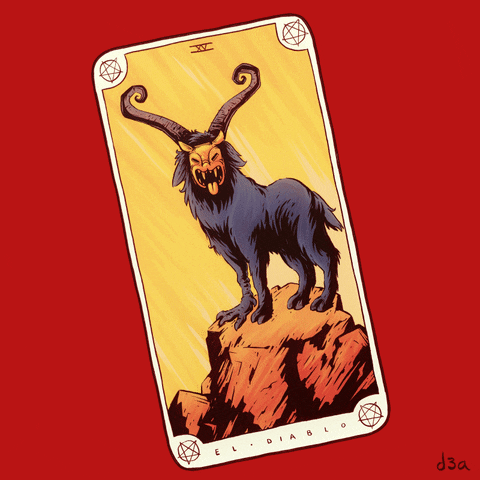 Pictured: this creature's final form. Giphy
What this picture actually is is a lil pupper with his head angled upwards--one of the monster's "ears" is actually the snout of the dog, and the "mouth" of the monster is actually just the good boy's ear folded over.

But still, it is unsettling at first glance.
Once you lose sight of the dog, It's really hard to get it back, and the scary Satanic spawn monster thingy is right in your line of sight.
And it's. So. Scary.
From Villanova University's analysis of the dress that broke the internet, Dr. Toscano, from Villanova's Dept. of Psychology, told The New York Times:
"Your interpretation depends on several factors, such as which part of the figure you attend to. Something similar is likely going on with the dress."
Dr. Tadin, another scientist with the department said:
"This clearly has to do with individual differences in how we perceive the world," said."
"There's something about this particular image that just captures those differences in a remarkable way."
Perhaps this is true of goat/dog boyo.
For those of you still straining to see the cute pupper, cover the picture's "mouth" and stare at the "ear" closest to the camera.
You will then be rewarded with a very good boy/girl/non-demon.