Parents Describe The Most Awful People Their Kids Have Ever Dated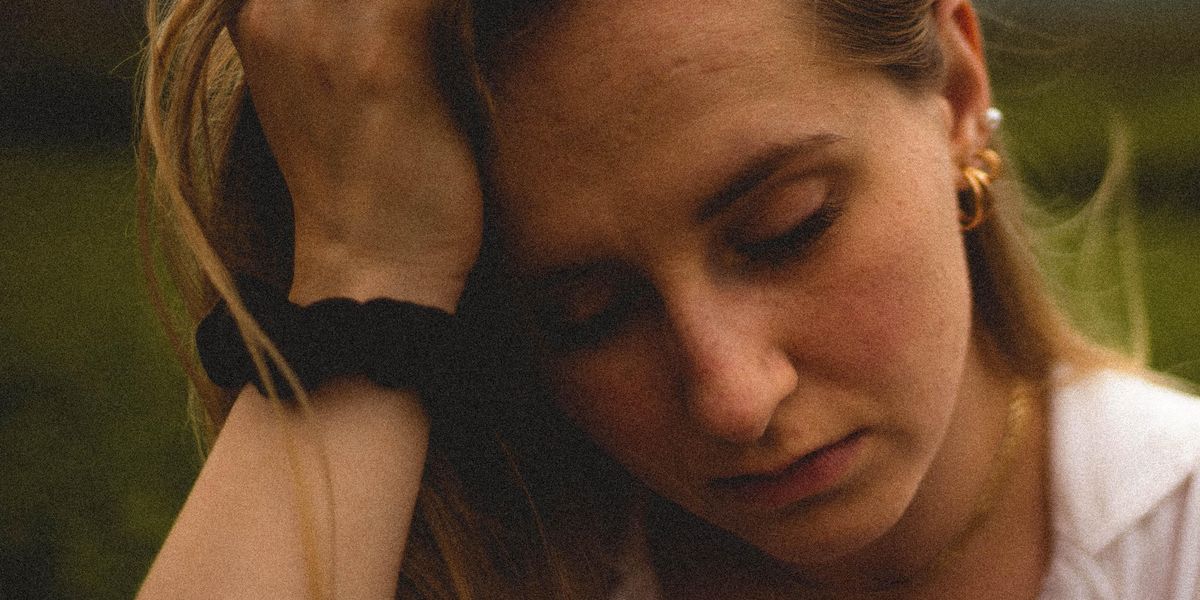 Molnár Bálint on Unsplash
*The following article contains discussion of suicide/self-harm.
Most parents only want the best for their children. They also know from experience that as their kids grow older they're going to assert their independence in different ways, including but not limited to dating.
But suppose the parent doesn't approve of whoever their son or daughter is dating? Relationships are bound to be strained—though hopefully not permanently.
---
People shared their stories after Redditor Morticiar asked the online community:
"Parents of Reddit whose children have dated awful people, who was the worst? Why?"
"The very mentally abusive boyfriend..."
"The very mentally abusive boyfriend who got in her head so badly that he convinced my epilepic daughter that if she stopped taking her meds she wouldn't have epilepsy any more. It was only because she was taking mind altering drugs that she had a problem."
"The car accident was pretty full on but she got out unscathed and no one else was hurt."
Alfredthegiraffe20
Thankfully she walked away from that crash!
This could have gone so differently.
"She started protesting..."
"I have only stepped in once when I saw one of my girls spending a lot of time with someone I didn't approve of."
I work for the happier side of my state's human services agency, but we still share a lot of our agency customers with Child Welfare."
"I have a pretty good memory for names, faces, etc, and within the department, we talk quite a bit, so I will occasionally run into a family about whom I already know an uncomfortable amount of private information, but generally it doesn't affect the decisions I have to make aside from who it gets assigned to next."
"She came home talking about this boy she'd met, and I recognized his first name immediately, because it was uncommon. I asked her, 'Tou're talking about 'Firatname Lastname, right?'"
"She gave me this really confused look and said, '....yeah...?'"
"I told her, 'Ok, kiddo, look. I can't discuss the reasons for this. I know you like this kid, but the answer is absolutely not. You are not to hang out with him or his circle of friends. I need you to trust me on this, because I can't tell you anything about my reasons for it.'"
"She started protesting, and I pointed out, I'd never said anything like that to her before. It wasn't until nearly six years later that she learned about his criminal history as a juvenile, which included rape and a number of other unsavory things."
slice_of_pi
You sound like an excellent parent and you handled this situation tactfully and with class.
"Barely in high school..."
"First guy my daughter dated."
"Barely in high school, already showing attitude problems. Anyone older than him was seen as an annoyance in whatever he wanted to do in life, even at 15. Came from a broken home, turned out he was the third of 10+ kids by one man with as many different women."
"Already started getting suspension in high school because of same disrespect towards teachers. Had unfortunately convinced daughter to skip school a few times with him. Her grades started showing major drop, had to start intervention."
"Took six months and discovery of him trying to date two other girls that finally stopped the relationship. He had gotten one of those girls pregnant by mid ninth grade year. Seeing the relationship end, felt crisis averted."
"A year later as we are at home, daughter comes running into living room saying he is outside her bedroom. Before I can check the back side of house, cop has come up to house. He apparently pushed his mom down a flight of stairs in an argument, took off and could only think to come here. As I am talking to cop, bringing her to back side of house, we hear the gate slam on the other side as he takes off down the road."
"Cop says he is not as much of a threat to spend chasing, puts out an APB for others if they see him. I request a restraining order to clear any controversy I may have. Two years pass. Apparently he got three different girls pregnant in those two years."
"Daughter comes home one day to tell me he has a warrant out. Had pushed his 3rd pregnant girlfriend down a flight of stairs in an argument. She had ended up miscarrying. Local police office actually contacted me later that night about it since I had requested a restraining order on him 2 years prior and they did not know his whereabouts."
"They find him about 40 miles north, charge him with manslaughter, and he has been serving a sentence since he was 17, about 2-3 years ago. I fear for the two other children he had with his other girlfriends each time I think about them."
Lostarchitorture
This is quite the rollercoaster ride.
Thankfully your daughter is away from him at last.
"My son dated a woman..."
"My son dated a woman who would smack him across the face when she would get angry with him. Once in front of me. My ex-husband was very violent and I was always terrified that my boys would take after him. I never considered that they might end up in an abusive situation themselves. They eventually broke up."
sm710
Glad he did!
It could have been much worse.
"He steals a car."
"He's 15. He steals a car, comes to the house to elope with her. She won't go, so he takes off. Police spot him, and he leads them on a chase from Seattle to the Columbia River, at speeds of over 100 mph at times. At the river, he slams into an abutment and is killed instantly."
ikusuzwen
This story took me on a journey.
"My stepson tried to break up with his girlfriend when they were 16. She threatened suicide if he left her. Despite all of our pleas, he was too afraid of her self-harm. It's been 8 years and he has just become a shell of his former self."
"He's lost weight (and he was skinny already), he's got dark under eye circles. It's so hard to watch, but she's convinced him that we all hate her and, by extension, we hate him."
Lilliputian0513
This is tragic and we are sorry to hear it.
Hopefully you can get through to him someday.
"He worked hard to separate her..."
"My daughter started dating him in high school. He immediately started separating her from her friends. Get this, one of her friends is quite buxom, and told her she could not hang out with her because of that."
"He worked hard to separate her from family and friends. During her first year of college she ended up pregnant. He joined the Navy, and they left home. He began drinking and became verbally abusive."
"After getting kicked out of the Navy, they came home and my husband helped get him a job. Then another child was born. The drinking continued and the he started on meth and the violence began. She would deny the abuse and stayed with him and had another child."
"Finally, she left him. Then the next loser was also an addict and they had a child. Again violence. CPS took the children due to drugs and abuse. So I had four kids. I kept them for a year and a half and she regained custody."
"That lasted three months, and she lost custody again. We split the kids with other family due to my health issues. I am raising the oldest two."
"Now there is a new guy and a new baby. Yes that makes five."
"I love my daughter dearly but I'm disappointed in her."
629mrsn
The tragedy of this story cannot be underestimated.
A nightmare for any parent.
"My stepdaughter..."
"My step daughter started dating a guy when she was 15, hiding the relationship as only a friendship. Once they started dating officially he started controlling her every move. He didn't drive or work but she did both."
"The car was a car her mother and I gave her that was ours. He started driving it and all that s**t. He got her strung out on drugs and was abusive to her already weak mental health. He would break her down constantly and make her feel worthless."
"They would rent motel rooms to sell drugs and who knows what else out of. Her father and my wife would never just put their foot down on anything and me being a stepparent, I was not listened to as I feel like I should have been. This s**t continued until 5 months before her 18th birthday when we caught them red handed."
"I took the car away and made it disappear. He was arrested and spent a few months in jail for a s**t ton of drugs and dealing stuff with two of his friends. Before she turned 18, like two months before, she had a real huge mental breakdown while at therapy and they thought she was going to self harm."
"I told her father and her mother and grandparents that she needed to get into a facility for treatment and it was important that they do that before she turned 18. It didn't happen. She turned 18 and moved to a different state to live with him and that is the situation now."
"It is f**king real sad how this motherf**ker ruined her life by destroying her ambition and self confidence."
Pessimistic_Soviet
Condolences.
Hopefully one day she makes it out.
It can be so difficult for people in abusive situations to see what's happening in front of them.
To reiterate: most parents want the best for their children.
But once they're old enough (and sometimes before that), all bets are off.
Children will evolve into their own people—for better or worse, though this doesn't mean that they are incapable of redemption either.
Have some stories of your own? Feel free to tell us more in the comments below.
If you or someone you know is struggling, you can contact the National Suicide Prevention Lifeline at 1-800-273-TALK (8255).
To find help outside the United States, the International Association for Suicide Prevention has resources available at https://www.iasp.info/resources/Crisis_Centres/
Want to "know" more?

Sign up for the Knowable newsletter here.
Never miss another big, odd, funny, or heartbreaking moment again.
Reddit user Shafiq09 asked: 'what is the most unsettling unsolved mystery that you're aware of?
There are some great mysteries in this world that will most likely never be solved in our lifetime.
What happens after we die? Who really built Stonehenge? Are there other lifeforms in outer space?
The fact that these not only will, but as of now, CAN never be solved is what fascinates us most.
There are other unsolved mysteries, however, which we view with far more sadness than we do fascination.
Owing to the fact that these mysteries could have, or even still can, be solved but for whatever reason, remain unsolved.
Redditor Shafiq09 was curious to hear the most disturbing and unsettling unsolved mysteries that may never be solved, leading them to ask:
"What is the most unsettling unsolved mystery that you're aware of?"
Missing Accomplice
"This guy broke into a house, killed the single mom, mom's friend, the son, the family dog, and kidnapped the teenage daughter."
"Dismembered the bodies and hid them."
"The girl didn't need to testify in his trial (he pled guilty), but read a letter during his sentencing saying that she knows he had help disposing of the bodies of her family because while she was still tied up in their house, she heard him making phone calls and heard at least one other person show up."
"She heard this person(s) talking, walking around and helping him with the bodies."

"Local pd & prosectutor just wanted a quick & easy trial and conviction, so they swept a lot of details under the rug & the girl's claim in court that this guy had help was very quickly forgotten."- ZormkidFrobozz
9 Mysterious Years...

"The disappearance (and short-lived reappearance) of Johnny Gosch."
"He disappeared one day while delivering newspapers."
"Police did very little to try to solve the crime."
"Nine years later his mother reports that Johnny showed up on her doorstep and explains that he had been held in slavery for the last 9 years."
"Authorities basically say she's making it up and have done no investigating."- in-a-microbus
Gross
"Someone keep sh*tting in the holes at the local golf course."
"Been going on for the last twenty years bastard has never been caught."- Odd_Associate8272
Never Came Home
"Old neighbours of ours had their 18-year-old daughter disappear."
"She left work one evening and never made it home."
"No body was ever found either."
"I heard the police have a suspect but not enough evidence to do anything more."- AmigaBob
Long Day At The Beach
"The Beamont children, three young siblings that disappeared in 1966 from Glenelg Beach."- homlessoverland
In The Middle Of The Night...
"Another one is of the Springfield three."
"A woman, her daughter and daughter's friend went missing from their home in the middle of the night with no signs of struggle or major evidence left behind."
"It's been so long since it happened so the chances of this case ever being solved is meager."- epilogueteen
So many Questions...
"One night my husband and I woke up hearing a woman screaming, 'Help me!' "
"He rushed to the window (we're on the second floor) and saw a car drive past with a woman in a dress hanging on the hood."
"The car sped through the intersection by our place and careened off with her screaming on it."
"We called the police and told them which way it was going and then jumped on our bicycles and rode around the neighborhood to see if she'd fallen off."
"Never found her."
"Never found any news of her."
"I've always wondered what happened to her."
"That was over a decade ago."- 2manybirds23
Mysteries of Biology...
"At what point did the brain realize its own consciousness?"
"I find it fascinating."- KinOuttaHer
Paying For Religious Freedom...

"How Scientology still has tax-free status in the USA."- sqoo-5900
And, For That Matter, What Made Them Start?
"Why did the Zodiac Killer and Jack the Ripper stop killing?"
"They were never caught. They could have kept at it."
"So what made them stop?"- AggressiveOkra
Twinkle Twinkle
"I can't remember exactly what star it was, but there was a star deep in space that astrophysicists saw as relatively unremarkable."
"Just another star they were monitoring."
"Anyway, one day, all was normal, it was in the correct position."
"The next day, they were monitoring all the stars, and this one star had just disappeared."
"Poof."
"No one could figure out why. It could have been that it went supernova, but if it had, they would have seen the residue and the massive explosion, plus all the gaseous residue."
"So it can't have gone bang."
"They also hypothesized that maybe a civilisation had constructed a Dyson sphere (a large construction made to harvest all of a stars potential energy), but if so, it would have been more than likely that we would have seen the star slowly disappear, the light fading as the civilization constructed the Dyson sphere."
"Now, of course, according to the Kardashev scale, there could well be a civilization so advanced that they could have just constructed the entire sphere in a matter of seconds, but we'll never know."
"On that subject, that same civilization could have just absorbed the star instantly to use its power."
"They thought that maybe, other extrasolar objects were just blocking its view somehow, so they continued to monitor its location."
"It never came back."
"Somewhere, out there, a star just miraculously disappeared without a trace."
"And we will never know how or why."

"That's what's so disturbing to me."
"We have such amazing technology to monitor objects millions of light years away, yet we cannot figure out why a star just disappeared without a trace."
"And we may never know."- TheoCross3
No Justice For Their Families
"I have three I'm very invested in."
"One, who murdered Joseph Zarelli (aka the Philadelphia boy formerly known as the 'Boy in the Box')."
"Two, what happened to missing Oklahoma teenagers Ashley Freeman and Lauria Bible and who murdered the rest of the Freeman family."
"And three, who murdered the Short family of Henry County, Virginia."- arcana07
The truth behind these mysteries is out there somewhere.
Whether anyone will find it, however, is also a mystery that may never be solved.
Rules are stupid. Okay, maybe not always—plenty of rules exist for a good reason. However, everybody knows that there is nothing worse than a dumb rule, especially when it's at school or work. From the cringe-worthy to the downright creepy, here are the most idiotic rules people on Reddit have experienced.
Sometimes, a person can be mature and intelligent and still have some thoughts or theories that are truly stupid. And sometimes, that person says something truly stupid out loud.
It usually makes for a funny memory.
When I was in middle school, a group of my friends were talking about a movie that had just come out and where it was filmed. One boy said it was filmed in New York. A girl's response made all of us cringe:
"That movie wasn't filmed in New York, it was filmed in Manhattan."
When someone told her Manhattan was in New York, she didn't believe it and insisted that was not true! Four years later, she graduated third in our class. Guess she eventually figured it out.
Redditors know people who have said truly dumb things out loud as well, and are eager to share.
It all started when Redditor A_Lice_in_Wonderland asked:
"What is the dumbest thing you've ever heard someone say?"
First Time For Everything
""Well she never got pregnant before," after his girlfriend got pregnant and after asking my friend why didn't he use protection."
– tuotone75
"I've never died before so I won't ever."
– Rakgul
"Should've checked to see if there was a history of pregnancy in the family."
– hogliterature
Time Difference
"I was microwaving some food, I hit the 1 so it would automatically cook it for a minute. My friend asked "Why did you put it in for a minute? I usually put mine in for 60 seconds". I had to explain to him that it's the same thing. We were in high school."
– Gambit_Finale
"I have a similar one. Had to explain to someone that 0:90 on the microwave was the same as 1:30. They kept insisting 1:30 was more, and that I was crazy."

– Atheist_Alex_C
Where Does Our Food Come From?
"That there's no difference between turkey and ham because "they both come from birds."
"I guess pigs really do fly in their world."
– JustForKicks36
"I had a friend in college who asked me very seriously, "so if beef comes from cows, and pork comes from pigs, what animal does chicken come from?""

– not_ur_avg
And When Does It Come Back?
""How long does it take the meat to grow back on a cow when you shave it off?""
– Bright_Ad_2848
"Average "Hay Day"-player."
– The-One-Winged-Angel
"Making hamburgers is not an outpatient procedure."

– tritium_awesome
This Is The Real World
"A new hire at the cotton mill that had dropped out of school to go to work:"
""How long do we get off for spring break?""
– TrailerParkPrepper
"Oh welcome to real life you poor child."
– Bucksin06
Poor Guy
"This involves a conversation with a guy I used to work with who was trying to lose weight so he was cutting down on pasta."
"Him : I've been doing pretty good, haven't had pasta in 2 weeks."
"Me : That's awesome, what's that you got in your hand there?"
"Him : Mac and Cheese."
"Me : I thought you said you haven't had pasta in 2 weeks?"

"Him : I haven't, this is Mac and cheese."
– highfivesforgod
Not How It Works
"If you drink a coke & then a diet coke, the sugar cancels out."
– ScribblingOff87
With Magic, Sure
"I was solving a Rubik's cube and a guy asked me how many sides it has and if I can make them all blue."
– MrLambNugget
Yikes!
"Friend and his girlfriend were over. Watching some TV when an ad for an Anne Frank documentary comes on."
"GF: "oh, wasn't she like Hitler's daughter or something?" The room became very quiet for awhile."
– 1WaldoJeffers1
"I guess it's "or something""
– candangoek
"A moment of silence for a dumb friend."
– sunpies33
*Cringes*
"The question right above this in my feed is: "Why's a square called a square when it has six sides and eight corners?""
"The sub was NoStupidQuestions"
– 12345_PIZZA
"The premise of the sub has been disproven. Time to shut it down."
– cbusalex
""Sir, that's called a cube.""
– ThisWasAValidName
It Never Did
""What year did this happen?""
"We were watching The Lord of the Rings."
– OverTheCandlestik
Not The Lakes
"I was in seventh grade history and the teacher asked a student which ocean Christopher Columbus crossed to get to America. She said she didn't know and the teacher replied by asking "how many oceans can you name? It's gonna be one of them.""
"The girl thinks for a moment and says "Lake Champlain… Lake Geo-""
"The teacher cut her off by saying "if it has the word lake in it, it's probably not an ocean.""
– thecrimsonf**kr23830
The Whole Country Does
"Was on the bus headed to class in Honolulu, a Southerner got on and asked the driver"
""Do y'all take American Dollars?""
"The driver pointed at the American flag sticker on the window and with extreme exasperation said"
""You're in America.""
– revjor
​Coffee Conundrums 
"When I worked at Starbucks it was frequent question from customers to explain the difference between a hot and an iced drink…"
– Real_Pea5921
"I work at Starbucks, holy sh*t our customers are a different breed."

"I had one lady ask why her drink had so many small bits of ice in it when she wanted it blended."
"I have had more than one person ask for hot coffees but iced and vise versa."
"I've had people ask if cold brew was/could be made hot."
"The list with Starbucks customers goes on and on..."
– PanPenguinGirl
"Can I get hot coffee cold? No I don't want cold coffee! I want hot coffee but cold!"
– Surviving2
...Well, Yeah
"I heard a similar story about someone who had driven across border from the U.S. to Canada."
"To paraphrase: "They checked my ID and inspected my entire car! It was like I was entering a foreign country!""
– anfrind
Oh My Lord...
Enough said.
Do you have any similar experiences? Let us know in the comment below.
How can we make money by barely breaking a sweat?

Inquiring minds want to know.
If it's not about a career but just cashing a check, let's make it easy.
Nobody wants to work hard labor for nothing.
If it's for almost nothing, then I should be able to nap while I'm there.
Actually, there's a job that pay pretty well that let's you do exactly that!
Redditor Ubarberet wanted to hear about the jobs where we can collect a check for basically not working, so they asked:
"What job pays you to do literally nothing?"
I will be getting a pen and paper and writing down all of these suggestions.
More money, less work?
I'm in.
Night. Night.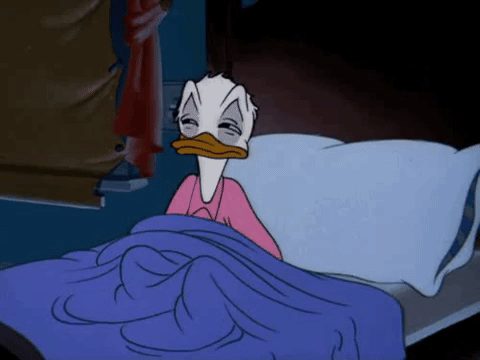 Donald Duck Sleeping GIF
Giphy
"Professional sleeper. You're hired by mattress and blanket companies to test their latest products before they go commercial."
FakeEnglishmen47
Third Shift
"3rd shift security guard. Easiest s**t ever. Just don't get caught sleeping."
StraightsJacket
"What you're saying is if you want to rob a place, make sure it's during 3rd shift."
lovetyrannicalreddit
"The pros already know this. But scout your location cuz the grave guys aren't the ones you want catching you."
"Think of it this way; dayshift security is like the crew of a cruise ship (more customer service oriented), graveshift are your old school privateers (pirates). Some have an eye patch, a limp, a penchant for violence, and you don't want them catching you alone on the open water."
luda60
Not a bad gig...
"Knew a guy who worked at a general electronics place. He was a typical retail dude but got promoted to be a 'repairman' in the back. He got no extra training and was just told to do what he could and if he couldn't fix it then refer them elsewhere. He didn't know sh*t about repairs. He would be on his phone most of the day and when someone brought him a broken phone he'd try to turn it on, if it didn't work he handed it back. He spent most of his time on his phone in the back. Not a bad gig.
Nollypasda
Just There
"I was the white guy for a company in South East Asia. I had no job responsibilities. Just turn up and sit at my desk and Reddit all day. Occasionally I'd put a suit on and go to the owner's fancy meetings in restaurants, and not say a thing. Or turn up at some building project. I mostly took Xanax and slept on my desk or snuck over to the bar next door."
RonaldTheGiraffe
Bored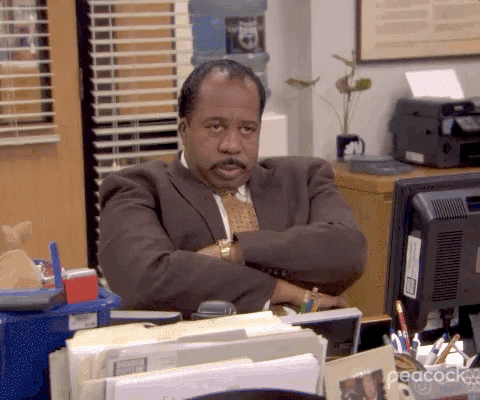 Bored Season 5 GIF by The Office
Giphy
"My last job. technically I got to send faxes and open the mail, but that was an hour of work tops. It was mostly watching YouTube and being bored out of my mind."
disregardable
People still send faxes?
I haven't seen a fax machine since the aughts.
Abysmal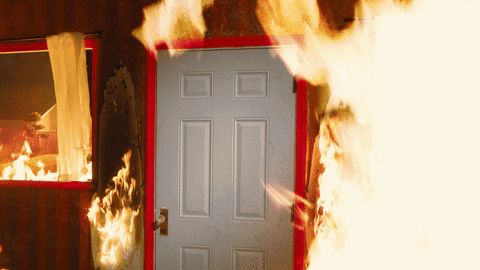 GIF by Young Thug
Giphy
"Firefighter at a rural, but paid, department. Most of my day is napping or binge-watching stuff on my laptop. The pay is abysmal though."
dietcoketm
Who?
"Security guard for a nonfamous rich person's house."
glencoaMan
"Had an unofficial gig doing house sitting for a rich friend of a relative. Was paid decent money to live on the property, and walk around the land a couple of times a day. Dead quiet at night and a pretty big space with no one else, so I can't really say it was relaxing."
reverze1901
Light Delivery
"A friend of mine is a 'concierge' in an up-market, small-build apartment block in a leafy suburb. He said the most he usually has to do is take in people's mail/parcel delivery or help older residents if they need to move furniture, etc. (and he said that in itself is quite rare). He mainly sits in a cushy office and listens to music/watches movies."
Nefilim777
5 to 30 minutes of pretending...
"Professional white man. In China, I had a side gig to be a white guy at various places. I would just pretend to be working for a company when tours and investors came through. I guess a Chinese company looks more successful if there is a white person. Then there was the sitting on the stage looking important during inevitable presentations."
"No actual work, just 5 to 30 minutes of pretending during a workday. Other than that you do what you want. Just be well-groomed and well-dressed. Sometimes I was told to be on the phone pretending to be making an important deal. Got business cards and everything."
mrhoof
Get that bag, Nana...
"The last time I was at Walmart, there were old people sitting in chairs by the gardening exit, presumably to check receipts or stop shoplifters. But company policy is not to try to stop shoplifters, it is dangerous. So they were all just sitting in their chairs and playing on their phones. I was like, 'Get that bag, Nana. You... deserve to play Candy Crush on the billionaire dime!'"
Comments_Wyoming
Spooky Spooks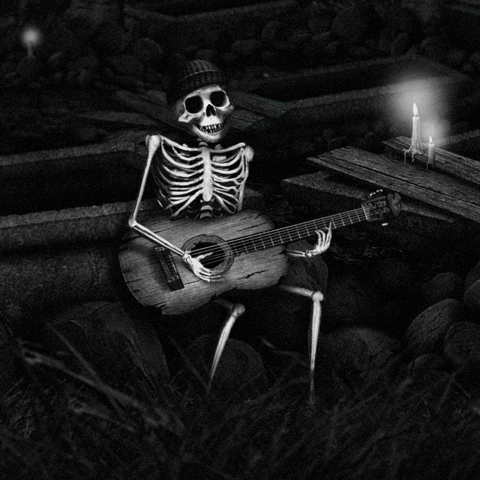 Gonna Die Black Metal GIF by Kiszkiloszki
Giphy
"Graveyard security. 90% of the job is downtime, 9% is 'Move along, sir' and 1% 'HOLY F**KING S**T!!!'"
WhichWhereas1879
I don't care how boring, quiet or easy it is... I am not working ANY Graveyard shifts in a damn graveyard.
No thank you.