Be still our teenage hearts. Our favorite young romance film, A Walk To Remember, just had it's sweet 16! The film, which starred Mandy Moore and Shane West in the lead roles, found incredible success on its release. Mandy was new on the scene at the time, Shane had a bit more experience. People fell in love with Mandy's vulnerability, her sweetness, and her talent. While the world was busy falling head over heels for Mandy, Moore was busy falling for Shane.
---
Moore and West had incredible chemistry on screen, and that may have been due to the fact that Mandy got a little caught up in playing pretend and found herself catching real feelings for Shane. She was a new actress and Shane was kind, patient, and helped her learn things quickly. Mandy admits she couldn't quite figure out if this was a crush, professional appreciation, or if she was just taking her role to heart a little too much.
She told Entertainment Weekly:
Shane was so cool. The way he dressed...and the music he listened to... He was the character to me and there was definitely a part of me that absolutely fell in love with him. I don't know if I could discern the difference between him and the character at that point in time because, again, it was my first experience doing anything like this and I was a 16-year-old, impressionable girl.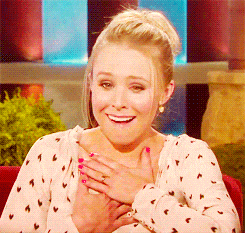 Giphy
Moore also went on to talk about how Shane helped her to learn the ropes at a time when she knew, essentially, nothing.

Shane was so wonderful. I didn't know what I was doing and he'd done movies and he was on a critically acclaimed TV show. He had a lot of respect as an actor and I was just the total newbie. I didn't even know how to hit a mark, I was so fresh-faced and naive. I felt incredibly lucky right off the bat that I had someone who was as willing to work with me and who was patient and understanding. He was just the perfect partner for that.
So look, we totally get it. So does Twitter. When news of Mandy's crush on Shane hit the internet, internet responded like "same."
@TeenVogue We all did, Mandy. We all did.

— Nancy the Cat (@Nancy the Cat)1545020011.0
@BuzzFeed But who wasn't in love with Shane West in a walk to remember?

— Monica Aksamit (@Monica Aksamit)1517002084.0
@TeenVogue Me too, you ain't special Mandy

— sasasauce (@sasasauce)1545023911.0
@BuzzFeed I did fell for him too hehehe

— Gracey Grae (@Gracey Grae)1517404825.0
@TeenVogue I also did 😊😊😊😊😊

— Qu33nn_Leader1248 (@Qu33nn_Leader1248)1545045389.0
@TeenVogue We did too omg 😭😭

— Madison Roberts (@Madison Roberts)1545042051.0
@TeenVogue Obvs! We all did 😄

— essKentaro (@essKentaro)1545039373.0
Let's take a stroll in Feels Field with these two.
Hello. I just cried while reading a buzzfeed article about Mandy Moore and Shane West's unrequited love on the set of A Walk to Remember.

— Emma (@Emma)1517086501.0
@BuzzFeed Shit now I really want to watch this movie but I've been such an emotional wreck lately I have to hesitat… https://t.co/VtvyGpKkVE

— Kara (@Kara)1517026980.0
Shane West giving Mandy Moore a cardigan in A Walk to Remember is my number one most romantic gesture of all time.

— The Wreathed Bodice (@The Wreathed Bodice)1517270911.0
My sexuality is "that time Shane West gave Mandy Moore a butterfly tattoo in 'A Walk To Remember'"

— Lauren Duca (@Lauren Duca)1467174829.0
shane west and mandy moore again please

— tj cabana (@tj cabana)1516514033.0
Real men drink whiskey. Real men fight. Real men hate the part in A Walk To Remember where Shane West's friends play a prank on Mandy Moore.

— Elamin Abdelmahmoud (@Elamin Abdelmahmoud)1459952025.0
I'm not crying, you're crying. https://t.co/X2NGzWPK32

— Erin DeGregorio (@Erin DeGregorio)1545020419.0
The way Shane West looks at Mandy Moore in the movie "A walk to remember" is breath taking, I love this movie 😌

— Destiny Price (@Destiny Price)1363830906.0