Dogs are heroes. We should all know this.
Dogs will do anything to help out, like with this dog who protected his family during a shooting or this dog that saved his family from a fire. And then, of course, there are police dogs.
Powhatan Sheriff's Department was recently called to assist in finding two 8-year-old children who had gone missing in the woods.
The deputy they put on the job made short work of the search, finding the children in just 15 minutes. That deputy was K-9 Bane.
---
Powhatan Sheriff's Department deputies reported that the children's' parents and neighbors had been searching for them for around 45 minutes when they decided to call 911 because it was beginning to get dark.
Deputies, including K-9 Bane, arrived shortly after the call and helped with the search, and were able to find the children in just 15 minutes.
That wasn't the end of the job for K-9 Bane or his colleagues, though:
"As soon as the children were home safe, he was back on patrol eager for the next call for service."
K-9 programs can cost quite a bit of money, so some have questioned why a small town like Powhatan, VA maintains one. Situations like this are why; there are some jobs simply better suited for a dog.
Search and rescue is a great example of something that dogs will always be better at than humans. Their sense of smell is 40-times more sensitive than a human's. They use that sense of smell to track better than a human can, especially in the dark.
The sheriff's department discussed the importance of the K-9 program in their Facebook post: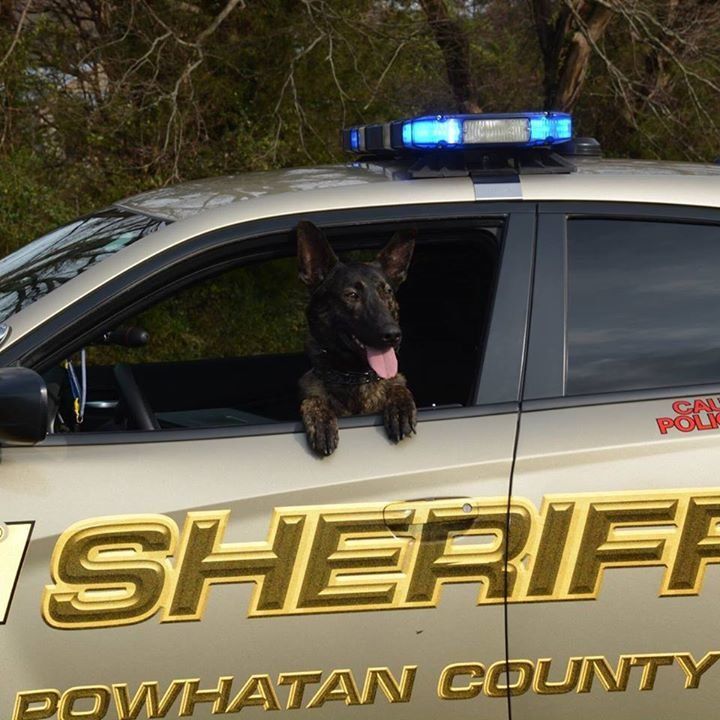 Powhatan Sheriff's Office www.facebook.com
They wrote:
"Maintaining a K-9 program is expensive and very time consuming and that is why many agencies the size of the Powhatan Sheriff's Office do not have one. But incidents like last night's two 8 year old children being lost in the woods are why the Sheriff keeps the program going strong.
Parents and neighbors had valiantly been searching the woods for the children for 45 minutes in the failing daylight when the call was made to the Sheriff's Office. Deputies (including K-9 Bane) joined the effort in short order. Within 15 minutes of K-9 Bane entering the woods he was able to track and locate the children. As soon as the children were home safe he was back on patrol eager for the next call for service."
People were overwhelmingly supportive of K-9 Bane, and the Sheriff Nunnally's efforts to keep him working.

Joann Kincaid Broyles Pearman/Facebook

Norm Gallaher/Facebook

Jason Baehr/Facebook

Tracy Fry Hudler/Facebook
Several people commented on what a good doggo K-9 Bane is, and some called for extra treats.

Bob David Hope/Facebook

Lisa Hale/Facebook
Teresa Massey Hall/Facebook

Sue Huckaby Houtsma/Facebook
K-9 units play an integral role in many communities, especially rural ones. In an area where people can easily become lost, or need to be tracked, a dog's nose and work drive can be invaluable.
It is great that Powhatan County Sheriff Bradford Nunnally recognizes K-9 Bane's worth and is willing to fight for him.