Whether it's a fad product from Instagram or something for that hobby you just know you'll start doing one day, it's easy to buy things that seem useful and then just never use them.
Redditor Doctor_Disaster asked:
"What is something that you have purchased in the past, but have never used once since then?"
​Never Gonna Make That Telescope
"On a trip to Chicago at about age 14 to visit the museums, my parents bought for me a telescope mirror grinding kit from the Adler Planetarium which I desperately wanted. It had all the components needed to construct a 6" mirror for a beautiful reflector scope. I kept that kit until I was about 50 years old, moving from apartment to apartment and city to city, until I finally decided I probably just wasn't gonna make that telescope."
-konqueror321
You Probably Don't Need The Book
"College textbooks, as a freshman you think you need them but it's a scam most of the time. Just get the pdf online tbh. I've even had professors that strongly hint at a textbook being available online and for students not to buy it."
-vanynoose
"I had a professor complaining and complaining that a mass anonymous email went out to all his students with a pdf of the text book. He just kept asking if 'everyone saw it and how terrible it was… but everyone saw it right? Everyone… did anyone miss it or not get it… that terrible anonymous email sent too ALL of his students got'"
"He was a good dude lol."
​One Day...
"I bought a book on methods to tackle procrastination, 7 years ago. It remains unread though I'm sure the methods within are glorious."
-PhotoKaz
"On page 1 it just says, 'Congratulations! You have taken the first step towards conquering procrastination! Now just keep taking one step at a time!' Or some other cheesy stuff like that."
-tiredoflife2212
Bye Bye Bicycle
"Not me but my dad - bought a bicycle he never used, a year rolled by and the shop he bought it from called him and asked if he wanted it serviced, to which he agreed. Still hadn't used it. I went to his place one day and saw the bike and asked if I can borrow it. He then tells me this story and said I can have it. Thanks dad!"
-WallyButterbean
Aspiring Artist
"I bought a wacom pad like a year ago cause i wanted to start drawing. Never got around to start learning."
-LordofthePigeons619
"You know, I got one to use as a mouse. I know that sounds crazy, but I was starting to get some RSI in my hand from constant mouse use at work and home."
"No lie - once I got over the first 24 hours of it being awkward as a daily pointing device, I quickly realized that I by far preferred using it to the alternatives. When you're over the learning curve it starts to feel so much more precise. It always got me funny looks and questions when co-workers stopped by my desk, since my roles never had anything to do with illustration or design."
"Absolutely useless for anything game related, mind you. But day to day document/office/browser/other stuff? Super useful. Maybe give it a try."

-infosec_qs
Time For A Game Night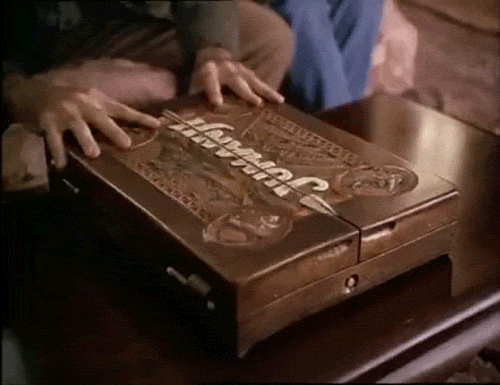 film opening GIF
Giphy
"*Looks at the shelves of unplayed board games*"
-Mortlach78
"One day, the perfect group of people will be assembled in your house and ready to play that game... Until that day it sits on the shelf awaiting its time."
-silentknight111
Forever Disorganized
"Containers to get myself organised. Months ago. And now I'm on reddit. Not being organised."
-ReaganInc
"At least now, when you someday get the urge to organize your stuff, you will have the containers ready & be able to just do it."
-batsofburden
You Mean You're Not Supposed To Just Collect Them?
"I'd like to introduce you to my steam library."
-Fynn_the_Finger
"Me: there are no games to play."
"Steam library: *sad game noises*"
-SeparateBluejay9818
Banger Banjo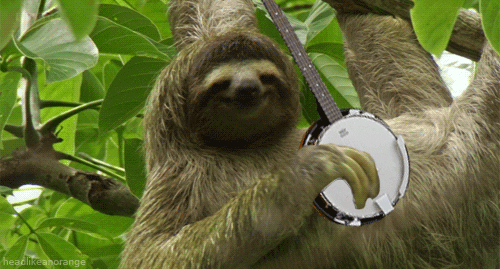 Sloth Banjo GIF
Giphy
"When I got my job back in April after a 3 year attempt at freelancing, my first pay check was the most exciting."
"I bought a banjo. I'm a city boy in the UK. I have no idea how to play instruments."
"To this day it stays in the corner of my room getting an occasional twang when I get a little spicy."
-schofield101
​Yarn Hoard
"Yarn, so much yarn."
-erabera
"Yes, I am more a yarn collector than a knitter."
-shinyacorns
It's not too late to use that thing you bought forever ago and forgot about. It's never too late to pick up that hobby or read that book!
Want to "know" more?
Sign up for the Knowable newsletter here.
Never miss another big, odd, funny, or heartbreaking moment again.
Keep reading...
Show less
The internet is an awfully big place, and there's a pretty good chance that there are some really useful parts of it you've never seen before.
Redditor DrDoofusDuck asked:
"What's an extremely useful website most people probably don't know about?"
Share Big Files
"can create a downloadable link to any file up to 2gb. super handy!​"
-tthompa
"If you can get your recipient to join Telegram, that has no file size nor capacity limit at all (just a message cap equivalent to 100,000 files, I think)."
-Dymonika
Find A Place From A Photo
"For when you have a picture of a place and want to find out where it is (and reverse image search doesn't help)."
-greginthesummer
​What's That Word Again?
https://www.onelook.com/reverse-dictionary.shtml
"It's a reverse dictionary. For when you can describe the thing but can't remember what it's called (and if you search 'The inability to remember a word' you'll find the name for the struggle, 'lethologica')"
"Edited to add: There are options that let you narrow down the part of speech you want, but it does take a little practice to understand how to the program understands search inquiries. You have to format your description like a definition you would read in a book."
"i.e. 'can't remember a word' will give you a lot of answers that aren't quite right, but 'The inability to remember a word' ticks the right boxes for the search function."
-CaffeinatedHBIC
"I had a car accident a few years ago and I have a tendency to forget certain words. My most memorable one was when I called a mirror the windshield in the bathroom (this site had mirror as (#94). The most recent one was "paint like stuff that you put on the walls, but it's made of paper." #1 answer was wallpaper, which is what I couldn't remember, despite using the components of the word in my explanation."
"For reference, my wife asked me to pick up some stuff from CVS and I told her I got everything plus some wallpaper, meaning the receipt. Except I told her what I put in as the search term. It was an easy riddle for her, since she's used to me."
-Handleton
"To be fair, you could wallpaper a room with a CVS receipt."
-Nawhatsme
Too Long; Didn't Read
"Terms of Service, Didn't Read: It basically summarises the terms and conditions for most websites and ranks them on privacy."
-EchoingEchoes
"ToS make no sense. If everyone were responsible and read every ToS for every product they use, it would consume their life. Businesses have to rely on consumers not reading ToS to sell product, then get to be all 'oh that's your fault it. It's mentioned in the ToS.'"
"There are careers dedicated to writing and understanding ToS / contracts. But somehow it's every person's responsibility to be familiar with the Tos for every product they use. It makes no sense."
-imnostatistician
What Can I Cook?
"helps you figure out dinner based on what you already have in the house."
"There's also http://www.whatthef*ckshouldimakefordinner.com/"
-cynth81
"As someone who cooks as a hobby I have to admit I clicked on the link with a snooty attitude thinking 'who can't figure this stuff out for themselves? Let's see what this is all about'. I got humbled pretty quickly, that is a great site. Thanks for the link."
-clickclick-boom
No More Life Story With The Recipe​
https://www.justtherecipe.com/
"Just the recipe will remove the life story and ads and give you just the list of ingredients and method."
-Ocala again
"Thank you so much! I don't need to know why you have a passion for the food I'm wanting to make. I don't need to know the story of the 1st time you had it. I just want the dang ingredients and how to make it."
-fruttypebbles
Project Gutenberg Is Great
"Older books, sheet music, etc."
-Oh_No_Its_Dudder
No More Good Poisoning
"tells you how long foods (both opened and unopened) last in the refrigerator."
-librarianjenn
​Make It Stick!
"What kind of glue you use to stick whatever to whatever.​"
-TheBaddestPatsy
No More Fake 'Sales'
"Paste the link to any amazon product and get the price history. Great to see if something is really on sale or if you are getting gouged."
-smsldoo
It's super easy to just rely on the same websites all the time and never discover the wealth of useful sites and tools that exist to make your life easier.
Want to "know" more?
Sign up for the Knowable newsletter here.
Never miss another big, odd, funny, or heartbreaking moment again.
Keep reading...
Show less
You've probably heard someone describe an experience as "better than sex" before.
The range of things that can be almost orgasmic without having anything at all to do with sex might surprise you.
Redditor mackeastman asked:
"What's an orgasmic feeling that isn't an orgasm?"
The Temperature Difference Is Just Perfection
"After working outside on a hot ass day all day, having nice, cold drink is damn near heaven for a few seconds."
-Cheetodude625
"Any sweet cold drink tastes like the drink of gods when parched for the first 5 seconds. Pure euphoria."
-aracnine
So Satisfying
"When you hold the scissors still and they cut straight through the wrapping paper."
-ConElConquistador
"The glide of kings."
-ovary_disappointing
Sweet, Sweet Solid Food
"I'm on Chemotherapy, and I recently went 50 days without keeping down solid food. The first time I digested unbuttered mashed potatoes with chicken broth, It felt like a non-stop 3 hour orgasm the entire way through."
-MushroomTacoboy
Free The Feet!
"Taking my boots off after working in them all day."
-Coffeearing
"Or ski boots after not working all day."
-highknees69
So Dry. Much warm.
"Putting on comfy dry socks."
-dselogeni
"Fresh out of the dryer, on a winter morning."
-macallen
So Much Relief
"Cracking your back when you really need it. Better than sex sometimes"
-killingmesoftly
An End To Annoyance
"When that piece of popcorn finally comes out from between your teeth or gums."
-Zeth_GearTech
To Finally Breathe Properly
"The moment when you've been congested all day and one nostril finally opens."
-supadupa82
No More Pony Tail
"letting your hair down after a long day in a ponytail."
-Yovana19
"It almost hurts at first but it's so satisfyingly good."
-acewednesday
​The Tinglies
"That part of a great song that makes your spine tingle."
-northernman
A lot of truly non-sexual experiences can feel almost orgasmic—if not even better.
Want to "know" more?
Sign up for the Knowable newsletter here.
Never miss another big, odd, funny, or heartbreaking moment again.
Owning your own home is great!
You get the freedom to do whatever you want with your property—unless you're stuck under the tyrannical thumb of a Homeowners' Association—and no sharing walls with neighbors to keep you up at night.
Unfortunately, it also means that you have to deal with all of the problems that come up all by yourself too.
Reddit user winterwolf2010 asked:

"What is one thing about your house that is mildly infuriating?"
Hope You Like Damp
"We are the lowest house in a hilly neighborhood so guess whose yard floods?"
-BigGobot
"What's up fellow swamp homie. How many times have you gotten your lawn mower stuck (twice) and have you gotten your truck stuck trying to pull your lawnmower out (once)."
"They wouldn't need to worry about water in the desert if they'd just pipe it straight out of our yards eh?"
-zombie_penguin42
Where's The Line?
"In a tightly-packed neighborhood, the property lines for my yard and my neighbors' yards aren't right down the middle between the houses; they're closer to my house than they are to the neighbors' houses."
"I used to find it infuriating when my neighbors would mow part of my lawn while mowing theirs. Then I learned where my property lines actually are. Now I'm just furious at my lawn."
-Daphinicus
Which Switch Is Which?
"No matter which switch I flip to turn on the kitchen light, it's the wrong one. It seems no matter which one I flip, I get get the dining room light or the laundry room light instead of the kitchen on the first try."
-Maxwyfe
Do-si-do Your Partner
"My entry-way/foyer/whatever that area is called, is too goddamned small. There is enough room for one person to come in, close the door behind them, and take off their shoes and coat."
"Add one other person and it becomes a ballet. Add 2 people or a child and it's Twister but all the colors all the time."
-Lay-Me-To-Rest
Phantom Switches
"I have two switches that do nothing. I've plugged lamps into all the nearby outlets then toggled the switches, all the overhead lights are accounted for."
"Both phantom switches are on a plate with three switches. I assume the previous home owner had them running to something but when things got rewired he just didn't bother removing the switch, replacing the plate patching the hole."
"Instead there's just some capped off wiring somewhere in my walls."
"Thing is, I'm almost certainly not going to fix this minor but annoying issue either so it will be up to the next homeowner to fix it. An endless cycle of laziness and incompetence."
-TheBrontosaurus
Just A Bit Crooked
"Absolutely nothing is squared correctly. The window's off by more than 3 degrees on both sides. Door frame...the same..."
-Spacetoast42
Just A Bad Layout
"My kitchen sink is positioned on an inside corner with a cabinet below at a 45 degree angle to the dishwasher to the left. Whenever I open the dish washer, I can't open the cabinet under the sink to get the dishwasher soap."
"I've lived here for 17 years, and every damned day I open the dishwasher, try to open the cabinet and hit the dishwasher door with it. Have to close the dishwasher door, open the cabinet, get the soap, close the cabinet door, open the dishwasher door, pour the soap, close the dishwasher door, open the cabinet door and put away the soap."
"When I redo the kitchen I'm relocating some things even if it means losing some counter real estate."
-rhymes_with_chjicken
Well, That's Just...Unfortunate...
"The only floor in the entire house that creaks? Yup, master bedroom right under the bed......"
-GreenJedii
It's Haunting Me
"There's this tiny TINY black dot in my bedroom ceiling that I can't unsee."
-loopsicorn
"It's fine. It can see you."
-CheshireCrackers
"We have a tiny spot in our bathroom that wasn't painted when they built our house. I feel your pain…"
-WinterWolf2010
That's A House Fire Waiting To Happen
"I have a 14' x 16' room on the back with half a dozen can lights, a ceiling fan with light, and about 10 sets of outlets."
"The entire f*cking room is on a single 15A breaker."
-SteevyT
Sometimes it's the littlest things that can really drive you crazy over time.
Want to "know" more?
Sign up for the Knowable newsletter here.
Never miss another big, odd, funny, or heartbreaking moment again.
Keep reading...
Show less
Sleep is hard. Even folks who don't consistently deal with insomnia have the occasional sleepless night. Whether it's from excitement, anxiety, or your brain just refusing to shut off, sleepless nights usually suck.
Reddit user tropicalzhu asked:
"What keeps you up at night?"
Mood
"The dread of tomorrow"
-Theoretical_Girls
Not A Thing
"Nothing I sleep like a rock"
-WarMad940
"That's awesome. I'm happy for you!"
-tropicalzhu
"The secret is to only think about sleeping and breathing if you go off track think about sleeping and breathing again and you will fall asleep which is basically meditation I had several people tell me it don't work every single person I may do it was out within 15 minutes"
-WarMad940
Can't Catch A Break
"Anxiety, depression, and school. Because can't never catch a break"
-kristinaaaa_928
My Brain Is A Jerk
"My stupid brain. Can't stop overthinking."
-Papab85
"That's about all I have, too. I don't have any big worries in my life but my mind won't slow down. It makes no sense."
-bdbr
Won't Somebody Think Of The Avocados?
"It's hard to fall asleep knowing that, at some time during the night, the avocados in my kitchen will instantly turn from bright green to moldy mush and I'll have missed the opportunity to eat them."
-on-the-h
So Many Mistakes
"Past mistakes....present mistakes...future mistakes...."
-mahalomoimoi
There's Just So Much Cringe
"Jokes aside, I think every single night my brain forces me to relive every single embarrassing, cringey, traumatizing, or upsetting moment in my life over again."
"Sometimes I'll literally be thinking about something that happened to me 5 years ago. Why do I do this?"
-ham_alamadingdong
People Explain Activities They've Added To Their Post-Pandemic Bucket List | George Takei's Oh Myyy
While we've all been cooped up for the better part of two years, many of us have been dreaming up exciting plans for the future. Maybe it's finally time to s...
A Little Bit Of Everything
"Migraines, loneliness, dysphoria and the anxiety keeping me from saying how much I love my friends to them."
-Bengale0825
Brain Won't Turn Off
"My mind races and I can't relax. It starts to think about work, personal TODO list, problems I can do nothing about, sh*t I should've handled already…"
-qt-uwu
Darn Technology
"Most of the time it's my phone. But when no one is asleep or in bed it's just my pc that keeps me awake."
-NikiMC69
There's a pretty strong theme of anxiety here, but that's not the only thing that can keep people up. Sleepless nights aren't always a bad thing, but sleep is important.
If you're consistently not sleeping well, it might be time to talk to a doctor about it.
Want to "know" more?
Sign up for the Knowable newsletter here.
Never miss another big, odd, funny, or heartbreaking moment again.
Keep reading...
Show less