Childhood can seem like a magical time.
Anything is possible.
But that magic doesn't always make it to adulthood.
Redditor tobybarron16 asked:
"What strange abilities did you have as a child that you have since lost?"
Teleportation
"I could teleport. I fell asleep in the car and woke up in my bed."
- mightaswellgiveup87
Flexibility
"I could bend over without groaning."
- jugularhealer16
"I could put my feet behind my head and walk on my hands. I'll be 40 this year and I pulled a muscle in my neck getting dressed for work this morning."
- ATXKLIPHURD
*yawn*
"I didn't wake up tired."
- N013
Happiness
"I had the ability to be happy."
- TabbsTheBat
Dreams
"Lucid dreaming. I used to have lucid dreams almost every night. As an adult, I have them very rarely, almost never."
-SenorKaboom
Looks
"Attractiveness. I used to be a model as a kid. I did not age well."
- BlahGame
Energy
"I could stay up til 3-4am and be fresh as a daisy in the morning."
"Now, I come home from work or training, wash, eat and I'm passed out by 9ish lmao."
- iJustRoll
Brrrrr...
"I used to be 100% impervious to cold when I was a kid. I could run out in the snow in my underwear for hours and be just fine."
"Now here I am, where a slightly chilly breeze could freeze me to death."
- DeltaSolana
Entertaining
"I used to be able to entertain myself by doing nothing. For hours and days. Now sometimes I am quite restless doing nothing, not sure where that happened."
- SafeDress9950
What abilities did you lose with age?
Want to "know" more?

Sign up for the Knowable newsletter here.
Never miss another big, odd, funny or heartbreaking moment again.
Keep reading...
Show less
We may not like it, but getting older is pretty inevitable.
With age may come wisdom, but it also comes with lots of responsibilities.
And some days, we're just over it.
Redditor brick_layer asked:
"What tasks are you tired of doing as an adult?"
Decisions, Decisions
"Deciding what to make for dinner."
- PortiaEss
"I would eat people kibble if it tasted good. Bachelor Chow (just add beer) needs to be a real thing."
- chaos8803
Hi, Ho, Hi, Ho
"Going to work and acting like a functional person."
- ovelanimimerkki
"Yep, I hate trying to work when I'm not emotionally stable or just exhausted. And you literally can't tell anyone or they tell you to go get a coffee which just makes the week go downhill over time."
- gg_ff_42069
Manners
"Being polite to other adults who don't deserve it."
- 25_-a
"Also known as the 'I am too old for this sh*t' phase of life."
- Zintao
Cleaning
"Cleaning the fridge. 🤢 when I find something way in the back that's been forgotten."
- joydobson
"I finally cleaned out ours today because it was trash day, and the husband isn't home to argue with me about how that sauce from 2015 is 'still good!!' 🤨 Now I have an empty fridge with just the bare essentials. Worth it."
- Grizelda_Gunderson
Circle of Life
"Working. Paying bills. Getting up early. Doing stuff."
- guyfromcroswell
"Agreed. Such a mundane cycle indeed."
- Emotional_Ratio_3251
Is Naked So Bad?
"Laundry grrrrr."
- FewPizza7880
"I tend to put the laundry in, hear it beep, forget about it for 6 hours then remember it needs to dry."
- marvel_is_wow
Traffic
"Anticipating the morons on the roads that change lanes without signaling."
- Reddit
"Or merging into 70mph traffic while doing 45..."
- haveyouseenthebridge
"Or being stuck behind those people as we're merging, I get pissed. Like speed up to the flow of traffic, being behind them merging puts me in danger too."
- Nigel_IncubatorJones
Maintenance
"Buying a house is an endless list of shit that needs fixing or improving."
- muffbiscuits
"This is one of the many reasons I bought a condo. The majority of the maintenance is somebody else's problem. I haven't cut grass, raked leaves or shoveled snow in almost a decade."
‐ yogaballcactus
Teeth
​"Brushing my teeth. It's annoying."
- scottevil110"​
"I feel this deep. It's flossing for me."
- brick_layer
"Wait until you're in your 60s and all of a sudden the perfect teeth that never even had a cavity now all of a sudden have tiny cracks and need porcelain crowns and you have constant pain and Delta Dental only covers cleanings and x-rays and a single crown is like $1500 and they're telling you that you need four and you think, well, we don't really need two cars, I could sell my old Subaru."
- Nobody_Wins_13
Alarming
"Waking up to an alarm clock."
"I've been waking up to an alarm clock almost every day since 1985, and I'm fucking tired of it."
"I want to wake up when I'm done sleeping."
"I don't want to wake up and find that I've slept through/turned off my alarm(s) yet again, and have to choose between packing a lunch and taking a shower."
- thisbuttonsucks
What part of adulthood are you tired of?
Want to "know" more?

Sign up for the Knowable newsletter here.
Never miss another big, odd, funny or heartbreaking moment again.
Keep reading...
Show less
Getting older is inevitable.
Like everything else on the planet, over time the human body suffers the effects of wear and tear.
Joints, muscles, ligaments, tendons, teeth, etc... are put through the ringer and eventually it begins to show.
Things we used to do with ease suddenly aren't so simple.
Redditor iamalsopizza asked:

"What did your body tell you that you had to absolutely stop doing?"
That 24/7 Life
"Pulling all nighters for any reason. My body will not tolerate it anymore."
- Eccentric_Mermaid
"I used to do it every weekend as a teenager, with help from Monster, my PC, and some of the fine programming on Adult Swim."
"Last time I tried as an early 20s adult, I passed out sitting straight up. I'm pretty sure now Monster just puts me to sleep."
"Last successful all-nighter I survived until 6 AM. I still woke up at 8:00 on the dot, on my day off. Thanks work."
- EvilDarkCow
"Oh my sweet, honey-glazed christ...I turned 40 last year and I swear it was like someone flipped a light switch."
"I used to pull all-nighters and get 4 hours sleep and be ready to go like a wild hog the next morning."
"Now I get 8 hours of sleep and I could frankly use a nap. Aging sucks."
- Cats-Steal-Things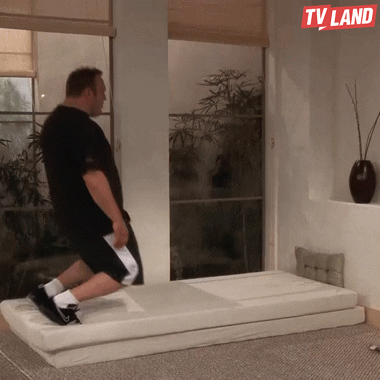 Giphy
No More
"Got seizures from drinking more or less a liter of vodka a day."
"Took a few years, but I'm now standing at 648 days alcohol free."
- FroggiJoy87
"Currently in the hospital. Came off a hangover caused by 14 shots of Altos and my body was like 'you know what? We're gonna figure all this shit out'."
"I had diarrhea so bad, I was almost in starvation mode when I got to the ER. Turns out, there's a tiny hole in my something and it was leaking waste into my body which gave me an infection."
"Been here 5 days, now. I have a straw in my belly which is draining the infection so the antibiotics can work better."
"Every time I look at it, I'm grossed out and wanna slap myself. I'm never touching a drink again in my life. F'k that."
"I just liked to have a good time and binge drink."
"Well, I'm gonna have to get some new hobbies or something because this sh*t here, ain't it."
- IreallEwannasay
"I use to take pills all the time to get high when I was going through some sh*t in my early 20's that I didn't really know how to handle at the time."
"Well one day while doing the pills, my body just said 'no more' and I projectile vomited everywhere in my room and bathroom. It got on the walls and floor. I was living with my parents at the time and blamed it on food poisoning or something like that."
"I tried again every day for like a week and each time I just threw them back up."
"And that's how I got clean off these pills. Drug free to this day!"
- Necrodotexe
Your Pancreas Says "No!"
"I just checked my blood sugar today and it is outrageous, so it looks like my food shenanigans are over."
"I made homemade bread last night and my blood sugar was 195 this morning. F'k my life."
- KayBeaux
"Yeah. When eating a piece of French bread becomes food shenanigans you know you're effed. Stuff most folks consider fine is now off limits."
"It's not like pork rinds or similar junk food, either. Potatoes, French fries, chips, etc... are absolutely not happening. OJ, cider, milk....all gone."
- jpr_jpr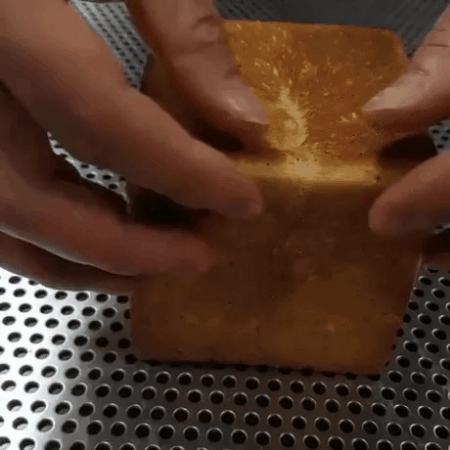 Giphy
Energy With A Side Of Palpitations
"Drinking Bang energy drinks, last one I had turned me into a panicking rage monster, whole time I thought I was going to die my heart was beating so fast and irregular."
- CaptnRiggen
"I used to work a day job till 6p M-F then work security at bars Thur-Sat from 10p-3am."
"One night I drank two of those 4-Hour Energy drinks. The second one was more of a 'Wonder what would happen?' more than I needed it."
"Holy f'k was that a bad idea. My heart was going so fast."
"I never touched that stuff again. That was before I really looked closely at the nutrition labels. Now I always look at them."
‐ lipp79
"I had this with Redbull—my first time drinking it and I never touched it again."
"Coca Cola also gives me heart palpitations so I rarely drink it but not to the 'omg, I'm going to die' level of Red Bull."
- QuendaQuoll
"I used to work overnights at a store that sold 4-Hour Energy at the counter. My coworkers and I would guzzle them to get through the night shift."
"I always felt that same sensation of irregular heartbeat for hours and the crash afterward was unbelievable."
- jellyrat24
Calm Down
"Being stressed."
"I'm at the age now where I realize that controlling my stress level is an actual physical health issue."
"I started getting bald patches on my facial hair, and terrible neck pain, and elevated heart rate. I'm definitely more mindful.
"I used to think stress was just about what I was feeling emotionally in a given moment, but no it's very physical."
- mjzim9022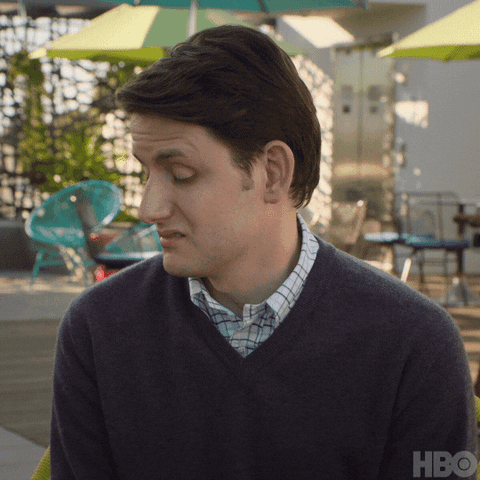 Giphy
"Yep this one right here! During the summer of 2020 I realize that if I didn't start working on calming down, I was gonna drop dead of a heart attack or something."
"About six months later I noticed that I had six months growth worth of pure white hairs on the top of my head. I didn't even have gray hairs before Covid."
"I'm pretty sure that if I hadn't have started calming myself down, I really would've had a heart attack."
- Drealjas
Sleeping Wrong Is A Thing
"Camping without an air mattress. The last time I did it using only a pallet of blankets I PAID for it the next morning."
"My entire body hurt. Getting old sucks."
- 2gecko1983
"Went to visit my grandmother 3 years ago and the air mattress had a hole in it, so I just said 'Ah its fine I'll sleep ona pallet on the floor'."
"I woke up the next morning with my left shoulder sore and stiff. It hurt all day, and every day after that."
"I finally broke down and went to the Dr about it this year. He said, 'You take anything for that?' I said, no. He said 'You probably should'."
"I was hoping maybe he was gonna fix me. Refer me to a joint specialist. Possibly see about surgery."
"Apparently after a certain age they dont really do that anymore and I now see why Aleve commercials are mostly targeted toward older people. Cause some disinterested Dr said 'You should probably start taking something for that'."
- IGotNoStringsOnMe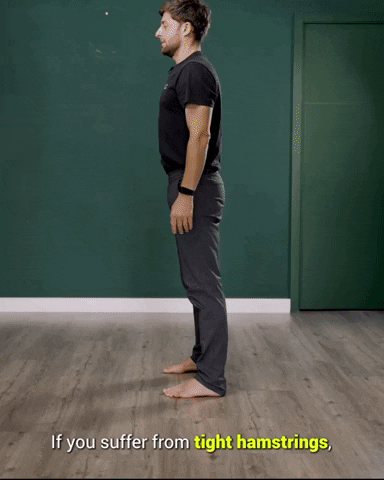 Giphy
What activities has your body put a stop to?
Want to "know" more?

Sign up for the Knowable newsletter here.
Never miss another big, odd, funny or heartbreaking moment again.
Keep reading...
Show less
New technology seems to be introduced at a faster and faster rate all the time.
It's only natural not everyone will be conversant in all the latest tech.
But some people really struggle.
Redditor NanoPope asked:
"What's the most ridiculous thing you saw a computer illiterate person do with a computer?"
Mice
"I have two coworkers who aren't sure how computers really work. Both have wireless mice."
"Coworker A's mouse stops working and can't figure out why. Coworker B takes his mouse and walks over to her desk, puts his mouse down and jiggles it around, remarking 'Huh, mine isn't working either here. Must be your desk or something'."
"Meanwhile his cursor is doing a dance around his screen back at his own desk."
"All I could do to keep a straight face."
- SecretlyHistoric
"I was born in the early '80s, but I grew up with computers (Atari 800XL, followed by Atari ST, before we got our first 486 "IBM Clone" PC), so I was pretty computer literate from an early age."
"When I was in elementary school, my grade took a field trip to a temporary pop-up dinosaur museum. There were several hands-on exhibits set up, some of them involving computers."
"I remember seeing a group of students and a teacher crowded around one of the computers trying to figure out how to get it to work. The teacher had the mouse in her hand, turned upside down, and was trying to move the cursor by rolling the ball around (the was before optical mice)."
"Also, this was NOT a trackball, but an actual rollerball mouse with a mousepad."
- drummer_who_codes
Keyboards
"My father in law one day rearranged just the keys on his keyboard in alphabetical order."
"A was still Q, B still W and so on."
"In the end he smashed that keyboard and bought new one."
- lemonedpenguin
Email
"Early 2000s, I opened an email account for my parents. I set it up on their work computer since I was waiting for them to finish work when I set it up."
"Everything worked great until one day I told them to open an email I sent them and they kept insisting they'd do it the next day when they were at work."
"Long story short they thought their email lived in the work computer and they couldn't access it from other computers. A quick lesson in email and suddenly they got much more responsive to emails."
- cybergaleu
"When I was the computer support person at my local library back in 04 an elderly lady was at a machine with an envelope and a confused look on her face."
"I approached and asked if she needed help and she said, 'I'd like to send this letter to my daughter in email, but I don't see anywhere to put it in'."
"She was holding a sealed envelope with her daughter's email address as the address and her return address in the regular spot. No stamp though."
"The look on her face was so earnest that I couldn't even be angry. I patiently explained what email was and helped her set up a Gmail account and typed up the letter in the email for her to send."
- Lobsterbib
Picture This
"My mom wanted to paint a picture of the Pope, so in a Youtube video that showed a picture of him she took a picture with a camera, developed the picture into a 4x6, and gave it to me to enlarge."
"So I just searched for the original image and hit print..."
- 3-DMan
Disk Drive
"Back in the days of the original Apple Macintosh (beige case, black and white display, new-fangled 3.5" floppy disk drive), one of the secretaries where I was working managed to force 2 floppies into the single drive at once."
"'It kept asking for disk 2,' she explained."
- corndogco
Don't Turn It Off And On Again
"Back around 2000 I did IT for a country club. Every Friday and Saturday night, without fail, the server which was in a locked room would crash."
"This caused the food and beverage ordering system to go down for about 20 minutes."
"One weekend, I stayed late on a friday and sort of camped out."
"At about the time the server normally crashed, at the height of the dinner rush, the food and beverage manager walked in and unplugged the server from the ups, then plugged it back in."
"I asked him why. He said it "made everything run faster" and further said this was a normal weekend routine."
- -Blixx-
"I used to be sort of a sysadmin for remote signals intelligence sensors for the Army. A few times a week for a few hours, an entire region of a specific network would go down and we'd just go kinda dark for a bit on that platform."
"No one could figure out why, and we normally have near 100% uptime. Colonels are calling asking wtf is up, teams are dispatched to check the sensors, no one could give an answer."
"Then we noticed they were only in hours that fell between 7am-3pm local time, Monday-Friday... hmm okay. Let's check everything again, teams go out to reboot each sensor individually, every node and server between us and the sensors, physically reseat cables... nothing, still goes out randomly for hours."
"Then one day during an outage the techs forward go check out that specific server room. There was a lone navy Lieutenant Commander in there doing office work (even though he had a private office) and he didn't like how loud the servers were so he just powered them all down when he wanted to work in his hideaway."
"This dude just casually blacked out a bunch of national security missions for a whole ass country instead of you know, closing his office door."
- napleonblwnaprt
We Don't Know How To Use Their Tech Either
"My grandmother has complained to me that store clerks are shocked and confused when she informs them she doesn't have an email address to provide, or a computer to make one on."
"She was born in 1929 and is 93 years old. The most modern device she owns is her TV, which has a VCR attached to it."
"She listens to music on a radio with a tape deck in it. Her phone hangs on the wall of her dining room. She doesn't even own a microwave."
"I think someone who was almost an adult when WWII ended can be given a break for not having an email address."
- Chris_Buttcrouch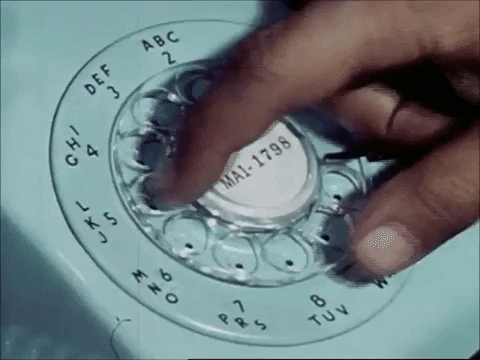 Satisfying Call Me GIF
Giphy
So, are you the tech savvy one or the one who says "oops, my bad"?
Share your tech troubles in the comments.
Want to "know" more?

Sign up for the Knowable newsletter here.
Never miss another big, odd, funny or heartbreaking moment again.
Keep reading...
Show less
We should all be nice to each other—is the BS we get fed all our lives.
But let's get real.
Some people are jerks and being nice to them is both a waste of time and stress inducing, but mom said to be polite.
So what to do?
How about a profanity free bon mot to let them know how you really feel?
Redditor Crystalgamer04 asked:
"What is your best insult, WITHOUT using curse words?"
Family Matters
"I bet your parents change the subject when people ask about you."
~ EpicCalliope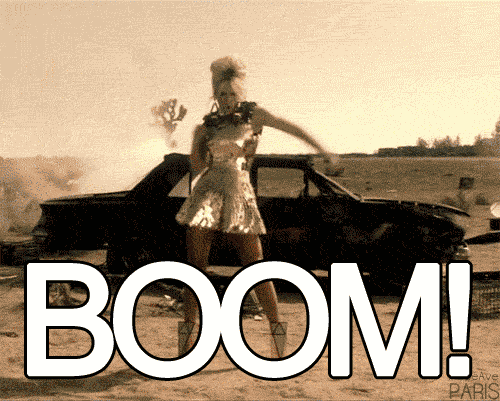 Giphy
"Your mom tells you not to call her mom in public."
~ GiverOfGlizzies
Battle of Wits
"Intelligent thoughts have always followed you, but you were faster."
- KrispyKrunch_
"You've got a face for radio, the voice for newspaper, and the brains for neither."
- BadAtHumaningToo
"You seem like the sort of person who knows which color of crayon tastes the best."
- TrentWolfred
On The Job
"Me: 'Have I told you lately that you're doing a good job?'"
"Them: 'No'."
"Me: 'Do you think there might be a reason for that?'"
- TheCarrzilico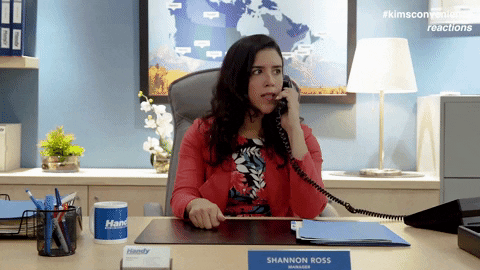 Giphy
"There really are no gaps in your ignorance."
- Townscent
General Purpose
"I envy the people who have never met you."
- sigmaninus
"I didn't expect anything from you and you still disappointed."
- StillaDingo
"'I wish we were better strangers'. - Shakespeare"
- Batman3386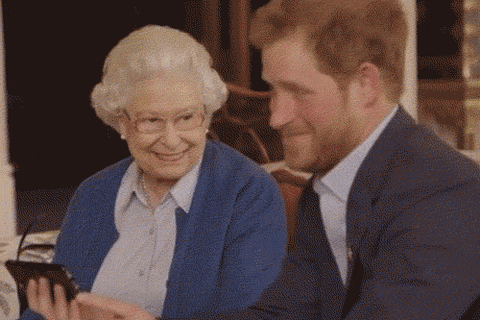 Giphy
So, what's your go to smackdown?
Share it in the comments.
Want to "know" more?

Sign up for the Knowable newsletter here.
Never miss another big, odd, funny or heartbreaking moment again.
Keep reading...
Show less