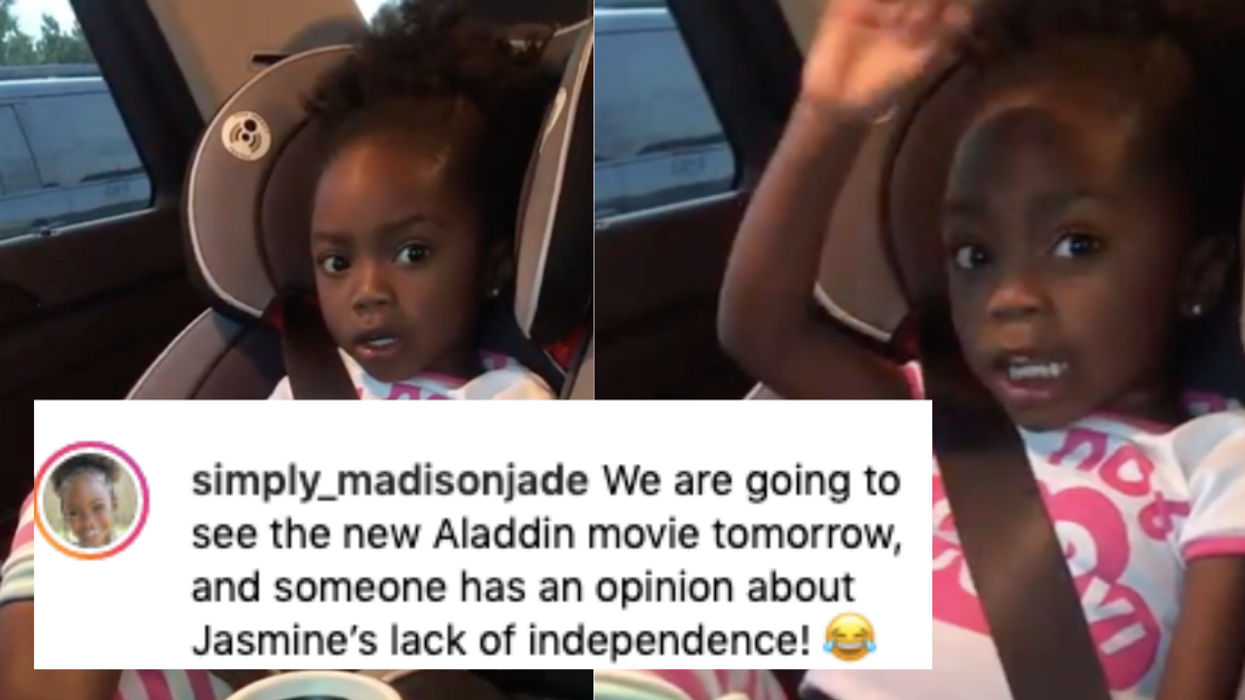 @simply_madisonjade/Instagram
One of the most iconic moments in Disney's Aladdin and its various iterations (including the Broadway production and the remake) is the song "A Whole New World," sung by Aladdin and Jasmine as they soar over the world on their magic carpet.
The song starts off with Aladdin singing "I can show you the world," and little Madison Jade says that Jasmine is perfectly capable of doing that herself, thanks very much.
---
Here is the song from the original animated Aladdin (1992) film:

Aladdin - A Whole New World [High Quality]www.youtube.com
"I can show you the world,/ take you wonder by wonder,/ over, sideways, and under,/ on a magic carpet ride."
Well, according to one little girl who saw the movie, Jasmine doesn't need a boy to "take her to see the world."
Madison Jade, 4, had a videoed conversation with her mom about the Aladdin remake a day before going to see the film.
"Jasmine needs to go see the world by herself because Aladdin needs to just stay there and Jasmine can just go by herself," she said. "There is not enough space on the carpet" for both Aladdin and Jasmine, so Aladdin can just stay home.
"Jasmine can go by herself or Aladdin can go by himself," she went on.
"A princess doesn't need a prince to rescue her," she said. "She can rescue herself."
Right on.
Jasmine showed up in the Disney Renaissance period of the late 80s/early-to-mid 90s alongside a slew of other Disney princesses such as Ariel from The Little Mermaid, Belle from Beauty And The Beast, and Pocahontas from Pocahontas.
The princesses are often subject to feminist readings, as many of their stories are centered around men. Jasmine often ends up in a tricky middling place, as she is literally locked in the palace for most of the film, though she is opinionated and fiercely independent otherwise.
Little Madison Jade is learning a lesson about independence early.
We can't wait to hear her feedback for all future Disney films.