If you've been anywhere near the internet the past couple months you've no doubt spent countless minutes, hours, days fawning over the biggest star to hit the airwaves since the dawn of television.
He's tiny, he's green, he's so cute you truly cannot deal.
---
That's right: The Child, aka Baby Yoda, the star (okay, maybe not technically but CERTAINLY in practice) of writer/director/producer Jon Favreau's Disney+ Star Wars series The Mandalorian.
As of this writing, "baby yoda memes" returns more than 39 million Google results, so it's safe to say nobody has ever had more people screaming: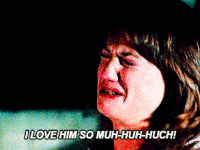 Giphy
Which is why, when Star Wars creator George Lucas and Baby Yoda finally met the other day, the entire internet lost its collective mind. Please sit down, because the cuteness might be too much to handle.
It all began when Favreau tweeted out a photo of the iconic filmmaking wizard cradling the sweet little fuzzy dude like, well, a baby on The Mandalorian set, and good Lord almighty it's enough to make you forget every problem that has ever happened in the entire history of human existence and any that may arise in the future for the rest of time.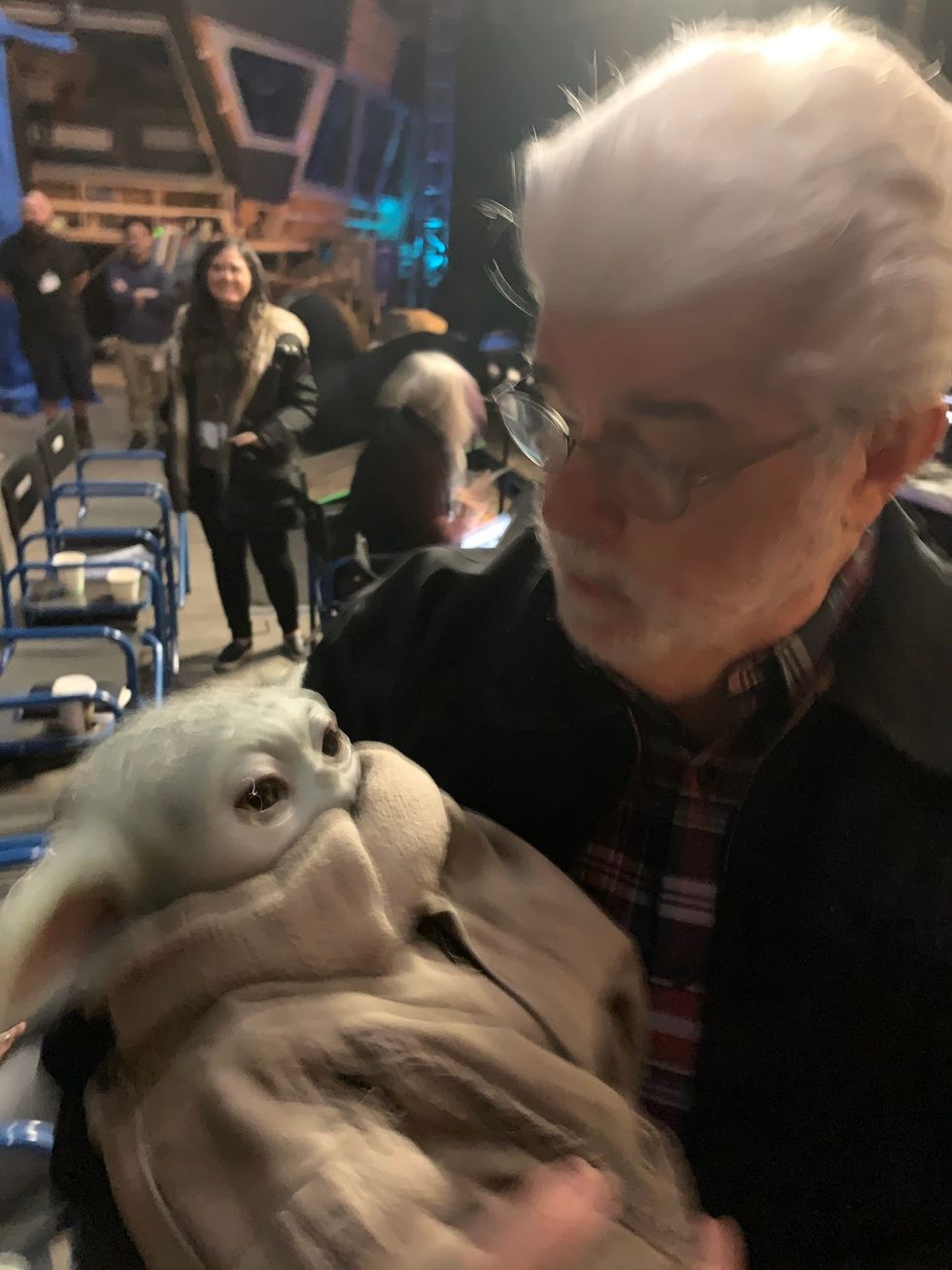 @Jon_Favreau/Twitter
Can you even‽‽
Honestly, the only way this could be better is if Lucas were feeding the big BY his beloved chiccy nuggies and choccy milk.
Anyway, Favreau's immediately-viral tweet had no caption, because a picture this pure surpasses all words, of course.
But the internet sure had plenty to say, because frankly, they're obsessed.
Extremely blessed image passing by your timeline https://t.co/ydwu4QDasZ

— Davi Brantes (@Davi Brantes)1579243819.0
@Jon_Favreau This really feels like I'm witnessing something blessed, repaint the Sistine chapel with this image pls

— Cam (@Cam)1579227673.0
This is truly amazing because he looks as if he was looking at his new born child. This photo is legendary. https://t.co/FScmqu3baF

— Jay Martyr (@Jay Martyr)1579242713.0
@Jon_Favreau Tag yourself. I'm the smiling through tears bystander. https://t.co/mwVipQjMad

— The Rise of Bruce Wright (@The Rise of Bruce Wright)1579227680.0
Get you a person who looks at you the way the person in the background wearing a jacket looks at George Lucas looki… https://t.co/moeNQL4VAX

— Aura Bogado (@Aura Bogado)1579240365.0
"no, *I* am your father" https://t.co/osXhNVVjQP

— Dave Itzkoff (@Dave Itzkoff)1579227485.0
"Always two, there are. A master, and an apprentice." https://t.co/7xIC0TmJzv

— Austen Bundy (@Austen Bundy)1579242810.0
Me walking to my computer desk with the burrito I just microwaved https://t.co/y1ONKOaE0k

— 🌌Meowdry!🌌🏳️‍⚧️ (@🌌Meowdry!🌌🏳️‍⚧️)1579276117.0
I love how hastily taken this photo clearly is. Like Favs is scrambling to get his phone out of his pocket. "Ohmygo… https://t.co/f7MvqvpmYh

— Kyle Martinak (@Kyle Martinak)1579275797.0
@Jon_Favreau "George put Baby Yoda down." "No." "George we need it for shooting." "No it's mine now." "George pleas… https://t.co/65pjHwjmHi

— Chillguy / COMMISSIONS CLOSED / #TeenTitansSeason6 (@Chillguy / COMMISSIONS CLOSED / #TeenTitansSeason6)1579228473.0
Baby Yoda is going home. https://t.co/ga630v7b8p

— ❄Mikki Kendall❄ (@❄Mikki Kendall❄)1579239436.0
2020 ain't that bad https://t.co/fUjvxTNhfO

— Jackson (@Jackson)1579230201.0
What a blessing to the timeline, indeed.
If you, too, have fallen in love with Baby Yoda, there's a fun story about how Baby Yoda would've been just a CGI mirage if iconic filmmaker (and The Mandalorian costar) Werner Herzog hadn't scolded everyone for even thinking about it.
Thank God for those who speak truth to power.
Liberty! Unity! Chiccy Nuggies!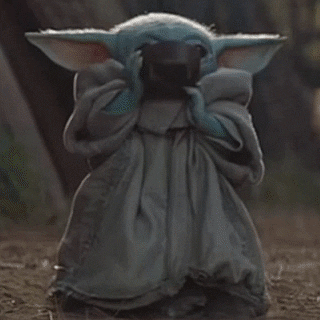 Giphy
Get your own Baby Yoda figurines here in 3 sets with 2 styles in each.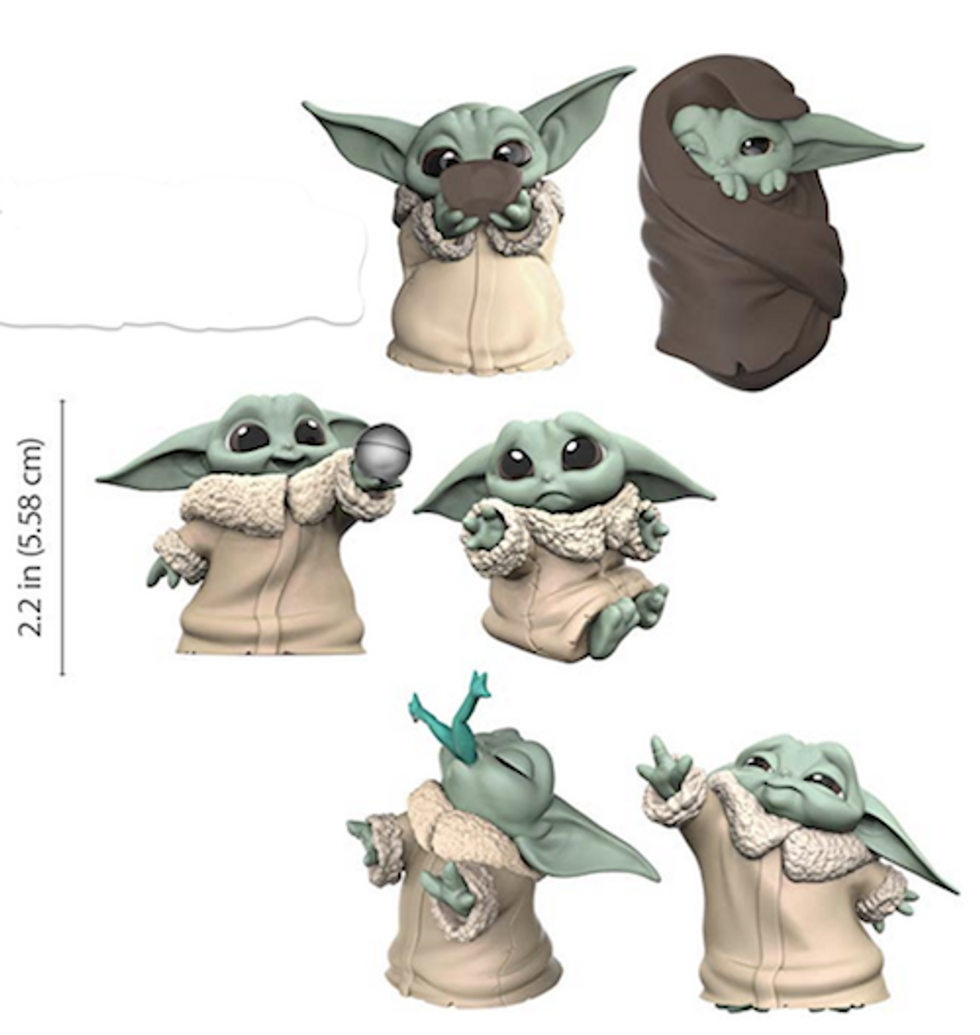 Amazon