The children are our future, as they say.
And in some cases, they're up to some truly absurdist genius.
Case in point: NBC Sports writer Craig Calcaterra's 16-year-old daughter Anna.
Calcaterra recently discovered his daughter is either a skilled comedian, a mad genius, or maybe both—and will definitely be taking over the world one day. She's been working on a map that fundamentally reshapes the Western hemisphere, triggers multiple wars and also gives us a second Ohio, and it is... well, it's something.
As Calcaterra relayed on Twitter, it all began with the simplest of parental questions: "Got any homework?"
And well...
Just your average map, just a fun doodle from a teenager's sketchbook.
Until you look closer and do the reading...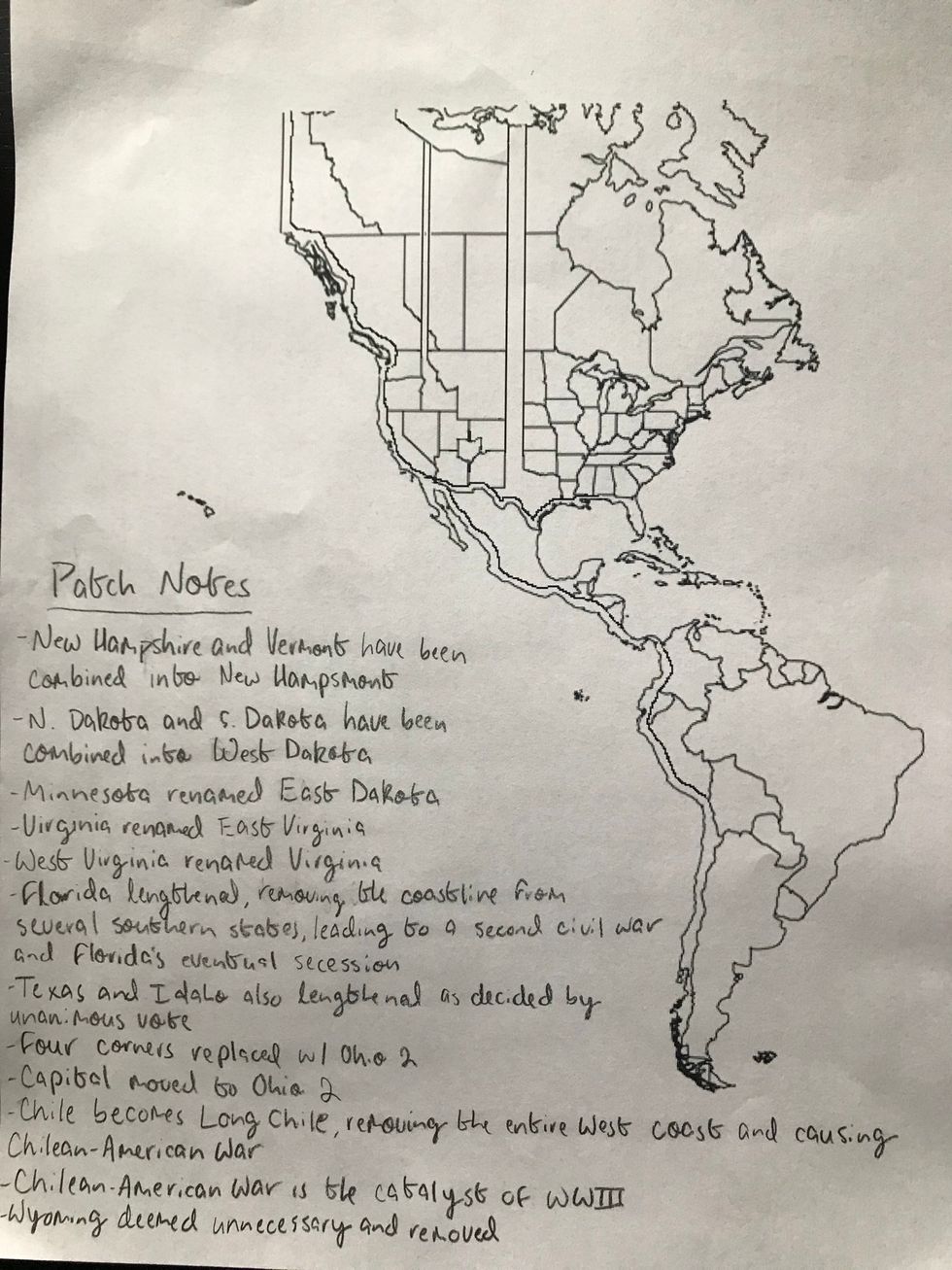 @craigcalcaterra/Twitter
Honestly, it's hard to discern whether Calcaterra's daughter needs to be stopped because she's using her genius for evil, or if she's the leader we've all been waiting for. Who's to say?
Because a lot of her proposals seem totally reasonable.
Like combining Vermont and New Hampshire just makes sense. So does melding the Dakotas.
Less clutter.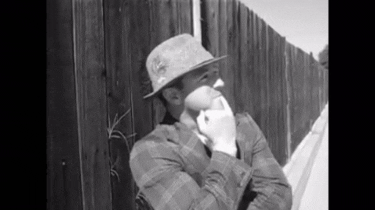 Giphy
And swapping the Virginias seems fair.
West Virginia's been in Virginia's shadow all this time, so why not switch it around and let West Virginia have a chance to shine?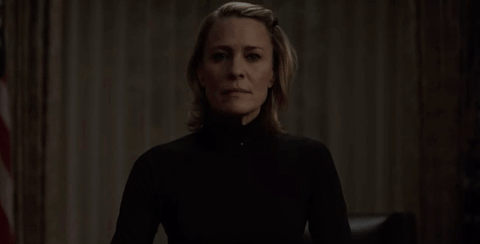 Giphy
And letting Florida secede, well... we can probably all get behind that.
It's already its own world in practice anyway.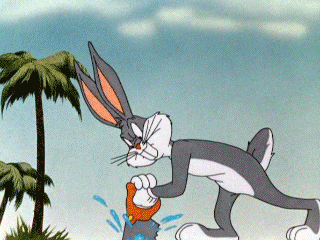 Giphy
But increasing the size of both Texas and Idaho—such that it takes over not just the middle of the US but a huge swath of Canada too? By unanimous vote‽‽
Utter madness.
And not just because Oklahoma loses its cute panhandle in the process.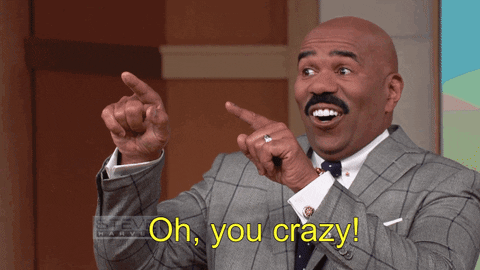 Giphy
And this whole Long Chile thing is... it's just...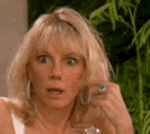 Giphy
And A SECOND OHIO?
We have enough on our hands with the first one.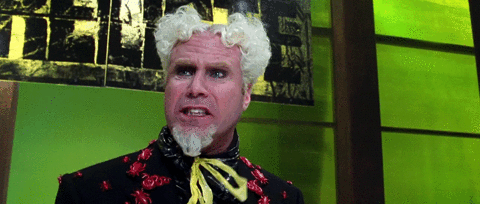 Giphy
Anyway, as you might expect, folks on Twitter had lots to say about Anna's new world order.
The Ohio thing definitely raised some eyebrows.

As did Canada's seeming acquiescence to Anna's imperialism.

And that whole thing about the Dakotas had people scratching their heads...
But Anna herself quickly put this all to rest.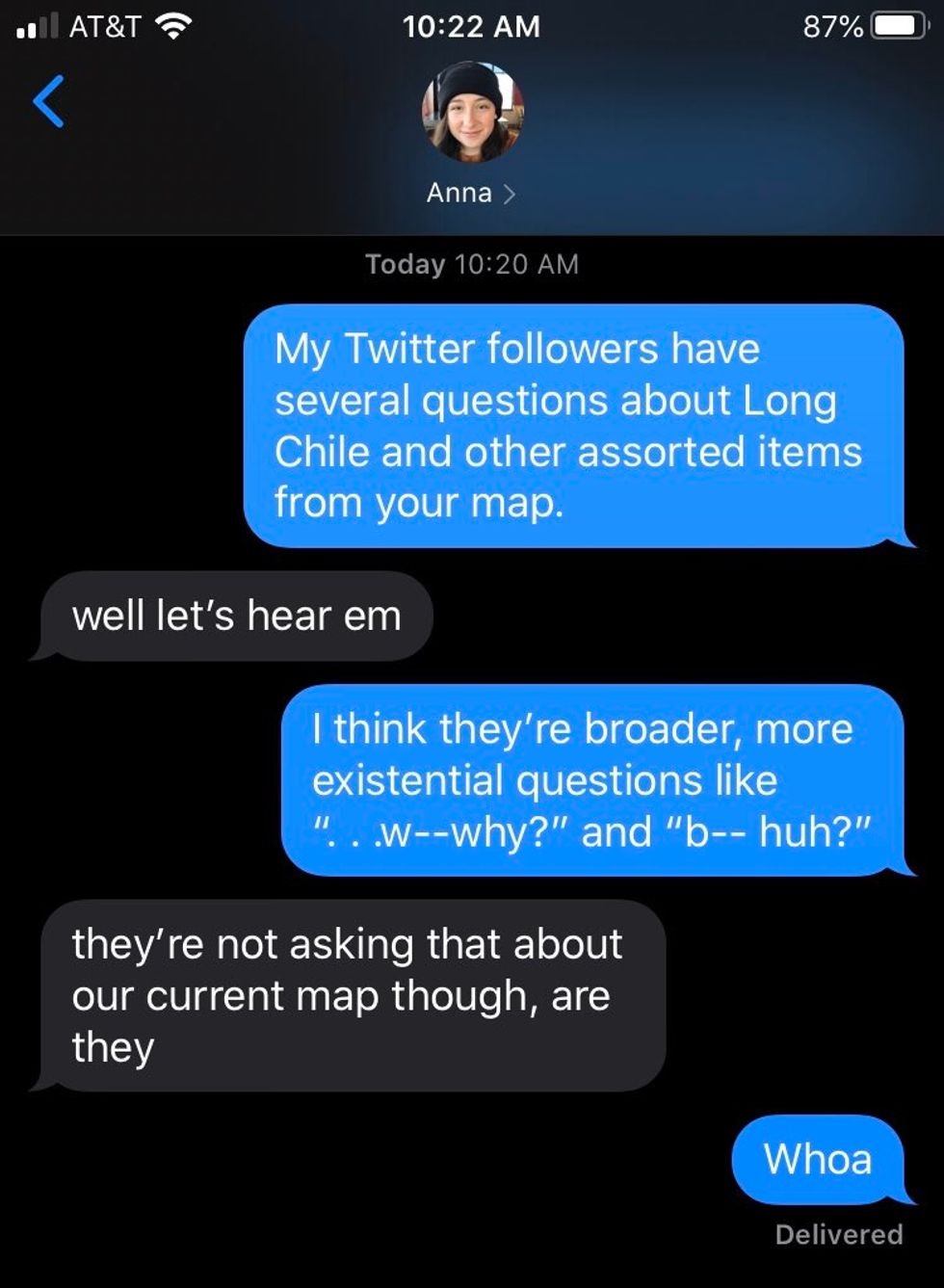 @craigcalcaterra/Twitter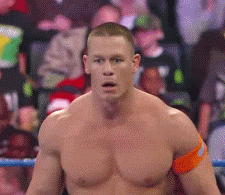 Giphy
Well, that's that.
Anna is our Queen now and that's the end of it.
Long may she reign over Long Chile and all eastward territories from sea to shining East Virginia, or whatever.
Keep reading...
Show less
You can buy all their music, see every movie on opening-night, or attend every game in the front row.
But the ultimate fandom is waking up from surgery obsessing over your hero in a slurred-speech anesthesia stupor.
And one young woman who did just that for her hero, Green Bay Packers quarterback Aaron Rodgers, has now been handsomely rewarded for her obsessive dedication in the coolest way (that pun will make sense in a moment).
Callie Kessler, a young woman from Connecticut, recently had some surgery on her throat to remove her tonsils. She woke up focused on one thing and one thing only: a deep, abiding, sob-inducing—and immediately viral—love of Aaron Rodgers.
Well, that and popsicles.
Next thing you know, she had two new friends—Rodgers and his girlfriend, retired racing driver Danica Patrick—and more popsicles than she could possibly dream of.
It all started with her anesthesia-induced devotional to Rodgers and frozen treats, which immediately went viral.
As Kessler put it:
"I love him. I want Aaron Rodgers to come and then my throat wouldn't hurt. Then we could be best friends forever... Aaron Rodgers, he would buy me 400 popsicles."
Wow, yep... that's love!
Kessler also expressed her gratitude for Packers running back Aaron Jones—even though her family didn't know who he is.
"Aaron Jones-uh! You don't know who that is!...Thank God we have a running game so the pressure's a little relieved off of Aaron, cuz he's so great."
And before you knew it, Jones was responding to Kessler.
And suddenly, an online campaign began to get Rodgers to respond to his #1 fan.
And then Danica and Aaron responded in the coolest way possible.
But that wasn't just a cute Twitter joke—they actually sent her 400 popsicles!
The good people at Otter Pops, not to be outdone, then doubled down on Danica and Aaron's gesture.
And soon after, so did the namesake company itself, Popsicle!
Of course, other folks on Twitter were delighted by all this icy-cool sweetness.
So what does Kessler think about this whole thing?
As she told Milwaukee's CBS 58:
"I'm sorry for being so embarrassing... But he's a great role model and someone who I look up to... Go Pack Go!"
Hard to argue with that.
Keep reading...
Show less
But unlike most celebrity coming out stories, Jamil's wasn't inspired by a new relationship or a moment of self-actualization. Rather, it comes on the heels of a fiery online backlash over her role in a new project.

Earlier this week, streaming platform HBO Max announced that Jamil will be the MC and one of the judges of its forthcoming series Legendary, a reality competition show that will center on the competitive vogueing found in LGBTQ drag ball culture. An immediate backlash ensued over Jamil, an outsider to ball culture, being an inappropriate choice for the show.
It was this backlash that prompted Jamil to come out, in a post on Twitter.
In the post, Jamil addressed both the backlash and why she never came out previously:
"This is why I never officially came out as queer..."
"...I kept it low because because I was scared of the pain of being accused of performative bandwagon jumping, over something that caused me a lot of confusion, fear and turmoil when I was a kid."
So why the backlash?
For the uninitiated, Ball culture, which has recently enjoyed pride of place in the mainstream consciousness due to the FX series Pose, centers on groups of LGBTQ people, especially people of color and transgender individuals, who arrange themselves into associations called "houses" and compete—at vogueing, fashion shows and other exploits—before a panel of judges at events called "balls."
Ball culture also arose as a safe haven for queer people in a time when society was even more openly violent and hostile toward the LGBTQ community than it is today. As such, ball culture is deeply important to and fiercely guarded by its members.

Which is where the backlash comes in.
Many LGBTQ people felt Jamil was an inappropriate choice for Legendary, especially since prominent LGBTQ people from the ball scene itself, like Transparent actress Trace Lysette, a trans woman, were passed over in favor of Jamil, a total outsider to the ball scene.
And many felt Jamil was appropriating a culture that was not hers.
People were especially angry about Jamil being the MC rather than one of the show's other stars like ballroom legends Dashaun Wesley, Leiomy Maldonado or DJ Mike Q.
Jamil called this a mistake on the part of Hollywood news outlet Deadline...

...as well as the HBO press department.
Jamil clarified that she is only a judge, along with rapper Megan Thee Stallion and America's Next Top Model judge Luxury Law.
Jamil further underlined her reason for joining the show in her coming out post.
"I know that my being queer doesn't qualify me as ballroom. But I have privilege and power and a large following to bring to this show..."
"Sometimes it takes those with more power to help a show get off the ground so we can elevate marginalized stars that deserve the limelight and give them a chance."
It was a sentiment that her costars shared.
Pose star Indya Moore, after speaking with Jamil directly, also echoed the sentiment.
But, naturally, the wider internet's responses to Jamil's announcement varied quite a bit.
Some gave heartfelt support.
But many others were not having it.
In any case, Jameela is who she is, and the show goes on—filming starts today according to Jamil's post. Soon the media landscape will have a bit more LGBTQ representation, which can only be a good thing.
Keep reading...
Show less
Remember when you were a kid and everyone would tell you not to plug your nose when you sneeze because it was dangerous?
Pretty sure there's still no one who knows if that's actually true.
But if ever there was a story that gave credence to the idea that you should never suppress a sneeze, it is this one.
The latest story to take the subReddit TIFU (Today I F'd Up) by storm, titled "TIFU by holding in my sneeze," is a doozy. A messy, even gory doozy.
It comes to us via LivinCrazy, who was having a bit of a challenging day at work. While eating their lunch, Living Crazy did that thing where you somehow, accidentally, basically punch yourself in the face?
Or as they eloquently put it:
"...I went like brain dead for half a second and I lifted my hand up too fast and hit my nose with an uppercut Mortal Kombat style."

Yep. Been there. Not cute, not fun.
The situation was further complicated by the fact that LivinCrazy was also under the weather, which obscured the severity of the beating they dealt themself.
"I felt like my nose was bleeding but I dismissed it as my nose running since I have a cold."

You see where this is going, right?...
Brace yourself.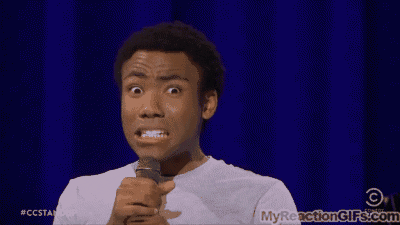 Giphy
So LivinCrazy goes on about their day.
Their boss asks them to pick him up lunch, so they go grab him a hamburger.
And as they're on their way into the boss's office...
"I felt a little sneeze sensation up in my nose but I try to hold it in because my boss is waiting for me."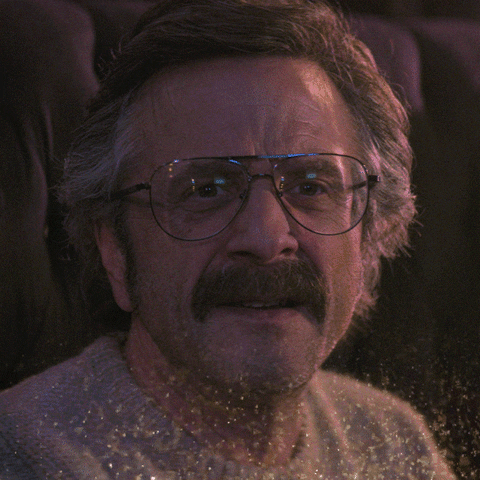 Giphy
And then, it happens—the sneeze.
But not just any sneeze...
I walk into his office, give him his hamburger and this point my body can't hold it. Cue three very bloody and harsh sneezes all over my bosses white shirt, paperwork, and hamburger.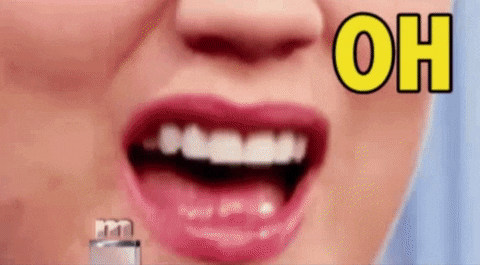 Giphy
The biggest "yikes" to end all yikeses—all the grossness of a regular sneeze PLUS you've made the entire place look like a murder scene. The mind—and the stomach—truly reels.
Thankfully, LivinCrazy's boss—after sending LivinCrazy home, thank God—took it all in stride.
"...he seems to have found it a little funny so I don't really feels as bad."
Which is pretty much the best-case scenario when you sneeze blood all over your boss and his stuff.
Three times.
Of course, LivinCrazy's fellow Redditors had plenty to say about this nasal massacre.
"This is how a pandemic starts in the movies." --u/elcondormagnificente
I'm laughing so hard right now at the image of blood spraying out of your nose 3 times like a shotgun blast --u/Finnish-Karelian

"Never hold in a sneeze, always let them out! Sneezing is such a freeing sensation!" --u/Lima1998
"That tingly air is gonna find its way out, some way or another." --u/DK_Son
"You got off light. You could have shi* your pants." --u/sbeesp
"I figured you were going to say you did what I've done in the past. I've completely throws out my back/shoulder a few times from holding in a sneeze." --u/joleme
"I think the one living crazy is your boss, if someome [sic] sneezes blood all over me I'd be freaking out running to the next clinic/hospital or whatever to check for any deseases [sic] and not wait for another clean shirt lol" --u/Iago4400
"Your boss totally thinks you did a lot of cocaine." --u/johnnyutah0305
"I would be mortified but the outcome seems to have been alright." --u/expiredgatorade
So the moral here is listen to your body and let those sneezes fly.
But as more than one fellow Redditor pointed out...
"...It doesn't matter if you are at a rave or at home all alone like you will be for the rest of your life: COVER YOUR UGLY-AS* FACE WHEN YOU SNEEZE!" --u/itsthreeamyo
God gave you elbows for a reason.
Keep reading...
Show less
Elementary school is where we first begin learning about the real world.
We learn math and reading and writing, sure, but we also learn how to share, how to apologize, how to work together and respect each other.
Big stuff!
But it's also where we start learning about what petty, jealous monsters human beings can be. And it is that lesson that one little girl learned this week—and she was emphatically NOT. HAVING. IT.
Tabitha Garcia, a mom from Texas, shares her daughter Taylor's most adorable and funny moments on her Instagram page @tabgeezy. Her most recent post showed a whole other side to the usually smily Taylor.
In short: if you come for Taylor's favorite pencil, Taylor will come for YOU.
See, Taylor recently received a special pink pencil as an award for perfect attendance at school. A high honor.
And it seems SOMEONE, who will remain NAMELESS but is DEFINITELY NAMED LIZZIE, decided Taylor's pink perfect attendance pencil was now HERS.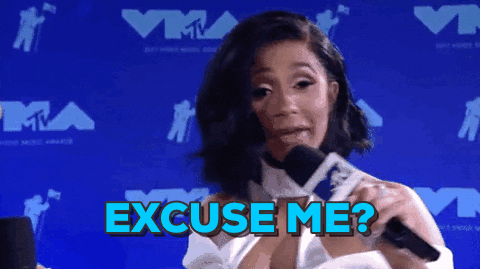 Giphy
The gall...
So how did this all go down?
Well, let Taylor tell you.
Prepare to be outraged.

So just to recap: Taylor put her special Pink Pencil for Perfect Attendance in the sharpening box and when she went to retrieve it, it was gone.
Then later, she saw Lizzie using her pencil—LIZZIE, who'd had the unmitigated temerity to be in CA-NA-DA and hence could not possibly have perfect attendance.
JUDGMENT FOR THE PLAINTIFF.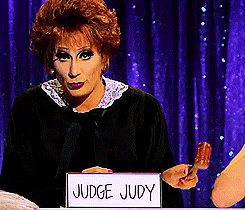 Giphy
On the other hand, Tabitha may have a point.
It is just a pencil, and they do all write the same. That's fair, and—wait, you know what? NO.
This is egregious. Are we now in a world where people can just say "LOL this is mine now bye"? Who does this Lizzie person think she is, Christopher Columbus‽‽ This is an absolute outrage.
JUSTICE FOR TAYLOR!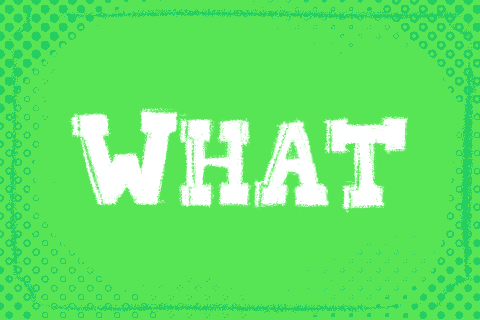 Giphy
Anyway, Taylor's recent lesson in the unfairness of life definitely struck a chord with the internet.
Safe to say Taylor has plenty of back-up!

I know I'm not ready to be a parent bc I'd be at that school the next day like "Yal deadass finna come up off my ba… https://t.co/ODx10NVbtH

— Dreka Gates 💕 (@Dreka Gates 💕) 1580446043.0
CA👏🏾NA👏🏾DA👏🏾. You can't have the Pink Perfect Attendance Pencil if you have passport stamps, Lizzie! https://t.co/sVq7JN5EoR

— April (@April) 1580479856.0

@naturalmane/Instagram
Might pull up to the playground. I just want to talk with lizzie. "You think you tough because you taller than me,… https://t.co/q3B1MOmTNZ

— quinta brunson (@quinta brunson) 1580489623.0
Lizzie can get CHINNED from Canada to the U.S., period. https://t.co/ordBAuX7oA

— CHIKA (@CHIKA) 1580481980.0

@celizabeth82/Instagram
This is my pinned tweet until she gets her Perfect Attendance Pencil back from Lizzie. https://t.co/f7Qr5hgjoF

— SeanKentComedy (@SeanKentComedy) 1580482030.0
i'm calling the cops on lizzie... GIVE HER BACK HER PERFECT ATTENDANCE PENCIL!!! https://t.co/DMbN8GxuUj

— Ethan Harvey (@Ethan Harvey) 1580483782.0
Lizzie's mom after she finds out she's trending on #Twitter for nabbing this girl's Perfect Attendance Pencil. https://t.co/MZU9diBRWq

— Rachel Cullen Designs (@Rachel Cullen Designs) 1580483767.0

@michae_b/Instagram
oh nah. me: "what's lizzie's mother's phone number?" https://t.co/D0LZWJuoI2

— freddie ransome (@freddie ransome) 1580483898.0
Me and Lizzie's mama are having some words. https://t.co/w5x0gMvhsp

— brittany packnett cunningham (@brittany packnett cunningham) 1580482594.0
@_FemGod People driving by the school looking for Lizzie to politely ask her to return the Perfect Attendance Penci… https://t.co/LEFyn9jHG9

— Carla Wants Poetic Justice (@Carla Wants Poetic Justice) 1580481234.0
The message here is clear: In a world of Lizzies, be a Taylor. Put THAT in the second grade textbooks.
Keep reading...
Show less