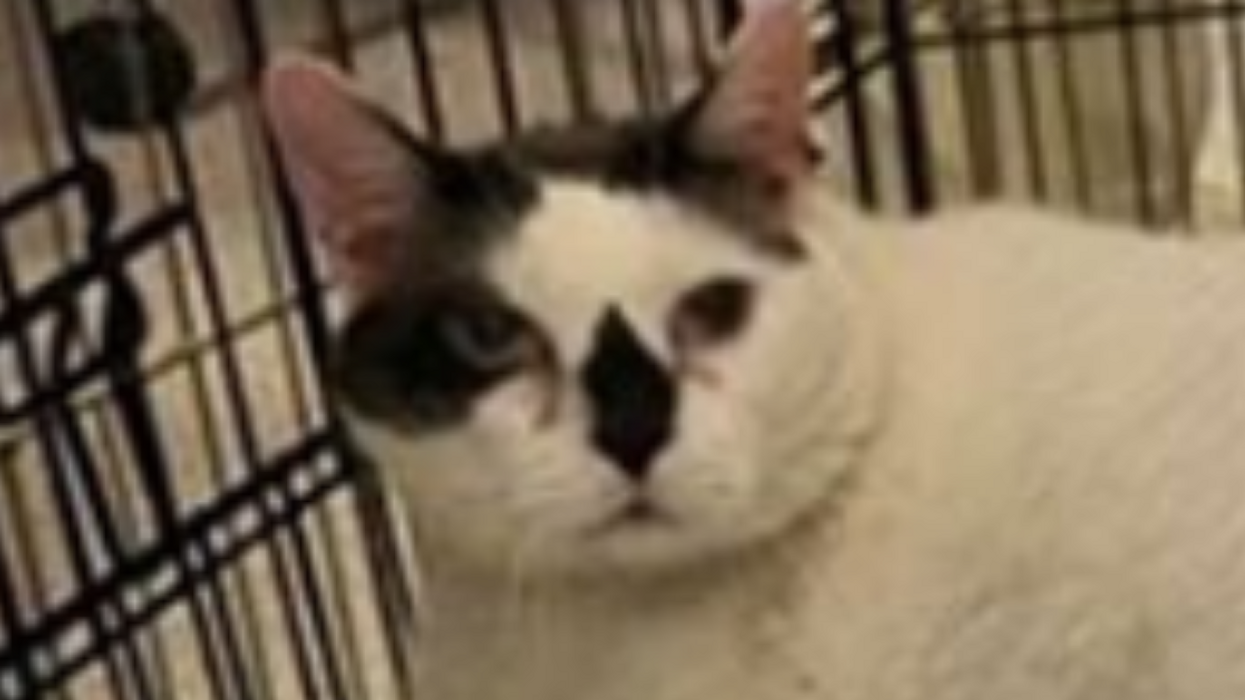 Barsik is a biiiiiiiig kitty. He is 41 pounds of fur, fluff, cat attitude, and love.
He was recently brought to Manhattan Animal Care Center (where he was too big for the cages) and put up for adoption.
---
This is Barsik:
ohmygoshhessobig.
"We just received a 41 pound cat! He may even make it to the Guinness Book of World Records," the Animal Care Center wrote on Facebook.
As cute as he is, 41 pounds is not the ideal weight for a kitty.
"Barsik is extremely obese and needs a home that can help him get to an ideal weight. He is too big for our housing so is resting in the office. Come by Manhattan ACC at 110th/2nd. #boroughbred."
Many hope he will find his forever home soon:
FAT CAT: Barsik the cat weighs *41* pounds. He was surrendered to ACC when his family moved and couldn't take him w… https://t.co/8lIEuIY4Cg

— Eyewitness News (@Eyewitness News) 1554763760.0
#Barsik's medical issues are being sorted out. Hope this absolute unit finds a good home 🐱 https://t.co/RHqaOGrWkv

— Sana (@Sana) 1554832595.0
@NYCACC Poor baby that in itself is animal abuse thank God you've got him now and taking good care of him

— Bonnie Sears (@Bonnie Sears) 1554583681.0
For now, Barsik has been taken in by a foster family who is helping him on the road to losing weight:
He is apparently also making quite a fuss about places to step.
But still, thankfully he is on the road to recovery so that when he finds a forever home, he will be a-ok:
@catsrangels2 It makes me sad that someone let him get that big. Poor guy.

— Alexandria Goddard (@Alexandria Goddard) 1554851954.0
@catsrangels2 …but it's even sadder, because they have no control over their own diet. Poor baby.

— katie (@katie) 1554864992.0
UPDATE: We spoke with Barsik's foster human about what the husky cat's future holds. (He's going to need an XXL lit… https://t.co/rHsrYP6gO7

— Gothamist (@Gothamist) 1554820379.0
Barsik rules, but his fame means he'll definitely have a TON of interested adopters--if you're in NYC and this swee… https://t.co/Cxvq0B7XMd

— Hilary Hanson (@Hilary Hanson) 1554845952.0
(also please do not let your cat get this fat)

— Hilary Hanson (@Hilary Hanson) 1554846086.0
Barsik is already making new friends:
And gotten some nicknames:
@NYCACC @tomservo10 Name him Andre the Giant

— smokeyzupan (@smokeyzupan) 1554855090.0
@NYCACC Needs lots of exercise https://t.co/NYQRoeRUR6

— Sooner Demon (@Sooner Demon) 1554858963.0
@NYCACC C H O N K. (No but seriously I hope the big boy gets a home to get him back to health.)

— deviously•nice™ (@deviously•nice™) 1554873455.0
There are dozens of shelters around Manhattan that house animals in need of their own forever homes.
If Barsik has piqued your interest, perhaps take a look into some of those.