The Massachusetts State Police are no strangers to calls about wounded animals on the highway, but a call they received on May 5th wasn't quite what they were expecting.
---
Dispatch received a call about a "wounded dog in the road," and Trooper Carlo Mastromattei responded.
What Mastromattei found when he arrived on-site on Revere Beach Parkway was, in fact, a tiny lone coyote pup.
The poor pup had apparently been separated from its mother, as she was nowhere to be found.
Trooper Mastromattei contacted several local wildlife services after he realized how much danger being on the parkway posed for the pup, but none of the agencies he contacted had personnel available to assist.

He then contacted Ocean View Kennels. The owner, Lisa Cutting, was able to come help him wrangle the pup safely into a crate.
Cutting told CBS Boston about the rescue:
"Put my gloves on. Grabbed a towel and a quarantine cage, and picked him up and brought him to safety."
Mastromattei then took the pup home, where he and his girlfriend AnnBeth cared for it overnight before bringing it to the Tufts Wildlife Clinic for an evaluation.
The coyote pup was given a clean bill of health, and Tufts arranged for him to be taken in by wildlife rehabilitation specialist Dawn Collins, of Berkshire Wildlife Services.
He will spend some time being taught how to survive on his own in the wild, and will eventually be released once he can fend for himself.
You can read Massachusetts State Police's Facebook statement (and see some adorable photos of the pup) below:
The response of Facebook users was overwhelmingly positive and supportive.
Many thanked Trooper Mastromattei for his compassion and quick thinking.

Jamene Murphy/Facebook

Kerry Howeson/Facebook

Cheryl Gaffny Floyd/Facebook

Tracy Ann/Facebook

Samantha Gitschier/Facebook
Some also thanked AnnBeth for her part in caring for the little ball of fur.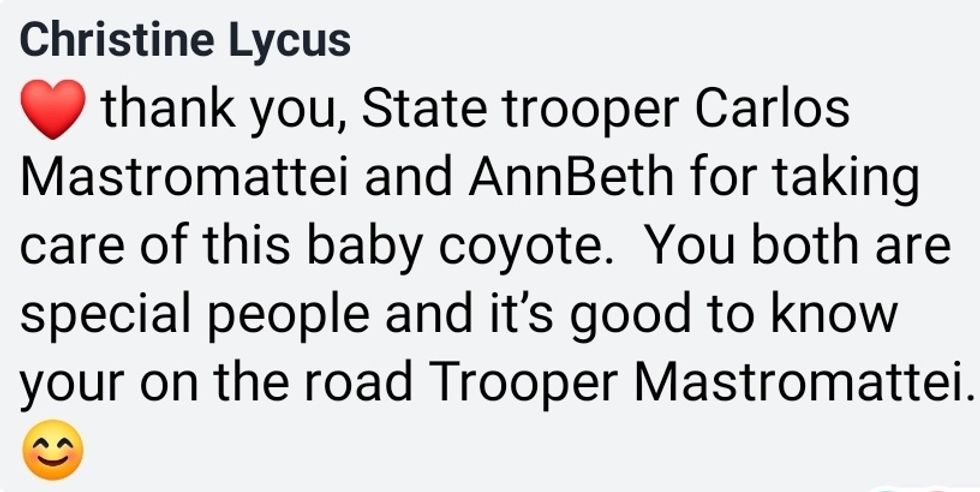 Christine Lycus/Facebook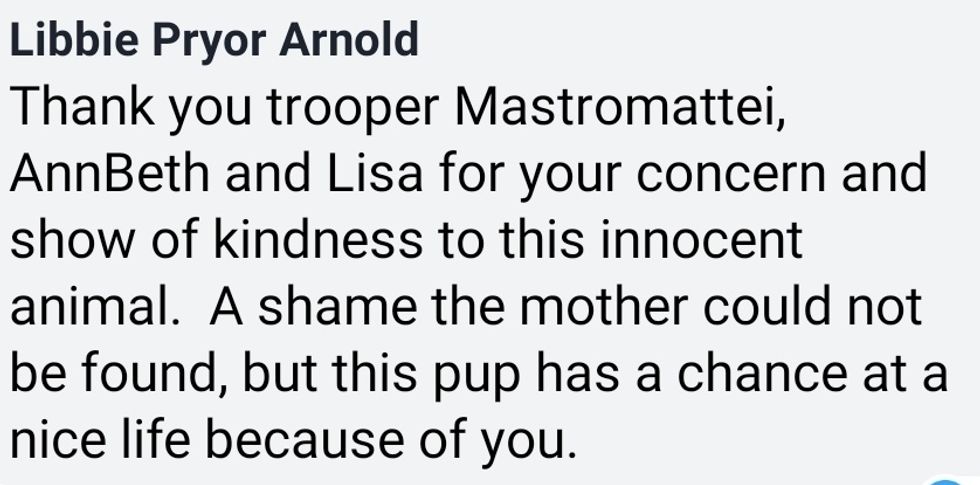 Libbie Pryor Arnold/Facebook
This certainly isn't the only orphaned or injured coyote that Dawn Collins has taken in for rehabilitation. She is the only person licensed in wildlife rehabilitation in Massachusetts that will take coyotes.
According to the Berkshire Eagle, she has already taken in 5 pups this year. This pup will join them after 2 weeks in quarantine to make sure that all is well.
If you want to support the work that Collins does with Berkshire Wildlife Services, you can donate via their website.